This Valentine's Day muddy buddies recipe is an easy, no-bake treat that tastes great and will delight the child in all of us. Grab the recipe and make up a batch to serve at a party or enjoy with the family this Valentine's Day!
My family loves celebrating holidays because they break up the monotony of life and all its routines! We love to craft, bake, and even dress for each and every special occasion.
Although Valentine's Day isn't as big as Halloween or Christmas (and sure, you can say it's a made-up holiday), we love to spread a little love around. A little extra love never hurt anyone, right?
For Valentine's Day, we start by decorating the house with our Valentine's Day Wreath, Easy Valentine's Day Banner, and a few other small items.
Then, we craft up some cute items such as t-shirts, valentines, and treat bags.
Once those treat bags are finished, it's time to fill them up!
Festive treats are a fun way to spread holiday cheer, and you can make Pinterest-worthy treats with very little effort.
Sure, you can use Lady Bug Covered Oreos or Valentine's Day Chocolate Bark. But, when it comes to a quick and easy Valentine's Day treat that's also perfect for filling up treat bags, I go for this Valentine's Day muddy buddies recipe every time.
It's a perfect no-bake snack to enjoy around your home, serve at a party, or make a big batch and send to school with the little ones.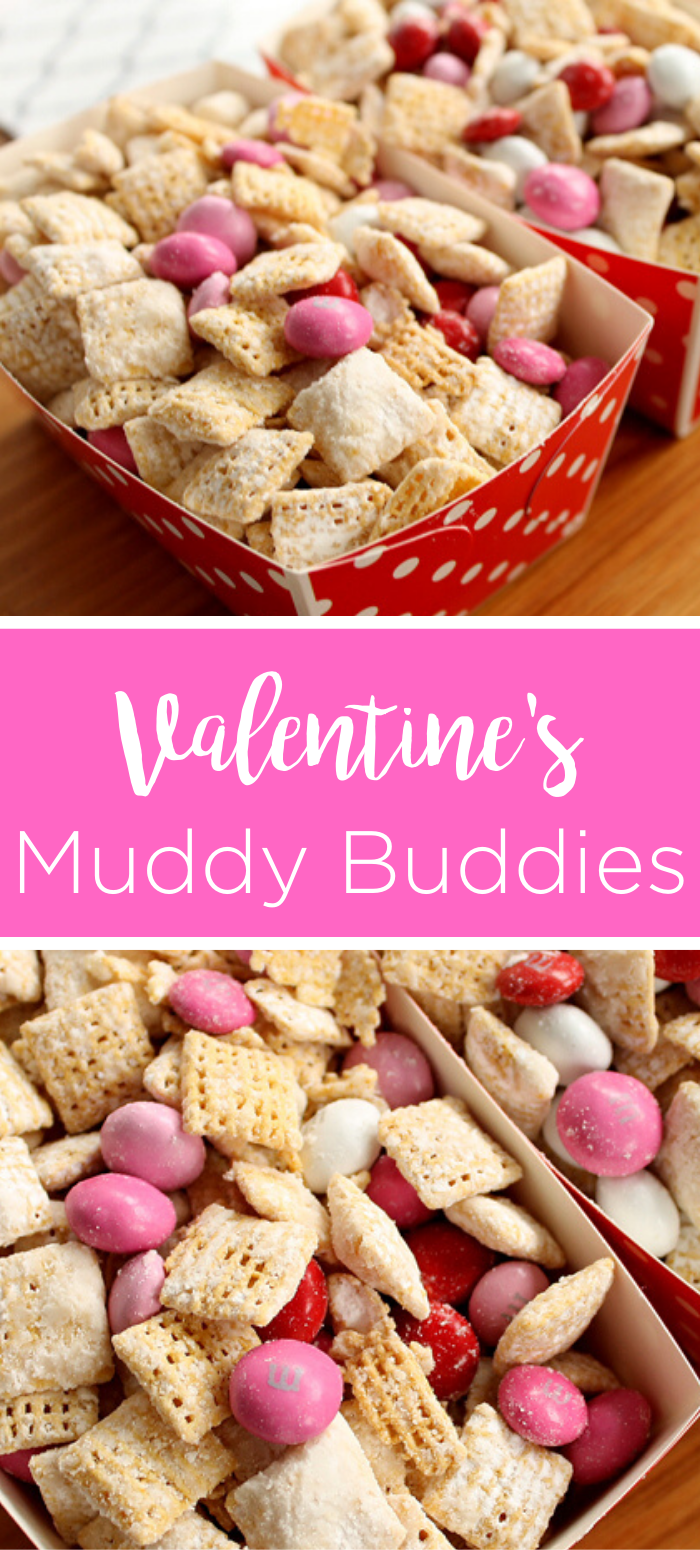 How To Make This Valentine's Day Muddy Buddies Recipe
The thing I love the most about muddy buddies is how simple the recipe is. There's no need to turn on the oven or spend hours in the kitchen!
Ingredients Needed
Here's everything you'll need to make this recipe. For the exact amounts that you'll need of each ingredient, please refer to the printable recipe card down below.
Rice Chex cereal (this was approximately one box of Rice Chex)
White chocolate chips (I used yogurt-flavored but white chocolate-flavored would work as well)
Butter (or you could use margarine)
Pure vanilla
Powdered sugar
Regular Valentine M&Ms
Peanut butter Valentine M&Ms
Instructions
Here's how to make this yummy snack mix:
Step 1
Into a large bowl, measure the cereal and pour. Then, set aside for later.
Step 2
In a small microwaveable bowl, microwave chips and butter uncovered on HIGH for 1 minute. Stir the chips and then microwave for about 30 seconds longer or until the mixture can be stirred smooth.
Then, stir in vanilla.
Step 3
Pour the chocolate and peanut butter mixture over the cereal, stirring until evenly coated. Pour the mix into a 2-gallon resealable food-storage plastic bag.
Step 4
Add powdered sugar and seal the bag. Give it a few good shakes until the cereal is well-coated. Spread on waxed paper to cool.
Step 5
Add in M&Ms and stir.
Serve immediately or store in airtight container.
Enjoy!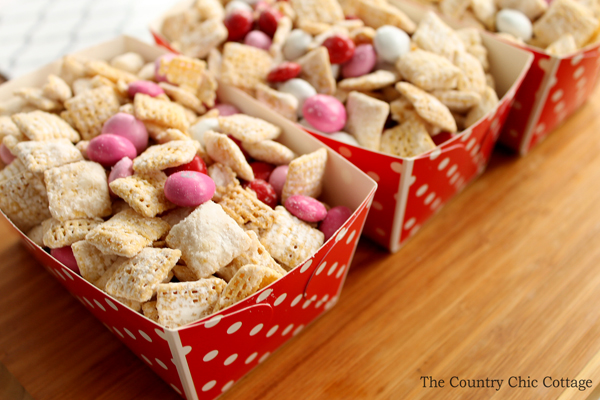 That's it! Isn't this recipe easy peasy?
FAQs
Here are a few questions I regularly see about this project. If you have a question but don't see it answered down below, please leave it in the comments so I can answer it for you.
Can this muddy buddies recipe be adapted for other holidays?
Yes, and it's super easy to do! Adapt this muddy buddies recipe for any holiday just by changing the color of the M&Ms (like green and red for Christmas).
Another thing you could do is use the desired color of candy melts instead of the white chips to add even more color.
What is the difference between muddy buddies and puppy chow?
These two names actually refer to the same thing, which can seem confusing!
Fun fact: Puppy chow might seem like a strange name, and it comes from the snack having a similar appearance to dog food. It may look a little weird, but it tastes delicious!
How can I serve this muddy buddies recipe to people?
That will depend on what you plan to use it for. If you want to serve it at home during family movie night, just put it in a large bowl with a spoon and let everyone serve themselves.
On the other hand, if you want to serve it at a party or at school, I recommend packaging it up in small containers like the red polka dot ones in the picture for easy serving. Or, you could use little treat boxes or bags.
No matter which way you serve it, this treat is sure to be a hit!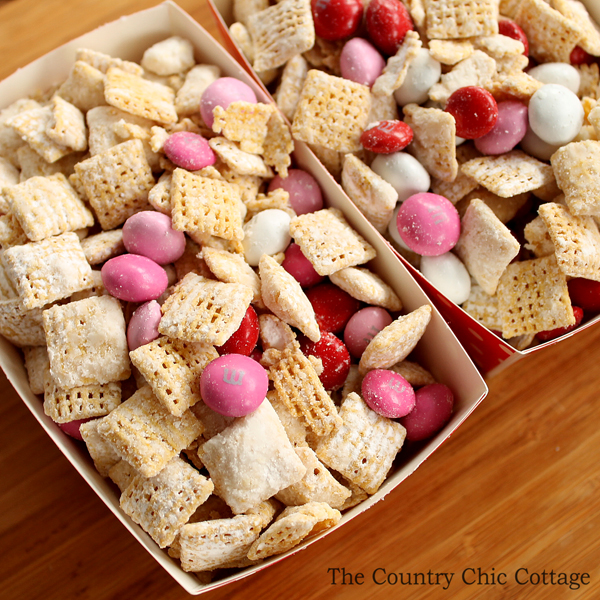 More Valentine's Day Inspiration
You and the kids will love this Valentine's Day muddy buddies recipe!
If you love this simple muddy buddies recipe, be sure to check out these other ideas too!
If you want even more quick and easy crafts, be sure to follow along with our quick and easy crafts Pinterest board. Then, give our Valentine's Day muddy buddies recipe a try!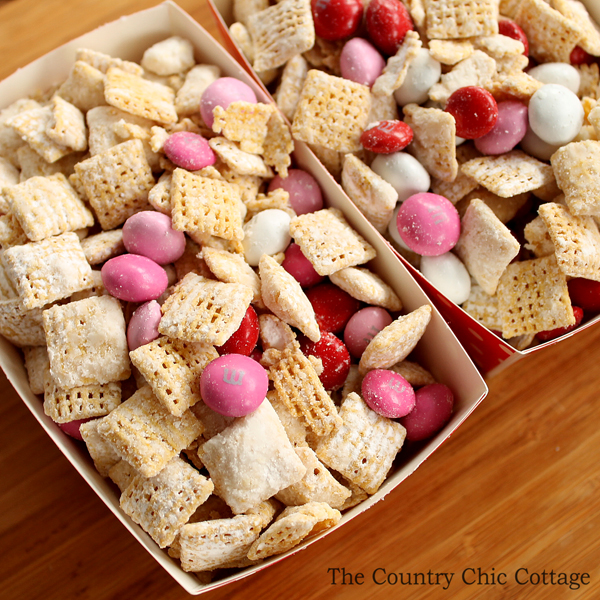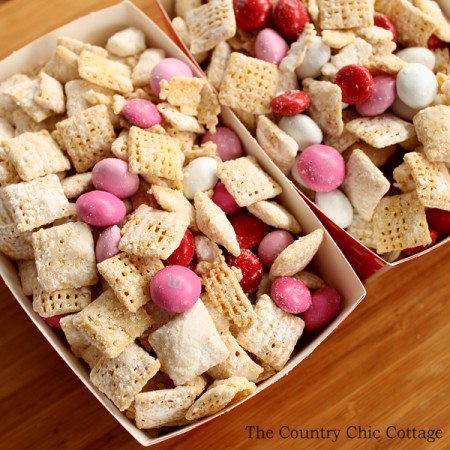 Valentine's Day Muddy Buddies
Make this adorable no-bake sweet snack mix for a delicious Valentine's Day treat.
Ingredients
9

cups

Rice Chex cereal

1

cup

white chocolate chips

1/4

cup

butter or margarine

1

tsp

pure vanilla extract

1 1/2

cups

powdered sugar

1

cup

plain Valentine M&Ms

1

cup

peanut butter Valentine M&Ms
Instructions
Measure out the Chex cereal into a large bowl then set it to the side.

In a small microwaveable bowl, heat the chips and butter on High for 1 minute, uncovered. Stir then microwave 30 seconds more. Repeat this process until the mixture is runny and smooth.

Stir in the vanilla extract.

Pour mixture over the Chex cereal, stirring until evenly coated. Put the coated Chex into a 2-gallon resealable plastic bag.

Add the powdered sugar and seal the bag. Shake until well-coated. Spread out on waxed paper to cool.

Add in M&Ms and stir. Store in airtight container.
Tried this project?
tag us to show off your work!