Using a quilt ladder is a popular and gorgeous way to display blankets or quilts. Instead of buying a blanket ladder, turn a vintage ladder into a quilt ladder for a fraction of the cost (or free!).
Last holiday season, I was wracking my brain to figure out a great way to display holiday cards. One day I woke up and knew exactly what I wanted to do: I wanted to display them on a vintage ladder. My Christmas vintage ladder holiday card display was amazing and turned out just as I had pictured it!
But once the holiday season was over, I couldn't let that great vintage ladder go back to the barn.
So I came up with a different plan for how to use that great rustic ladder. I decided to turn it into a quilt ladder for my bedroom.
I have some great quilts that I LOVE with no way to display them. Homemade quilts are too gorgeous to leave stacked in the closet with no way to see them. That doesn't do them justice!
So I came up with the idea to take my vintage ladder and use it to display my quilts. It's sort of like a quilt hanger, or rather, a popular (and often expensive) quilt ladder.
But since we happened to have this ladder already, this particular ladder for quilts was free and perfectly rustic!
Note: If you're searching for more rustic home decor ideas, check out our DIY Window Picture Frame, DIY Rustic Towel Rack, and Mason Jar Lighting Fixtures.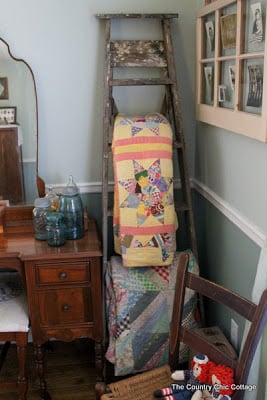 DIY Vintage Quilt Ladder Tutorial
Y'all, this "tutorial" is so short and sweet that I can't, in good conscience, even call it a "tutorial!" So, instead of using that word, how about using the word "tip?"
Using this old ladder as a quilt hanger was an inspired choice because it's functional but oh so much better than a store-bought quilt ladder! All that chippy paint and weathered wood just make me love this ladder!
And it is the perfect backdrop for my colorful vintage quilt collection.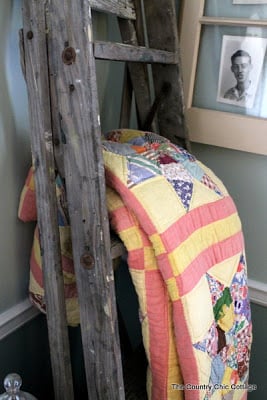 I simply took that old ladder and leaned it up against the wall in my bedroom. Then I took a couple of my colorful quilts out of the closet and "hung" them on my new DIY vintage quilt ladder. Perfection! And SO easy!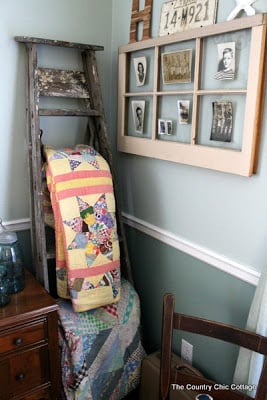 Doesn't it make this corner look amazing? Now, I was fortunate enough to have this ladder in our barn. But If you don't happen to have an old chippy ladder lying around, you can still make one of your own!
A DIY blanket ladder is a very affordable project and will cost hardly anything compared to what you would buy in stores. I love these tutorials from Hey There, Home, Gluesticks Blog, and She Gave It A Go.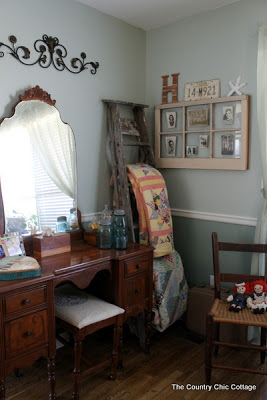 FAQs
Here are a couple of questions that I see readers ask about displaying quilts or blankets. If you have a question, please check to see if I've already answered it below. Don't see your question? Leave it for me in the comments!
What are other ways to display quilts?
There are several ways to display quilts – and all of them are better than leaving them folded in the closet! If you are searching for an alternative to a quilt ladder standing up against the wall, try mounting a ladder on the wall and letting the quilts hang down.
Other options could be rolling up quilts and displaying them on top of an armoire, stacking folded quilts on the seat of a chair, or placing folded quilts on shelves.
No matter how you want to display your quilts, the point is to get the out and show them off!
How tall should a quilt ladder be?
I recommend a height of about six feet to give you plenty of room to display several blankets.
How far apart should the rungs be on a quilt ladder?
If you're making your own DIY blanket ladder, I recommend spacing the rungs 12 to 14 inches apart to provide enough space for the bulk of a quilt.
Do you have your quilts in a closet? Get them out and display them proudly!
More Rustic Home Decor Inspiration
If you love this quilt ladder idea, be sure to check out these other popular projects: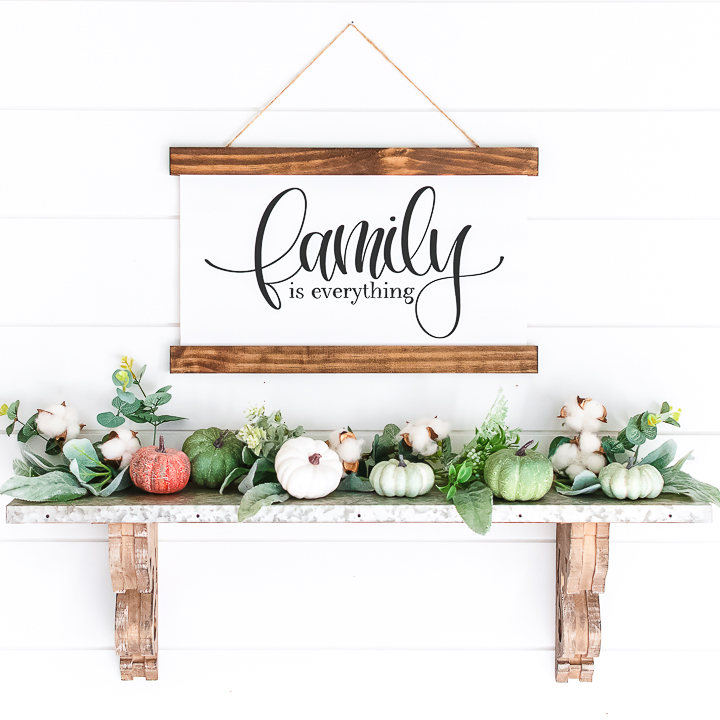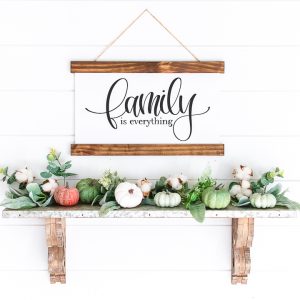 How to Make a Family Sign
Make this family sign in minutes with HTV, your Cricut, and a poster hanger.
Read More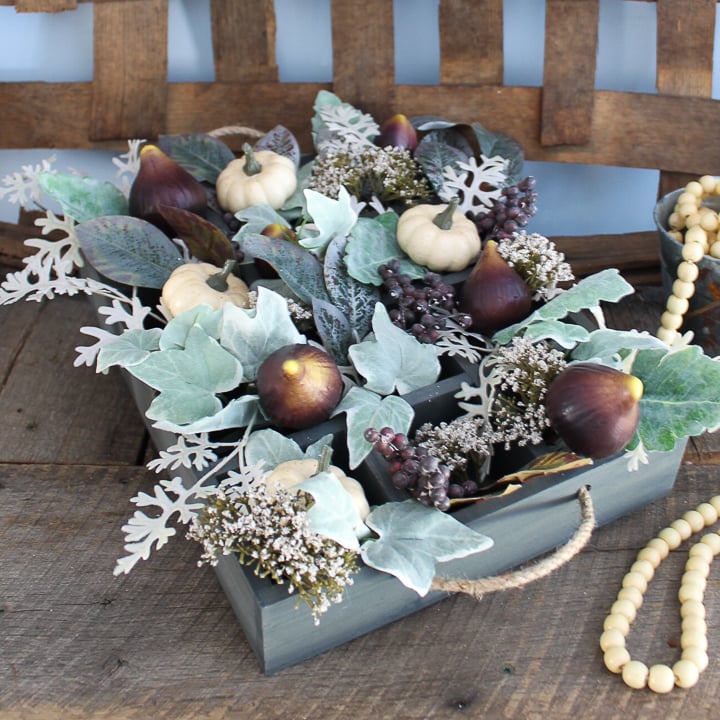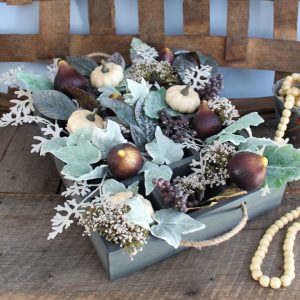 DIY Rustic Farmhouse-Style Fall Centerpiece
Make a simple and easily customizable fall centerpiece to complete your fall decor.
Read More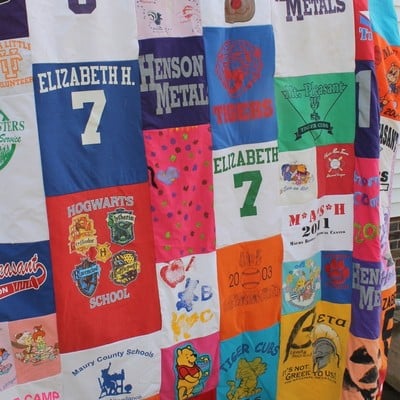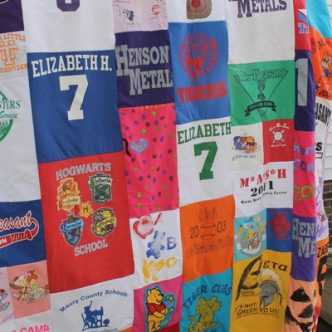 How To Make A T-shirt Quilt
Turn your child's old t-shirts into a priceless memory quilt.
Read More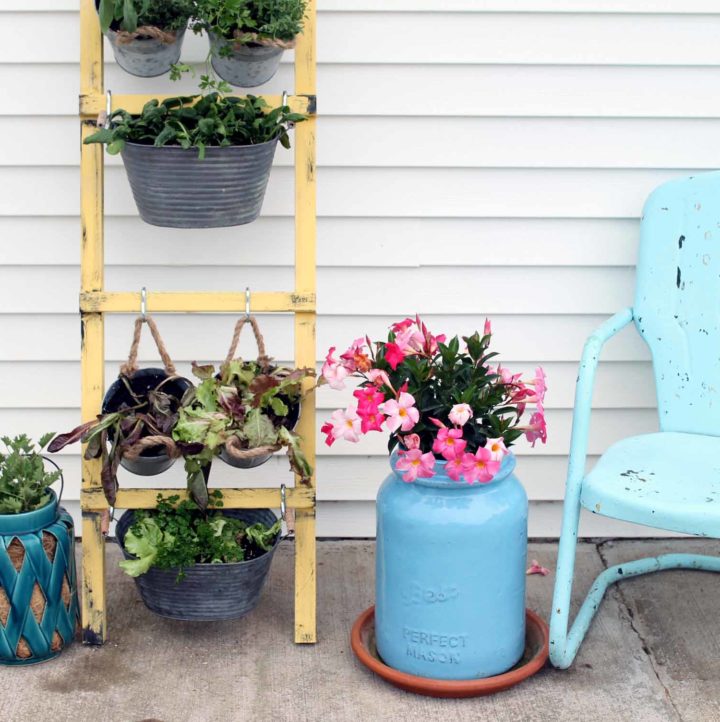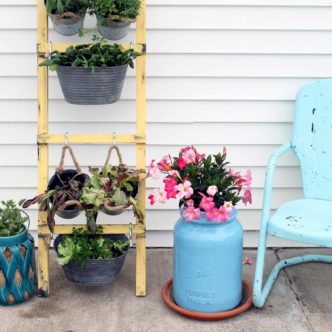 DIY Vertical Garden for Your Porch
A DIY vertical garden can be the perfect addition to your porch this spring and summer. Grow vegetables, herbs, or whatever your heart desires. This one is also super easy to make and will fit beautifully in areas of all sizes.
Read More