Make your own DIY zombie girl costume with our step by step instructions below. This fun costume is perfect for teens and preteens. Plus it is easy to make yourself and super inexpensive. That may just make it the perfect DIY Halloween costume idea! Want more ideas for DIY costumes your kids might like? You can see our other Halloween costumes here.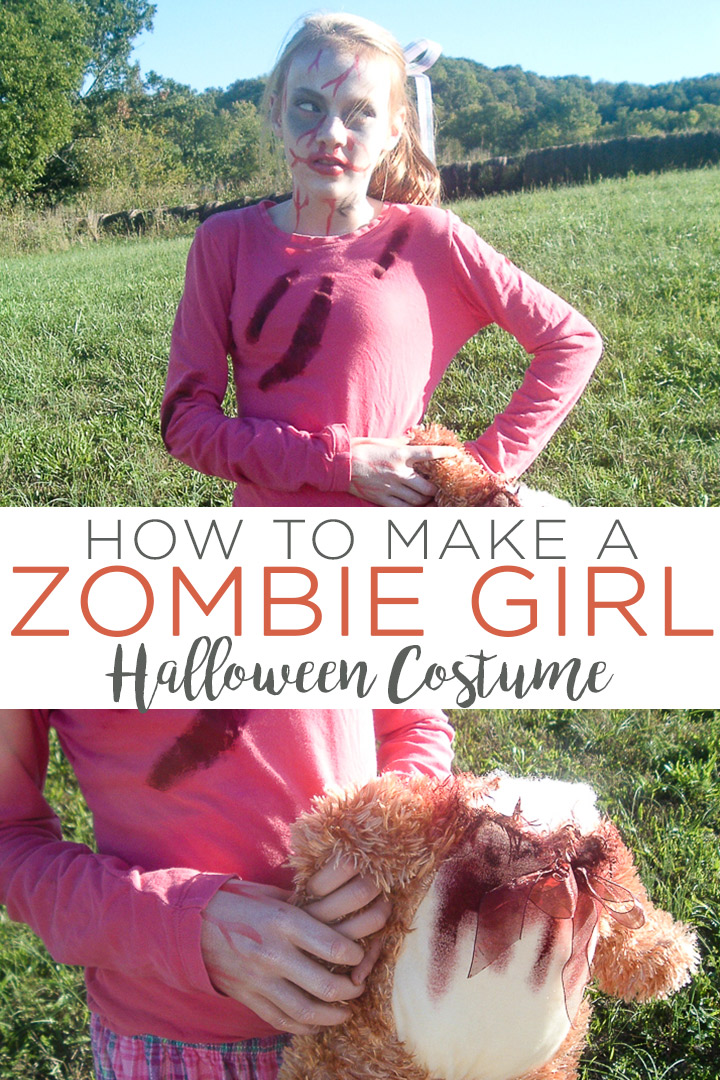 My preteen thinks she is too old for a "cutesy" Halloween costume. But she is not too old to want to have some Halloween fun! So I made the "Zombie Girl Costume" for her this Halloween! You will need some bloody clothes and lots of makeup. The headless, bloody teddy bear completes the outfit cause every girl zombie carries a headless teddy bear! It is super easy….let's face it moms need easy projects this time of year!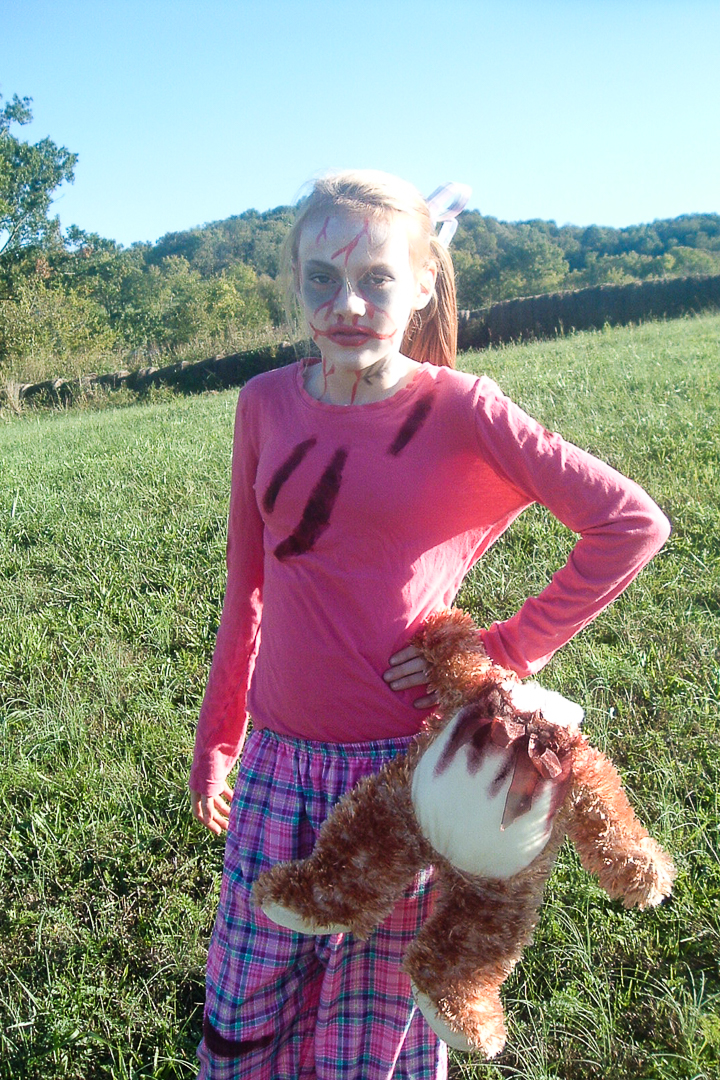 Now do you want to know how to make your own costume? It is super, super easy!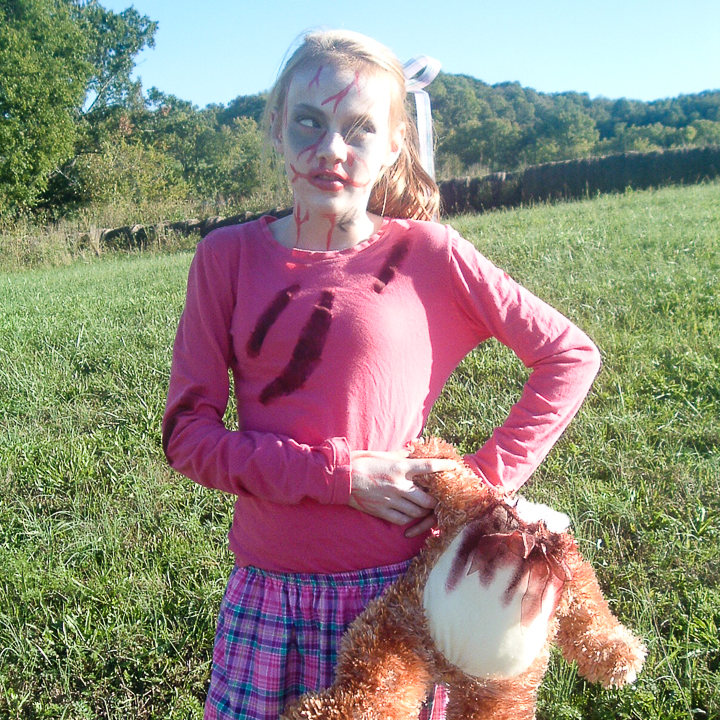 How to Make a Headless Zombie Teddy Bear
The "star" of the show is a headless teddy bear! Just cut off his head and add some paint to appear as blood. I took red paint and added a hint of black for all of my "blood" painting.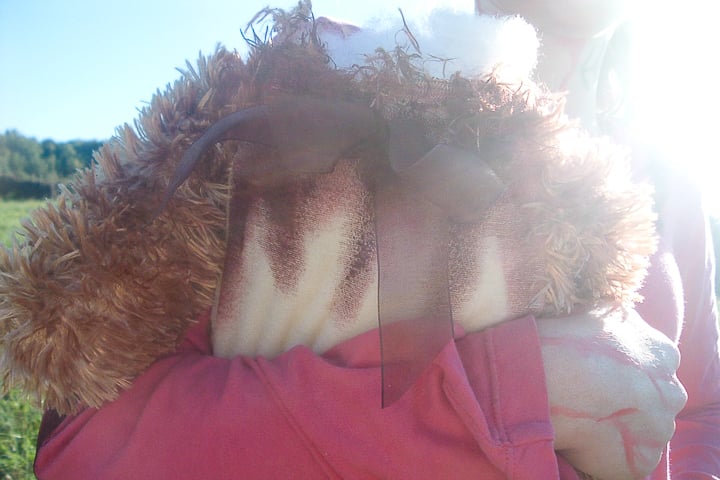 Zombie Costume Makeup Ideas
The other star is the makeup. I covered her face in white eye shadow to make her skin very light. I used a mix of dark eye shadows around her eyes. The blood and veins are just those makeup crayons that they sell in the Halloween aisle. Just draw on various veins and lines. I also added a "cut" with a black crayon on her neck.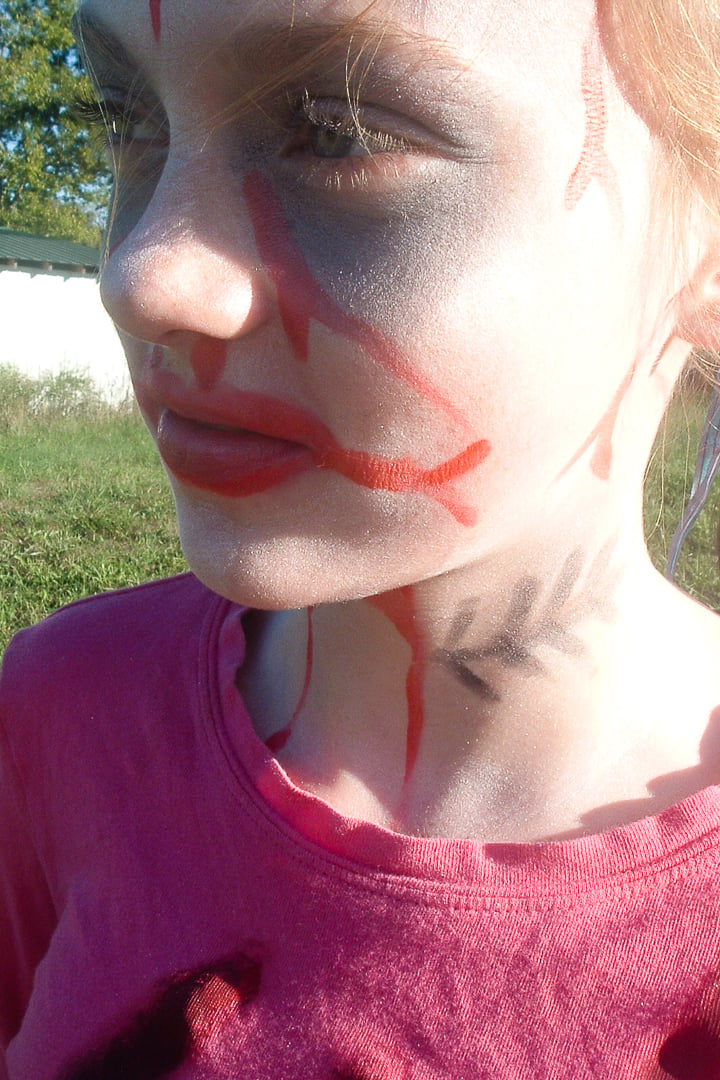 Don't forget to also add makeup to the hands. That is why it is important to get a long sleeve shirt. Again use white eye shadow to make the skin light and crayons to make the veins…so spooky.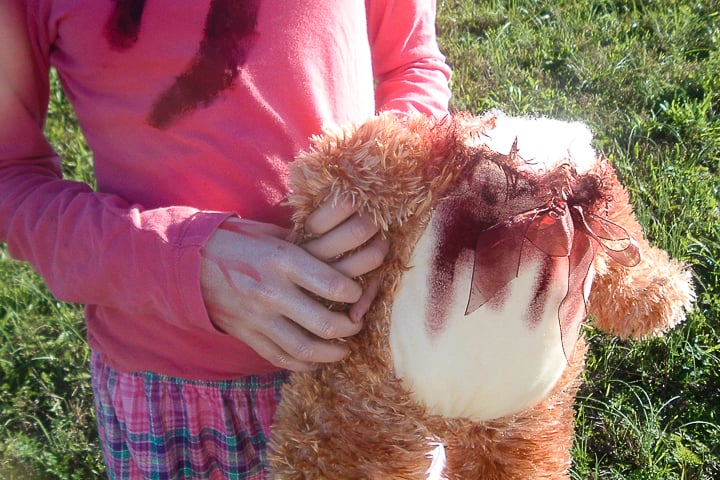 How to Make a Zombie Girl Costume
For the clothing, I got pajama bottoms and a long sleeve shirt from goodwill. I mixed red paint with a little black and painted it in various areas on both the shirt and the pants. Oh so spooky.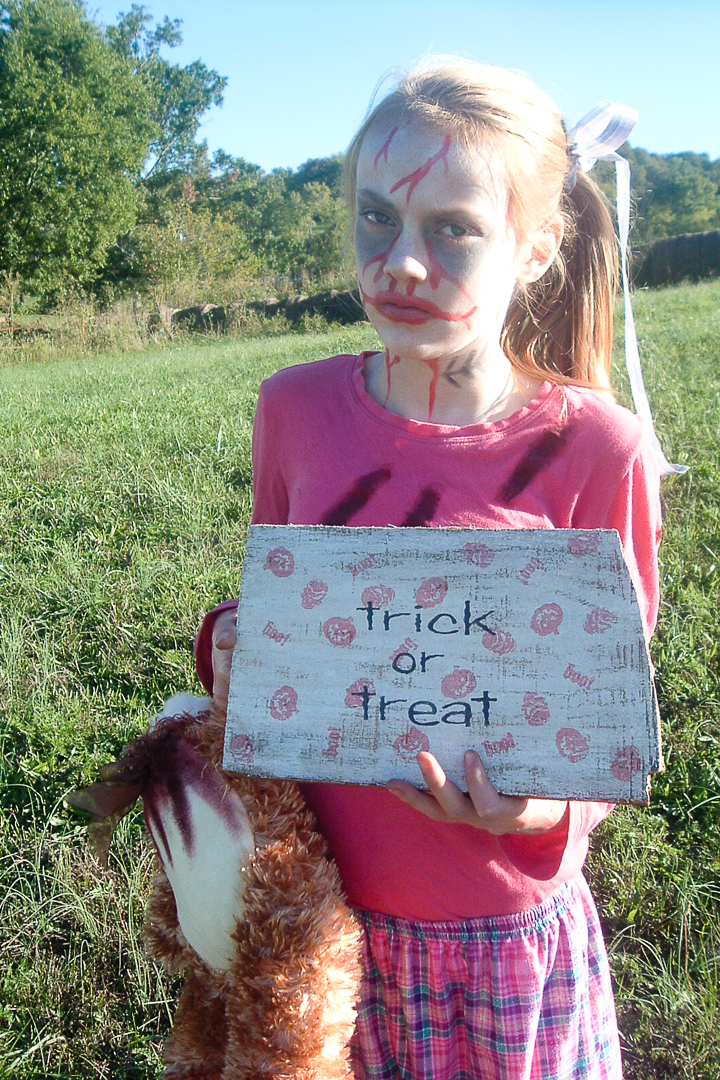 We are ready for some trick or treat fun! And my daughter is THRILLED with her costume…that is priceless!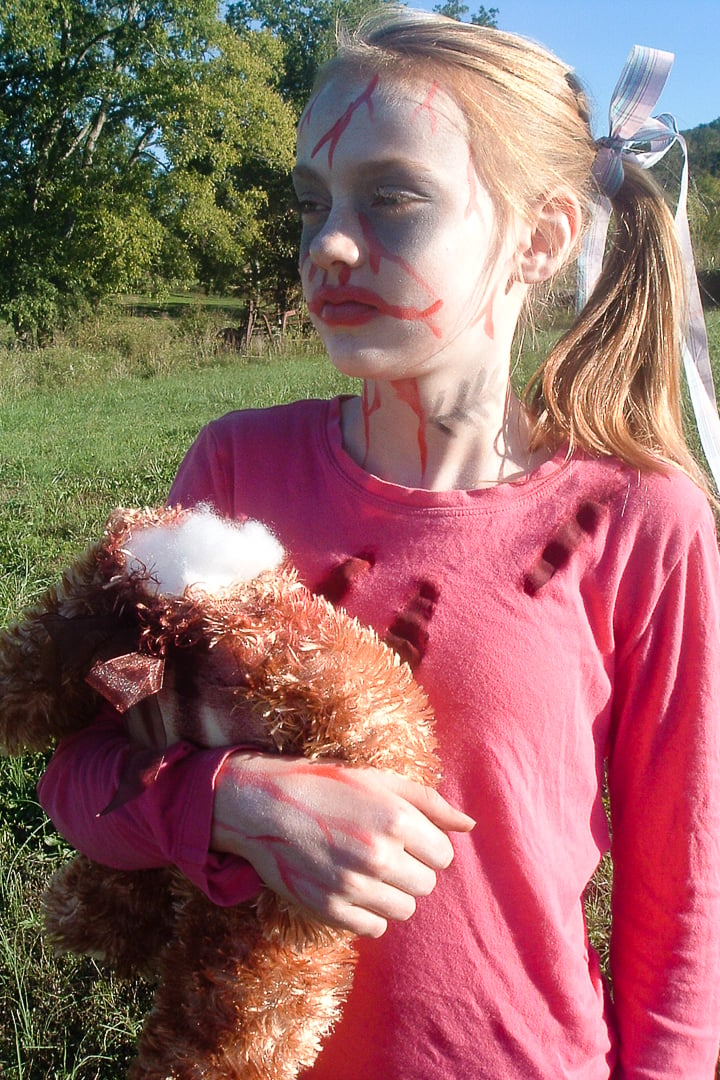 So, will you be making a zombie girl costume for your teen this year? This easy to assemble costume is perfect for those pre-teens and teens in your life! Y'all enjoy and happy haunting!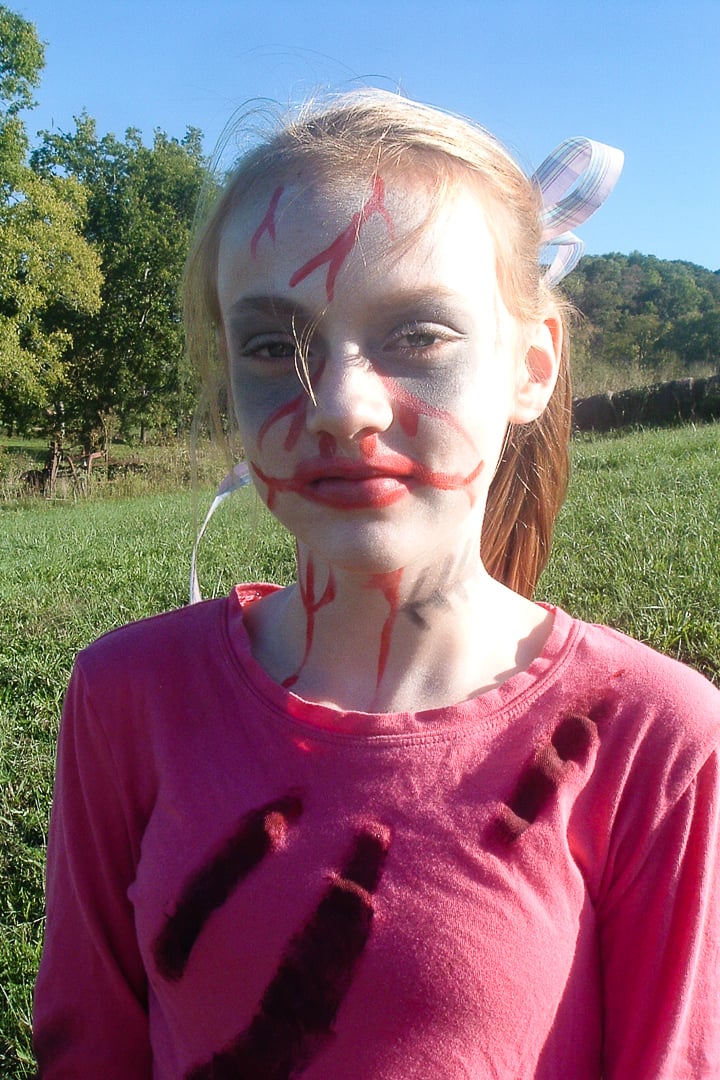 Love this DIY Halloween costume idea and want more? Try the links below!