This post and photos may contain Amazon or other affiliate links. If you purchase something through any link, I may receive a small commission at no extra charge to you. Any supplies used may be given to me free of charge, however, all projects and opinions are my own.
You too can make your own Miss Frizzle costume with our instructions below. Did you love the Magic School Bus when you were little? Then dressing up as Miss Frizzle is the perfect idea for you. Plus this costume is easy to make and will really wow your friends! The best part? This one is perfect for adults as well as kids.
Supplies needed to make a Miss Frizzle costume:
Solid color dress or trench coat (we found ours at Goodwill)
Felt in various colors
Fabric glue
Scissors
Yellow foam stars
Solid color shoes (again ours came from Goodwill)
Supplies to make the purse:
Still yellow felt
Black puffy paint
Bus template (printed from online)
Transfer paper
Ribbon
Thread and sewing machine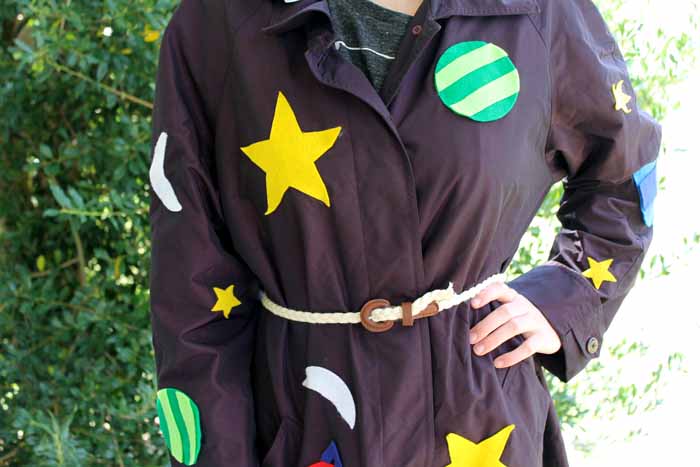 Costume Instructions:
Start by making your costume. The hardest part was finding a base. We ended up with this purple trench coat. Look for anything that is a solid color and the right shape. Then start cutting out plants, stars, moons, and more from your felt. I traced the star shapes onto the felt in various sizes and cut out. Make some quarter moons as well. The planets are all just circles with a variety of designs. Rings for Saturn and stripes for another planet. The sun is one circle with another piece that goes underneath that has the sun's rays. Get creative with your embellishments!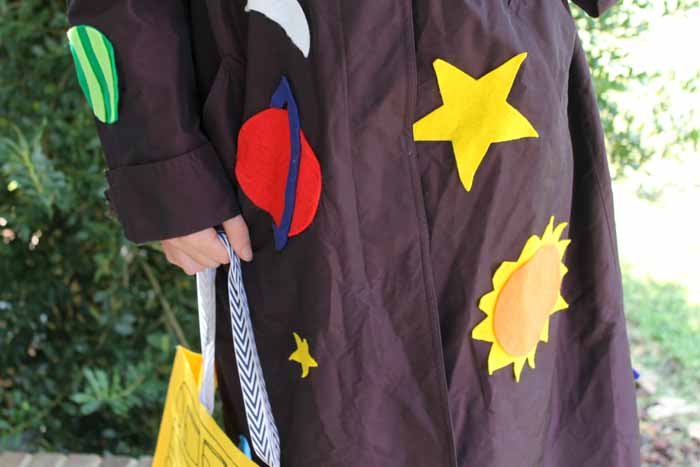 Gather all of your shapes and then use fabric glue to adhere them to the dress. Add them randomly to the front and arms as well as the back. Cut more if needed. Just keep adding until you are happy with the look. Then set the entire thing aside to dry.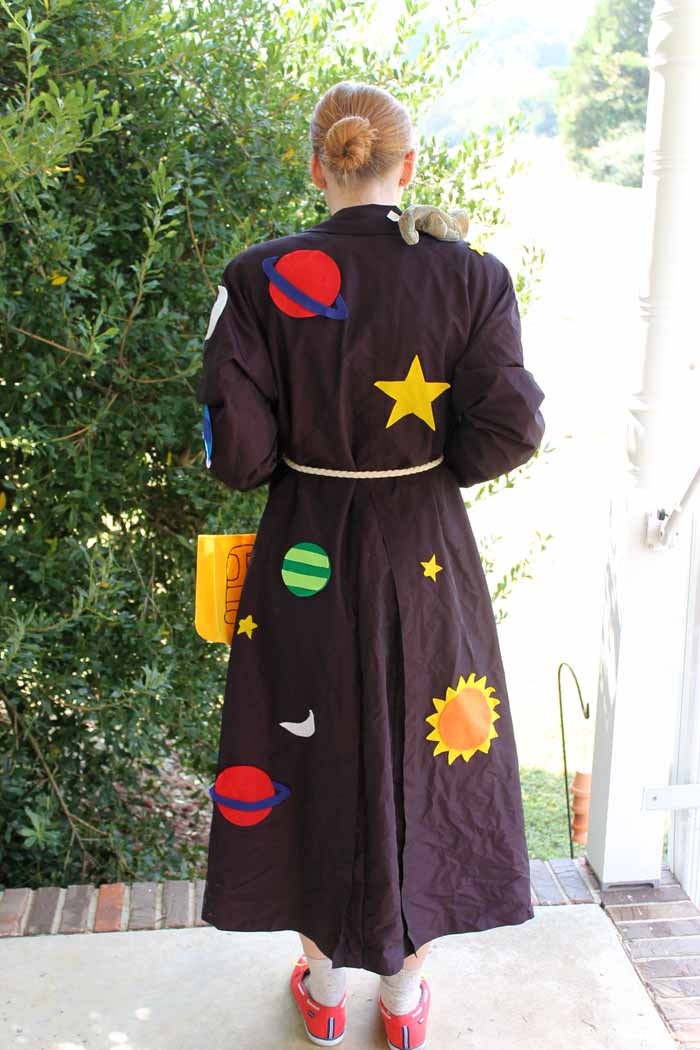 What would a Miss Frizzle costume be without a lizard on the shoulders? We picked this one up at a yard sale and just added him with some safety pins.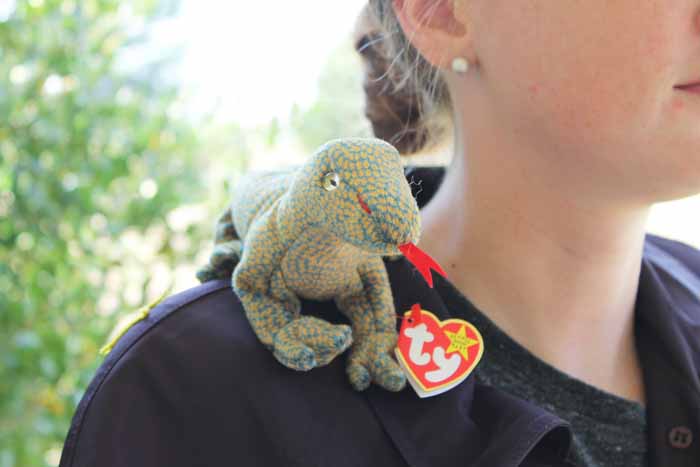 The shoes are just a plain red shoe and we tied one some foam stars to dress them up.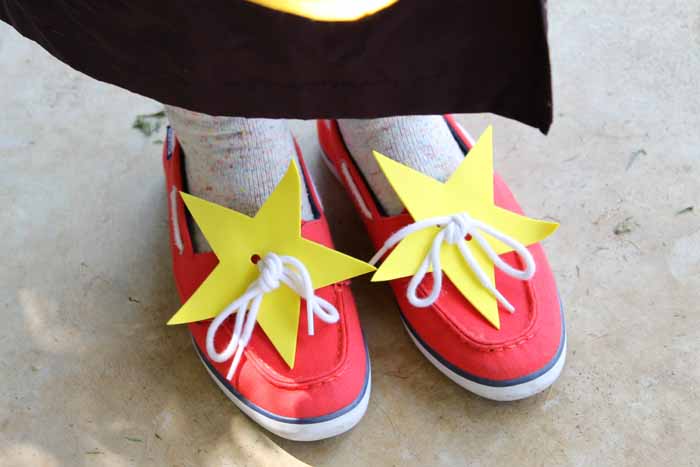 Purse Instructions:
I just couldn't stop there however! I just had to make a school bus purse to complete the entire costume. Use stiff yellow felt and cut a front and back for the purse. On these, I used transfer paper to add a bus pattern. I then traced that with black puffy paint and set aside to dry completely. I then cut more stiff felt for the sides and bottom of the purse and sewed the entire thing together. Add some ribbon handles as well and your Magic School Bus purse is ready for this Miss Frizzle costume!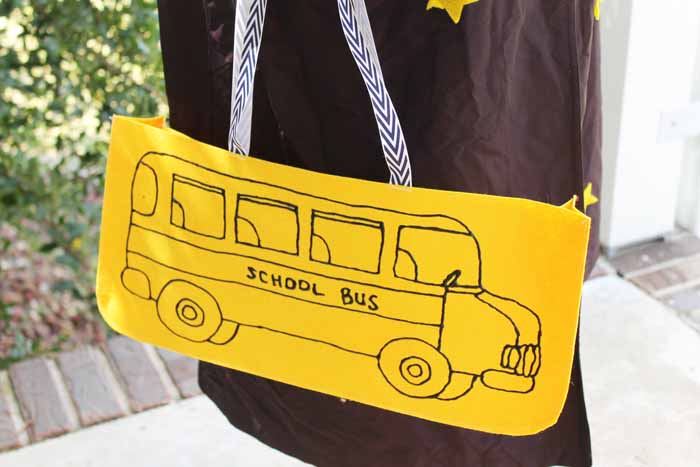 Looking for a quick and easy Halloween costume this year? Try being Miss Frizzle! Pull your hair up into a bun and put on this adorable costume. Everyone will love how this looks when you have it on and you will love how easy it is to make.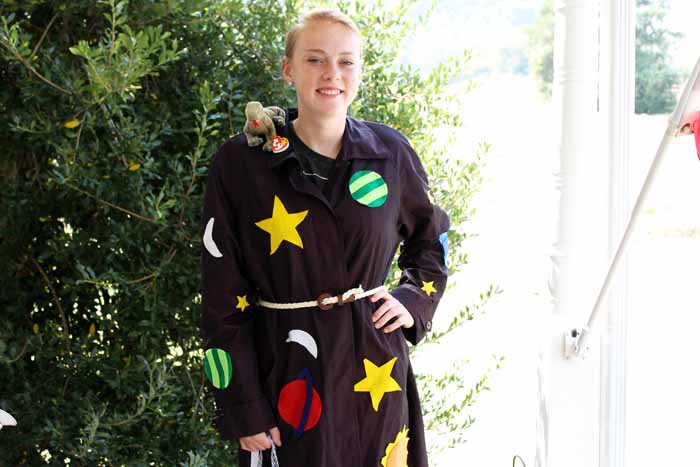 So will you be making your own Miss Frizzle costume this year? Be sure to send us a picture if you do! We would love to see them!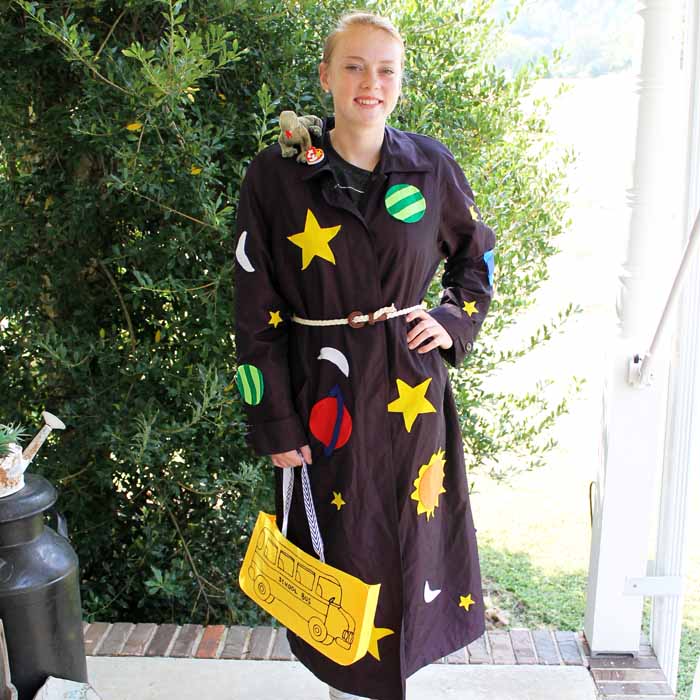 Love this and need most costume ideas? You can also see the links below!