My 15 minutes a day cleaning schedule is going to change your entire life. Once you break down your cleaning habits into small, actionable steps, it makes life so much easier. A daily cleaning schedule may be just what you need to get cleaner and stay cleaner all year long.
Want ideas for all-natural cleaners around your home? See our natural cleaning guide!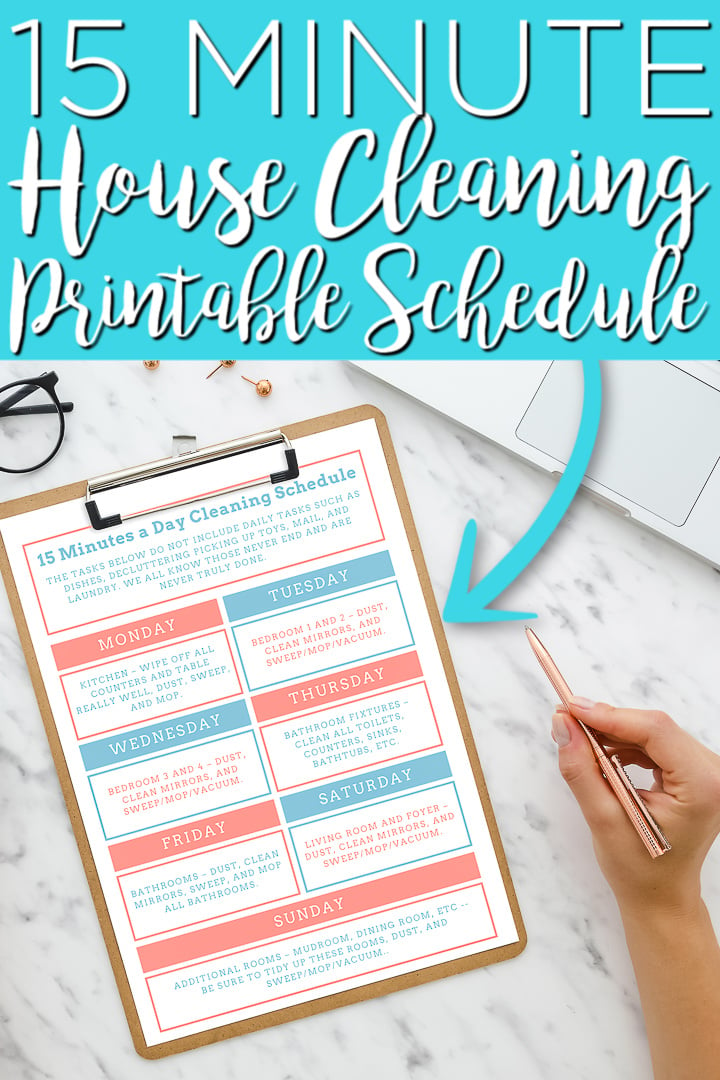 Cleaning just a little every day? Surely there is a brilliant idea there somewhere. I divided up my weekly chore list into approximately 15-minute buckets that I then spread over the 7 days of the week.
Your Daily 15-Minute Cleaning Schedule
Brilliant right? A super clean house and you only have to work 15 minutes a day. Sign me up! Want to print your own copy of my schedule? Just sign up for our newsletter below and the checklist will be sent to your inbox. From there, you can save and print for use each week as you clean your home.
You may have to alter this a little as I made this for the rooms in my home. So, feel free to mark it up once you print it.
Now, you may think that is not ALL you do to keep your home clean. You have monthly and yearly tasks as well that really much be done. I also have a schedule to break down your deep cleaning into smaller buckets. Click here to print my 30 minutes a week deep cleaning checklist.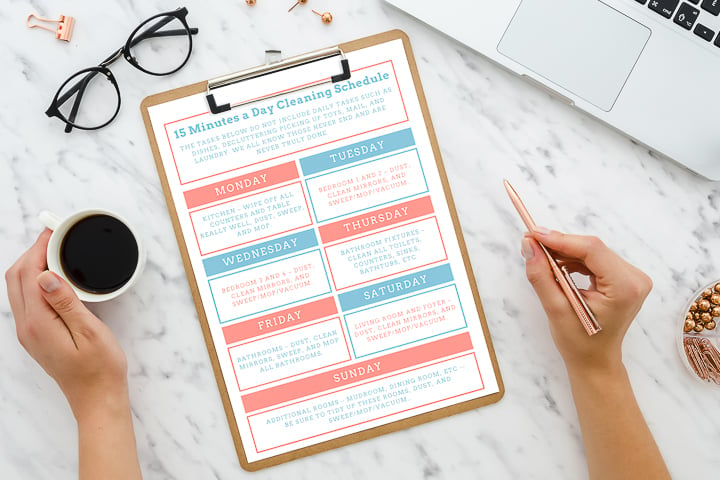 Be sure to print my 15 minutes a day cleaning schedule to keep yourself on task throughout the week. Then you can break down those larger tasks into weekly buckets that you can fit in when you have time. It sounds like you are on your way to a cleaner home already.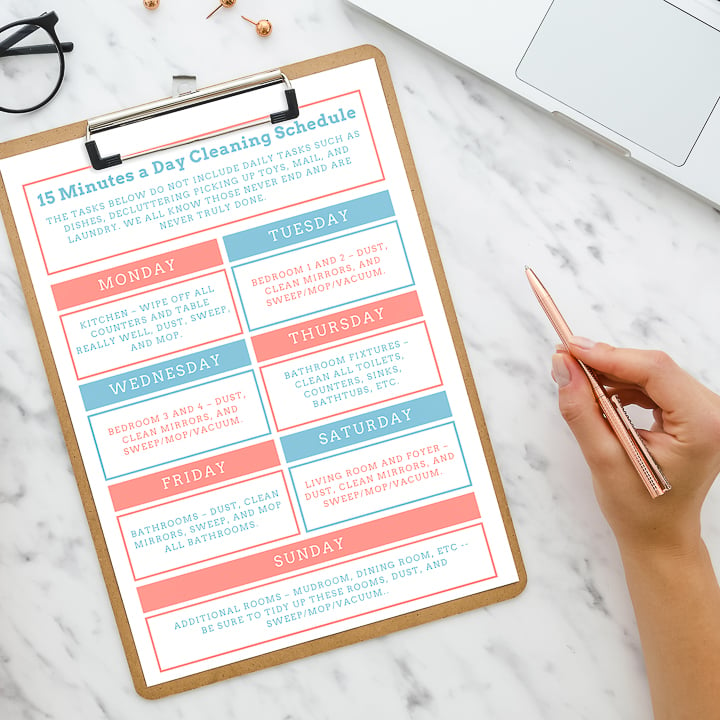 Want to see my favorite cleaning supplies and products?
I have gathered all of the products I love using around my home into one great section of my Amazon storefront. You can click here to shop! If you're looking for just about anything to clean your home, I probably have an option that you will love!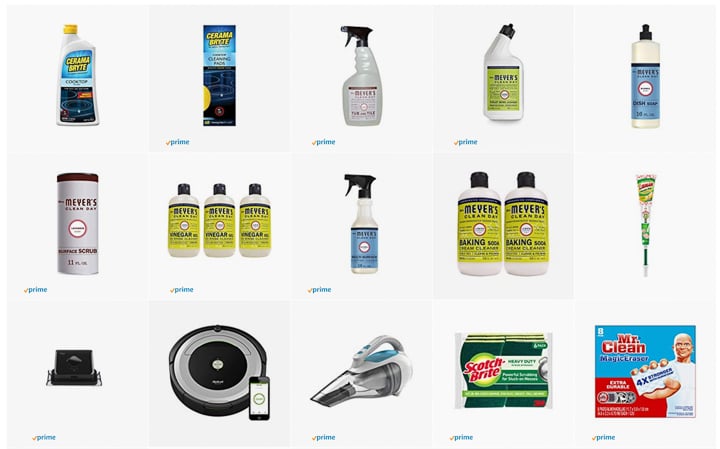 Grab our daily cleaning schedule and start planning on keeping your home cleaner a little each day. You will be amazed at what a difference 15 minutes a day can make.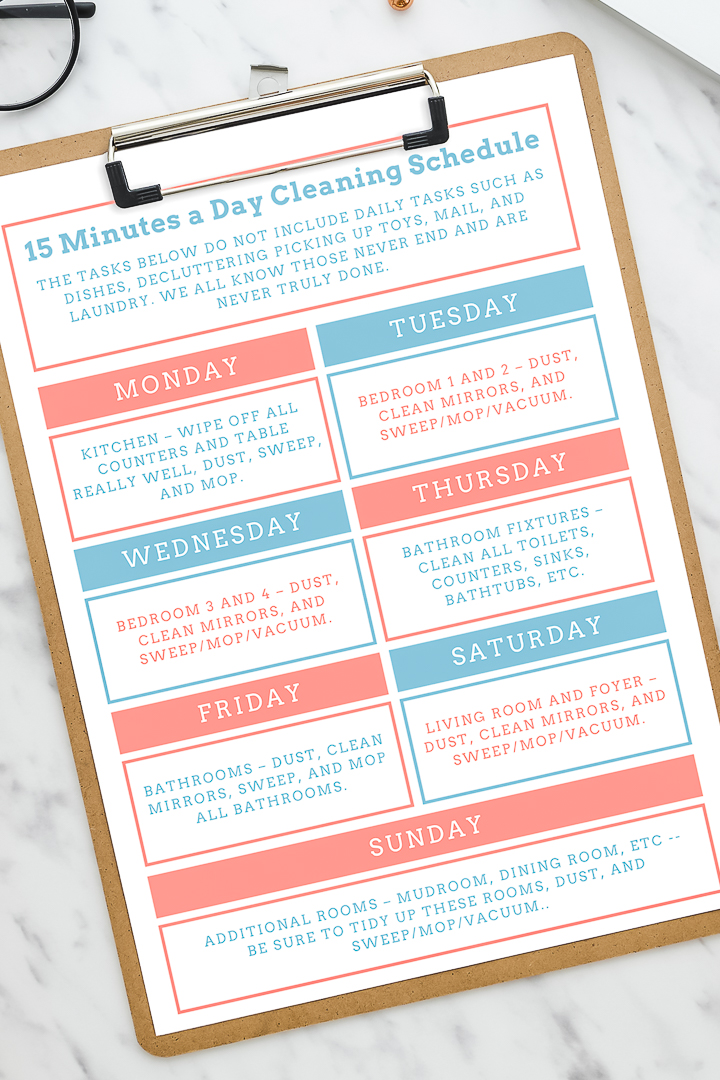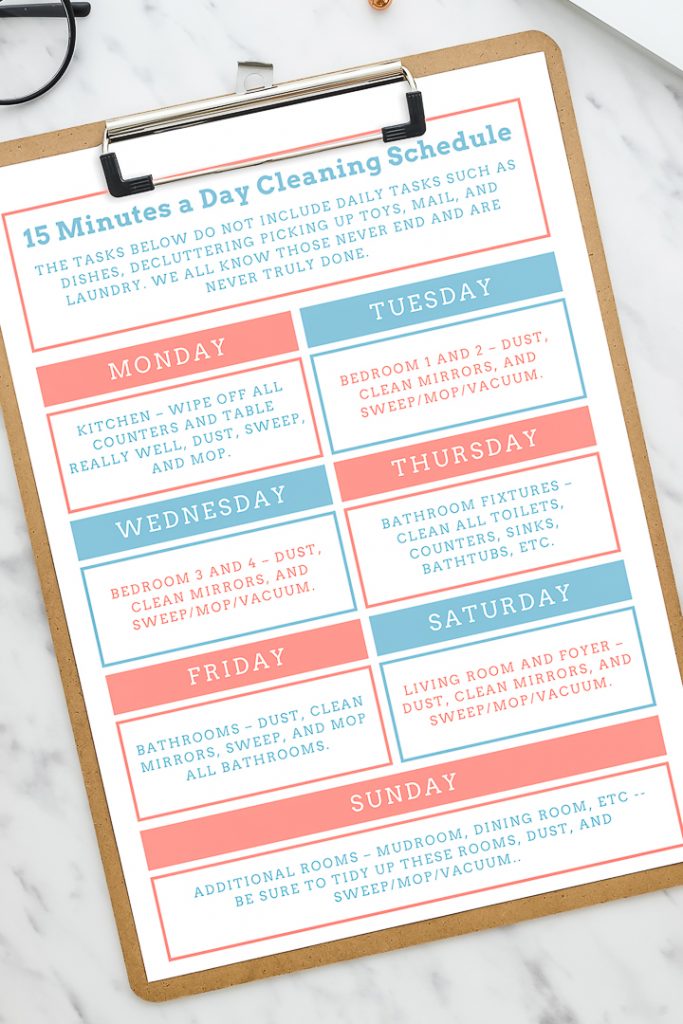 Love this cleaning schedule and looking for more ideas? Try the links below as well!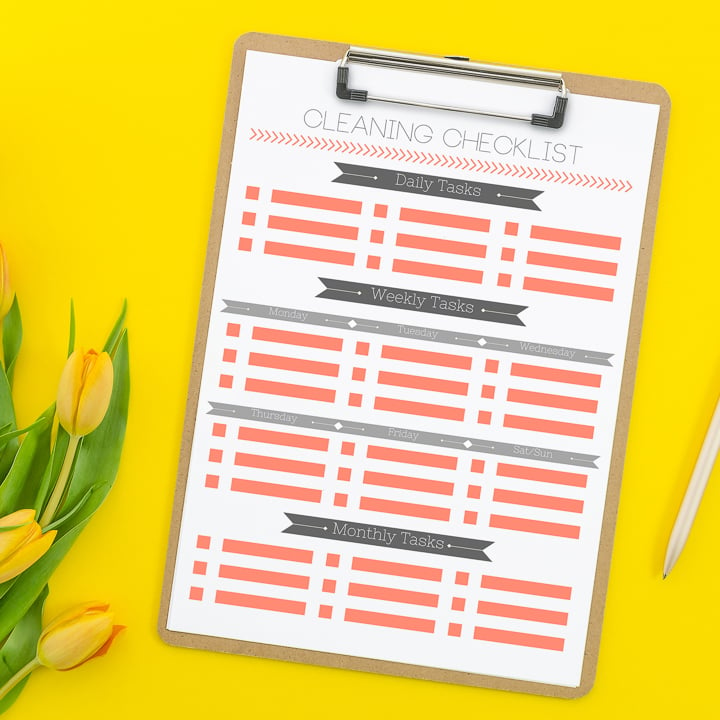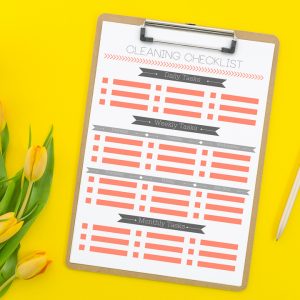 Printable Cleaning Checklist
Want all of your daily, weekly, and monthly tasks on one sheet? Try this printable cleaning checklist.
Read More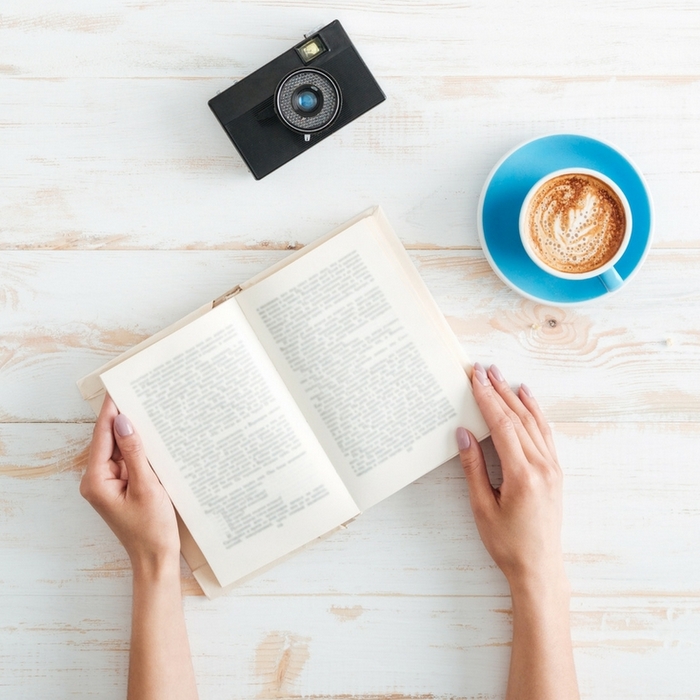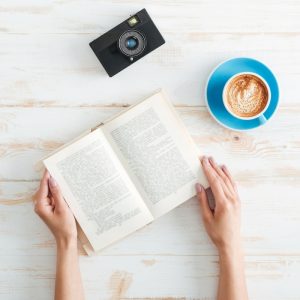 The Best Cleaning and Organizing Books
Need more help? We have collected the best books to help you get cleaned and organized!
Read More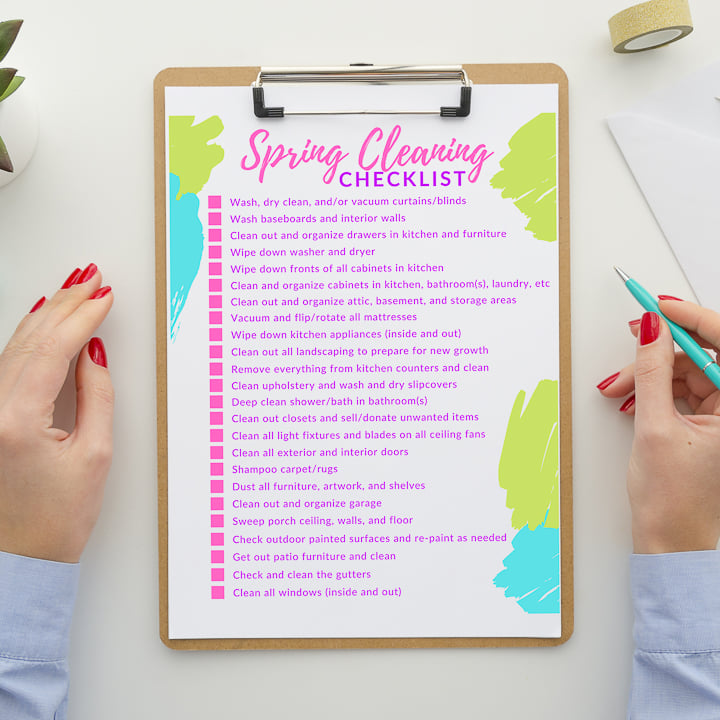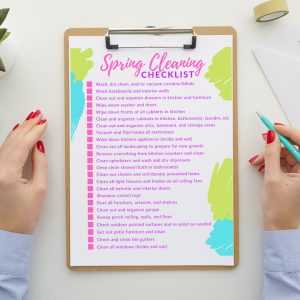 Spring Cleaning Checklist
Conquer your home this spring with our cleaning checklist that will get your house in order.
Read More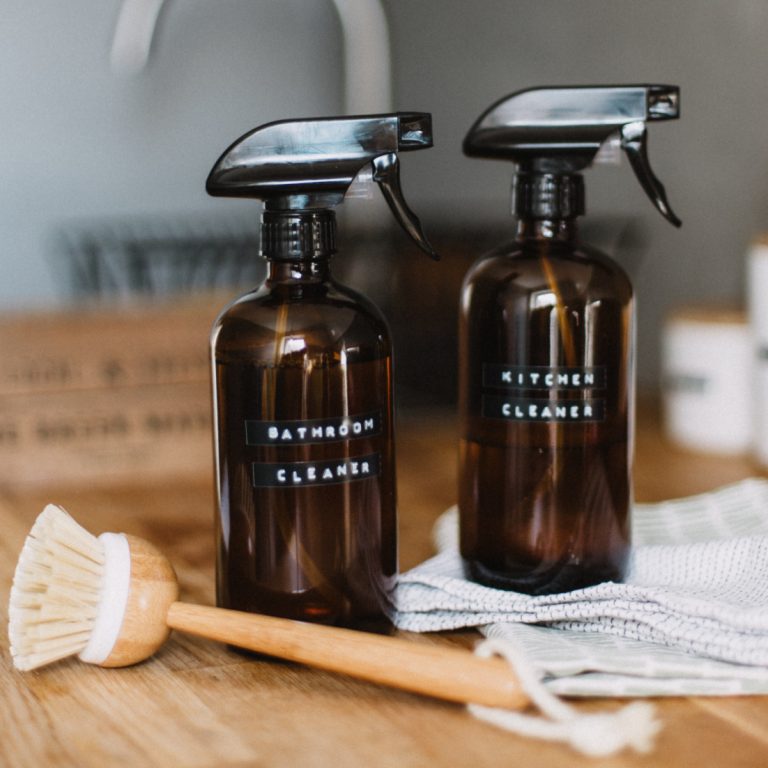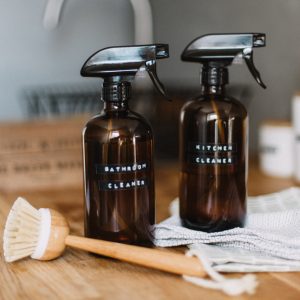 25 Ways to Clean with Vinegar
Give vinegar a try for cleaning around your home with our 25 ideas.
Read More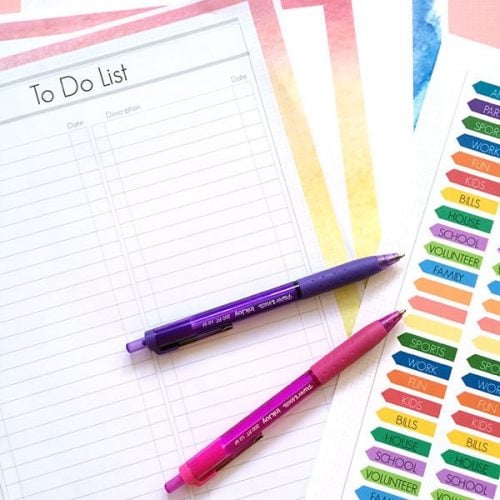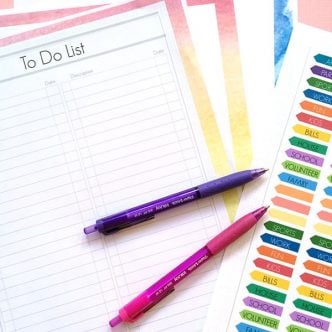 Printable Planner To-Do List
Organize your life with this adorable planner to-do list.
Read More