Halloween is almost here. My tween wanted to be an 80s girl. The costume she picked out in a book was close to $50. So I decided to DIY my own version of this costume from Dollar Store finds.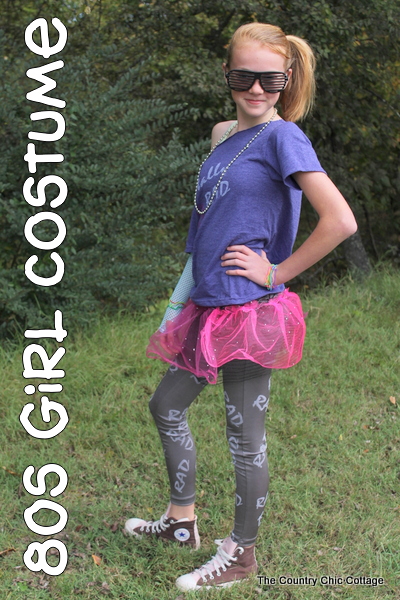 How to Make an 80s Girl Costume on a Budget:
A quick rundown of the items used for this costume:
Glasses – $1 from The Dollar Tree
Tshirt – $1 from The Dollar Tree (customized by screen printing with items on hand)
Necklace and bracelets – we had these at home but these can be purchased anywhere
Leggings – had on hand (customized by screen printing with items on hand)
Skirt – $4 black and pink netting cut from items at The Dollar Tree and sewn onto leggings
Glove – $1 from second hand store
Shoes – on hand
TOTAL = $7
Fun 80s-Style T-Shirt and Leggings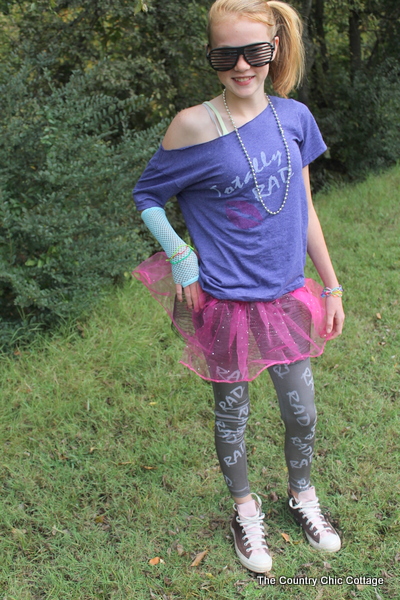 I knew that I wanted to paint on the shirt and leggings. I actually had a product that makes screens and ink on hand. You could absolutely use fabric paint instead. I created the "totally rad" graphic on my computer in my word processing program.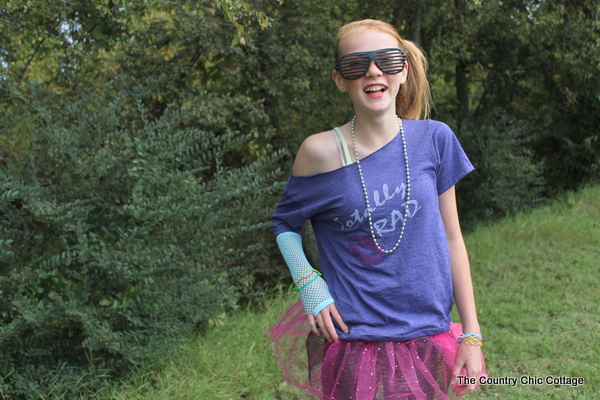 The Iconic 80s Girl Skirt
I took black and pink netting that I actually cut away from Dollar Tree items and sewed them onto the leggings as a skirt. The black was from a Halloween item and the pink was three of those pink princess skirts for little girls.
These glasses are OH SO 80s! And they were right there at The Dollar Tree. I really think they made the look.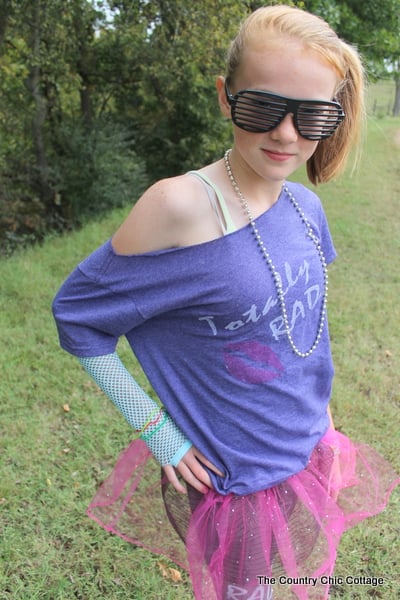 We had fun making this costume and posing for some modeling pictures. A perfect excuse to spend some time together. I am in love with the results. She is "totally rad" and ready to like go to a party or whatever….
Check out more thrifty and fun DIY Halloween costumes here!