Time for another Ballard Designs Knock Off!! I just had to have a seagrass lamp shade…and well I had to try to make one…you knew that was coming right??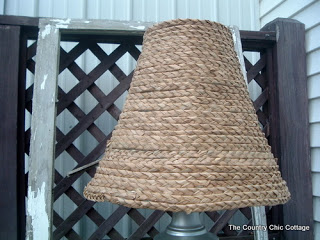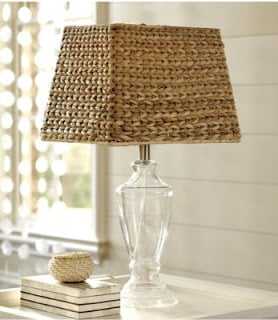 I fell in love with the texture!! Here is a closer up view of the shade from the Ballard website….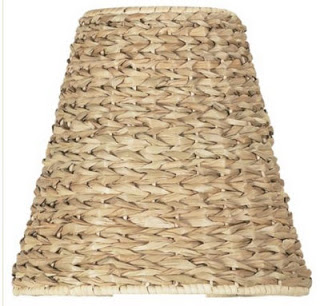 So my first stop?? The thrift store…bet you saw that coming too… 🙂 I found this woven thing. I would assume it is supposed to be a seat cushion but really I have no clue….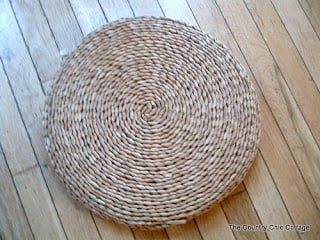 The only thing I did know was that the texture seemed perfect. Seemed like it would fit the bill so for $2 I was on my way to a knock off…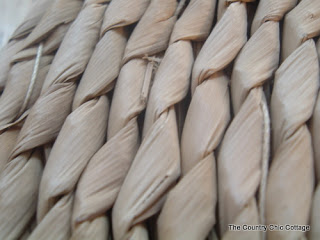 I got it home and began to destruct this thing. It was 2 halves and they were attached together. So I clipped the threads and seperated the two halves. What was inside?? C'mon you will never, ever guess. Like not in 1 million years….corn husks!! What the heck?? So if you have these and are sitting on them this is what the inside looks like…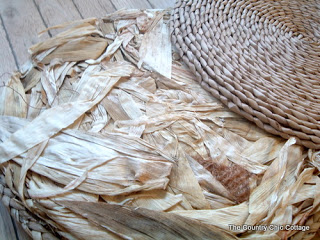 The husks found their way the the garbage and I continued on my deconstruction mission. I started undoing each half by clipping the strings that hold it together. Check out the way it is woven together!! Now I am thinking this is going to be puuuurfect…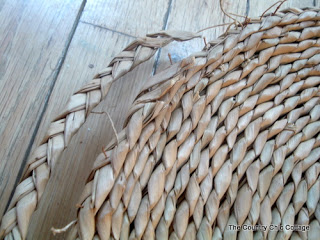 I used one half and then part of the other half for my lamp shade. Here is the pile o' mess after one half was deconstructed. Hubby asked one of the kids what I was doing in the living room and they said "making a mess". Ahem…mess that will be gorgeous in a few minutes!!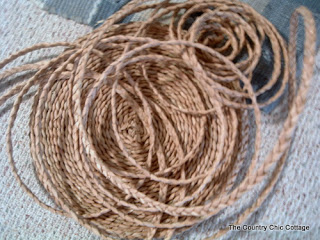 So this was my lamp shade before. And if you are keeping tabs…this is from the lamp I redid here…yes it has not been that long. I was never entirely happy with the shade. So I decided to try again. No harm in changing things up!!
So hot glue, woven grass stuff, lamp shade. That is it. Wrap it around and glue in place. At the top and bottom I glued all the way around.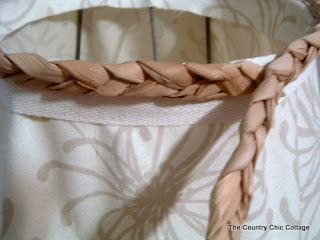 The rest of the rows I just added hot glue where ever the wires were in the lamp shade. I don't think glueing to fabric is going to make the lamp shade any stronger so I skipped those areas.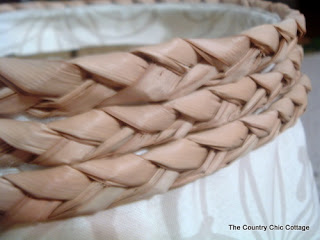 A few shows on the DIY network and some patience….I have a woven seagrass lamp shade!!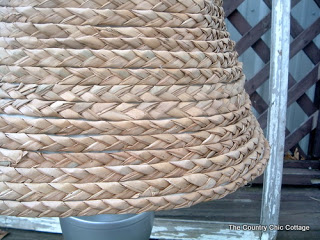 Okay this is soooo much better than just the fabric on the shade!! I heart the texture!!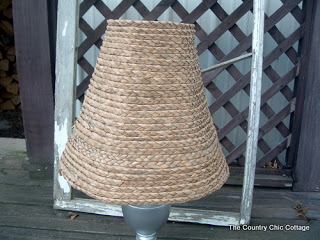 There was another one of those woven seat cushion things at the thrift store. Thinking of going back so I will have one on hand if another lamp shade needs some texture!!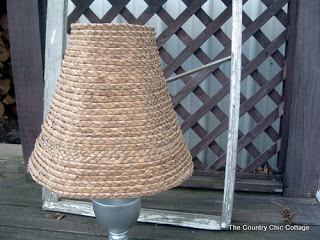 You could totally do this on any shade, any shape. This one is for my family room but I think that this would add texture to any room in your home! Maybe my love of baskets is what has me loving this shade so much. I am telling y'all I have a hard time walking past a basket without buying it!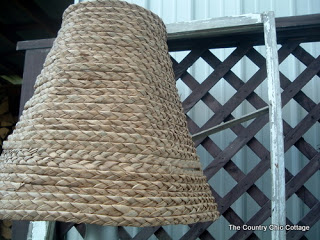 Okay the final test…my version….$2…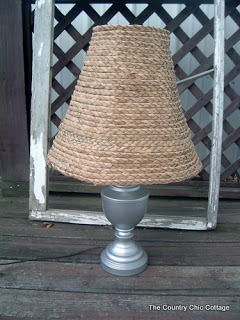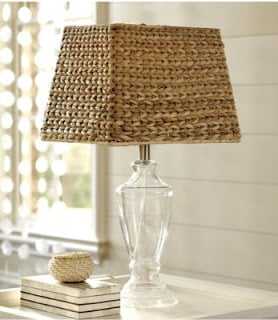 ~Thanks for stopping by!~

~Angie~