A fun challenge for DIYers is to take popular items and create knock-offs of them. Use this tutorial to make a Ballard Designs Seagrass Lamp Shade knock-off that will cost you a small fraction of the price of the name-brand item.
As a crafter and DIYer, I often look at name-brand items and think about how I can create a similar item in a creative budget-friendly way. Homemade items won't look exactly the same as the store-bought equivalent, but you wouldn't realize it most of the time.
I've had a lot of fun making knock-off pieces and have added some amazing pieces to our home this way!
Some of the other pieces I made include a Restoration Hardware Key Shadow Box Knock Off, a Quick and Easy Woven Mirror Knock Off, and my Pottery Barn Knock Off Canister.
I've also tackled a few Ballard Designs projects. Now it's time for another Ballard Designs knock-off! I happened to see their seagrass lamp shade and just had to have one. Well, I had to try to make one – you knew that was coming, right?
Check out some of the other Ballard Designs knock-offs I've created, including my Painted Garden Stool Ballard Designs Knock Off, Ballard Designs Knock Off Numbered Tags, and Ballard Designs Finial Knock Off projects.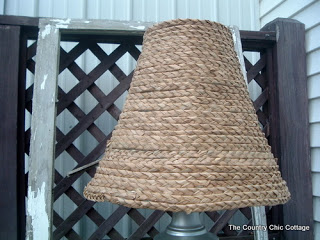 Seagrass Lamp Shade Inspiration
Before I jump into how to create this incredible knock-off, I want to show you the item that inspired this project. Just in case you've been living under a rock and missed it!
My inspiration was this Ballard Designs glass table lamp with a seagrass lampshade.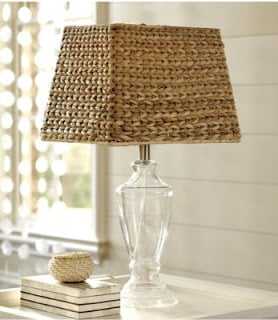 I fell in love with the texture of the lamp shade the first time I saw it! Seriously, what's NOT to love about it?
So, the first thing I needed to do was visit the thrift store. I bet you saw that coming too!
I found this woven thing and think it is supposed to be a seat cushion. Or maybe a placemat. I have no clue.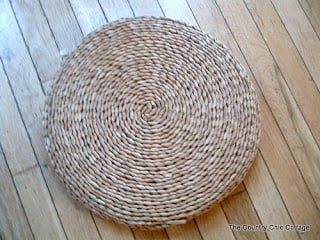 The one thing I did know was that the texture seemed perfect seagrass lamp shade. It seemed like it would fit the bill, so for $2, I was ready to start making this knock-off.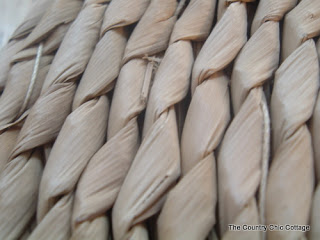 Ok, let's dive in and create this lamp!
How To Make a Ballard Designs Knock-Off Seagrass Lamp
If you've never made a knock-off item before, I think you'll be surprised at how simple it was to make this beautiful lamp shade.
Supplies Needed
You'll only need to gather 3 simple supplies to make this seagrass lampshade project.
Note: This is the lamp shade I used. I was never entirely happy with how the shade turned out, so I decided to try again. No harm in changing things up!
Project Instructions
Here's how I made this project. If you get grass rope in some other form, your initial steps may be slightly different.
Step1
When I got it home, the first thing I needed to do was deconstruct the wound-up seagrass. As I took it apart, I discovered it was two halves that were attached together. So I clipped the threads and separated the two halves.
Guess what I found inside? C'mon, you will never, ever guess. Like not in 1 million years. Corn husks! What the heck??
I mention that little nugget because if you have these, this is what the inside looks like: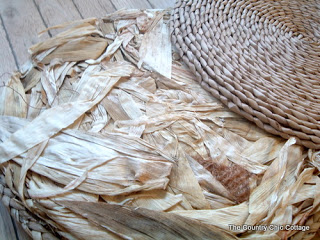 Step 2
After I removed the husks, they found their way into the garbage. Then I continued my deconstructing mission.
As I get further along with unwinding this bundle, I can see what I suspected all along: this is going to be the perfect material!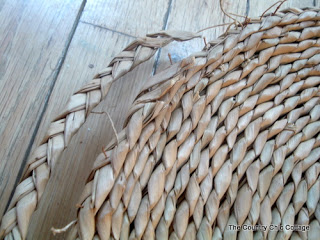 Step 3
I used one half and then part of the other half for my lampshade. Here is the pile of the mess after one half was deconstructed.
Fun tidbit: Hubby asked one of the kids what I was doing in the living room, and they said, "making a mess". Ahem…it may be a mess now, but it will be a gorgeous seagrass lampshade in a few minutes!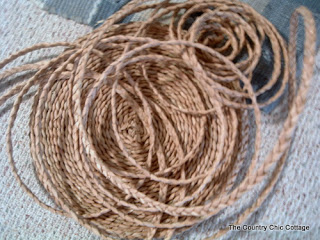 Step 4
Next, hot glue the woven grass rope to the lampshade. That is it. Wrap it around, and glue it in place. I glued the top and bottom rows all the way around to ensure they were secured into place.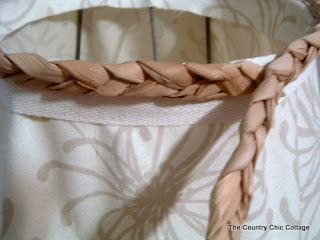 For the rest of the rows, I just added hot glue everywhere there were wire supports in the lampshade. I don't think gluing the rope to the fabric would make the lampshade any stronger, so I skipped those areas.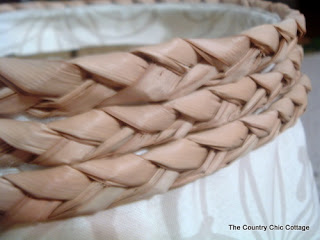 Now, thanks to a few shows on the DIY network and some patience, I have a woven seagrass lampshade.
Okay, this is so much better than just the fabric on the shade. I love that texture!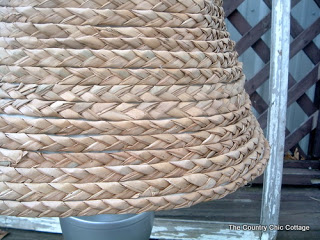 FAQs
Here are a couple of questions that I see readers ask about making this great DIY seagrass lamp shade. If you have a question, please check to see if I've already answered it below. Don't see your question? Leave it for me in the comments!
Does this project only work with round lamp shades?
Yes! You could totally do this to any shade and any shape. The process remains the same no matter what type of lamp shade you use.
I am adding this seagrass lamp to my family room, but I think that this texture would be a terrific addition to any room in your home! Maybe my love of baskets is what has me loving this shade so much. I had a hard time walking past a lamp like this without buying it – until now!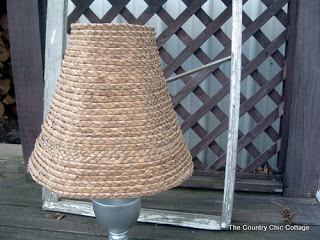 Would other types of glue work?
Hot glue is the ideal adhesive for this seagrass lamp shade knock-off because it sets quickly and has a stronghold. Super glue is too thin. Craft glue takes too long to set. I recommend using hot glue if you want to make a seagrass lamp shade!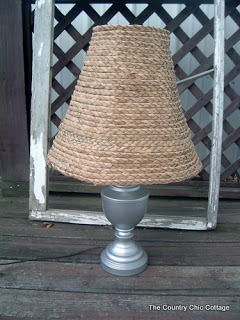 So, how did my product compare to the store-bought version? Well, my version cost $2, while the Ballard Designs version costs $119. You do the math. I hope this seagrass lamp shade tutorial helps you create a "new" lamp you love to look at!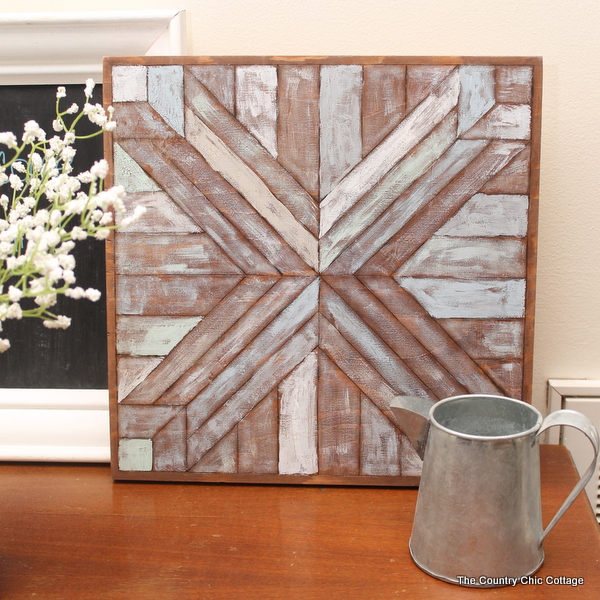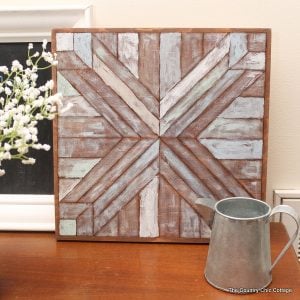 How to Make a Knock-Off DIY Wood Quilt Square
Make your own Pottery Barn-inspired wood quilt square for a fraction of the price with this DIY tutorial!
Read More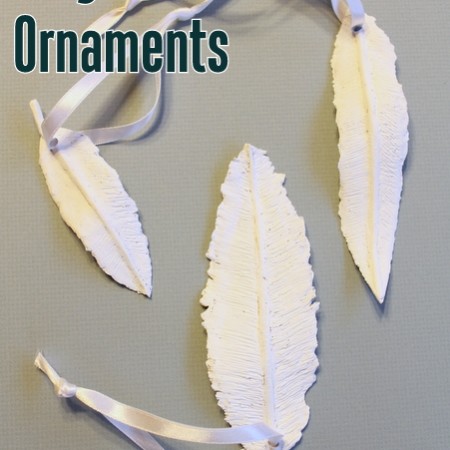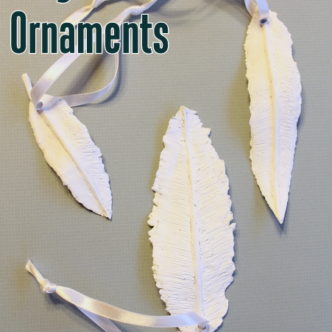 Clay Feather Ornaments Ballard Knock Off
Make these clay feather ornaments for your tree! These are similar to some that were for sale at Ballard Designs but so much cheaper to make!
Read More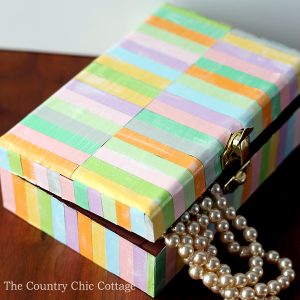 Knock-Off Pottery Barn Jewelry Box
This simple project will transform a simple (or old beat up) jewelry box into a work of art perfect for giving as a gift to your favorite jewelry-lover!
Read More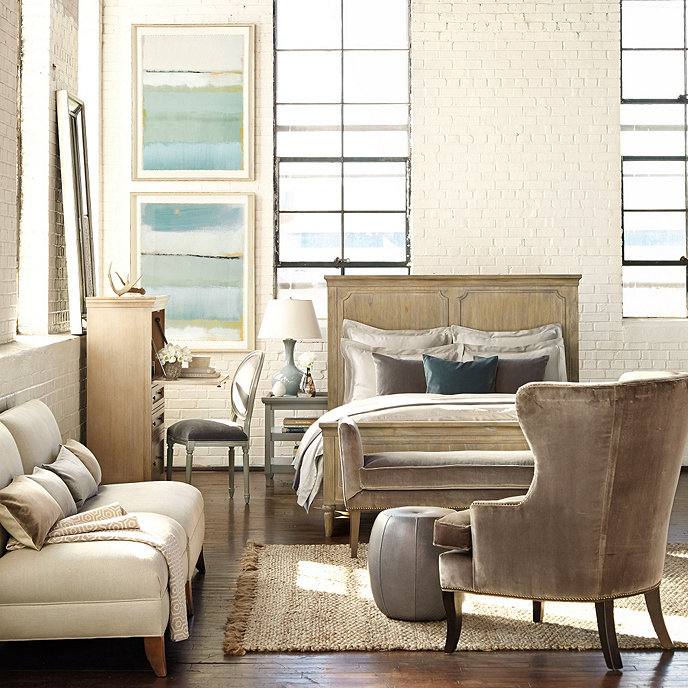 Ballard Designs Knockoff Paintings –
My two favorite catalogs to get in the mail are Pottery Barn and Ballard Designs. Use this tutorial to create a lovely knock-off of these great paintings.
Read More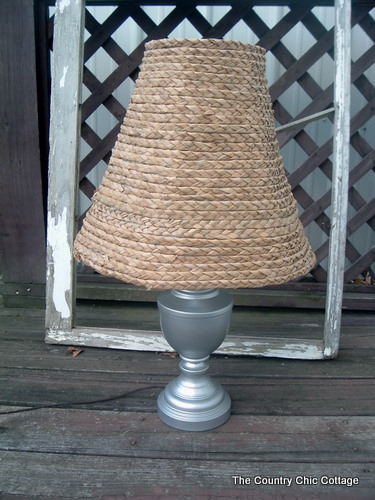 Seagrass Lamp Shade Knock-Off
This tutorial walks you through how to make a Ballard Designs Seagrass Lamp Shade knock-off that will cost you a small fraction of the price of purchasing the name-brand item.
Supplies
Lamp with lamp shade

Woven grass rope

Hot glue gun and glue sticks
Instructions
Deconstruct the seagrass coil. Clip the threads and separated the two halves.

Remove the inner cornhusk filling and finish deconstructing the coil.

Next, hot glue the woven grass rope to the lamp shade. Glue it in place along the wire frame as you wrap it around.

Glue the top and bottom rows all the way around to secure them in place.
Tried this project?
tag us to show off your work!