I am finally ready to reveal my nautical themed bathroom design. This post has a ton of pictures so sit back and enjoy the eye candy. Grab a few ideas for your own beach themed bathroom as well. I have been working on this one for a few weeks now and I must say I am super proud of the results. Do you know that feeling when something turns out just like you envisioned it? Yep this is just the way I saw this room in my head. If you are looking for before pictures of this room, you can head on over to the post from when it was a for the love of books bathroom. The kids are getting older now however and it was time for a change.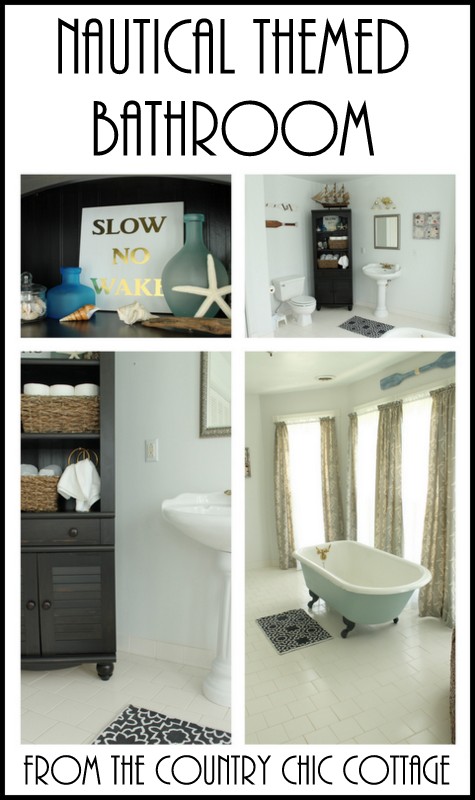 This room is really really big for a bathroom. I am just going to start with the view you get as you come in from my craft room. Then we will walk around the room counter clockwise.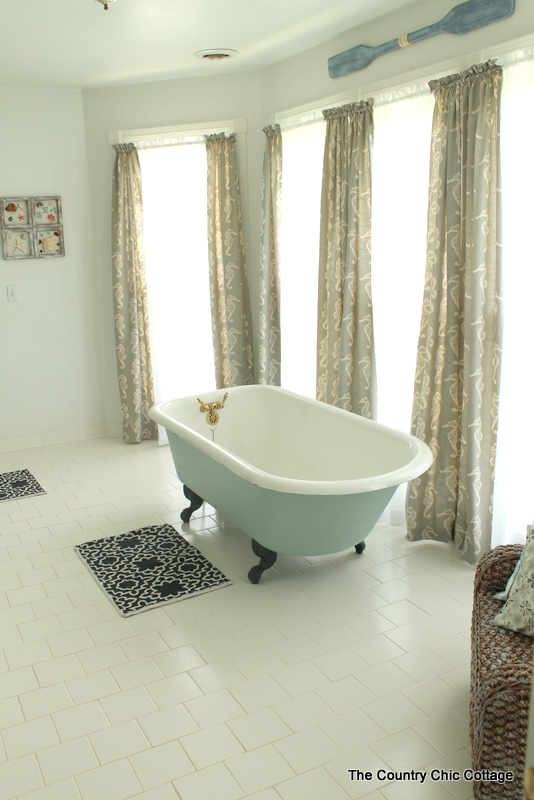 The five windows in this room are a huge challenge. But I tackled them with long curtains that I made with fabric from Online Fabric Store. You can read more about the fabric and how to make the curtains here. I also made the oar hanging above the window. You can get more details on how to make your own oar here.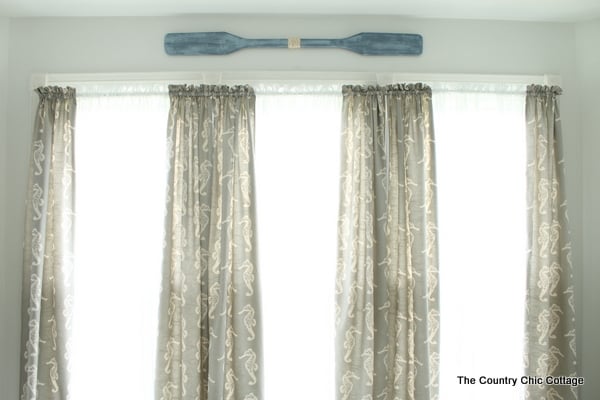 The claw foot tub was hunter green before so it really needed a coat of paint. I painted it using DecoArt chalky finish paint and I love the result. If you have a tub to paint, be sure to check out my how to paint a claw foot tub post.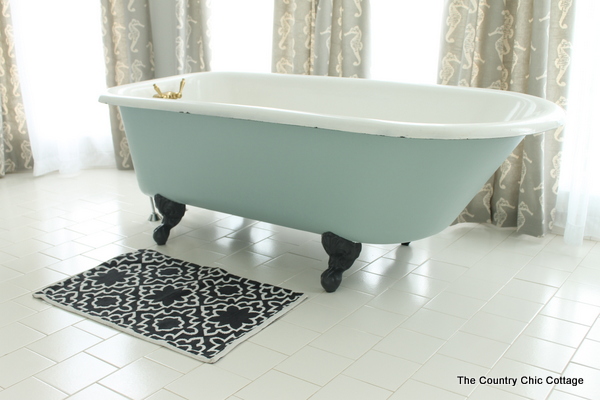 The rugs in the room are actually from Dollar General. I love the dark color and graphic pattern against the white tile floor.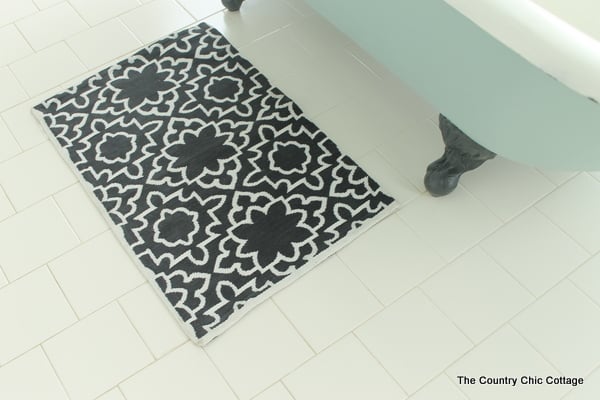 Continuing on counter clockwise we get to the sink area. The pedestal sink was already in this room and the mirror above I bought several years ago.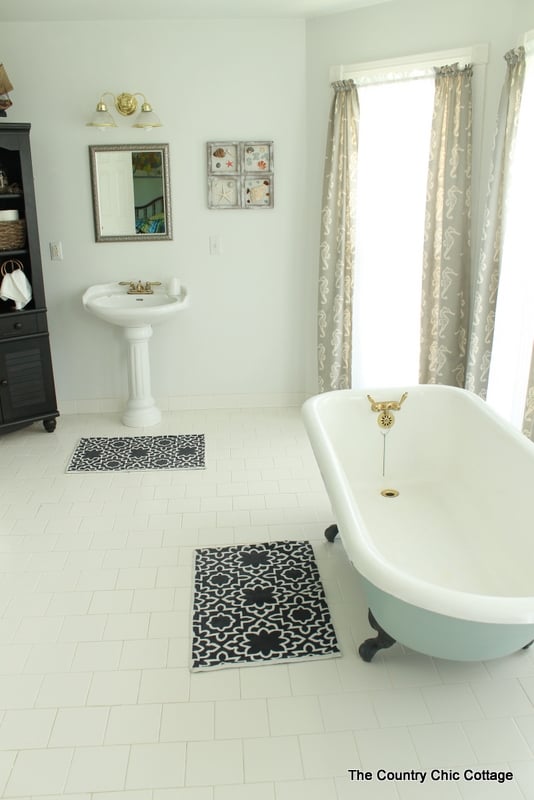 Next to the window on this side, I hung my nautical shadow box.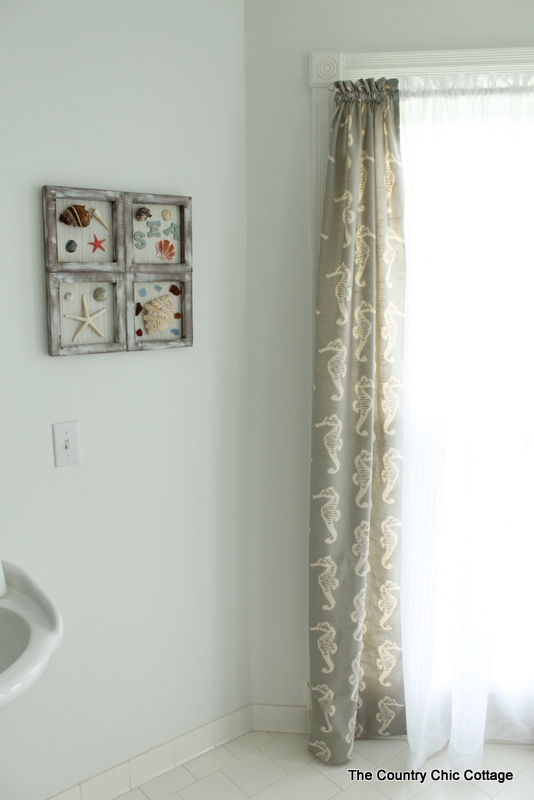 Moving more to the left you can begin to see my new bathroom cabinet from Sauder.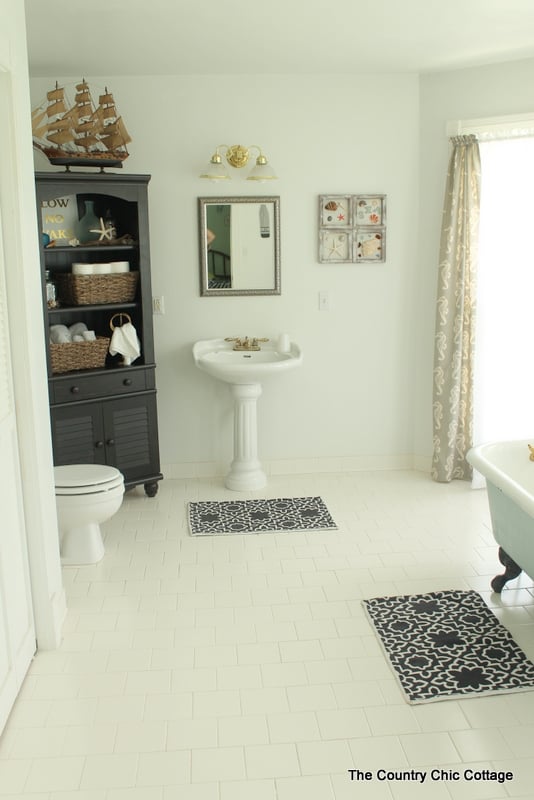 I love the dark wood of the cabinet in this super white space. I ended up placing it in the corner after trying several different spots in this room.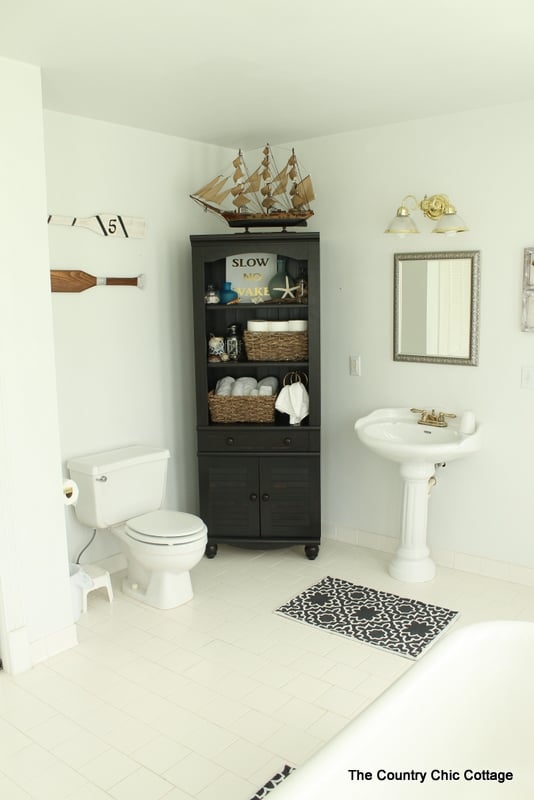 The cabinet itself has a rustic finish which I love. The ball feet and finish fit in with the pedestal sink and claw foot tub perfectly.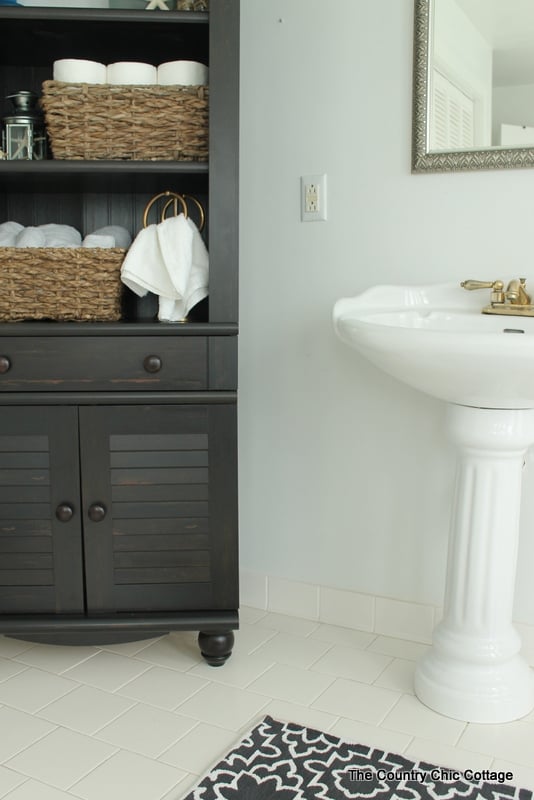 I went through several trials when adding decorative and functional pieces to the shelves of the cabinet as well. This is where I ended up and I love it!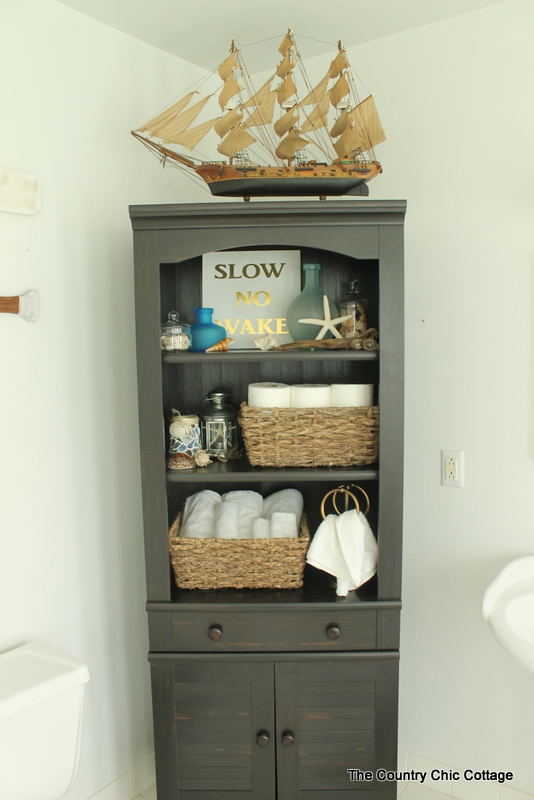 Starting at the very top is a model ship that I found at a junk store for $25. I was immediately in love and knew that it would make the bathroom! This may be my favorite part of the bathroom. Oh who am I kidding?? All of these pictures are my favorite part.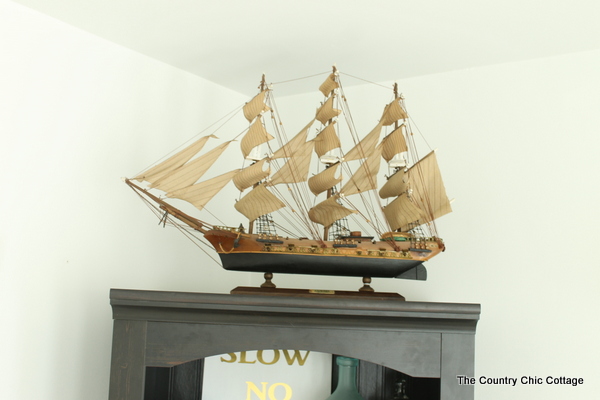 The first shelf is all decorative. The two vases came from TJ Maxx. All of the shells, driftwood, and starfish came from my collection. I made those small glass buoy fish floats laying on the shelf.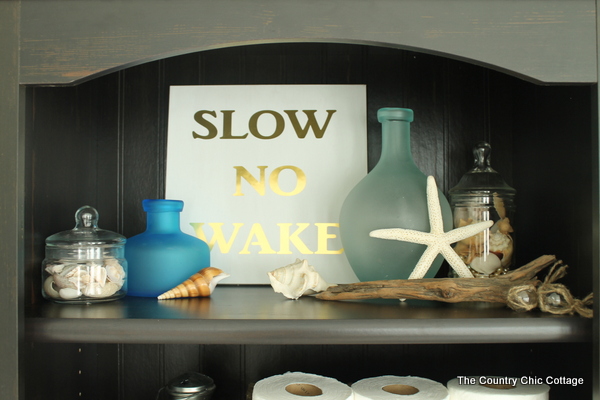 The shelf needed a bit of white on the back so I literally whipped up this SLOW NO WAKE sign in about 15 minutes. Just paint a board with Americana Decor Chalky Finish in white. Once dry, add lettering cut on a Silhouette from Silhouette printable foil in gold. It really makes this shelf.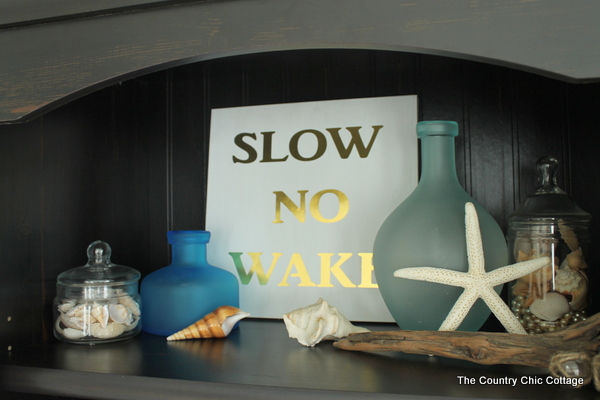 The next shelf holds a few more nautical touches including my sea glass mason jar. And no bathroom would be complete without a basket for necessities.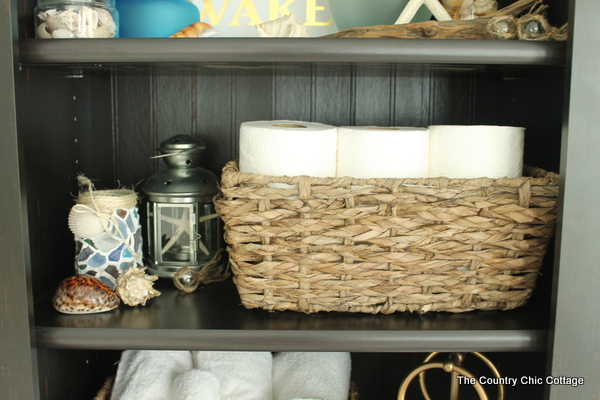 The bottom shelf holds some towels and washrags. Plus, in this room, I did not want any towel bars so I just added a standing one with a hand towel for hand drying.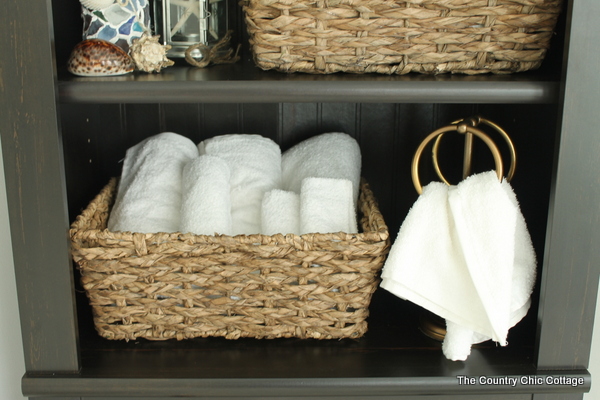 Continuing left around the room, we come to the toilet area.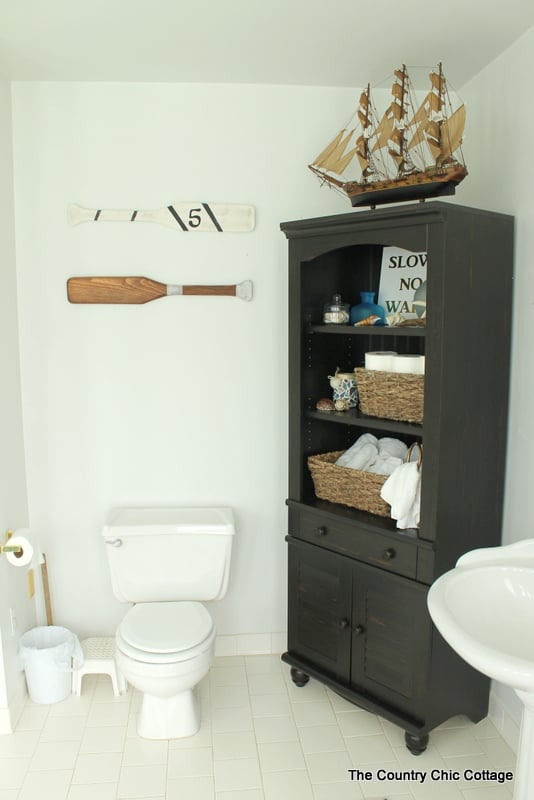 I have a few more of my knock off oars hanging in this area.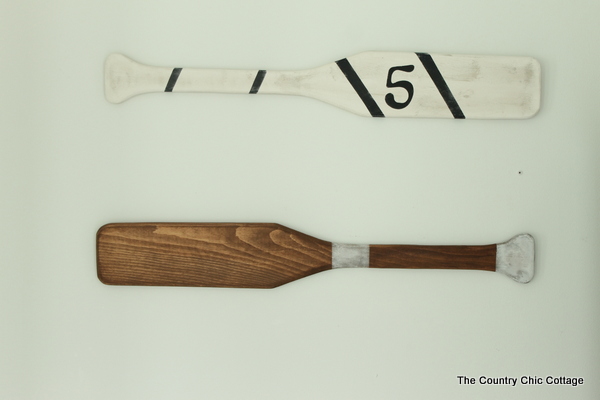 If you continue to the left here you will see a large closet with bi-fold doors. I actually took over this closet for my craft closet so that was the reason the cabinet with storage was so desperately needed.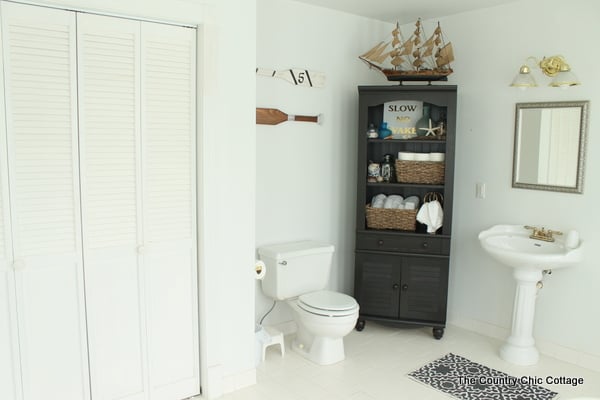 On the other side of the closet, there are doors leading to the rooms upstairs. (Just keeping it real, this room also serves as a basketball court when mom is not taking pictures.)
I have my last Ballard knock off oar hanging next to these doors. I wasn't sure if I was going to add all four to this room but I fell in love after they were made.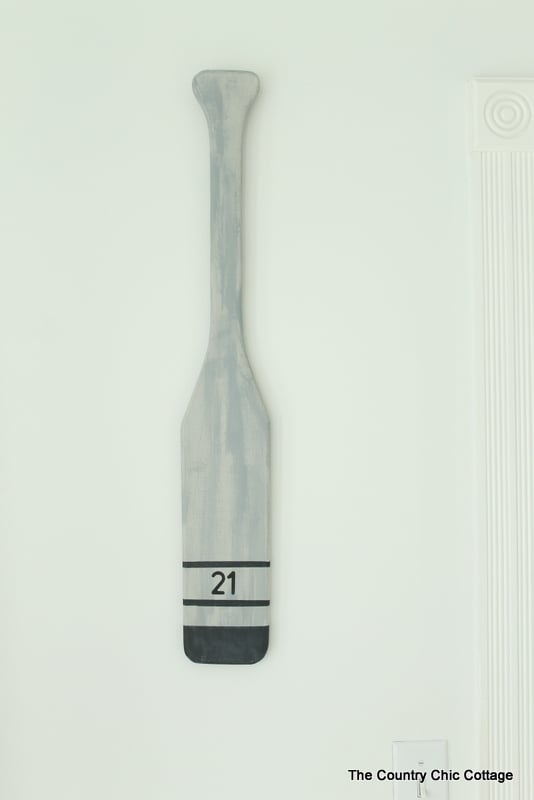 Turning to the left, we are back at those huge windows.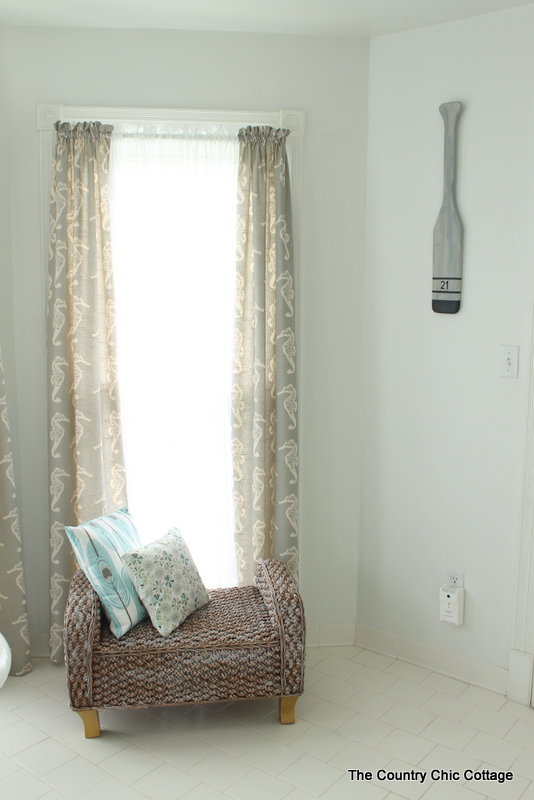 You can get more details on my beachy wicker bench here if you would like.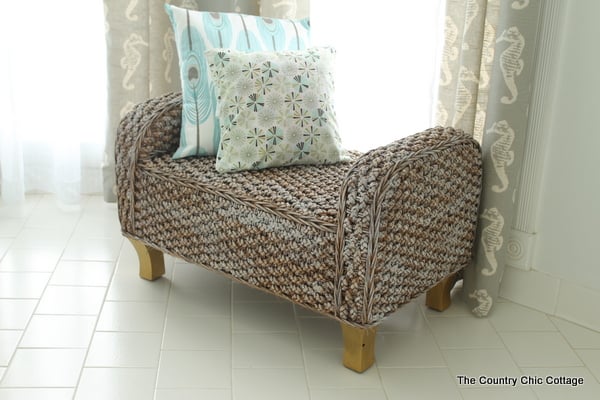 We have now made it all the way around the room and are back at the claw foot tub portion of our room tour.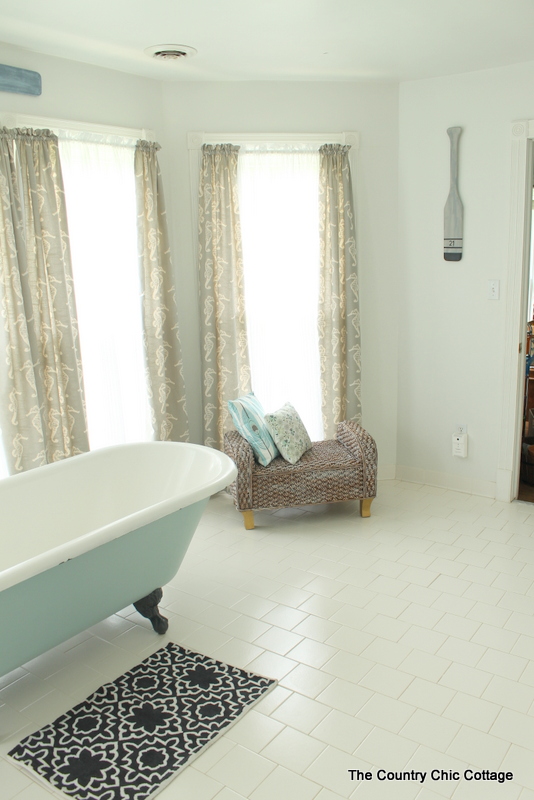 I hope you have enjoyed this nautical themed bathroom design as much as we are going to enjoy living with it. This is quite possibly my favorite room in the house right now. Is it okay to spend all of my time in a bathroom?? If y'all need me I will be lounging on that wicker bench and staring lovingly at this amazing space.