Taking your car to get detailed can be time-consuming and expensive. That's why I love doing it myself! Learn how to detail your car yourself and get it looking brand new while saving money using products you already have in your home.
I love having a clean car, and it annoys me when I see dust in places that I know I can't easily wipe away. When I see that situation happening, I know it's time for a little home vehicle detailing.
When you want to do your car detailing at home, you don't need to purchase highly specialized (and expensive) products for the sole purpose of detailing your car. In fact, you probably already have everything you need to make your car shine – it only requires a little thinking outside the box!
Learn how to detail your car with some of my favorite cleaning hacks that you can try yourself to see some impressive results quickly and easily!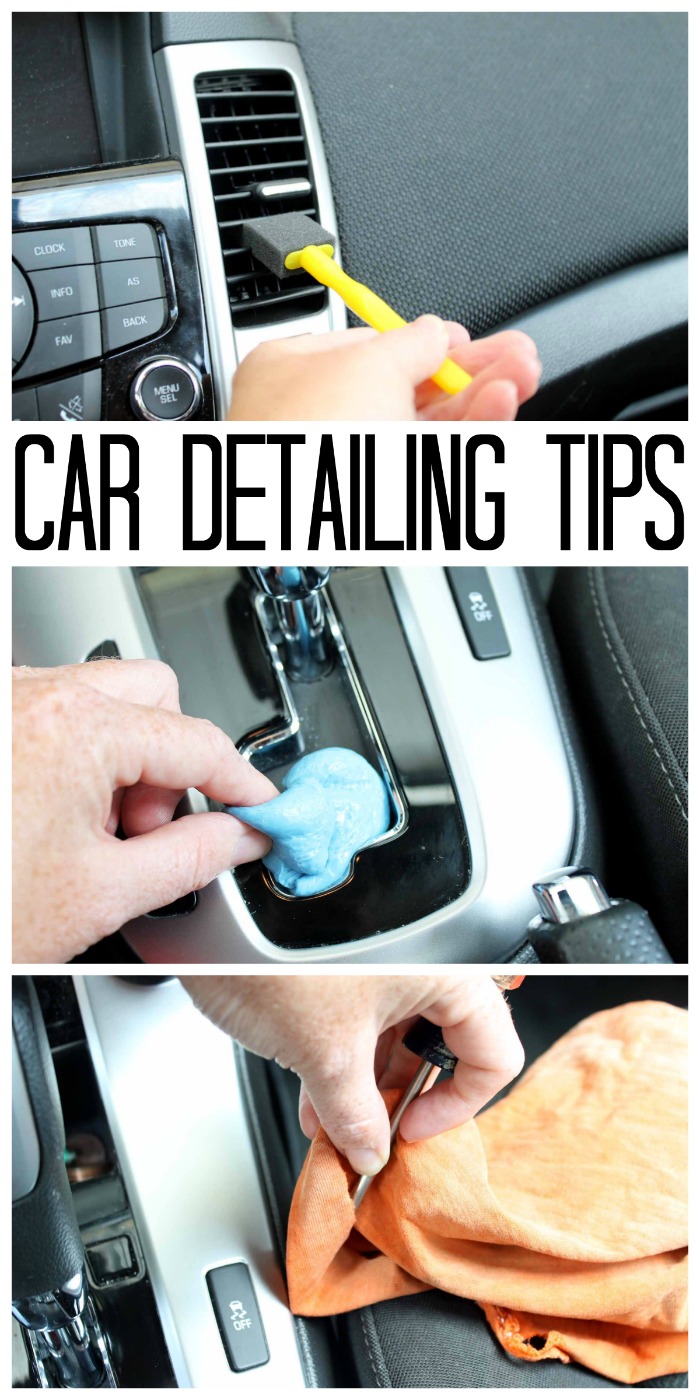 How To Detail Your Car: Everyday Tools You Can Use
Here are some simple everyday supplies that can double as at home car detailing tools.
Sponge Brush
Y'all, a sponge brush is super inexpensive, and you probably even have them with your craft supplies. Save yourself a trip to the store and set one aside for cleaning your car!
They're very versatile and can squish down to clean all of those small areas that you can't quite get to with a rag or sponge. My favorite spot to use them is inside those pesky car vents. A sponge brush is perfect for the job!
Tip: If you don't have a sponge brush, the next best thing is to use a crafting paint brush. 😁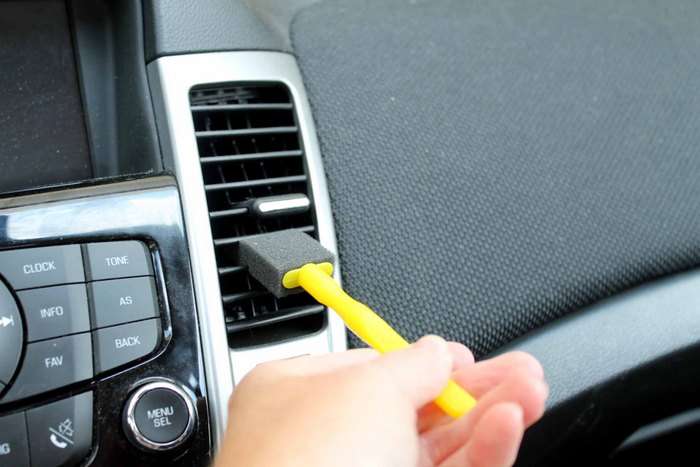 Slime
Did you just do a double-take to make sure you read that correctly? Yup, you read that right: SLIME.
Don't worry about making a mess…slime is actually your friend for this job!
Pull it out when you feel like you are just pushing the dust around instead of actually cleaning it up, or you just cannot get to the dust in those tiny cracks and crevices.
Yes! It's slime to the rescue! The same stuff your kids love to play with can pick up dust around your car and those small areas in no time at all! Just press it down and lift it up. It really doesn't get any easier than that.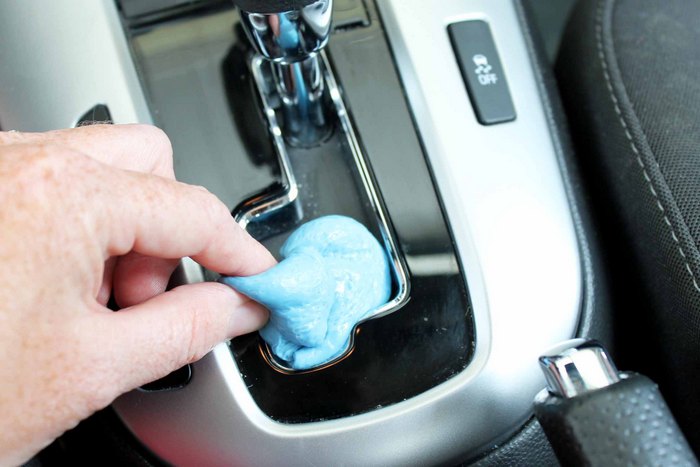 Screwdriver
A screw driver is a useful tool in its own right, but it doubles as a great help when detailing a vehicle.
To use it:
Wrap the end of a flat screwdriver with a rag and get to work cleaning out all of those cracks.
Run the screwdriver along the crack, and you will lift out dirt, debris… and maybe a surprise or two. 😉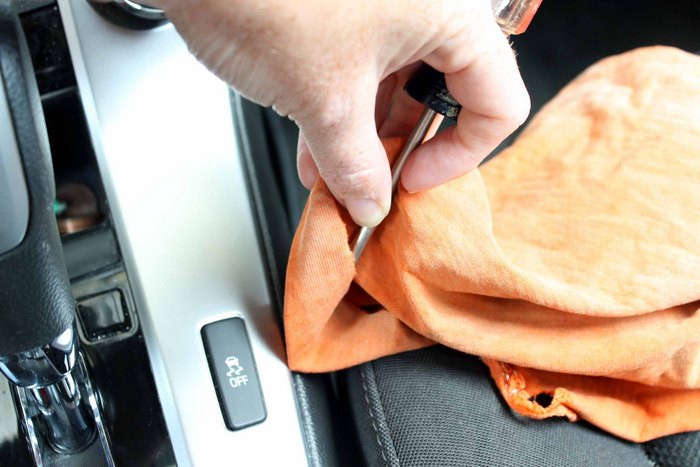 Cotton Swabs
If you're still having trouble getting into some of those fine details on your car, grab some inexpensive cotton swabs. They're great for a wide variety of jobs around your home and they also deserve a space in your car cleaning caddy as well.
Simply use them to reach into those hard to get spots and remove dirt that is hiding there.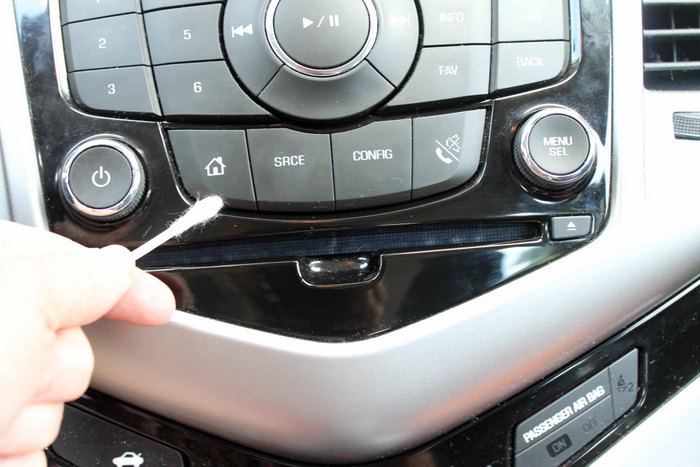 Carpet Brush and Vacuum
Those carpets are one of the first things to get dirty. It's just unavoidable. You can get a lot of dirt, dust, and grime out of your carpets by pulling them out, brushing them with a carpet brush to loosen any stuck dirt, and using your house vacuum to suck it up.
Then, vacuum the rest of the car interior for a clean and fresh feel!
How To Detail Your Car: Final Thoughts
Were there supplies on this list that surprised you? If you love having a clean car, go grab some of these supplies and give them a try!
There's no need to take your vehicle to be professionally cleaned when you can do it yourself. You'll love how easy these supplies will make the process and how great your vehicle look afterwards!
Love this and want more cleaning ideas? Try the links below!
Want to see my favorite cleaning supplies and products?
I have gathered all of the products I love using around my home into one great section of my Amazon storefront. You can click here to shop! If you're looking for just about anything to clean your home, I probably have an option that you will love!