If you're looking for a custom mug you're going to want to know how to do sublimation on mugs in an oven! The process is so much easier than you might think and you'll have custom mugs and tumblers in no time! We're going to talk about a few methods that you can use for the sublimation as well as a few materials for the actual sublimation ink. Which is best? Read on to find out!
Don't know what sublimation is? Try this post to learn more!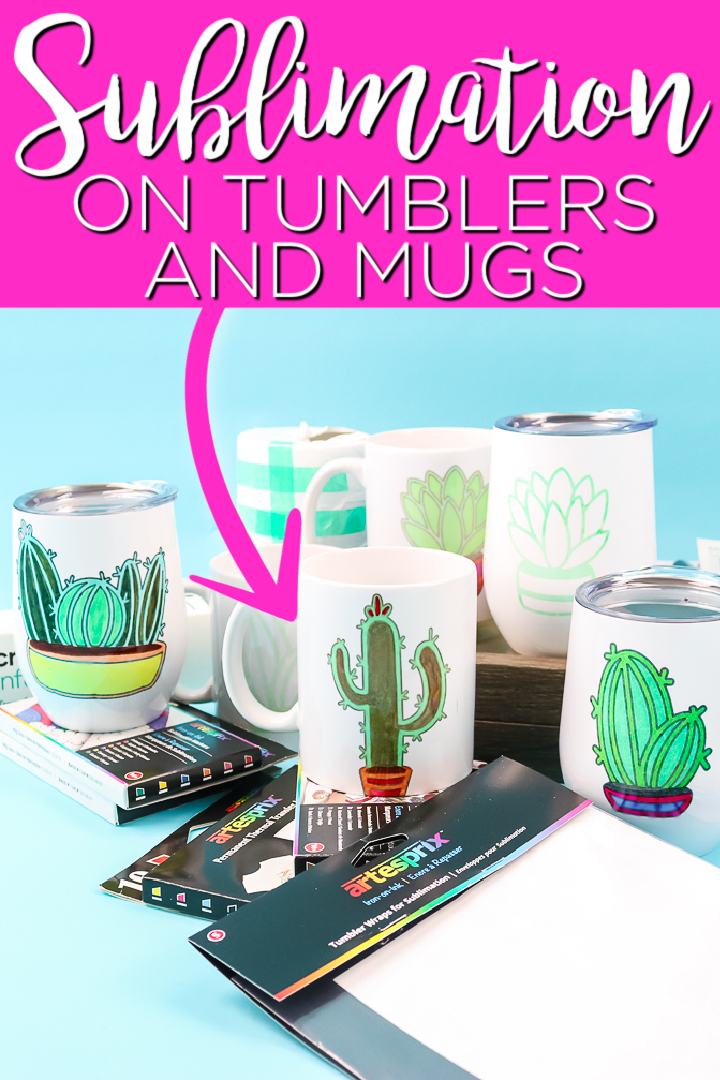 Supplies needed:
First, let's talk about the supplies you will need as there are quite a few things that are special when it comes to sublimation.
Sublimation Surfaces
While this might look like just a standard coffee mug, there's a catch. It has already been prepped for sublimation by being coated with a glaze that is able to take the sublimation ink. Keep that in mind when you're looking for mugs or other surfaces to sublimate on.
Want to use the mugs and tumblers that I am using? Try the links below to purchase.
Sublimation Wraps
The hardest part of sublimating on a mug or tumbler is putting your design on and having it where it doesn't move. Part of the secret of how to do sublimation on mugs in an oven is tumbler wraps. Most people use tape and try to tape it down. But if it moves even just a little bit, you'll get ghosting and ruin your entire project. Tumbler wraps help to prevent that. You use a heat gun to shrink the tumbler wrap to the tumbler or the coffee mug for a really tight fit.
I am using these tumbler wraps and I will go over how to use those on both a mug and tumbler. You can also try this adjustable mug wrap but I have not tried it yet.
Sublimation Ink
We are going to experiment with a few different varieties of sublimation ink to see which we get the best result from. I am going to use the following:
All of these options are sublimation ink, so you will need sublimation surfaces to put them on. So, be sure to pick up the sublimation mugs and tumblers that I mentioned above. I am going to try each of these types in an oven as well as experiment a bit with a heat gun to see if it will work.
You will need to get the regular pack of Infusible Ink markers that goes into your Explore Air or your Maker. If you have the Joy, you'll need to look for ones that are marked for Joy, because the pens are two different sizes. The Artesprix markers do fit into the Joy just by themselves without any adapters, so they will work in the Joy. You will need an adapter to use them in the Explore or your Maker. Infusible Ink markers also come in freehand backs for coloring in your designs.
Sublimation Oven
I highly recommend that you do not use the same oven that you cook food in to also do sublimation. The sublimation ink actually gives off gas when you heat it up. I love having a separate small oven for my craft room! They're super affordable, too. It heats up to the appropriate temperature and it's large enough for mugs and tumblers. That little oven has a way of making your sublimation dreams come true on mugs or tumblers!
I am going to link to the oven that I am using which I found after much research. Unfortunately they keep selling out! So, I will link to a few more that should work as well!
Cactus Cut File
Want to use the same cactus as I am using? I have a free cut file that you will want to download to do just that! You can click here to sign up for our newsletter and download all of the cactus designs that you see here. They are a great way to experiment with designs or make a mug for a plant lover!
Other Supplies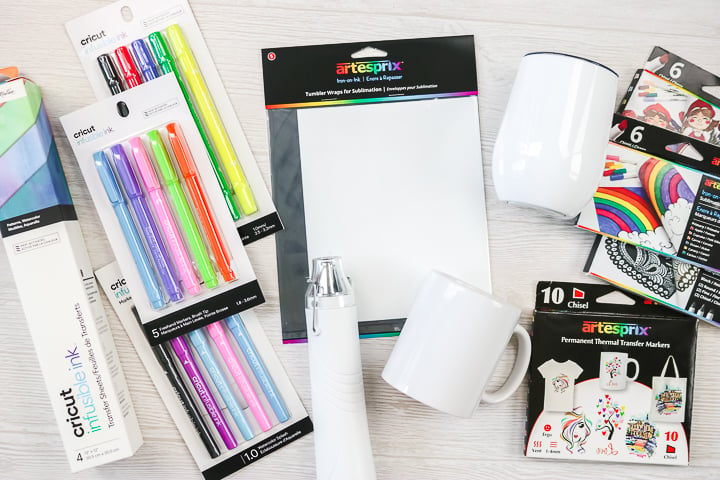 Sublimation on Mugs Video
Want to watch the entire process on video instead of reading about it? You can just click play below to do just that!
Don't want to watch the video or missed some of the steps? You can also get the instructions below.
Tumbler and Mugs Sublimation
Now that you have all of the correct supplies, it is time to actually do the sublimation. I am going to walk you through my process for creating mugs and tumblers with this process below.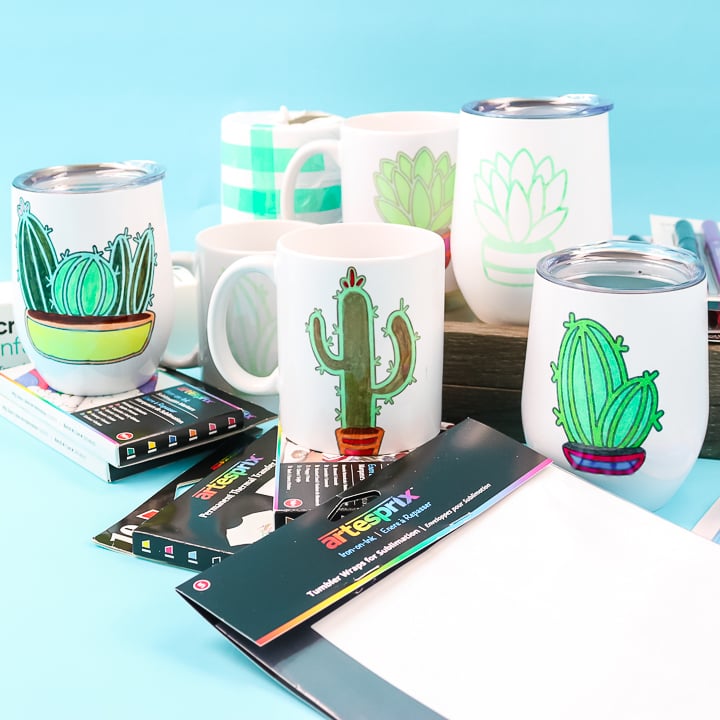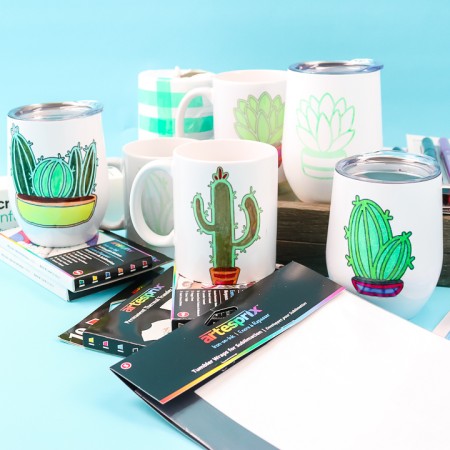 How to Do Sublimation on Mugs in an Oven
Use a small oven to add sublimated ink to mugs and tumblers with our technique and tips.
Supplies
Sublimation mug or tumbler

Sublimation ink

markers or sheets

Oven

small oven just for crafting

Regular copy paper

If it is not rated for a laser printer the heat of the sublimation process will affect the paper.

Heat gun

Cricut machine
Instructions
Stick the paper on the light grip mat. Then draw your design with either the infusible ink markers or the Artesprix markers and your Cricut machine. Whichever marker you have, be sure to mirror your design, draw it with your Cricut, and then you can color it in.

Color in the designs you draw any sublimation markers. When I'm adding colors to my designs, I like using a couple of different shades of the same color. You just have to play around with the colors you have, it is just like coloring a coloring book page.

Once you have your designs ready, you need to get them placed onto the mug so that you can transfer the design. First, tape the design ink side down onto the front of your mug using heat resistant tape. Then add your heat wrap. For the mug, you will need to cut the sublimation wrap. Tape one end of the wrap to the back of your mug both horizontally and vertically. Then wrap all the way around putting the wrap through the handle. Tape again in both directions and use your heat gun to shrink the wrap to the surface. Add two more pieces of tape to secure after shrinking.

Now, the mug is ready for the oven. You can repeat the same procedure for the tumblers except you don't have to cut and tape the wrap. Just add the design ink side down and tape it into place. Then put the tumbler inside the wrap and shrink with the heat gun. So easy! Add your wrapped items to your oven.

I put the bottom rack in and then set the oven to 350 degrees and put it on bake. Let it preheat for five minutes, and then put the mugs in and heat those for seven minutes. Use a towel to protect your hand. Once the mugs are heated up we'll remove those, add the tumblers, and heat them up for seven minutes. Then we'll take the wrappings off by peeling off the tape and removing the wrap. Then you can see the magic!
Tried this project?
tag us to show off your work!
Infusible Ink vs. Artesprix Markers
Which is better? Which performed better in our tests? I must say that they are both just about equal but I will run through some specifics that I noticed.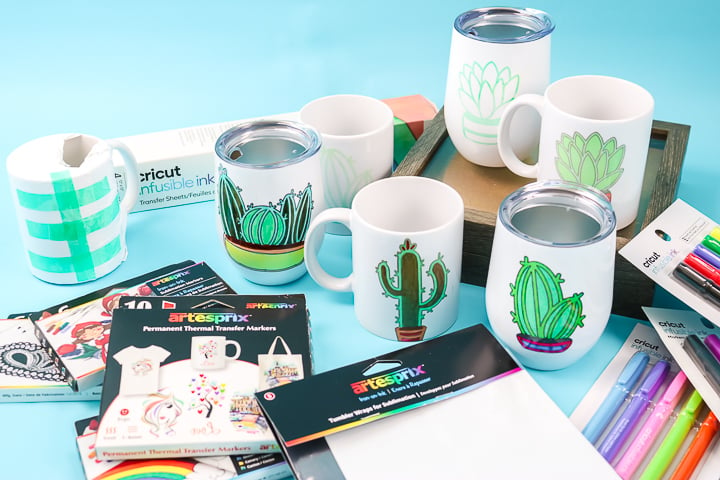 Infusible Ink Transfer Sheets
I used the watercolor transfer sheets which are really forgiving. If you are just getting started with sublimation, I can highly recommend these. I loved how my design looked on both a mug and a tumbler. You can actually read more about Infusible Ink here.
On the tumbler, you often get some imperfection around the curved portion as your paper cannot sit perfectly on the surface. You really don't see that discoloration at the bottom with the watercolor transfer sheets. There probably is some discoloration, but you really can't see it and you don't notice it because it looks like it's part of the design. That's why I love these watercolor designs and transfer sheets because they're so forgiving.
Infusible Ink Markers
The mugs and tumblers I made with the markers came out great. I did have some discoloration at the bottom of the tumbler from the curved surface but otherwise, I loved the cactus designs!
Artesprix Markers
I did two different ones with Artesprix as I was experimenting and I can tell you that it is so important to get that wrapper taped down well on those mugs. If it lifts, your design will not look good! But if you have everything in place well, the Artesprix markers performed similarly to the Infusible Ink markers.
For the tumbler with the Artesprix markers, the colors are gorgeous! But again, you can see some discoloration and imperfection around that curved area, just because of the way the paper lays on the curve.
As far as a comparison between the different sublimation inks, I can't really tell a difference between Infusible Ink and the Artesprix markers. The main thing to keep in mind is to get it taped down really well so that everything stays in place.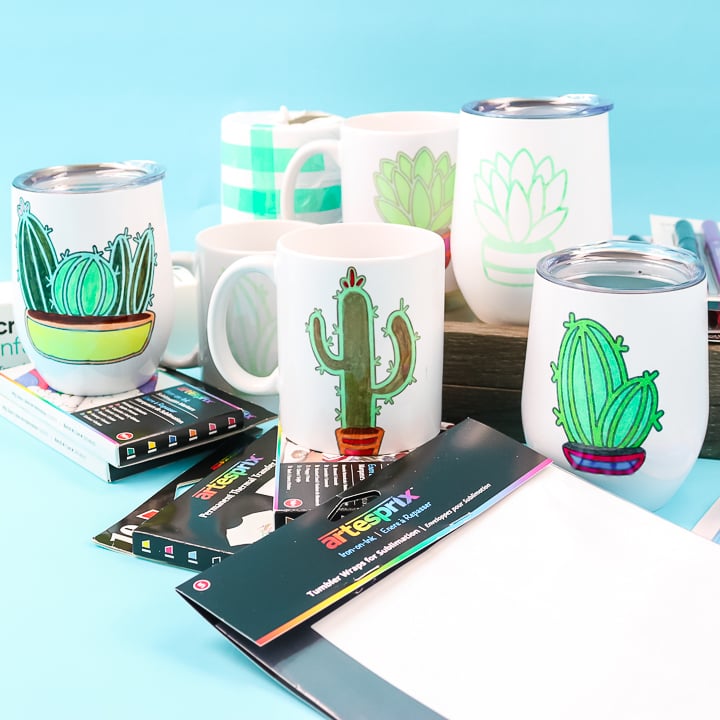 Can I use a heat gun for sublimation?
I really wanted to try to just use the heat gun to sublimate a mug. What if you didn't need an oven? So, I prepared my mug in the same way as I did above for the oven and applied heat with the heat gun for 7 minutes. I ran the gun back and forth across the entire area of my sublimation design.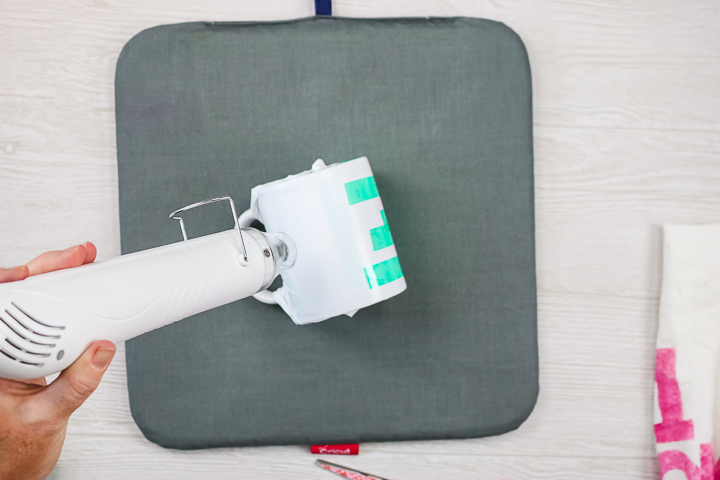 Technically it did work but the results were inconsistent. It would work well in some areas and not others just due to the inconsistency of the heat application. So, I definitely think an oven is the only way to go with sublimation on mugs and tumblers.
So now that you know how to do sublimation on mugs, what are you waiting for? There are so many projects just waiting for you to make them!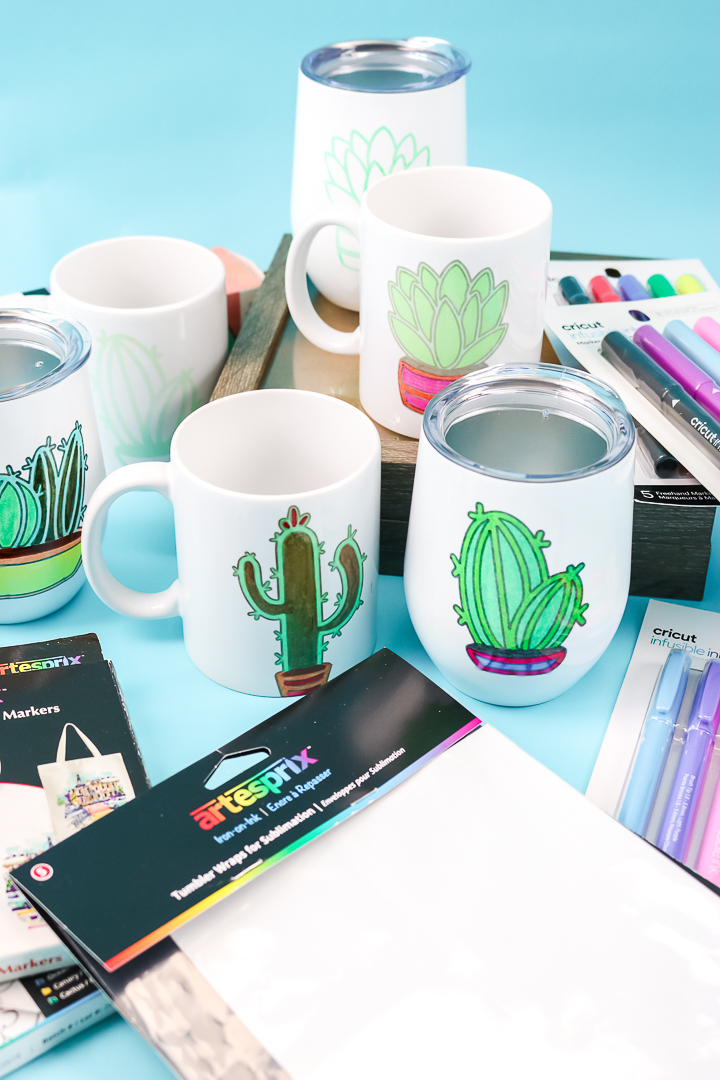 Want more Cricut project ideas? Try the links below as well!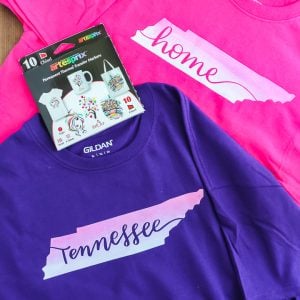 How to Sublimate on a Cotton Shirt
Make gorgeous watercolor designs on your shirt with these two hacks for sublimating on cotton.
Read More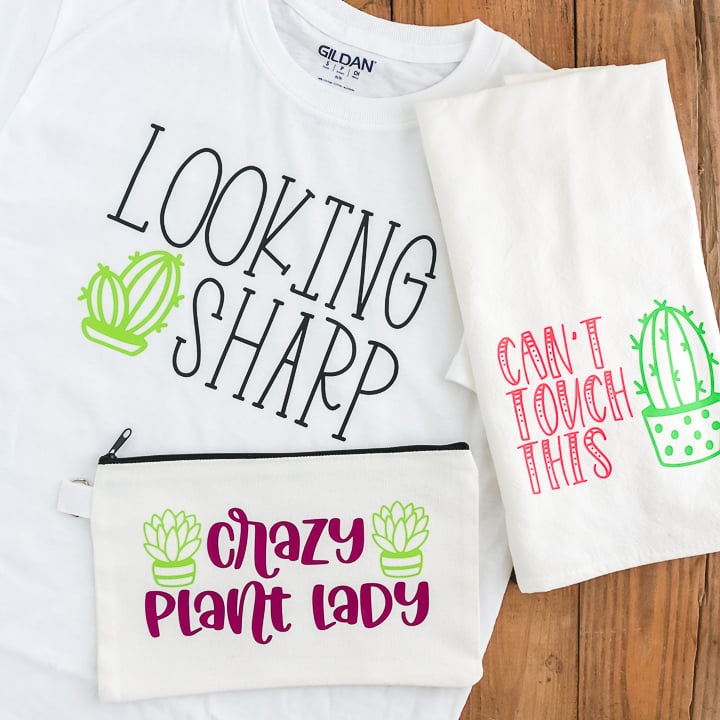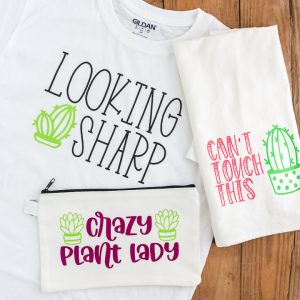 Applying B-Flex HTV
How do you use the heat transfer vinyl from B-Flex? We are showing you with a few simple projects to get you started.
Read More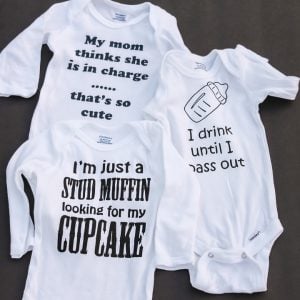 DIY Baby Onesies with Iron-on
Use heat transfer vinyl to customize those onesies in addition to our three free SVG files.
Read More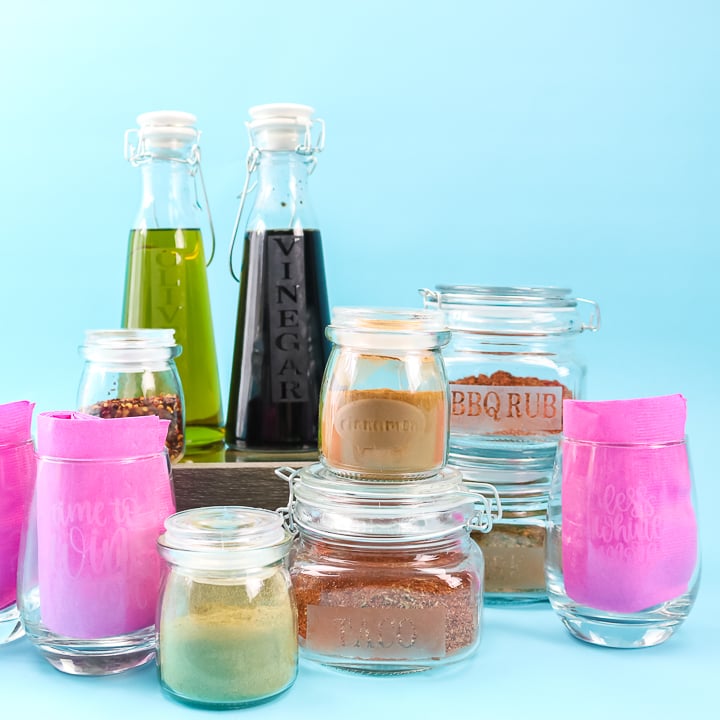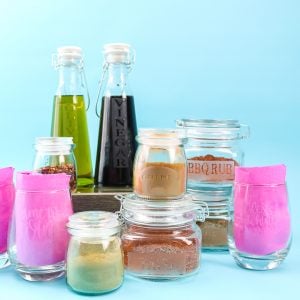 How to Etch Glass with a Cricut
Grab your Cricut machine and start etching glass with this easy to follow tutorial.
Read More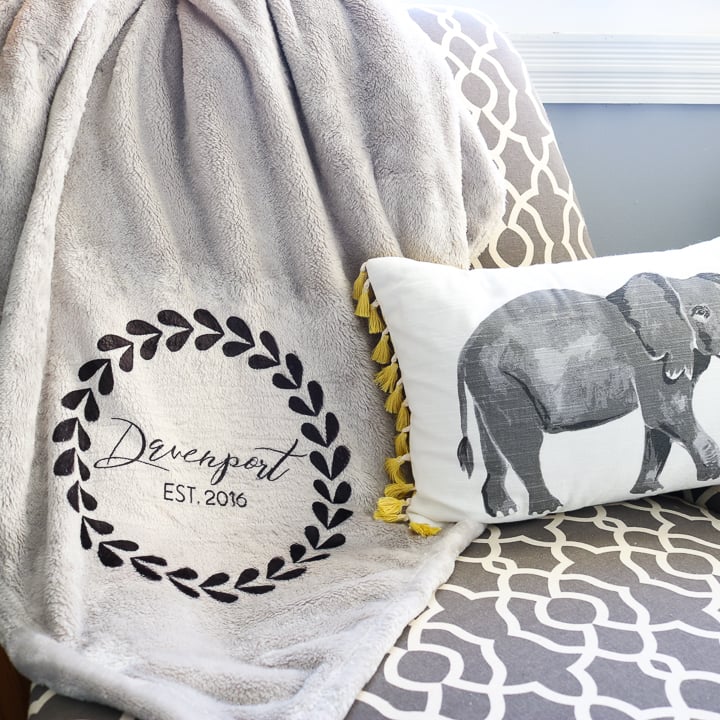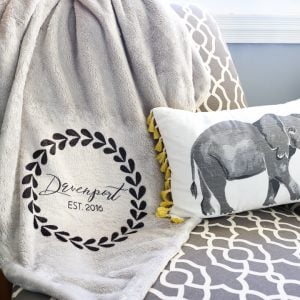 How to Make an Infusible Ink Blanket
Use the new Cricut Infusible Ink on a polyester blanket for a personalized gift idea.
Read More