My chalky painted nightstand is completed and I just couldn't wait to share it with y'all. I am so happy with the way this project turned out. It has been almost three years since I painted the last nightstand that was here and I was ready for a change. It turned out to be a transformation that was just what my bedroom needed.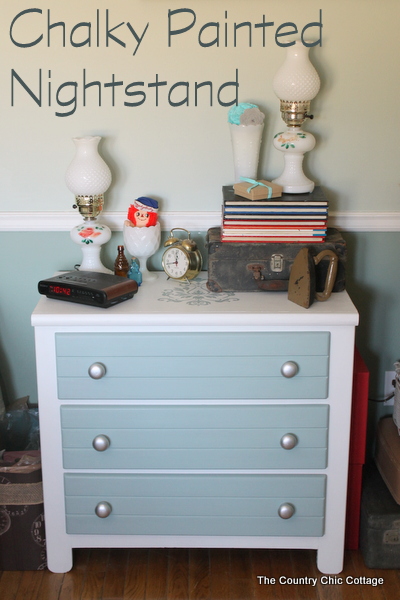 I picked up a small dresser at a second hand furniture store for $65. It is solid wood and the shape was perfect for my needs. However the paint job that they had given it to try to sell it was…um…not my style.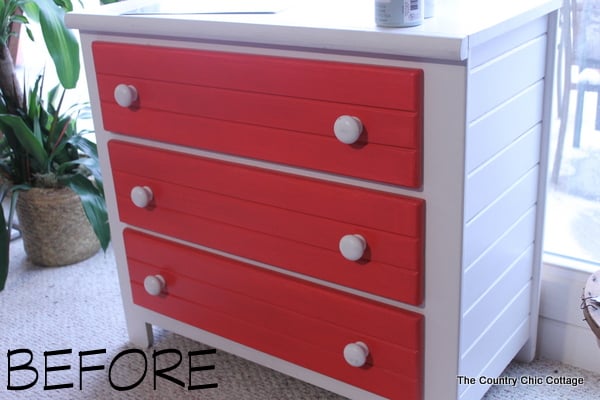 I used Americana Chalky Paint from DecoArt to give the entire piece a makeover. I painted the chest itself with Everlasting and the drawer fronts with Vintage. This post is part of my design team status with DecoArt however all projects and opinions are my own. The chest was already white so just going over it with one coat of chalky paint was sufficient. It took two coats of vintage to cover up the day glow red on those drawers however.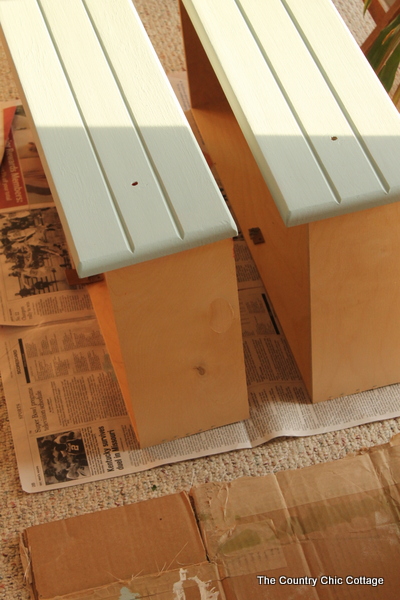 Once the white chalky paint was dry on the chest, I used a brocade motif stencil also from DecoArt on the top. I used a removable adhesive sprayed on the back to ensure clean lines. Then the chalky paint in vintage applied to a stencil brush. Make sure to use a very dry brush and apply light coats when using a stencil. Remove your stencil as soon as you are done painting.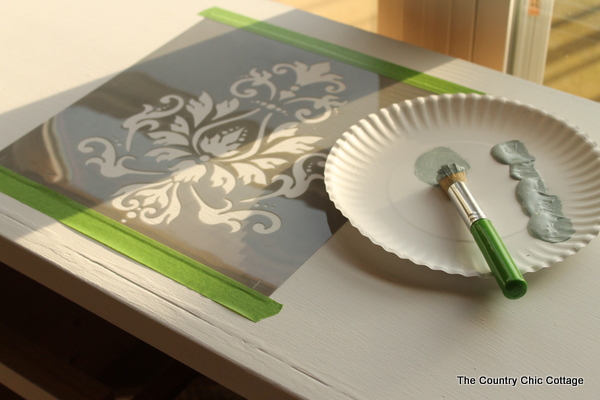 Now for the hardware on the piece, I loved the size and shape of the hardware on the original but they are painted wood and I was not loving the look. So I grabbed some silver metallic spray paint from Krylon and gave the hardware a few coats. It did the trick! The hardware was perfect in a shiny silver.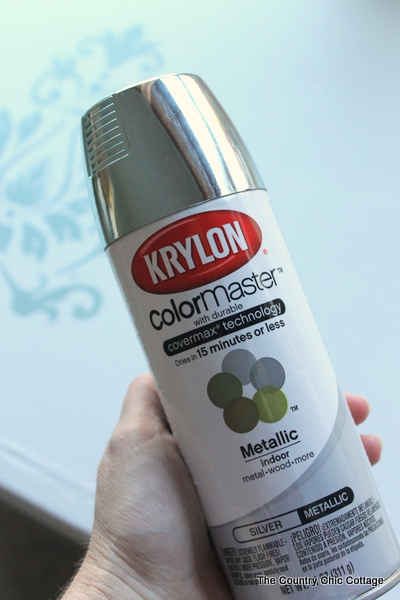 After the entire piece was dry, I applied two coats of Americana Creme Wax to protect the surface and give it a bit more shine. NOTE: When starting with chalky finish paint for the first time, be sure to read the tips and techniques page and watch the instructional videos. I moved my nightstand into place and loaded it up with fun vintage treasures. It is the perfect height to use as a nightstand and all of those drawers offer up storage that was desperately needed in this room.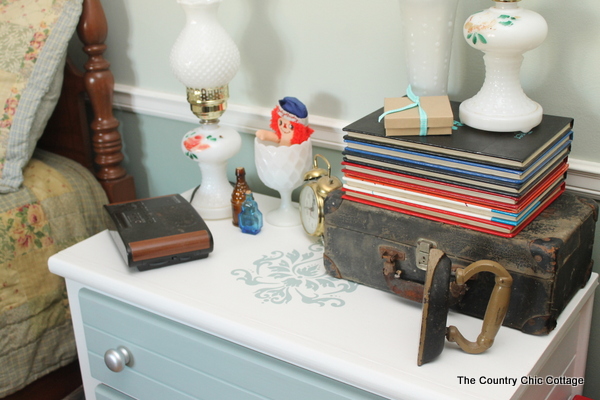 I am in love with how the stencil on top turned out. It breaks up the top and adds detail to the otherwise plain piece of furniture.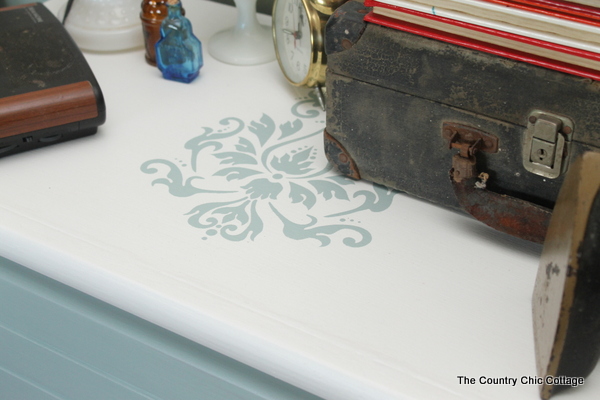 And there are those spray painted knobs. Pretty great huh? Much better than painted white knobs on this piece.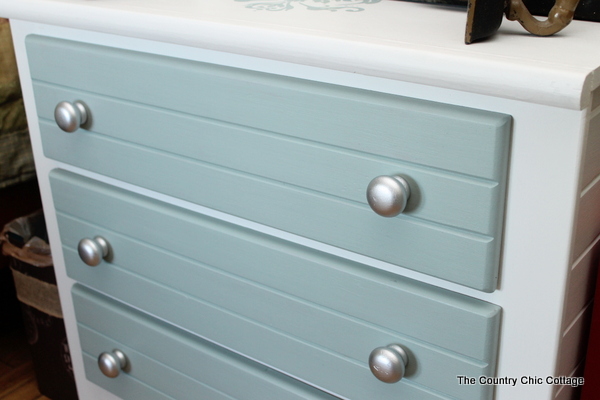 I also organized 40 plus years of photos in this space while I was cleaning and organizing my bedroom. You can read more about the labels used in
my organized craft closet post
.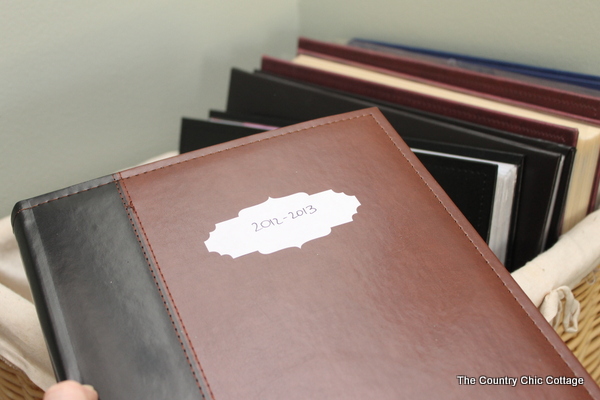 Now my chalky painted nightstand and a stack or organized photos have their homes in my bedroom. The bonus? It does not look like a cluttered wreck. Gotta love that.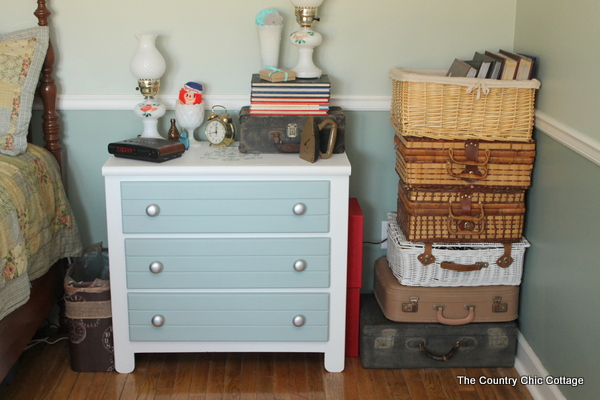 This post is part of my design team status with DecoArt. Product and payment were given to me in exchange for my participation in the program. All projects and opinions are my own.