Citrus bath salts make a great gift in a jar. It is perfect for Mother's Day with our free printable tag or you can give for any occasion just by creating your own fun tag. Plus they are so easy to make! You are going to love this cute idea for a gift in a jar and making your own handmade beauty products.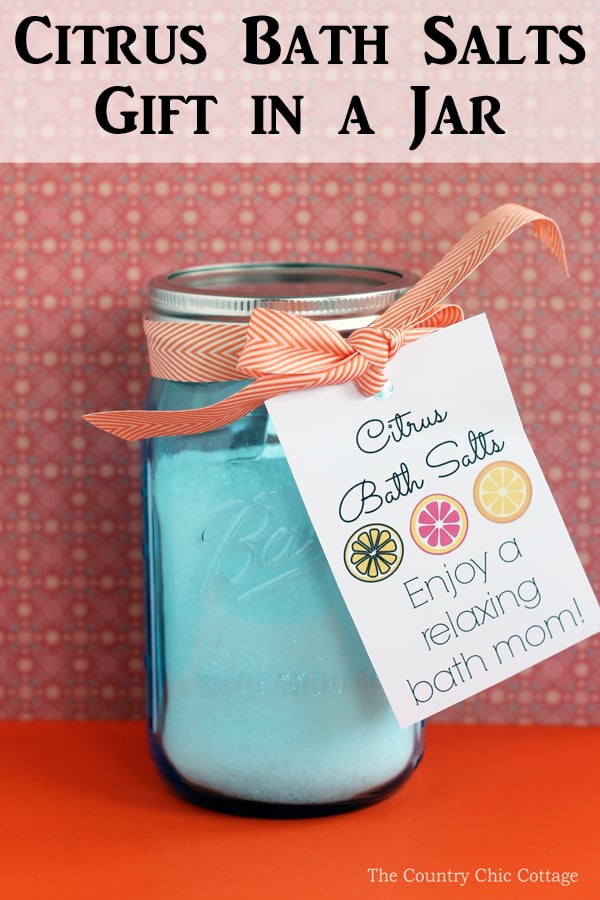 Citrus Bath Salts Recipe
Ingredients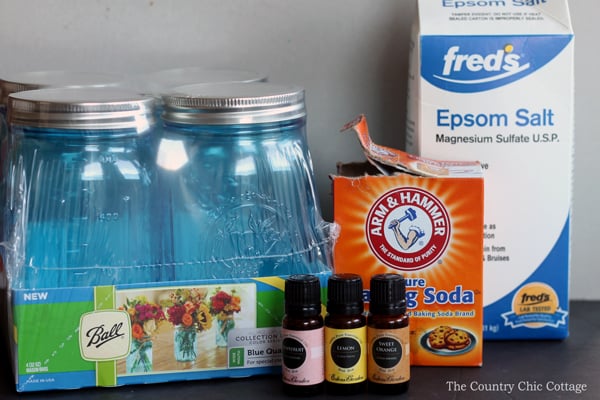 Instructions
Start by mixing all of your ingredients in a large bowl. The recipe above will make enough for a quart size jar. You will want to cut the recipe in half if using a pint jar.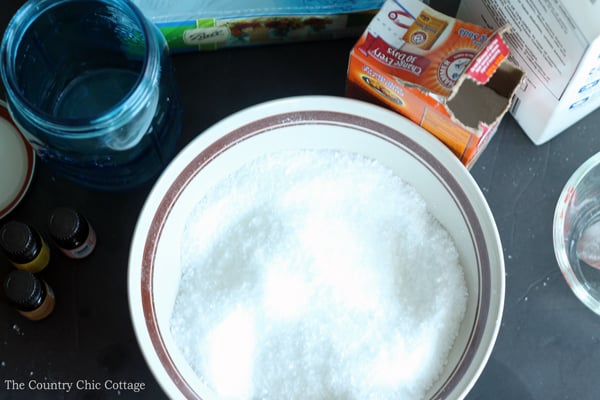 Add your citrus bath salts to the quart size Ball Elite Collection Jar or any other mason jar. I love the blue of these jars and think they really add something to the final gift.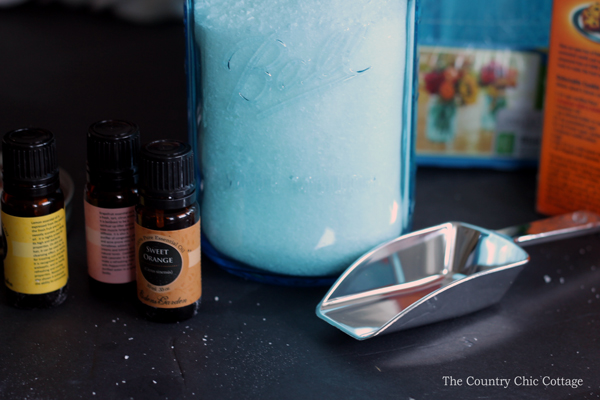 I also added in one of these fun scoops to the jar. This part is completely optional but it does help to complete the gift. It is perfect for mom to scoop out her citrus bath salts as she uses them.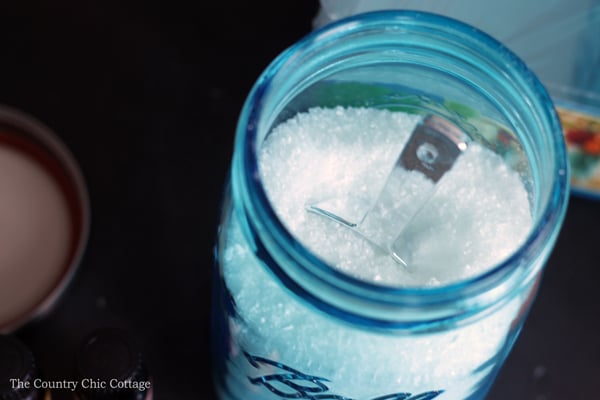 Free Printable Gift Tag
Ready to print the tags and finish off your gifts? Just sign up for our newsletter in the box below and the tags will be sent directly to your email. Look for an email box that has a picture of the tags that you want. If you already subscribe to our email, just enter your information again to get these tags. You will not be signed up for anything further.
Please note that these tags are for personal use only. You can also email me if you have any issues with your download. Once you get the email, you can download and print on to white card stock. Then cut to size with scissors and punch a hole in the top.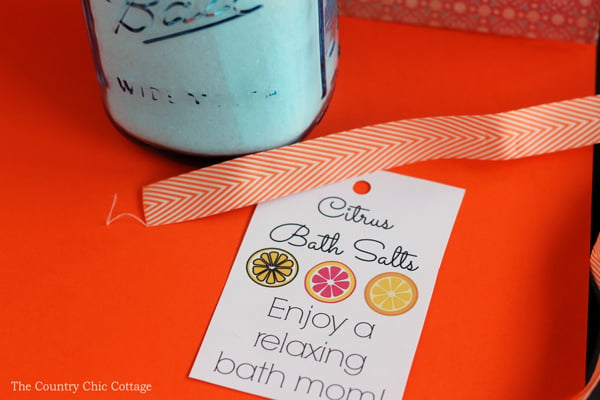 Add the lid to your jar and tie on your tag with a fun ribbon.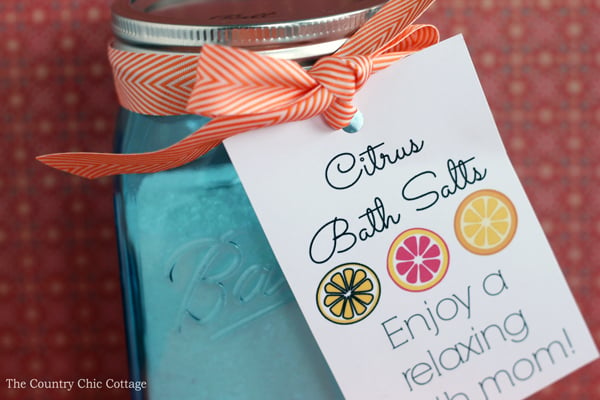 These citrus bath salts are ready to be given to mom for Mother's Day! Make these anytime of the year for a great gift idea or to use in your own luxurious baths. You can even change it up with the scents of lavender and lemon.
How to Use Bath Salts:
There are a few ways to use and enjoy bath salts. We've narrowed it down to the best tips we have for maximum relaxation.
Bath
The most common way people enjoy bath salts is by using them in the bathtub. And in our opinion, that is definitely the best way to enjoy them.
When soaked in warm water, the Epsom salt used in the bath salt may help relax sore muscles. You also get some aromatherapy benefits, exfoliation, skin-softening benefits, and they may even help you sleep.
To use: Sprinkle 1 cup of bath salts into a warm bath, allow salts to dissolve, then soak in the tub for about 20 minutes.
Shower
Now this might be a little unconventional to some, but you can also enjoy the aromatherapy benefits of bath salts while you're in the shower. First, you will want the shower as hot as you can handle. Then you just sprinkle the bath salts on the shower floor. They will dissolve and you will get all of those great benefits from the aromatherapy.
Exfoliation
Another common and effective way to use citrus bath salts is as an exfoliant. Please note that you have to be very gentle or you risk irritating or hurting your skin.
To use: Combine 1/2 cup citrus bath salts with a drizzle of body oil like coconut oil. Use the mixture to scrub on trouble spots like elbows, knees, or bottoms of the feet.
Another note: Only apply this to your body as it is too abrasive for your face.
Foot soak
Looking to give yourself a DIY foot spa? We got you covered.
To use: In a large basin or foot spa machine, sprinkle 1/4 to 1/2 cup bath salts into warm or hot water. Soak your feet and allow the bath salts to gently soften your skin.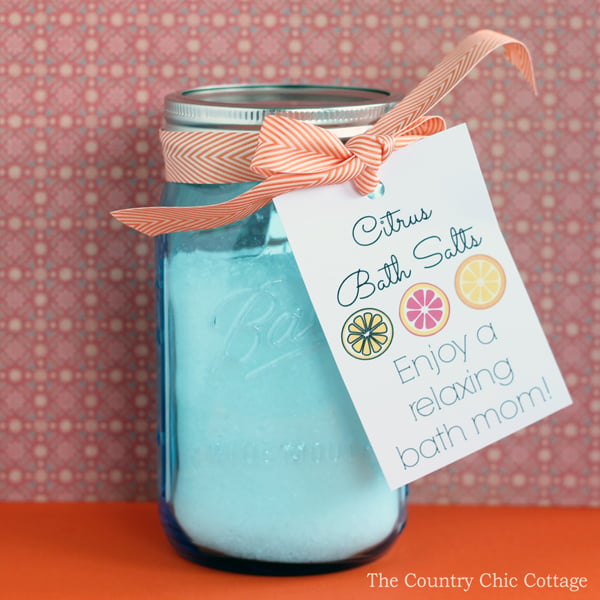 I hope you will give these citrus bath salts a try for mom this Mother's Day! Or whip up a batch for yourself any time of the year! You will love that citrus smell in a relaxing bath!
Want to print this recipe? Try the recipe card below!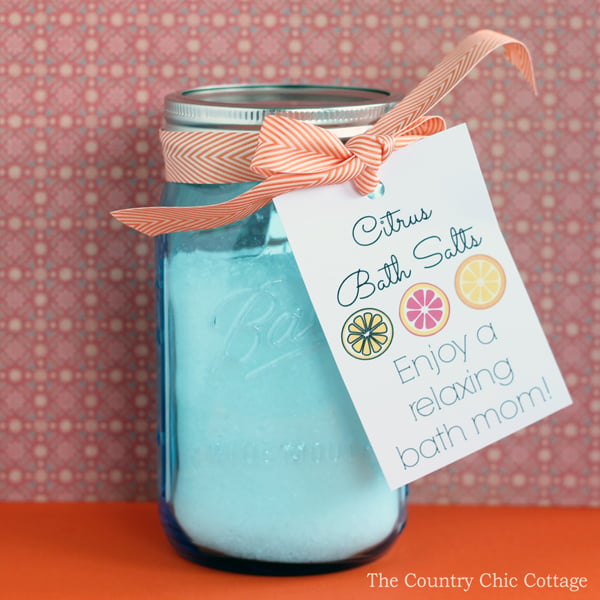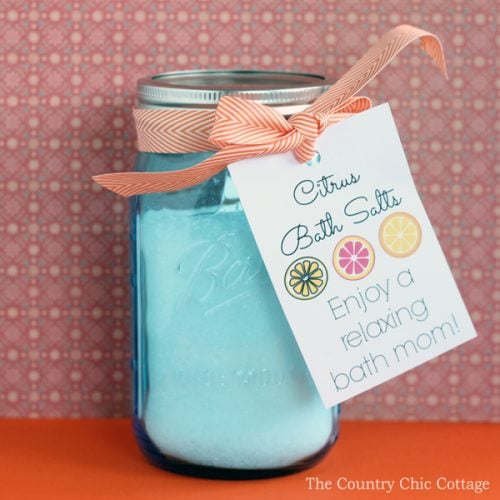 DIY Citrus Bath Salts
Learn how to make citrus bath salts at home for an amazing gift idea that anyone will love.
Ingredients
1

cup

Epsom Salt

4 tsp baking soda

5 – 6 drops sweet orange, lemon, and grapefruit essential oil
Instructions
Start by mixing all of your ingredients in a large bowl. The recipe above will make enough for a quart size jar. You will want to cut the recipe in half if using a

pint jar

.

Add your citrus bath salts to the quart size Ball Elite Collection Jar or any other mason jar.
Tried this project?
tag us to show off your work!
Love this bath and body recipe and want more? Try the links below as well!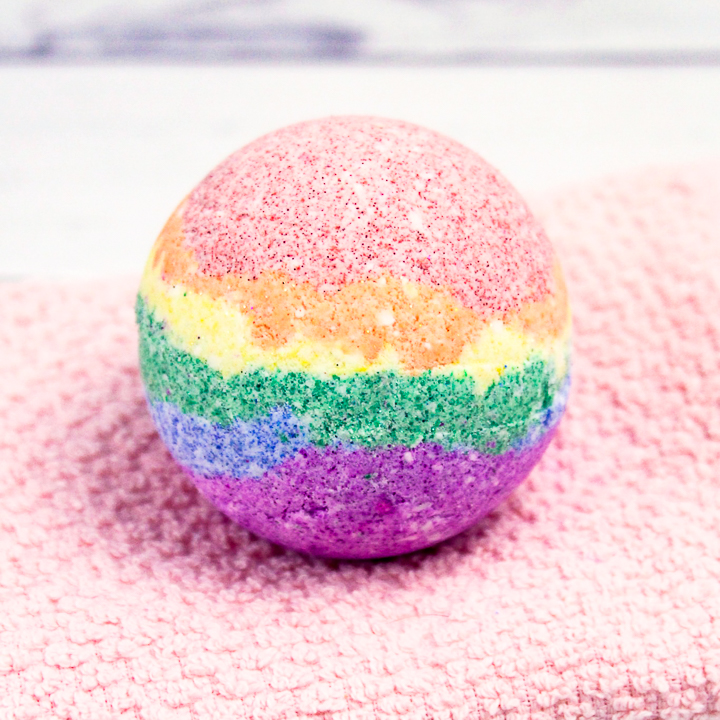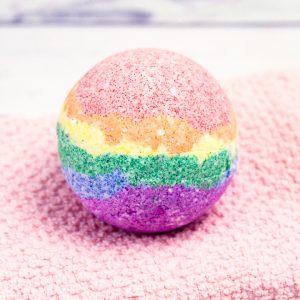 Rainbow Bath Bombs Recipe
Whip up a batch of these rainbow bath bombs for a party or to give as a gift!
Read More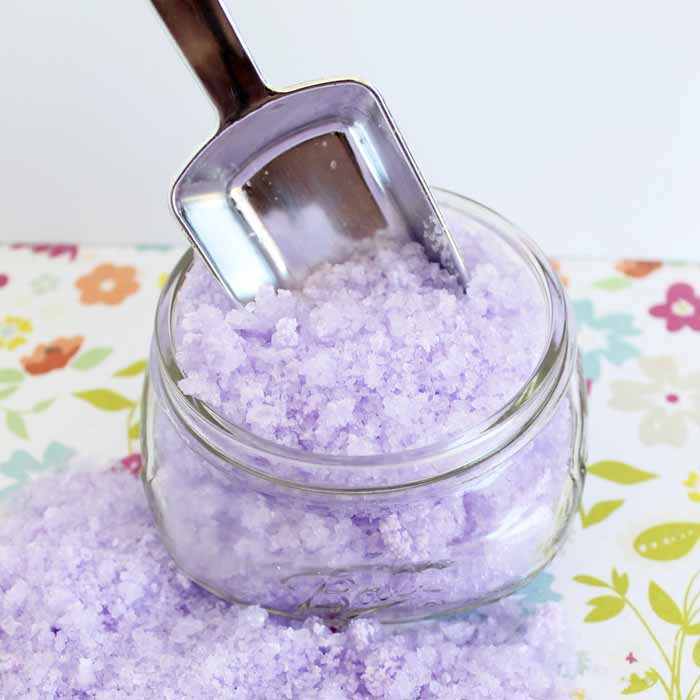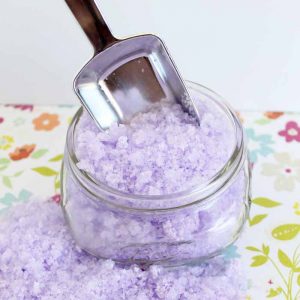 Bubbling Lavender Bath Salts
These homemade lavender bath salts are perfect for any gift-giving occasion! Give the gift of self-care and relaxation with these soothing bubbling bath salts.
Read More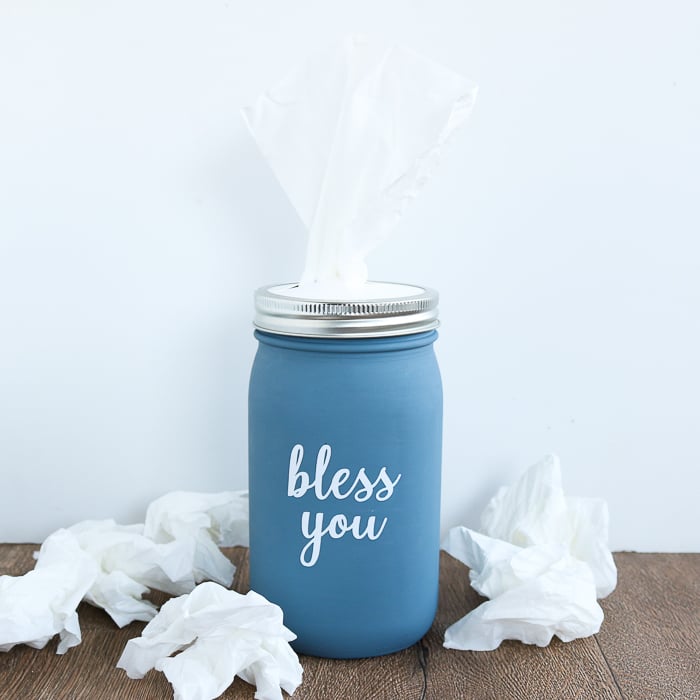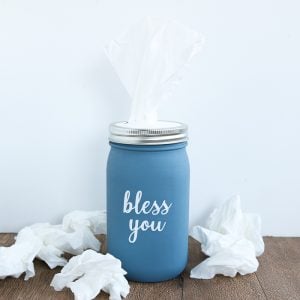 How to Make a Mason Jar Tissue Holder
This simple mason jar tissue holder is a quick craft that's great as a gift, or make it for your own home! With just a few supplies, you have a cute customizable tissue holder for the bathroom, kitchen, or your office!
Read More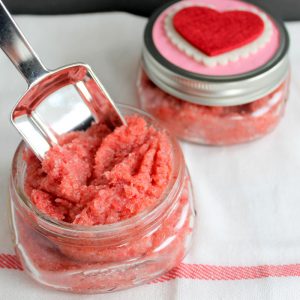 Homemade Sugar Scrub
Learn how to make sugar scrub with our simple instructions below.
Read More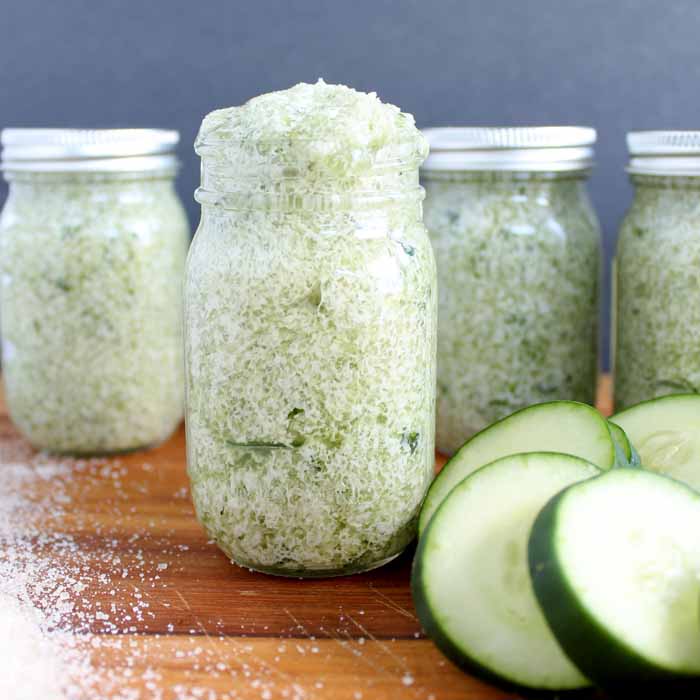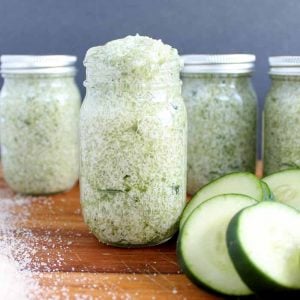 Want to learn even more about making your own beauty products?
So, now that you have been bitten by the bug and want to make all of your own handmade beauty products, you may need a little more guidance. I have the perfect book for you!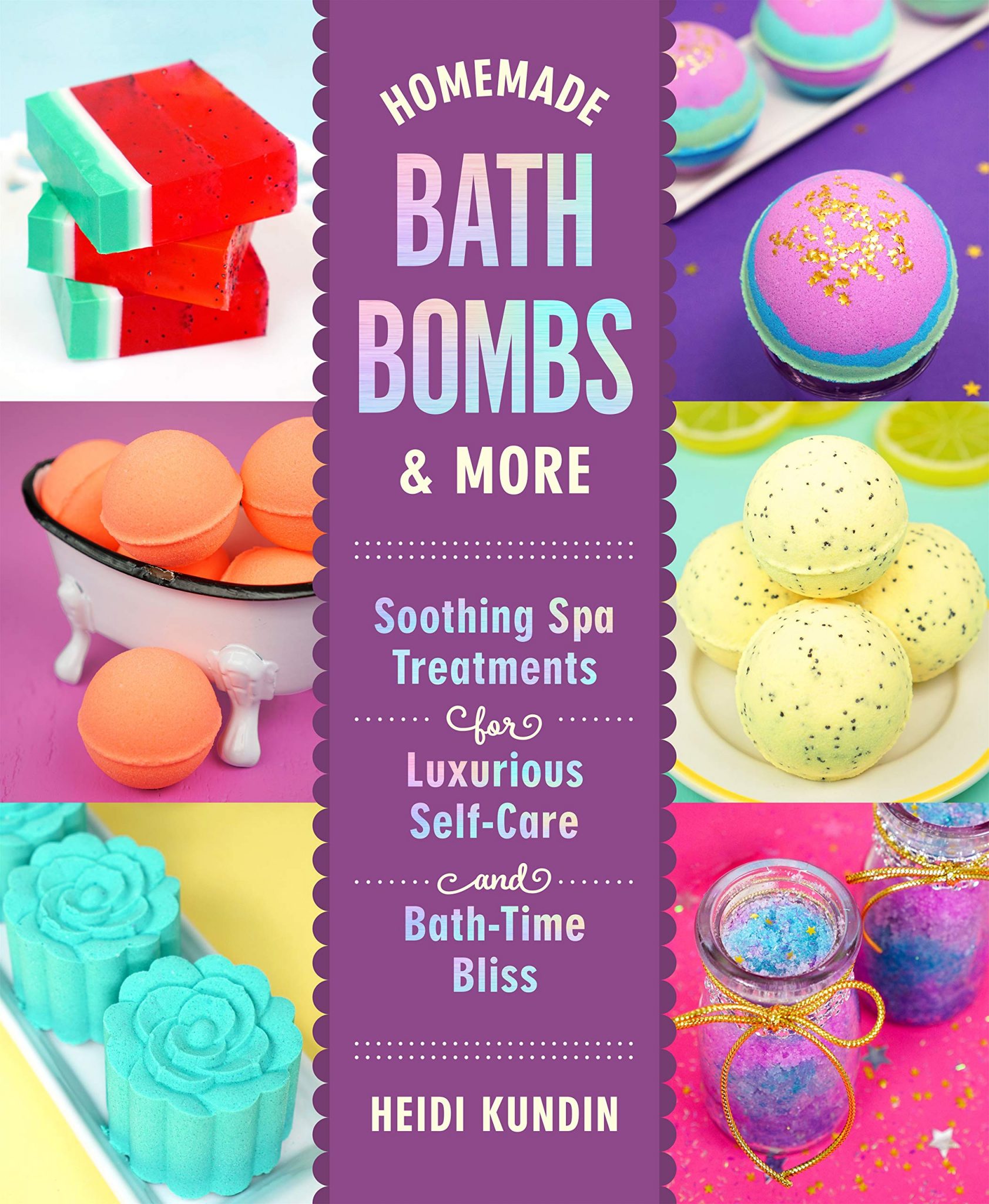 I like to call this book the bible for making your own beauty products at home. Inside you will find more than 75 easy recipes for delightful bath bombs, along with other fun and luxurious bath products such as sugar scrubs, body butter, and bath jellies. It is perfect for adding luxury to your own bath or for making gifts for others. Be sure to add this book to your collection now!
A Year of Jar Crafts
Sign up for our email list to get a FREE book with an entire year of jar crafts! 12 months, 12 crafts, tons of fun!