This post and photos may contain Amazon or other affiliate links. If you purchase something through any link, I may receive a small commission at no extra charge to you. Any supplies used may be given to me free of charge, however, all projects and opinions are my own.
Citrus bath salts make a great gift in a jar. It is perfect for Mother's Day with our free printable tag or you can give for any occasion just by creating your own fun tag.
In honor of Mother's Day, my blog pals and I have created some lovely Mother's Day themed projects featuring the new Ball® Elite Collection Mason Jars. You can see all of the projects at the bottom of this post.
Plus, Ball® Canning is sponsoring a giveaway and wants one of YOU to win an entire case of them… and you get to choose the size!
Enter our giveaway below and be sure to visit all these great blogs and see their fun mason jar ideas.
But first, we need to learn how to make citrus bath salts.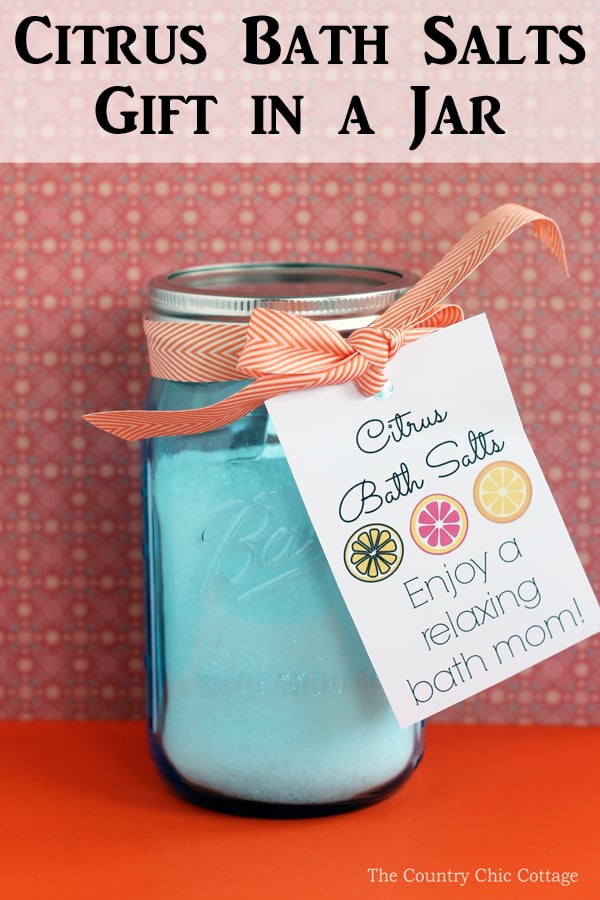 Citrus Bath Salts Recipe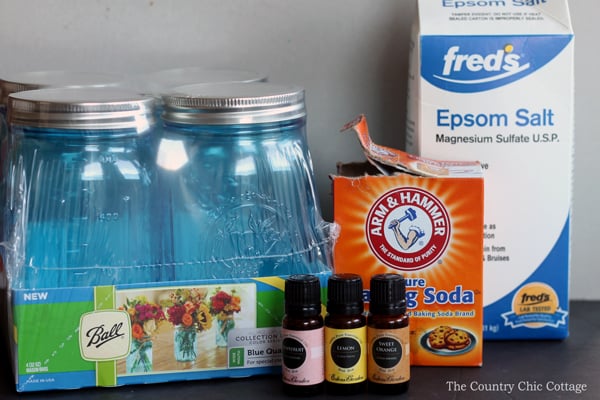 Links in this post may be affiliate links which means a portion of your purchase will go to support this site.
Start by mixing all of your ingredients in a large bowl. The recipe above will make enough for a quart size jar. Please cut in half if using a pint jar.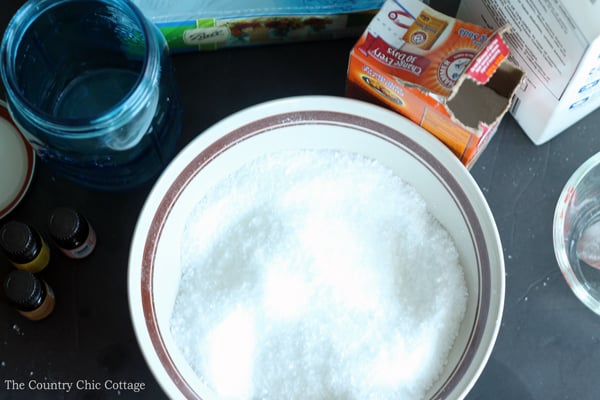 Add your citrus bath salts to the quart size Ball Elite Collection Jar.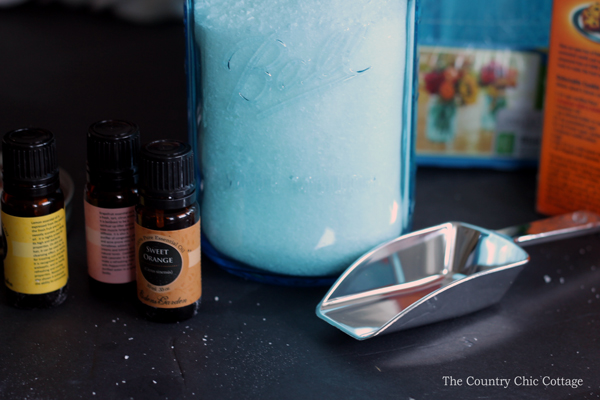 I also added in one of these fun scoops to the jar. This is perfect for mom to scoop out her citrus bath salts as she uses them.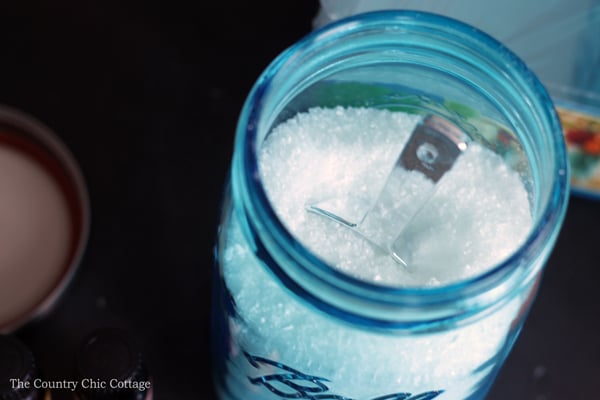 Then you will need to click here to print the free printable Mother's Day tag. Cut to size with scissors and punch a hole in the top.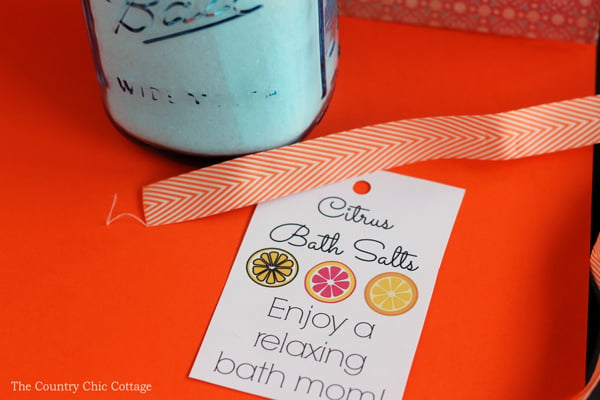 Add the lid to your jar and tie on your tag with a fun ribbon.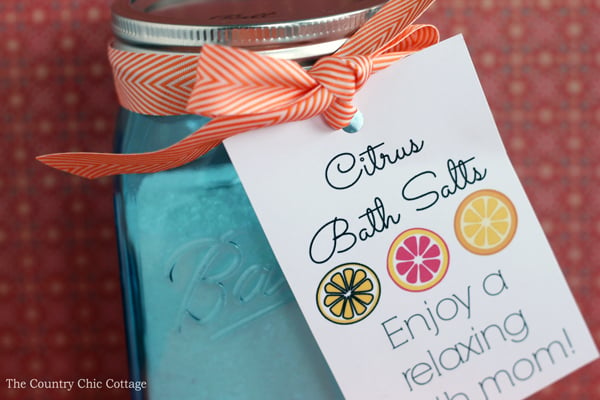 These citrus bath salts are ready to be given to mom for Mother's Day! Make these anytime of the year for a great gift idea or to use in your own luxurious baths.
How to Use Bath Salts:
There are a few ways to use and enjoy bath salts. We've listed down the best tips we have for maximum relaxation.
Bath
The most common way people enjoy bath salts is by using them in the bathtub. And in our opinion, it is the best way to utilize its benefits.
When soaked in warm water, the Epsom salt used in the bath salt may help relax sore muscles. On top of the aromatherapy benefits, exfoliation, and skin softening benefits, the Magnesium in these sales may also help with sleep wellness.
To use: Sprinkle 1 cup of bath salts into a warm bath, allow salts to dissolve, then soak in the tub for about 20 minutes.
Shower
Now this might be a little unconventional to some, but you can also enjoy the aromatherapy benefits of bath salts while you're in the shower. First, make sure your shower's temperature is hot enough for you to handle. Second, sprinkle some coarse bath salts along the shower floor. When the hot water hits the citrus bath salts, they'll dissolve, and you'll be cocooned in a relaxing aromatherapy steambath.
Exfoliation
Another common and effective way to use citrus bath salts is as an exfoliant. Note that you have to be very gentle or you risk irritating or hurting your skin.
To use: Combine 1/2 cup citrus bath salts with a drizzle of body oil like coconut oil. Use the mixture to scrub on trouble spots like elbows, knees, or bottoms of the feet.
Another note: Only apply this to your body and not use it on your face. The scrub is too abrasive and might cause micro tears in the skin.
Foot soak
Looking to give yourself a DIY foot spa? We got you covered.
To use: In a large basin or foot spa machine, sprinkle 1/4 to 1/2 cup bath salts into warm or hot water. Soak your feet and allow the bath salts to gently soften your skin.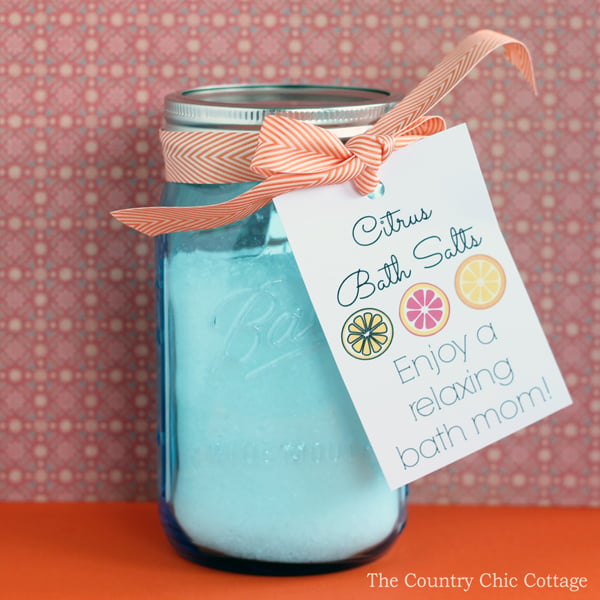 Benefits of Citrus Bath Salts:
There are a number of benefits to using citrus bath salts. Here are the top reasons why you should start using bath salts today:
Get Rid of Cellulite
Epsom salts, one of the primary ingredients in bath salts, work by pulling toxins from the skin and reducing fluid retention and bloating. For cellulite, this means that the minerals are redistributed in the cells and skin appears smoother and softer.
Moisturize, Purify, and Brighten Skin
Soaking in a warm salt solution, at least once a week, helps improve the skin barrier function, hydrates skin, and decreases inflammation. The minerals found within a salty soak also work to promote more youthful, glowing skin from the inside out by purging impurities from the skin and balancing skin moisture levels. Not to mention, the Vitamin C in our citrus bath salts also helps brighten and tighten skin.
Decrease Stress and Improve Mood
Soaking in a warm bath with citrus bath salts can help increase circulation throughout the body, which relaxes our internal systems.
Bath salts help to soothe our muscular systems and aid in both mental and physical rejuvenation. A warm bath is perfect for helping us relax and improving our mood.
Help Fight Insomnia
Nutritionally speaking, salt baths can play a role in encouraging better sleep patterns. The Magnesium in Epsom salts allows our bodies to absorb the mineral through the skin, which in turn assists our bodies in getting a good night's sleep.
Soothe Joint and Muscle Pain
Soaking in warm water with added bath salts can help our bodies heal faster after injury or surgery, as salt offers exceptional natural healing properties. The magnesium-rich salt can help to relieve muscle spasms and menstrual cramps as well.
Want even more ideas using these gorgeous jars? Check out the ideas in the list below!

Visit these blogs and check out all the GORGEOUS Mother's Day Gift Ideas!
A Little CLAIREification – An Extraordinary Day – Cupcakes and Crinoline
Domestically Speaking – My Uncommon Slice of Suburbia
The Country Chic Cottage – The Silly Pearl – 3 Little Greenwoods
Simply Kelly Designs – Yesterday on Tuesday
Now are you ready for a giveaway? Enter to win an entire case of the Elite Jars from Ball® Canning in any size that you choose! Just use the widget below to enter and good luck!
I hope you will give these citrus bath salts a try for mom this Mother's Day! Or whip up a batch for yourself anytime of the year! You will love that citrus smell in a relaxing bath!
Want to learn even more about making your own beauty products?
So, now that you have been bitten by the bug and want to make all of your own handmade beauty products, you may need a little more guidance. I have the perfect book for you!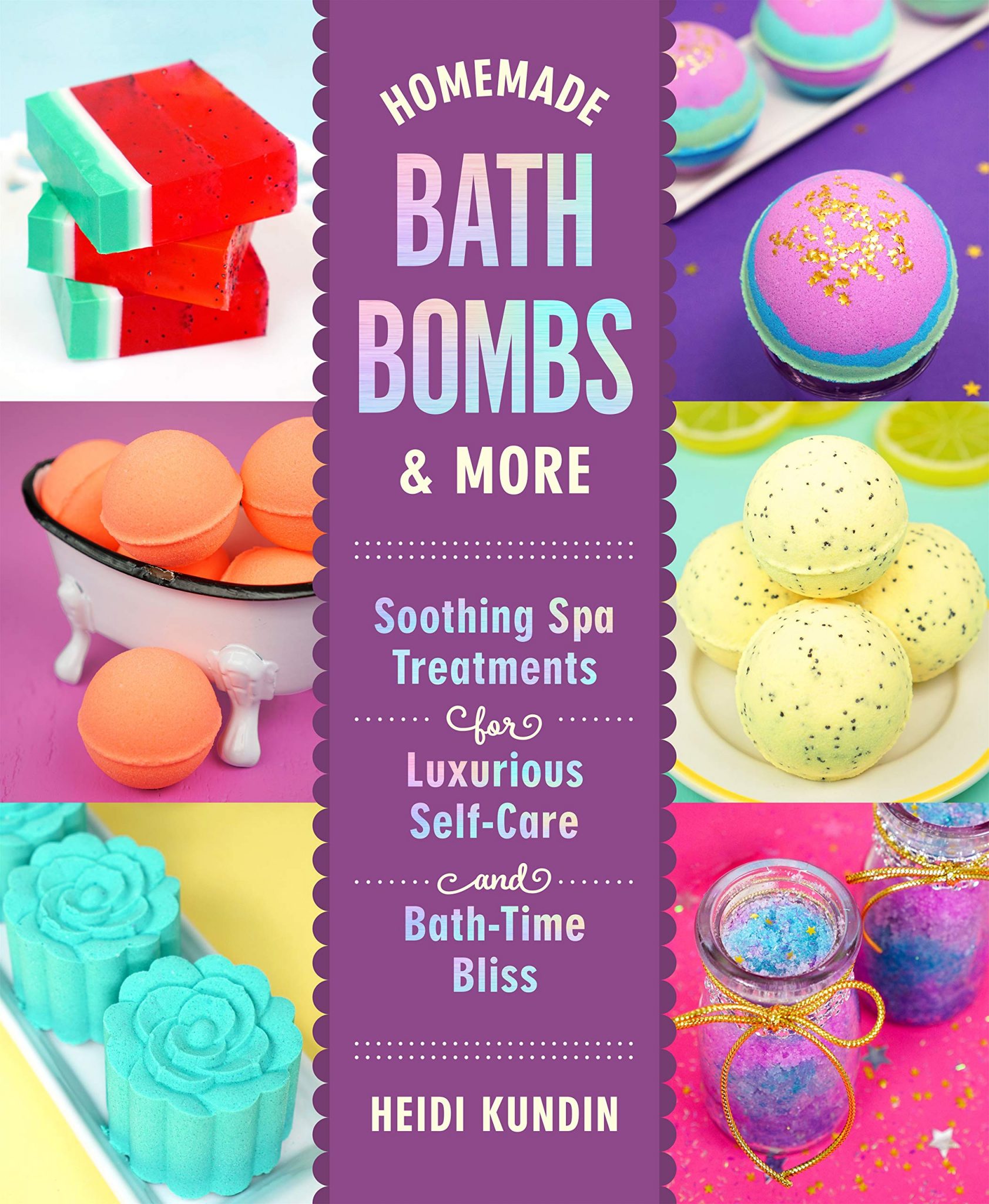 I like to call this book the bible for making your own beauty products at home. Inside you will find more than 75 easy recipes for delightful bath bombs, along with other fun and luxurious bath products such as sugar scrubs, body butter, and bath jellies. It is perfect for adding luxury to your own bath or for making gifts for others. Be sure to add this book to your collection now!
A Year of Jar Crafts
Sign up for our email list to get a FREE book with an entire year of jar crafts! 12 months, 12 crafts, tons of fun!