You can learn how to make sugar scrub in minutes then give it for gifts at any time of the year. It is a simple and inexpensive gift idea that everyone will love. We are making a strawberry version today and adding some Valentine's Day flair, however, you can adapt this same recipe to any gift recipient just by changing up the ingredients. Remember that this is mason jar week and we have even more mason jar crafts for you at the bottom of this post. You don't want to miss them! If you missed any of the posts from this week, be sure to catch up with day 1, day 2, day 3, and day 4.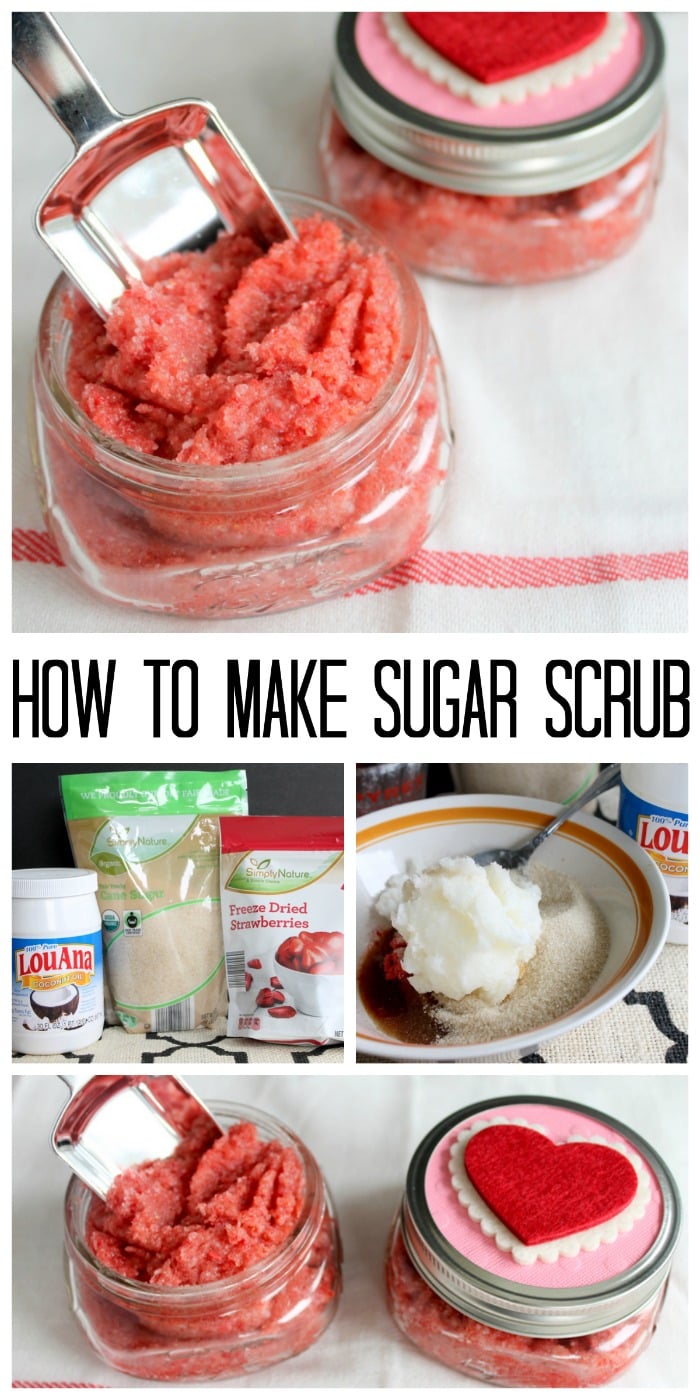 How to make sugar scrub:
This tutorial is really super simple. I love it because you can whip up a big batch and keep some for yourself as well as give some away to friends and family. The ingredients are super inexpensive as well.
Ingredients:
1 cup cane sugar
1 cup freeze-dried strawberries
3/4 cup coconut oil, room temperature
1 Tbsp vanilla extract
Pick up everything you need for this during your next trip to the store! Don't want to forget? Be sure to download the free Cozi app and add the supplies and instructions to your app! Just click the button below to add everything you need to your list.
You can get the Cozi app for free in the app store and also click here to learn more about how it can help you to organize your home and family!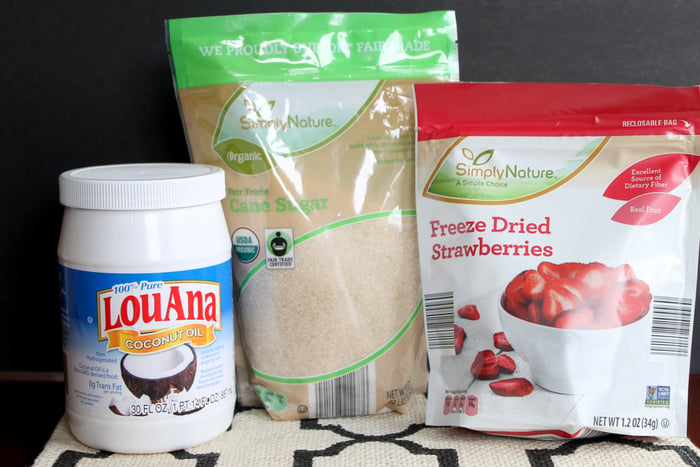 Homemade Sugar Scrub Recipe
You can print the recipe as well as the instructions using the card below. Keep it handy so you are always just minutes away from a gift that anyone will love.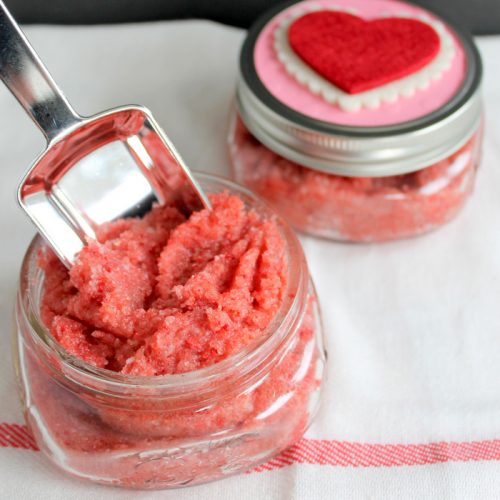 Homemade Sugar Scrub
Learn how to make sugar scrub with our simple instructions below.
Supplies
1

cup

cane sugar

1

cup

freeze-dried strawberries

3/4

cup

coconut oil

room temperature

1

Tbsp

vanilla extract
Instructions
Measure one cup of freeze-dried strawberries and add to a food processor. Turn them into fine dust then pour into a bowl.

Add in your cane sugar. NOTE: I like to use all organic ingredients when making beauty products but you can choose any that you would like.

Add the coconut oil and vanilla to the bowl. I like to work with the coconut oil at room temperature so that it is fairly solid. You could also melt it if desired.

Mix everything together really well. You have now learned how to make sugar scrub. Yes, it is in fact that easy! Read on to get a link to more recipes to try as well!

Pour your sugar scrub into a jar for gift giving. In this case, I decorated the top with a heart sticker and some pink card stock. You can try this for Valentine's Day or another look for any other occasion. One recipe above makes enough for both of the small mason jars pictured. You can half or double the recipe as required.
Tried this project?
tag us to show off your work!
So, will you be making sugar scrub gifts for everyone on your list? I love the way this one turned out and I know my friends and family will as well. Remember that homemade sugar scrub should be stored in the refrigerator until you use it. Bring to room temperature before using it. You should also use the scrub within 2 weeks.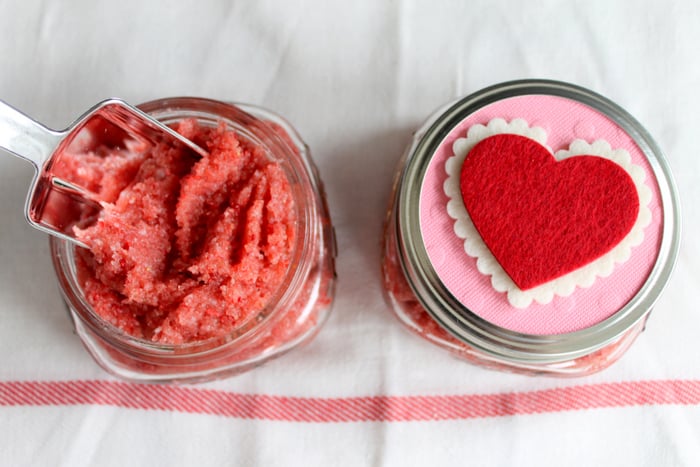 Make a natural sugar scrub for your family and friends! They will love the way this makes their skin feel and the fact that the ingredients are all natural. Learning how to make sugar scrub is easy! Now you just have to decide how much to make as everyone will want some!
Want to try some other sugar scrub recipes? Try the links below!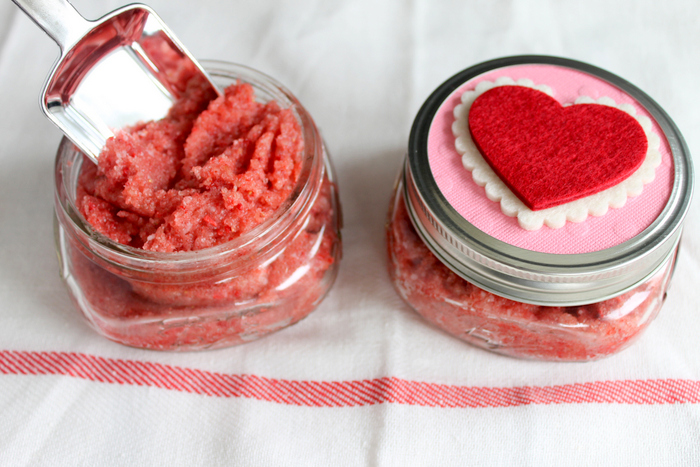 You can make fun homemade sugar scrub recipes for any occasion and to suit your gift-giving needs. After all, everyone loves a handmade gift from the heart!
Want more mason jar craft ideas? Try the links from our partners for this series below!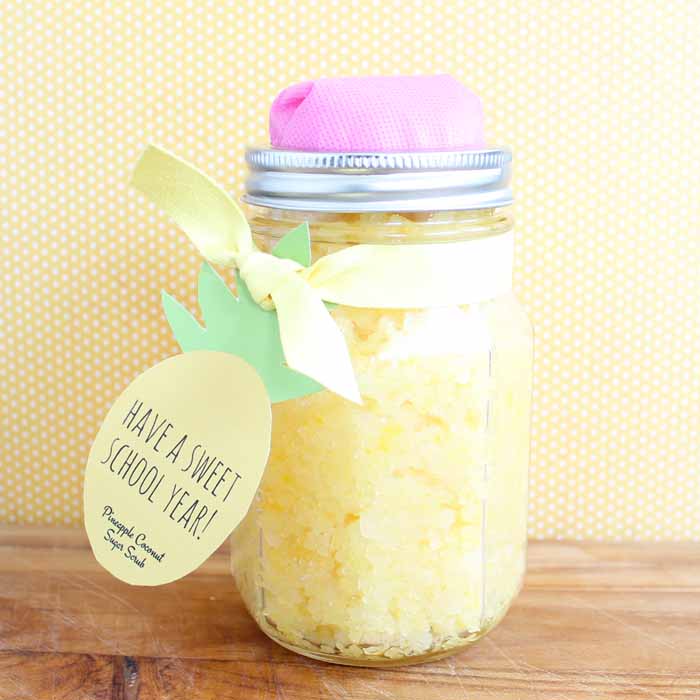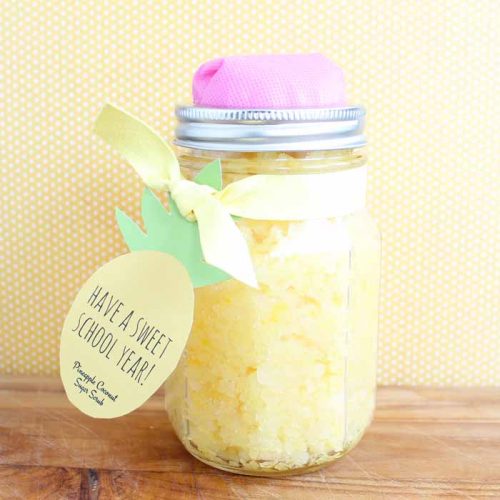 Back to School Teacher Gift Idea
Gift this sugar scrub teacher gift for back to school and put a smile on any teacher's face!
Supplies
Mason jar

I used the Ball sharing jars because of their pencil like shape.

Pink fabric

Yellow ribbon

Fiber fill

Printed pineapple tags

Hole punch
Instructions
Start by adding your sugar scrub to your jar. I wanted the gift to look as much like a pencil as possible so I made an eraser top. Just use a small piece of pink fabric cut slightly larger than my mason jar lid with

scissors

.

I then added a small amount of fiber fill under the fabric and put the lid on the jar as shown below.

You will also need to print the pineapple tags, cut out using scissors, and punch a hole in the top. Then tie this around your jar using some yellow ribbon.
Tried this project?
tag us to show off your work!
A Year of Jar Crafts
Sign up for our email list to get a FREE book with an entire year of jar crafts! 12 months, 12 crafts, tons of fun!