You can learn how to make sugar scrub in minutes then give it for gifts at any time of the year. It is a simple and inexpensive gift idea that everyone will love. We are making a strawberry version today and adding some Valentine's Day flair, however, you can adapt this same recipe to any gift recipient just by changing up the ingredients. It is easy to make a custom sugar scrub to give as a gift any time of the year.
Want more ideas for customizing this gift? Try our 3 ingredient sugar scrub recipe for mix-in ideas plus free printable labels.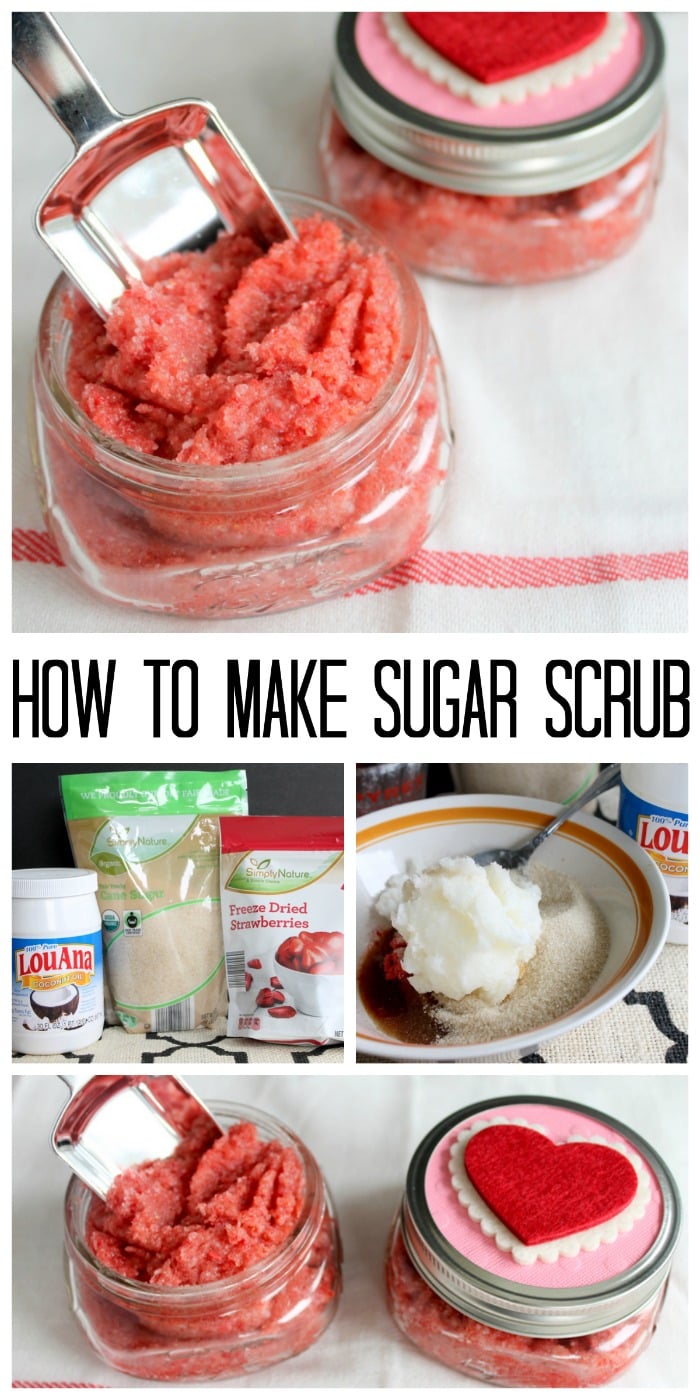 How to Make Sugar Scrub
This tutorial is really super simple. I love it because you can whip up a big batch and keep some for yourself as well as give some away to friends and family. The ingredients are super inexpensive as well. Remember that instead of strawberries in this particular recipe, you can use other freeze-dried fruits as well.
Ingredients:
1 cup cane sugar
1 cup freeze-dried strawberries
3/4 cup coconut oil, room temperature
1 Tbsp vanilla extract
NOTE: I like to use organic ingredients when available for all bath and body recipes.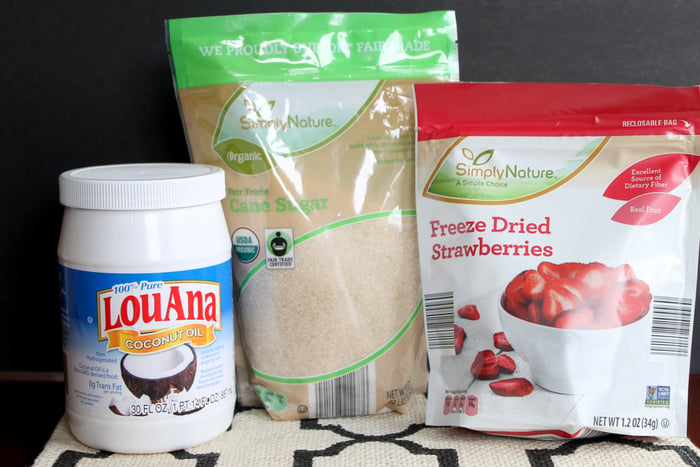 Homemade Sugar Scrub Recipe
You can print the recipe as well as the instructions using the card below. Keep it handy so you are always just minutes away from a gift that anyone will love. Last minute gifts will no longer be an issue if you just keep the ingredients for this sugar scrub on hand at all times.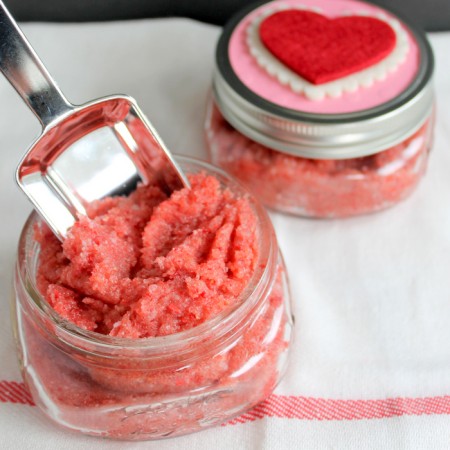 Homemade Sugar Scrub
Learn how to make sugar scrub with our simple instructions below.
Supplies
1

cup

cane sugar

1

cup

freeze-dried strawberries

3/4

cup

coconut oil

room temperature

1

Tbsp

vanilla extract
Instructions
Measure one cup of freeze-dried strawberries and add to a food processor. Turn them into fine dust then pour into a bowl.

Add in your cane sugar. NOTE: I like to use all organic ingredients when making beauty products but you can choose any that you would like.

Add the coconut oil and vanilla to the bowl. I like to work with the coconut oil at room temperature so that it is fairly solid. You could also melt it if desired.

Mix everything together really well. You have now learned how to make sugar scrub. Yes, it is in fact that easy! Read on to get a link to more recipes to try as well!

Pour your sugar scrub into a jar for gift giving. In this case, I decorated the top with a heart sticker and some pink card stock. You can try this for Valentine's Day or another look for any other occasion. One recipe above makes enough for both of the small mason jars pictured. You can half or double the recipe as required.
Tried this project?
tag us to show off your work!
So, will you be making sugar scrub gifts for everyone on your list? I love the way this one turned out and I know my friends and family will as well. Remember that homemade sugar scrub should be stored in the refrigerator until you use it. Bring to room temperature before using it. You should also use the scrub within 2 weeks.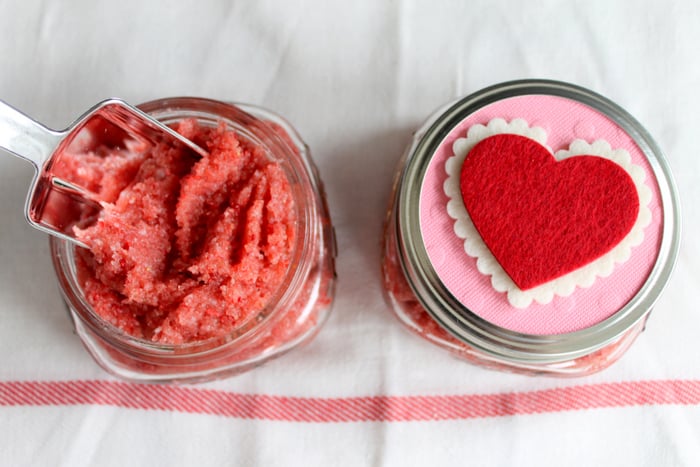 Make a natural sugar scrub for your family and friends! They will love the way this makes their skin feel and the fact that the ingredients are all-natural. Learning how to make sugar scrub is easy! Now you just have to decide how much to make as everyone will want some!
Now that you know how to make sugar scrub, do you want to try some other sugar scrub recipes? Be sure to check out the links below!
I mentioned above that it is easy to customize this recipe. Over the years, I have made many variations of this simple sugar scrub. You can find a few of the versions below. Just click on each one and decide which you want to make first. Then you can bookmark the rest to make at a later date!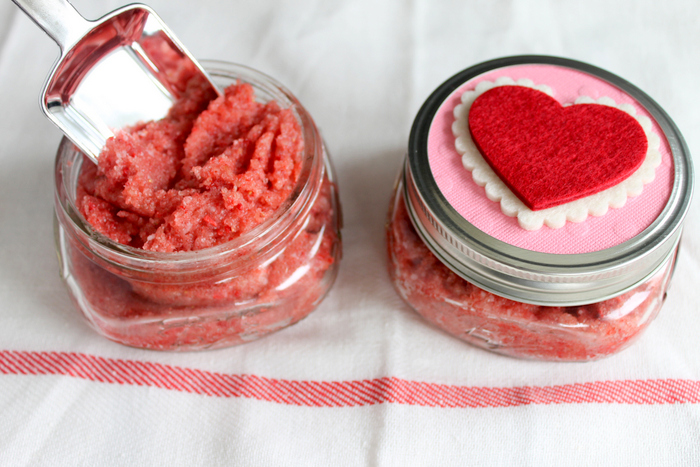 You can make fun homemade sugar scrub recipes for any occasion and to suit your gift-giving needs. After all, everyone loves a handmade gift from the heart!
Want more handmade beauty gift ideas? Try the links below as well!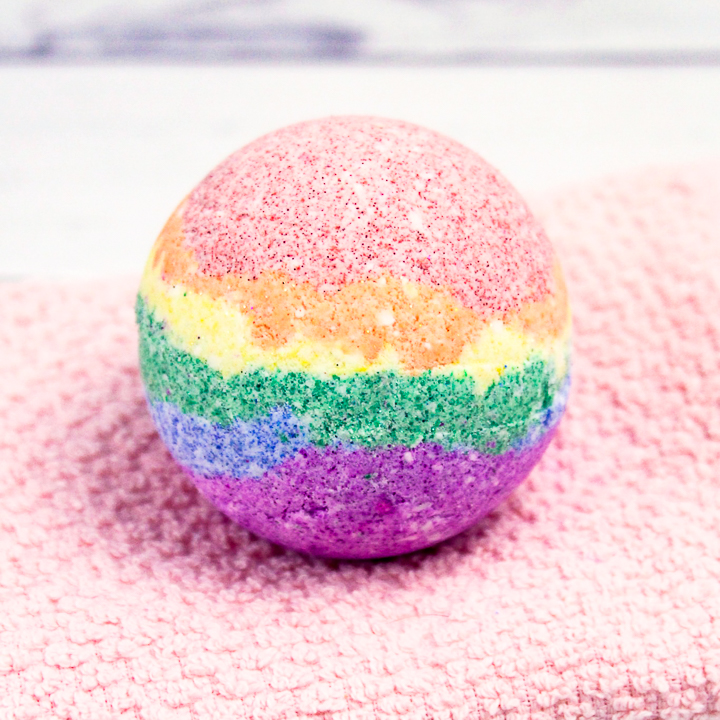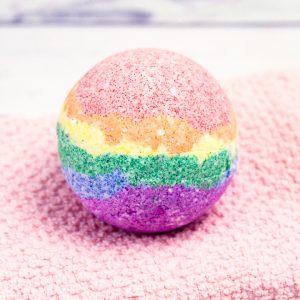 Rainbow Bath Bombs Recipe
Whip up a batch of these rainbow bath bombs for a party or to give as a gift!
Read More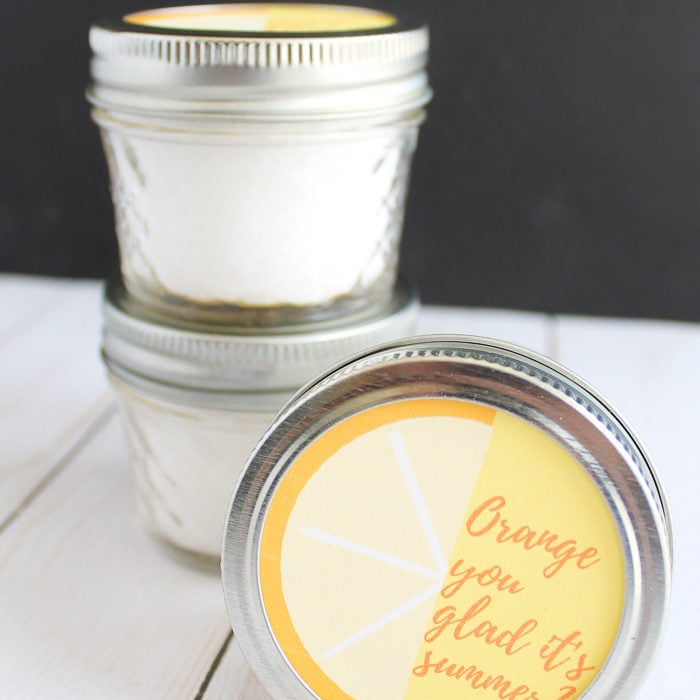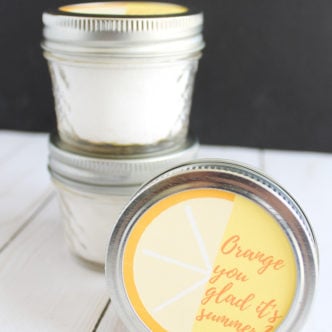 DIY Bath Salts
These DIY bath salts have a bright citrus scent that everyone will enjoy!
Read More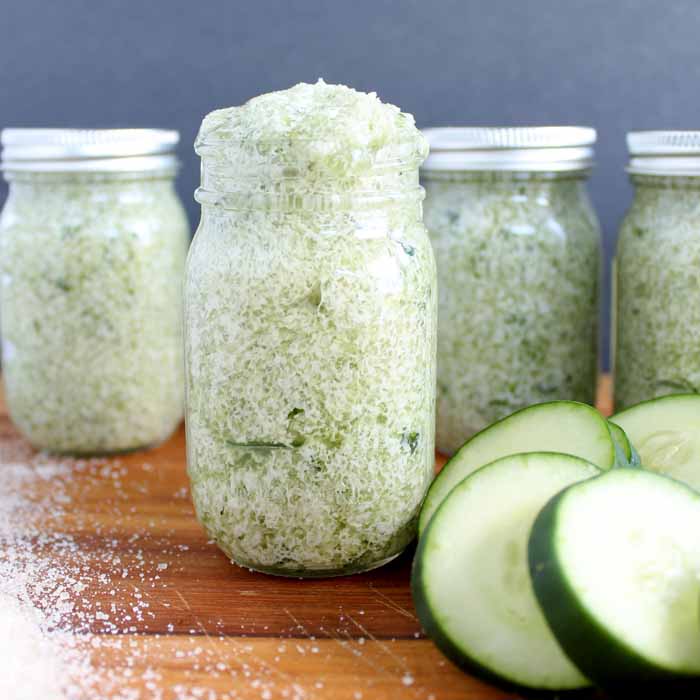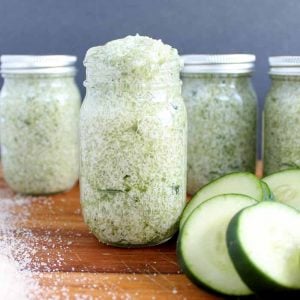 Cucumber Mint Sugar Scrub
Try this fresh and fragrant cucumber mint sugar scrub recipe on your skin while you're relaxing at home. This also makes a great gift idea that is inexpensive and easy to whip up in minutes. This scrub is perfect to use on the body for incredibly soft skin.
Read More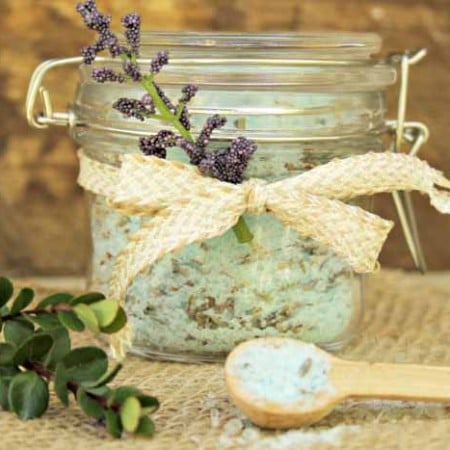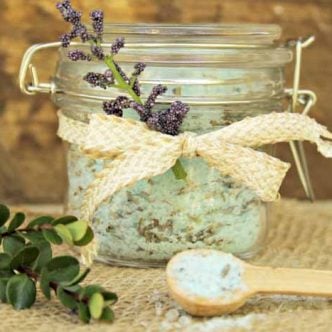 Essential Oil Bath Salts to Soothe Sore Muscles
Relax after a long, hard day with these essential oil bath salts, made with essential oils for sore, achey muscles. These DIY bath salts make a perfect homemade gift!
Read More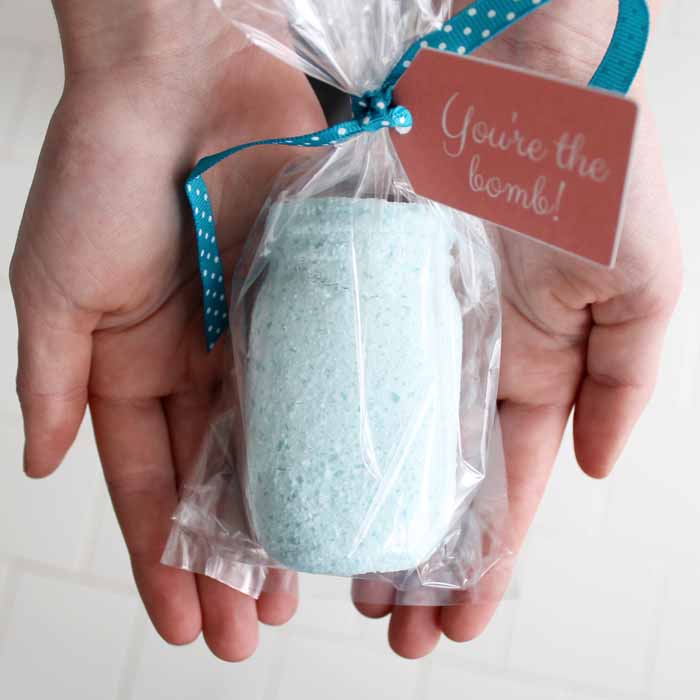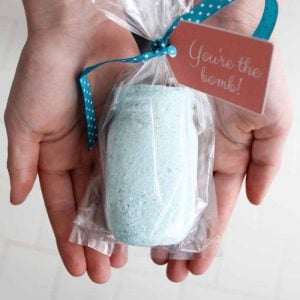 Mason Jar Bath Bomb
This mason jar bath bomb in a bag is the perfect way to wind down in the bath after a busy day. Perfect for gift-giving and Mother's Day!
Read More
A Year of Jar Crafts
Sign up for our email list to get a FREE book with an entire year of jar crafts! 12 months, 12 crafts, tons of fun!