Yes you probably have some cleaning supplies to throw out now. Most of us have at least one cabinet or closet filled with all sorts of cleaning products and tools. Truthfully, we don't need all of them. Not only are they taking up space, but there are actually lots of cleaning products we should throw away either because they don't work, they can make us sick, or they are incredibly toxic.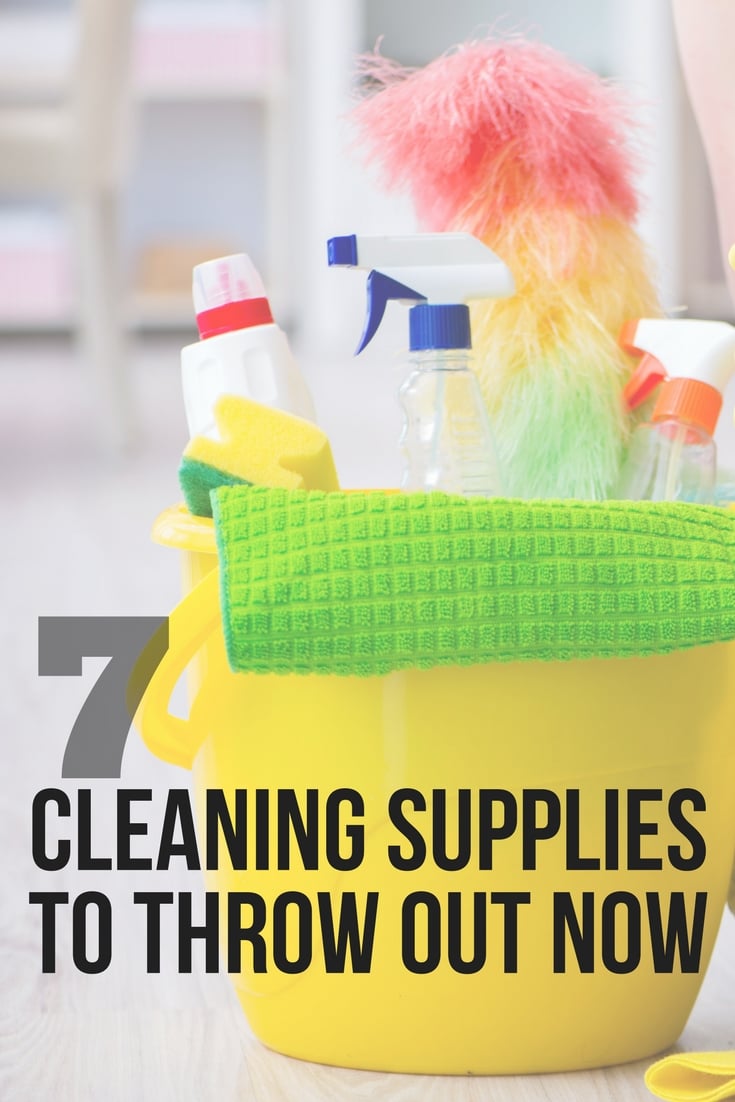 7 Cleaning Supplies to Throw Out Now
1. Feather dusters.
They're often brightly colored and pretty to look at, but for the most part they aren't effective. The truth is that feather dusters don't get rid of the dust. They simply do a great job of spreading dust from one place to another. Instead of using a feather duster, dampen a clean cloth with some water to clean a dusty surface or use a microfiber towel. Either of those things will do a much better job.
2. Your toilet brush.
How long have you had the same toilet brush? So many of us buy one, use it when we clean the bathroom, and never think of it again until the next time we need it. If your toilet brush is discolored, the bristles are worn down or stuck together, it's time to throw it away.
3. Antibacterial products.
When you use an antibacterial cleaning product in your home, a residue is left behind on the surface. The active chemicals continue to kill bacteria for a time, but it doesn't kill all of them. The bacteria that survive can get stronger and reproduce. Studies have shown they may also develop a tolerance for the antibacterial.
Scientists say that the compounds that make up antibacterial cleaners are present in up to 60% of the streams and rivers in the US. That means they're getting into our agricultural soil, and then even into our food. This all leads to drug-resistant bacteria, aka superbugs, and that's a problem humans can't afford to have.
Go back to good old-fashioned soap and water in your cleaning. It really does get the job done in almost every situation. When needed, use alcohol or hydrogen peroxide which destroy bacteria and then dissipate.
4. Corrosive cleaners.
The most dangerous cleaning products are the ones that can cause severe burns on skin or eyes if touched, or to the throat and esophagus if ingested. If you read the instructions on a corrosive cleaner, they'll tell you to open a window or use in a well ventilated area. That's because they are so harmful that they can even hurt you just by breathing the fumes.
If you have drain cleaners, oven cleaners or toilet bowl cleaners, they probably fall into this category. Not only are they incredibly dangerous to humans and to the environment, they actually aren't that great at their job. Plumbers say commercial drain cleaners we buy in the store are harming our plumbing by corroding pipes and destroying enamel.
5. Old cleaning products.
Did you know that cleaning products don't last forever? They begin to break down after a certain amount of time. They don't work as well, their formulas can change, and they can eventually destroy their containers. Here are a few guidelines:
Dishwashing soap will last a year to a year and a half. Automatic dishwashing detergent has a much shorter life of only about 3 to 4 months.
Multi-surface cleaners should be thrown away when they approach the two-year mark, although it would be hard to imagine not using it all up in two years!
Liquid or powder detergent will be fine if it's used within a year providing it's been stored correctly. Fabric softener will also be good for a year, but should be thrown away after that as it may become clumpy and lose it's smell.
Do yourself a favor and do a quick check of all your cleaning products. If you notice any crusty or corroding containers, any odd smells or changes in consistency, it's best to safely dispose of them. Moving forward, the best way to keep track of when it's time to throw away cleaning products is to write the date you bought it on the container itself.
6. Kitchen sponges.
Did you know that kitchen sponges have been proven to be at least 200,000 times dirtier than your toilet seat? It's true. They're wet and they have all those little spaces for bacteria to breed. In short, they're pretty awful. Take every kitchen sponge you have right now and throw them away. Next time you buy one, remember that the USDA has found that you can keep them clean by microwaving them for 1 minute at full power after each use. You should still replace them every two to three weeks, but at least you can get as much use as possible out of them with the microwave trick.
7. Products you don't need.
It's so easy to be convinced to buy a cleaning product or tool that we don't need. Commercials and ads online tell us that to keep our home clean, fresh-smelling and safe for our family, we should buy what they're selling.
It's just not true.
Do you know how many cleaning products you can throw away if you have one gallon of distilled white vinegar? Stain removers, drain uncloggers, fabric softener, window cleaner, hard water remover, tub and shower cleaners, pet urine cleaner, garbage disposal cleaners, and countertop cleaners can all be thrown away. That's only a partial list. Add some baking soda and salt to your vinegar and you can get rid of even more of the cleaning products cluttering up your space.
So, which of these cleaning supplies will you throw out? What do you throw away, or refuse to buy when it comes to cleaning?
Love this and want more ideas? Try the links below!
Want to see my favorite cleaning supplies and products?
I have gathered all of the products I love using around my home into one great section of my Amazon storefront. You can click here to shop! If you're looking for just about anything to clean your home, I probably have an option that you will love!