Carpet cleaning is something we all struggle with at one time or another. I thought I would round up my favorite tips and tricks for you today. Some of these will be using products you have around your home while others will be great products I have found to buy that work well. Give a few of them a try and see if you can get your carpet cleaner!
Some of the links in this post may be affiliate links.
First of all we should probably tackle stains. That is the main reason we need carpet cleaning tips and tricks right? I found a few posts with some solutions that most people would have around their home. You should definitely give these a try first. Just a note that you should always test any method on an inconspicuous area before using on the stain. Just click on any of the links in the list below and blast those stains!
A few products that I have purchased that have worked really well are below. I am listing them in the order with the best solutions at the top.
As you can see, for the most part I love the Bissell line of products. No this is not sponsored. That is just what I have found that works in our home. Another issue that those of us with carpet face is deodorizing. I thought I would also include some links for homemade deodorizers. Give one or more of these a try!
I personally think these work just as well as the store bought versions and they are often a fraction of the price. That is a win win! If you are struggling with carpet cleaning, I hope a few of these ideas will give your efforts a boost. I would definitely give the homemade solutions a try first but if those do not work move onto the store bought powerhouses. You can get those stains out and have cleaner carpet! Trust me! I have used the Spotbot to get out stains that were years old! They will come out!
If you loved this post on carpet cleaning, you might also like: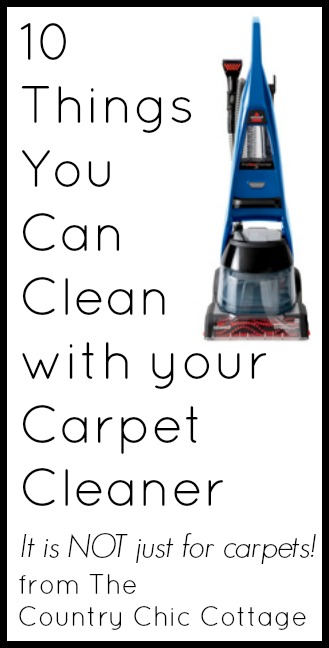 10 Things to Clean with your Carpet Cleaner
Want to see my favorite cleaning supplies and products?
I have gathered all of the products I love using around my home into one great section of my Amazon storefront. You can click here to shop! If you're looking for just about anything to clean your home, I probably have an option that you will love!