Are you ready to start your own Craft Business? Today I'm going to share five things you should think about before starting your own craft-related business. If you're already running a craft business, you may learn something you haven't previously thought of.
If you're wondering what types of items you could sell, check out 10 Things to Make and Sell with a Cricut machine.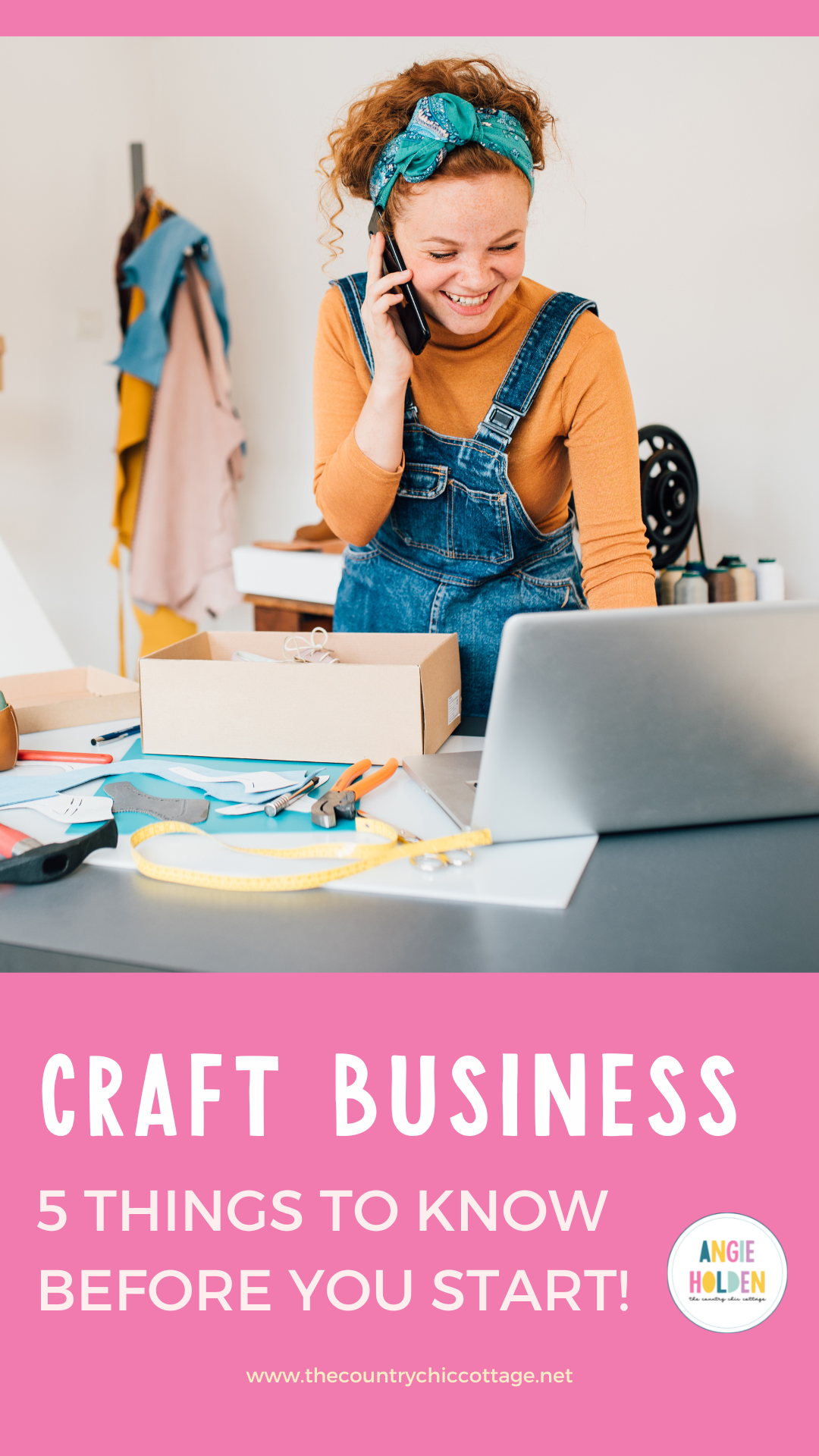 You can watch me share all these tips by pressing play on the video below:
What to do Before Starting a Craft Business
It's the start of a new year and many people are taking the leap into starting their own craft businesses. If this is you – congratulations!! I am cheering you on! Before you start I encourage you to think about these five things. Take some time to ponder each one and you'll be off to a good start!
Where Passion Meets Profit
The first thing I suggest you think about is what is something you're passionate about that would meet the profit you would need to run a successful business. Depending on what your goal for your business is you want to make sure you can pursue your passion and make a profit so you don't lose that passion.
When your business takes off you'll be doing a lot of it. You want to make sure it's something you enjoy doing and that the money is worth the time and effort you'll be putting into your business.
I always encourage people to think about their passions and what they can create day after day, year after year without getting burnt out. Where profit and passion meet is where you will be the happiest and most successful in your business.
Be Patient
The second thing I like to remind people is to be patient. Starting a handmade business, in my opinion, is more a marathon than a sprint. There are some people who have success early on but most people with a successful craft business, myself included, took several years before they got their feet on the ground and really made a profit.
Personally, I have run an Etsy store and now have a Shopify store. It took me a while before I saw any kind of income that amounted to anything from my craft business. By "a while" I'm talking years. If you set your expectations upfront and know it's going to be a marathon, I really think you can be successful.
Make High-Quality Products
The third thing you need to make sure you always think about is how to make the highest quality product you can. You'll need to do some testing to make sure you're using the highest quality shirt, tumbler, mug, or whatever it is you're selling.
When customers are shopping for homemade they're expecting high-quality, almost heirloom quality. If they were looking for the best deal, they would likely be on Amazon or some local store. Inexpensive/cheap isn't what someone is looking for when they're searching a handmade seller's site.
Another reason making high-quality products is important is ratings and reviews. You want to create a product that keeps customers coming back for more and leaving those reviews. Positive ratings and reviews are just going to make your shop better and help new customers know what to expect from your shop.
In my opinion, making sure you have the highest quality before you even start your craft business is extremely important.
Treat Your Craft Business Like a Business, Not a Hobby
Number four – treat your business as a business, not a hobby.
If you're thinking of starting a craft business you've likely been crafting for years, possibly since you were small. If you're going to get serious about running a business, you need to treat it like a business.
That means you need to make decisions about valuing your time, valuing the money you're investing into the business, and how to make a profit. You're going to need a profit to have a successful craft business. Selling items to your friends and family at cost isn't treating your craft like a business, that's a hobby.
Keep Learning
Last but not least, learn all the things! You cannot learn enough about business things. That means staying on top of new opportunities, new trends, new supplies, and even new products.
I have been building my business for over a decade and am still learning things today. I think learning everything you can is so important. Knowing where to start can be overwhelming which brings me to how I can help!
Craft Business Prep
If you want to learn more about starting your craft business the RIGHT way, I have a new course just for you! Craft Business Prep covers starting your shop from the very beginning.
With Craft Business Prep, you will get:
The knowledge you need to pick the right product so you always love what you do.
Shipping advice that will keep you from making mistakes and getting returns.
Advice for branding your business for a consistent online presence that will make you stand out in a crowd.
Help finding your ideal customer so you know how and where to market your goods for maximum impact.
Help with choosing an eCommerce platform that works for your business and your customers.
Pricing advice and help so that you know you are making money from your efforts.
Marketing ideas that will help your business grow in the future.
I have all of this and so much more in an online course that walks you through all of those first steps. Avoid common mistakes when getting started selling your crafts.
Join Craft Business Prep today!
I did want to note that through February 20, 2023, Craft Business Prep is on sale for the lowest price it will ever be! If you want to buy, now is the time!