Have you ever thought about starting a Cricut business? Can you make money with a Cricut machine? The answer is yes! I thought I would break down my top advice for starting a business with a Cricut machine into one big post just for you! Whether you are just starting out or struggling with getting your business of the ground, I hope this post will help you a bit!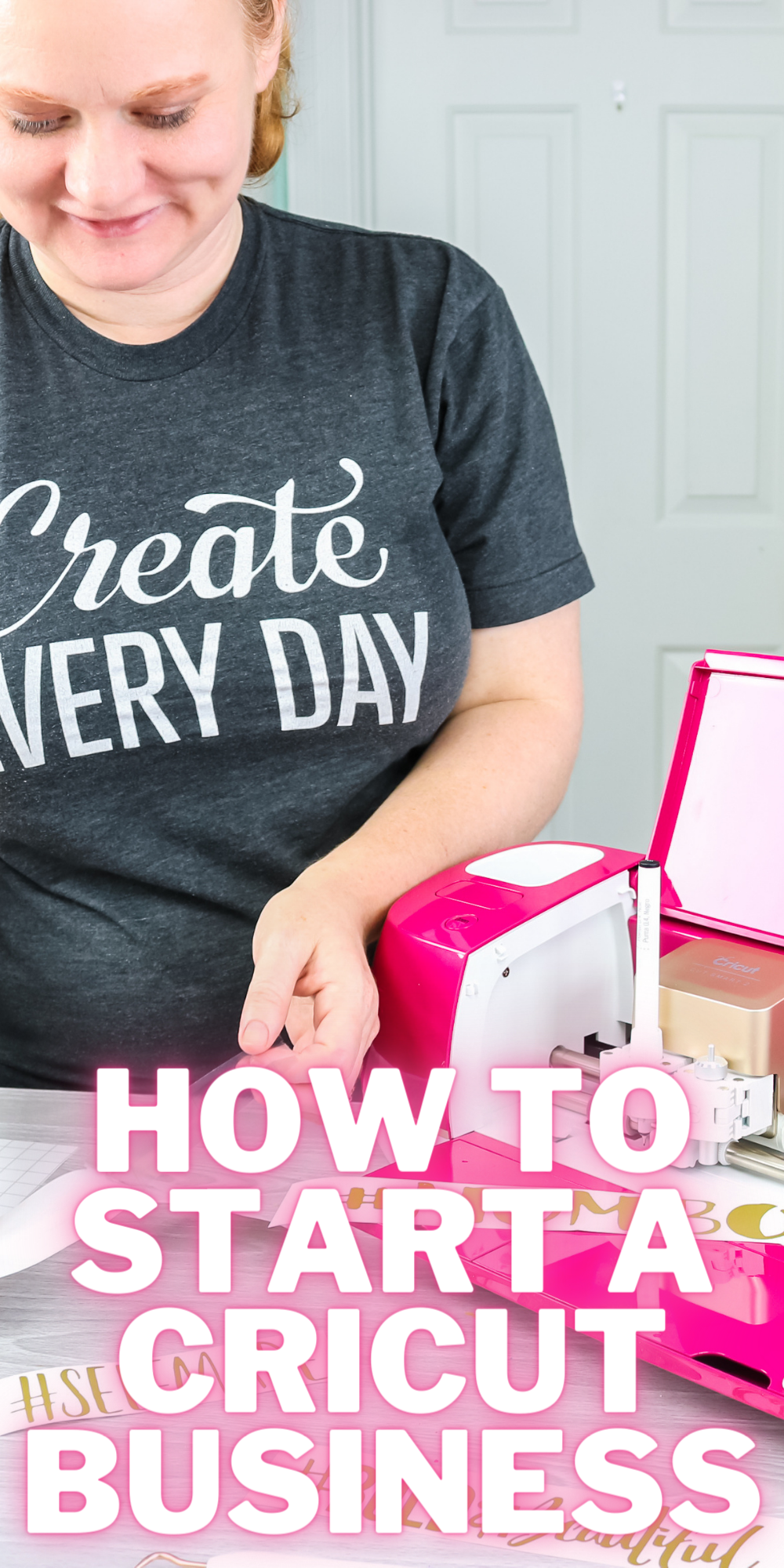 How to Make Money with a Cricut
If you want to dive right in, you can click play on the video below. It has everything you ever wanted to know about launching and even succeeding with your Cricut business.
Can't watch the video or missed some of the information? I also have everything in the blog post below for you.
Getting Started with a Cricut Business
First, you have to start. How do you do that? What should you consider first? Try walking through my steps for getting started below.
Do You Want to Sell
The first thing I want to talk about when it comes to getting started is if you want to sell things. Is this going to be a business that will make you happy?
Let me start with a story. I started my journey on my business with a blog but I very shortly opened an Etsy shop and sold handmade goods. I made the horrible mistake of catering to weddings with my Etsy shop. That meant I was making 400 – 500 of one thing at a time. And just to be honest with you, I hated it. I hated the repetition and making things over and over again.
So, I would encourage you to make sure that you love it. Make sure you love that process of making. Make sure you love making things repeatedly if you need to. If not consider something like small sales or even single personalized items.
Then I would also encourage you to think about the following questions. Do you have the time? Do you have the energy? Also, do you have the drive to start selling handmade goods? Because all of those things are going to be required. And you want to think about that in the beginning and make sure you want to dive into a Cricut business before continuing with the rest of this post.
Making a Plan
Now that you know you want to sell, what do you need to do now? The next thing I would say is to make a plan. Where are you gonna start selling? How are you gonna start selling? What are you gonna start selling? Write all these things down. You need a plan of how you are going to launch this business that you're creating.
Where to Sell
Are you going to sell on Etsy? Are you just going to start small with friends? Perhaps you will sell in a private Facebook group? Will you sell only on Instagram? You can start any of those ways. And when that way doesn't work for you or you outgrow that method, you can change.
I started, like I said, with a small Etsy shop selling wedding things. It didn't work for me. Now I have a shop on Shopify and host it on my own website. I now sell all digital goods. Now I don't have any of the shipping or making things over and over again. It's a business model that I love But I did start down the wrong path and that's okay. You can course-correct later. So for right now you just need to decide where you're going to start selling.
I find that it's pretty good to start with something like a private Facebook group, a Facebook page, or even an Instagram account. I do think Etsy's a great place to start as well. There are also places like Amazon Handmade and quite a few other places that you can definitely start but I feel like those are the big ones.
The thing I will say about selling on Etsy or Amazon Handmade, either one, is that you get the benefit of their search engine. So if I was searching for a certain shirt, I might go to Etsy to find it. Their search would pull up all the shirts that have the search words on them. Then I would pick from those shirts. So I might not necessarily know your shop and you but I would find your shirt much more easily than if it was just in a Facebook group.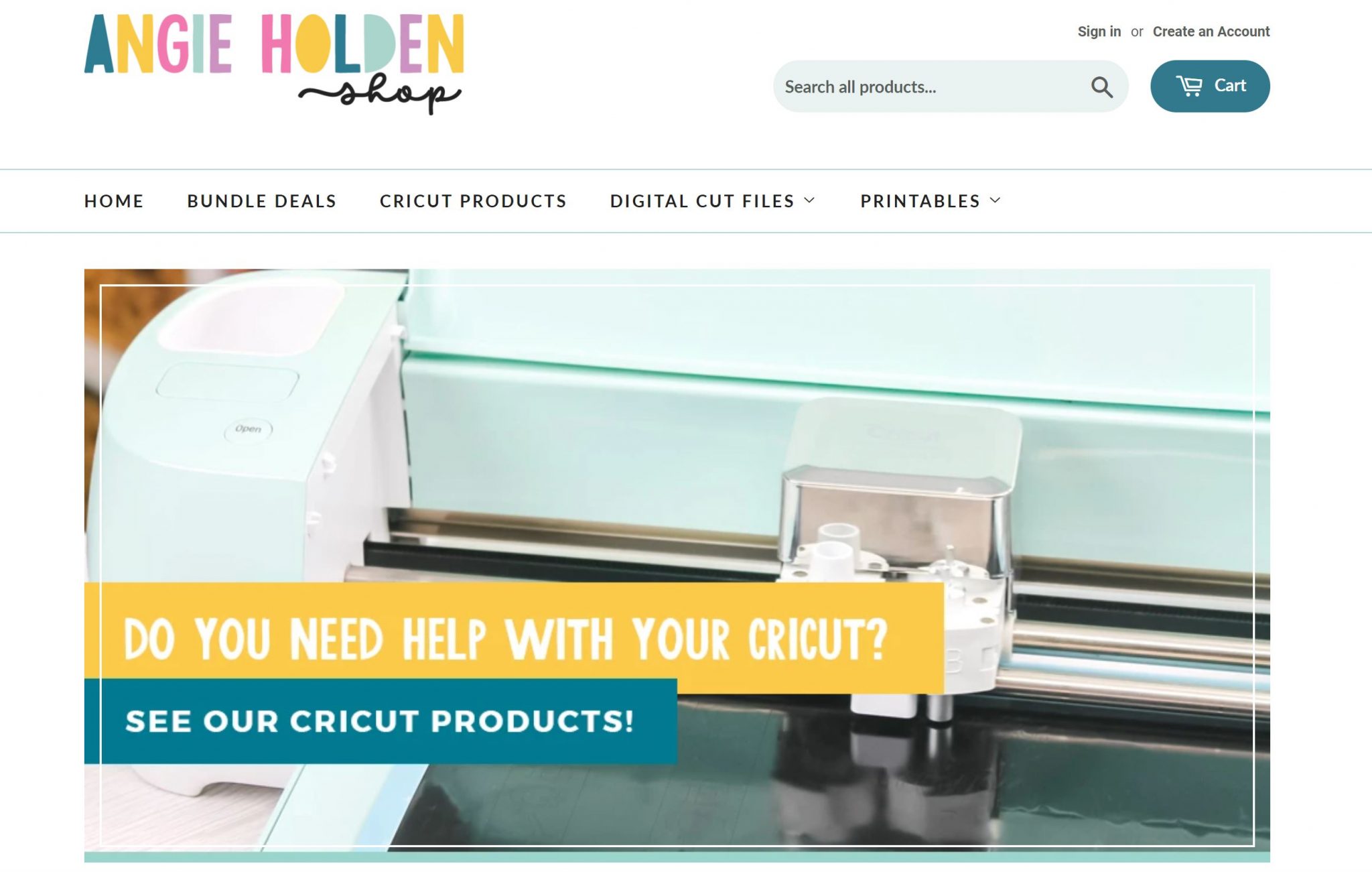 Cricut Projects to Sell
I would encourage you no matter what the item is you want to sell to think about a way to put your stamp on it. Add your unique spin. Put a little bit of you into it. So whether that is a certain color palette or a certain style, just think about a way where it can be something that says you right away. And then as you create more products to sell they all can become part of that collection. Eventually, someone can almost see that item and know that it's you.
One example of this is one of my favorite Etsy shops, This is Tisa. All of her items have the same rainbow color palette. I can see a picture just about anywhere of someone wearing a shirt and think that's one of Tisa's. Her style is that spot on. So if you can get to that point I think you will do better in the marketplace. The marketplace is saturated, right? There are tons of people out there trying to do this handmade sales thing. Thinking of your own spin on a product is a way for you to set yourself apart from all of them and become your own unique business.
I have some links below to a few different Cricut crafts that sell well. The following are basic tutorials to get you started then you can think of ways to add your personality into them.
There are many more things that can be added to this list so don't let this be the end of your brainstorming. Just about anything that you can make with high-quality materials will sell. Remember you should love to make it and I wouldn't think about the profit margin just yet. Only think about high-quality goods that you can make your own as you also want your Cricut business to stand out.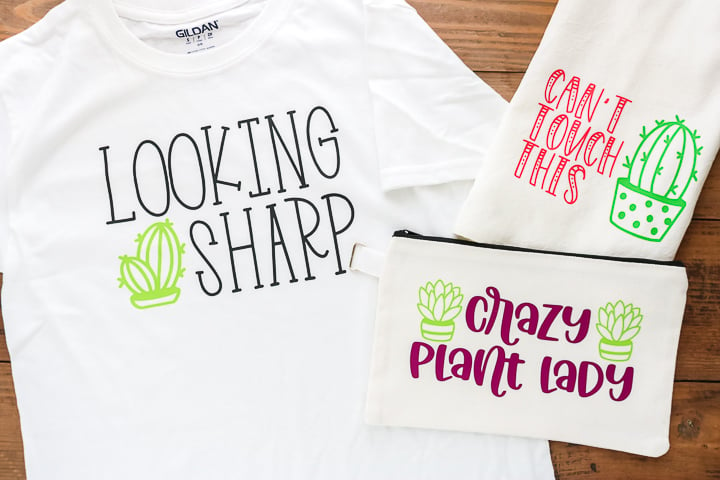 Licensing and Legal Issues
Where do you find the images to use and how do you do that legally? To use an image and put it on something for sale, you need a commercial license, bottom line. You can do that a couple of different ways.
In Cricut Design Space, you can use any of their images except for some of them under the angel policy. And what do I mean by that? So the Cricut angel policy covers most of their images and you can use those for things for sale. However, it does not cover licensed characters (Disney characters, Star Wars characters, etc) as those types of characters do not fall under the angel policy. Those are licensed characters and they are not allowed to be put on products for sale, no matter where you find them. If you find an SVG on Etsy with Mickey Mouse, they're trying to sell you a commercial license but they're not allowed to.
Please watch out for licensed characters and trademarked names, logos, etc as you want to stay away from those. You want to go with files that you know you can use legally. And those would be ones in Cricut Design Space that fall under that angel policy or look for SVG files where you can buy a commercial license. Stay away from all licensed characters. Now I have a full blog post all about commercial licensing and you can find that here. The easiest route, however, is to pay for a Cricut Access subscription and use their Angel Policy to be covered for sales.
Samples and Product Images
All right, so now you have something to sell. You have all these files and now you have to make all this stuff to take photos for your online store. But do you have to make it all? Yes, you need to make sure you know how to make the item as well as know where you are going to get your supplies. You need to know that you can make a high-quality item that will really last. So, while I do encourage you to make some samples and put them through some tests, you don't have to make samples for the entire variety of items that you want to sell.
What I would encourage you to do is to look into doing mock-ups for your Cricut business. Mock-ups are where there's a picture of a blank shirt. You can take the picture yourself or even purchase images from Etsy. Then you can take the artwork and you can put that on the shirt using a program like Canva or Photoshop. Just lay the images over each other and it will look like the image is on the shirt and been applied by you but it hasn't. Then you export that and use the image on your sales page. Once you sell it, you can make the right size or design for the person.
This way you don't have to make tons of stock and inventory of all these custom designs. I believe that custom is one way your handmade shop can stand out. Catering to customers that want a certain color, phrase, monogram, and more. You can't get that type of service at the store! However you don't want to make tons of them that you can't sell to make your pictures for your shop. So mock-ups are the way to do that cost effectively.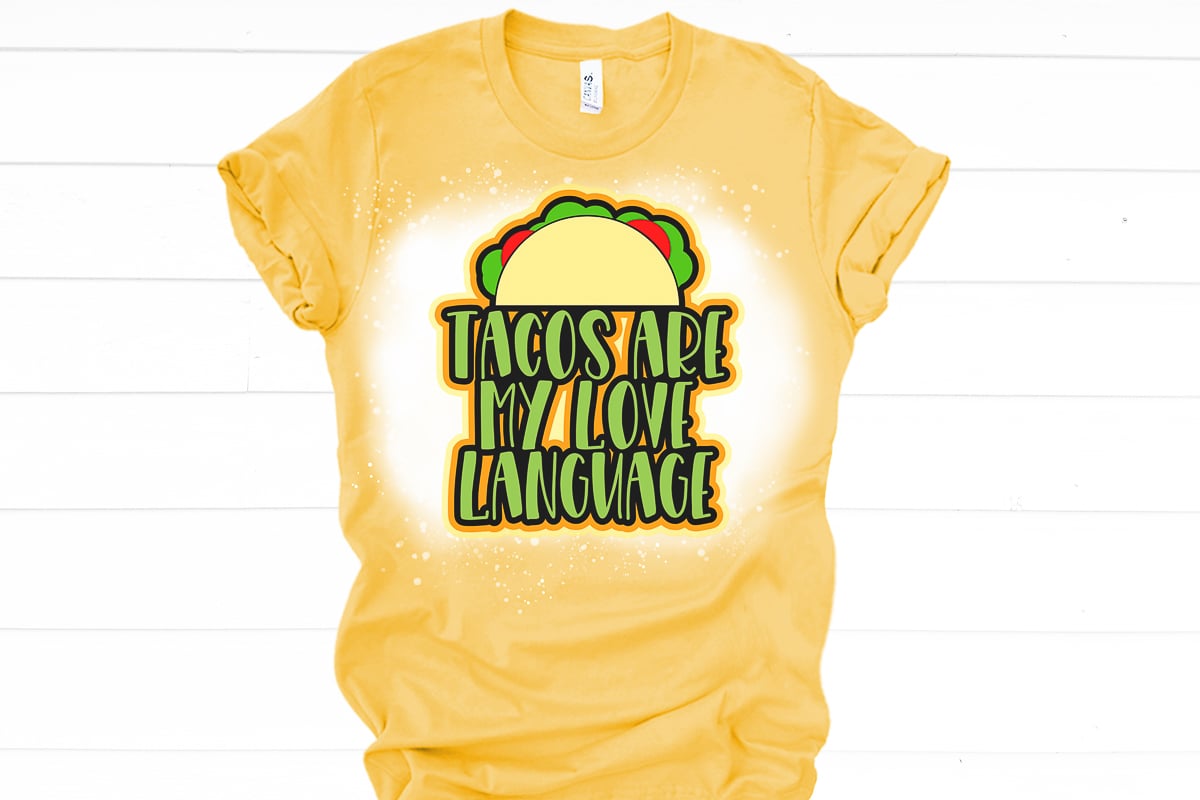 Regulations, Licensing, and Taxes
All right so let's talk legal for a minute because I feel like this folds into pricing and what to charge. You need to look into the regulations for where you live. A lot of the legal aspects vary from state to state or location to location. So you need to look into the need for a business license, sales tax laws, and any other other local ordinance that may effect your business.
I definitely want you to also think about self-employment tax. Trust me, they're not cheap and you will need to set aside money to pay them at the end of the year. I set aside around 40% of what I make for taxes at the end of the year, just in case. Sometimes I don't need it all, but sometimes you do. That factors into the money you need to operate your Cricut business. With every dollar you make, you're going to want to set part of that aside to pay taxes at the end of the year. There are also options to pay quarterly taxes and my best advice would be to speak to an accountant once you start to see you have a viable business. They can give you a better idea of how much you're going to owe and how much you should keep aside for that.
Pricing Your Items
So now we probably have everything we need to talk pricing, right? You should have all of the following costs associated with your product:
Commercial licensing of images
Materials used to make your product (include any scraps you may have in these costs) – be sure you use quality materials and look for places to buy in bulk to save on costs. You can see where I tested materials on shirts here if you need that comparison.
Labor costs – how long will it take you to make the item and how much do you want to be paid per hour?
Overhead costs like electricity, water, mats, blades, etc. All of those things you need to run your business.
Shipping costs – be sure to include packaging materials like boxes and bubble wrap. You also want to think about how you will be shipping the item and make sure you correctly charge your customer for getting the product to their door.
Profit – You are not doing this for free! Be sure to add some profit margin to your items and don't undersell yourself!
Don't compare yourself to all the other people in the market. You're going to set yourself apart by being unique. But if you try to beat everyone's price eventually you'll be charging zero. And people look at pricing as a reflection of quality. You are going to be putting out the best quality that you can and a unique look that sets you apart from everyone else. So you also need to charge accordingly for that.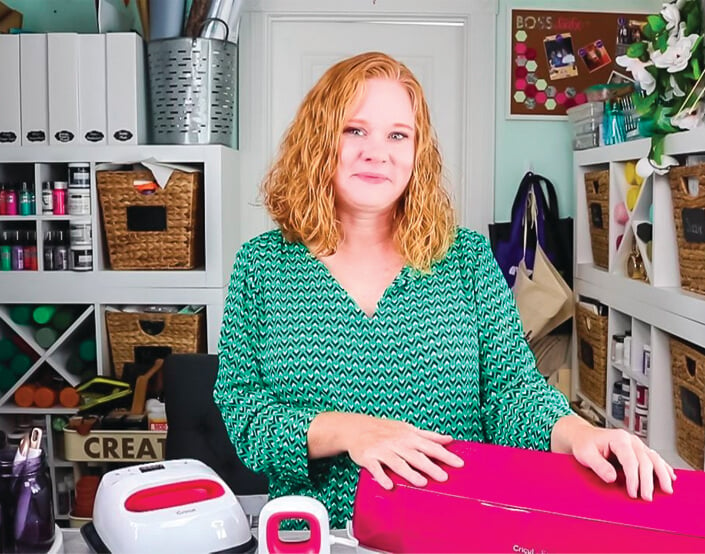 Marketing and Growth
How do you get your name out there? How do you get people to find you? Here are a few of my best tips for marketing and growth of your business.
SEO is a major factor if your shop is on Etsy or even if you are self-hosted. SEO stands for Search Engine Optimization and is what makes you come up in searches for the product you are making. Be sure to take some classes in SEO if you are opening an Etsy store or trying to get into Google searches.
For social media, algorithms change weekly sometimes. What works on Instagram today may not work next week. I would encourage you to invest in your business but taking marketing courses for the platform you want to grow. Which should you concentrate on? I would put your efforts to wherever your customer frequents. Does your ideal customer spend all her time on TikTok or Facebook? Pick your platform of choice by where they spend their time.
Email marketing should always be at the top of your list. The people that get on your email list or purchase from you once are most likely to buy again. Find a way to have and maintain an email list no matter what as you will definitely find a return on your investment there!
The number one thing I can say is to use some of your profit from your sales to invest back into your business. And that includes educating yourself on all these marketing principles. Running a Cricut business is not only just cutting the HTV and making the shirt. It is also all the other aspects. Accounting, social media marketing, email marketing, and more all go into running a successful handmade business. Be sure you are learning all you can so you can help people find you and your amazing handmade products!
I hope this helps launch your Cricut business and also helps make it successful. Please feel free to drop and comments and questions below. I may do future blog posts and videos on this topic and I would love to hear from you!