Are you ready to use your Cricut to start a small business? I'm here to help you decide which products are best to make and sell with Cricut. As you know, I make tons of things with my Cricut machine. A lot of them would be good to sell but deciding which items are worth selling can be hard. You can create so many projects with your Cricut machine, from vinyl to fabric to HTV and Infusible Ink. The options are endless! So, let's narrow it down to the best things to make and sell with Cricut!
This post is sponsored by Cricut, all projects and opinions are my own.
Looking for more help on starting a business with your Cricut? Check out my post here.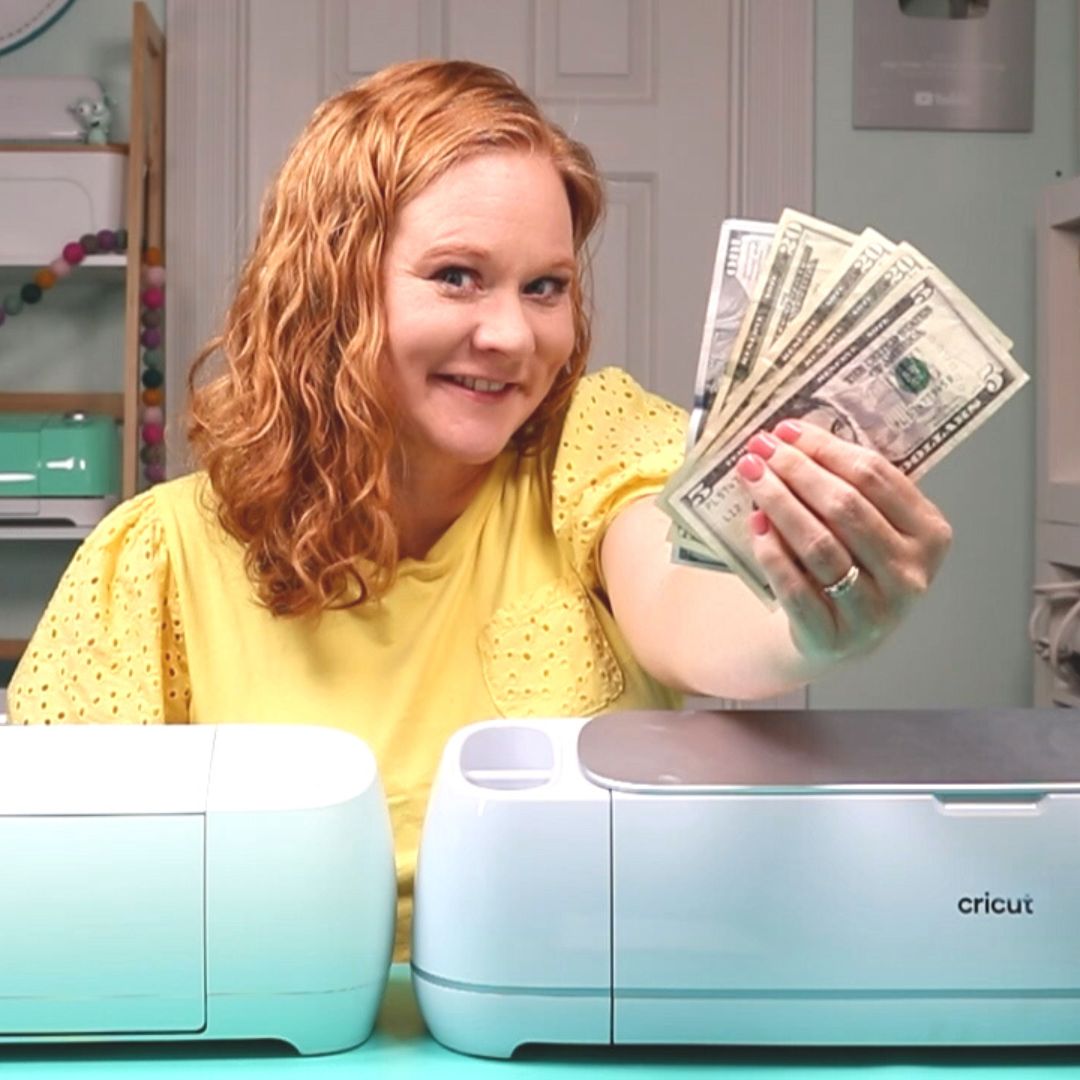 Make and Sell with Cricut
Are you ready to learn all about picking something to make and sell with your Cricut machine? Click play on the video below to see my advice whether you are just starting your Cricut small business or have been at it a while and want to add to your current product line.
If you missed any of the information in the video above, you can also follow along with the information below!
How to Decide What to Make and Sell with Cricut
Before we jump into the list of things I think are great to make and sell with Cricut let's talk about how you should decide what items would be best for you to make and sell.
Do Market Research
The first thing I suggest is some market research. If you're planning on selling at local craft fairs or at a local shop, take the time to research what things are selling well, what booths are crowded, and what kind of merchandise are they selling.
If you plan to sell online, you likely have a lot more options. But you also need to stay ahead of the curve. You need to know what's selling, what's popular, and if there is any type of theme or style those items have. See if they have anything in common.
NOTE: You're not looking to copy what they're making but rather you're checking to see what items and what styles of items people in your area are attracted to.
Cost of Materials
Next, you need to really research the cost of materials. If you're just starting out, you may not want to invest in expensive materials. Stick to things that are less expensive to manufacture in your home.
You need to put together the list of supplies you would need to make each item and how much each material costs. This combined with the availability of materials will help determine if the product is a good one to make and sell with Cricut. If the materials aren't readily available for you to start making today are you able to wait to start your business? If not, you may need to look into a different option.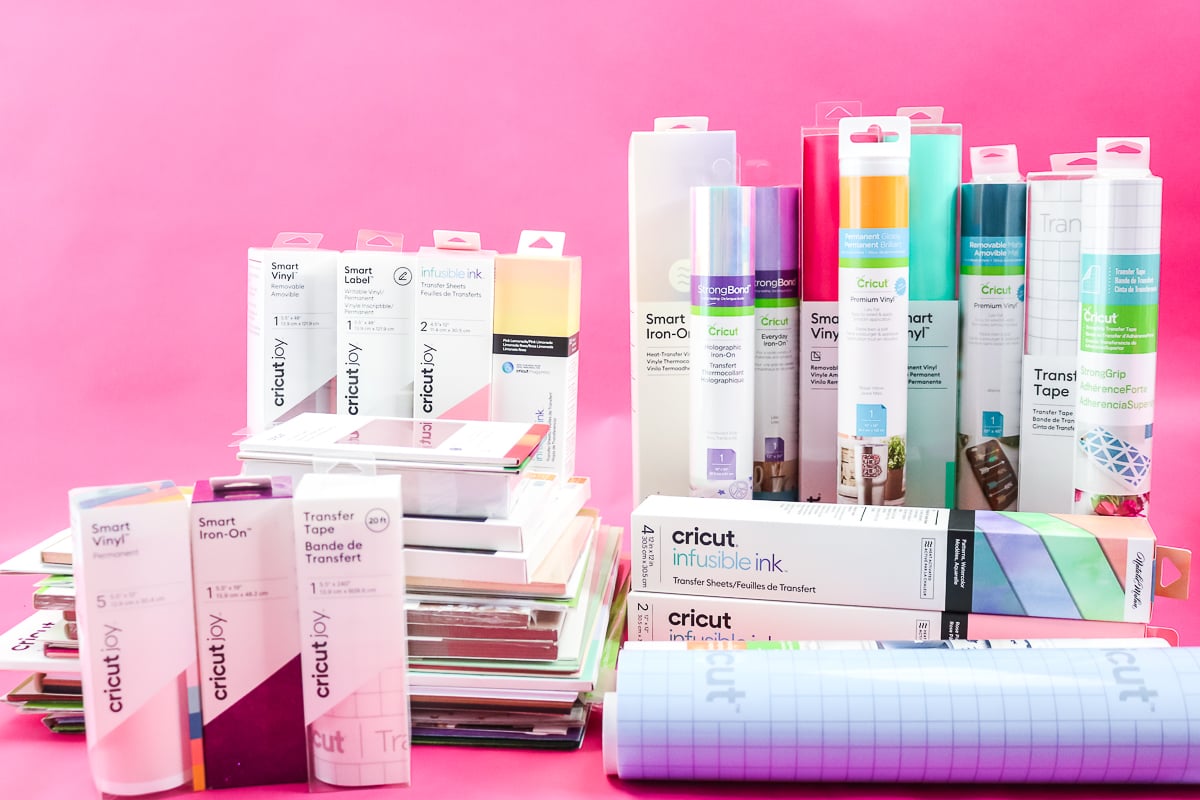 Cost to Make and Ship
To figure out the total costs for making your product, make some samples. Figure out how long the product takes to make, and exactly how much of each material you need. Make sure you include the whole process from designing to cutting it out to making. Be sure to include packaging and shipping as well.
You also need to figure out the costs of all the supplies you need to ship your product and the shipping costs. By making a few samples, you have the ability to completely pack the product to see what materials are needed and how much it weighs so you'll know how much it costs to ship. Is your item fragile? Will it require extra packaging to prevent it from breaking or additional insurance? Figure all those into the final cost.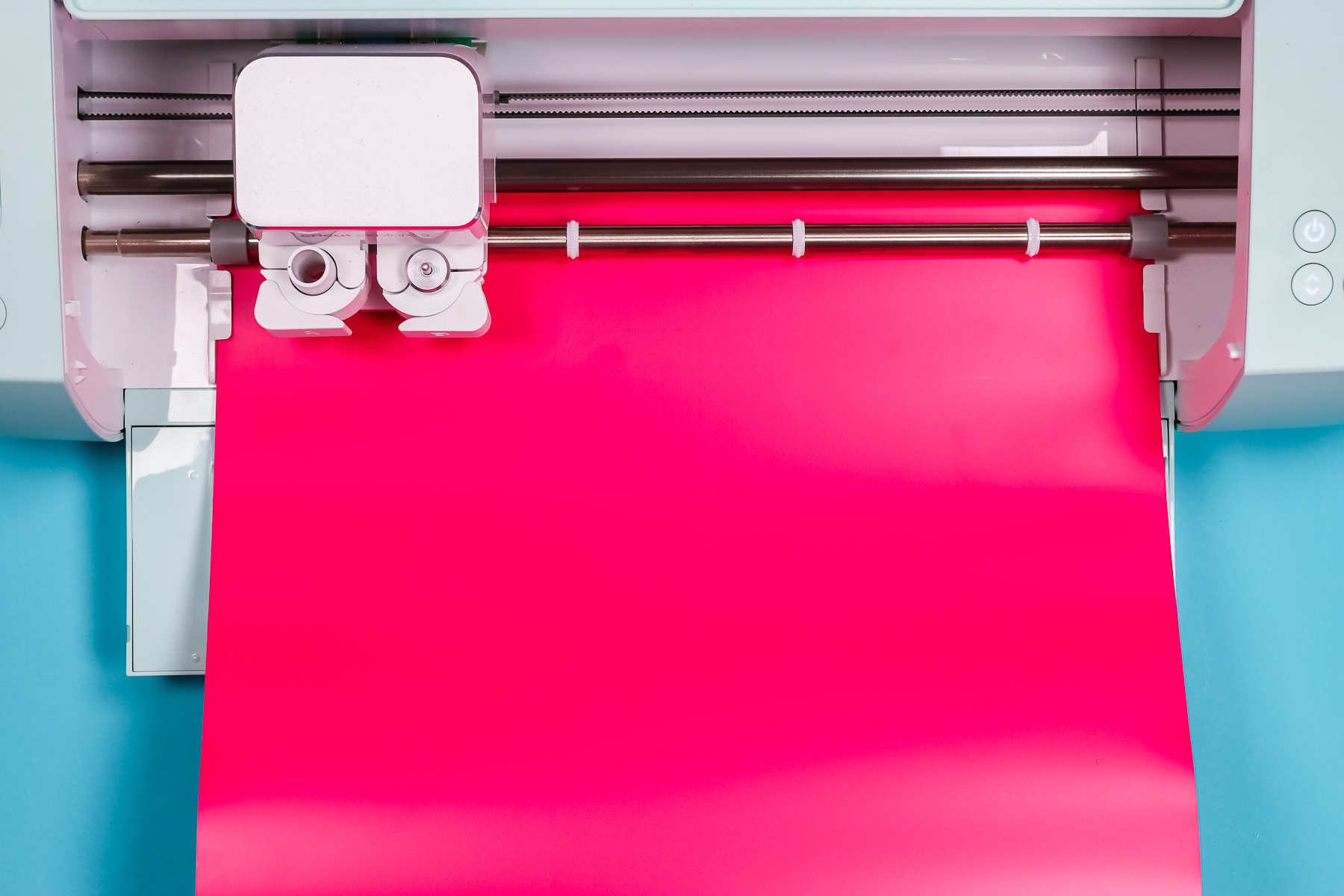 Test Finished Products
Use those samples to test your finished product. If it's wearable or something you can throw in the laundry, wash it a few times and make sure it sustains the process that your customer is going to put it through. If it's something that people will eat out of, wash it a few times. For dishwasher-safe items, put them through the dishwasher. If it is hand wash only, try soaking and washing it. These steps allow you to give your customer proper care instructions when you sell the product.
How Much Should You Charge?
Now that you know how much everything costs to make the product. You know how long it takes to make the product. You need to figure out how much you need to sell it for to be able to pay yourself and have a profit.
Once you add all the time, material costs, and shipping costs, can you make and sell enough to make it a profitable business? Does it take so long to make the product that you could never actually make enough to sell for it to be profitable?
I'm sure you have a price in mind at this point for how much you need to sell each piece in order to cover all the costs and pay yourself. Can you sell it for that? Will the market in your area support that cost? If you're selling online, can you compete with others selling similar items?
Passion and Branding
There's one last thing you need to think about before you settle on a product. Your passion. If your business is successful, you will be making a lot of these things to sell. You want to be passionate about the product because you'll be making these every single day, sometimes multiple times every day.
You also want to make sure whatever you sell works for your branding. Is it YOU? Does each item you sell work together to form a cohesive brand image? Only selling items you are passionate about will go a long way toward making your small business something you can be proud of.
Think about all these things as you read through my list of 10 things to make and sell with Cricut.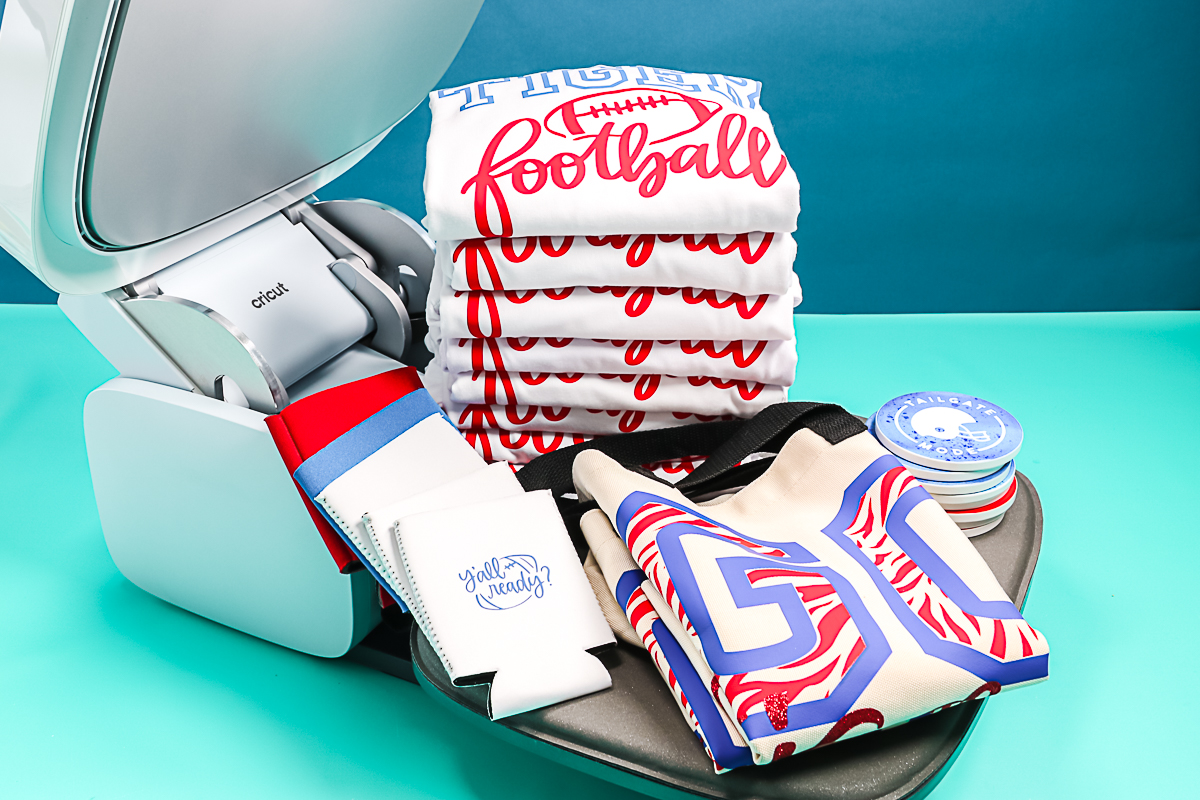 10 Things to Make and Sell with Cricut
Now, let's jump into my favorite ten things I recommend to people. These items are in no particular order.
Wearables
The first thing on my list is wearables. Shirts, onesies, hoodies, anything that can be worn. Wearables are always popular, everyone always needs a cute t-shirt to wear. If you love making t-shirts, this is a great way to make money and you have a variety of options. You can use iron-on (HTV) and/or Infusible Ink. You could even use your Cricut to create a stencil to screen print a shirt with ink. You'll just need to decide which method is best for you. Which helps you create the best shirt designs and will allow you to make a profit.
If I were to pick, my passion would be using HTV to make shirts. It's my favorite to grab Cricut Iron-on to cut out with my Cricut machine. Plus, HTV can be cut on any Cricut machine. This is another reason wearables are a great option. You can make them with any Cricut machine you already own.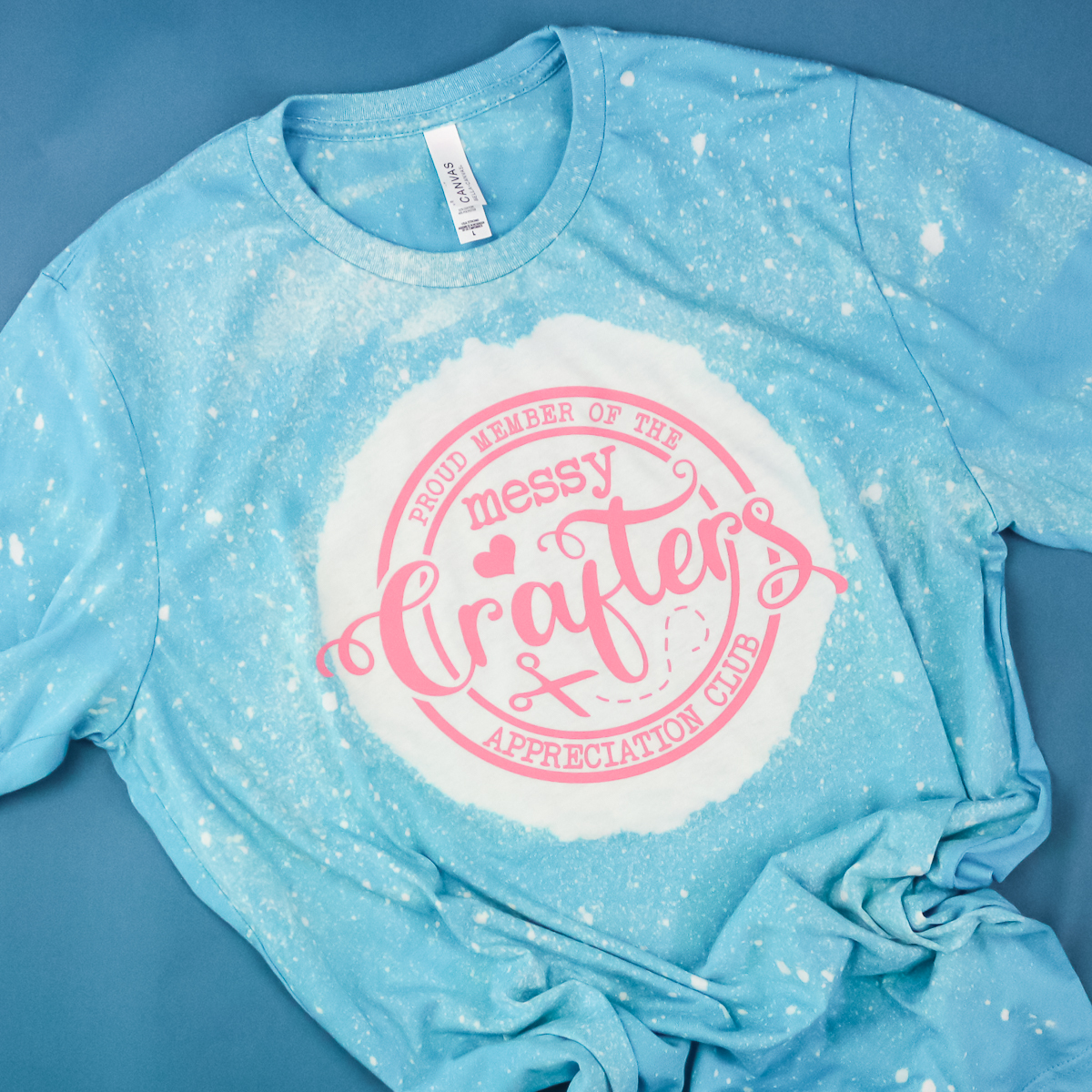 Signs
The second thing on my list is signs. Signs of all shapes and sizes are fairly easy to make with your Cricut machine. Like wearables, you have quite a few options. You can use vinyl and seal it or not seal it. You could use your Cricut to cut out a stencil from stencil film and then paint over the top of it. There are so many ways to make signs with your Cricut machine. Figure out the method that works best for you and then think about replicating it to sell.
You will also want to think about how you can differentiate your signs from other sellers. Maybe you use your Explore 3 or Maker 3 to make giant signs with Smart Vinyl. These are great for local craft fairs because they really stand out.
If you're selling online, shipping large signs may be cost-prohibitive. Think about smaller versions of signs and how you can implement your style or brand into those to make them stand out in a crowd.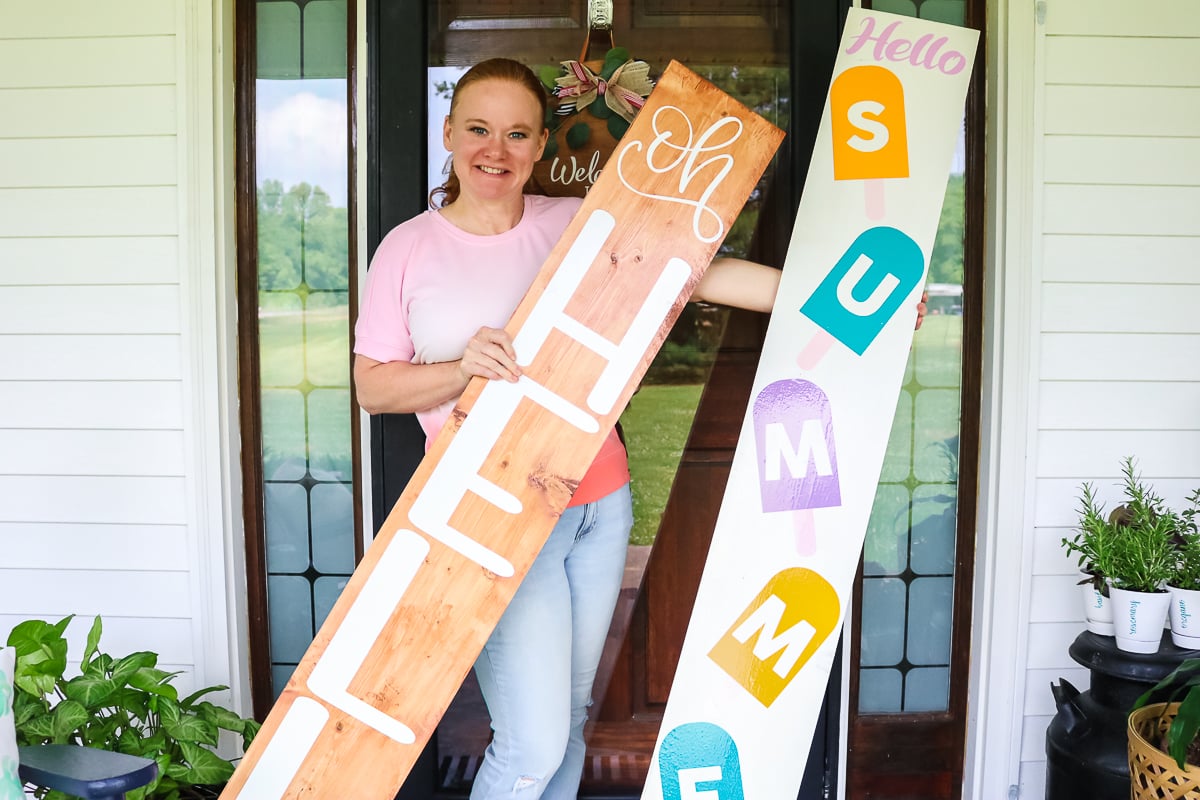 Vinyl Decals and Stickers
My third item is vinyl decals and stickers. Anything from car decals to prints and stickers. These can all be made with a Cricut machine. I personally love hand-drawn stickers. When people use their art and printable vinyl with a Cricut to make stickers, those are my personal favorite to purchase. I don't sell them but they're one of my favorite things to buy. If you're an artist and you make digital art, consider making print then cut stickers with your Cricut machine and selling those. There is definitely a large market for stickers and decals.
Drinkware
Number 4 for me is mugs, tumblers, and any kind of drinkware. Like wearables and signs, you have lots of options when it comes to creating drinkware. You can use Infusible Ink with your Cricut Mug Press or add vinyl to a tumbler. I've compared Infusible Ink, Vinyl, and even HTV to see which products work best and last the longest and you can see the results here.
Try out the different options and decide which option you like best then do your own testing so you can make sure you're putting out high-quality products. Drinkware is especially great at local craft fairs. You can personalize with the local school mascots or things that are popular in that area.
People are always impressed with Infusible Ink on mugs. They love how the design is part of the mug when you're finished. You do need to take into account drinkware shipping. If you need to ship your items make sure you include all the costs associated with those supplies.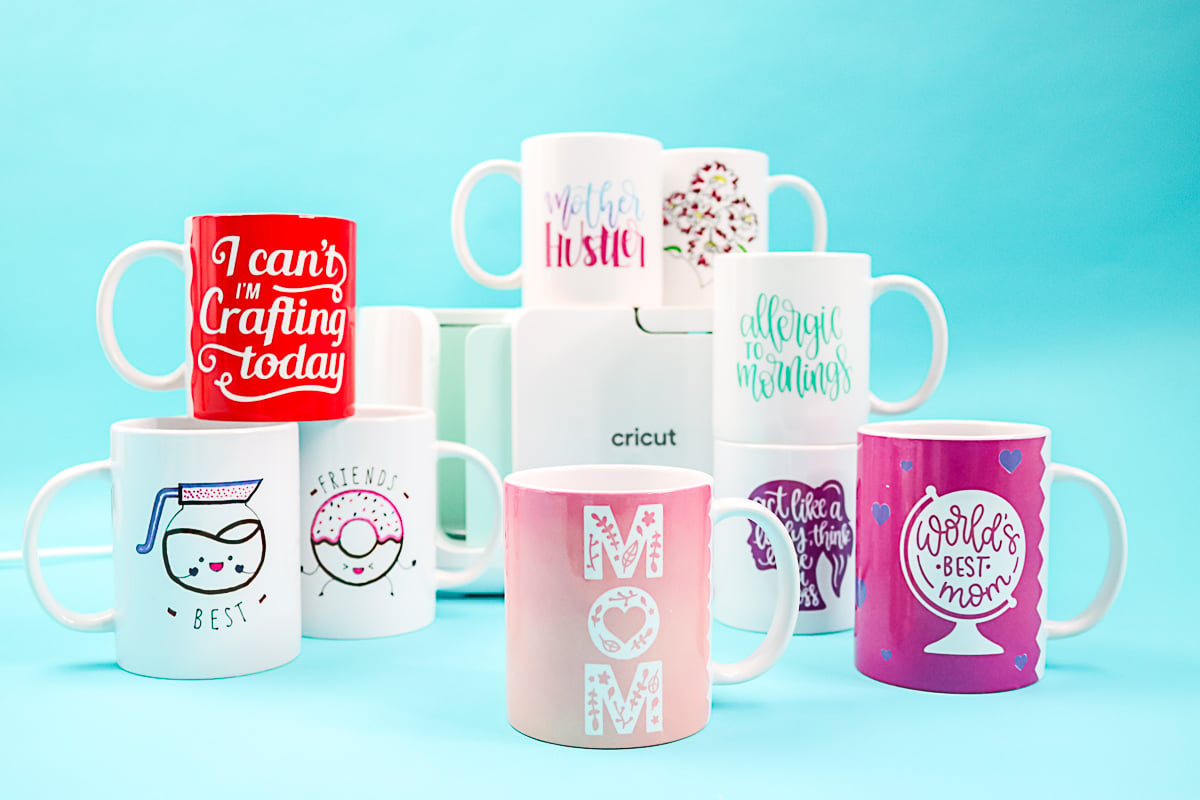 Coasters
Number five on my list is coasters. I personally love a good coaster. Before Infusible Ink, it could be difficult to make ones that last. But with Infusible Ink, you can make beautiful customized coasters that last for a REALLY long time. You will need to consider shipping costs and protection with the ceramic coasters. However, you can also find wood coasters that will work with Infusible Ink. I think these would all sell really well and are easy to make with any Cricut machine.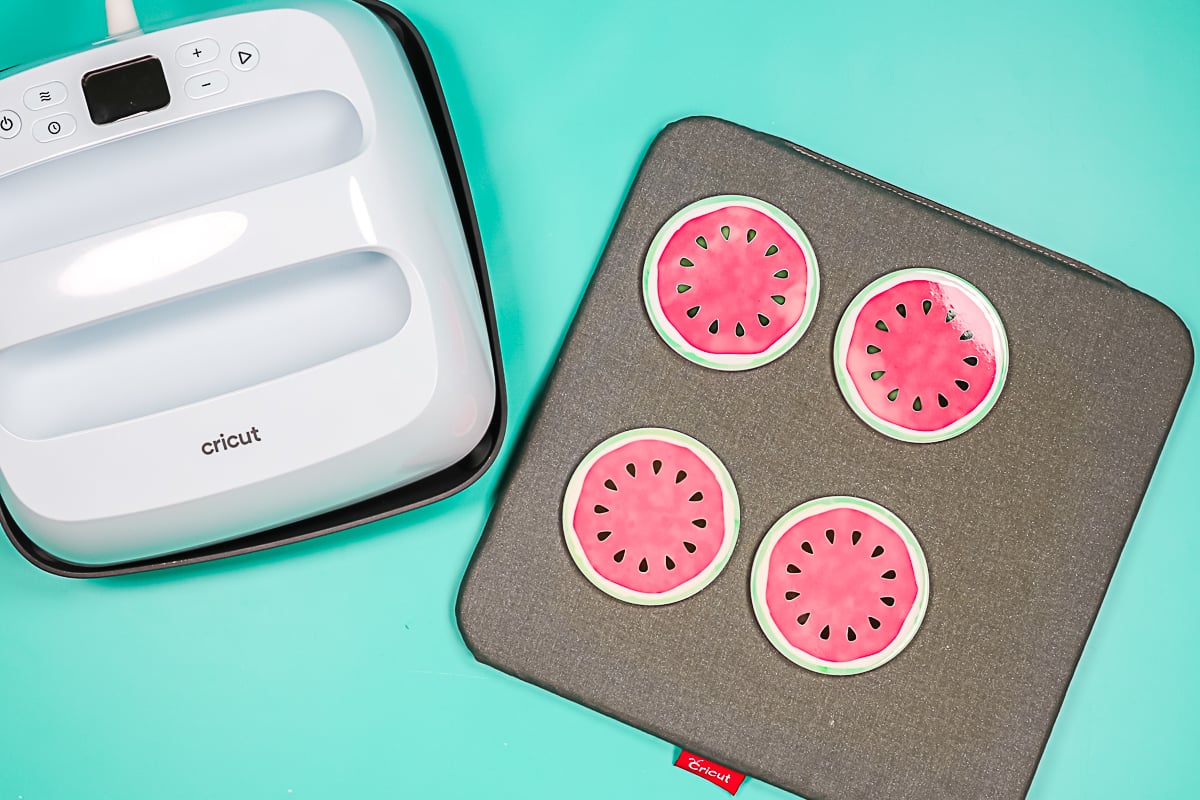 Wedding and Party Items
Next up are wedding and party items. People are always getting married and people are always throwing parties. Wedding and party items are always going to be popular. If you can think of something you love to make for parties, you could make a business out of marketing to wedding and party planners. Anything from invitations to place cards to party hats to favor bags. There are so many different options you can make and sell with Cricut.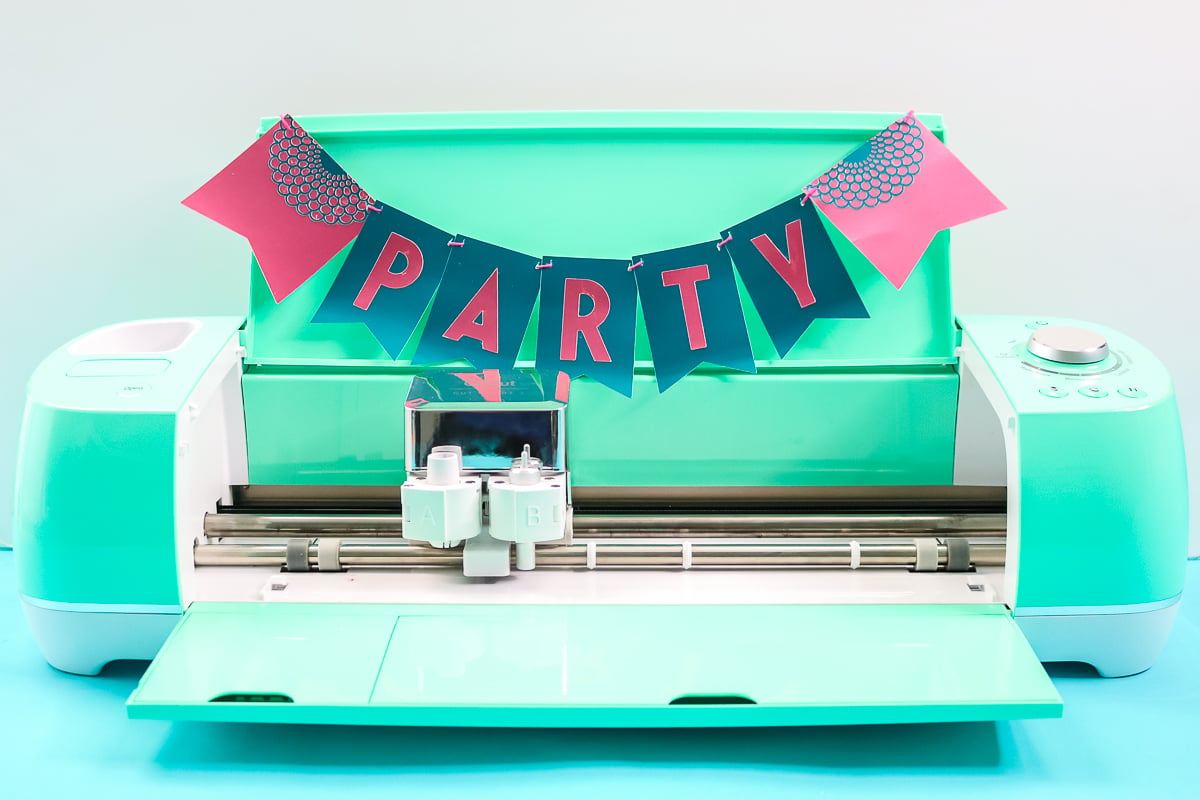 Hats
Hats are an item that has just broken into my top 10 favorite items to make and sell with Cricut. When the Cricut Hat Press came out, making hats became so easy and accessible that anyone who wants to can make beautiful hats. You no longer need a large industrial hat press or a huge crafting space to make hats. The Cricut Hat Press is a great option and customized hats aren't something you see often at craft fairs.
You can make hats with HTV or Infusible Ink, depending on the type of hat you want to make and the material you like to craft with. With the Hat Press, you can make ball caps and even bucket hats, the options are endless.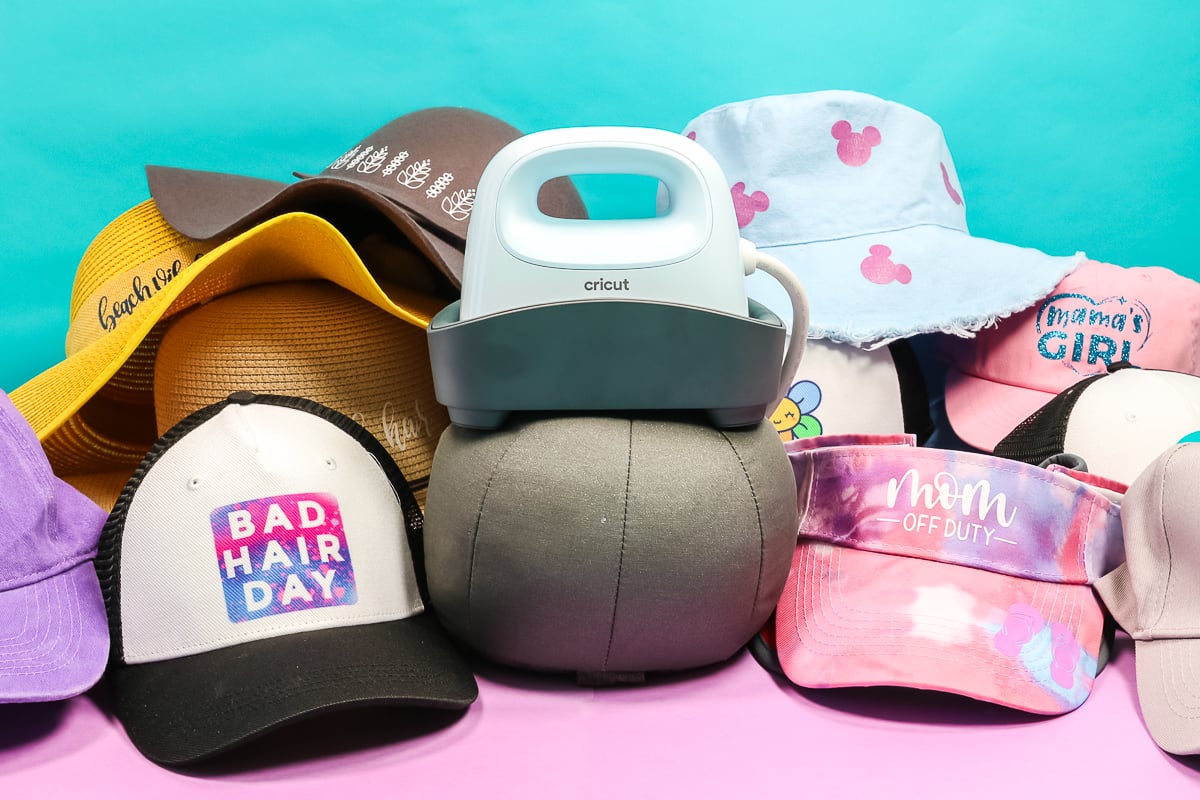 Home Decor
Number eight is a pretty broad category but it's Home Decor. I know I already listed signs, they could be part of home decor, but there are so many other home decor options you can make and sell using your Cricut machine.
Customized pillows, tea towels, and personalized blankets. You have lots of options. If you think you want to do more than signs, I would definitely make sure you keep your base set as home decor from the beginning and regularly add in new products.
The fun thing about signs, pillows, tea towels, and blankets is that each of them can be customized for various times of the year and holidays. Create a top-notch product and you're sure to gain repeat customers.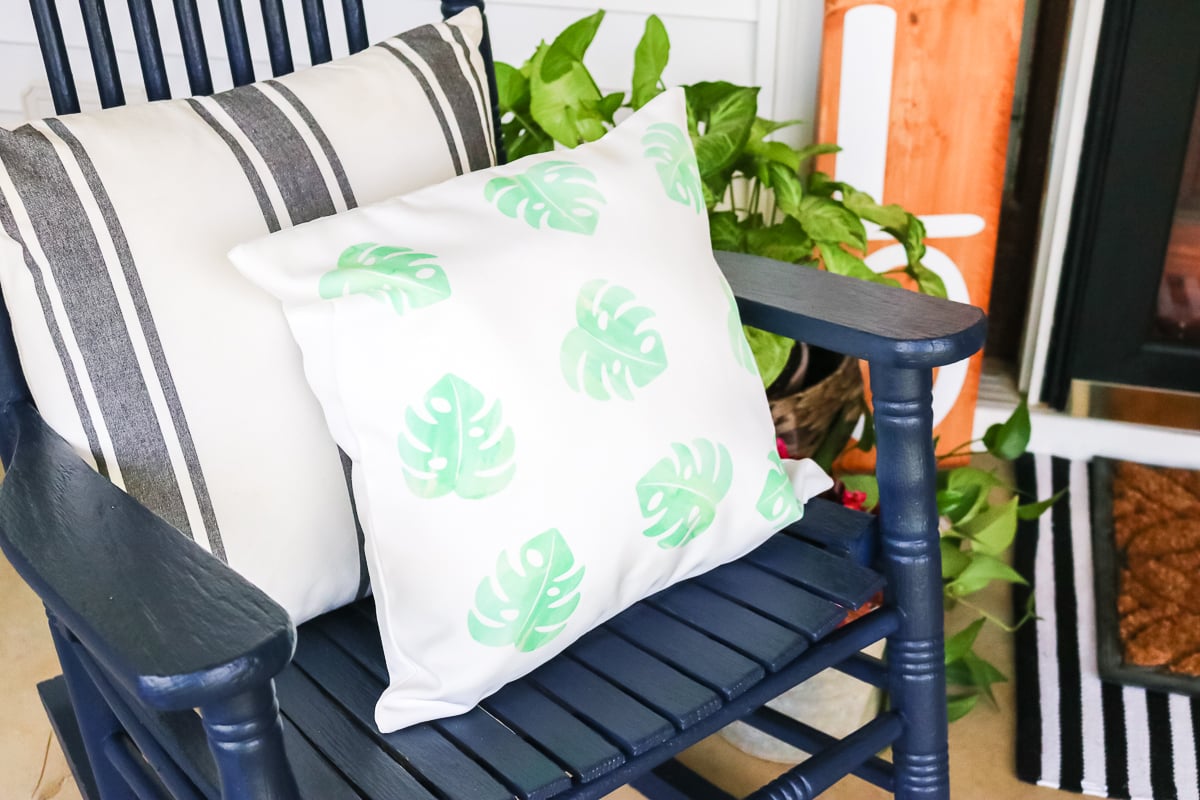 Specialty
Number nine I'm calling Specialty. I've used my Cricut machine to create stencils for glass etching, stencils for wood burning, etching acrylic, engraving metal, making jewelry, and so much more! That is why I'm calling this broad category specialty. If you want to get into making specialty items, a Cricut machine is a perfect way to do that.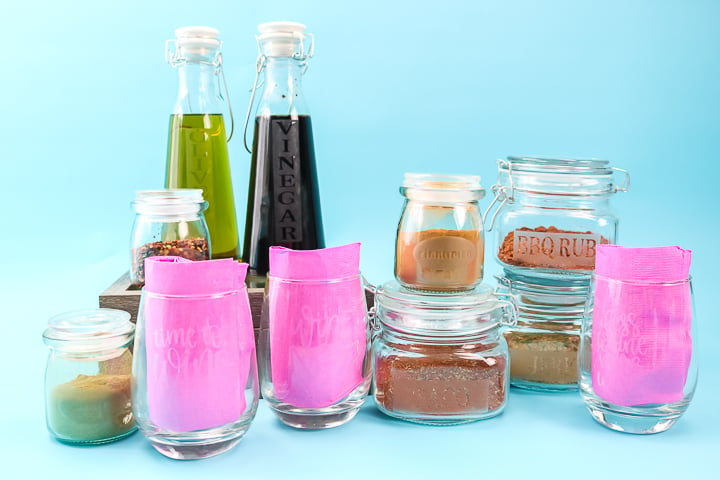 Gift Baskets
Number ten, the final one on my list, is a fun one. If you went through this list and thought "That looks fun!" or "I want to make that!" for multiple or all the items on this list, this category is for you! Gift Baskets!
People are always looking to purchase handmade gifts for holidays, birthdays, or any occasion. Use your Cricut machine to create a variety of items that match a single theme, put them together, and sell them as gift baskets.
You could take this idea one step further, include a card, and ship the items directly to the gift recipient. If you feel like for your business you need the ability to make a lot of different things, gift baskets are a great way to do that.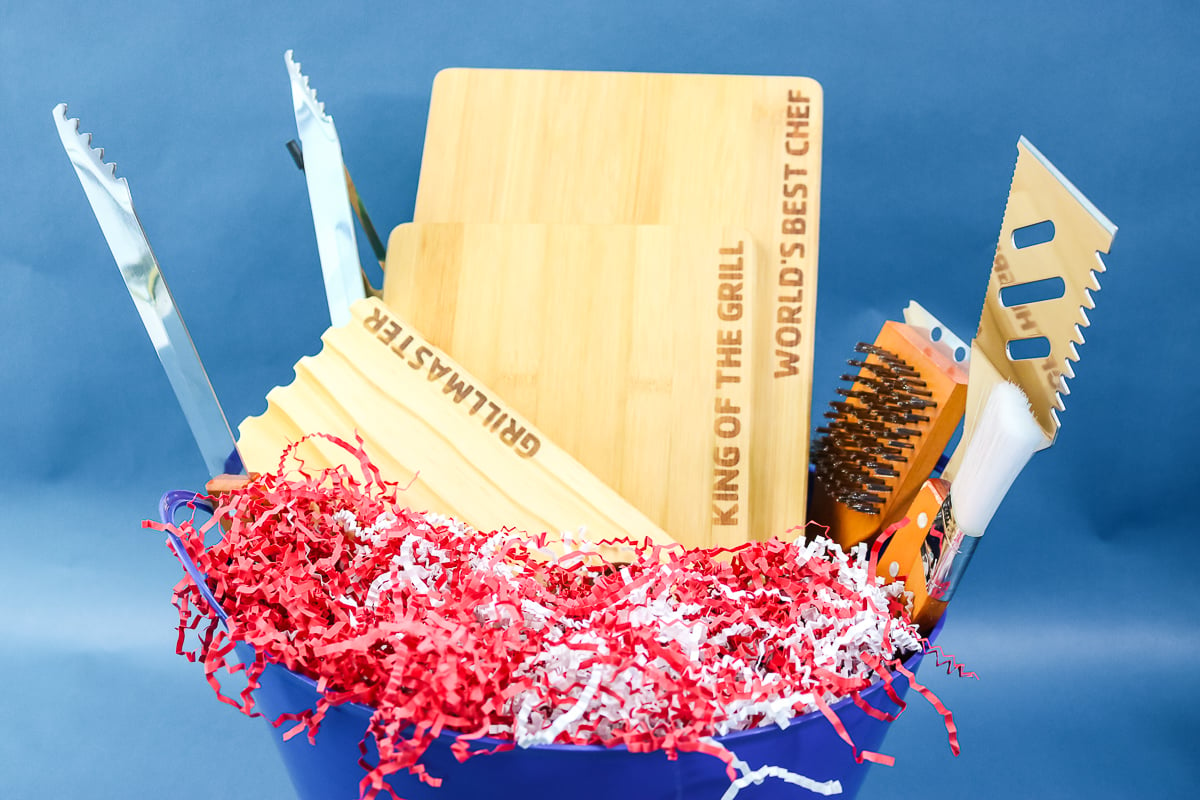 Final Thoughts on Things to Make and Sell with Cricut
I hope this post helps you determine things to make and sell with Cricut. Whether you're just starting your business, ramping up your business, or an experienced business owner looking to branch out there are a lot of options here.
If you have any questions about creating a business with your Cricut machine or about any of the projects I talked about above, leave them in the comment section and I'll get them answered for you.