I get asked all the time about how to price handmade items. From Cricut crafts to sublimation, how do you come up with a price for your homemade art? I actually found a free online calculator that does a really good job of calculating a beginning price for you to consider when you're making your handmade items. Let's take a look at the free online calculator as well as some more advanced upgrades that may be helpful if your business is growing on Etsy or another platform, and you need even more accurate pricing.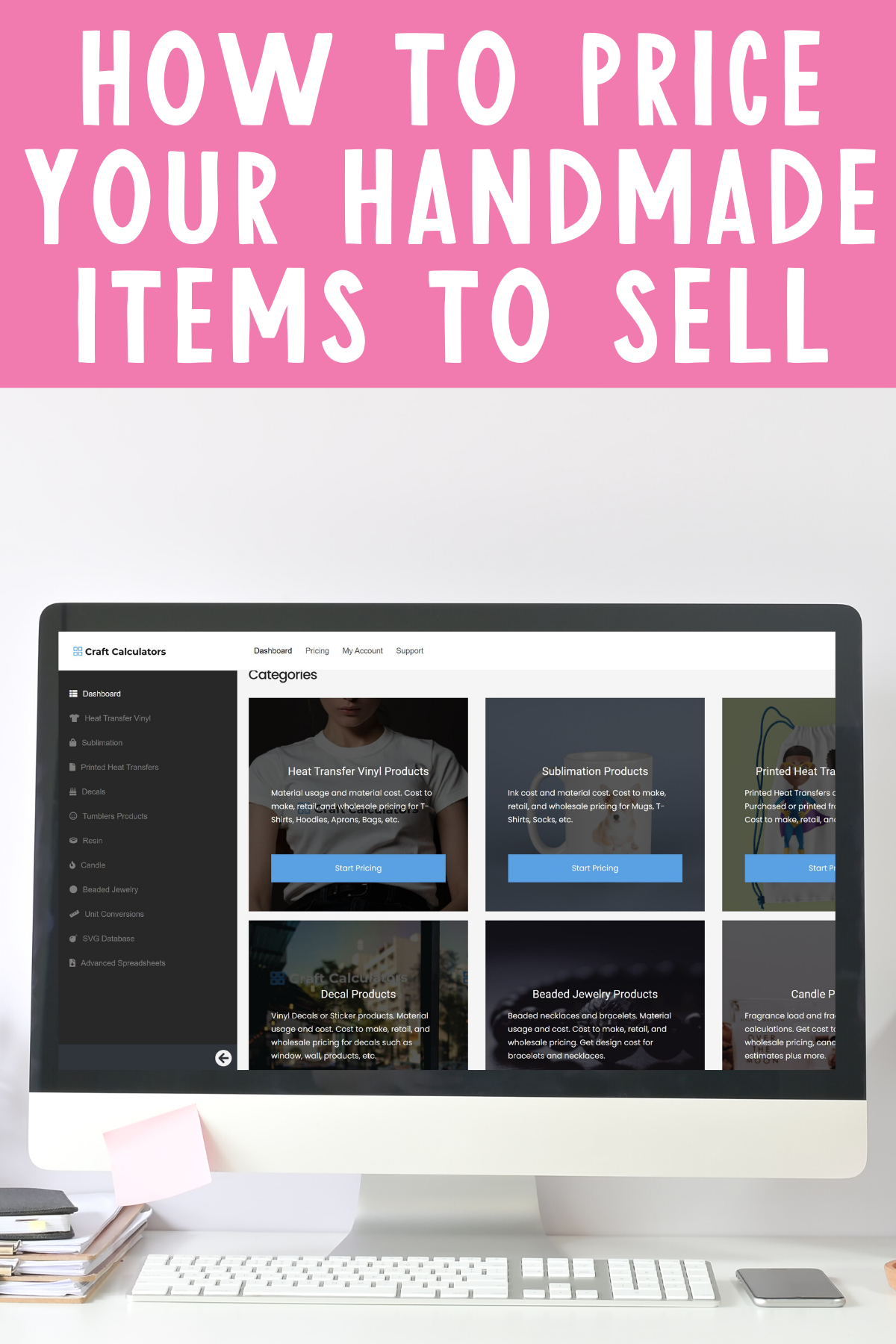 How to Price Handmade Items
I am actually showing you how to use an online pricing calculator for crafts in the video below. Just click play and watch as I show you this tool from the inside.
Can't watch the video or missed some of the steps? You can also follow along with the instructions below.
Using a Free Online Craft Calculator
The free online calculator is Craft Calculators that I use to price handmade items, which just requires an easy sign-up to start using. If you just want to calculate a simple price and get an idea of what to charge based on what you're spending, then this is the website for you. You can use it for calculating the following craft prices:
Heat Transfer Vinyl
Sublimation
Printed Heat Transfers
Decals
Tumblers
Resin
Candles
Beaded Jewelry
I am going to give you a few examples of how to price handmade items below but you can sign up for free and try the online calculator for yourself. There is a fee if you want the more advanced spreadsheets and I will get to those below as well.
Example: Getting a Price for Heat Transfer Vinyl
The handmade pricing calculator has several options to choose from. Let's say I had a project and I was going to use heat transfer vinyl. You can select a t-shirt, hoodie, single-color designs, two-color designs, etc.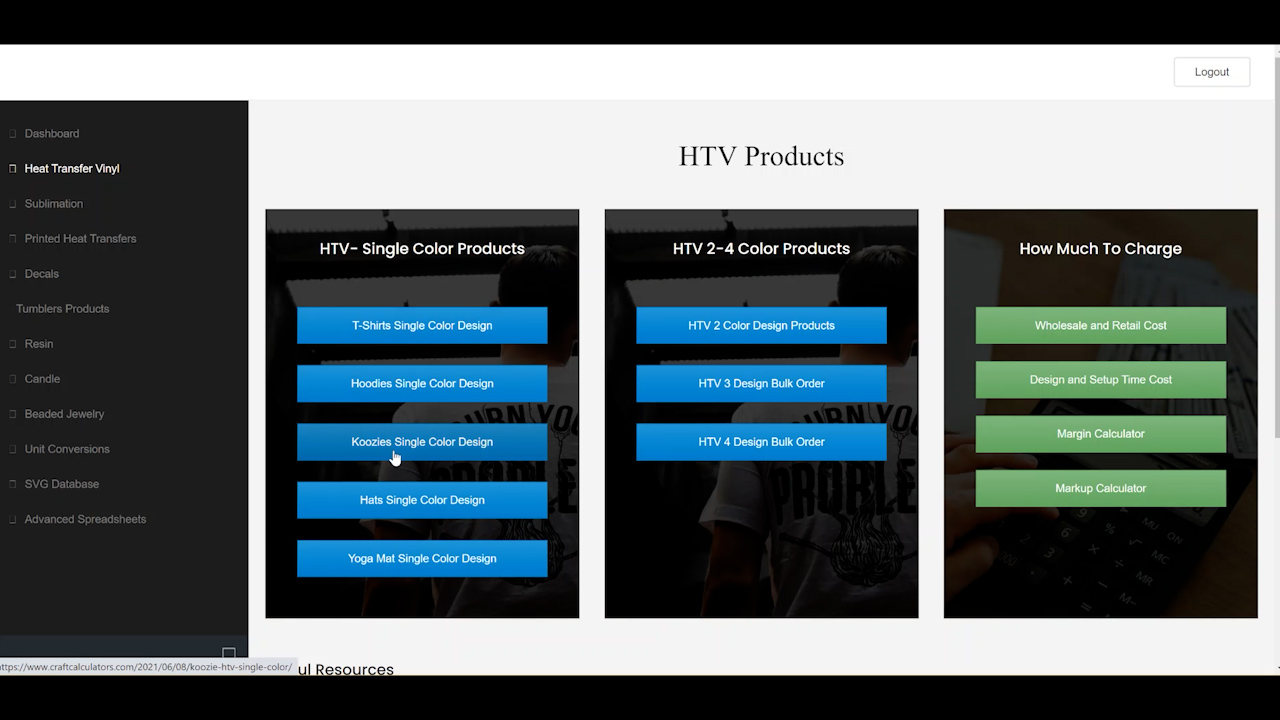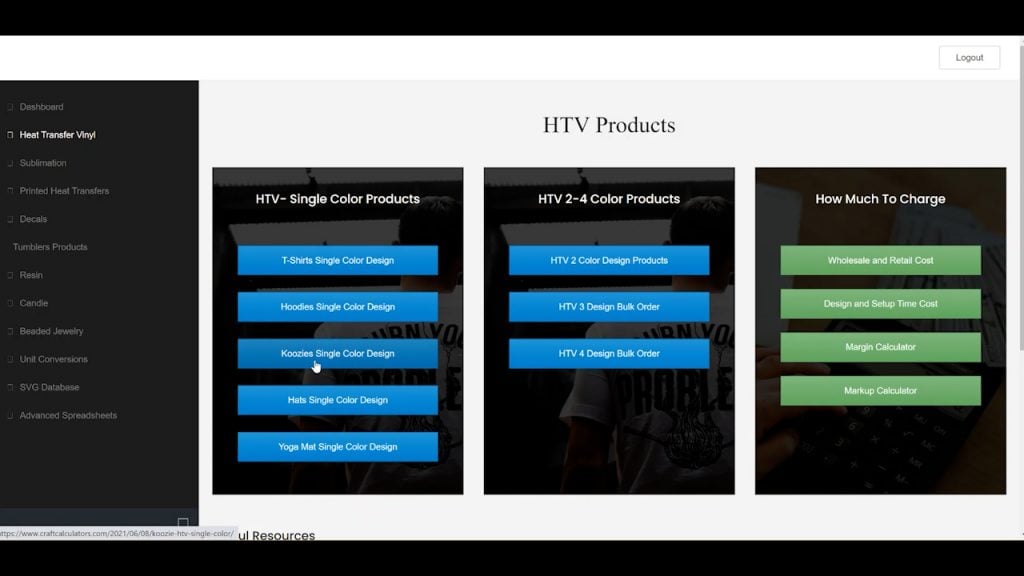 I'm going to choose to make a t-shirt in a single color design and start adding in my numbers. Please note that these numbers are just made up for this example. I want to make $15 an hour. I paid $40 for 10 shirts and I'm going to sell all 10 of them. I also paid $30 for the heat transfer vinyl. It takes my Cricut about seven minutes to cut it and only takes me about 15 minutes to weed it. Pressing takes me about seven minutes.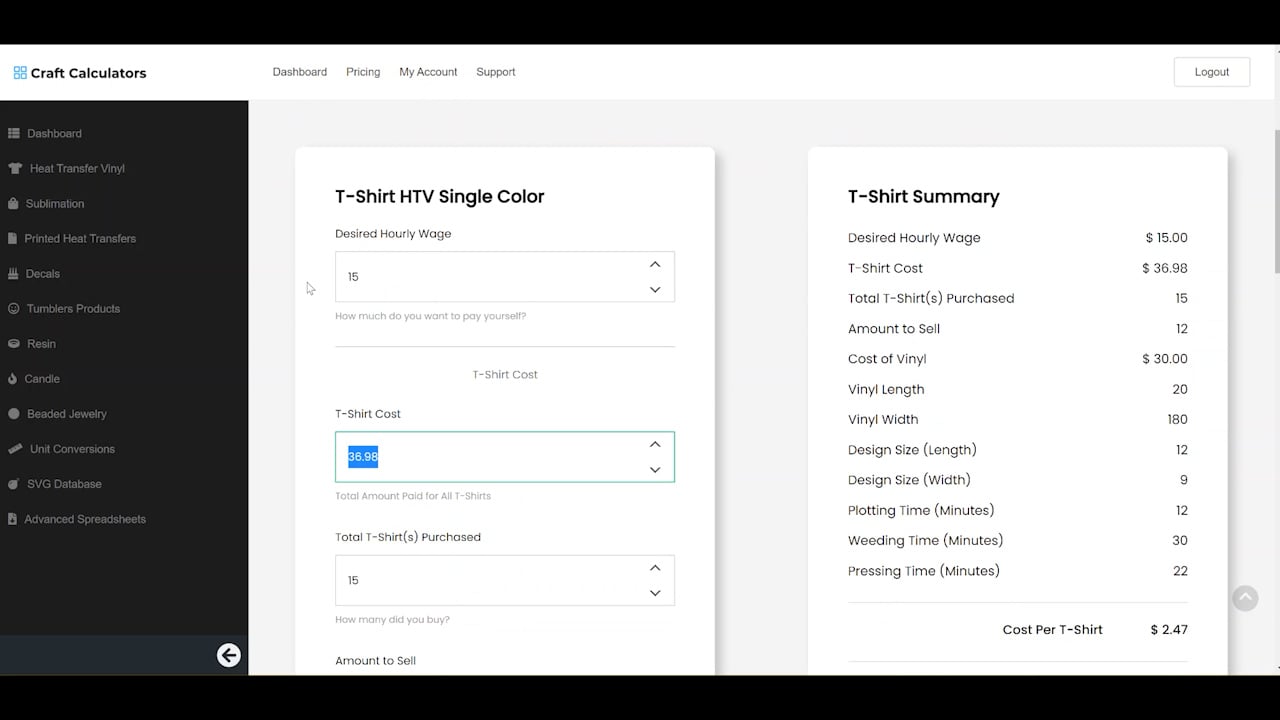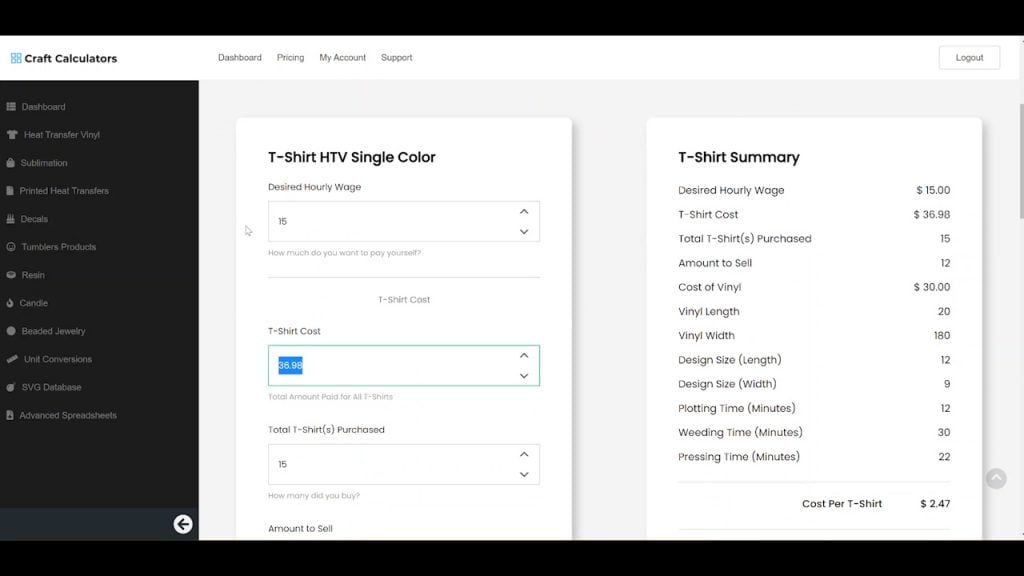 Once I've added all of these calculations, it tells me that my final cost per shirt is $8.60. If I wanted to add a profit onto that, I would have to manually add that on. You can also scroll down to the bottom and see a spreadsheet version too. The spreadsheets are available for download for an additional fee and you can see more about that below.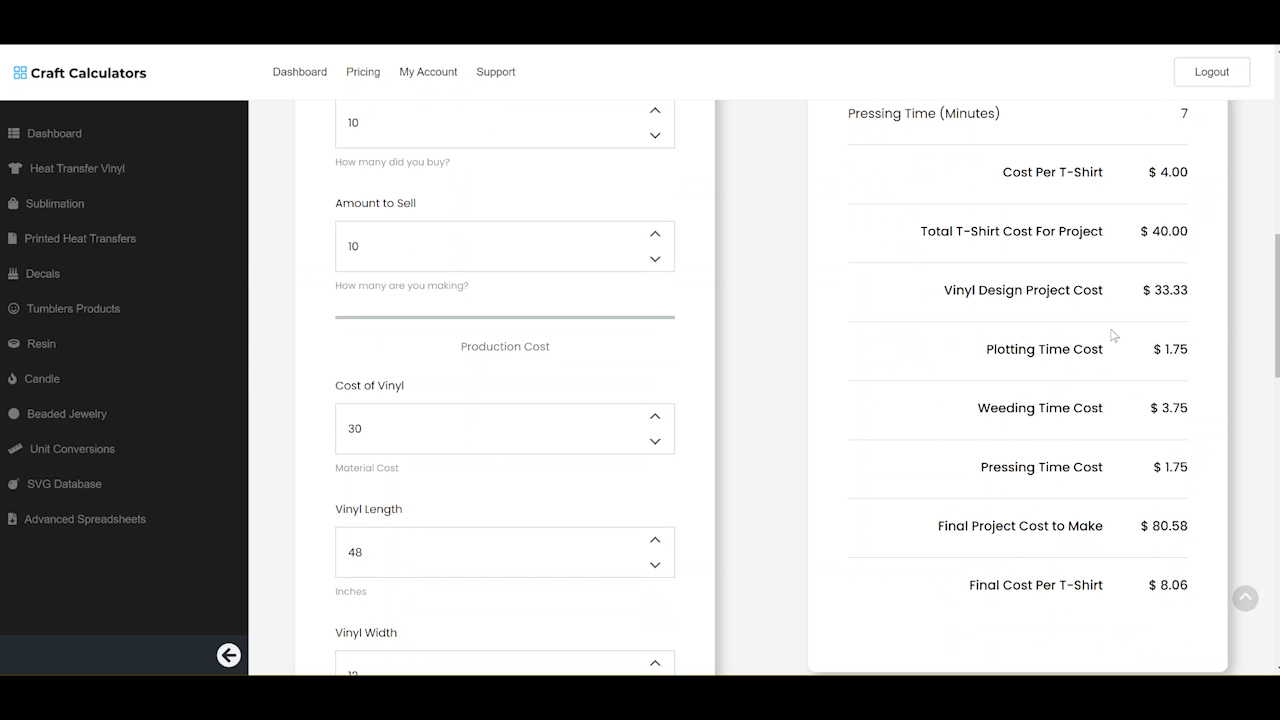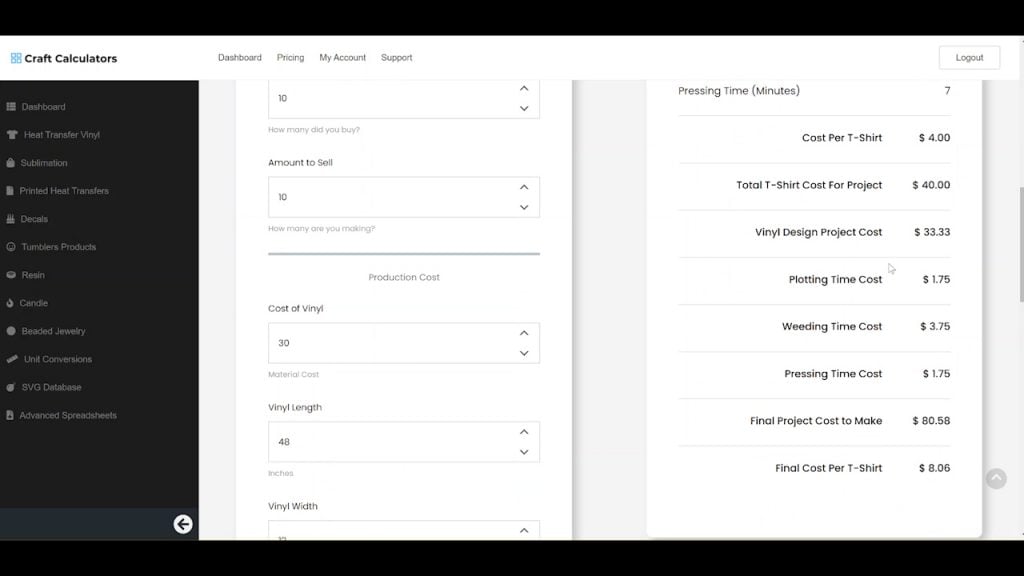 Example: Pricing for Sublimation
Next, let's take a look at a sublimation example. I'm going to choose Sublimation and once again there are several options. I am going to choose a mug but you can pick from any of the calculators.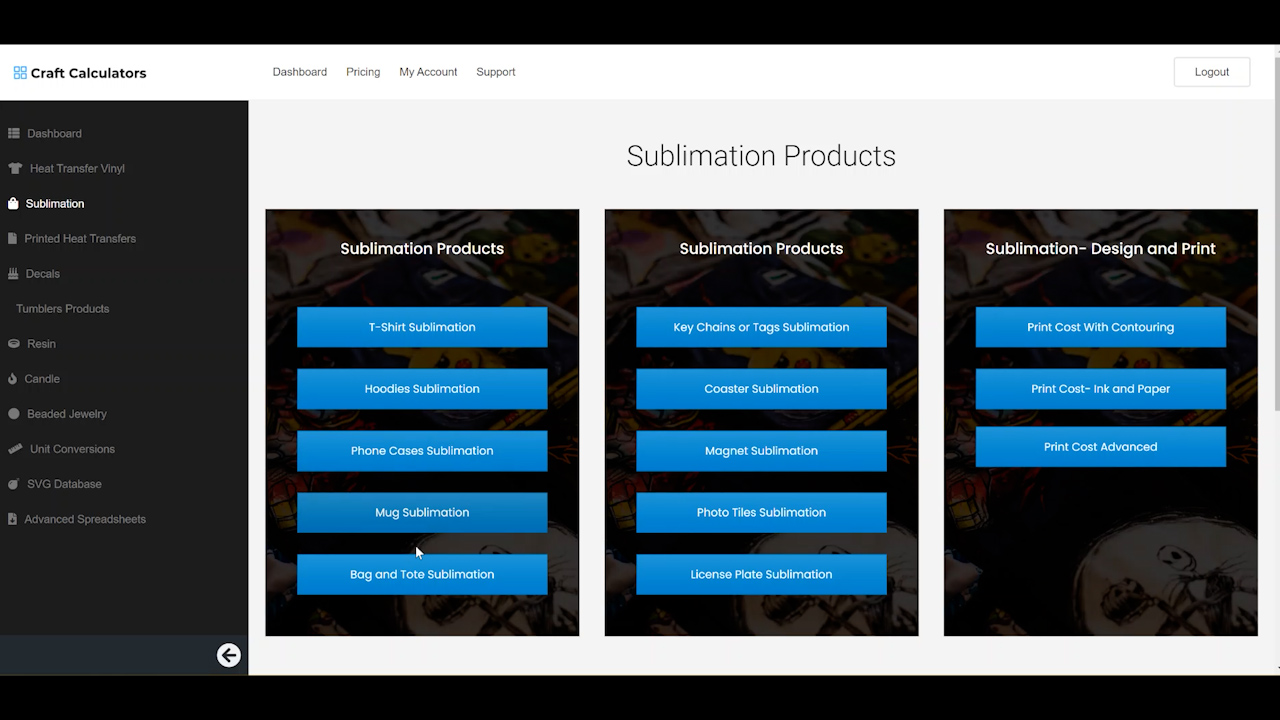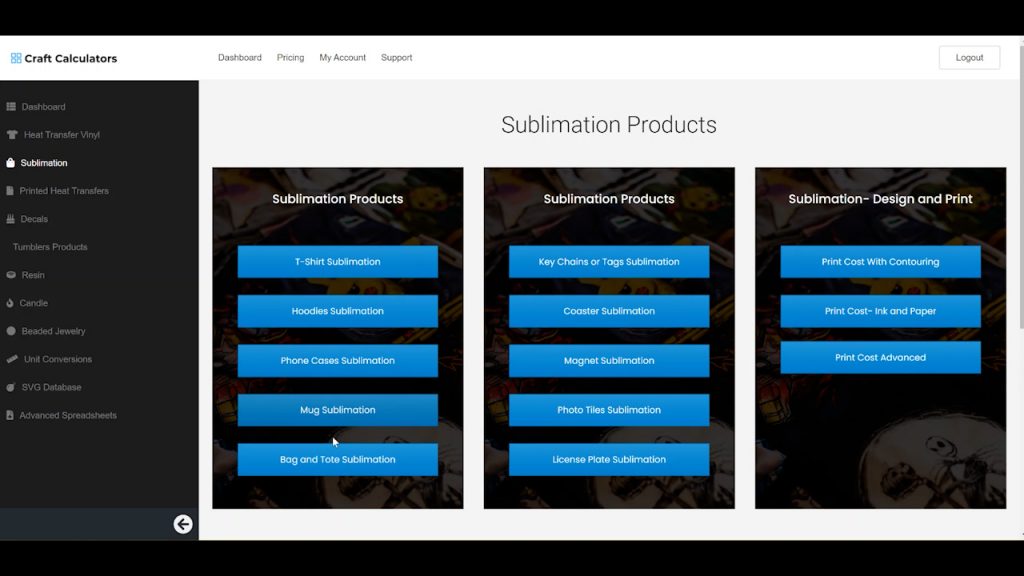 It has remembered that I want to be paid $15 an hour. My design will take about 15 minutes, and I am going to print two designs. My mugs cost $40 for four mugs, and I'm going to make two of them for this project. My sublimation paper costs $20 for 50 sheets. The sheets are 8.5×11 size paper. You will need to pick a coverage and that is explained on the calculator. I'm going to pick medium and then two designs to fit on one sheet of paper. In my case, my printer takes a while to print. Printing will take 15 minutes. My pressing time is going to be about 25 minutes.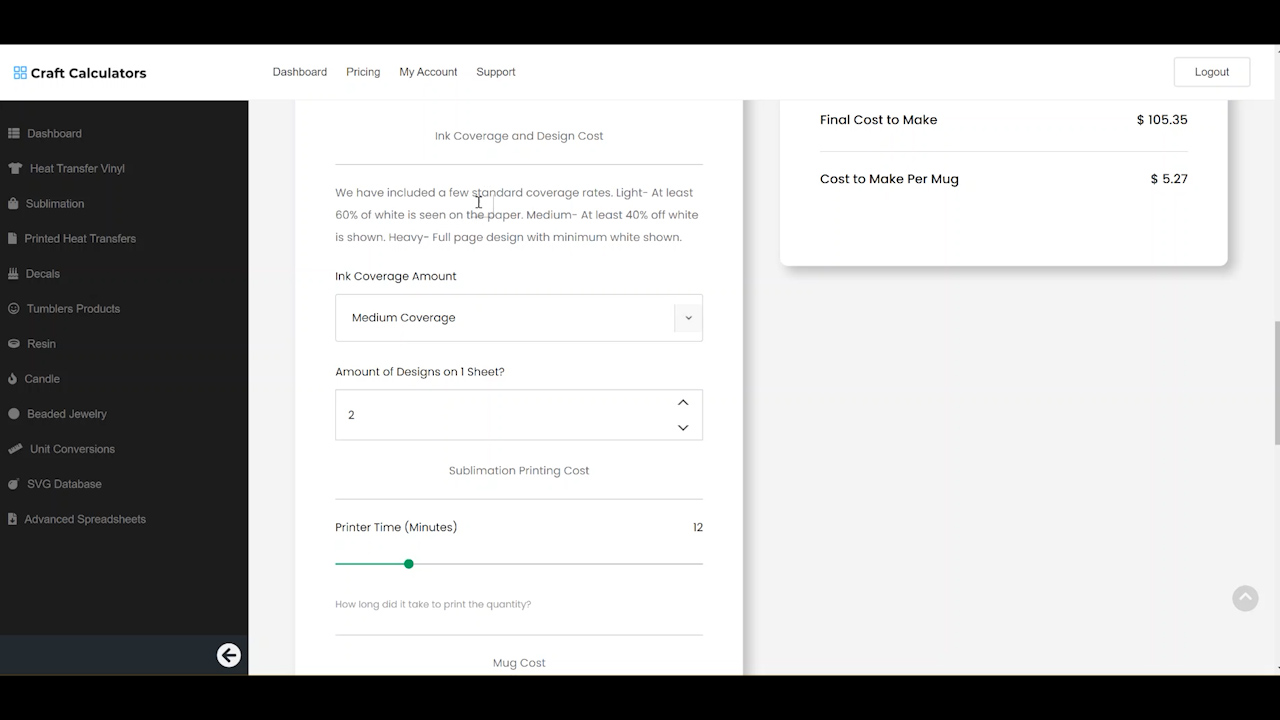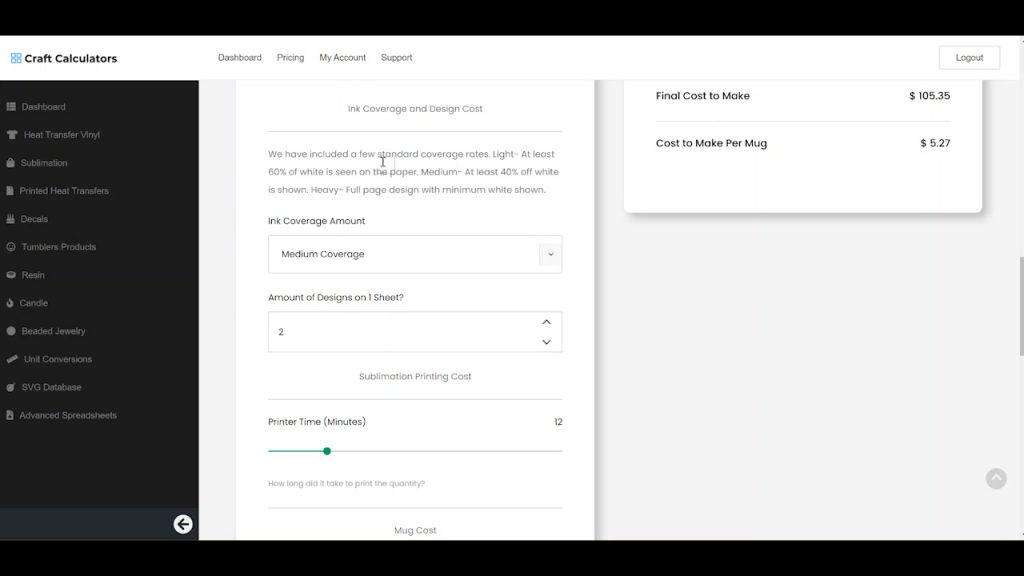 It has now calculated the material and the labor to make these mugs at $20.18 each. This is a great way to summarize everything you need to make a mug! I find that these are amazing for making sure I don't forget anything when adding up my pricing. And again, the editable spreadsheet has more information on it too and you can read about those below.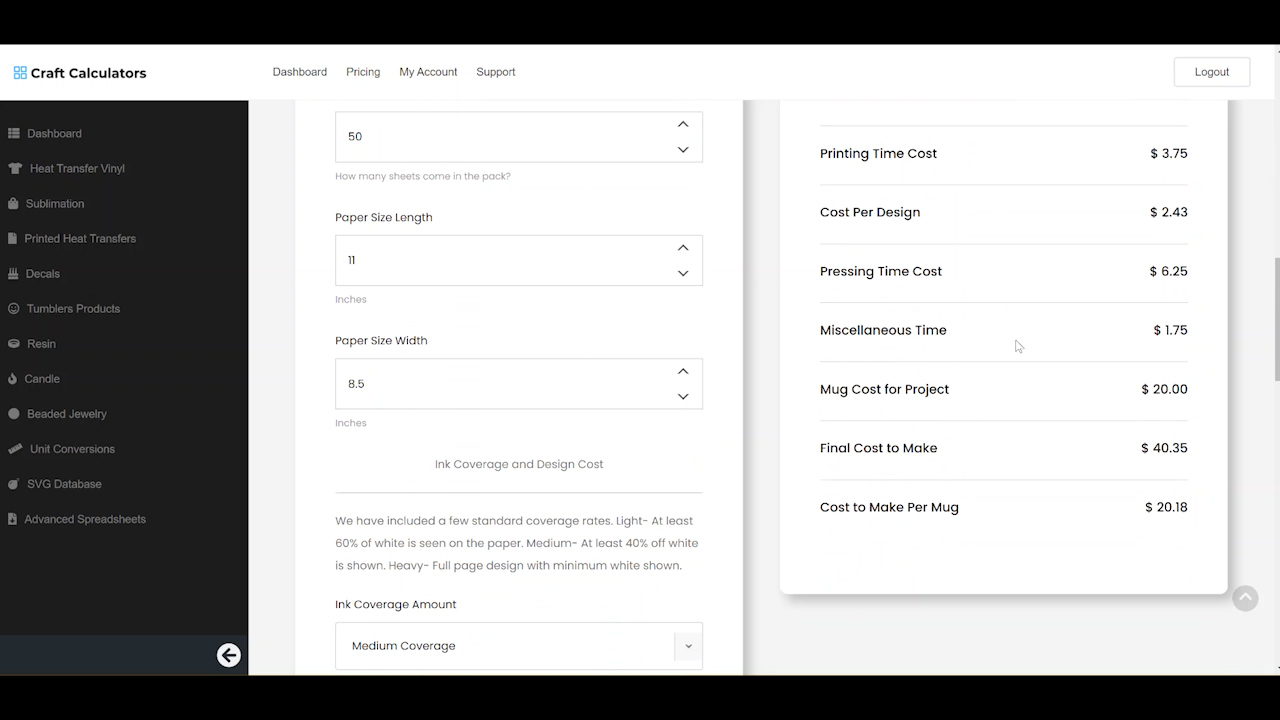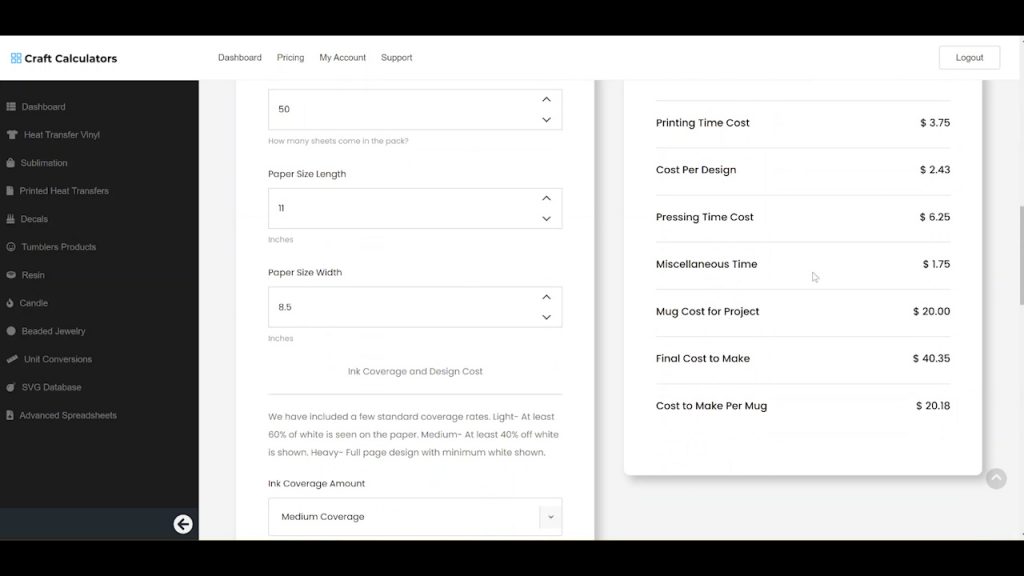 Spreadsheet Price Calculators in the Paid Version
The examples that I just described were all calculated using the free version. There is a paid version that has a few more advanced features. The price is $59.97 for full lifetime access and includes 80+ spreadsheets and the SVG database. Since it's just a one-time payment for lifetime access, I found this to be a really affordable option, especially if your business is growing. My advice is to try out the free craft pricing calculator for yourself and see if it will work for your business and then consider the paid version if you want to get more advanced. Click here to see the pricing and sign up!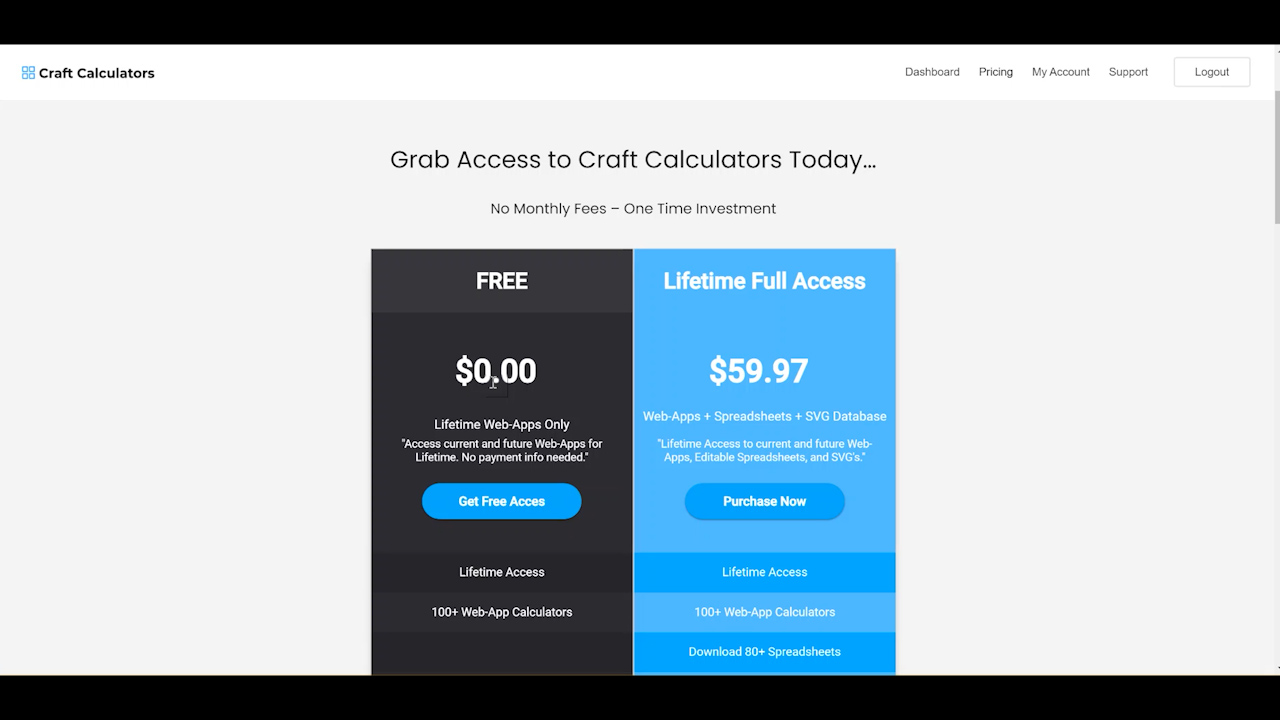 To me, the Craft Calculators help to make sure that you don't forget anything when you're thinking about your pricing. Plus it can be hard to decide where to begin when it comes to how to price handmade items. Start with the free online calculator and then add on things like profit or if you have other expenses that the calculator does not cover.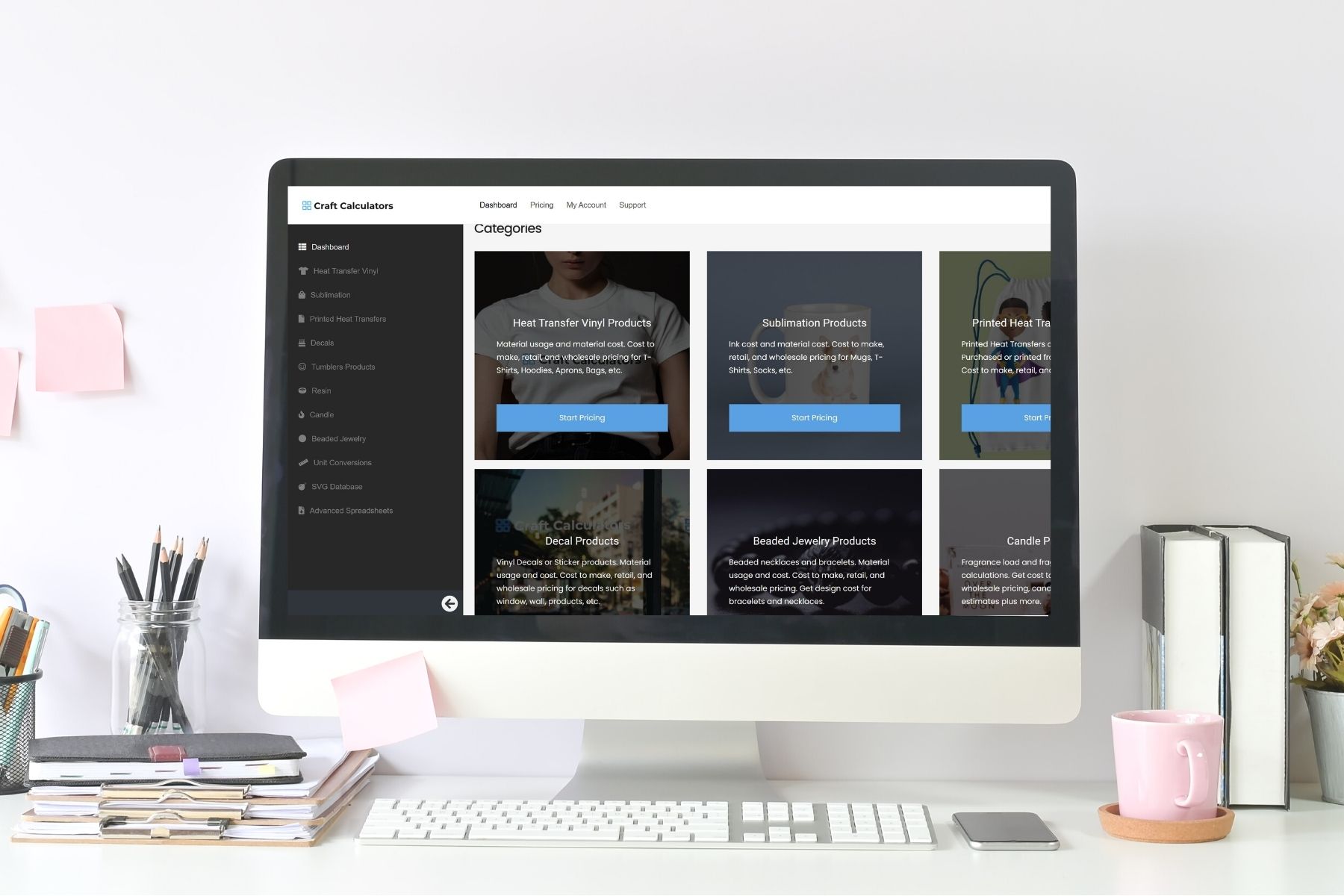 I hope this helps you with your small business endeavors – whether you're just starting out or you've been an established business for a while and just want to check your prices and see how they compare with the calculations. I know I get asked all of the time about pricing and this is definitely my go-to answer!