This post and photos may contain Amazon or other affiliate links. If you purchase something through any link, I may receive a small commission at no extra charge to you. Any supplies used may be given to me free of charge, however, all projects and opinions are my own.
I really want to get ahead with my Halloween decor. So I figure if I make one or two things a week by October we will officially be spooky!! You see I want creepy, spooky Halloween decor — NOT cutesy!! So my victim for this week was my lantern…which is now my lantern with the mummy hand….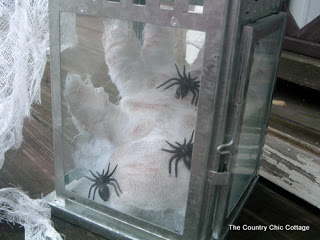 Want to make your own mummy hand? It is super easy! Start with a glove. I had this one lying about…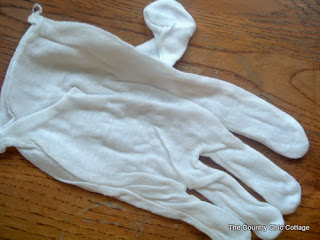 Stuff your glove to make a hand. I actually sewed it close cause I have a ton of these gloves and one lost will not be an issue. You could totally hot glue it and rip the glue off later to reuse the glove.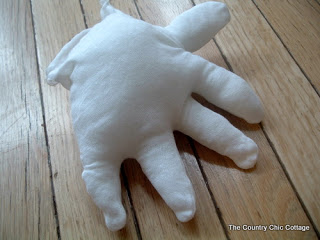 Now start cutting cheese cloth into thin 1 to 2 inch strips and wrap your hand in the strips. I did not even glue the strips. The cheese cloth sort of sticks to itself.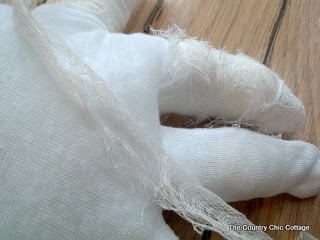 I then took brown and grey ink — yes the kind you would use with stamps — and I literally rubbed my finger on the stamp pad then rubbed my hand in different areas…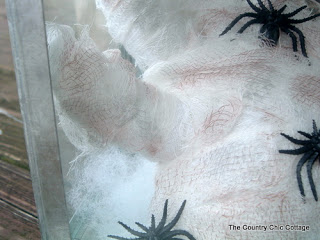 And what mummy hand in a lantern would be complete without spiders?? Those fake plastic ones that your kids get for halloween…put em to use….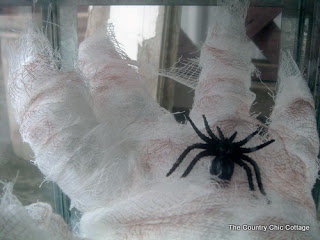 I took another wider strip of cheese cloth, tore holes in it, and tied to the handle of my lantern. Cheese cloth just LOOKS spooky!!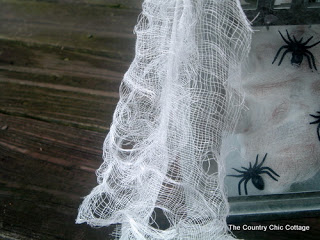 I covered the bottom of my lantern with a very thin layer of poly fill stuffing. It hides the lantern bottom and adds a slightly creepy element.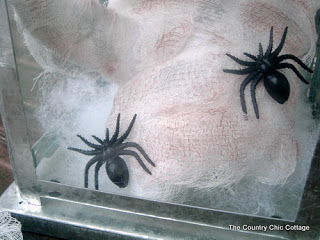 Speaking of random plastic objects your kids get at Halloween. I found this little black mouse in the bottom of the toy box…peeerfect for an extra creepy surprise!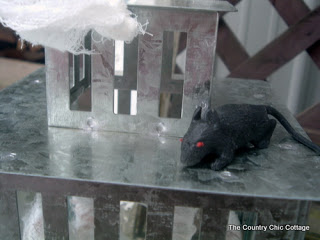 Now wasn't that mummy hand a breeze?? Whatcha waiting on….go to the kitchen and dig out that cheese cloth…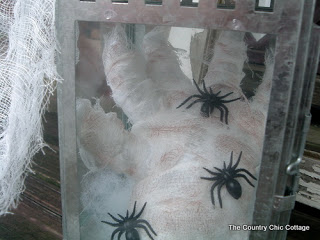 Be sure to creep up whatever you put your hand in! You can't have a creepy mummy hand in a cutesy container!!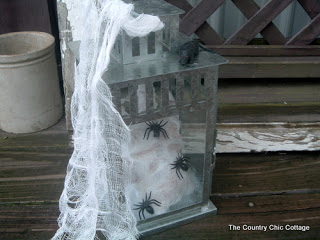 Posted at Friday Favs on Naptime Crafters.
Posted at Feature Yourself Friday on Fingerprints on the Fridge.
~Thanks for stopping by!~