Grab our free printable spell book page and make some Macbeth inspired Halloween decor in your home. Double, double toil and trouble await with this witch's spell and Halloween decor. I also have a link to some free potion labels below to complete the look on this one. You will love adding this project to your list of must-make Halloween crafts this year.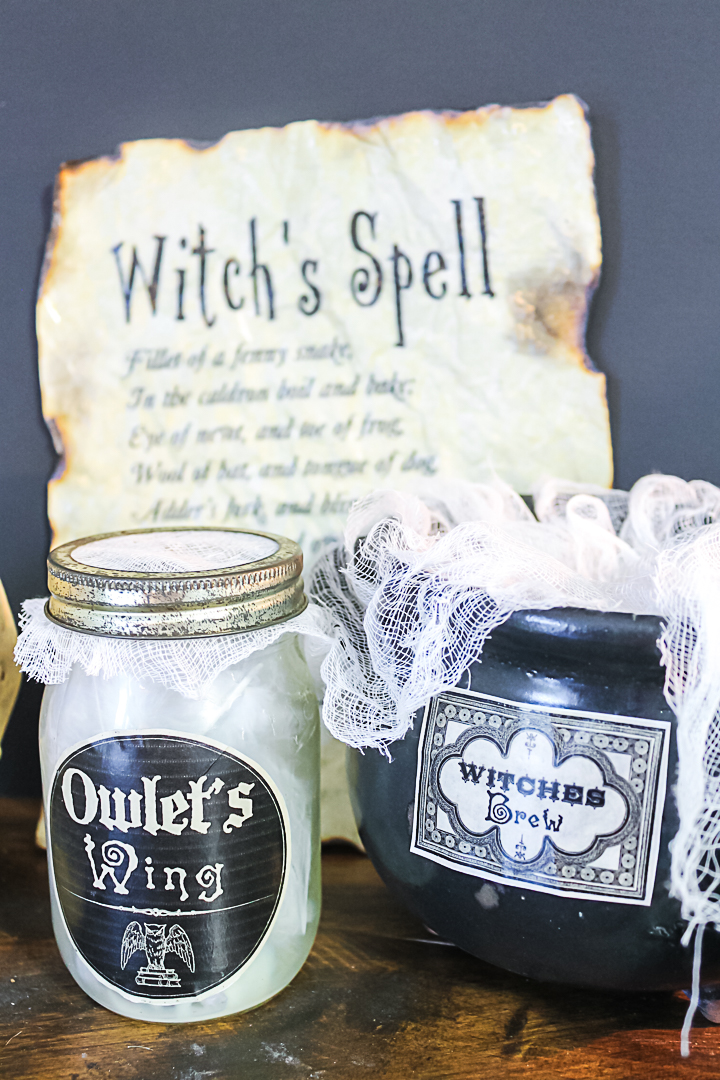 Free Printable Spell Book Page
First, you will need to print the spell book page to get started making this decor. You can sign up for the newsletter below to print the page for free. Just look for a newsletter form with a picture of the download you want and add your information. Then the free printable will be sent to your email where you can download and print as many times as you want. If you have already signed up for our newsletter, just sign up again to get this printable as you will not be signed up for anything further.
Please note that this file is for personal use only. You can also email me if you have any issues with your download.
How to Age the Witch's Spell Printable
Once you get the printable in your email, print on regular copy paper then follow the directions below for aging the paper.
Supplies needed:
Witch's spell printed on regular copy paper
Lighter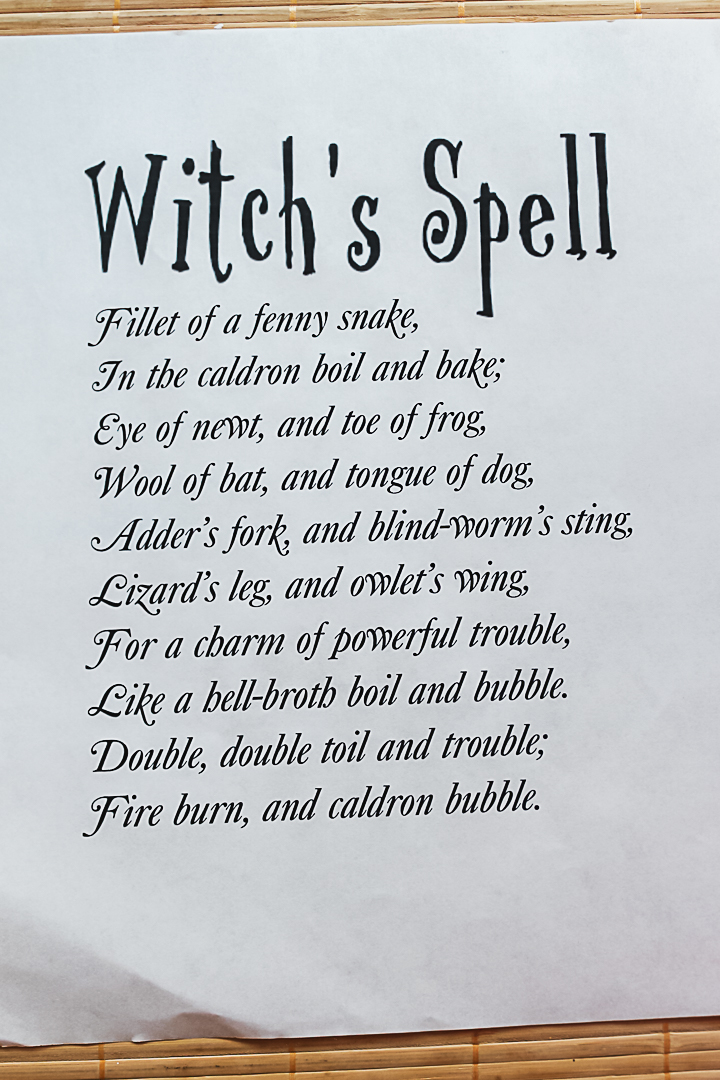 Instructions:
Crumple up the paper and then smooth it back out.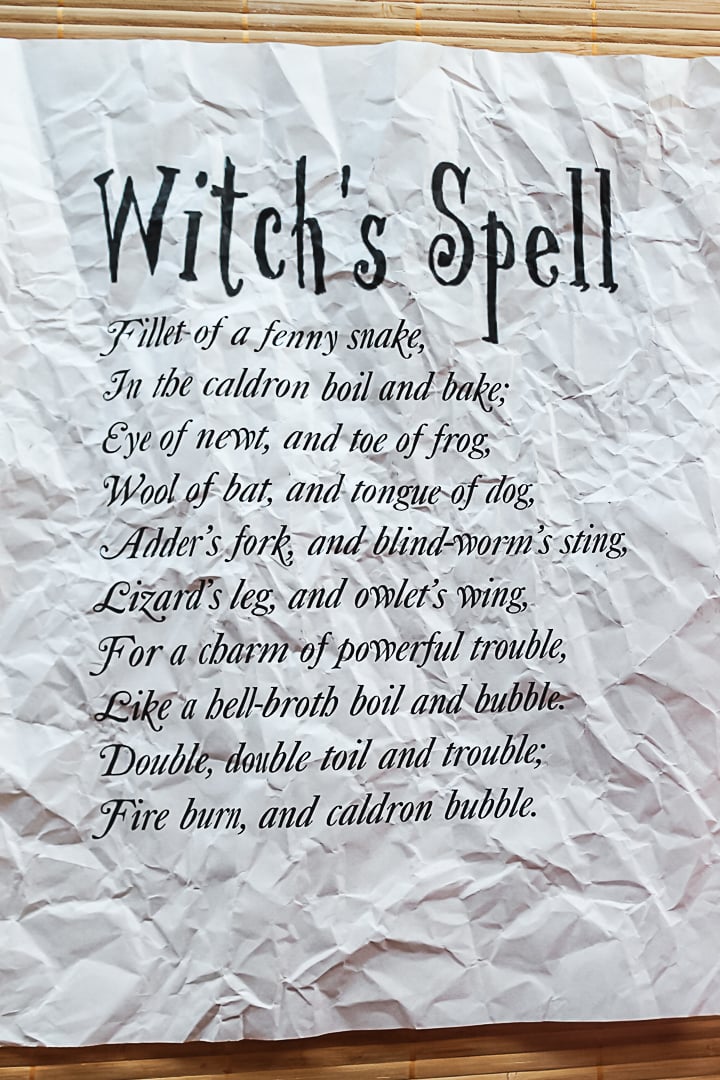 Use a pouncer sponge brush and add two heavy coats of Mod Podge Antique over the surface (allowing to dry between coats).
For those burnt edges, I took the paper outside and in a safe area I burnt the edges until I was happy with my creation. The kids are absolutely fascinated at how old this paper looks and I made it in just a few hours (with dry time).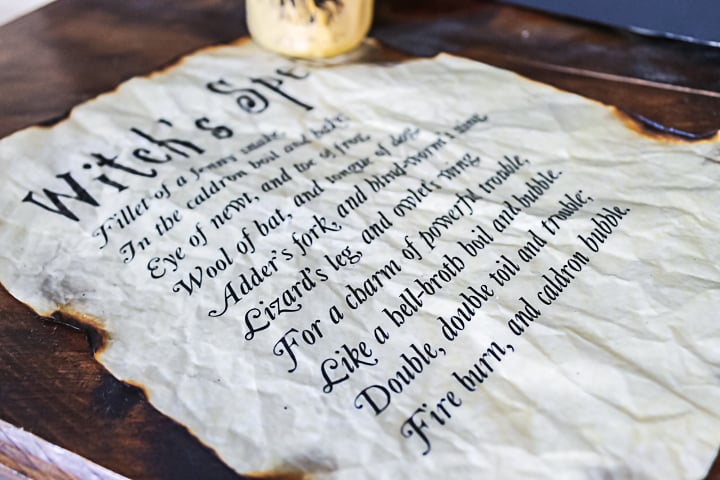 Making Witch's Spell Halloween Decor
I wanted a few bottles of ingredients for my spell. I found these labels on the Graphics Fairy. Guess what? Two of these are EXACTLY what is mentioned in the portion of Macbeth that I printed above.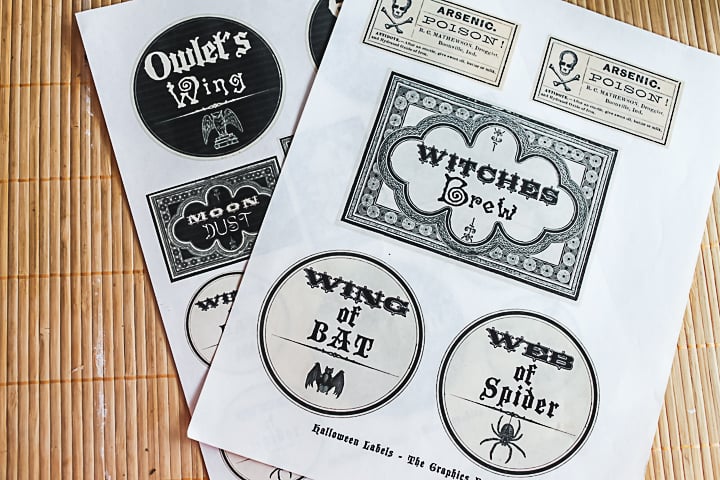 So I cut out the labels I wanted including one that says "Witch's Brew" for my cauldron. I gave them two coats of Mod Podge Antique over the top of each before I put them on.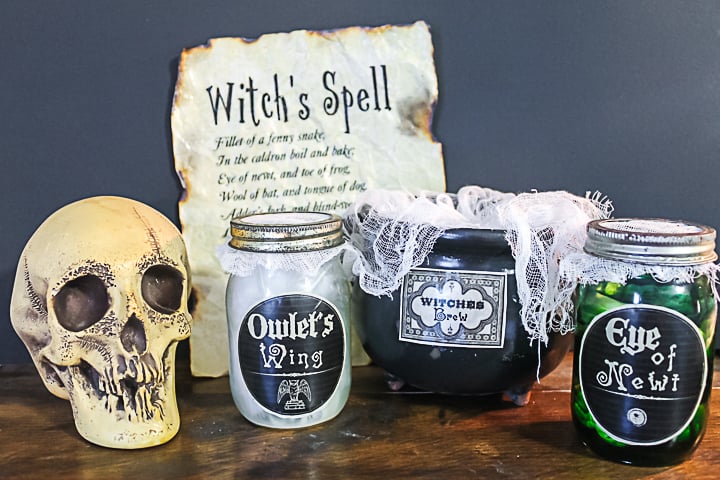 I started playing with the jars. For the "Owlet's Wing", I coated the inside of the jar with Mod Podge Antique and allowed to dry. The glass took on a gorgeous opaque color that I adore!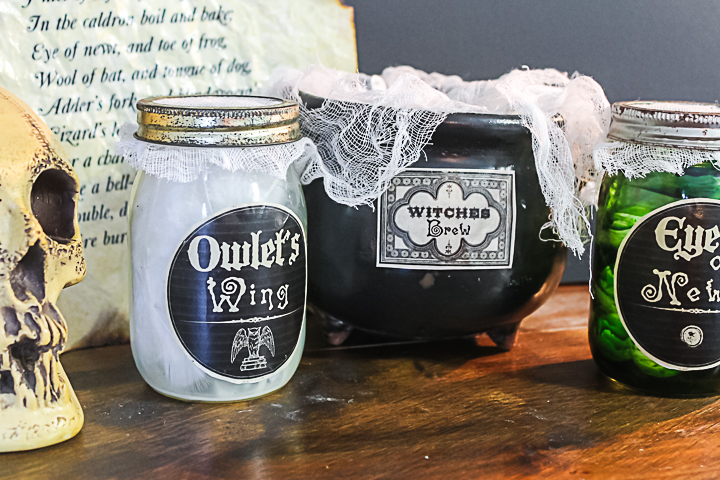 I then filled the jar with white feathers
and put a lid and cheesecloth
on it. You can just make out the contents but it is not as obvious as if the jar were clear.
Next was my Eye of Newt. I took a bottle of green glaze I had in my stash and painted the inside of that jar then allowed to dry.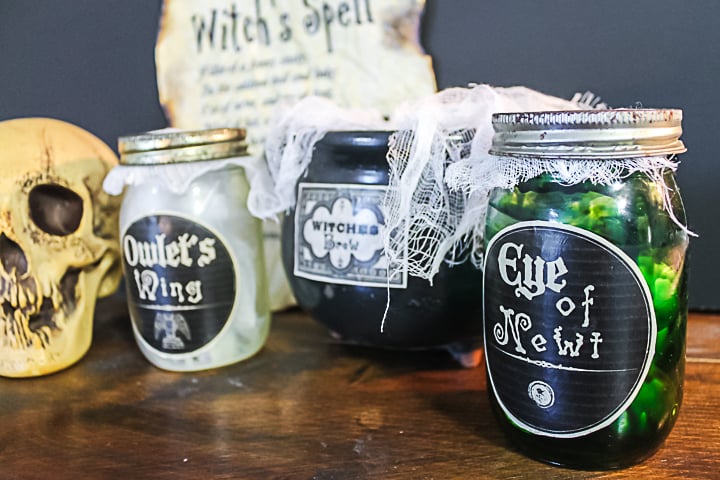 I put white styrofoam balls
in it before capping with a lid and cheesecloth. The kids wanted to know if they really were eyeballs. Mission accomplished. Again you can see through the jar but the green makes it more difficult.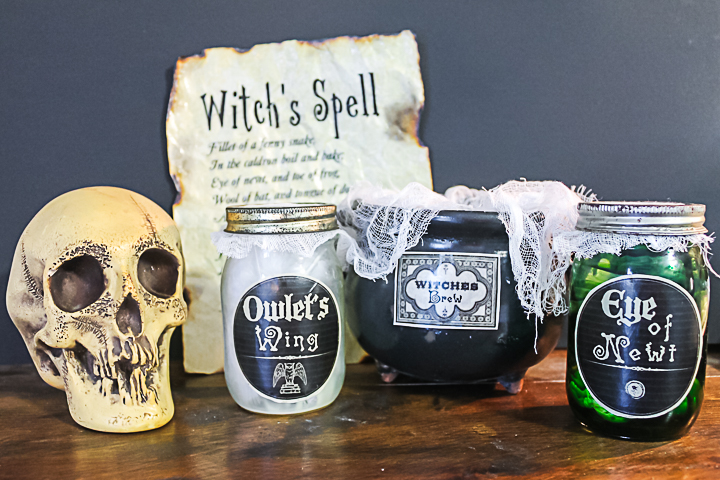 Next up is my cauldron. I actually bought it at a yard sale last year. It is old and beat up and perfect! I added the Witch's Brew label and some cheesecloth to the inside.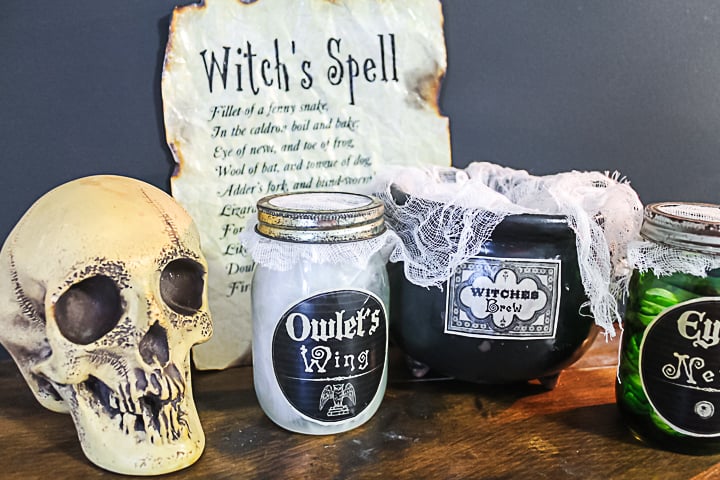 We also had the skull to add to the spooky. I love my little Macbeth vignette and so do the kids! Halloween can be scary and fun especially with my free printable spell book page.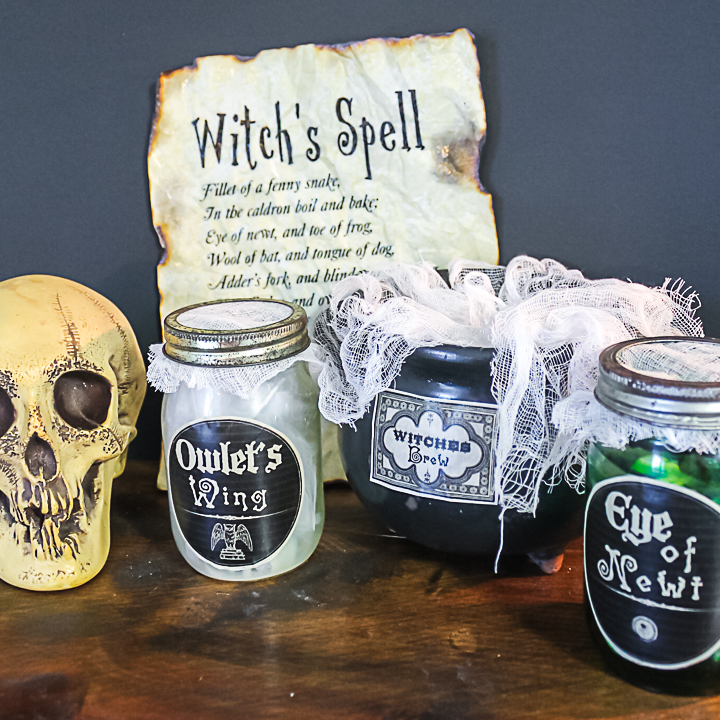 You can add these to your Halloween decor quickly and with things you may already have around the house. I did not buy anything for this one and I think it looks amazing. Plus with a free printable spell book page, it is cheaper than ever to add something amazing and scary to your Halloween decor this year.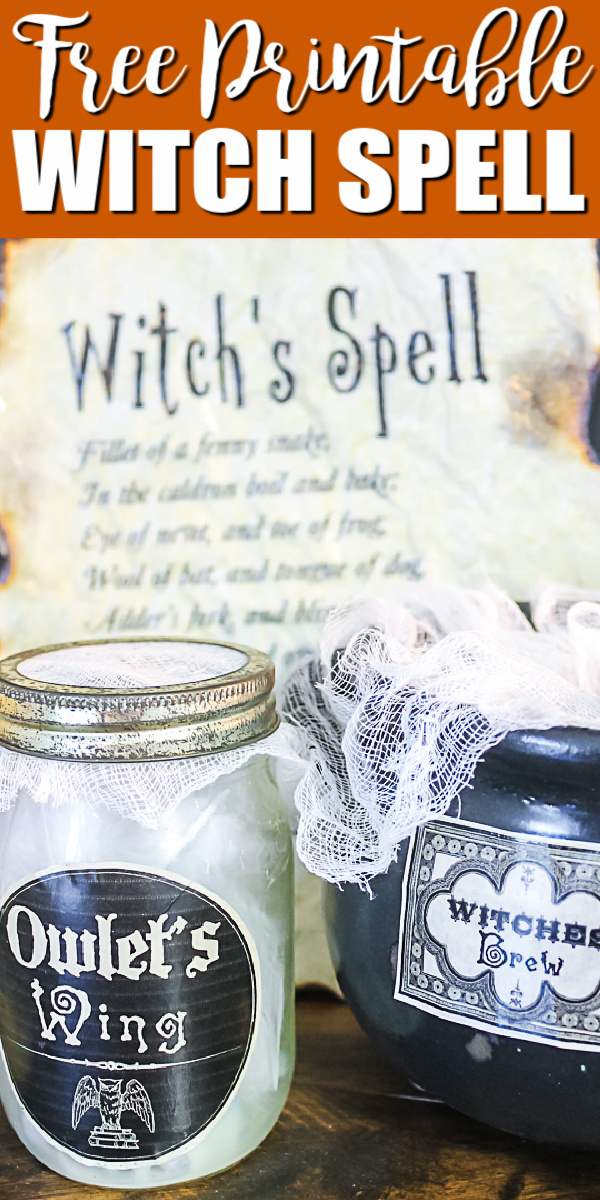 Love this Macbeth themed Halloween decor and want more ideas? Try the links below!
A Year of Jar Crafts
Sign up for our email list to get a FREE book with an entire year of jar crafts! 12 months, 12 crafts, tons of fun!