Are you looking for a gift idea for a toddler? Make your own! Transform pieces of felt into a magical DIY farm play mat that the toddler in your life will love playing with for hours.
Here's the thing about toddlers. They have tons of energy (please share with me!), so they need constant activities to keep them busy and occupied. But, they don't need complex activities. They are just as happy playing with wood blocks as they are playing with an empty box!
If y'all can believe it, my grandson will soon turn one! Where does the time go? It seems like just yesterday I was hosting a baby shower, and now I am making gifts for a soon-to-be toddler. He loves tractors and pushing them around on the floor, so I thought why not try to make a DIY farm play mat.
It's a fun activity that is simple but will keep them busy for hours as they practice using their imagination.
If you are looking for a simple gift for young kids, this is the project for you. I found a few things online that made this project super simple and then thought I would share the whole thing here so that you can make it too.
If you need more ideas for toddlers, check out my Easy DIY Toddler Busy Bag With Truck Shapes, Toddler Matching Game, and Quiet Activity for Toddlers with Your Cricut.
How To Make This Fun Farm Play Mat For Toddlers
Here are the supplies you'll need to gather and the steps you'll need to follow in order to make your own DIY farm playmat.
Supplies Needed
Green felt (two large pieces the size of your mat) (NOTE: they sell this by the yard at most stores that carry fabric.)
Various pieces of brown and blue felt
Felt farm animals (I purchased this set)
Toy tractor
Straight Pins
Sewing machine and thread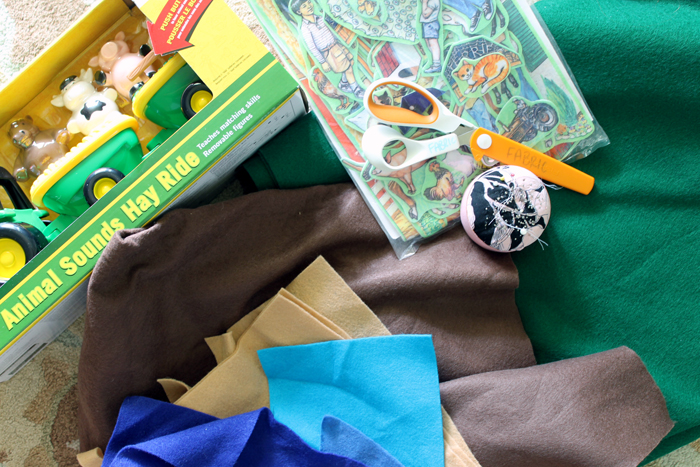 Project Notes
I knew I wanted to make a DIY farm play mat but had no clue what to do for the actual farm. I decided that I wanted to use brown felt to make roads but had no idea where to go from there.
So I googled felt farm animals and started researching how to make the additional pieces for this play mat. I quickly realized that I did not want to make a bunch of animals from felt because that would take a VERY long time. After a little searching, I finally found a terrific set of felt farm animals on Amazon. Yay!
The set contains animals, a barn, and other items that are printed on felt. They're perfect for this project. I picked up this 50 piece set but did not use all of the pieces. There are several sets to choose from on Amazon.
Just pick the one you love and start making your own DIY farm playmat!
Instructions
Just follow these steps, and in a short time, you'll have a unique play mat that the toddler in your life will love!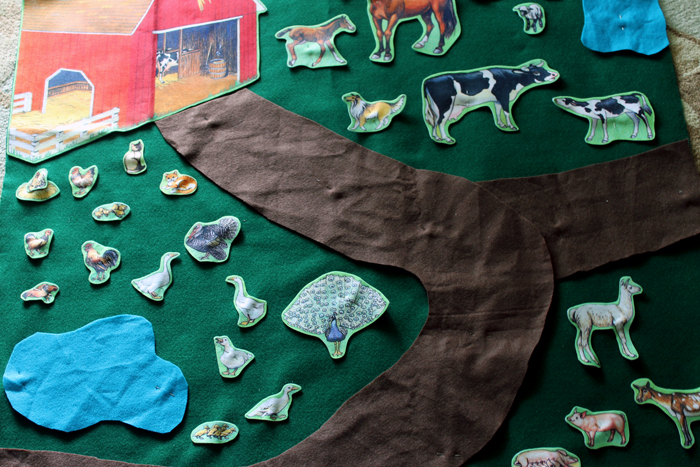 Step 1
Lay everything out on a large piece of green felt.
I purchased one yard of felt and cut it in half for my project. You can make your play mat as big or small as you would like!
Step 2
Pin everything into place using straight pins. I cut the roads and a few "ponds" to fit on my mat and pinned them down.
Tip: Use the toy tractor to determine the width of your roads.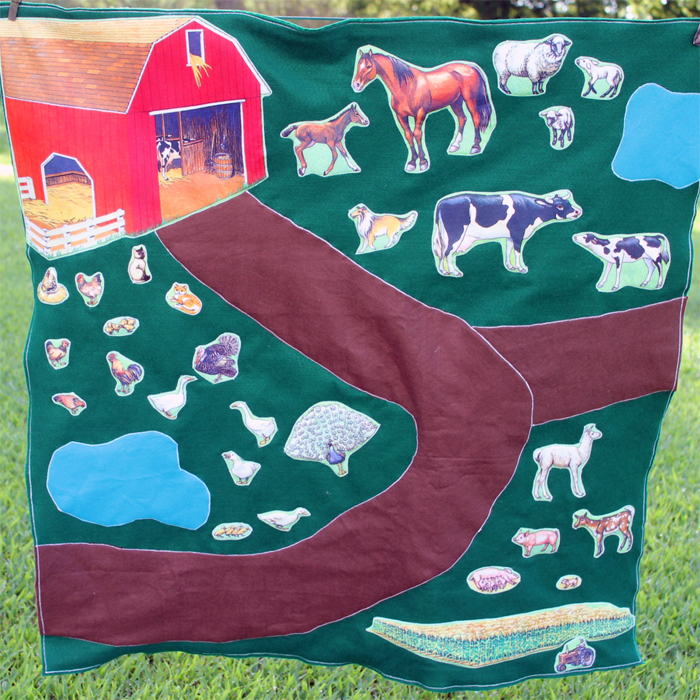 Step 3
Next, use your sewing machine and a zig-zag stitch to go around each piece of felt on the mat. I did the sewing a little bit at a time since it is quite a bit of work.
It was worth it because it turned out so cute!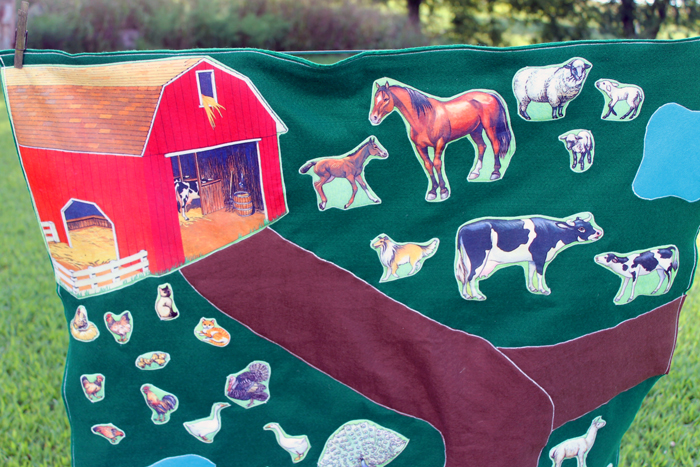 Step 4
Once you sew all the pieces onto your felt, add the second piece of green felt to the back of your large piece and do another zig-zag stitch all around the outer edge for a more finished look to the piece.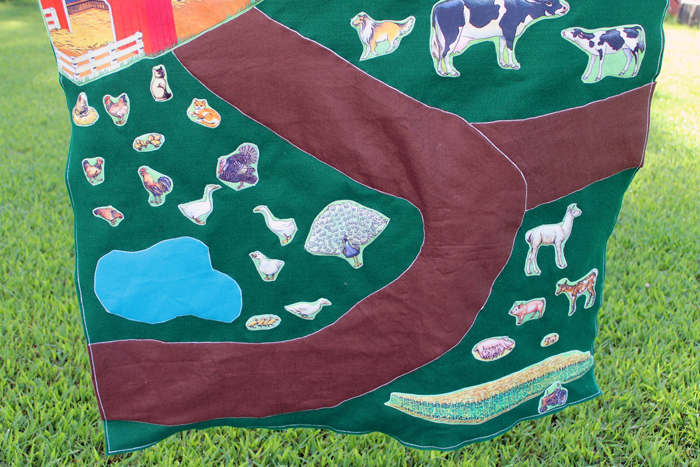 This DIY farm playmat is now ready for some tractors! My grandson loves to push around his tractors all day on his very own farm.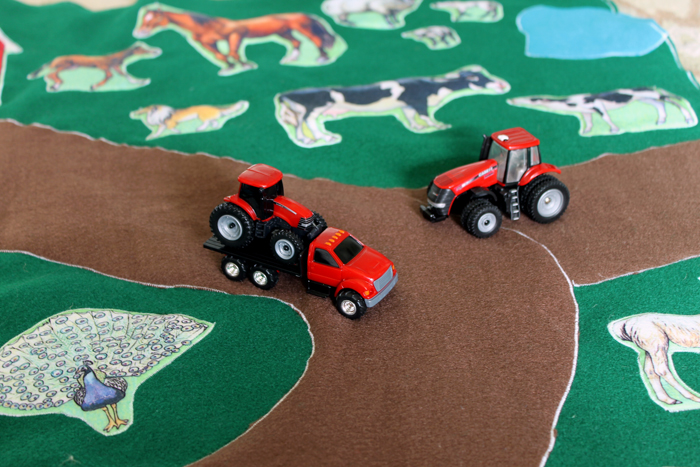 If you have a child that loves tractors and farms, this is one project that will make a great gift idea. Purchase your own set of felt animals and get started on making this fun play mat.
There are actually other felt shapes on Amazon so you could make a play mat of just about anything! Let your imagination run wild and think up a gift your little one will love.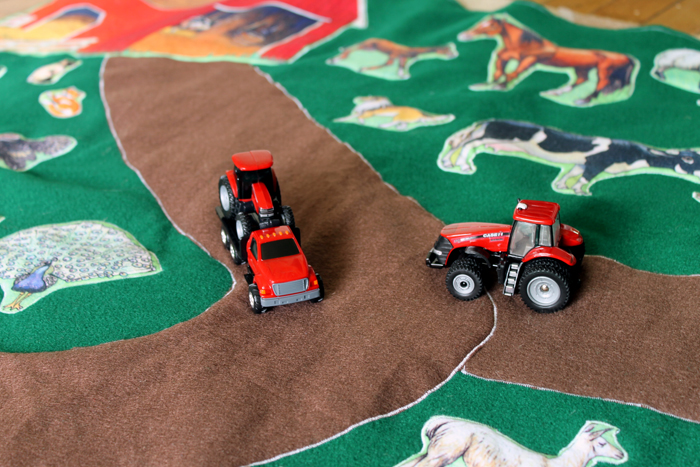 FAQs
Here are a couple of questions that I see readers ask about projects like this handmade farm playmat. If you have a question, please check to see if I've already answered it below. Don't see it? Please leave it for me in the comments!
Can I use material other than felt for this project?
You can use cotton or polyester fabric. However, felt is a better choice because it's sturdier, provides more structure, and lasts longer.
I highly recommend using felt over other types of fabric for this project.
Can I glue the farm animals and barn on instead of sewing them?
Yes, you could use strong fabric glue and glue the pieces on. However, I prefer sewing them for a couple of reasons:
The stitching helps mitigate different levels of fabric at the edge of your farm elements. That way if your toddler is playing with the play mat, he or she won't pull up the edges and wear them down.
For things like this that will receive lots of wear and tear, I have found sewing holds up better than glue. If you sew your items on, the mat will last longer.
Get started on this DIY farm play mat today and you will have one of your Christmas or birthday gifts checked off the list. I love giving handmade gifts, don't you?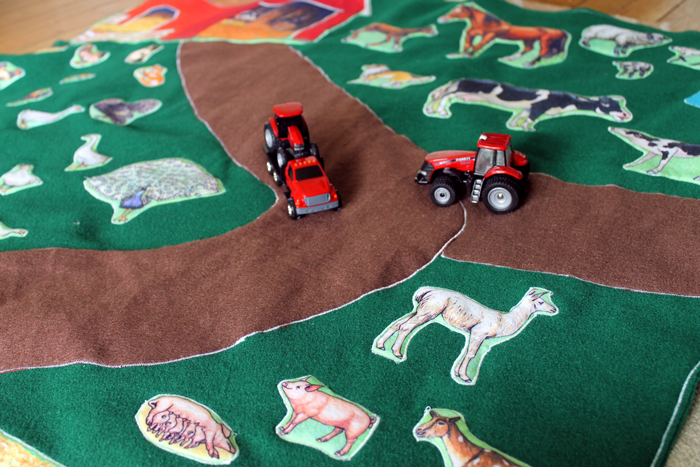 More Homemade Gift Inspiration
Looking for more handmade craft ideas with felt? Try these links!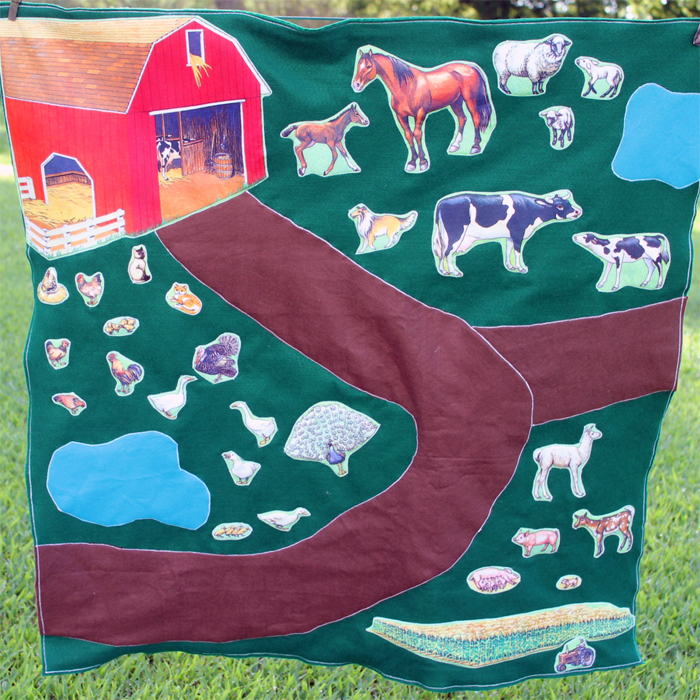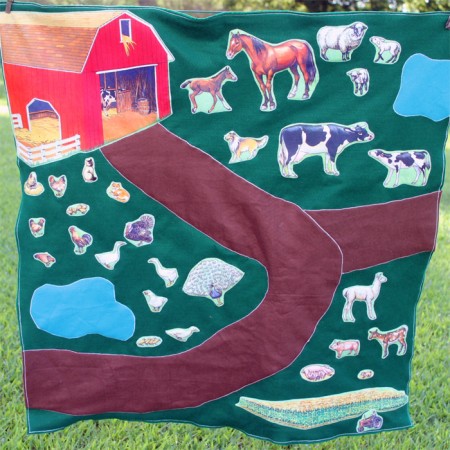 DIY Farm Play Mat
Transform felt pieces into a farm wonderland that encourages imaginative play and endless hours of fun.
Supplies
Green felt

large piece

Felt

brown and blue pieces, various sizes

Toy tractor

Straight pins
Instructions
Lay everything out on a large piece of green felt.

Pin all the pieces into place using straight pins.

Use a sewing machine with a zig-zag stitch around the edge of each piece of felt on the mat.

Once all the pieces are sewn onto the large piece of felt, add the second large piece of green felt to the back and secure it with a zig-zag stitch all around the outer edge.
Tried this project?
tag us to show off your work!