Y'all are going to love this DIY farm play mat. If you are looking for a simple gift to give to your kids, this is the project for you! If y'all can believe it, my grandson will soon be one! Where does the time go? It seems like just yesterday I was hosting a baby shower and now I am making gifts for a soon to be toddler. He loves tractors and pushing them around on the floor so I thought why not try to make a DIY farm play mat. I found a few things online that made this project super simple and then thought I would share the whole thing here.
Supplies needed to make this DIY farm play mat:
Some links may be affiliate links which means you do not pay anymore.
Green felt (two large pieces the size of your mat) (NOTE: they sell this by the yard at most stores that carry fabric.)
Various pieces of brown and blue felt
Felt farm animals (I purchased this set)
Toy tractor
Straight Pins
Sewing machine and thread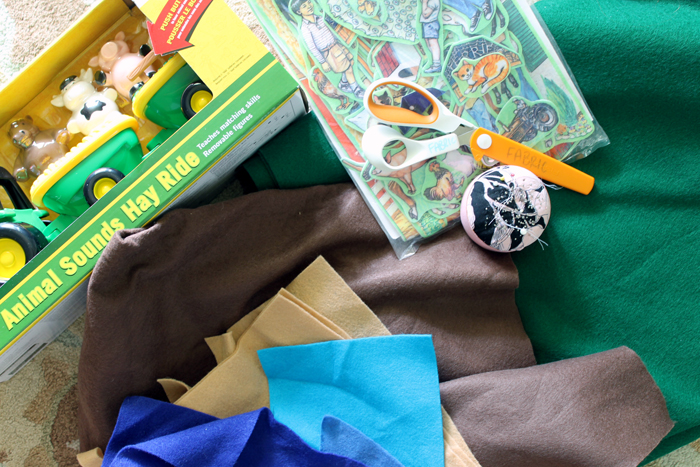 I decided I wanted to make a DIY farm play mat but had no clue what to do for the actual farm. I could figure out that I wanted to use brown felt to make roads. So I googled felt farm animals and started researching how to make this mat. I quickly found that I did not want to make a bunch of animals from felt as that would take a VERY long time. I finally found felt farm animals on Amazon and was over the moon excited. These are animals, a barn, and more that are printed on felt. They are perfect for this project. I picked up this 50 piece set but did not use all of the pieces. There are several sets to choose from on Amazon here. Just pick the one you love and start on your own DIY farm play mat!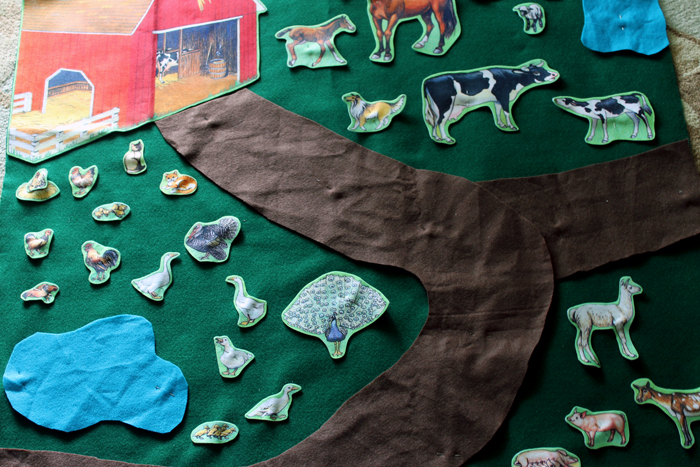 Lay everything out on a piece of green felt. I purchased one yard of felt and cut it in half for my project. You can make your play mat as big or small as you would like however. I pinned everything into place using straight pins. I cut the roads and a few "ponds" to fit on my mat and pinned them down. Use the toy tractor to determine the width of your roads.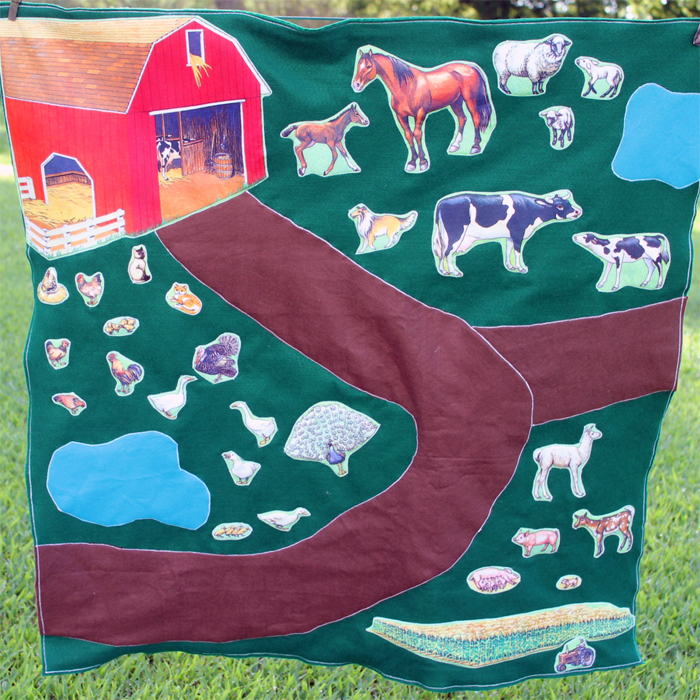 I then used my sewing machine and a zig zag stitch to go around each felt piece on the mat. I did the sewing a little bit at a time as it is quite a bit of work. I turns out so cute though!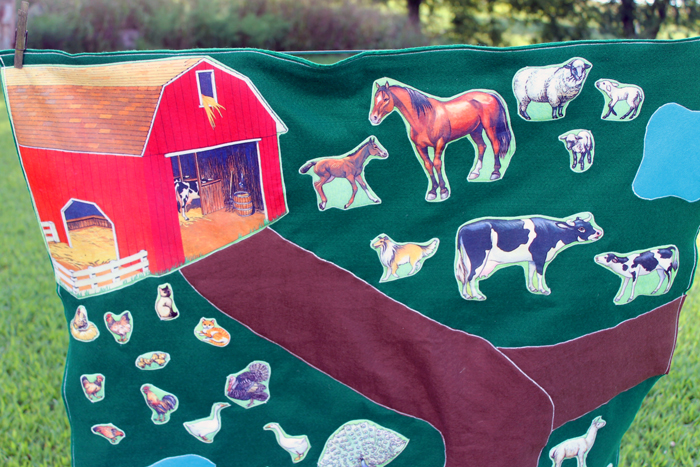 After I was finished sewing the top, I added the second piece of green felt to the back and did a zig zag stich all around the outer edge for a more finished look to the piece.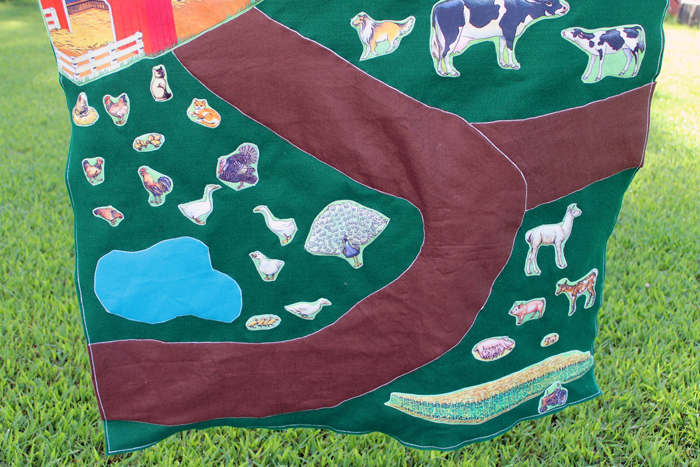 This DIY farm play mat is ready for some tractors! Now my grandson can push around his tractors all day on his very own farm.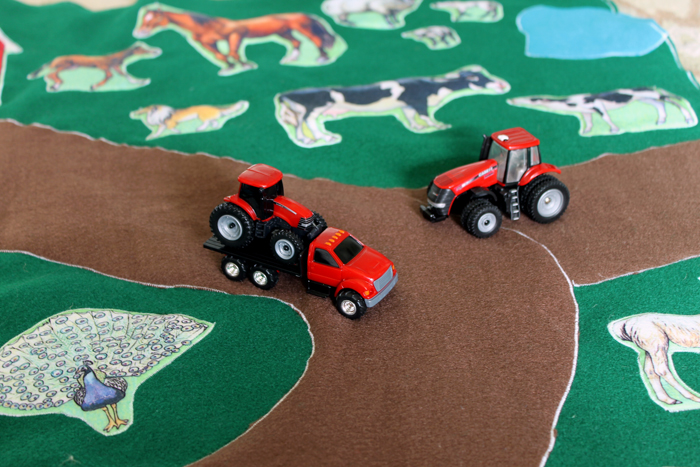 If you have a child that loves tractors and farms, this is one project that will make a great gift idea. Purchase your own set of felt animals and get started on making this fun play mat. There are actually other felt shapes on Amazon so you could make a play mat of just about anything! Let your imagination run wild and think up a gift your little one will love.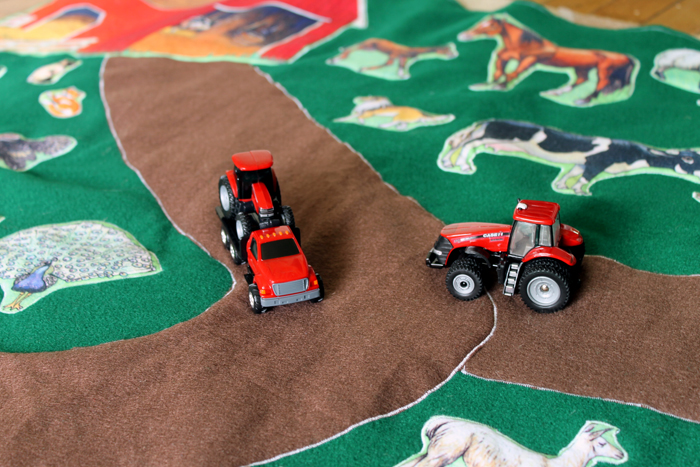 Get started on this DIY farm play mat today and you will have one of your Christmas gifts checked off the list. I love giving handmade gifts, don't you?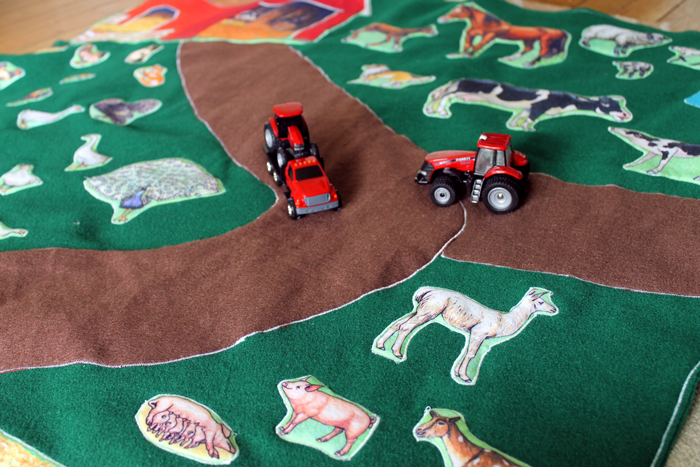 Looking for more handmade gift ideas with felt? Try these links!