Make your own DIY felt story board with your cutting machine and my free monster SVG file. This easy-to-follow tutorial will lead you through the entire process!
A felt story board is a great way for kids to express their imagination! They can play with it, manipulate it, and tell an ever-changing story as they go.
I'm always looking for creative (screen-free) ways to keep my kids busy and encourage them to use their imagination. My busy book and car play mat, though different, work in a similar way.
Today, I have a free monster SVG file that I'm going to use to make a DIY felt board that your kids will love. And it could even fit inside a DIY Toddler Busy Bag to take on the go!
Note: If you love activities that keep your kiddos engaged, check out our DIY Farm Play Mat, quiet activity for toddlers, and DIY String Art project ideas!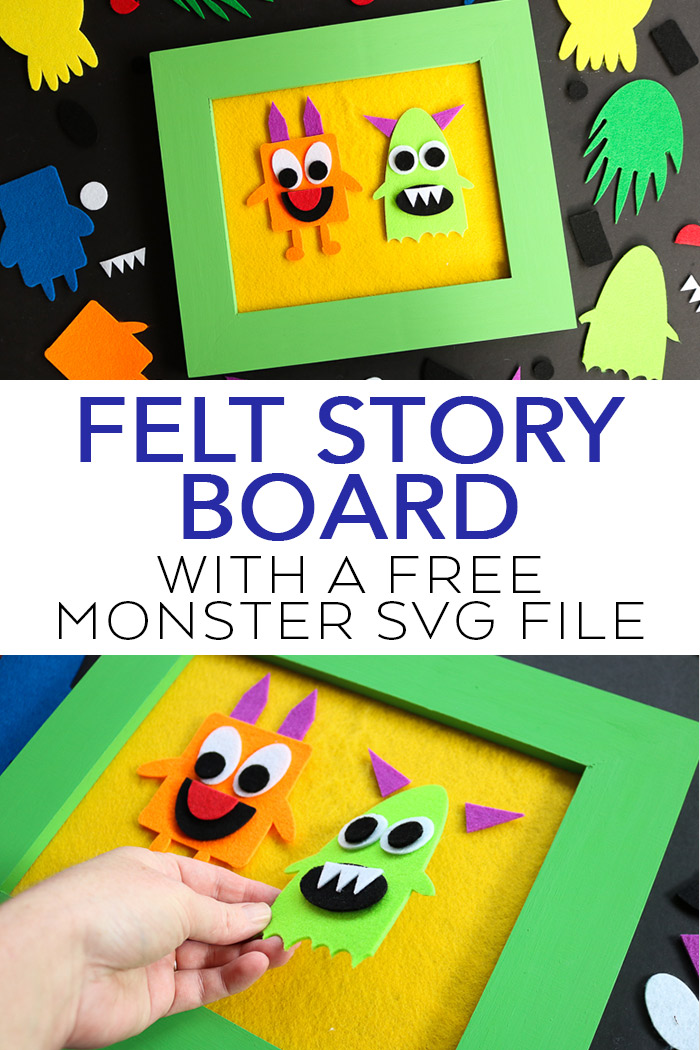 How To Make A Felt Story Board
In addition to the felt story board tutorial, I will also show you how to make felt story board pieces with your Cricut or Silhouette. It really is oh-so-easy! Follow along, and you'll have a unique felt board ready for creating stories in no time at all!
Supplies Needed
Here's what you'll need to gather up to make this story board with felt.
Unfinished Wood Frame (I used an 8×10 size)
Assorted Felt Sheets
Large Felt Sheet (the size of your frame)
Cricut or Silhouette (see which I use and recommend)
Spray Adhesive
SVG file (see instructions below for downloading)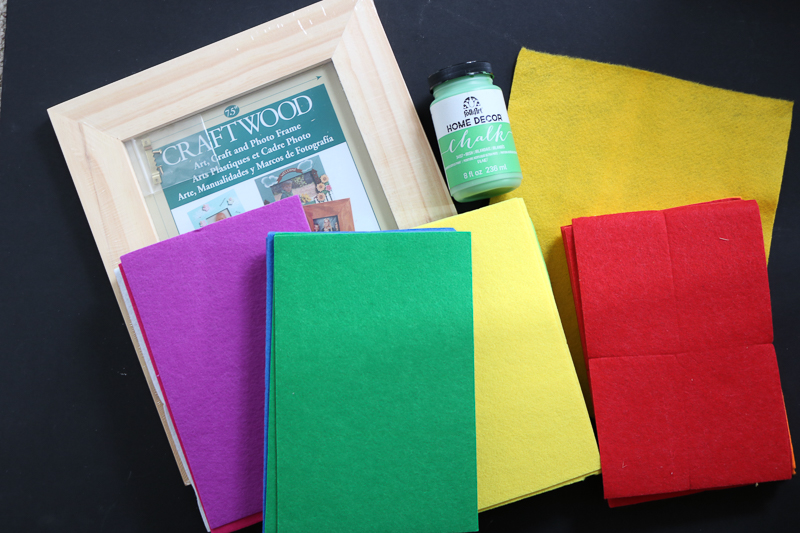 How To Make A Storyboard
For the first part of this project, we need to make the felt board itself.
Step 1
Remove the glass from your picture frame and discard it safely or set it aside to use for another project.
Step 2
Paint the wood frame with the craft paint (and color) of your choice. This may take more than one coat of paint.
Note: Be sure to dry in between coats and follow all package directions. Also, you will want to dry completely before continuing.
Step 3
Take the insert that goes inside the frame (without the glass) and use spray adhesive to adhere a large piece of felt to the insert. Allow this to dry as well.
Note: Be sure to cut the felt to the size of your insert.
Step 4
Once your pieces are dry, you can put the insert back into the frame to complete your DIY felt storyboard.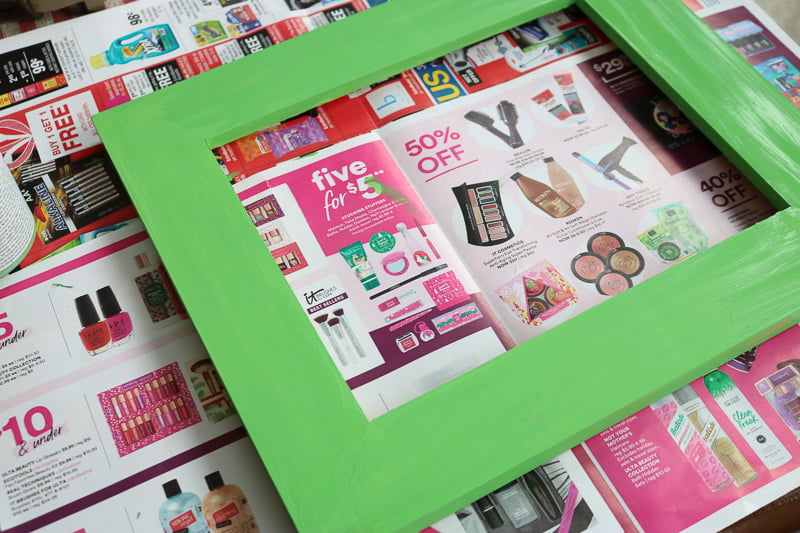 How To Make Felt Story Board Pieces With Your Cricut
Now we need to make the monsters go on our felt board with the felt sheets. You can make these in any color that you like and make as many or as few pieces as you would like!
Start by downloading our free SVG file below.
Grab The Free Monster SVG File
To get the free SVG file for your felt storyboard, just put your name and email in the box below. The file will then arrive in your email for you to download. If you have any issues, please email thecountrychiccottage@yahoo.com, and I will try to help. Remember that you will need to download this onto a computer because a phone will not work with SVG files.
Also, this file is for personal use only, so please do not download it for commercial use or to make things to sell.
Cut Your Pieces
Follow these steps to cut as many felt monsters as you want for story creation!
Step 1
Download the SVG file that comes to your email.
Step 2
Upload that file to the software for your cutting machine. You can see how to do that for a Cricut by clicking here.
Step 3
Cut your pieces from any color of felt sheets. I love my Cricut Maker and the rotary blade for cutting felt, so that is what I used here.
Use the instructions that come with your machine for cutting felt to get the best results.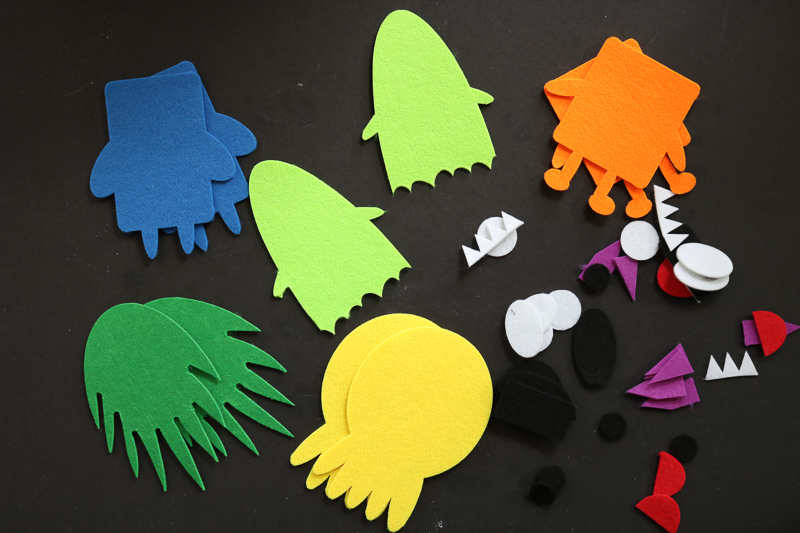 Putting It All Together
Now the only thing left is to put your felt storyboard together with all the pieces.
That's as simple as putting the DIY felt board and all of your felt story board pieces in a bag!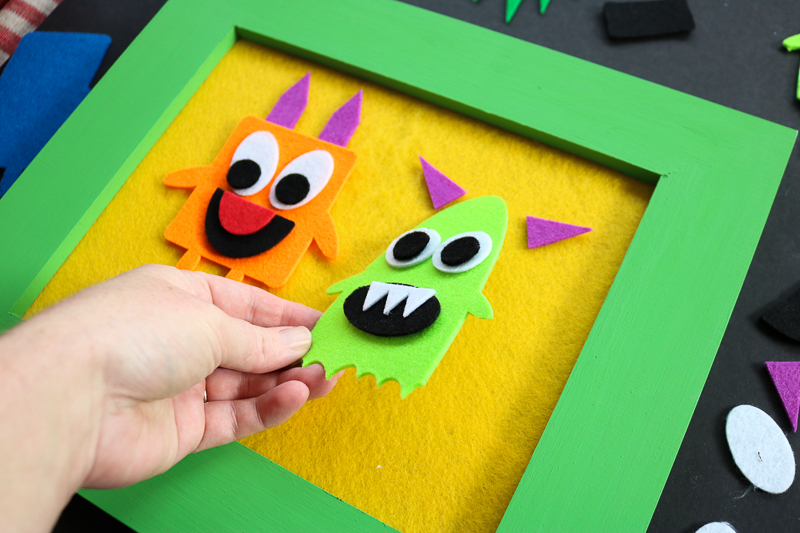 How To Play With A Felt Story Board
You'll notice that the felt pieces will stick right to your board so the kids can add them and take them away in crazy combinations to make their own monsters. This is a great project for imaginative play, especially for preschoolers.
To play with this felt board, add and remove felt pieces to create different monsters as your child creates a story.
Note: Some of the pieces are small, so be sure your child is over the age of 3 and able to play with pieces without swallowing them.
Now that you know how to make a felt storyboard, will you make one for your little one? This is one version, but I am sure you can also think of other things to add to a board for some imaginative and fun playtime!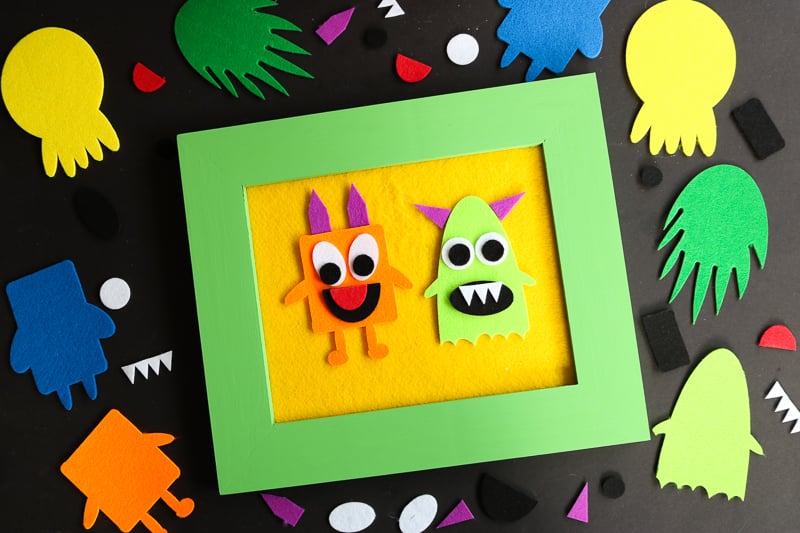 A felt story board can make a great gift! You could also hang a large felt board in their room and have all of the pieces in there as well.
This smaller version is more portable but there is no reason not to have a permanent one as well. They can create different monsters over and over again as the felt pieces stick together and then remove easily.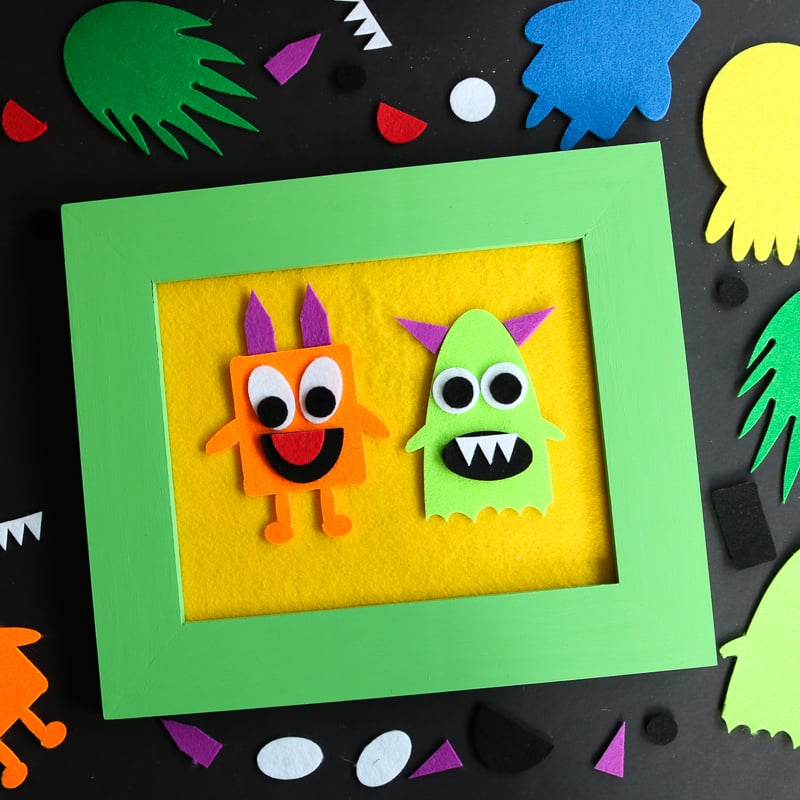 FAQs
Here are a couple of things that I see readers ask about storyboards. If you have a question, please check to see if I've already answered it below. Please leave your question for me in the comments if you don't see it down below.
Do you need velcro for a monster felt board?
No! Felt naturally sticks to itself. It won't have as tight of a grip as velcro would provide, but that's perfect for a story board because it allows kids to constantly change up the story.
How do you make a large version?
You need something larger for the base. Instead of a photo frame, you could use a large corkboard. Or you could create a larger stand, almost like an easel. The base doesn't matter as long as your kiddos can play with their stories!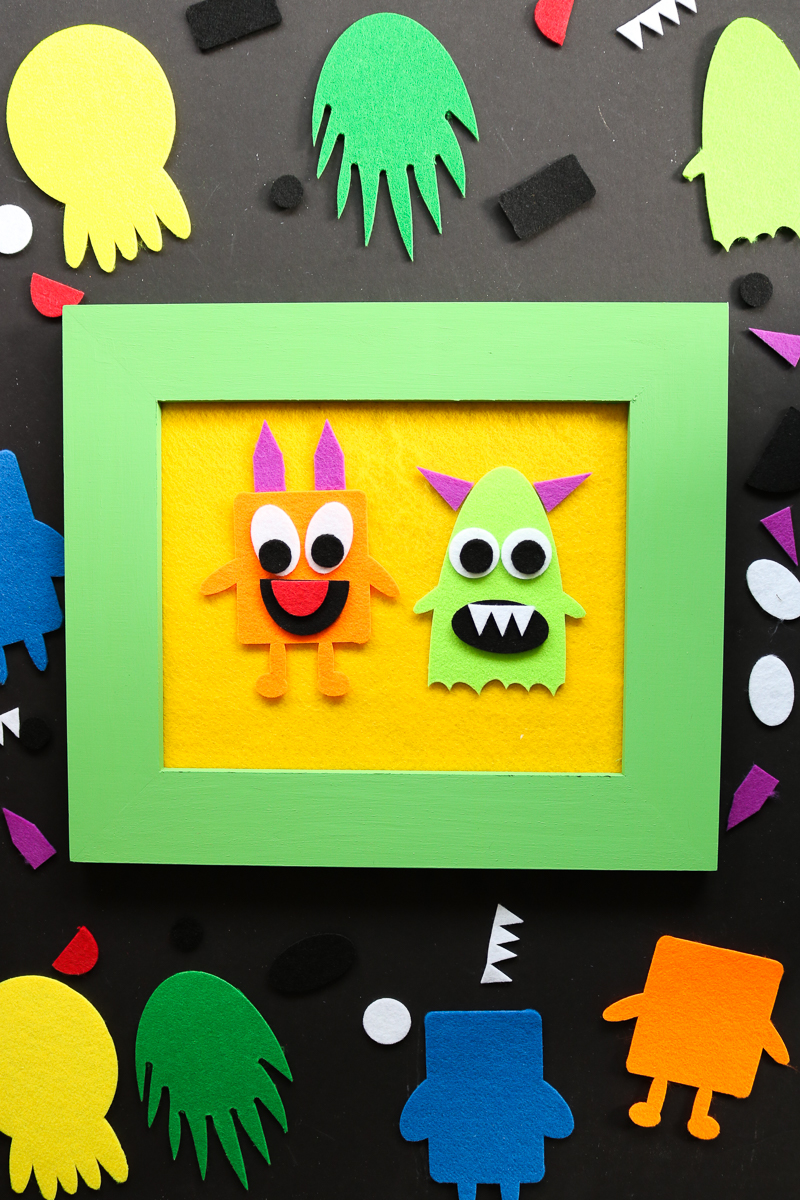 Y'all enjoy this free monster SVG file, and be sure to use it to create your own felt storyboard. It is sure to be a hit with any little one in your family!
Need Help Organizing Your SVG Files?
Are you overwhelmed with the number of files on your computer? SVG (or digital cut) files can take up a ton of space, and it can be so hard to find exactly what you are looking for. That is where Cut File Clean Up comes in! The Cut File Clean-Up system ends the frustration of organizing your cut files so that you can find what you need and get to the best part of crafting—actually making your project.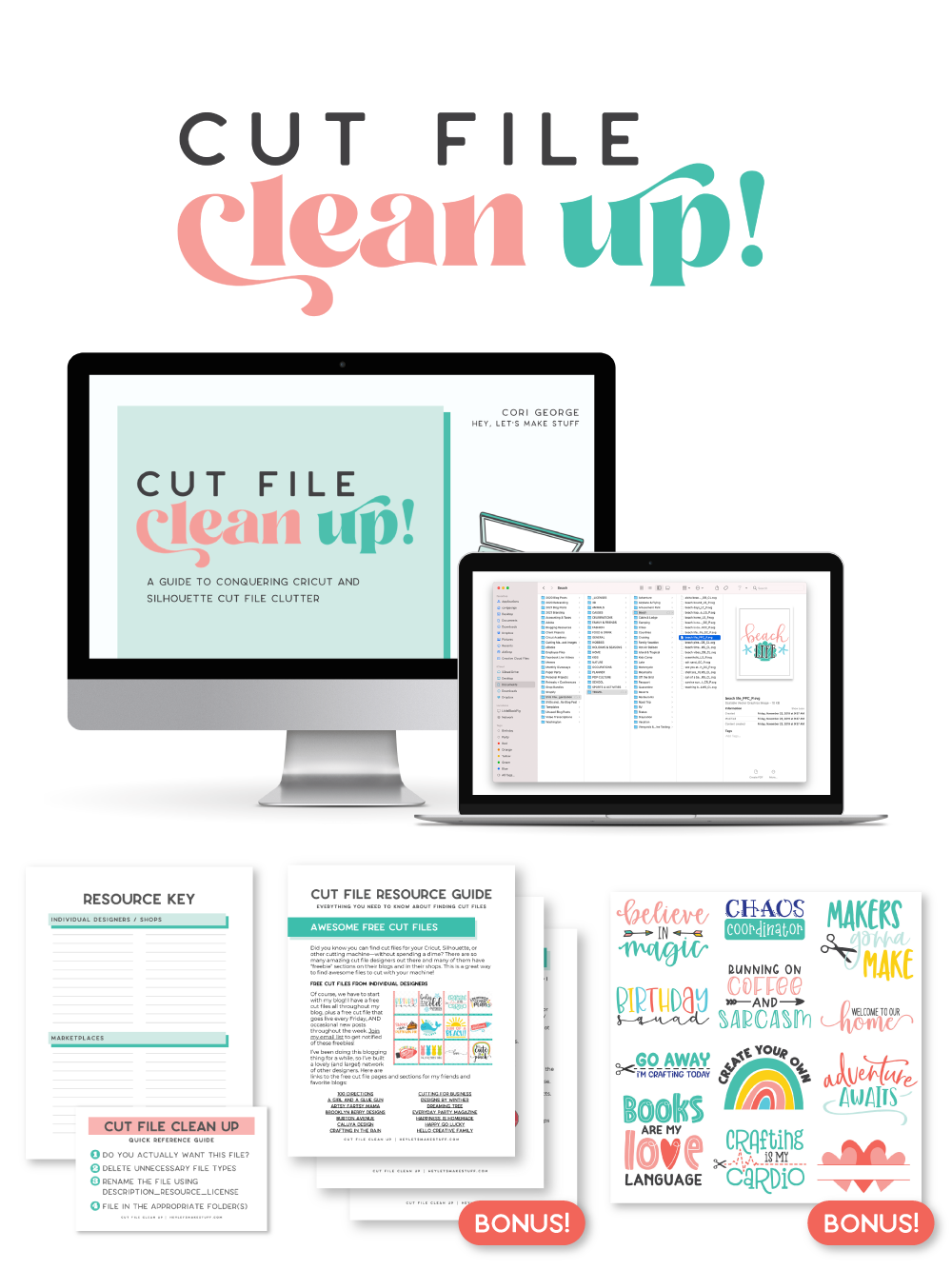 The best part is that you can get it for a deal right now with great bonuses. And yes those bonuses include even more digital cut files for your crafting. You can't get enough of those right? Grab it now.
More Crafting Inspiration For Kids Items
Want more ideas in addition to how to make a felt story board? Try the links below!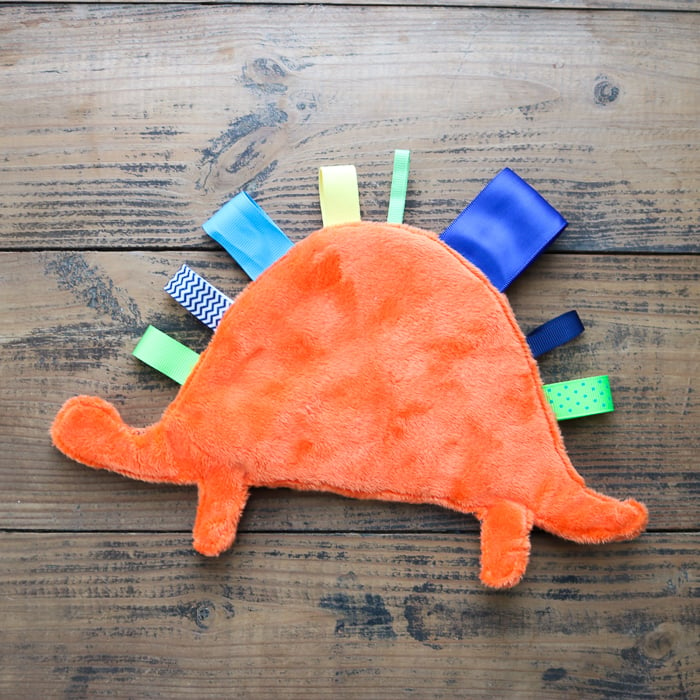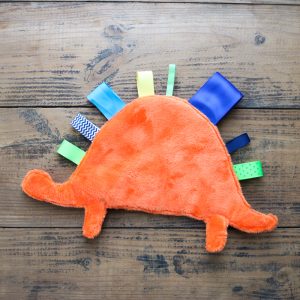 Dinosaur-Shaped Tag Blanket
Use your Cricut machine to make this cute blanket with ribbon tags that any baby will love!
Read More
How to Make Felt Play Food for Kids
Make this fun felt play food using your Cricut maker! This easy craft tutorial has all the steps, as well as the design files to use in Cricut Design Space.
Read More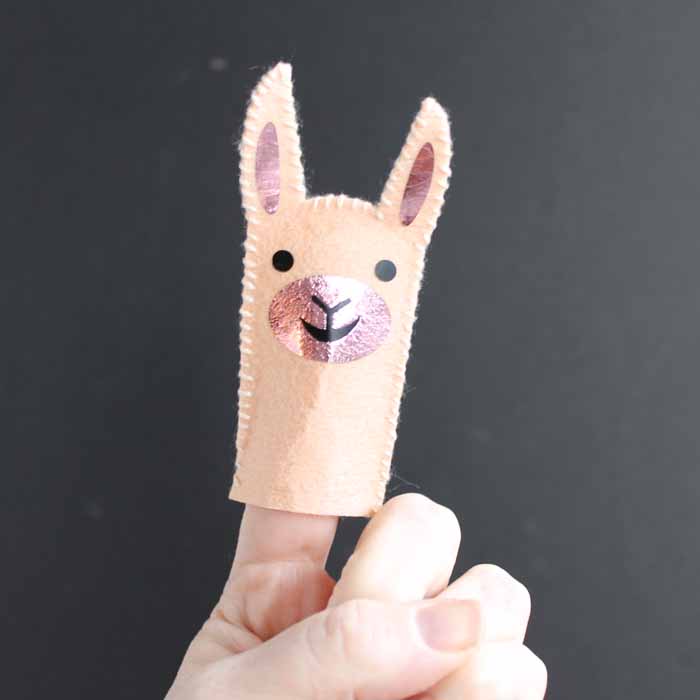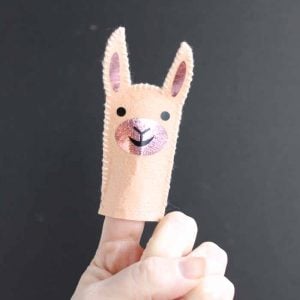 Smiling Llama Felt Finger Puppet
A quick and easy craft that you can make in under 15 minutes with your Cricut machine. Kids love it!
Read More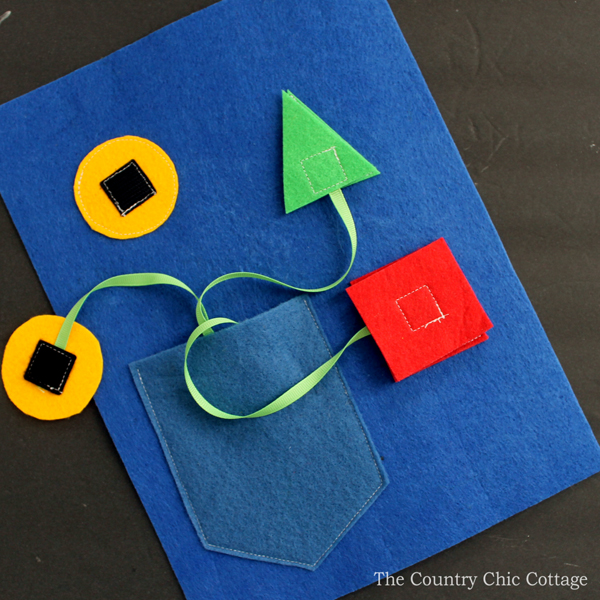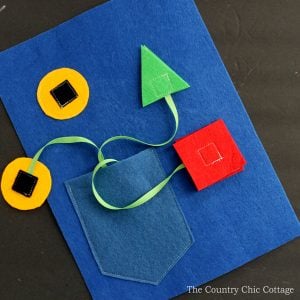 How To Make A Felt Shapes Busy Book Page
To keep your kiddos busy this summer, consider making this 15-minute busy book page using felt shapes! It's a great way to review shapes and colors while keeping little hands busy. It's super fun!
Read More
Make Your Own Unicorn FREE Printable Activity
Make Your Own Unicorn FREE Printable is the perfect activity for kids that are home all day for Spring or Summer Break!
Read More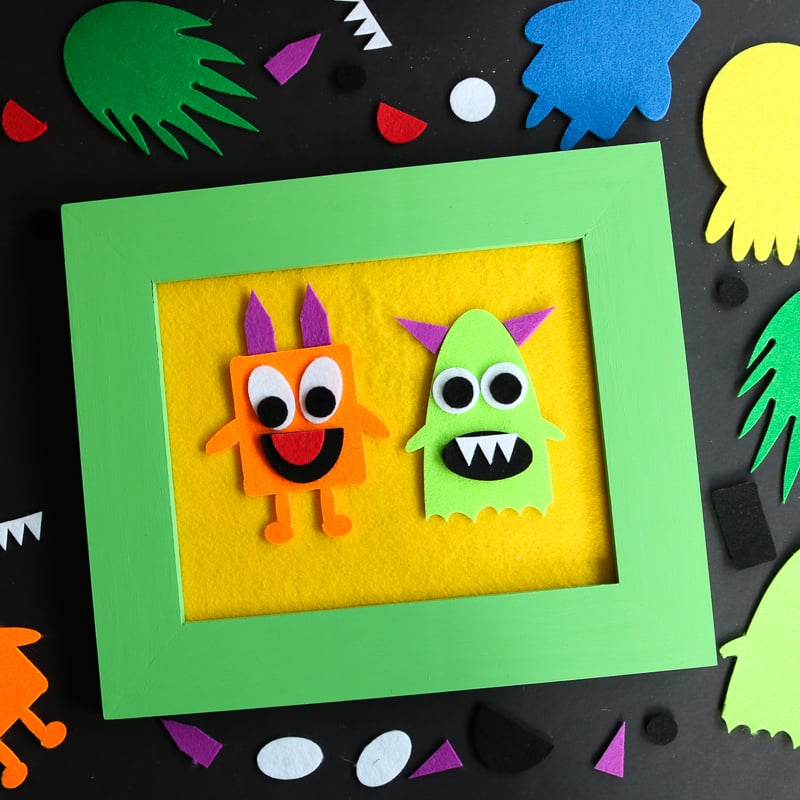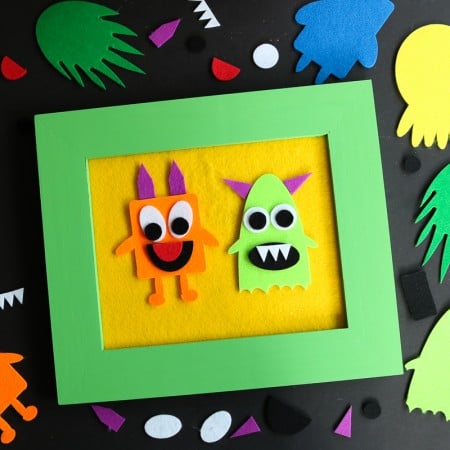 Felt Story Board With Monster SVG
Create an interactive activity for kids where they can create imaginative stories and have fun!
Supplies
Unfinished Wood Frame

Assorted Felt Sheets

Large Felt Sheet

the size of your frame

Cricut machine

Spray Adhesive

Monster SVG file
Instructions
Remove the glass from the picture frame and discard it.

Paint the wood frame with the craft paint. If you need to use more than one coat, make sure the paint dries completely between coats.

Take the insert from inside the frame and adhere a piece of felt cut to fit with spray adhesive.

After everything dries, place the insert back into the frame to finish the DIY felt story board.
Create Felt Board Pieces
Download the SVG file that arrives by email.

Upload that file into your cutting machine's software.

Cut your monster pieces from felt sheets in the colors of your choice. Use the instructions for your machine to get the best results.
Tried this project?
tag us to show off your work!