It is Craft Lightning week and this time we are having a week of Dr. Seuss crafts. If you are new around here, Craft Lightning is where I partner with 30 Minute Crafts for a week of quick and easy crafts that take 15 minutes or less. Each morning I will post a fun original craft tutorial and each afternoon I will post a round up with features from our series partners. If you want a chance to be featured this week, be sure to link up to our Craft Lightning linky party. If you have missed any of the fun this week, be sure to visit the round ups from day 1, day 2, day 3, and day 4. Or you can find them all and more on our Dr. Seuss Pinterest board. My first project this week is this great Dr. Seuss quote sign.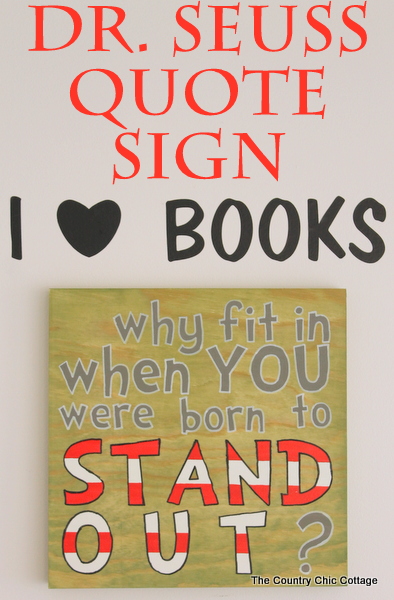 Start with a 12 x 12 wood sign and some RIT dye in the color of your choice. RIT dye? Yep we are going to use it to stain the wood. Just pour 1/2 a cup of dye and 1 cup of hot water into a bowl. Paint that mixture on your sign using a foam brush. Be sure to wear gloves and protect your surfaces well when working with dye. Wipe off any excess dye after about 2 minutes and you have a perfectly stained board in the color of your choice. Allow the board to dry completely before continuing.
My stencil is a custom stencil from Right Side Stuff. They actually sent me this stencil free of charge but I was not paid or perked in any other way. I will say that the results with this stencil were great and I would highly recommend them. If you want to make this sign, just drop them an email and tell them you want this stencil and she will make it for you! You will also need Americana multi surface paint in lipstick, cottonball, and steel grey. Plus painter's tape and paint pens in black and white.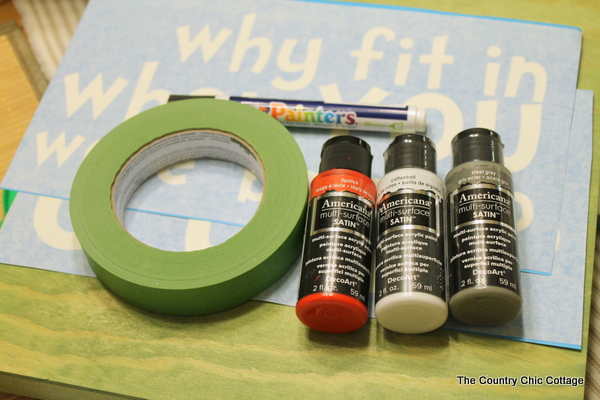 Directions come with your stencil but basically you remove the backing paper and apply to your surface using a squeegee or shopper's card. Then remove the transfer paper and you can then paint your letters. My letters took 2 – 3 coats each and I left the stencil on until the letters were adequately painted. These stencils leave amazing clear lines with little to no bleed through. I was very impressed with the quality of the paint job I was able to achieve with them. NOTE: the stencil comes in 2 halves so I did the top half and then the bottom half.
When painting the bottom half, I did the question mark in grey and masked it off for the other portions. I then painted the "stand out" in white with three coats and allowed to dry. Then place the painter's tape over the words as shown below and paint that area in red. Once complete, remove tape and stencil. NOTE: I found these to be one time use only stencils as I was not able to get them off in one piece.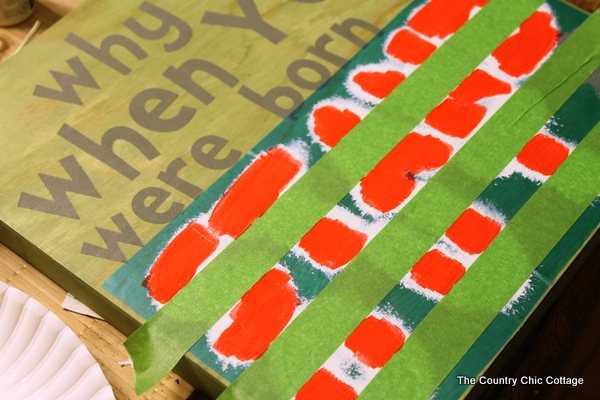 After your project is painted and completely dry, you can then go around the outside of the letters with a paint pen. This really made the entire sign pop. I used a black and white paint pen as shown below.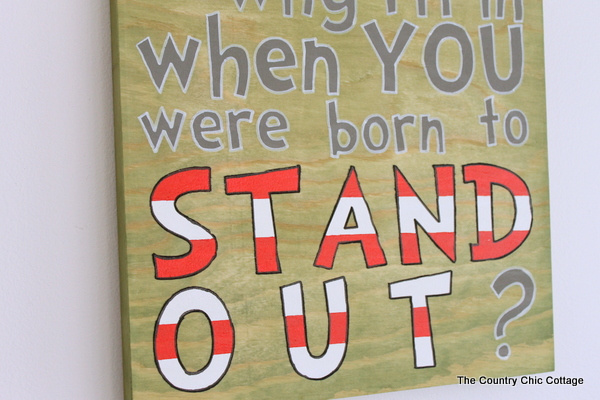 Once everything has been allowed to dry, use a matte spray sealer over the entire project for protection. Then you are ready to hang in the room of your choice. This would make a wonderful addition to any kids room.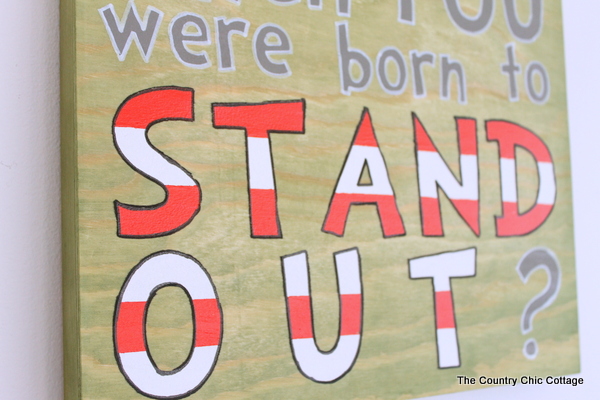 I added the sign to my I Love Books Bathroom and it is just perfect in here. Are you going to celebrate the birthday of Dr. Seuss? Be sure to stay tuned all week as we give you tons of craft projects to complete with your kids to get ready for Read Across America day.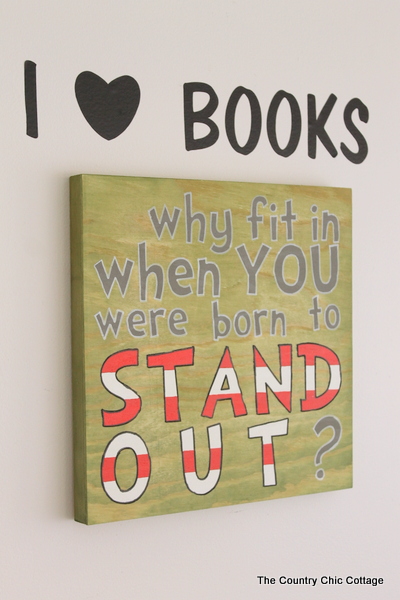 A few of my friends had some Dr. Seuss crafts that did not fit into our "15 Minute Craft" week. So I gathered them up here so you can visit those as well!
For even more Seuss crafts, be sure to check out our Dr. Seuss crafts Pinterest board. I hope you also enjoyed my Dr. Seuss quote sign and will make one for your home. Stay tuned all week for lots of quick and easy Dr. Seuss crafts.
Product for this tutorial was given to me for the purpose of using it on this blog. However all opinions and projects are my own.