If you're looking for a fun and creative way to get the kids outside on a beautiful day, try painting the yard with chalk spray paint! It's a great way to get some fresh air, and the kids will think they're getting to do something super special.
There are just days when the kids are going stir crazy and I'm not feeling super creative. Even though I'm a crafting blogger, I have my less-than-creative days, too. 😉
But, today I have an idea that's perfect for everyone, whether you're feeling creative or crafty…or not!
And it's an idea I'm sure you'll come back to again and again because it's so easy and so much fun for the kids.
Have you seen chalk spray paint yet? It is chalk (like sidewalk chalk) but in a spray paint container.
Y'all, it is brilliant for outdoor fun this summer with the kids! Read on to find out how to use it to create some fun projects in your backyard.
Note: For more outdoor fun, check out my Checkers and Tic Tac Toe Board, Summer Activities for Kids, and Outdoor Games for Kids Using Household Items!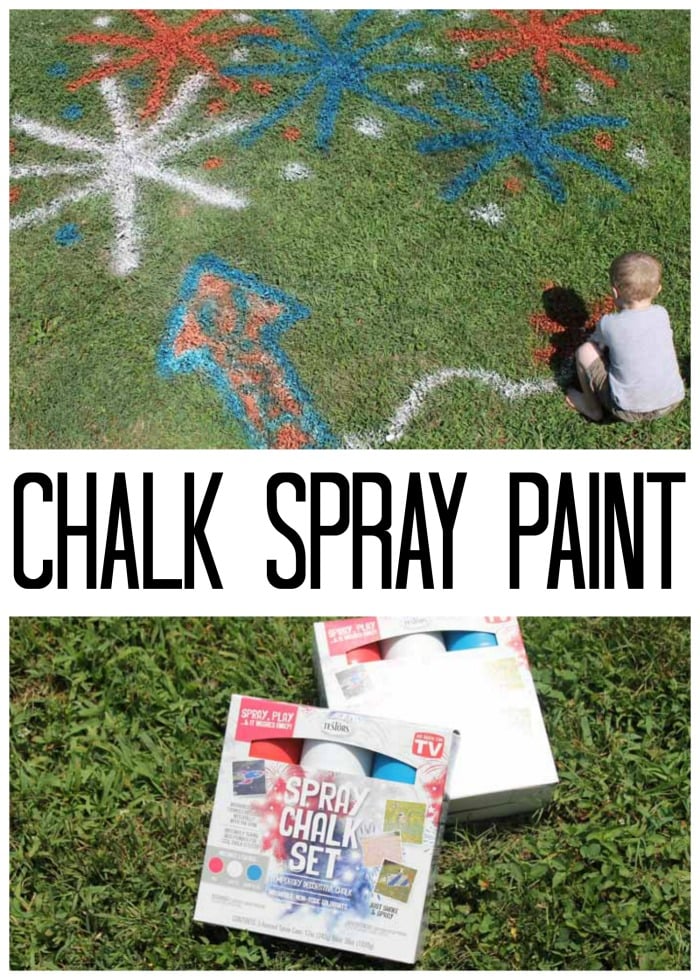 Supplies Needed
You only need two things: your lawn, and some Testors Spray Chalk
You can find it in a wide variety of color packs, but I used two of the mega-size patriotic packs for my project.
Safety Note: My kids are good about keeping the paint on the grass and not spraying it up in the air. If you feel your kids might try spraying this chalk spray paint in the air (or at each other), I would invest in some eye protection. Eye goggles will prevent anything from getting in the eyes. 🙂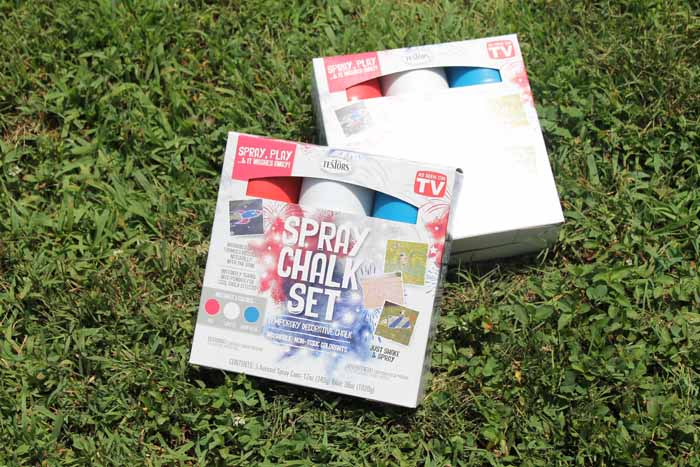 Fun Video Tutorial
I thought a quick video would be a fun way to share how much fun we had with this product. The kids had such a good time and STILL talk about it!
How To Use Chalk Spray Paint
Ok, so, how does this project work?
Well, it's so easy that you can literally turn the kids loose to have the time of their lives painting up the yard!
First, rest assured that this is only chalk. You can spray it on your lawn or driveway and then it will wash away with the rain. It doesn't get any easier than that, right?
All we did was pick out a big area of grass and go crazy!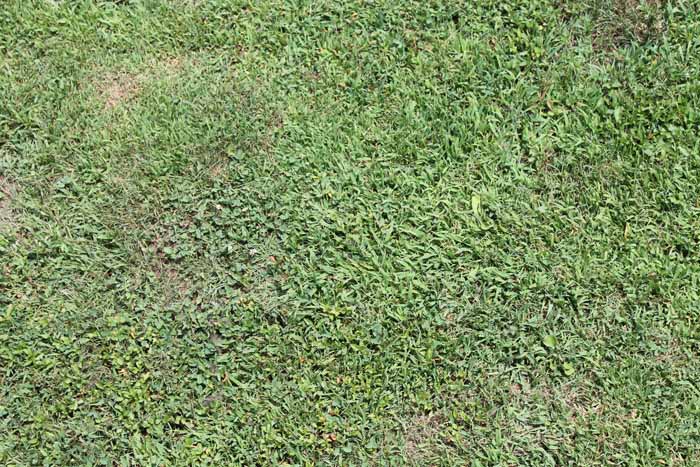 Fun Design Ideas To Use On Your Lawn
We did this project around the 4th of July, so we stuck to some fun patriotic fireworks and a rocket!
Your kids can make whatever they want to make with this product. They can draw pictures on your lawn or even come up with fun games.
There are a zillion different ways to use this chalk spray paint, and here are some more ideas to inspire you:
Make a race car track on the driveway and race cars with each other
Play tic-tac-toe or hopscotch
Write messages on the driveway or on car windows congratulating your grad or just leaving a positive message for your neighbors
Pictionary!
Make a photo backdrop and take pics of your kids
Hangman
Turn your yard into a sports field
Play Twister in the grass
Put your art skills to the test and make graffiti-style art
The product itself is so easy to use, and I love that it's completely open-ended so that the kids are free to use their imagination!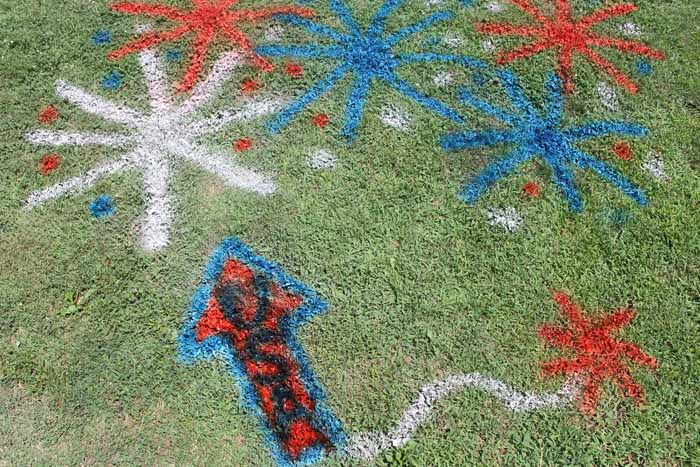 How To Clean Spray Chalk Paint
It couldn't be easier to clean up after art fun with chalk paint. Let nature wash it away with a rainstorm, or grab the garden hose and wash it away yourself. Easy peasy!
This is definitely one of those things that will keep the kids busy all summer long because you can wash the results away with the hose each night and start all over the next morning. I love it!
I took a few pictures of the fun because who doesn't love a good photo op?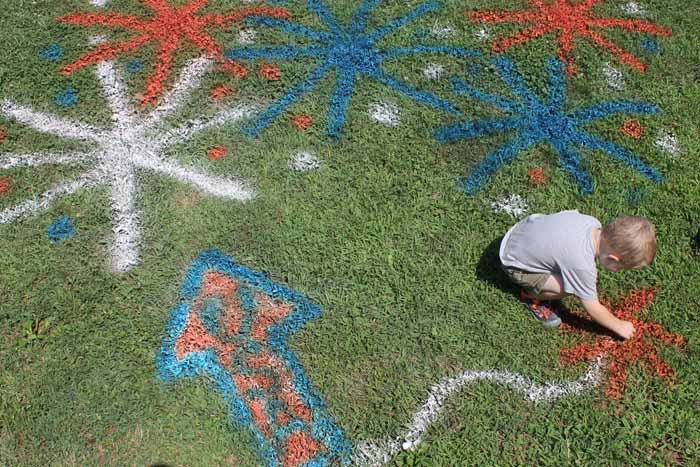 FAQs
Here are a few questions I've seen readers as about this project. If you have a question but don't see it down below, please leave it in the comments so I can answer it for you.
What surfaces can you this chalk spray paint on?
Yes! You can safely spray it on:
grass
asphalt
concrete
snow
sand
pavers
vinyl siding
glass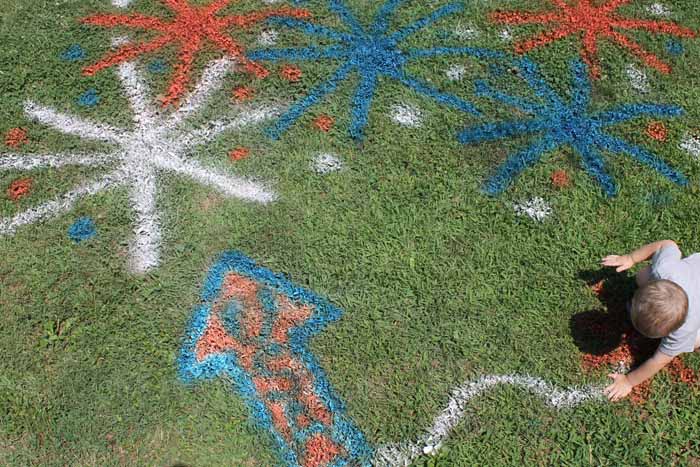 How long will chalk spray paint stay on surfaces?
It washes right off in the rain or with a garden hose. So, if you paint the driveway and want to clean it off right away, you can without a problem.
Or, leave it on and the UV rays from the sun will make it fade to white in 7 days (if you don't get any rain before then).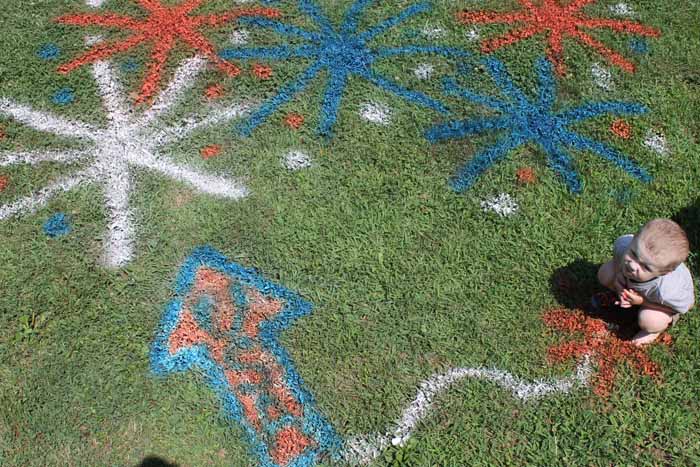 So will you try chalk spray paint with your kids this summer?
They will love creating right in the yard for big art projects that they can recreate day after day!
Want to see more ideas for spray chalk? I also have used it for a prom proposal and more here!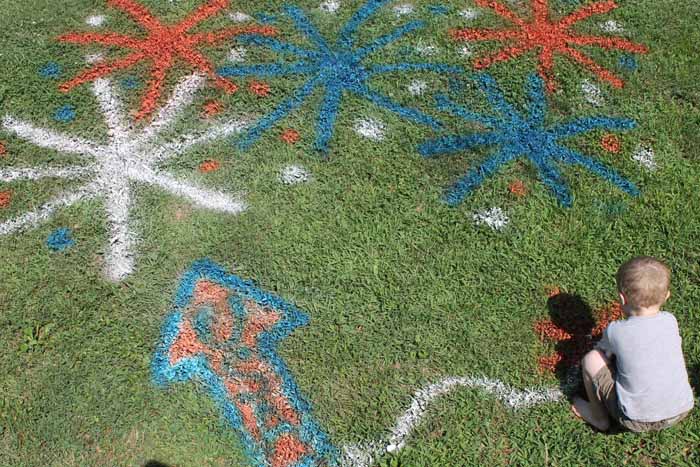 More Summer Fun And Inspiration
If you find the kids getting bored, try these ideas with them!