Want another free summer SVG? Well, we have one for you! Today I am making a popsicle banner and drew up the SVG to cut the pieces with my Cricut. You could, of course, use this popsicle SVG to make other projects as well. We are also partnering with Xyron for this post and, if you have never heard of their sticker makers, you are in for a treat! As always, all projects and opinions are my own.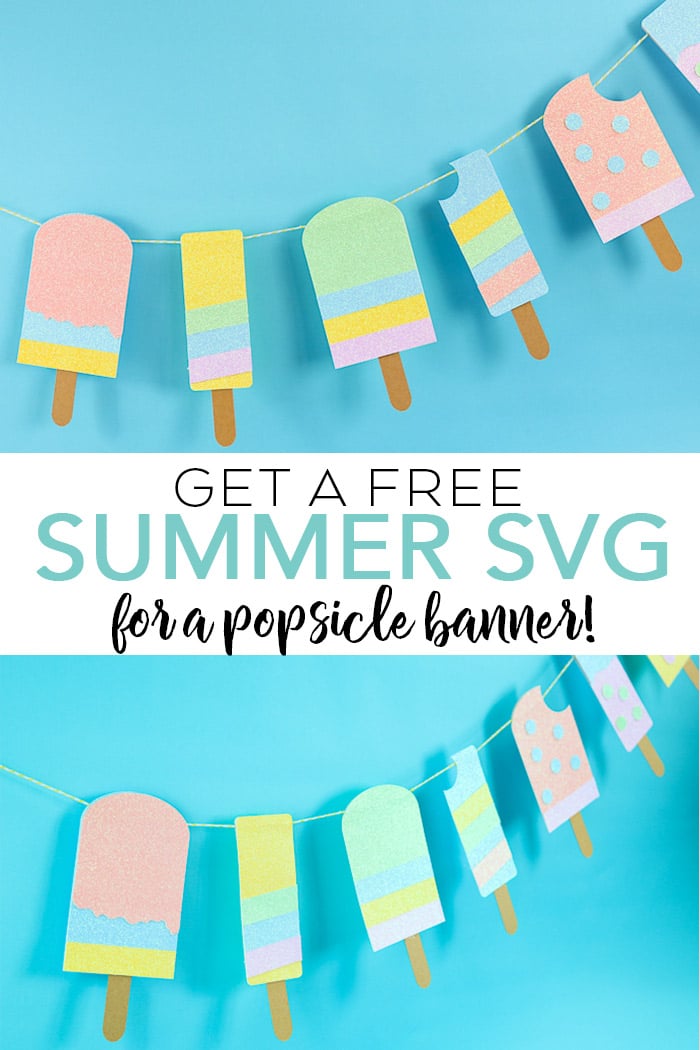 Free Summer SVG File:
First, you will need to download the free SVG file to use to cut your popsicle pieces. Just put your name and email in the form below and the file will be sent to you. Remember that our SVG files are for personal use only. You can also email thecountrychiccottage@yahoo.com if you have issues getting the file.
Supplies needed to make a popsicle banner: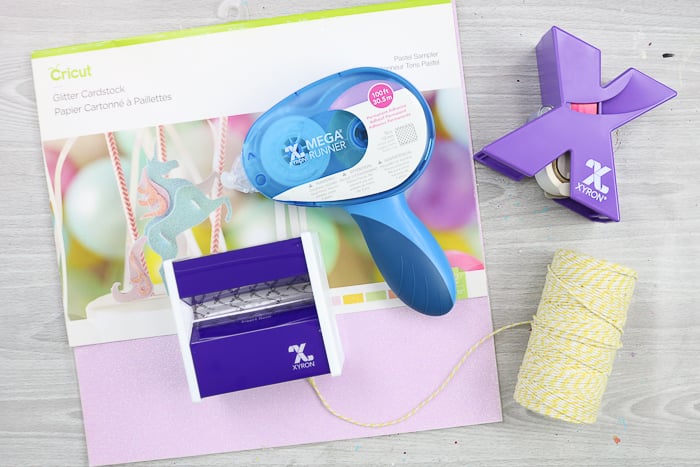 Cutting Your Pieces:
You will need to cut the popsicle pieces with your Cricut machine. You can see how to upload an SVG file to Cricut Design Space by clicking here. Then resize as needed and color your pieces however you would like. This file is meant to be a mix and match so you can use whatever pieces you would like for your summer banner. Be sure you have one popsicle stick and two large popsicle pieces for each one. Otherwise, the embellishments are completely up to you.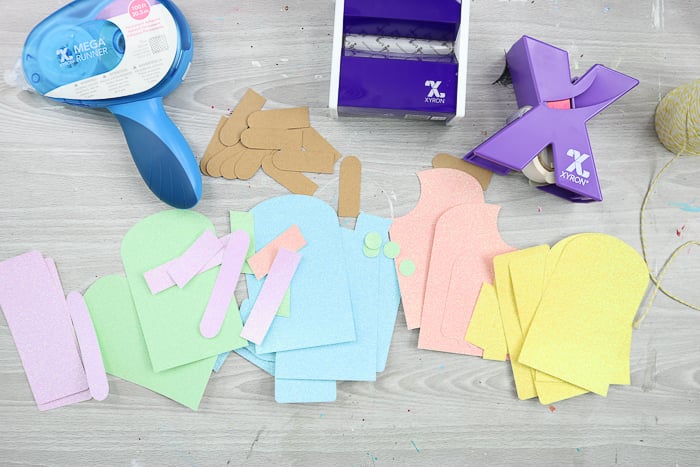 Summer Decor Banner Video:
Want to watch how to pull this summer SVG into a fun banner? Just play the video below!
Can't watch the video or missed some of the steps? Just keep reading!
Assembling the Summer Banner:
Now that you have your pieces, you can start the assembly of your summer SVG. Use the Xyron Mega Runner to assemble the popsicles and add them to your twine. First, use some adhesive at the top of the popsicle stick on both sides.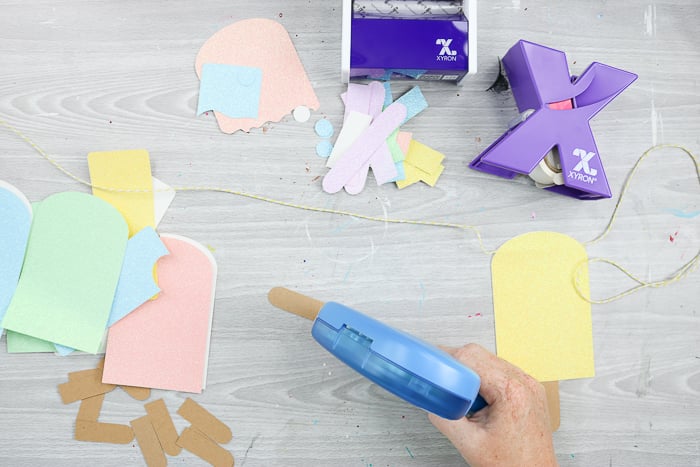 Then add the popsicle stick to the back of one of the popsicle pieces.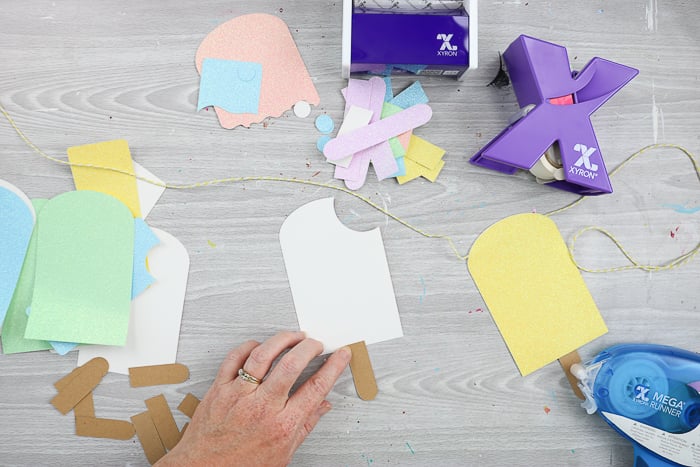 Add adhesive all the way around the popsicle piece with the Xyron Mega Runner.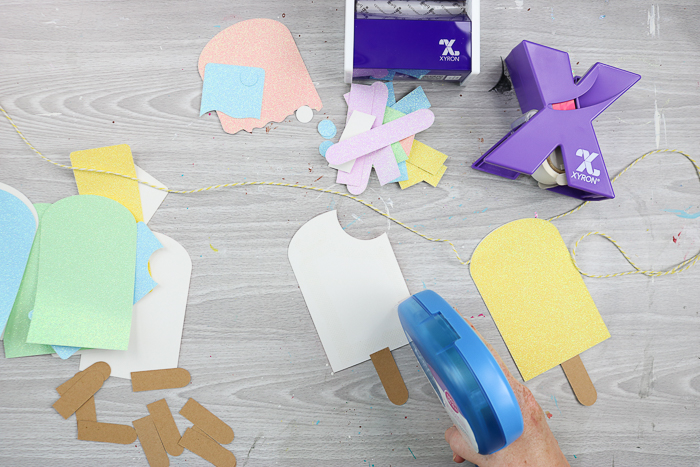 Lay the twine across the top of the piece making sure it is resting in the adhesive.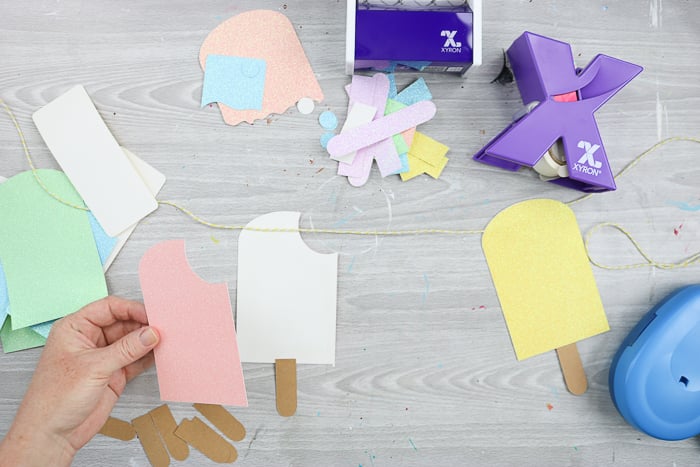 Layer on another popsicle piece. I like to add some adhesive to the top of this one as well so it will catch the twine. Press down well to secure.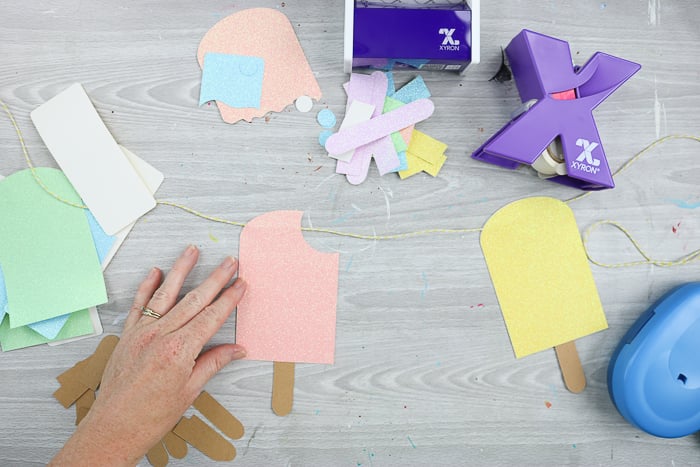 Continue adding as many popsicles as you would like.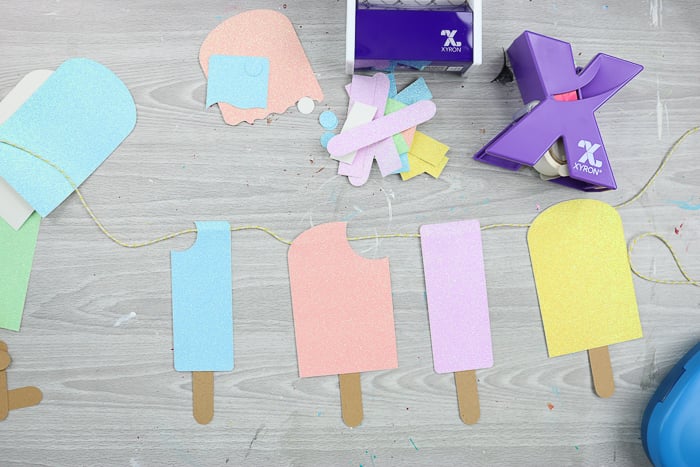 Adding Embellishments to Your Paper Popsicles:
Now, it is time to spruce up this fun summer banner! Start by laying out all of the embellishments you cut to determine what you will add where. Again, this summer SVG is meant to be mix and match so there is no right or wrong.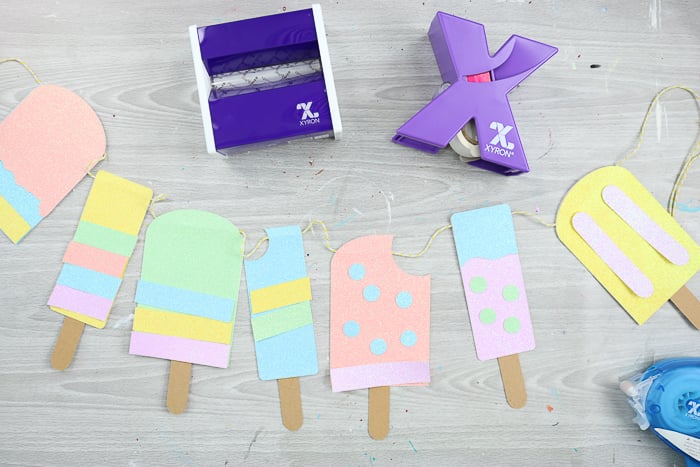 Then run the pieces through your Xyron 1.5″ Sticker Maker to add adhesive. If you have never used one of these, they are so simple! Just push your pieces through the top.
And pull the paper coming out of the bottom.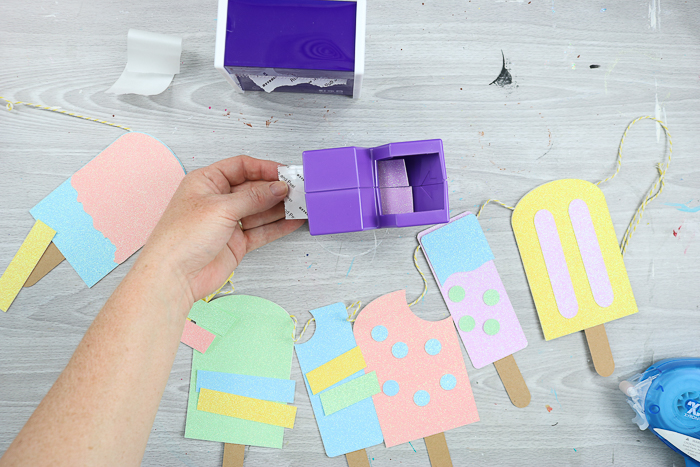 Your pieces will feed through. You can use the serrated piece on the sticker maker to cut once they are completely through.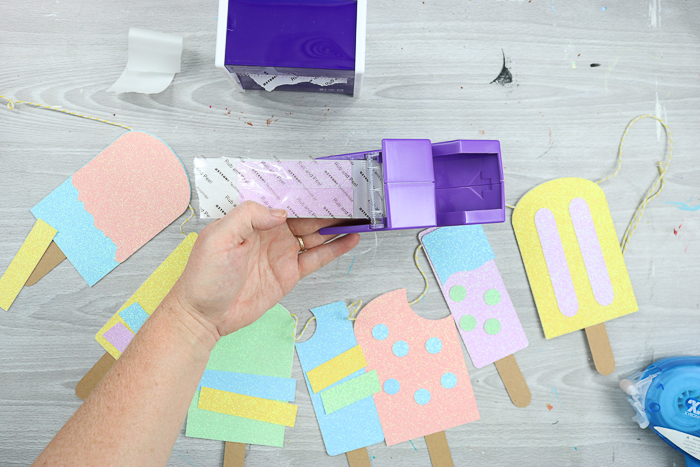 Then just rub the pieces down really well.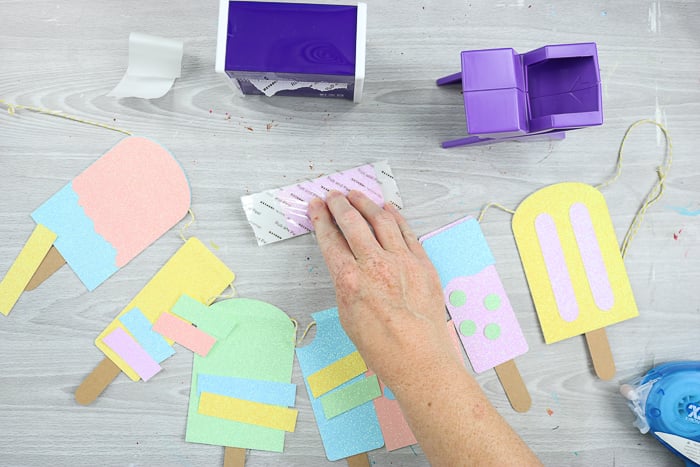 Remove that top protective sheet and discard.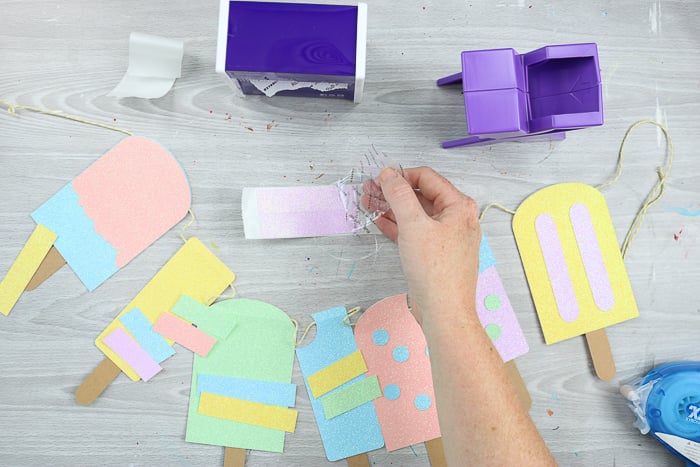 Now your pieces are like stickers and they are covered in adhesive.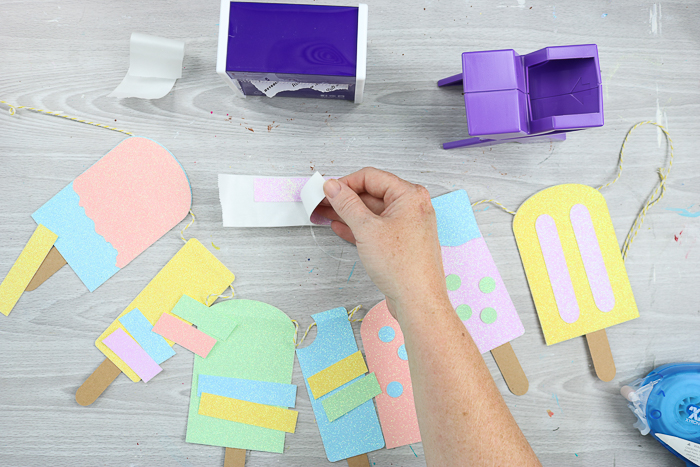 Just peel and then stick to add them to your popsicle banner.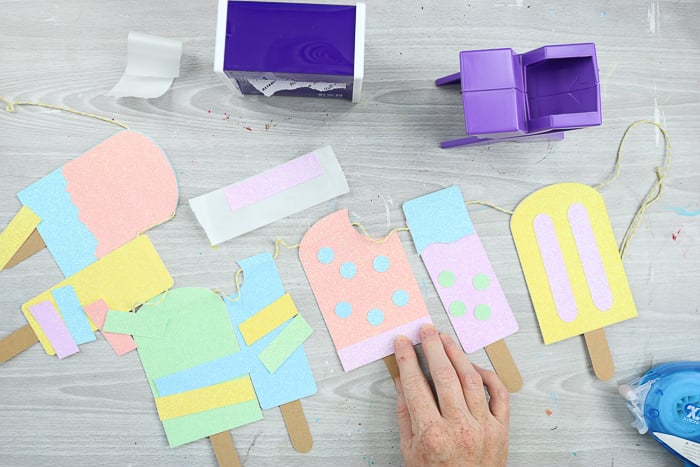 The same instructions go for the larger Xyron 3″ Disposable Sticker Maker as well. Some of my larger pieces needed the larger size.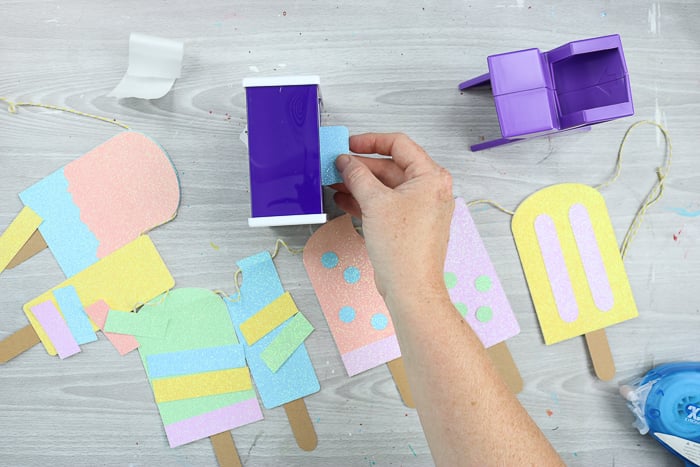 With this one, you push into the back and pull out of the front.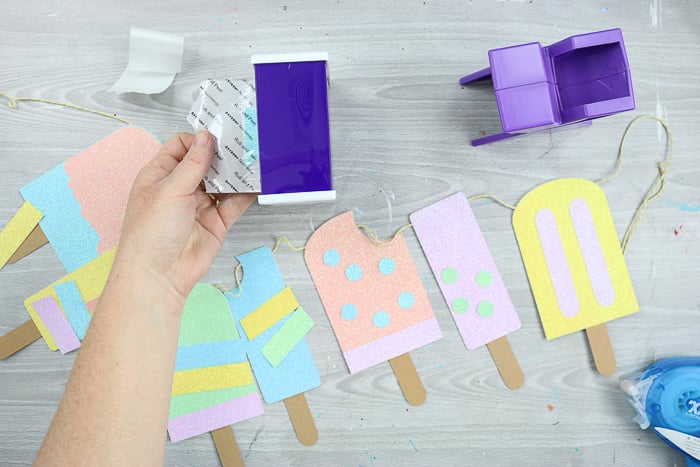 Again, it has a serrated edge for cutting.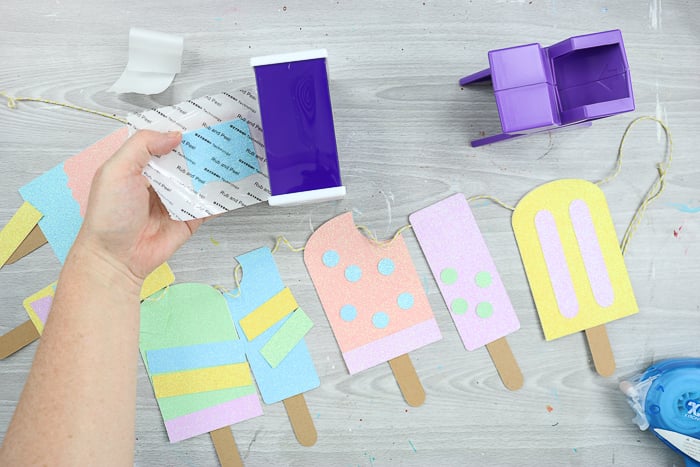 Rub to ensure your adhesive is stuck well.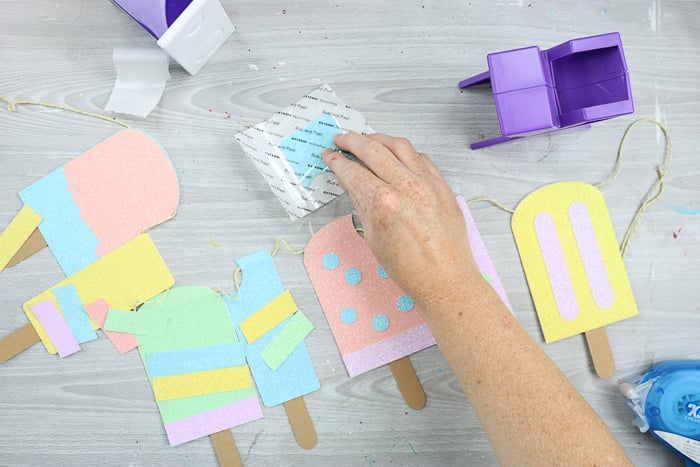 Peel back the liner and then your pieces are ready! These really are great little machines for doing paper crafts like this one.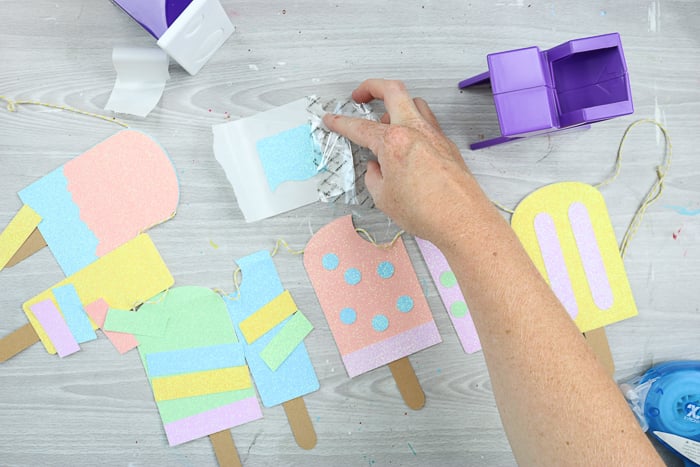 Being able to peel and stick your embellishments like stickers is priceless.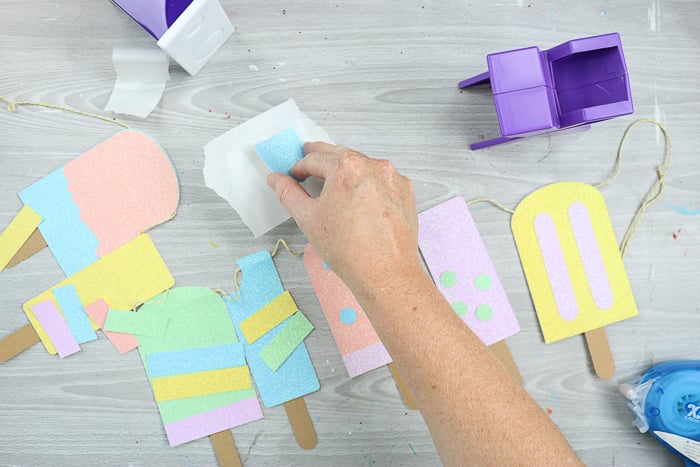 You never have to worry about these pieces falling off!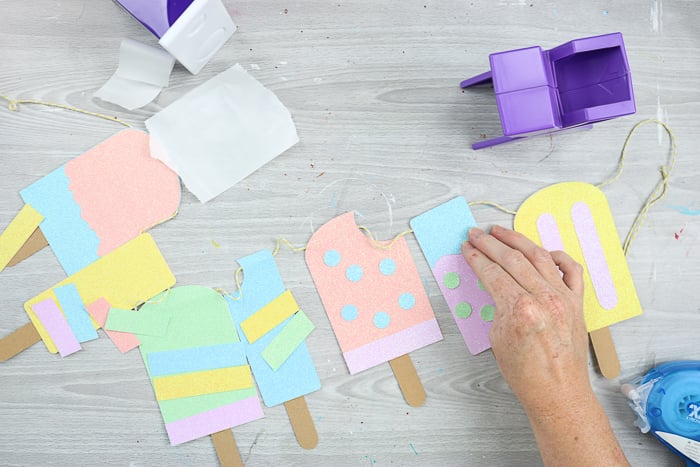 You can even stack the pieces when running them through to minimize waste.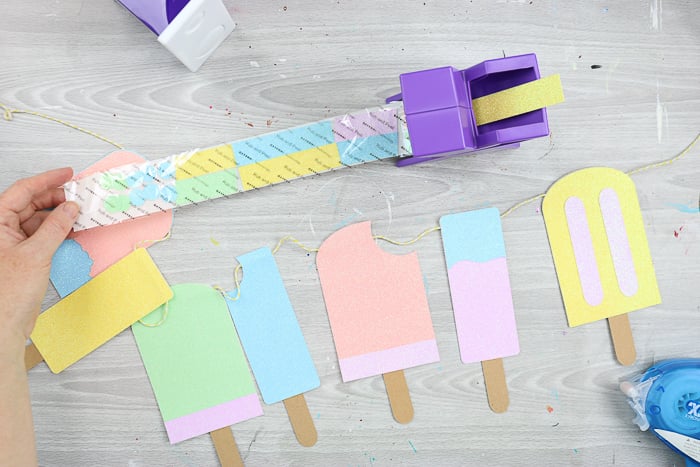 Continue running pieces through your Xyron Sticker Maker and adding them to your popsicles until you are happy with the results.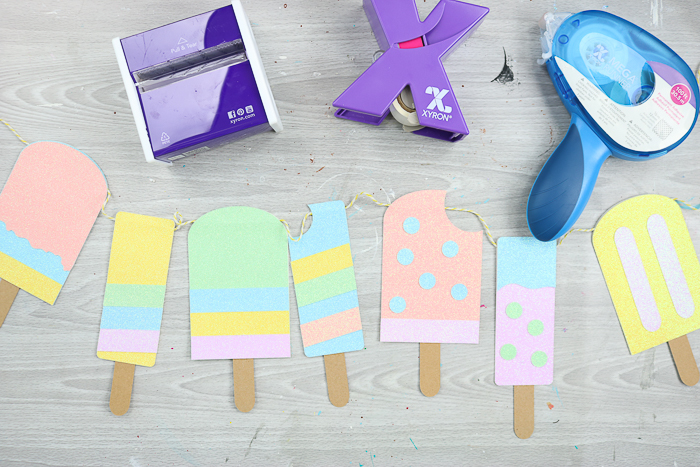 Then just hang your banner anywhere in your home to celebrate summer.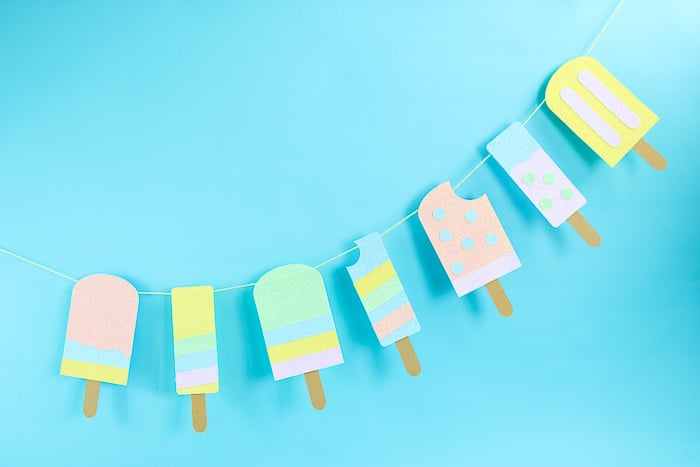 This is also a fun one for a summer ice cream party!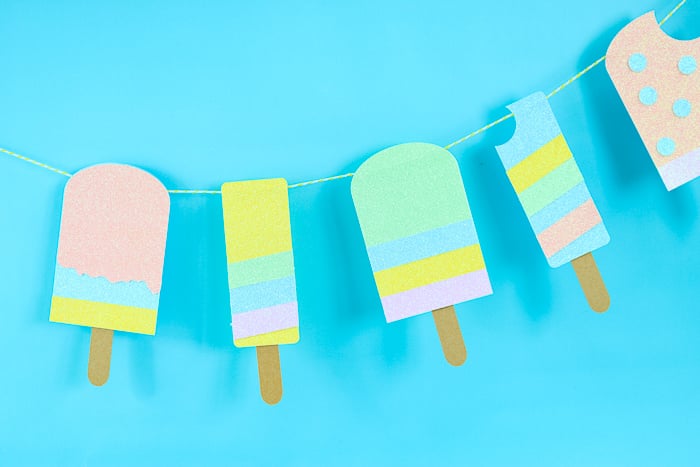 So, grab your paper and your Xyron to turn this summer SVG into something extra special.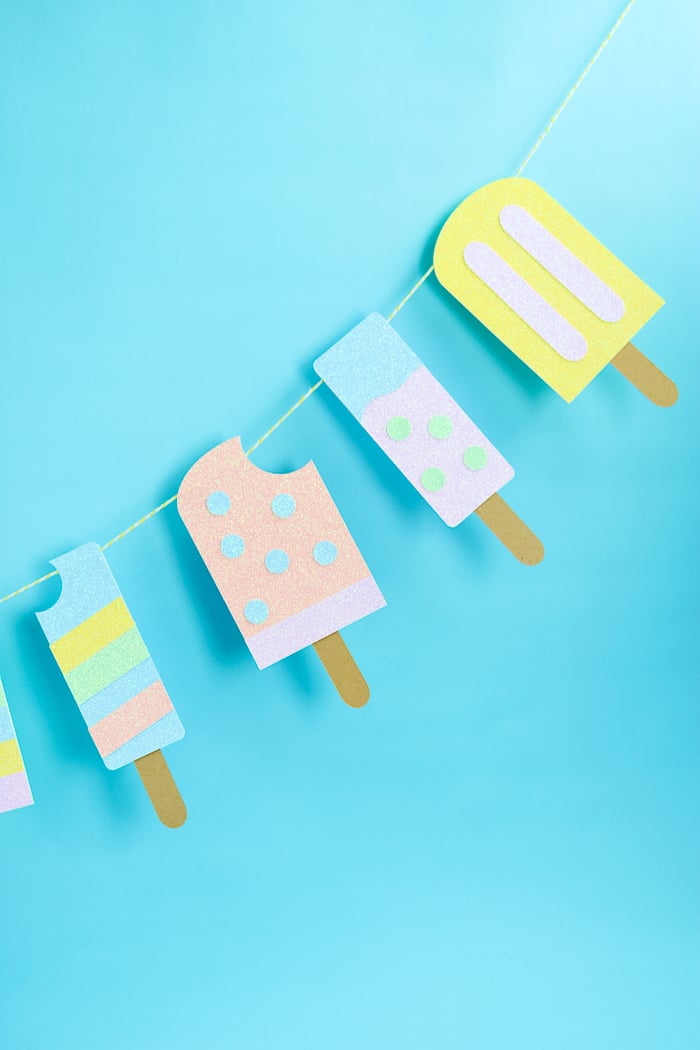 After all, everyone loves popsicles!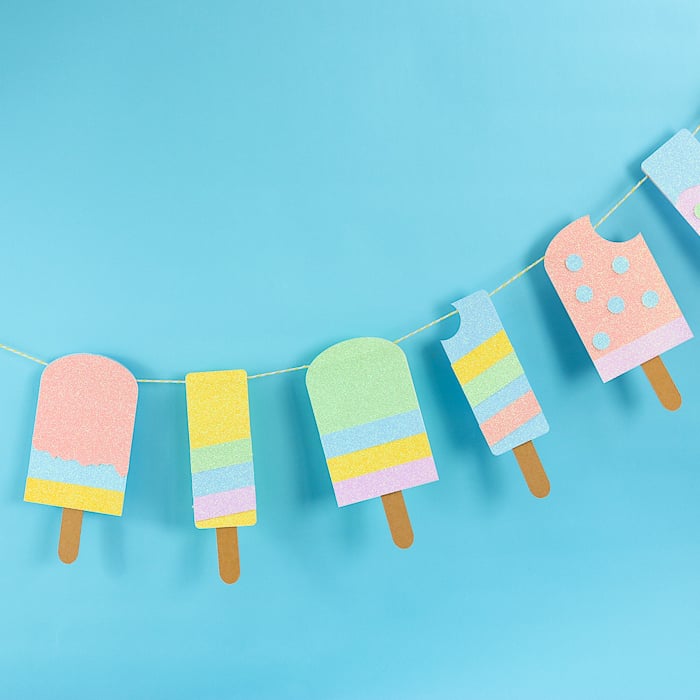 You will also find tons of uses for both the Xyron Sticker Maker and Mega Runner so be sure to keep them on hand at all times.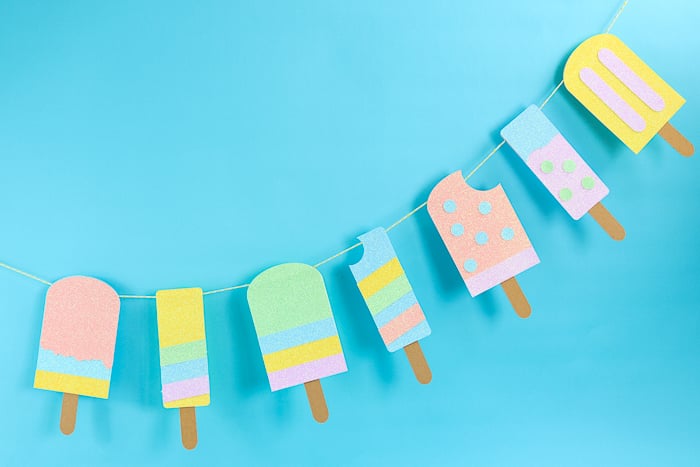 I hope y'all enjoy this summer SVG file and will also make your own summer banner to celebrate the season!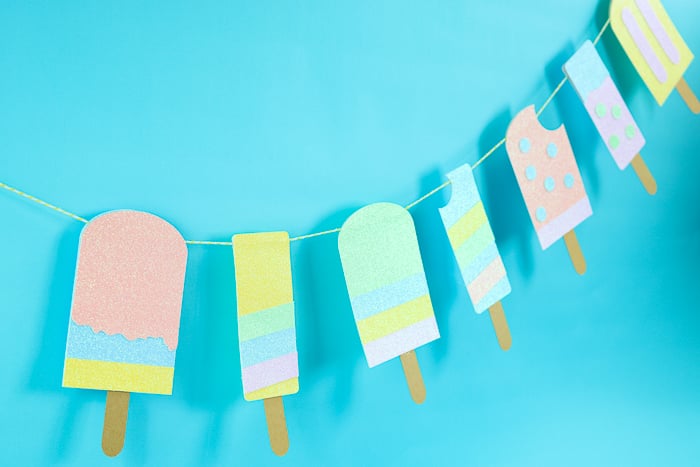 Need Help Organizing Your SVG Files?
Are you overwhelmed with the number of files on your computer? SVG (or digital cut) files can take up a ton of space, and it can be so hard to find exactly what you are looking for. That is where Cut File Clean Up comes in! The Cut File Clean-Up system ends the frustration of organizing your cut files so that you can find what you need and get to the best part of crafting—actually making your project.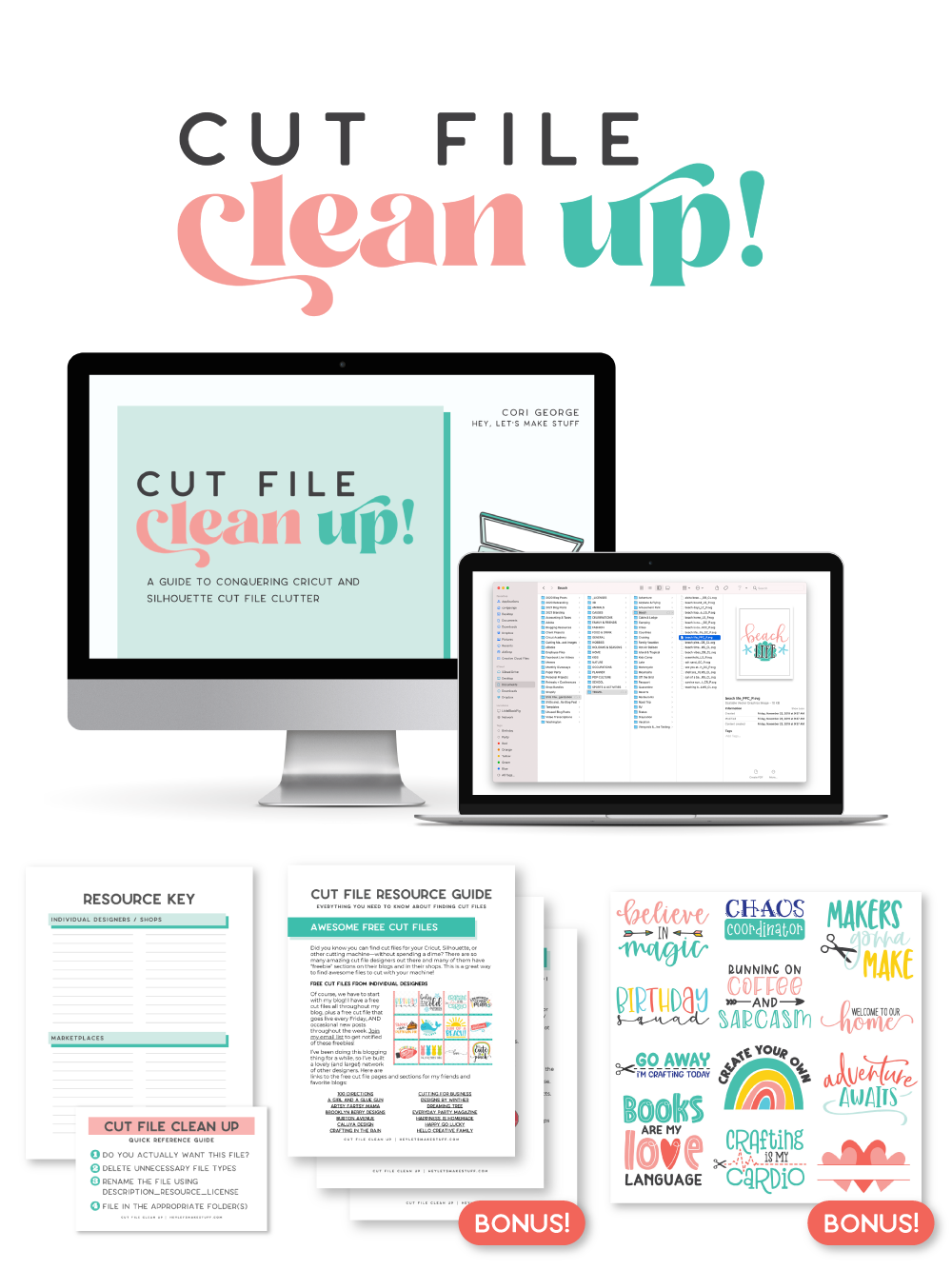 The best part is that you can get it for a deal right now with great bonuses. And yes those bonuses include even more digital cut files for your crafting. You can't get enough of those right? Grab it now.