This fall leaf wreath is quick and easy to make and perfect for your home decor. I love a project that only takes 5 minutes and this is one of those. Grab your supplies and get started today! I have a secret as to why this wreath only takes 5 minutes to make and you are going to love it. Plus this is made with artificial leaves so it can be used year after year so be sure to add this to your fall decor.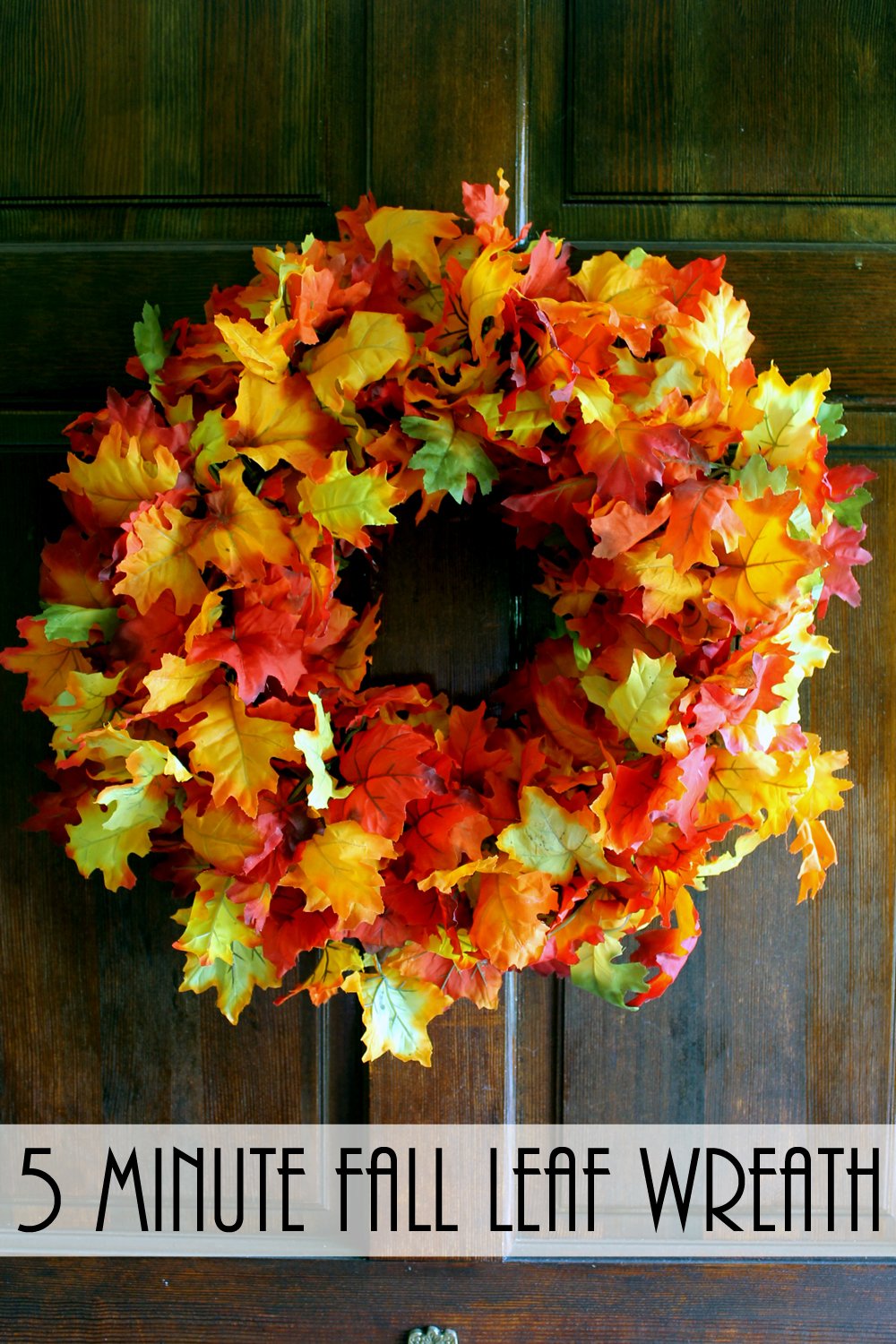 Want to know the secret to making this fall wreath in just 5 minutes? I know you are curious! Just grab the supplies below and you will be well on your way to whipping this one up in minutes.
Supplies needed:
Fall leaf garlands (several of these for a nice and full wreath)
Wire wreath form (you can make this as large or as small as you would like)
That is it! That is all you need to make this wreath. You don't even need any glue to secure everything into place. It really is that easy!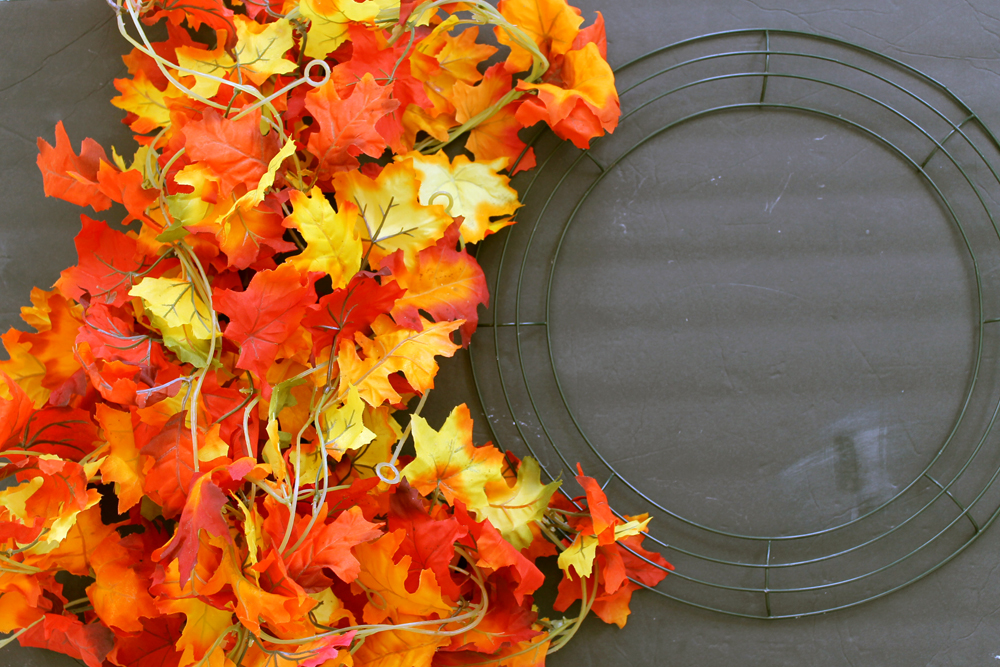 How to Make a Fall Leaf Wreath:
Now that you have your simple supplies, it is time to whip up this wreath in no time at all. You may even want to pick up the supplies to make more than one of these because your neighbors will be so jealous once you hang this on your front door.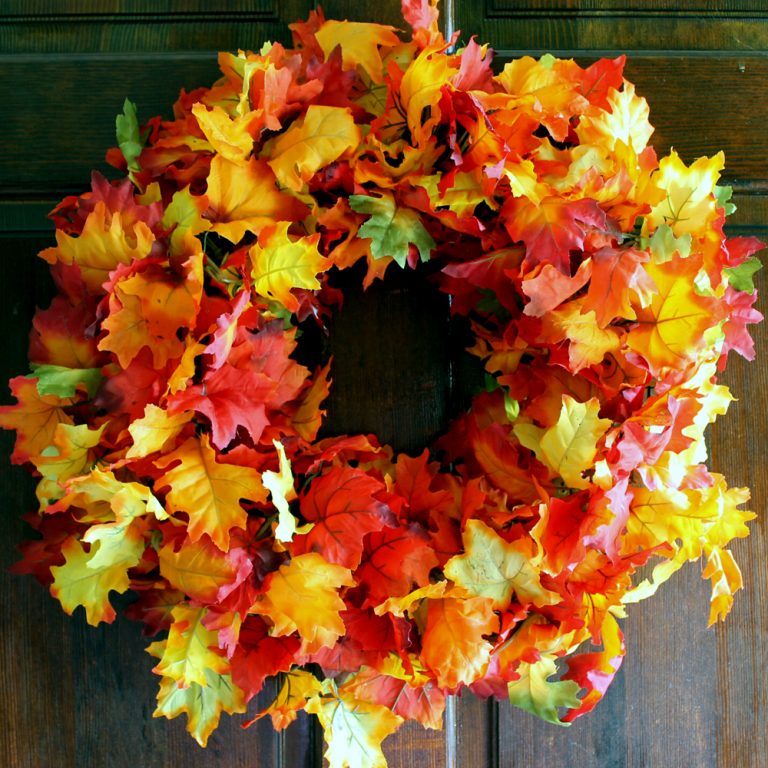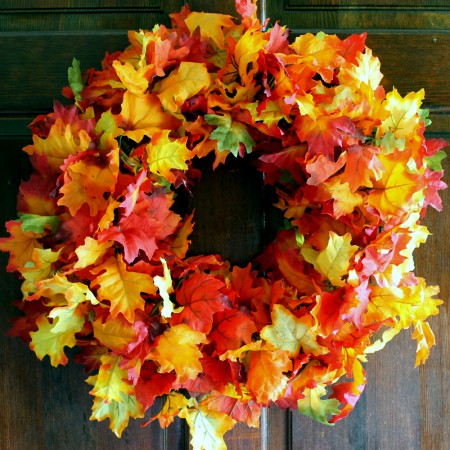 Make a Fall Leaves Wreath
Turn fall leaf garlands into something incredible in 5 minutes or less with this easy autumn DIY project.
Supplies
Fall leaf garlands

several of these for a nice and full wreath

Wire wreath form

you can make this as large or as small as you would like
Instructions
I used eight garlands on my wreath to get it nice and full. I wrapped two garlands at a time onto the wreath form to save time. Just tie the ends around the form as shown below. This way you do not need any glue and can even reuse the garlands and wreath form for another project at a later date.

Keep wrapping the wreath form with the leaf garlands. Keep everything nice and full so that your wreath form does not show. Push all of your leaves to the front of the wreath as you wrap as well. This will ensure that all leaves will be visible when you hang this fall leaf wreath on your front door.

I kept wrapping until I was happy with the wreath. Tweak individual leaves when you are done to perfect the wreath then just hang it on your front door or anywhere outdoors.
Tried this project?
tag us to show off your work!
Now that you know how easy it is to make a fall leaf wreath, what are you waiting for? I know that you need one of these this year and basically every year from now on. Because it is simply stunning and will look amazing on any front door.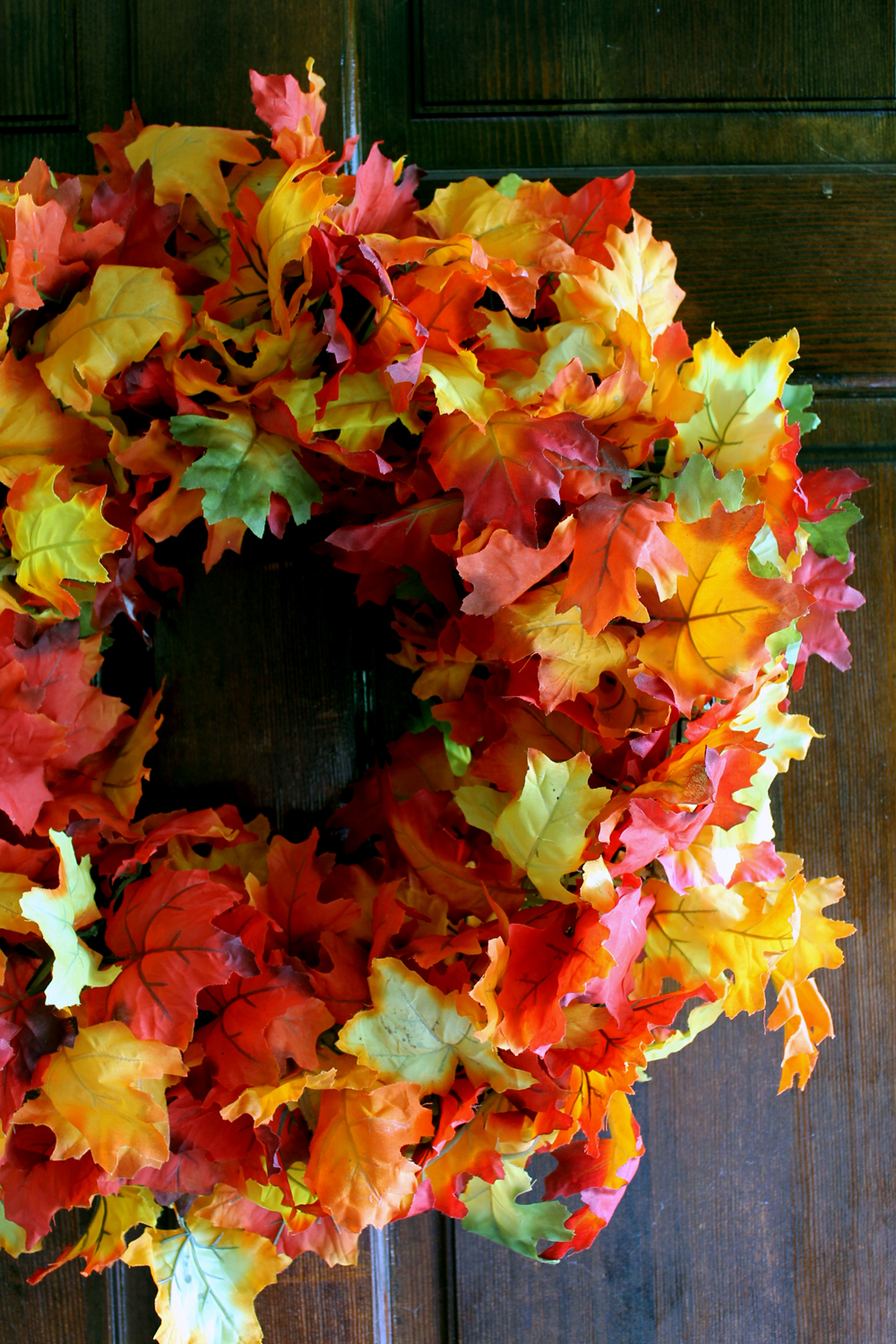 Be sure to pick up plenty of the leaf garlands as it takes a bunch to make the wreath nice and full. I think the fullness is what makes this one so breathtaking. It will be a stunning addition to your home this season. So, make a fall leaf wreath this weekend. You will be so glad that you did!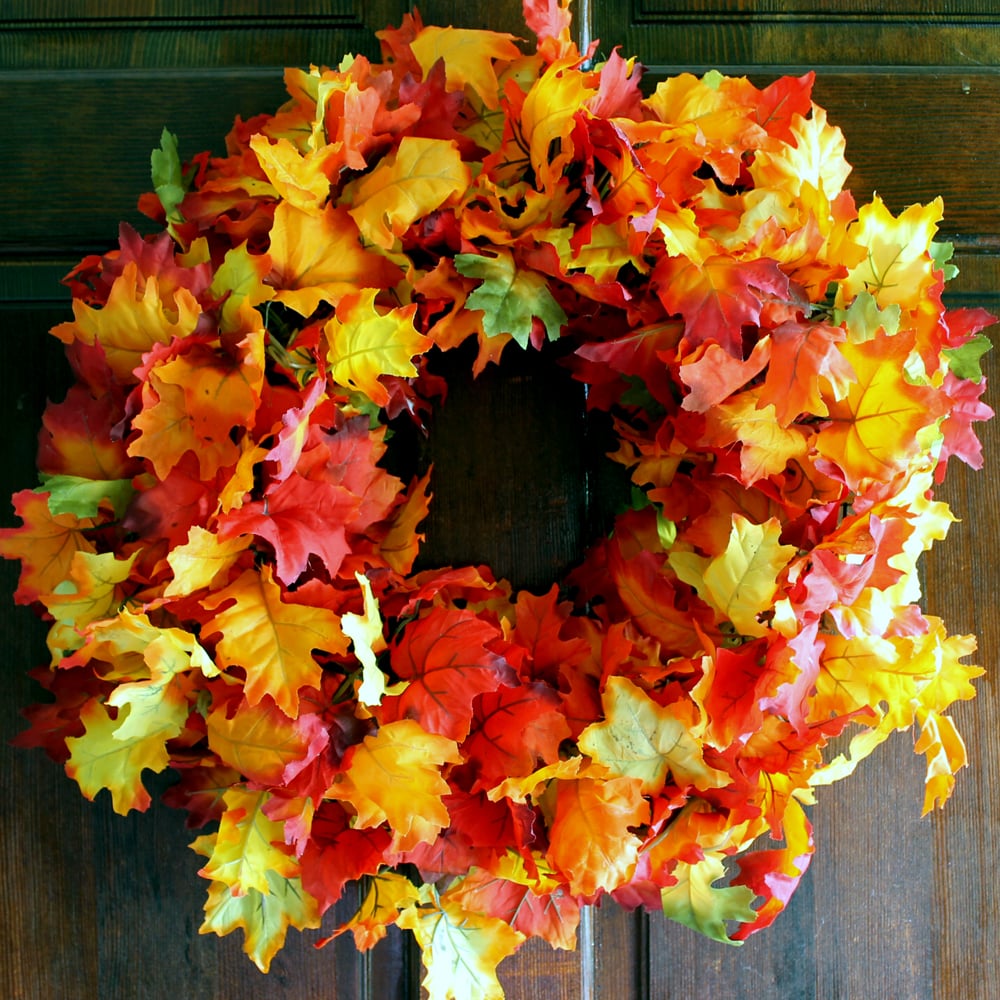 Want more ideas for fall wreaths? I have those for you as well! Click here to see how to make the burlap sunflower wreath below. I love burlap and sunflowers for fall and this gorgeous wreath mixes both.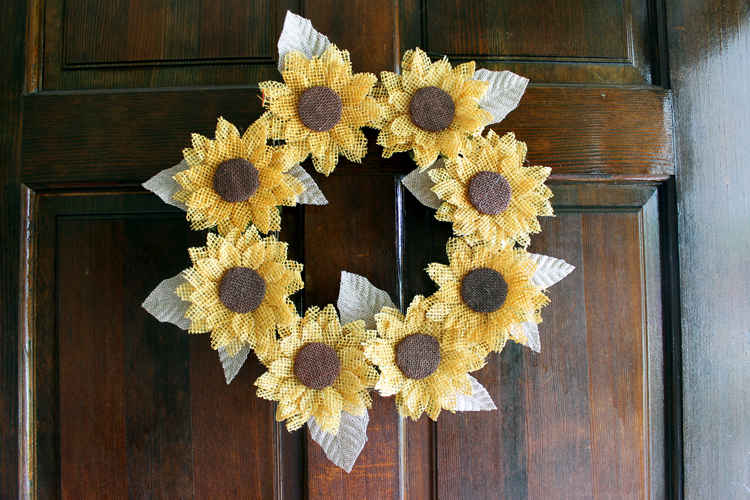 Want a wreath that you can leave hanging for a few seasons? Try this knock off antler wreath. It is perfect for fall through winter. Add a bow in a seasonal color if you would like. You can actually make your own antlers from clay so this is one affordable option as well.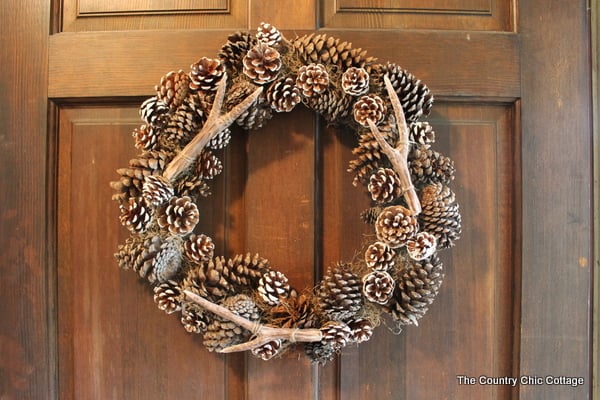 Don't love all the pine cones on that version? I have another antler wreath that you may like better. This one has a link to purchase antlers if you are not wild about making your own.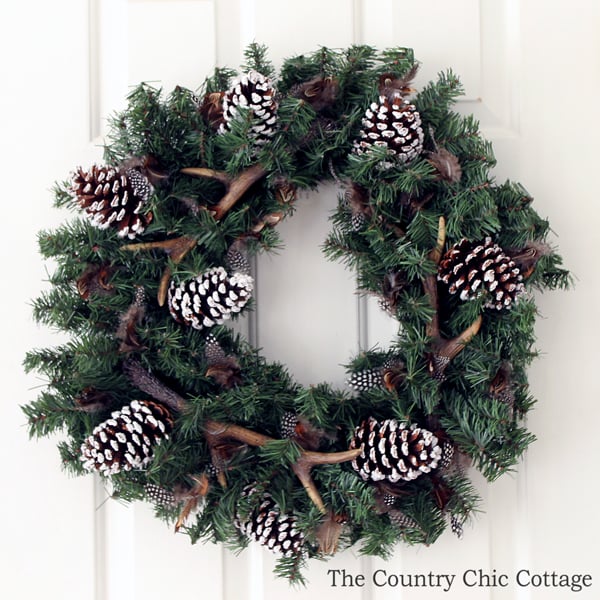 Hopefully, you can find a wreath that will be perfect for your home from these options or check out this list of 50 fall wreaths. Make a fall wreath and hang it on your front door! You will love the seasonal touch that the wreath brings to your home as guests arrive.