Flocked HTV can add something really special to your craft projects. This heat transfer vinyl gives a suede-like feel to your designs that stands off of the shirt. Some might even call it "fuzzy". The other benefit of flocked heat transfer vinyl is that you can use sublimation ink on it! This means that you can actually do a sublimation design on a cotton shirt. Read on to see how to use flocked heat transfer vinyl with your Cricut and more about that sublimation trick.
Want the hello winter SVG shown in this post? Scroll down to the bottom to get it for free!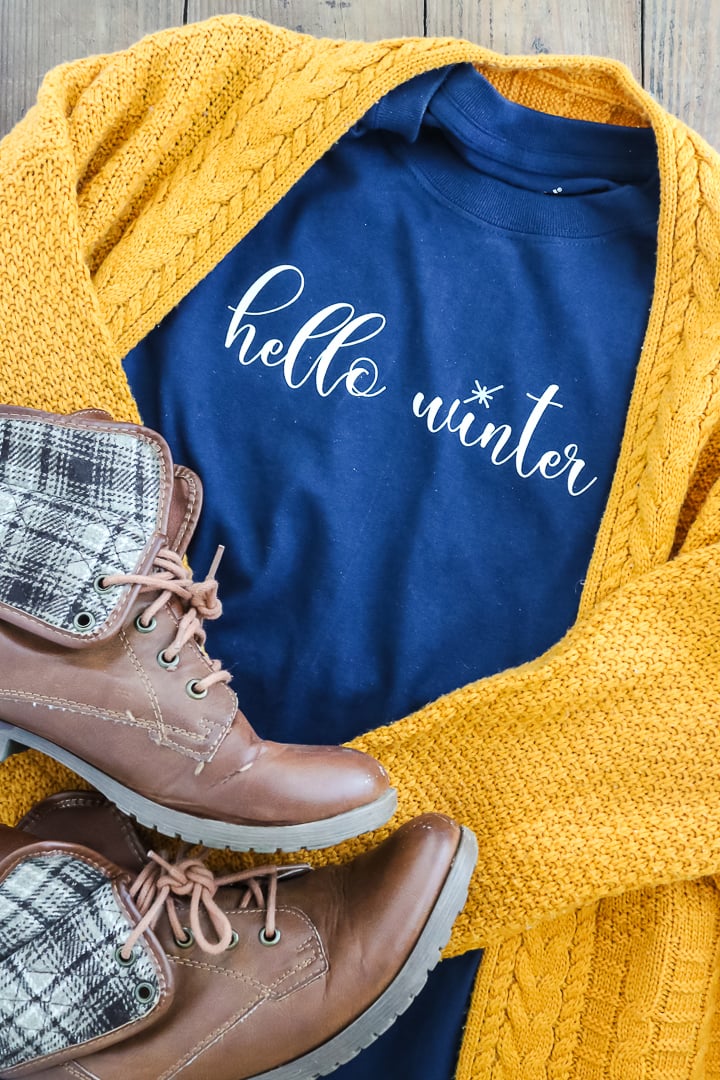 Flocked HTV and a Cricut Machine
Want to learn everything you ever wanted to know about flocked heat transfer vinyl and your Cricut machine? You can watch the video below!
Can't watch the video or missed some of the steps? I am also covering everything below for you.
What is flocked HTV?
Flocked HTV is a "fuzzy" or "furry" heat transfer vinyl. It has almost a suede feeling to it once applied to your surface. You can use it just like regular HTV but it adds an extra dimension to any project you add it to.
Where do you buy flocked heat transfer vinyl?
I really love the flocked HTV from B-flex. You can buy it here from Direct Vinyl Supply.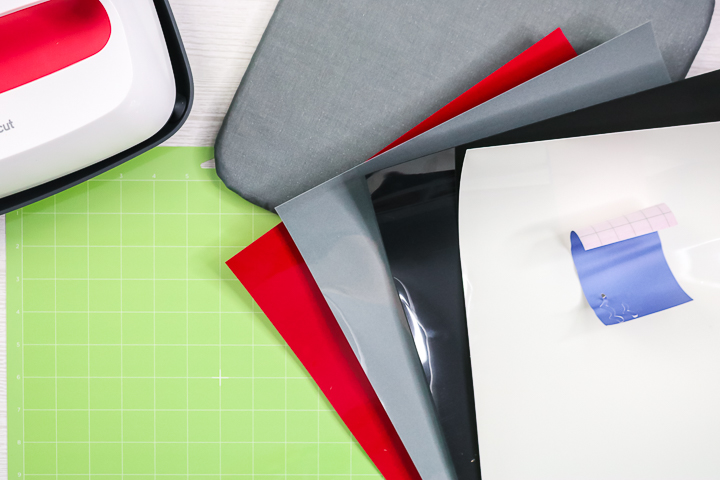 How do you cut flocked heat transfer vinyl on a Cricut?
The process is basically the same as cutting regular iron-on or heat transfer vinyl. However, you can follow the instructions below if you are struggling at all! Remember that you can cut flocked iron-on with any Cricut machine as it just uses the fine point blade.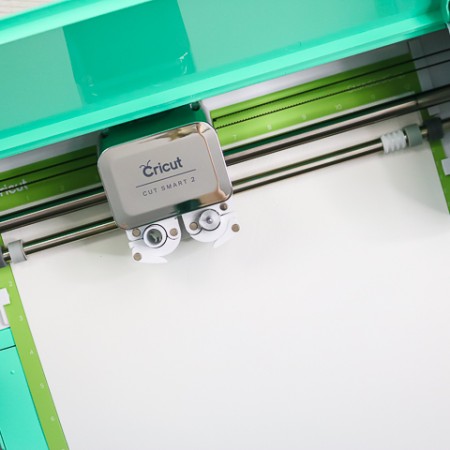 Cutting Flocked HTV with a Cricut
Learn how to cut flocked heat transfer vinyl with any Cricut machine for all of your projects.
Supplies
Cricut machine

Flocked HTV

Green or blue Cricut mat
Instructions
Apply the flocked HTV to your Cricut mat. A green or a blue mat will work here. Put the material shiny side down and press down well.

Then add your fine point blade to your Cricut machine and mirror the cut in Cricut Design Space. You will want to use the Iron-On setting with more pressure for the additional thickness of the flocked material.

Then just add your mat to your machine and press go to start your cut. Once the cut is complete, remove the mat from the machine. Continue on to weed and apply your HTV.
How do you apply flocked iron-on with an EasyPress?
Now that you have your flocked material cut, you can apply it to your surface. I am using a shirt as an example but this can also be used on tote bags, hats, blankets, and so much more. Use the video above for application instructions or keep reading to see how to apply.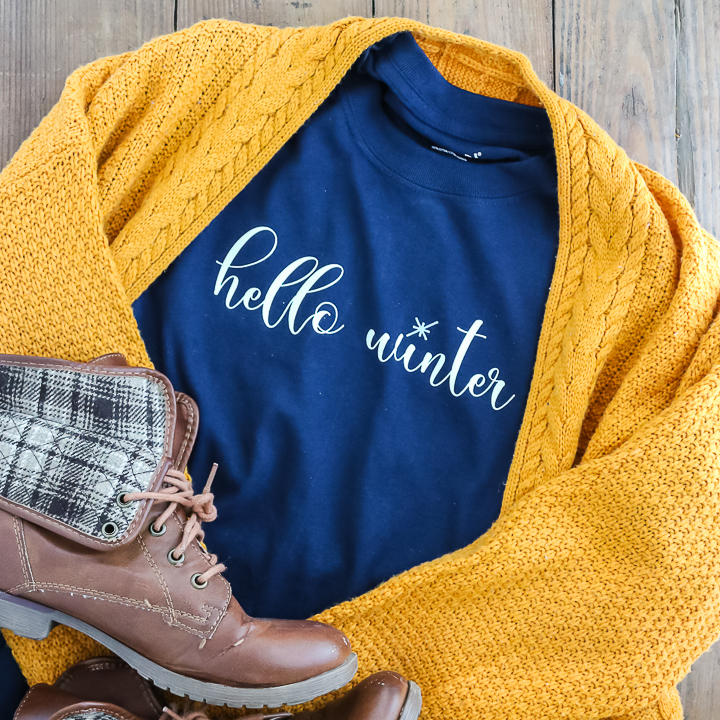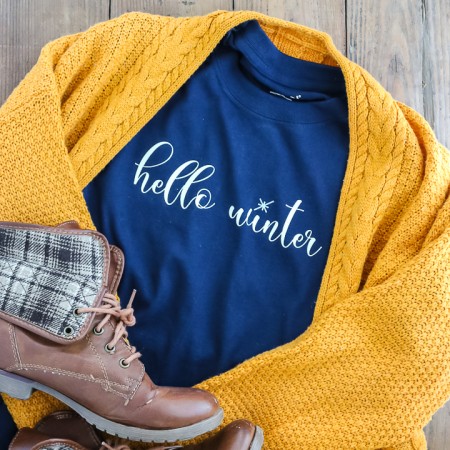 Applying Flocked Heat Transfer Vinyl
Now you can make this hello winter shirt for anyone in a few simple steps.
Supplies
Cut flocked HTV design

EasyPress (or iron or heat press)

EasyPress Mat (or folded towel)
Instructions
Start with the piece that you cut on your Cricut machine above. You will want to weed away all of the excess around the outside as well as the centers of any letters.

This material weeds the same as regular HTV. One thing to note is that some of the fuzz will stay on the sticky portion of the liner. So, the liner will not be as sticky once you have your design weeded.

Use your EasyPress to heat your shirt slightly to get rid of any moisture. Then add your design in location. Press on top of an EasyPress mat or folded towel.

Then press according to the time and temperature for the brand of flocked HTV you are using. Once you are done pressing, remove the liner. NOTE: The brand that I am using requires that you wait a few minutes before peeling.
Your shirt is now ready to wear! Want to add something special? Read on to see how to add sublimation on top of the flocked heat transfer vinyl.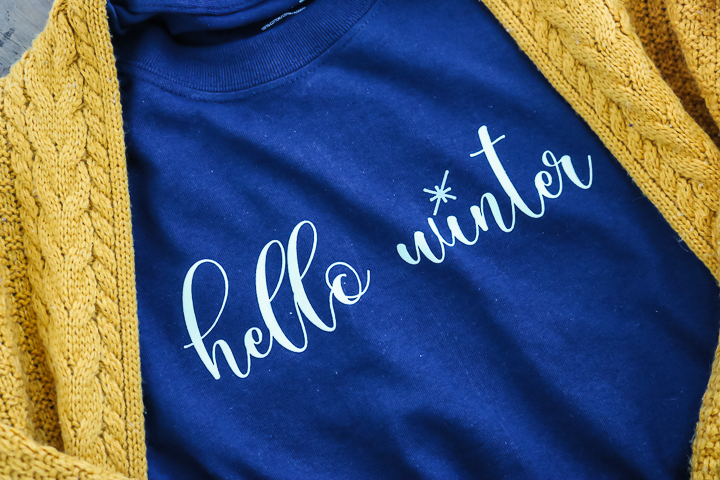 How do you use sublimation on flocked HTV?
Now for the magic! You can actually use sublimation ink on top of the flocking as it is polyester based. I added a little blue to my "snowflake" on top of the I in winter. You can see how to do that below!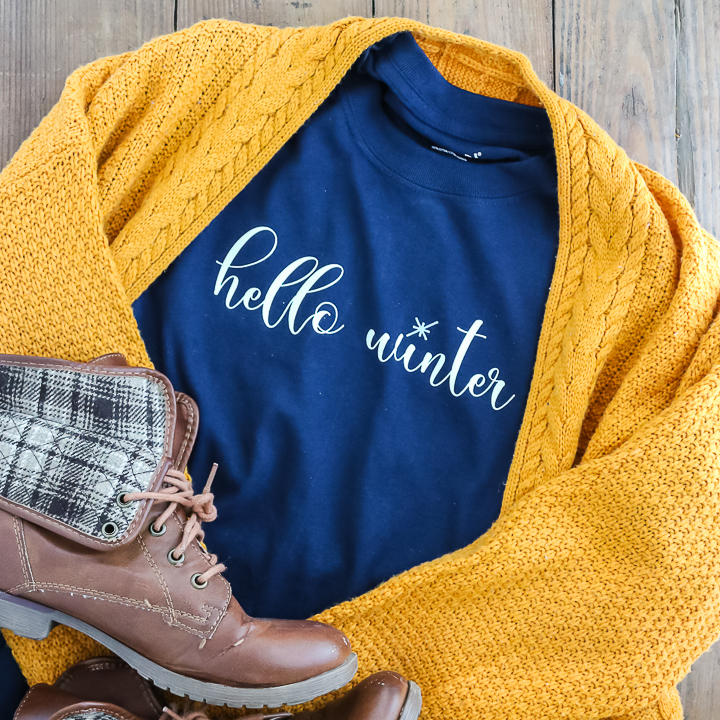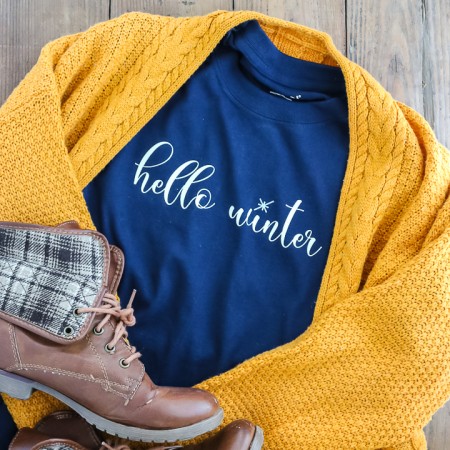 Adding Sublimation on Flocked HTV
Grab your sublimation ink and put it right on top of flocked heat transfer vinyl!
Supplies
Shirt made with flocked HTV

Infusible Ink or other sublimation ink

EasyPress

EasyPress mat
Instructions
Cut the design you want to use for sublimation from Infusible Ink or print with a sublimation printer. Here I just cut the snowflake and weeded it. Then apply ink side down onto the flocking and tape into place. NOTE: You will need to use heat resistant tape.

Add your EasyPress mat inside your shirt and cover it with butcher paper. Add butcher paper over the top of your design before pressing. This will protect your surfaces from the ink.

Press according to the time and temperature for the product you are using. Then remove the paper to reveal your design!
This process is so easy but can make a really big impact! I chose a light blue over the top of my flocking here but you can also go bold!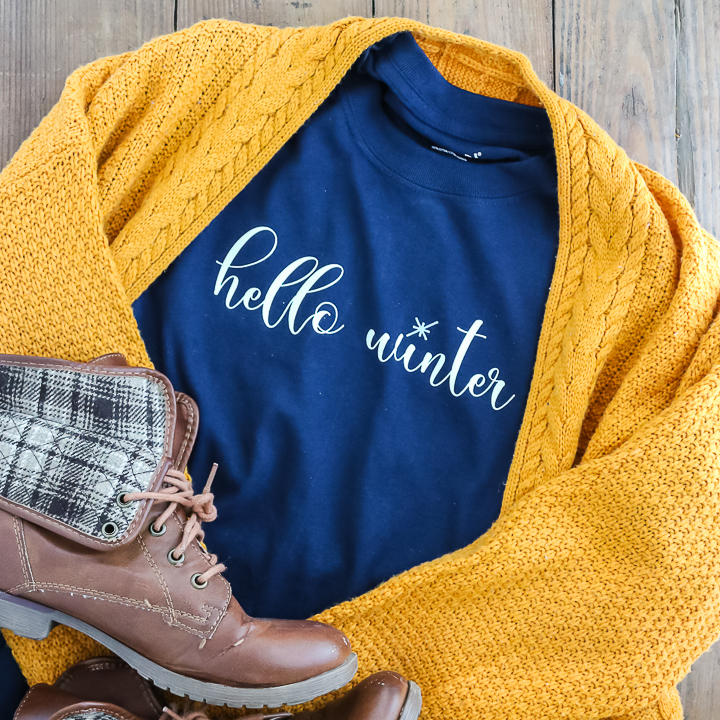 Free Hello Winter SVG
I am also offering up the SVG I used to make this shirt for free. Just subscribe to our newsletter in the box below and the file will be sent directly to your email address. Look for a box below with a picture of the file you want and add in your information. If you already get our newsletter, just sign up again as you will not be subscribed to anything further.
Please note that this file is for personal use only. You can contact me to ask about commercial use or if you have issues with your download.
Now use your file to create this cute shirt and so much more! Using flocked HTV is so much easier than you think it is! Grab a sheet and give it a try. I think you will love the effect it has on your projects.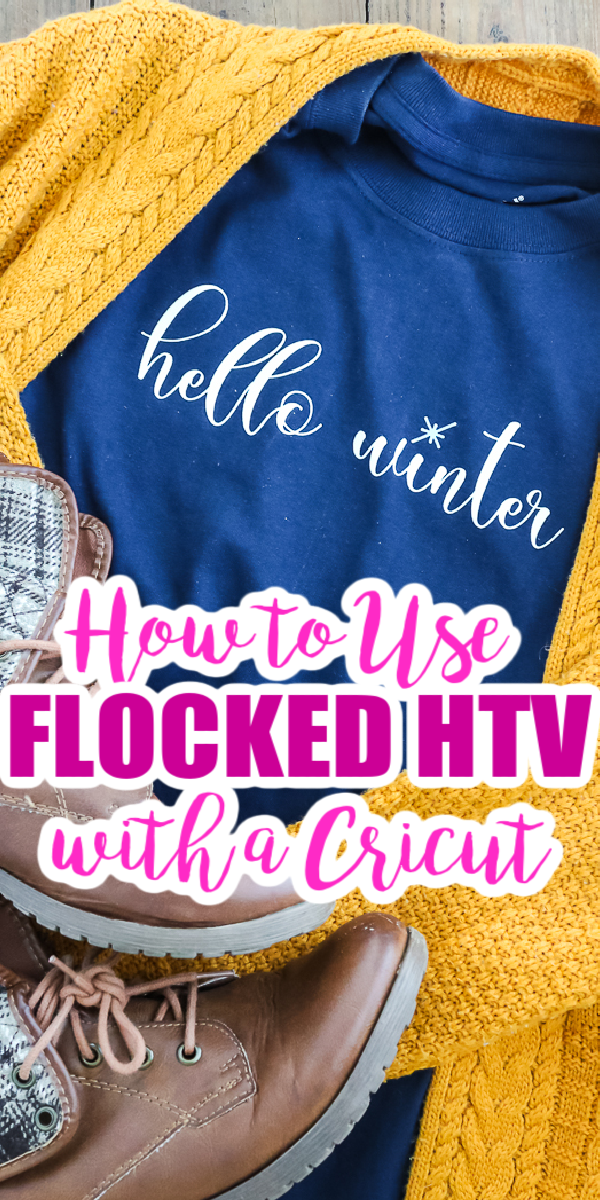 Here are some more posts that may help you if you are still struggling!
Looking for more projects to make with flocked HTV? Try these links as well!