Do you love books? We are huge book lovers in our family so creating a For the Love of Books bathroom was a necessity. This room was fun to create and there are a lot of fun projects included. Let's take a closer look.
I used my Cricut for some of these projects. For more information about Cricut check out my Beginner's Guide here.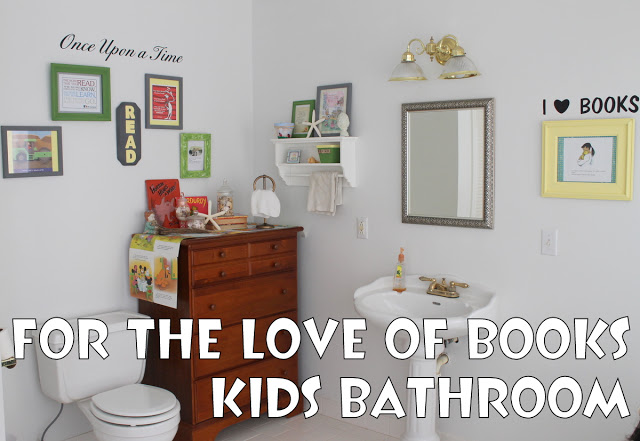 How to Create a Love of Books Bathroom
This bathroom makeover includes a few different projects. I'll cover each one below but a few things are consistent throughout.
All of the frames are ones I already owned or ones I purchased at the thrift store.
All of the vinyl quotes were cut with a cutting machine. I use Cricut machines.
All the mats inside the frames were made with scrapbook paper I had on hand.
I followed the same color scheme throughout the whole bathroom.
Framed Wall Grouping with Book Pages
For this wall grouping, I used my cutting machine to cut Once Upon a Time out of vinyl. I applied that to my wall with transfer tape and made sure it was centered over the space I wanted to fill with frames.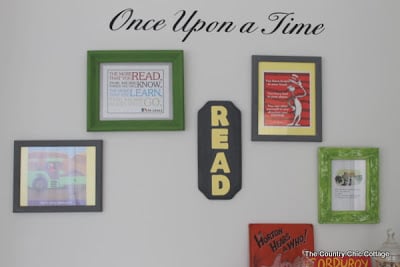 I wanted to make sure and use prints and pages from my children's favorite books. Thanks to the internet I was able to do a quick search for printable book quotes from our favorite books. I also stalked thrift stores for copies of some of our favorites that I could remove pages from.
I didn't want to tear any pages out of the books we owned and loved to read.
Creating Framed Book Art
For each of these framed book pages or printables I used scrapbook paper I hand on hand. You can use your cutting machine to cut the mat to the right size for your print and you can even layer them.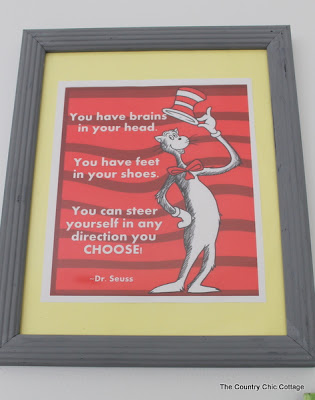 The above Dr. Seuss picture and quote came from 364 Quotes in 2011. I picked this particular version because I adore having the cat in the hat on it! If you search around, that quote is available in tons of options.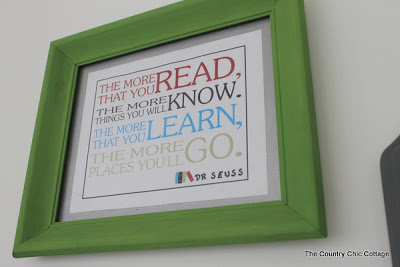 The above printable came from my friend Michelle – The Scrap Shoppe. She has it in different colors if you want another version. I fell in the love with the colored version. I also added quite a few other elements to the bathroom to remind my kids to read…
Wooden Read Sign
To create the READ sign I used a wooden sign I found at the thrift store. I painted the whole thing a pale yellow. Allowed it to dry completely and then used a Cricut machine to cut out the letters from vinyl and laid them on top as a stencil.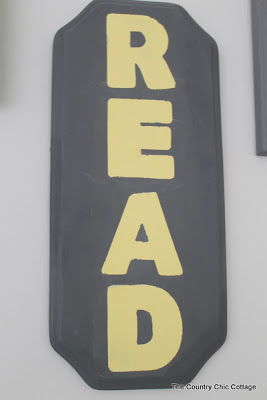 I painted over the whole thing in a dark grey and then removed the letters, which left me with READ in yellow showing.
It's really important that you allow the paint to dry completely before trying to stick vinyl to it.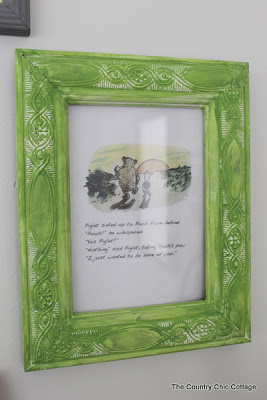 My oldest daughter loves Winnie the Pooh. I knew he had to be represented in the books bathroom. I found this picture on Pinterest, unfortunately, it had no original source. Here is my pin for the image I ended up using.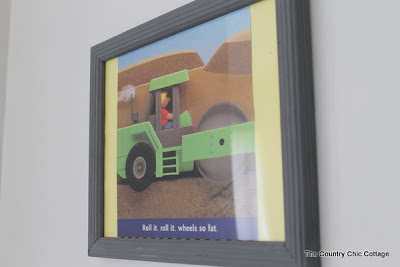 Last but not least is a page out of a beloved book. My son LOVES this book! I picked up another copy at the thrift store and used it for my framing. The book is called Easy Street in case you are interested.
Love of Books Bathroom Shelf Decor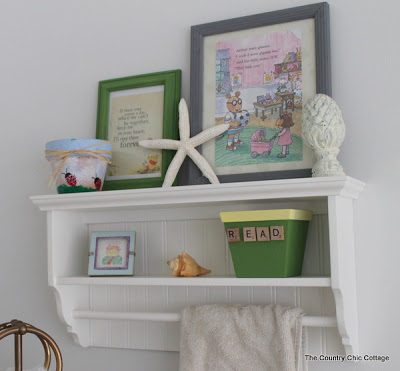 For the shelf, I included more framed book pages. Arthur had to be included.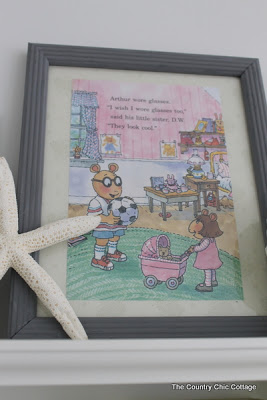 Winnie the Pooh has the best quotes. I framed another Winnie the Pooh page and then added some starfish decor and a flower pot painted by one of my children.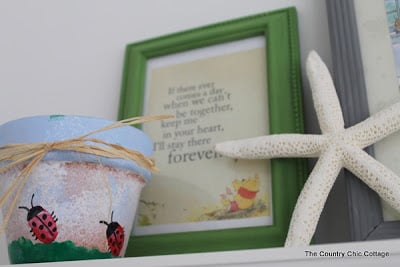 Have you used Scrabble letters in decor yet? I added READ in Scrabble letters to this little container and I think it's such a cute touch.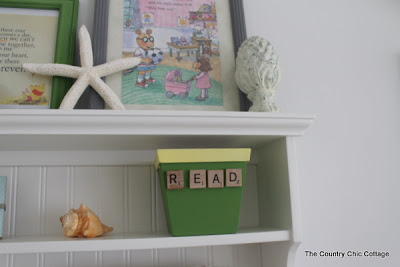 I Love Books Wall Decor
For the next little area, I added "I heart Books" in vinyl to the wall and then used a page from a Corduroy book added to a yellow frame.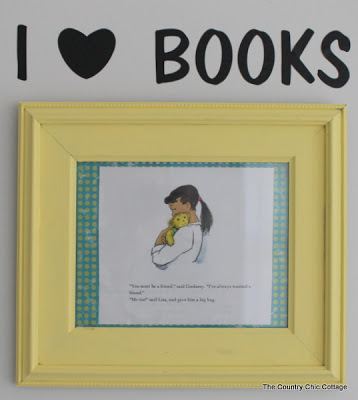 Decorating Storage Drawers
Yes I do have a chest of drawers in the bathroom. I actually use it to hold all my tablecloths, linens, and other necessary things. Since I don't have a place in my kitchen to store them all this works perfectly.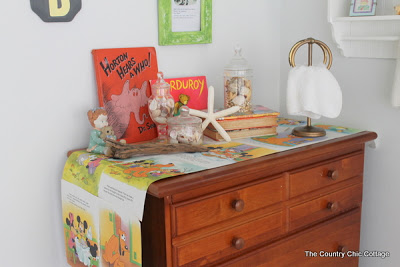 Creating the Table Runner
I had a lot of fun decorating the top. To create the runner I used a thrifted Mickey Mouse book. I cut the pages out and taped them together. It's not fancy at all. If you needed it to be more water resistant you could look at possibly laminating the pages and then it would be able to be wiped down.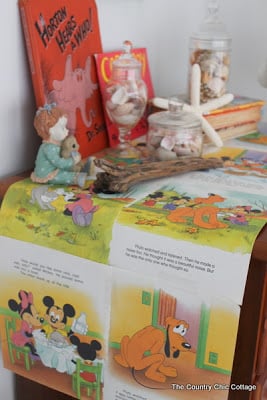 Other accessories include a spray painted towel holder. Some beach themed accessories, star fish, shells in jars, etc. I also added more books.
Thrifting Old Books
I found out that some old books the thrift store was going to toss in the recycling. If they're not in the best condition they end up recycling them.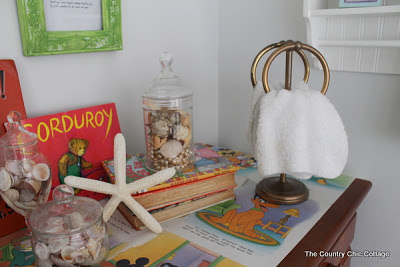 The Horton Hears a Who book was one that was going to be recycled. Do you love books? It kind of hurts me that they just get tossed. I rescue as many as I can but I only have room for so many.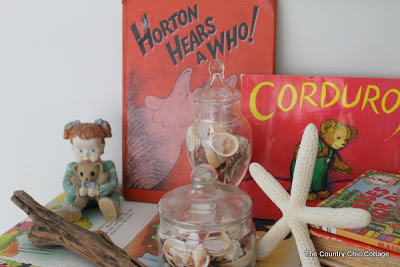 Final Thoughts on For the Love of Books Bathroom
I had so much fun making over this bathroom. Every time I walk into the bathroom it reminds me of how mcuh fun we've had reading books over the years.
I love the reminder to everyone that walks in there that books are important. The room is is so bright and cheerful now which is an added bonus.
Now I'm thinking some customized hand towels are in order.
Have you ever made over a room to match a specific theme? I'd love to hear about it in the comments. My for the love of books bathroom turned out better than I hoped. I recommend picking a theme and running with it, it was so much fun.