If you have a Cricut or other cutting machine (or are thinking about getting one!), grab this free winter SVG! This fun saying can be added to so many projects, and always gets a good chuckle.
This free winter SVG is a part of our series where you receive a free cut file each month. How fun is that?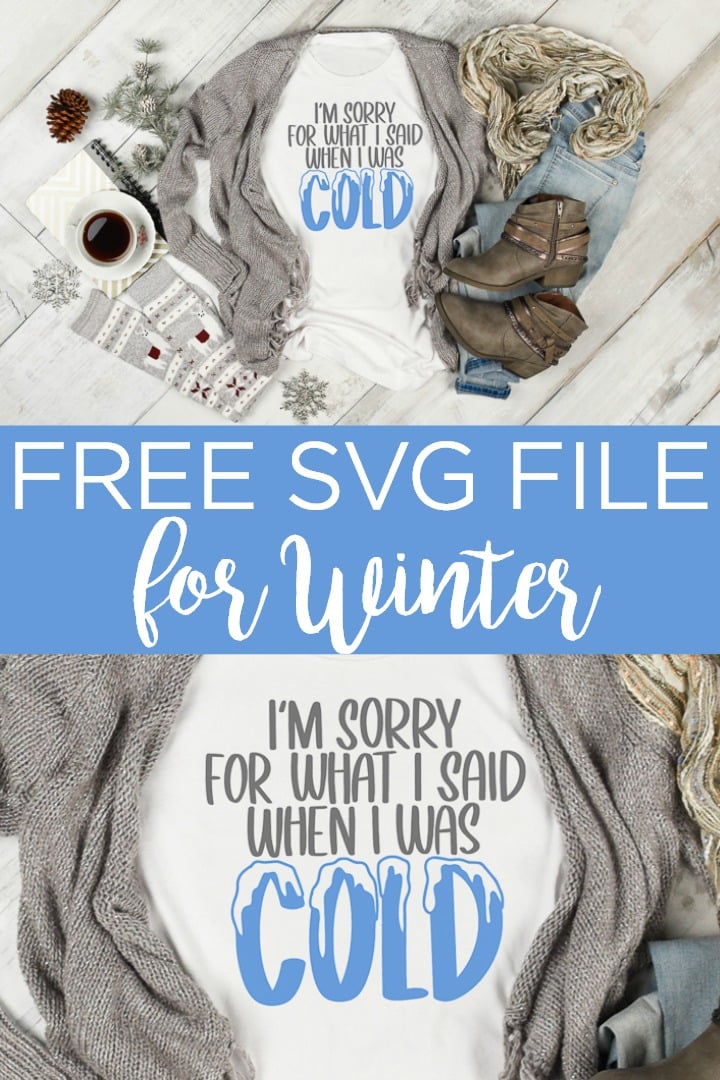 The Perfect Winter SVG
I don't know where you live, but where I am, the winters in Tennessee are typically fairly mild. However, we have had our share of bitterly cold days, and I have learned that I am not my best self when my face is freezing! Do you know what I mean?
If you hate the cold weather, this is the perfect cut file for your crafts. Use it to make shirts, put it on throws, stick it to coffee mugs, and so much more!
What is a SVG File?
If you are new to the cutting machine world, you may be wondering what an SVG is. To put it in simple terms, SVG is a vector graphic format that is nothing more than simple plain text files that describe lines, curves, shapes, colors, and text.
I know that sounds a bit complicated, so I wrote an entire post to help explain what SVGs are, and why they are the only type of file to use on your Cricut or Silhouette! Read here: What's an SVG file?
Download Your Winter SVG
Now that you know what a SVG is and why you want to collect as may as possible for those craft projects, here's how you can download this free SVG!
First, you will need to download your winter SVG file onto your computer for use. You can do that by signing up for my newsletter in the box below.
Once you sign up, the SVG file will be sent to your email. As soon as you hit the download button, the file will save to your device. It will be a zip file and you will need to unzip to use. You can see more about using an SVG file with your Cricut here.
This file is for personal use only. Please contact me to inquire about commercial use or if you have issues with the download. You can email me at thecountrychiccottage@yahoo.com and I will try to help.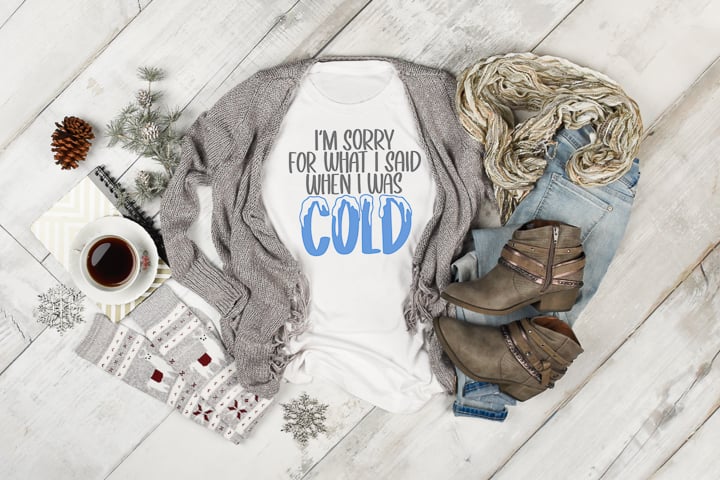 How to Use This Winter SVG
Once you download this "I'm sorry for what I said when I was cold" SVG file, you may be wondering what to do with it. You can add this one to a variety of winter crafts this year.
I personally love it on a shirt, as pictured, but a coffee mug with this on it would be amazing as well. You could also add this as a sticker to a notebook – read this post if you don't know how to make stickers with your Cricut.
If you know someone who is always cold, a gift personalized with this winter SVG would be perfect. Y'all enjoy and happy crafting!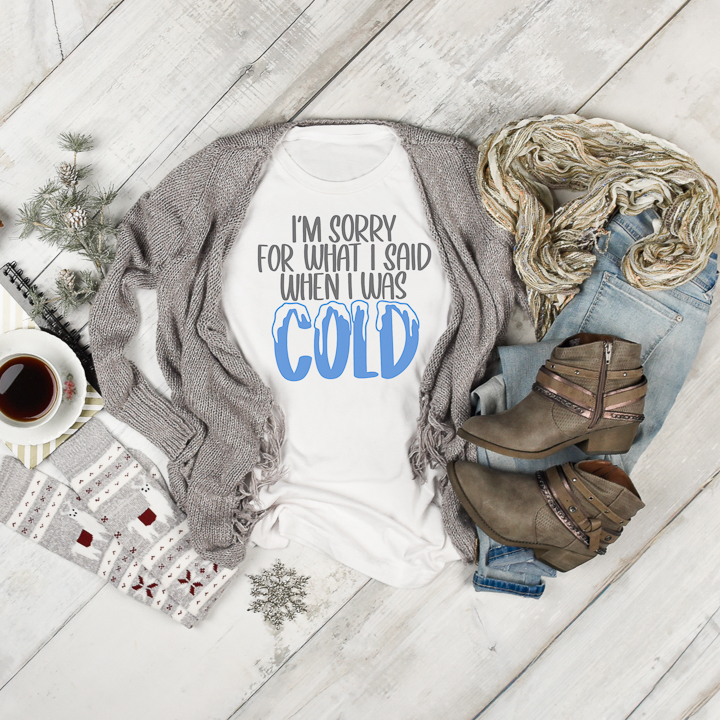 Want more free SVG files?
Perhaps you love this winter SVG and are looking for even more freebies? We have you covered! We offer up several free SVGs every single month that you are going to love.
Be sure to head here to see some of the past files and sign up for our SVG list. You will get notified about all of the free files via email so you don't miss any of them.
After all, crafting with your Cricut is easy when you have free SVGs to help!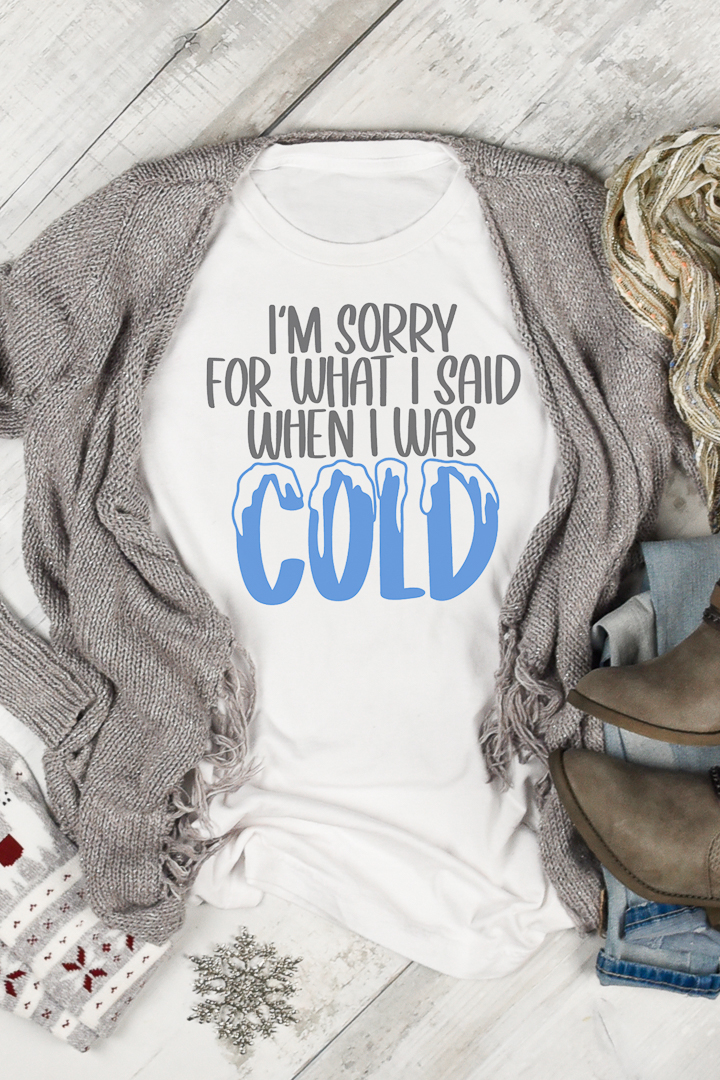 So, do you love this free Cricut SVG file and want more ideas? Try the links below!