Did you know that they make glow in the dark HTV? I thought I would do a tutorial showing you how to use this product on all of your Halloween crafts. I even have a free SVG that you can get started creating with today. This product would also be perfect with my free ghost SVG so be sure to download it as well.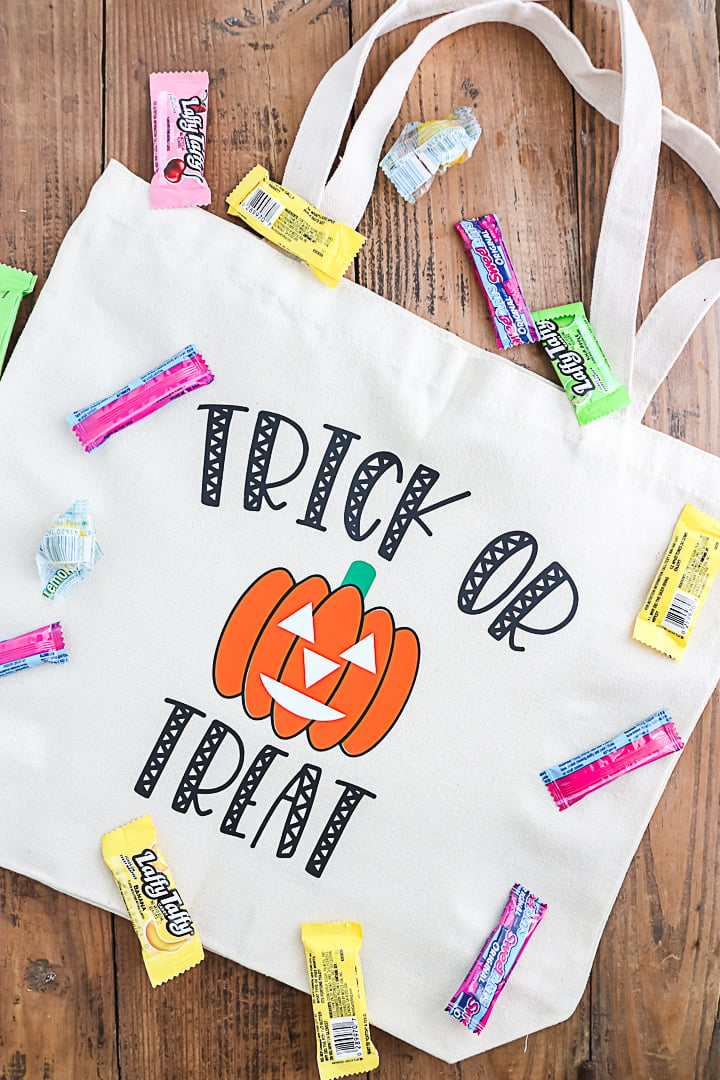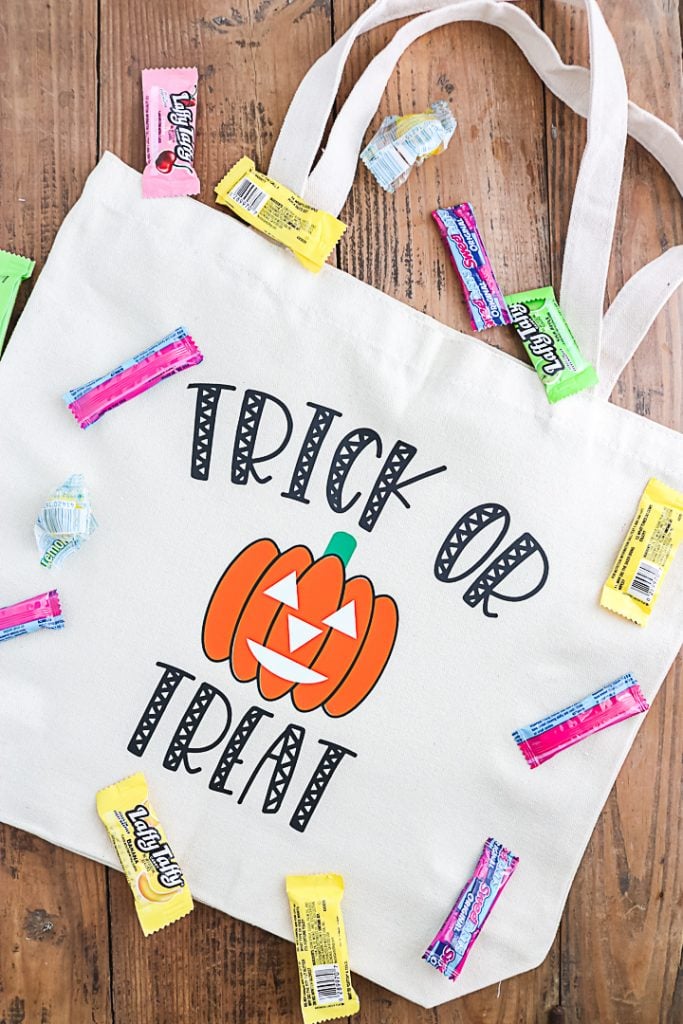 Supplies needed:
Other HTV in various colors (I am using BFlex that you can get here)
EasyPress, Iron, or Heat Press
SVG cut file (you can download the trick or treat file below)
Free Trick or Treat Cut File
First, you will want to download the free SVG file if you are going to make the same trick or treat bag. To do this, sign up for the newsletter in the form below and the file will be sent directly to your email. The file will be sent as a ZIP file so you will need to unzip it in order to upload to the software for your machine. If you are already an email subscriber, just sign up again to get the file. You will not get anything additional. You should see a form below with a picture of the file you would like to download.
Please note that this file is for personal use only. You will need to contact me if you would like to use this commercially. You can also contact me if you have any issues with your download.
How to Use Glow in the Dark HTV
Now that you have your supplies and cut file, it is time to make something amazing with heat transfer vinyl that glows in the dark. If you want to watch me use this product in a video, you can click play below.
Can't watch the video or missed some of the steps? I have written instructions for you below as well. Just follow along to learn about using HTV that glows in the dark.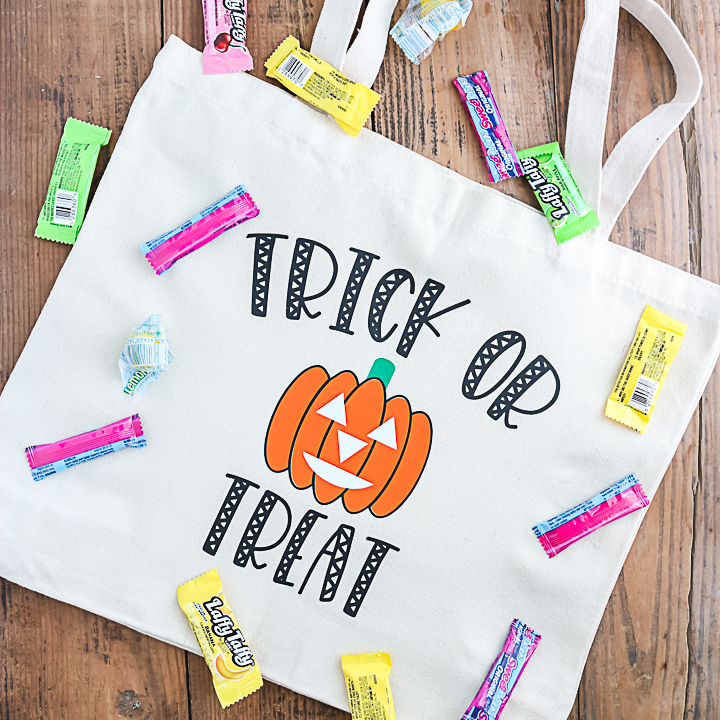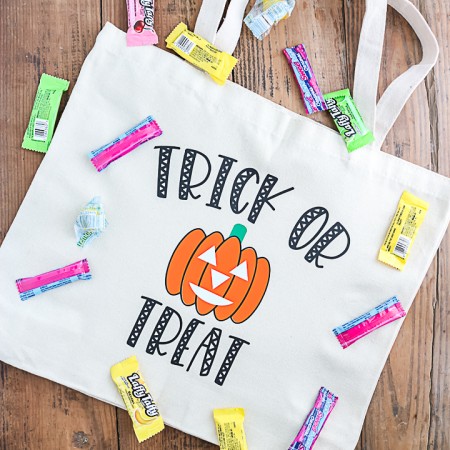 Glow in the Dark Trick or Treat Bag
Use glow in the dark HTV to make a cute trick or treat bag for your little ones! This is a great way to use this product for some fun this Halloween.
Supplies
Glow in the Dark Heat Transfer Vinyl

Other HTV in various colors

I am using BFlex

Cricut machine

EasyPress, Iron, or Heat Press

SVG cut file
Instructions
Upload the SVG file to your cutting machine and cut the layers of the design. The glow in the dark HTV cuts the same as any product. Put it shiny side down on your mat, mirror your cut, and cut on the iron-on setting. Note that this product appears to be blue when you get it but that is only the carrier sheet. The actual product is a creamy white color.

Weed away all of the excess from each color. You can then start adding each color to your bag with your EasyPress, Iron, or heat press. Follow the directions on the HTV product you are using for time and temperature. The glow in the dark heat transfer vinyl can be layered over other colors.

When each of your colors is pressed, peel away the liner and add the next color. The BFlex HTV does NOT require protection when ironing over the top so you can layer easily. Be sure to follow any directions if you are using other brands. I added the glow in the dark face last as it was on top of my design. After pressing, this one is ready to use and can be washed just like any other HTV.
Tried this project?
tag us to show off your work!
Your glow in the dark HTV will glow once you are in a dark space. Just "recharge" it with light. I absolutely love this product for Halloween crafting.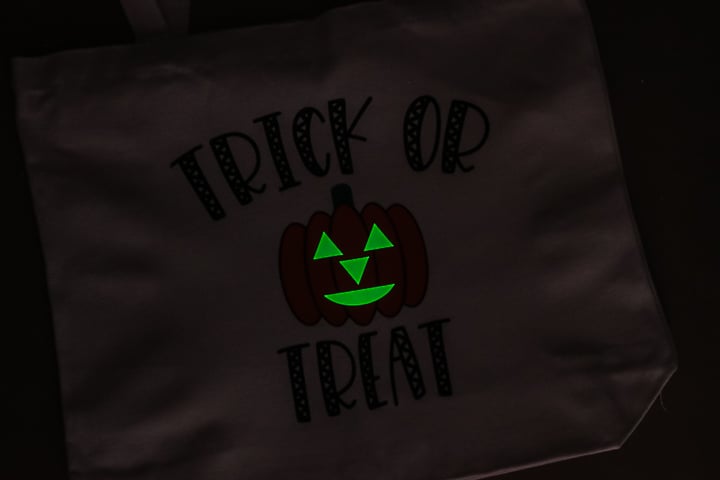 Add it to a trick or treat bag, costumes, shirts, Halloween decorations, and so much more. Anything that you want to glow on Halloween night is a perfect blank for this material.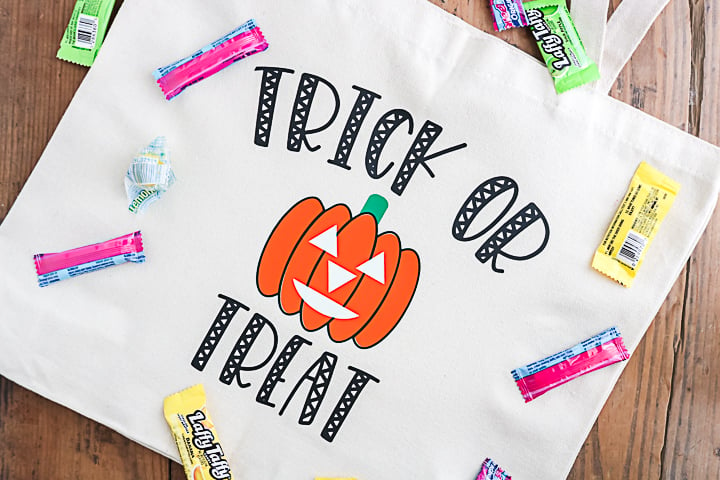 Plus, your kids will love anything that glows in the dark on Halloween. Whether you are trick or treating this year or staying home, glow in the dark HTV can be a great addition to your celebrations.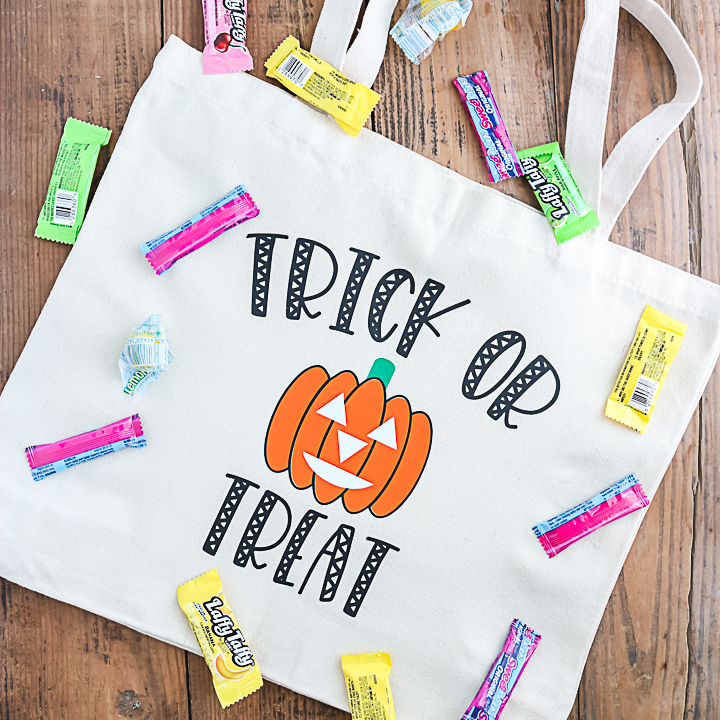 I personally can't wait to use this product on some home decor. There is nothing I love better than scaring my family with some eerie glow once the lights go out at bedtime. What about you? How will you use glow in the dark HTV?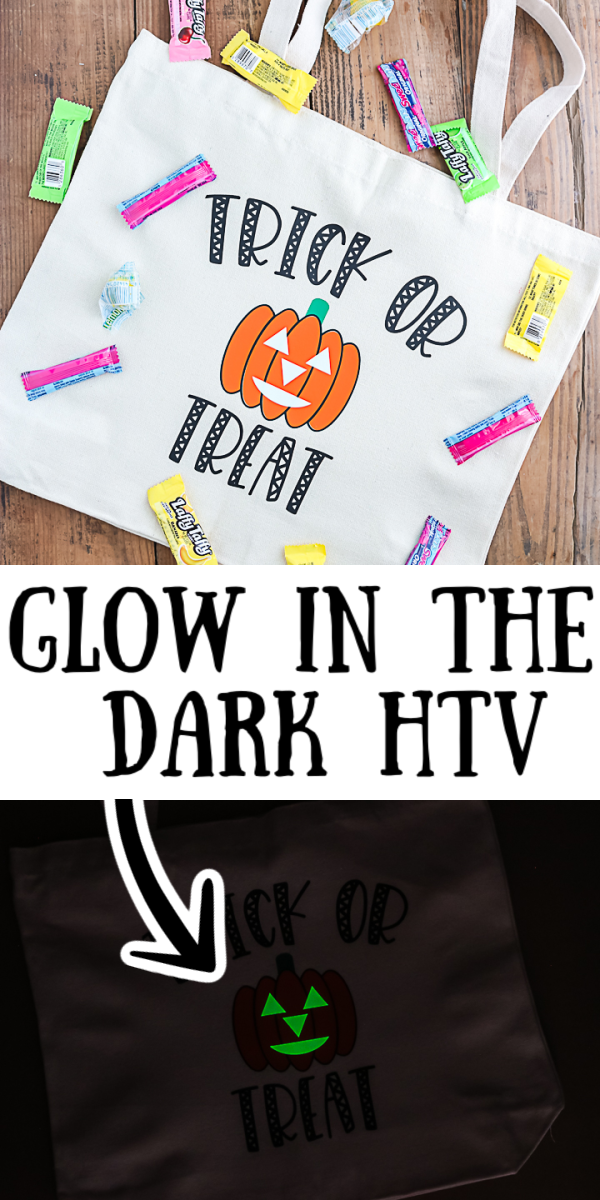 Want even more ideas for your Cricut? Try the links below.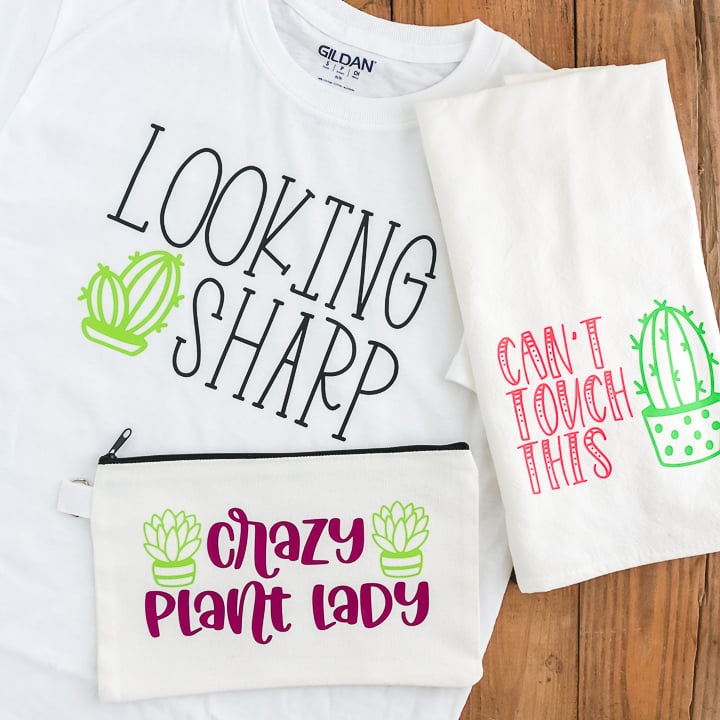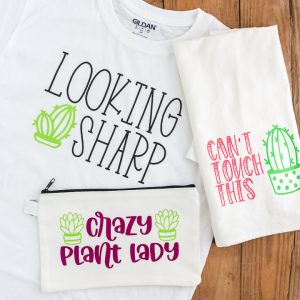 Applying B-Flex HTV
How do you use the heat transfer vinyl from B-Flex? We are showing you with a few simple projects to get you started.
Read More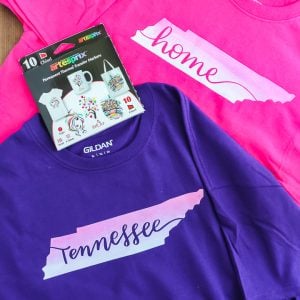 How to Sublimate on a Cotton Shirt
Make gorgeous watercolor designs on your shirt with these two hacks for sublimating on cotton.
Read More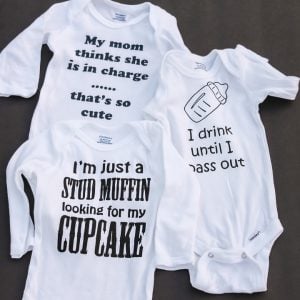 DIY Baby Onesies with Iron-on
Use heat transfer vinyl to customize those onesies in addition to our three free SVG files.
Read More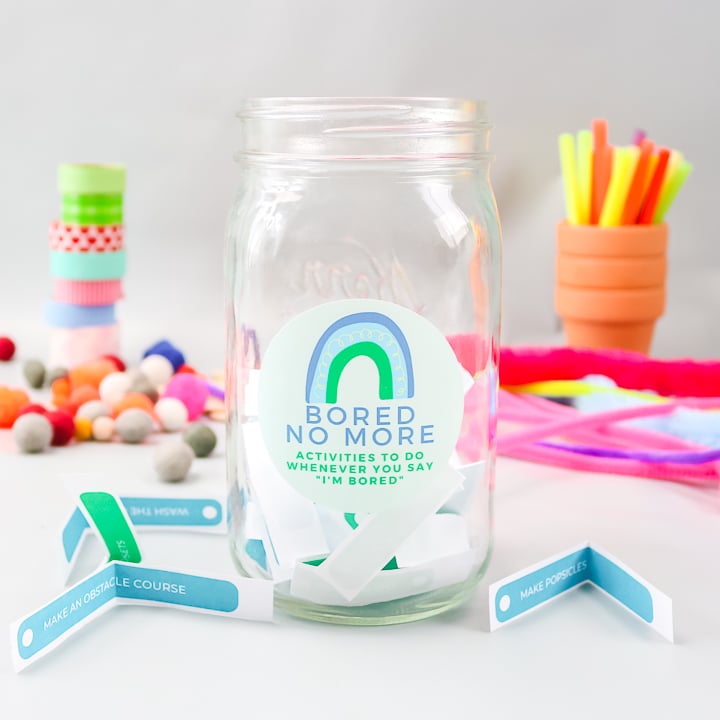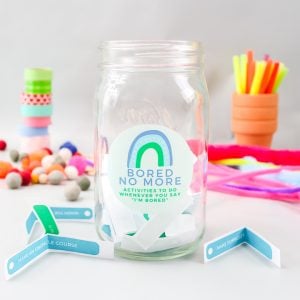 How to Use Cricut Printable Vinyl
Make stickers and more from printable vinyl on your Cricut machine.
Read More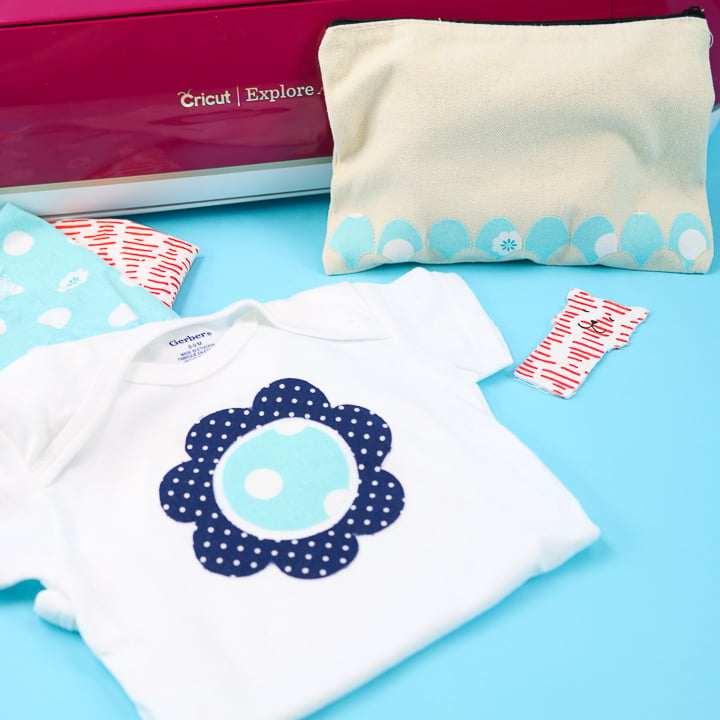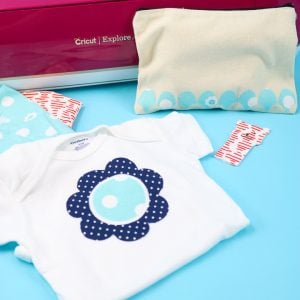 Using Scrap Fabric on a Cricut
Don't throw away those scrap pieces! Use your scrap fabric on your Cricut to create something new.
Read More