Instead of taking those old t-shirts to Goodwill, upcycle them into a memory quilt. Learn how to turn your old shirts into a special, memory-filled t-shirt quilt.
Guess what I did! I made a quilt out of old t-shirts! This plan has been stuck in my mind ever since my now 17-year-old daughter was little. I saved up 17 years' worth of t-shirts and made her a quilt for her high school graduation.
Sound difficult? Trust me on this. If I can do it, you can do it!
I am not a seamstress. Or a quilter. I only sew for fun.
I am going to share with you the basic process I used and then give y'all some links that will give you more information so you can make your very own t-shirt quilt.
Note: If you're looking for other memory keepsakes, check out my DIY Memory Box and Wedding Memorial Frame and In Loving Memory Wedding Sign projects!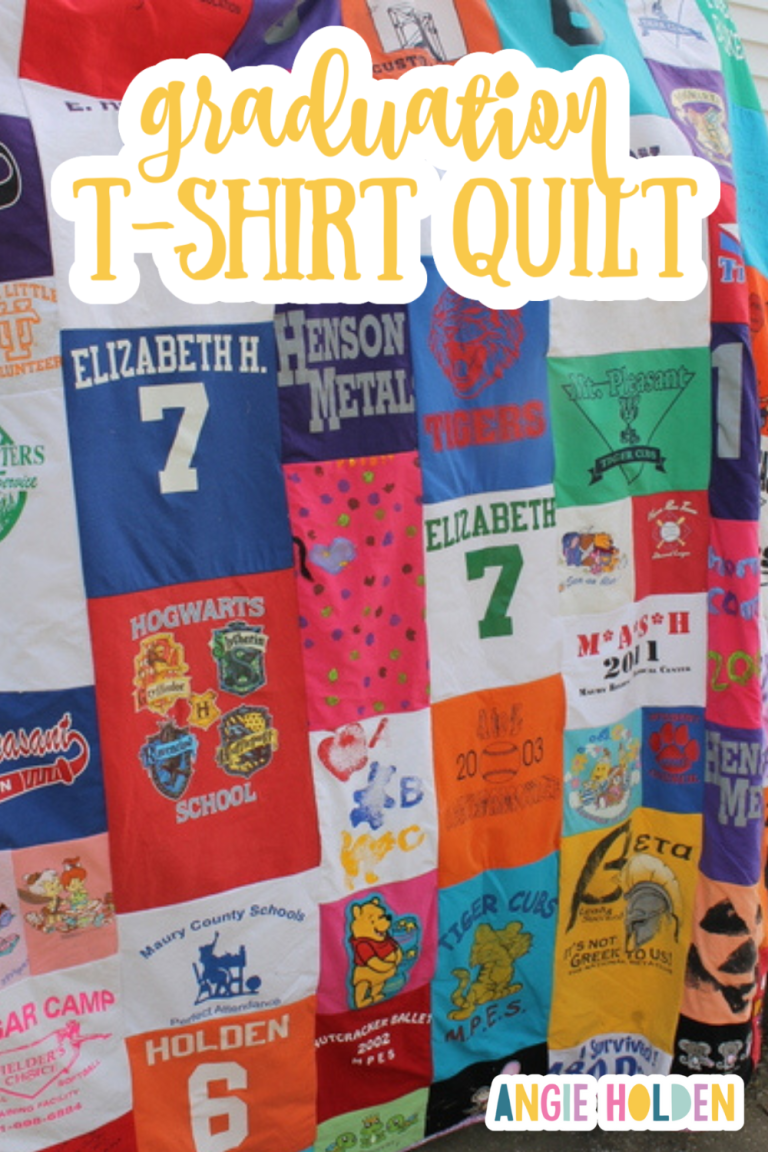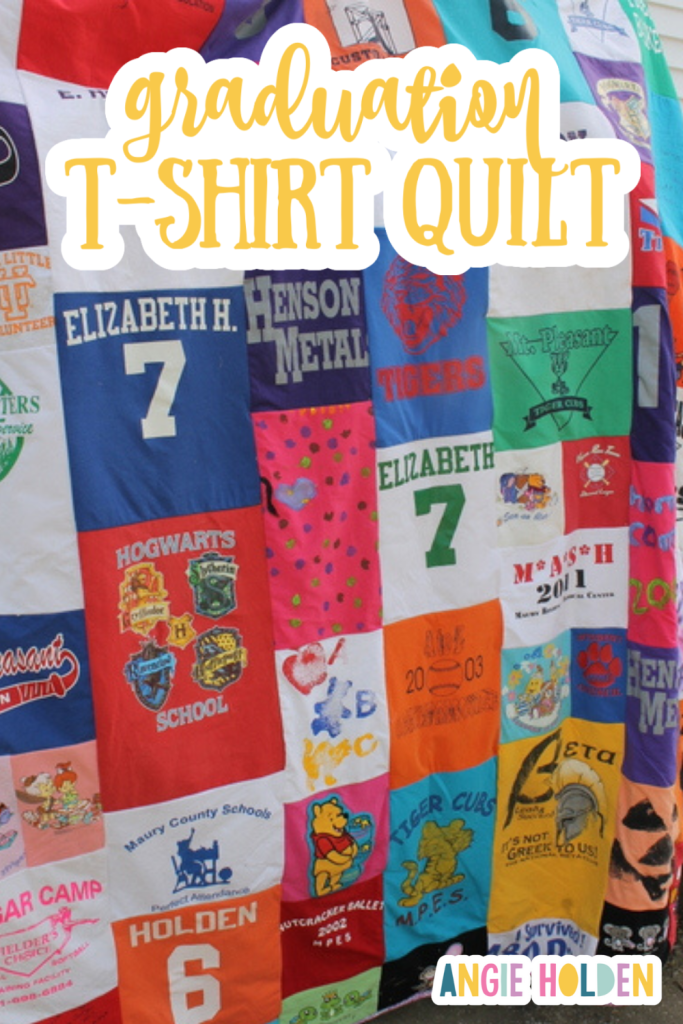 How To Make A T-shirt Quilt
So, I knew I wanted to make this amazing and HUGE queen-size quilt. But where do I even start? I had a big pile of t-shirts and an idea.
I started with lots of research.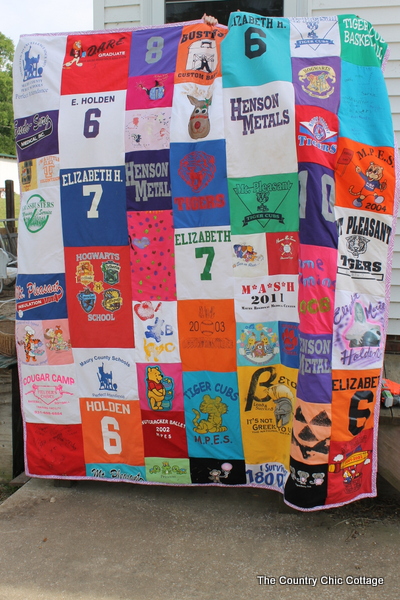 Materials Needed
Here are the supplies you'll need to have on hand to make your t-shirt quilt.
T-Shirts – lots of them!
Batting (or an old, clean blanket)
Backing fabric (cotton or flannel work well)
Instructions
Here's a VERY simplified set of instructions. If you need more detail on making t-shirt quilts, check out the resources I include for you down below.
Step 1
Gather all of the T-shirts and backing material you plan to use in your t-shirt quilt. Clean and prepare the material ahead of time.
Step 2
Decide the size you want your finished quilt to be and use that to determine how big you want your squares – and how many you'll need.
Step 3
Cut off the necks and sleeves of your t-shirts so that you have 2 large rectangles from each t-shirt.
Step 4
Determine your layout for all the t-shirt squares. Begin sewing your squares together to form columns. Then, sew the columns together.
Step 5
In a large open spot (probably on the floor), lay out the backing fabric, add the batting material on top, and add the quilt layer as the top. Sew the pieces together to form your finished t-shirt quilt.
My quilt is very large and fits a queen-sized bed. You can tackle a smaller version for your first project, if you prefer – or jump right in with both feet as I did!
I took it slowly and carefully. Are there mistakes? Oh yes, there are mistakes. I call that "character" from mom making this one herself. I hope she can tell her grandchildren about how mom made her a t-shirt quilt for high school graduation.
Lessons Learned From This T-shirt Quilt Project
I will tell y'all now that this is a lot of work.
The layout was the hardest step, but adding fusible interfacing to all those shirts was no walk in the park either.
It took around 20 to 24 hours to complete this project. I just tied the t-shirt quilt at all of the intersections, so no actual quilting was involved.
I wanted to give my daughter something extra special for graduation. You know what? I succeeded!
FAQs
Here are a couple of questions that I see readers ask about making this handmade t-shirt quilt. Please check to see if I've already answered it below if you have a question. Don't see it? Leave it for me in the comments!
How many t-shirts do I need for a quilt?
You'll need around 30 t-shirts for a full-size quilt, and it'll take about 36 t-shirts for a queen-size quilt. A full-size quilt would be about 82″ x 96,″ while a queen-size quilt should be around 96″ x 96.″
Do you have to prewash interfacing?
Yes. Wash and prepare your interfacing the same way you would prepare your t-shirts and backing fabric.
A T-shirt Quilt Is A Blanket Of Memories
There are baby shirts in this quilt. Shirts she painted in preschool. School shirts. Ball shirts. Shirts with so many memories attached to them. I could not throw out those memories.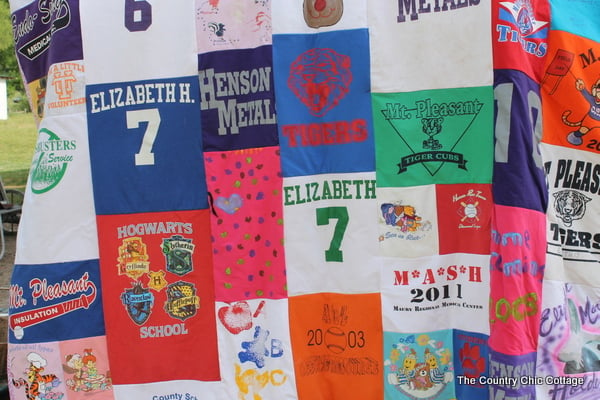 But, who is going to hold on to and go through a box of old t-shirts to bring back memories? This quilt is something she can keep around for her entire life and remember each and every event associated with these shirts.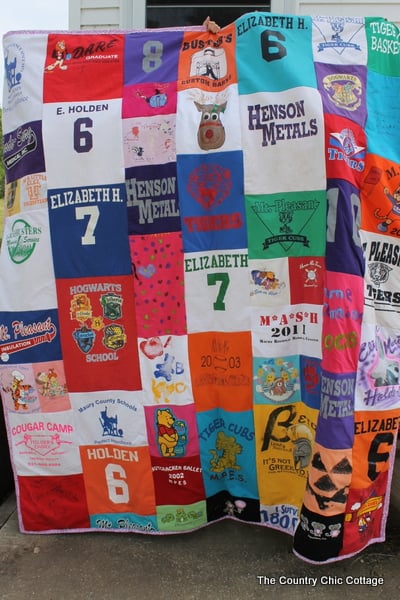 I could not keep this a surprise, though, because it was spread out in my living room and other areas of my home for weeks.
I would just work on it a few hours at a time. Once I had the t-shirts sewed together into a quilt top, I knew it was all going to be worth the effort. I could cry looking at this, y'all – I'm so proud of it and touched by all the memories!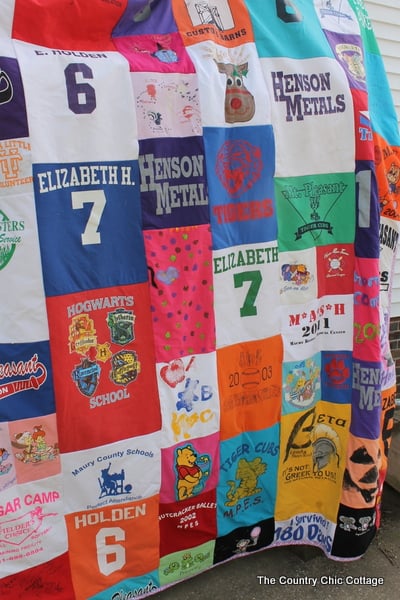 I actually used the quilt as a display during her graduation party. If you're looking for ideas, check out my High School Graduation Party Ideas.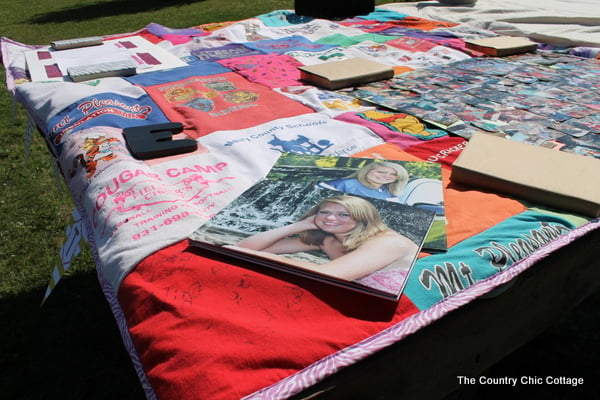 More Resources For Making A T-shirt Quilt
The two tutorials that will help you the most are over at The Sewing Loft and Instructables. Do lots of research, so you feel comfortable with the process and build up your confidence. You can do this!
Don't throw out those t-shirts with memories. Don't send them to Good Will. Gather up your courage and make your son or daughter a t-shirt quilt that they will cherish for many years to come.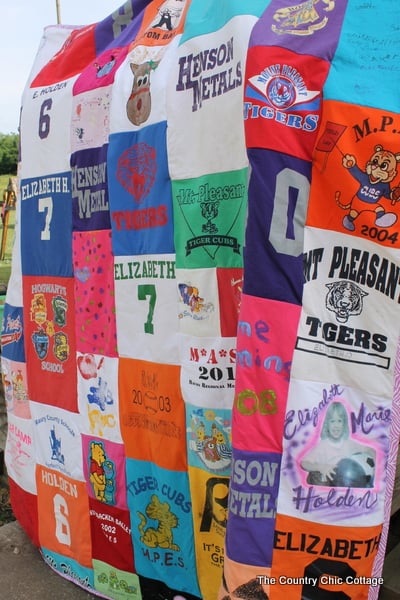 More Graduation Inspiration
If you have a graduate in your life, check out these other great graduation crafts.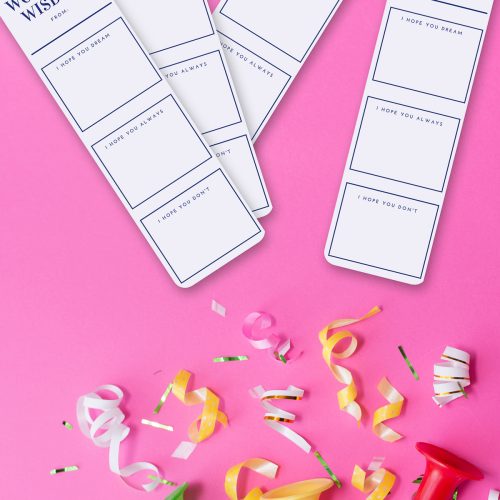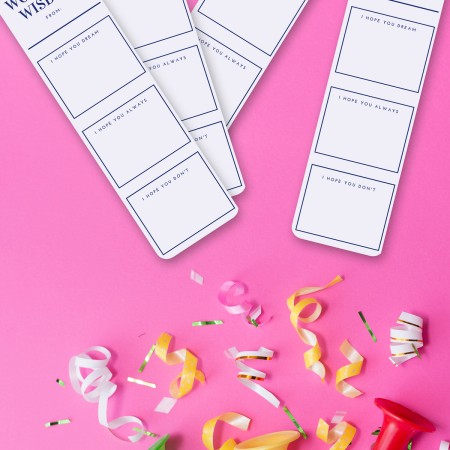 Graduation Advice Cards Free Printable
Read More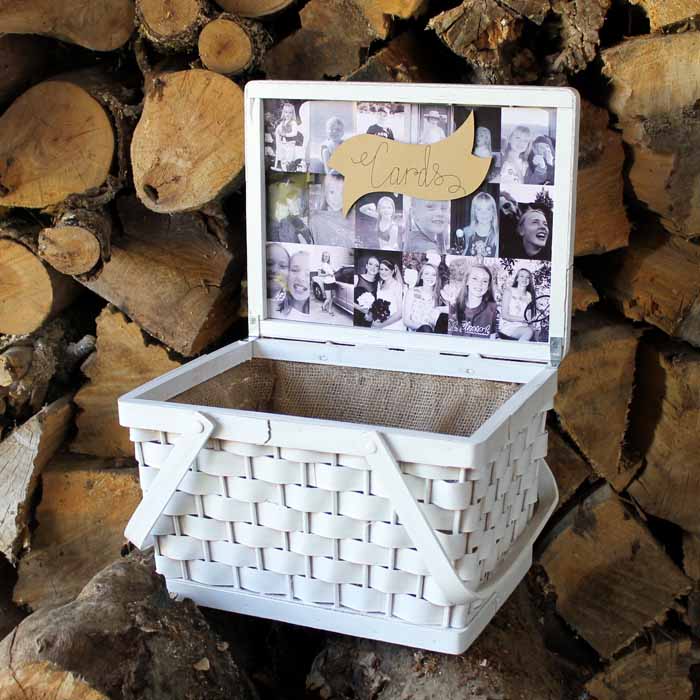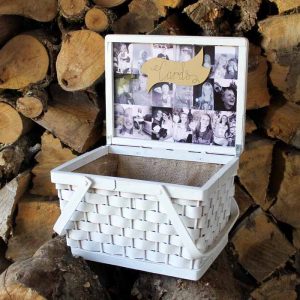 Easy Graduation Card Box
A graduation card box is a great way to collect a bunch of cards for the graduate!
Read More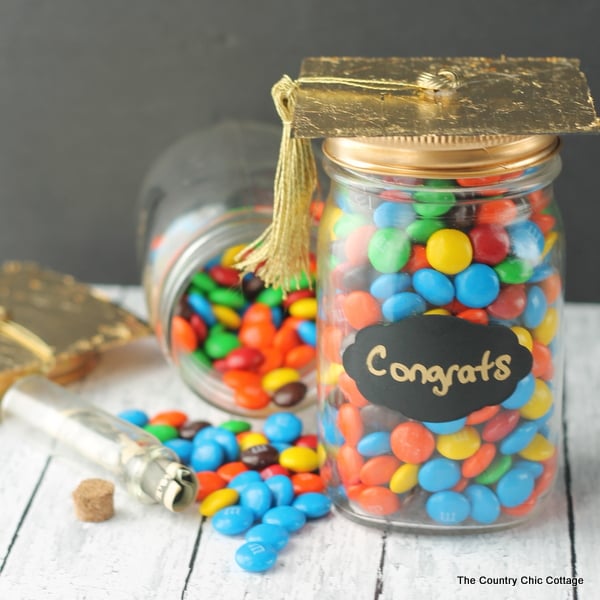 Graduation Gift in a Jar
Need a last-minute graduation gift? Give them this super easy graduation gift in a jar.
Read More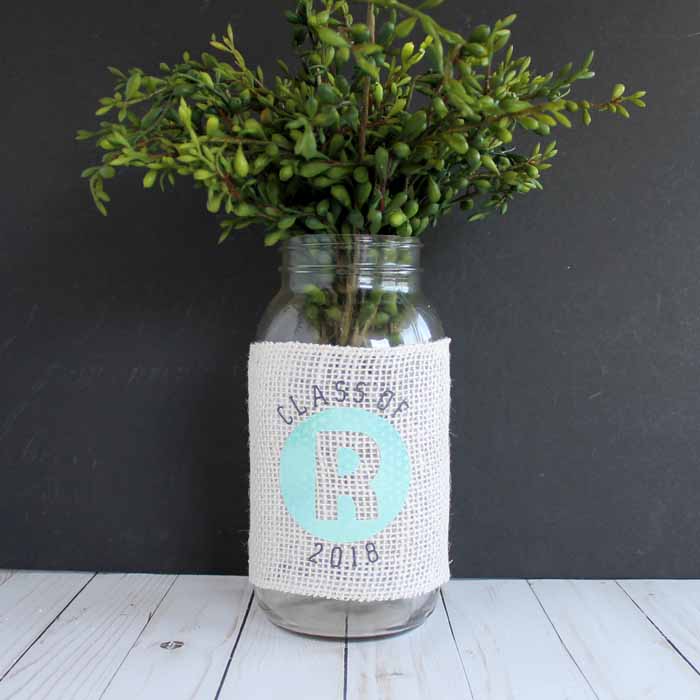 Graduation Centerpieces with Curved Text on the Cricut
Make these mason jar graduation centerpieces for your graduation party!
Read More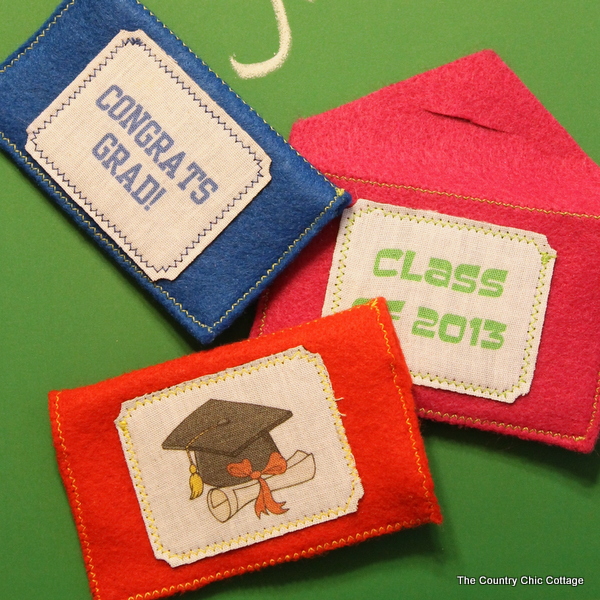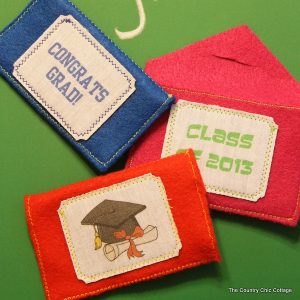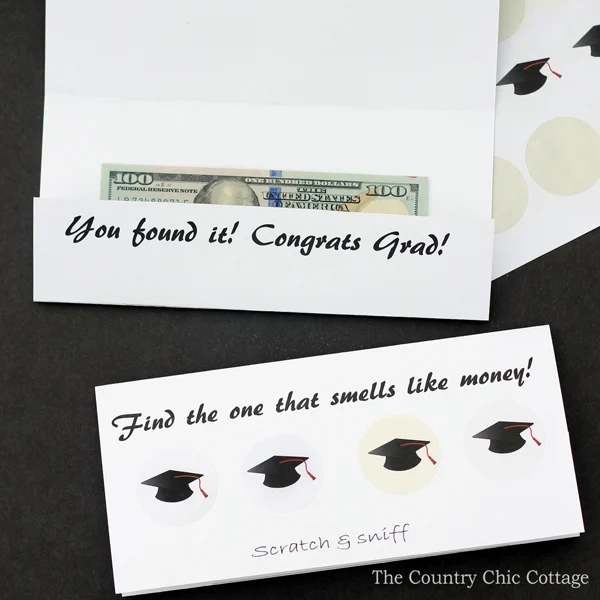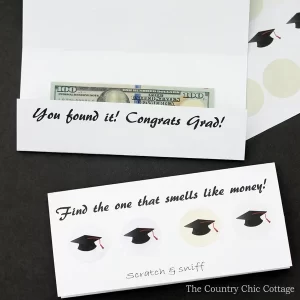 Make a Money Holder Graduation Card
This quick and easy project is perfect for graduates of all ages.
Read More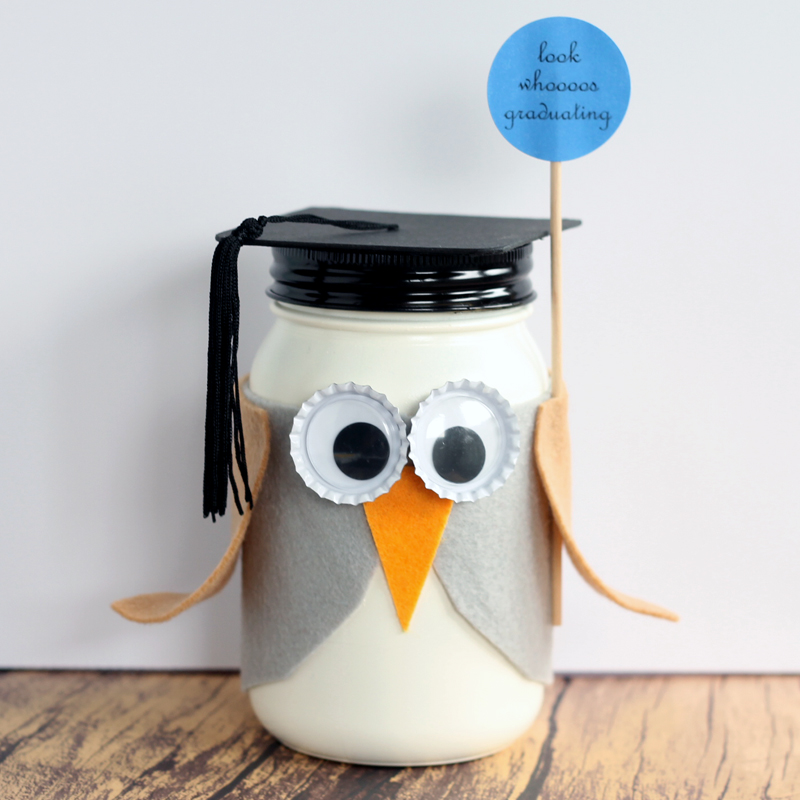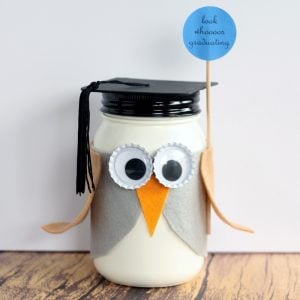 Graduation Gift in a Jar
This fun owl mason jar is easy to make and a great gift idea.
Read More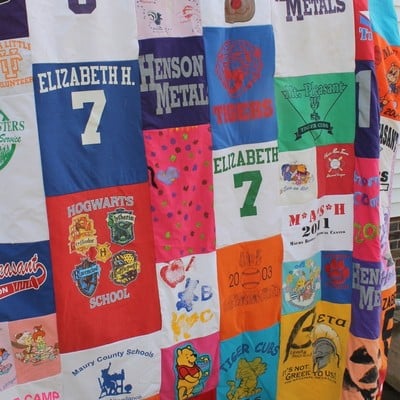 How To Make A T-shirt Quilt
Turn your child's old t-shirts into a priceless memory quilt.
Instructions
Gather all of the T-shirts and backing fabric. Clean and prepare the material ahead of time.

Determine how big you want your finished quilt to be and decide how big to make your squares you can determine how big the squares need to be.

Cut off the neck and sleeves of the t-shirts so you're left with rectangles.

Determine your t-shirt squares layout. Sew your squares together into columns then sew the columns together.

Spread out the backing fabric, top it with the batting material, then add the quilt layer as the top. Sew the layers together to form your finished quilt.
Tried this project?
tag us to show off your work!