Celebrate your high schooler's accomplishments with these graduation party ideas! After all of their hard work, they deserve a fun celebration showcasing all of their accomplishments and the future that awaits them.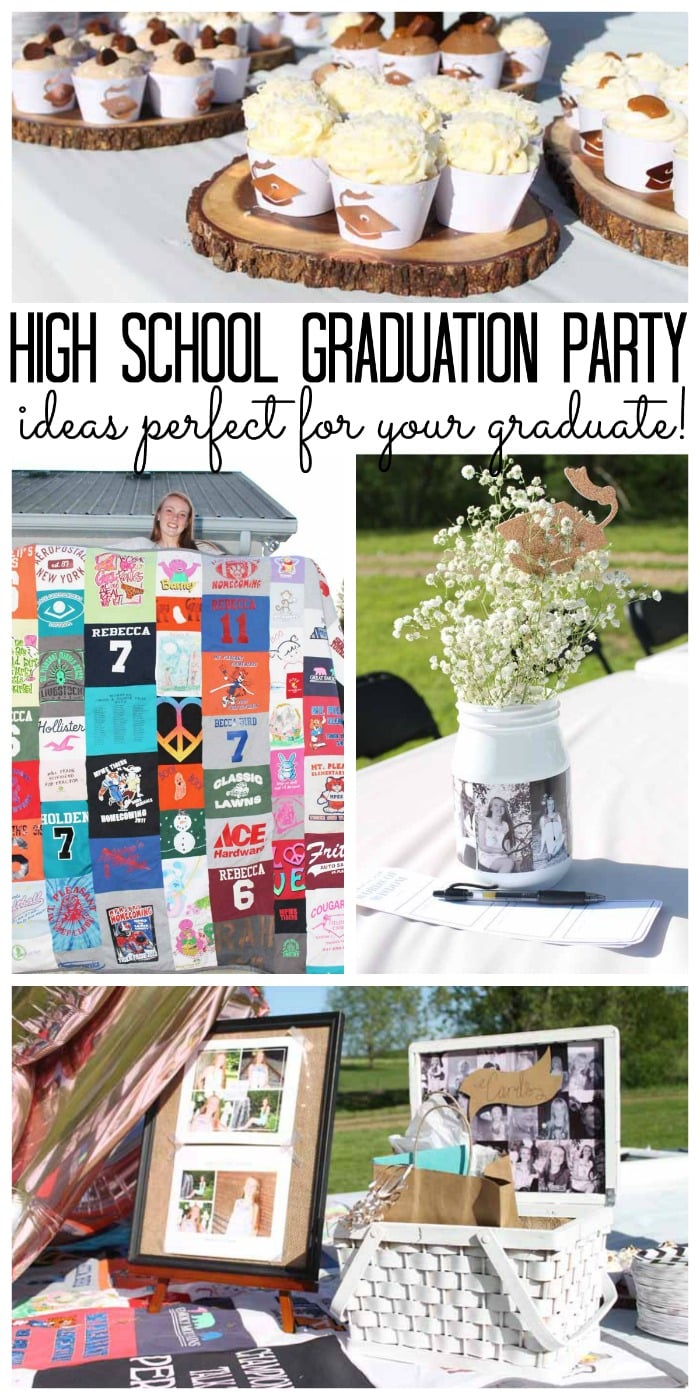 After rallying through the last few weeks, the last thing you need is to stress about decorations and food. We kept it simple for our graduate's celebration.
Basically, this party was made possible by my trusty Cricut! I was able to save a lot of money by creating the labels and making these items at home. The items below all have files included so you can recreate these for your celebration, too.
The great thing about these items is that the graduate can take these with them when they head off to college! A lot of graduates ask for money, but I think handmade graduation gifts mean so much more to them. Plus, they get to take a piece of home with them.
All of these ideas are my own, so feel free to use them to plan your own celebration.
Backyard Graduation Party Ideas
When we celebrated my daughter's high school graduation, we had our gathering in our backyard so we could accommodate more people. But any of these ideas will work for indoors or outdoors.
If you are planning an outdoor party, make sure you check the weather and have a back-up plan in case the weather decides to take a turn.
Some links below may be affiliate links which means that you do not pay anymore, however, a portion of your purchase will go to support this site.
For the main gathering area, we pulled an old wagon out of our barn and used half of it for food while the other half I decorated. Now it was extremely windy that day so I did the best I could with the balloons!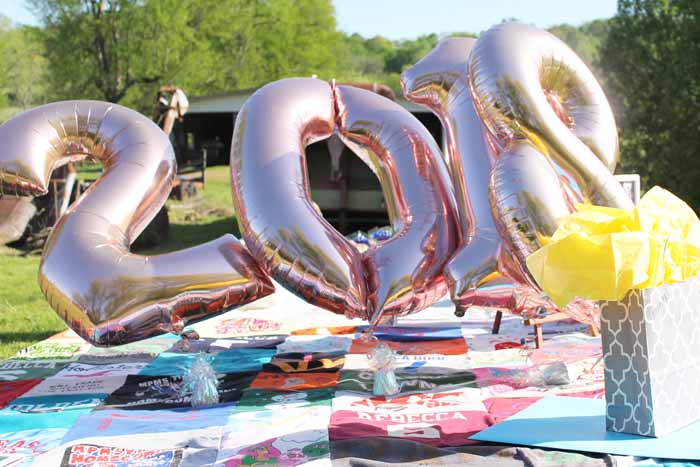 Homemade Card Basket
On one half of the wagon, I added pictures of the graduate along with a homemade card basket. This was super easy to make and a great way to corral all of the cards for the graduate. Trust me, they will get tons of well-wishes!
Wherever you are gathering the cards, I recommend setting aside a little extra space in the event people show up with gifts. Also, a guestbook would be a great way to remember those who attended.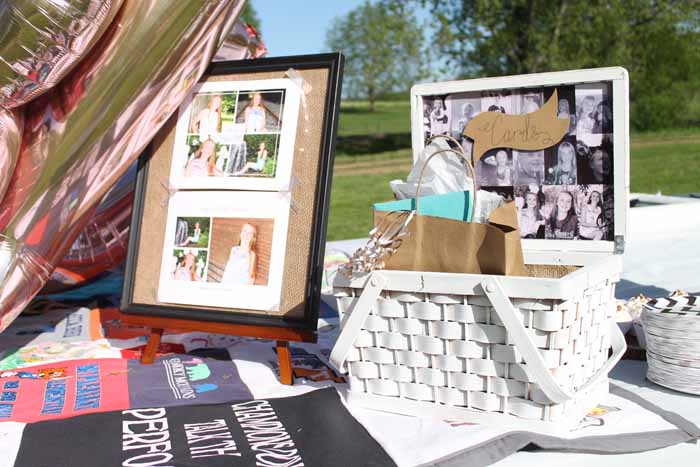 If you are looking for gift ideas for a graduate, a mason jar gift is always a hit. The cute little owl jar can be filled with candy, advice cards, cookie mix, or other small items.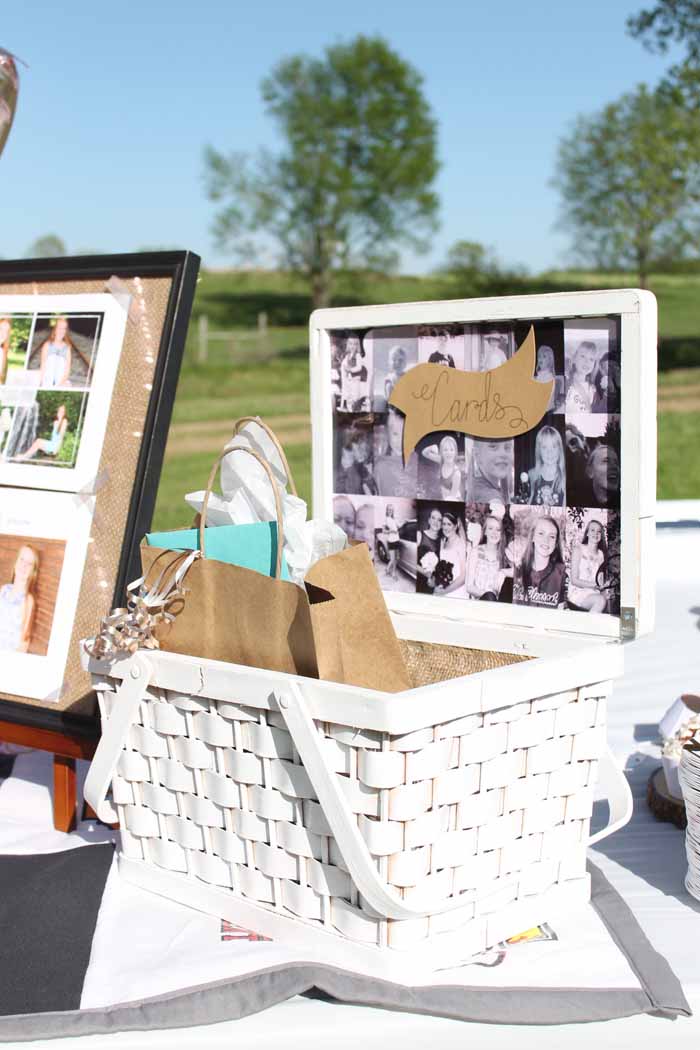 Words of Wisdom Jar for Graduates
If we all know one thing, it's that these young adults certainly need some wisdom! Near the card basket, I added a jar for guests to drop in advice, well-wishes, and other words of wisdom. For this, I used a clear mason jar, then created the wisdom cards and label for the jar with a Cricut.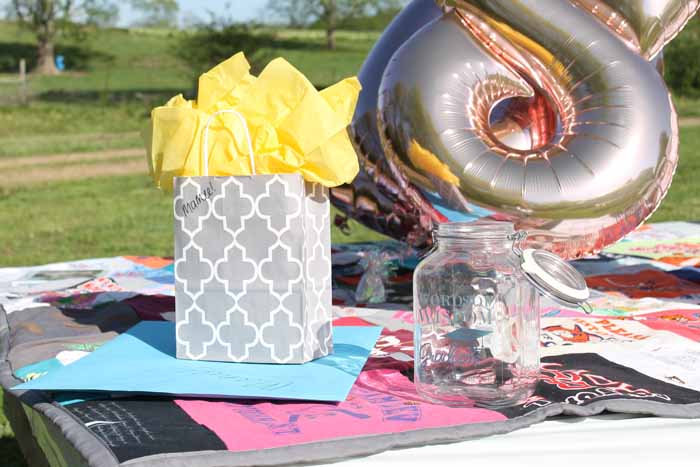 T-shirt Quit
Much like any other celebration, use gifts as creative decor. I used the t-shirt quilt I created for my oldest daughter as a "tablecloth" underneath the card basket, wishes jar, and balloons.
T-shirt quilts are great for turning old high school t-shirts into something they can use. Let's face it, the minute the graduates walk across the stage, they are done with all things high school, so this way you can keep the memories without crowding a drawer.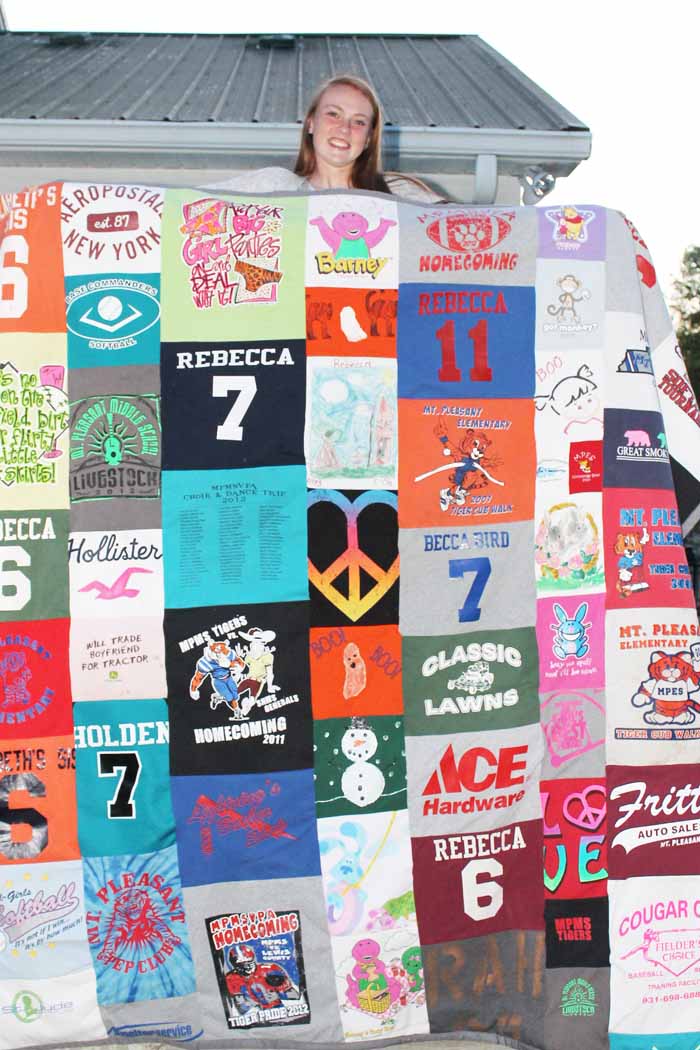 Hoop Wreath for Parties
On the front of the wagon, I added a hoop wreath for additional decor. It's a really easy craft and the burlap ribbon can be switched out with different writing. After the party, switch out the "congrats" with their name so they can use it in their dorm room or apartment for decoration. All you need is a Cricut!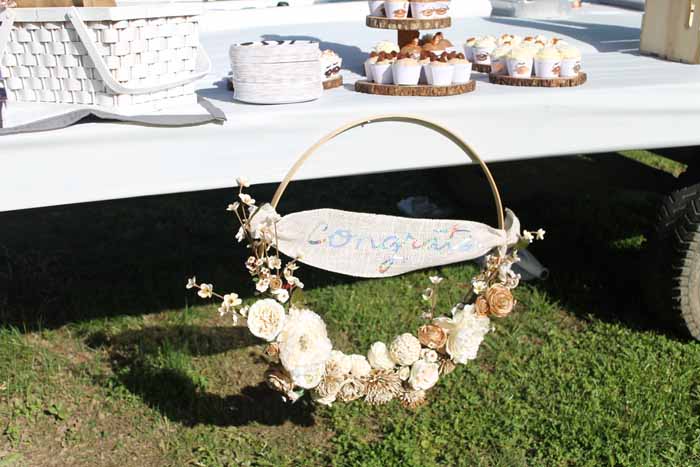 Clothespin Photo Frame
At the other end of the wagon, I propped up this clothespin photo frame to show off baby pictures of the graduate.
This was also an easy craft made with a Cricut. My graduate loved it as she could take it with her and add new pictures of her and her friends at college.
Cupcake Wrappers with a Cricut
On the opposite end, I set up the food. We had a delicious mound of cupcakes which were wrapped with these graduation hat cupcake wrappers.
I love the way the graduation cap "pops" away from the wrapper for extra interest!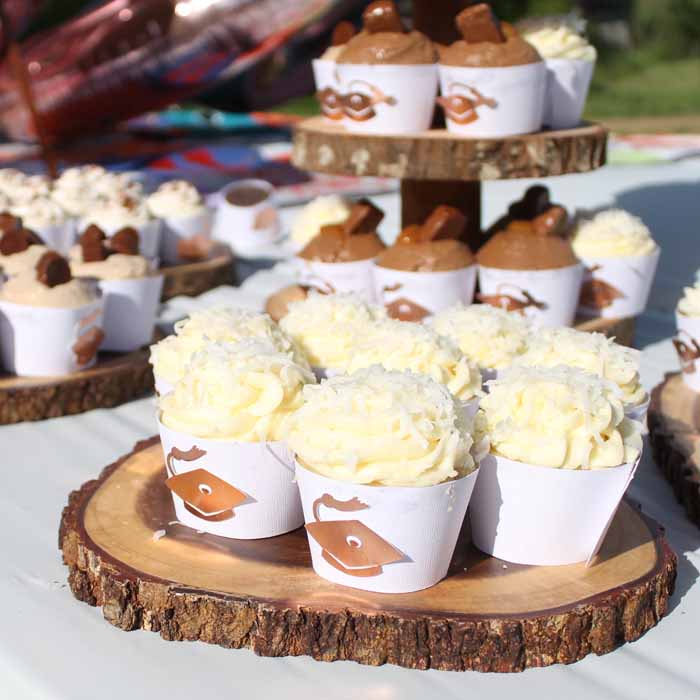 Graduation Party Centerpieces
We had a few tables set up around the backyard, all with mason jar centerpieces.
You can see how to make these photo mason jars here. Then I just added some graduation hats on wood skewers. Click here to access the Cricut cut file for those.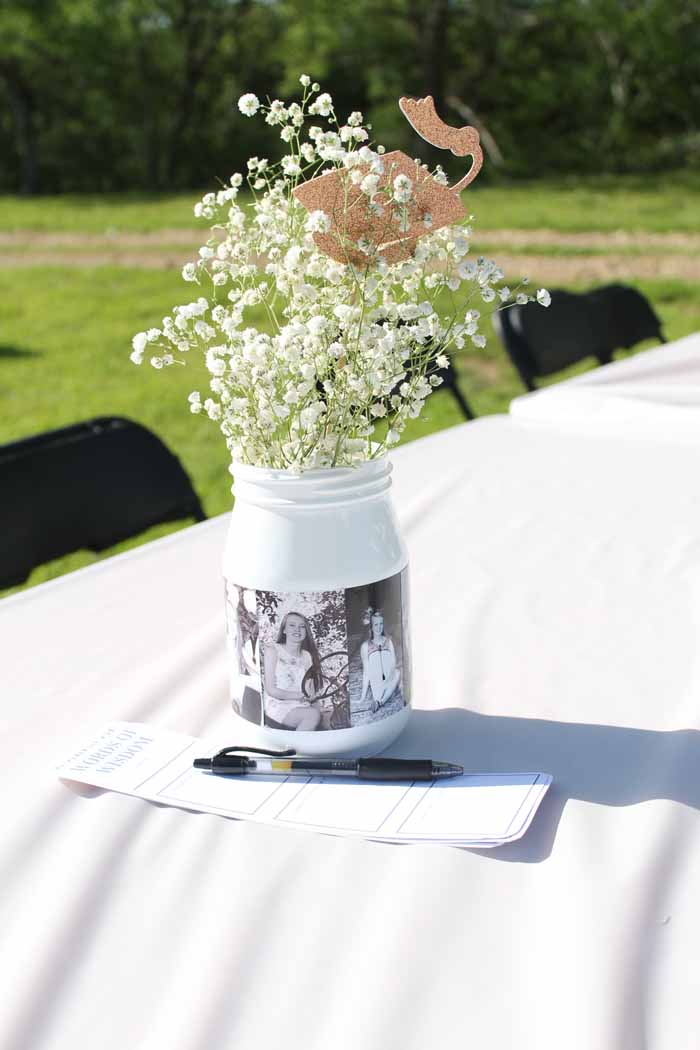 I actually alternated these with another type of centerpiece. These jars just had a bit of rose gold washi tape along with some printed pictures on wood skewers.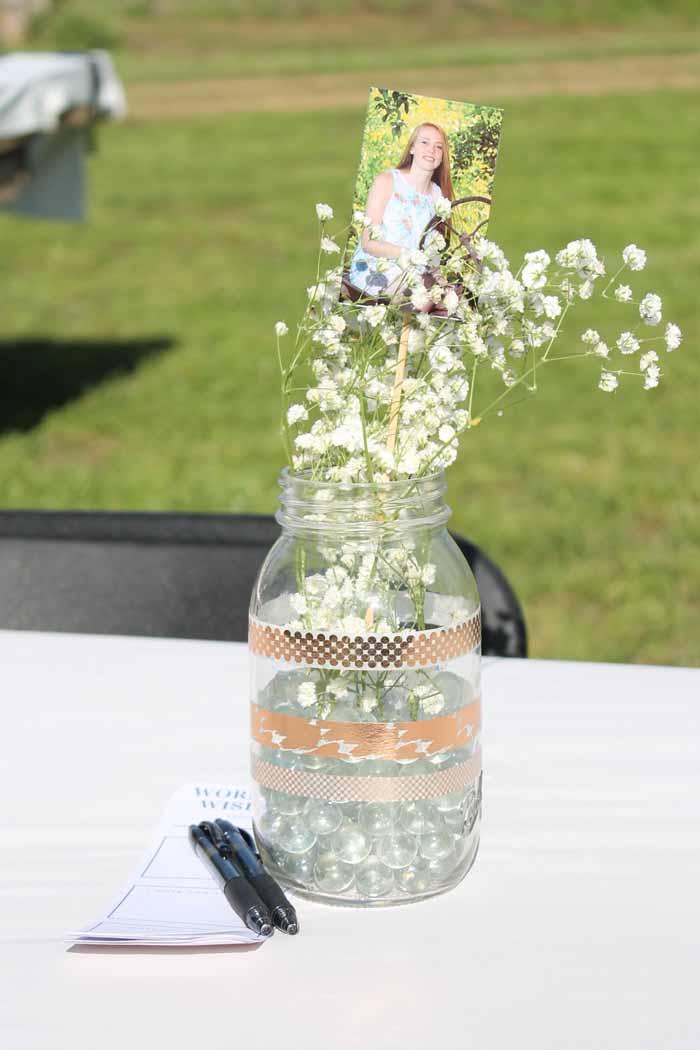 The free printable words of wisdom cards were placed under each centerpiece with a few pens. Yes it was that windy! You can print your own graduation advice cards here.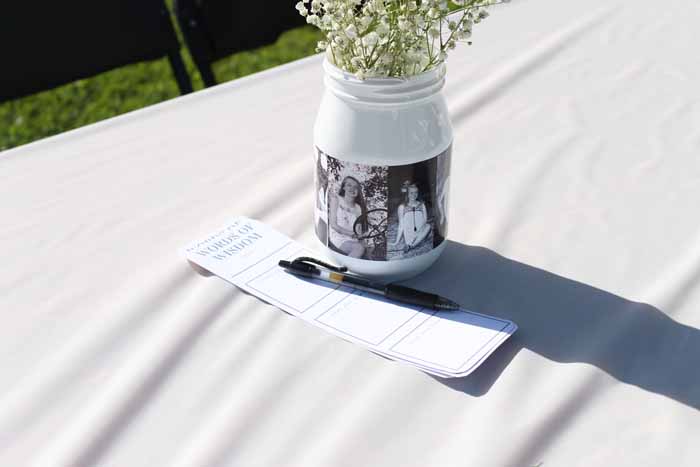 I hope these high school graduation party ideas help you a little! I know we had an amazing time so I am sure you will as well! And yes this is pretty much a graduation party that was made possible by Cricut. So many projects were using my trusty machine. And I know this girl had a great time!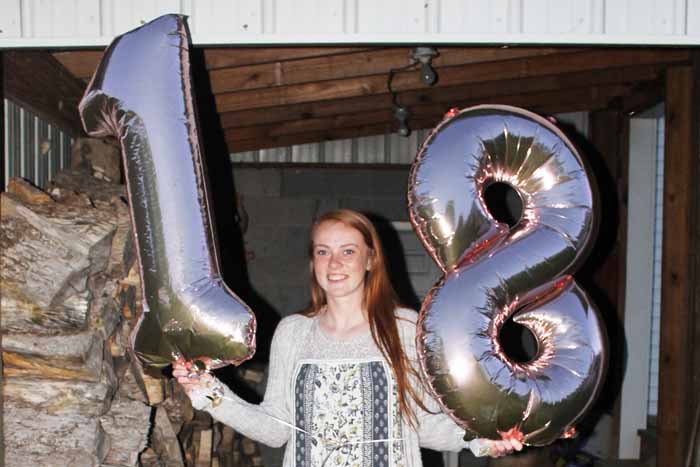 Need even more high school graduation party ideas? Try the links below!