Mason jar gifts are creative and frugal gifts from the heart! Unfortunately, they're challenging to gift wrap. Keep reading to learn how to wrap a jar with eco-friendly gift wrapping when giving it as a gift.
Reduce, reuse, and recycle. As a craft blogger, I'm not always able to reduce (ha!), but I do work hard to reuse and recycle everywhere that I can.
If you didn't know, I am a HUGE fan of eco-friendly products, which I have shared many times on these pages. When I find a great source for these products, I am always excited to share it with you. Today, I am going to share with you some information about a wonderful eco-friendly company called The Honest Company.
To go along with this info, I have a tutorial for my Mason Jar Gift Wrap. Wrapping mason jar gifts are so challenging – until now! If you've been struggling with how to wrap a jar to give as a gift, your struggle is now over.
It's a great alternative to Printable Mason Jar Gift Boxes when you want to reuse materials.
Eco-friendly gift wrapping can be terrific for various mason jar gifts. Some ideas could include Gumball Mason Jar Teacher Gift, Cinnamon Applesauce Ornament Kit in a Jar, and Build a Sundae Kit gifts!
365 Days of Crafts also has a great Sewing Kit in a Jar idea.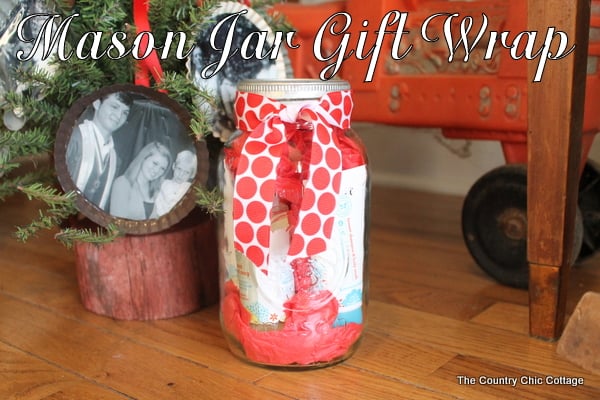 Eco-Friendly Mason Jar Gift Wrap Inspiration
Today's tutorial begins with a package.
You see, I received a package filled with trial-size items from The Honest Company. Right off the bat, the packaging was inspirational.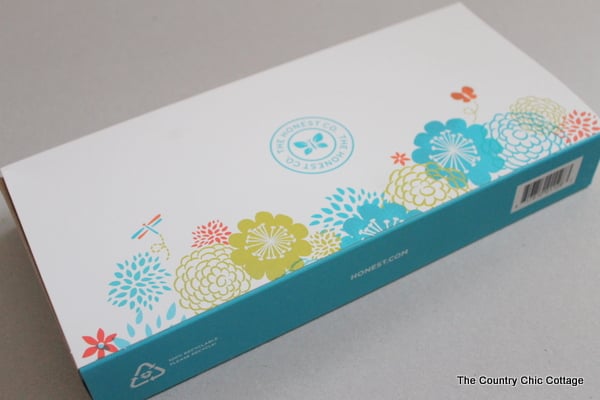 Then I opened it up, and the contents were equally inspirational. They made me want to create, so I did!
When I look at these items, all I can think about is what a great gift they would make. Can you picture it too? It could work for:
Christmas
Overnight holiday guests
Hostesses
Housewarming gifts
Basically, any other gift-giving occasion you could think of!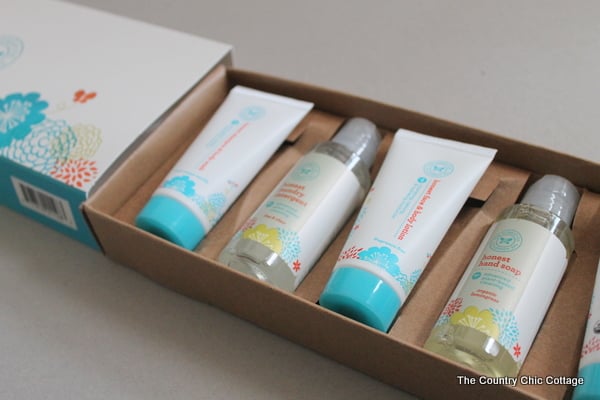 How To Make Easy Eco-Friendly Gift Wrap
Now, wrapping the outside of a mason jar is REALLY hard because of its shape! Plus, although most gift wrap looks amazing, it's full of items that will end up in a landfill.
There's a better way to show off your eco-friendly gifts: use eco-friendly packaging. I decided to use a mason jar
to package up my samples from The Honest Company.
Then here's what did to make it look like a lovely gift.
Supplies Needed
Here's what you'll need to use this method!
Mason jar
Tissue paper in the color(s) of your choice
Wooden dowel
Bath and body product samples
How To Make Eco-Friendly Wrap For A Mason Jar
Just follow this process, and you'll have eco-friendly wrapped mason jar gifts in no time!
Step 1
I stuffed some tissue paper behind and around them.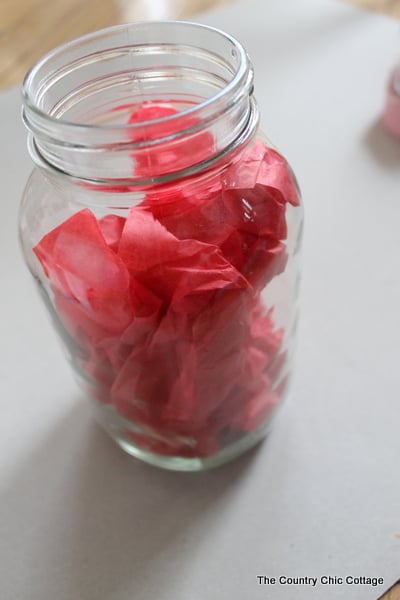 Step 2
I used a dowel rod
to stuff it into the jar really well.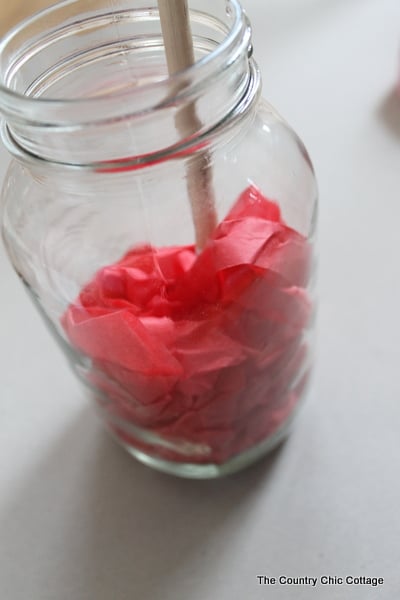 Step 3
I then added all of the samples from The Honest Company.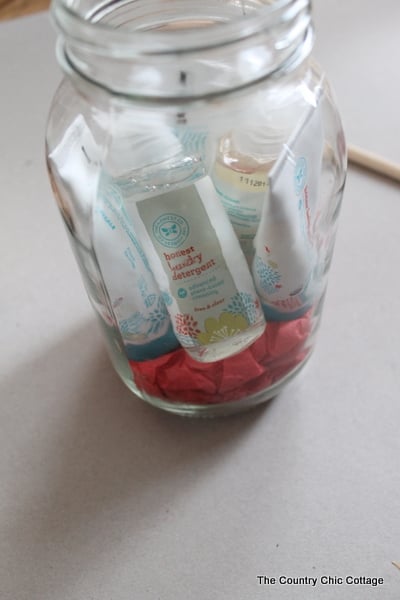 Step 4
I used another sheet of tissue paper to stuff in the middle and on top to make the jar look full and beautiful.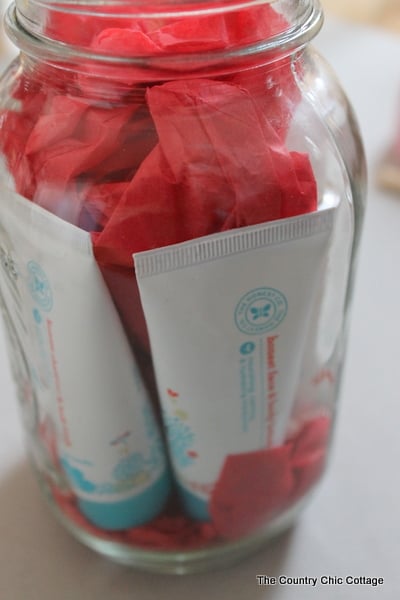 Step 5
I added a stamped scrap piece of fabric and a silver-painted jar band. I cut off all excess fabric to give it a clean look.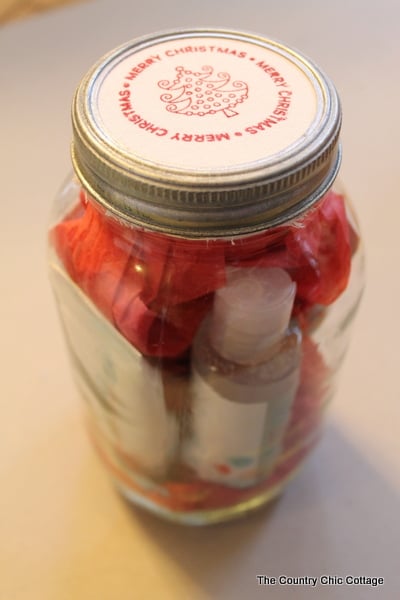 Step 6
I finished it up by tying it up with a bow, so it was ready for gift-giving. If you want to add a gift tag, you could do that too!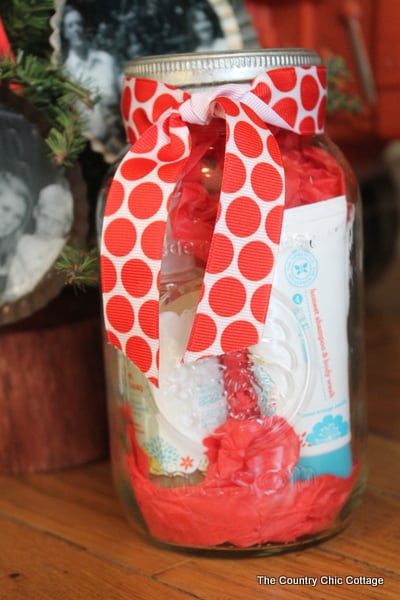 Eco-Friendly Gift Wrapping For Mason Jars
What a great statement this one will make under the Christmas tree – or when you hand it to someone!
The products make a great gift, and the wrapping can be reused in the recipient's home. Purchasing eco-friendly when we can is very important to our family. We have made a concentrated effort over the past few years to find sources for products that we both love and that are good for the environment.
I love and trust these products.
The sample kit from The Honest Company is the perfect way to try out some products and decide if these are the right options for your life and home. They are also the perfect way to allow your gift recipient to try these products as well.
Simple eco-friendly gift wrapping from a mason jar and tissue paper is a quick and easy way to make this gift look its best!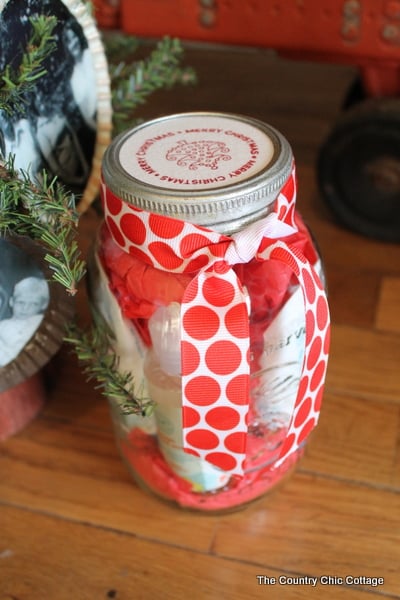 FAQs
Here are a couple of questions that I see readers ask about making eco-friendly gift wrapping. If you have a question, please check to see if I've already answered it below. Don't see your question? Leave it for me in the comments!
Is wrapping paper environmentally friendly?
Unfortunately, no, which I was shocked to learn. The glitter and foil are only part of the problem. Wrapping paper is filled with microplastics that make wrapping paper unable to be recycled and NOT eco-friendly.
What is an eco-friendly gift-wrapping alternative to Christmas wrapping paper?
My favorite option is brown paper with colorful ribbon or newspaper. Not only are they eco-friendly gift-wrapping options, but they also give the gifts a terrific rustic look!
More Mason Jar Gifts And Gift Wrapping Inspiration
So do you want more gift ideas? Check out the links below for even more great inspiration for any time of the year!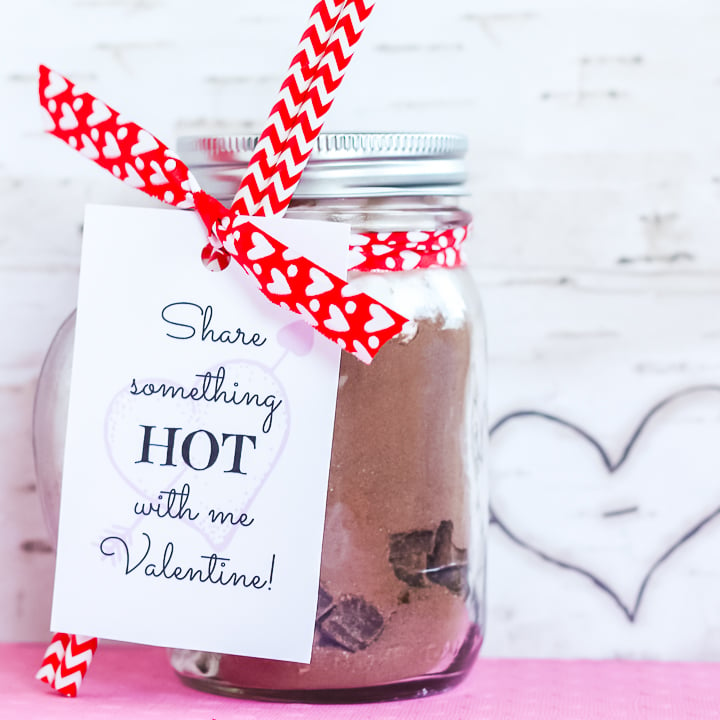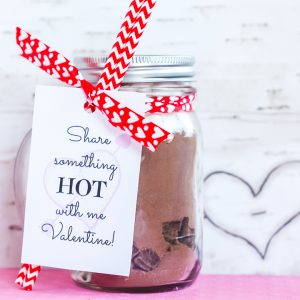 Valentine's Jar Gift Idea
Make this hot chocolate gift in a jar for someone you love this Valentine's Day.
Read More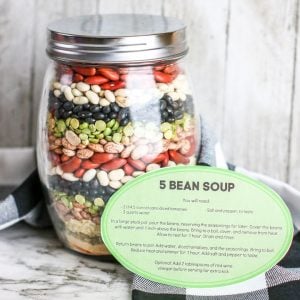 5 Bean Soup in a Jar Gift Idea
If you are looking for an inexpensive gift for any occasion, soup in a jar is the answer! This handmade gift is layered with seasonings and dried beans, then completed with a printable gift tag of the recipe.
Read More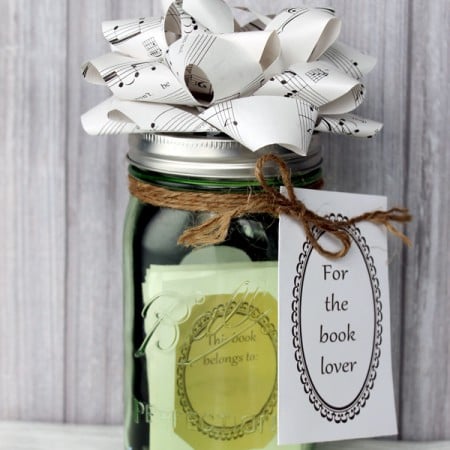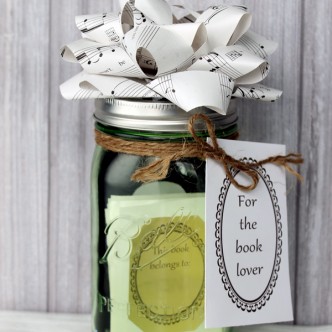 Book Lover Gift in a Jar | Arts and Craft Idea
Read More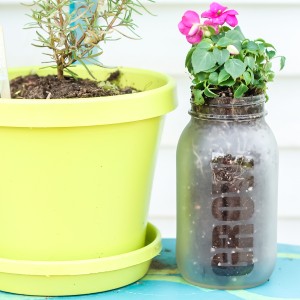 Etched Mason Jar Planter
Gift gardening supplies in a jar that is super simple to etch yourself. After the gift has been given, the recipient can also use this as a mason jar planter.
Read More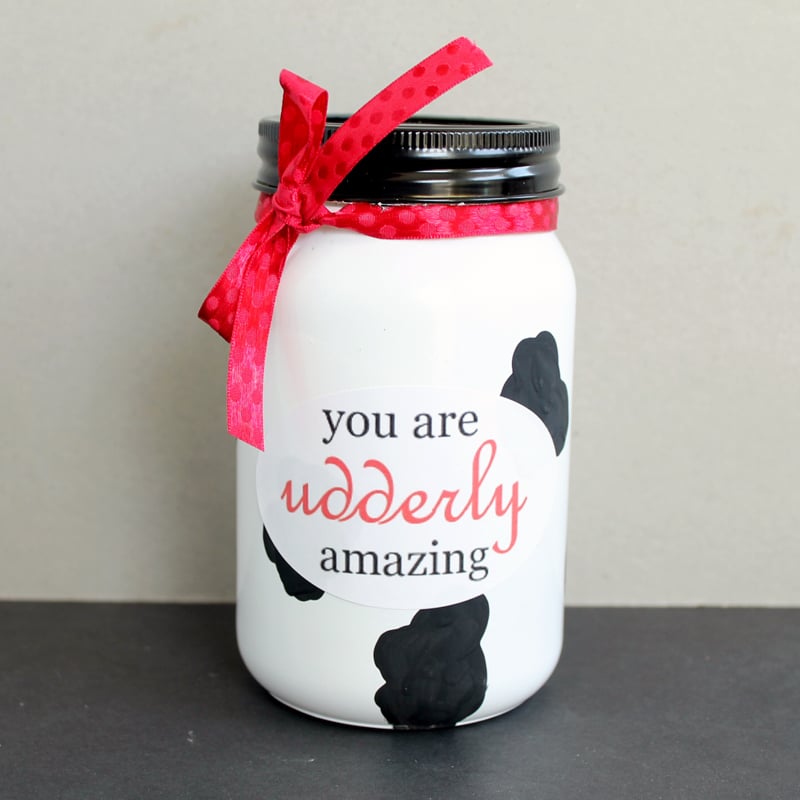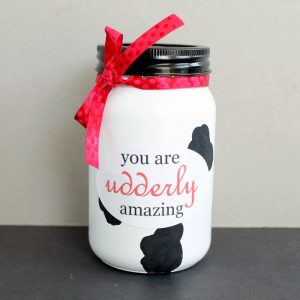 Mother's Day Mason Jar Gift Idea
Make these easy mason jar gifts for Mother's Day in just minutes! Mom will love the cow theme!
Read More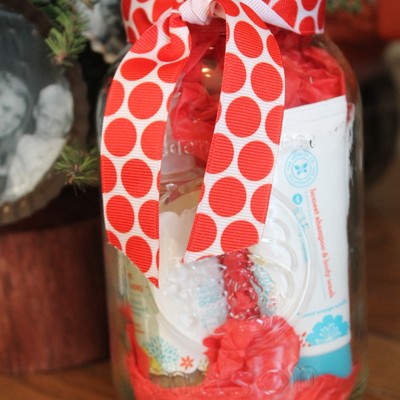 Easy DIY Eco-Friendly Gift Wrapping
Mason jar gifts are creative and frugal gifts from the heart! Unfortunately, they're challenging to gift wrap. Keep reading to learn how to wrap a jar with eco-friendly gift wrapping when giving it as a gift.
Supplies
Mason jar

Tissue paper

in the color(s) of your choice

Wooden dowel

Bath and body product samples
Instructions
Gather your materials then start by adding some tissue paper to the mason jar.

Use your wooden dowel to pack the tissue paper down into the mason jar.

Add the samples into the jar.

Stuff more tissue paper in the jar around the samples to fill the jar and make it look amazing.

Add a piece of fabric to the top of the lid and trim the edges. Add a band to secure the fabric in place and give it a clean look.

Tie a ribbon around the top and (optional) add a gift tag, if desired. Your mason jar gift with eco-friendly gift wrapping is ready to give!
Tried this project?
tag us to show off your work!
A Year of Jar Crafts
Sign up for our email list to get a FREE book with an entire year of jar crafts! 12 months, 12 crafts, tons of fun!