I have been working on painting a claw foot tub and the results make my heart sing. This is the first step in a bathroom makeover that I hope you all are going to love. Step one was to paint the monster in the room. I did some research and painting a claw foot tub is surprisingly easy. And I have been scared all of these years! This post is in conjunction with DecoArt and was compensated however all projects and opinions are my own.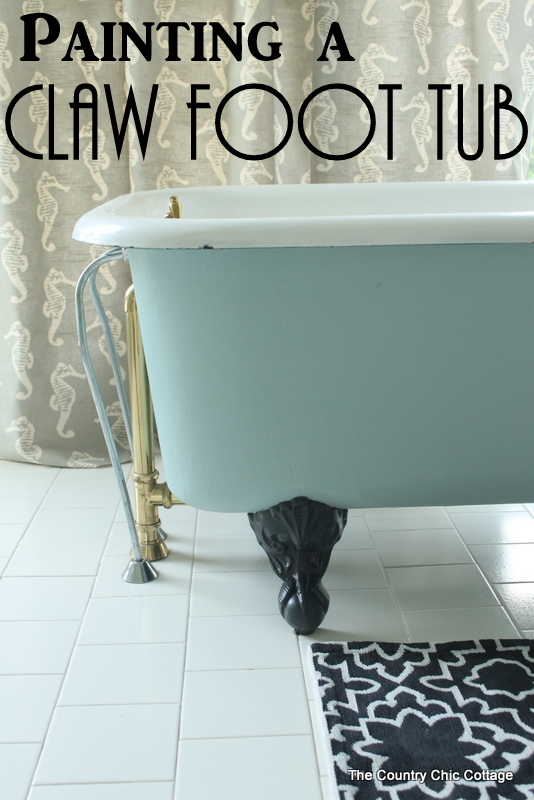 Lets start with the best part — a before and after shot. Everyone loves those right. When we bought this house the tub was a lovely shade of hunter green and I never touched it.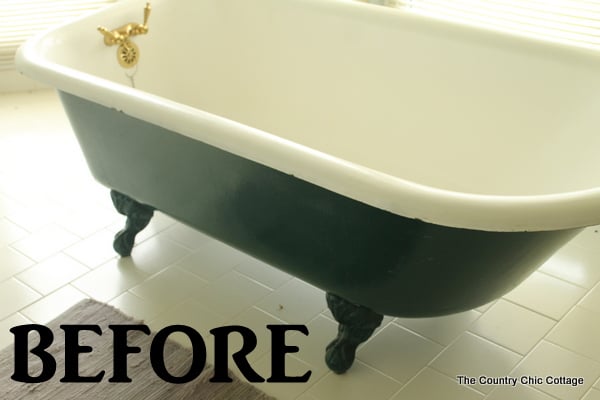 Until now! Look at that after y'all! What a difference a coat of paint can make! Just seeing these pictures make me itchy to finish the bathroom makeover and give y'all a full reveal.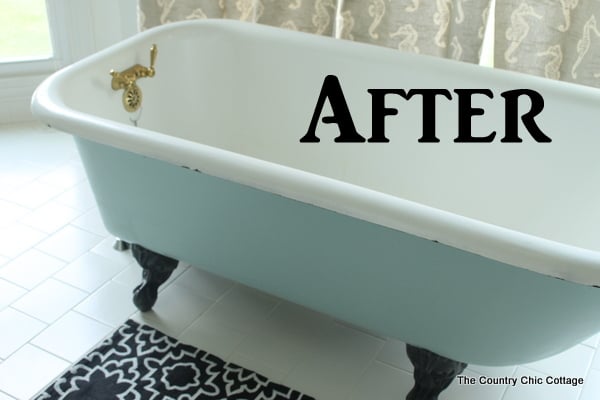 For painting a claw foot tub you will need:
(Affiliate links may be used in supply lists on this site. If you click and purchase a portion of the sale may go to support this website)
Americana Chalky Finish Paint in your choice of colors (I used vintage for the tub and relic for the feet) (All Americana products discussed in this post are available at: Homedepot.com.)
Americana Satin Finish Varnish
Paint roller and small brush
Cleaner
Drop cloths or other method to cover the work area
Painter's tape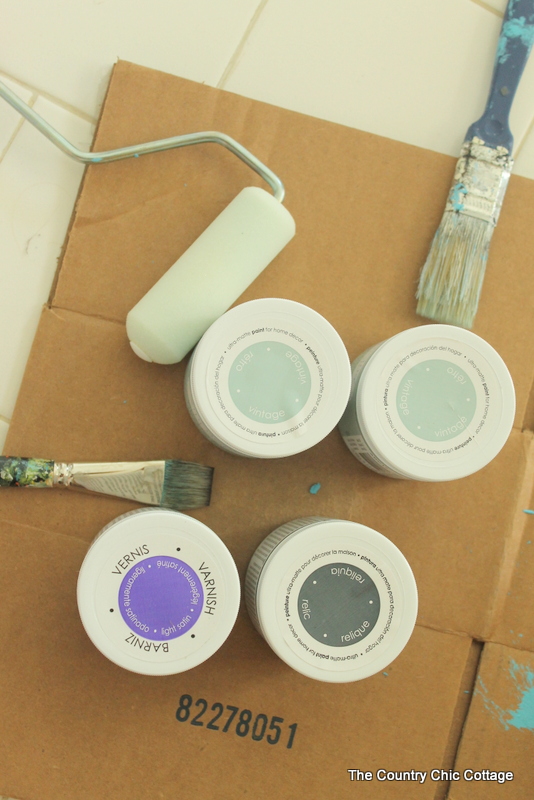 NOTE: When any mention is made about painting the tub we are talking about the OUTSIDE only! Upon researching painting a claw foot tub, I realized that often these were just painted with the wall paint when the bathroom was painted. There really aren't any special methods or secrets. Just paint. Now don't I feel silly for letting this go so long. I did do a good job of cleaning the surface before I started. Also, you will want to pick the satin finish varnish from DecoArt to make the outside of your tub cleanable. Otherwise, jump in with both feet and get it done! The below picture is after one coat of vintage. I actually painted one coat of another color over the hunter green, did not like it, and started over with the vintage. Yep you can easily change your mind as well. I used a brush on the hard to reach spot and feet. The small roller is perfect for the sides of the tub however.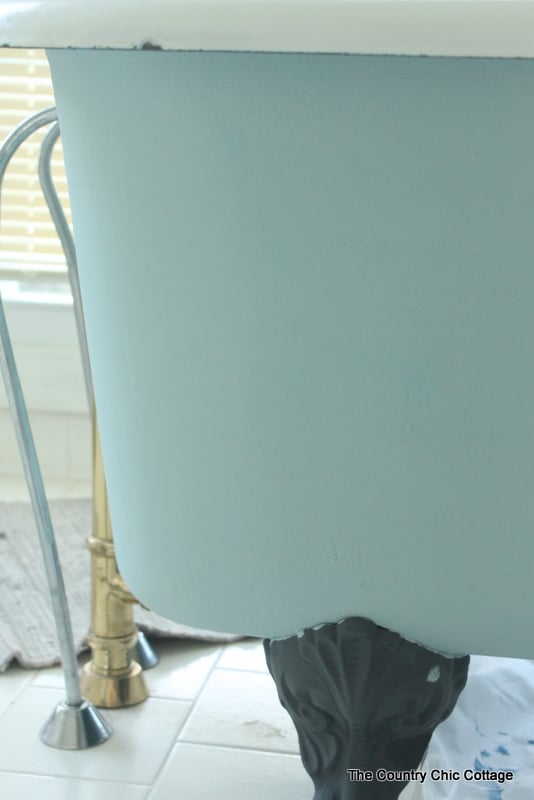 It was hard to capture with the camera but it definitely needed two coats. After looking around at inspirational tub images online, I painted the feet a different color then the outside of the tub itself. I also painted the feet with the Chalky Finish paint. The picture below is after the second coat and one coat of varnish.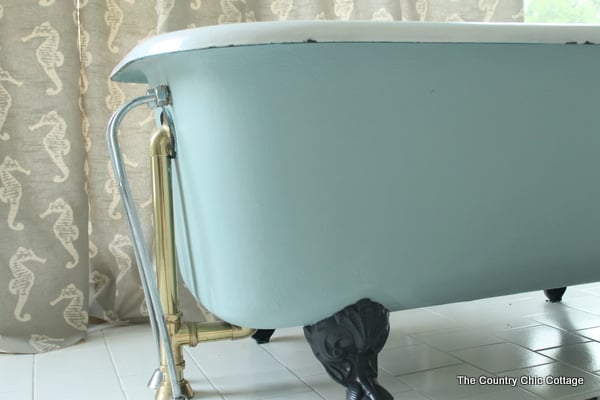 You can just see a little shine on those feet. It is just slightly shiny and I love it! I only did one coat of varnish as we really do not use this tub at all. Seriously it is a pain to wait for this huge tub to fill up so it sits unused. But if you are painting a claw foot tub that gets used regularly, I would recommend at least two coats of varnish. Be sure to follow all instructions on the back of your Chalky Finish paint. Wait at least two hours before any additional coats are applied. I would also allow everything to cure for a few days before using the tub. After that, jump in and enjoy.
That rug and those unfinished curtains in the background are a sneak peek for y'all. I will be revealing a full bathroom makeover week after next. It should be amazing so stay tuned. In the meantime, are you planning on painting a claw foot tub? Just jump in and do it! You will be so glad you did! Psst…the rug is from Dollar General and we will talk more about the curtains soon I promise! If you are looking for that curtain fabric though, try Online Fabric Store (affiliate link).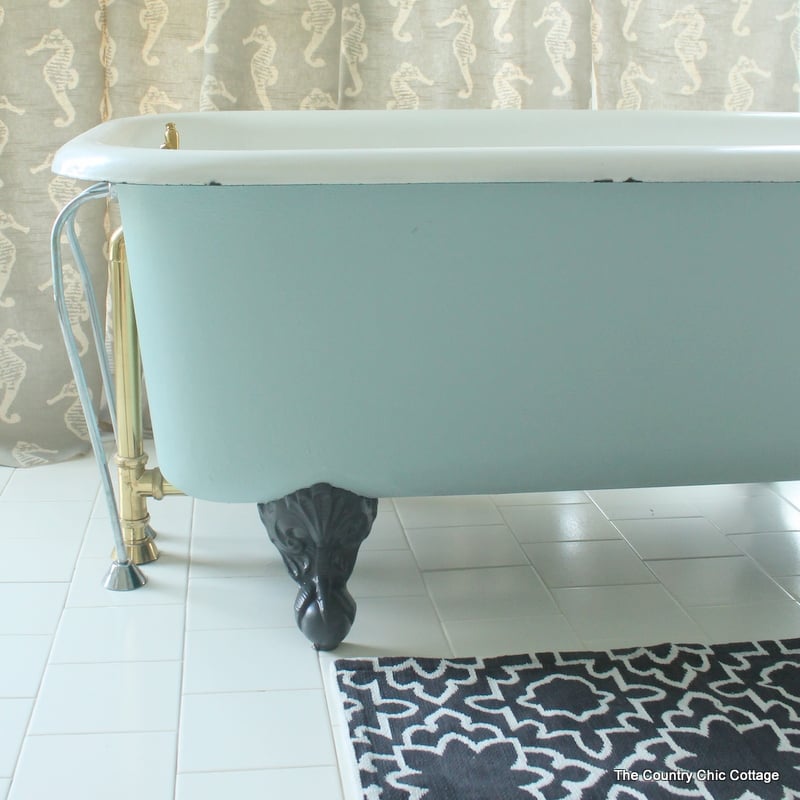 I was compensated for this post through DecoArt however all projects and opinions are my own.