You are going to love these personalized easy name labels for mason jars! The perfect option for any wedding, party, and luncheon– this project is a quick and simple solution to mixing up drinks! The perfect addition to any table arrangement or kids' birthday party!
Looking for more mason jar crafts? Be sure to visit this list of over 80 wedding ideas for mason jars! You will have all types of ideas!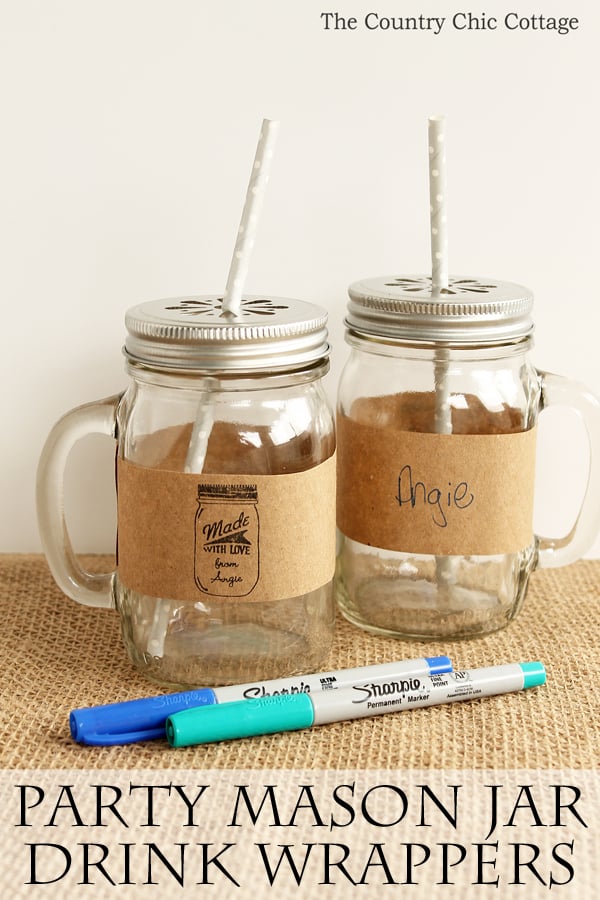 Make Your Own Mason Jar Name Labels
These personalized mason jars with drink wrappers are so easy to make! I love these name labels whenever we're expecting crowds because these labels allow everyone to keep up with their beverages. Made with just a handful of basic materials, you'll be able to transform kraft paper and mason jars into custom drinking glasses!
Supplies Needed
Some links may be affiliate links.
Mason jar mugs : The types with the sides and no emboss work best.
Kraft paper: Just a roll from the dollar store works great!
Paper straws: Any color works! Pick your favorite colors for your event and pick matching straws!
Expressionery Mason Jar Stamp: Customize the stamp for whatever type of event or party you're hosting.
Markers: Any color works, but go darker colors.
Note: Get creative and draw some designs on the name labels or decorate them with paint, stickers, etc.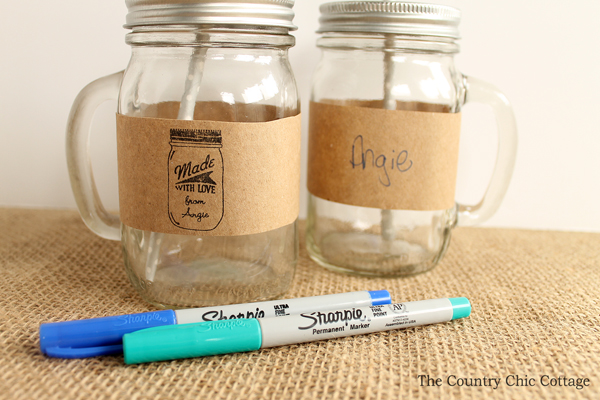 You can watch me pull together these party mason jar drink wrappers in the super quick video below.

How to Make Mason Jar Name Labels
This craft couldn't be any easier! Just about ten minutes of your time and a handful of supplies are all you will need for this easy project. For more details, be sure to scroll down to the recipe card.
Step 1
First, trim the kraft paper into thick long strips.
Step 2
Next, use the stamp to customize the strip on one side. This is where you will decorate your kraft paper if you are using extra materials.
Step 3
Wrap the paper strip around the mason jar and secure it with a dry adhesive.
Step 4
Next, add the lid and paper straw.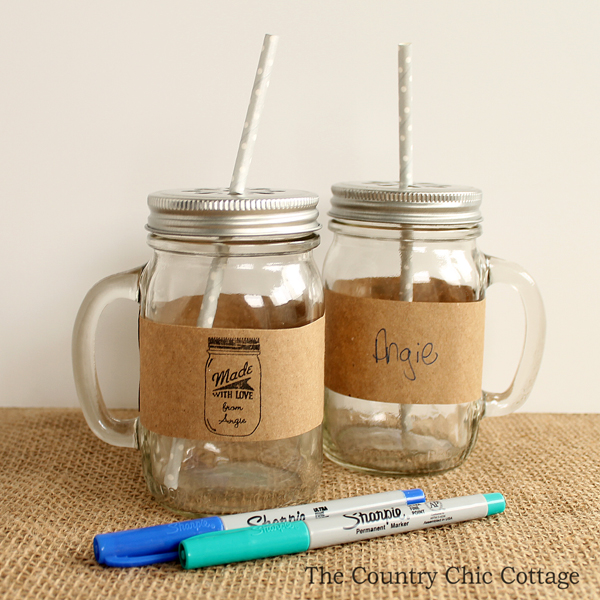 How to Use
Place the mugs out at the event and let the guests write their names on them with markers! These name labels are the perfect additions to any children's birthday parties or celebration. You can use these jars at weddings, bridal showers, baby showers, holidays, etc.
Love This Idea for Rustic Wedding Signs and Want More? Click the Links Below!
Want to print the instructions for these mason jar name labels? You can use the card below!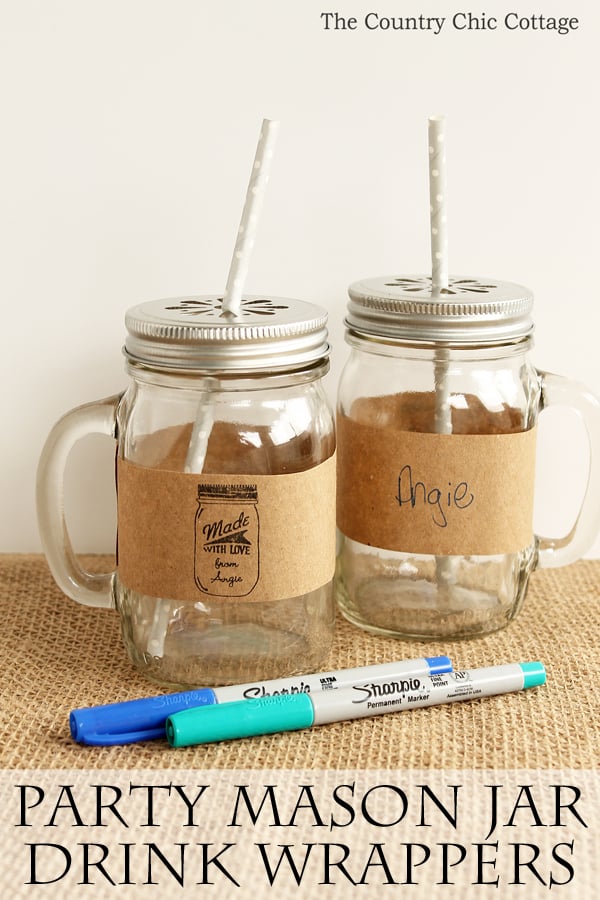 Supplies
Mason jar mugs

the types with sides and no emboss work the best; any size

Kraft paper

a roll from the dollar store
Paper straws

any color; match the straws with the color of the decoration

Markers
Instructions
First, trim the kraft paper into long strips. Make sure the strips will fit through the handle of the mason jar mug you are using. They should also be long enough to overlap slightly.

Use the stamp to customize the strip on one side.

Wrap around the mason jar mug and secure with the dry adhesive. I like the overlap to be under the handle so you can't see it.

Set out these mugs and let your guests drop their name on them with a marker. Perfect for a wedding or even a large party!
Tried this project?
tag us to show off your work!
A Year of Jar Crafts
Sign up for our email list to get a FREE book with an entire year of jar crafts! 12 months, 12 crafts, tons of fun!