Spray paint marbling is one of the easiest craft projects ever and you probably have everything you need to do it on hand already. Use this technique to change up your surfaces and add a little something special. I am going to demonstrate the steps on some plain vases but you can literally use this on any surface that can be painted. I have used the same procedure on a mason jar, a sign, and some glass Christmas trees. So, find something around your home to paint or buy something brand new then get started with our tips below.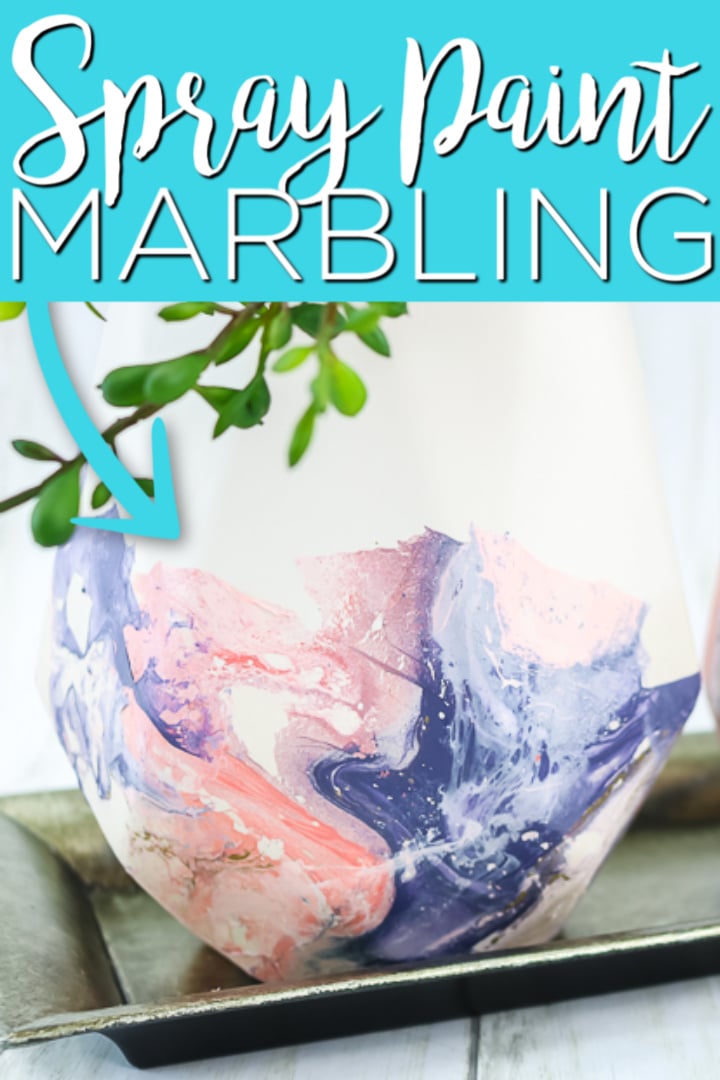 Supplies for marbling paint:
Spray paint in a variety of colors
Surface to marble (I am using two plain vases)
Old plastic container
Craft sticks or scrap wood
Water
Tray and flowers to complete this project
Gloves (optional but this project can get messy)
Old cardboard or newspaper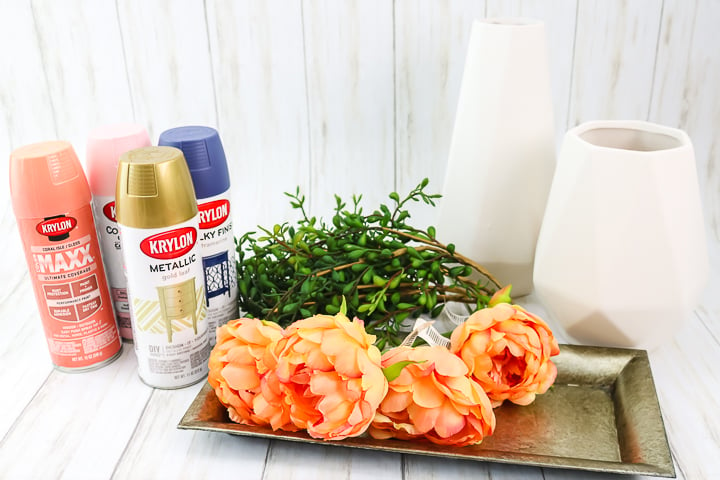 Surfaces you can marble:
There are so many options when it comes to what you can dip! Here are a few ideas to get you started:
Painted glass – jars, vases, lamps, etc.
Unpainted glass – glasses, pitchers, candleholders, etc.
Paper – card stock, paper mache, gift boxes, gift bags, etc.
Plastic – phone cases, animals, storage containers, etc.
Wood – picture frames, signs, bowls, knobs, etc.
Metal – buckets, lanterns, bins, etc.
Clay – planters, bowls, etc.
So, gather up your items and follow the instructions below for some marbling fun!
How to marble with spray paint:
Now that you have your supplies, it is time for some fun! This project is also great for older kids but again it is messy. Be sure to do this outside, wear old clothes, and disposable gloves. You will thank me later!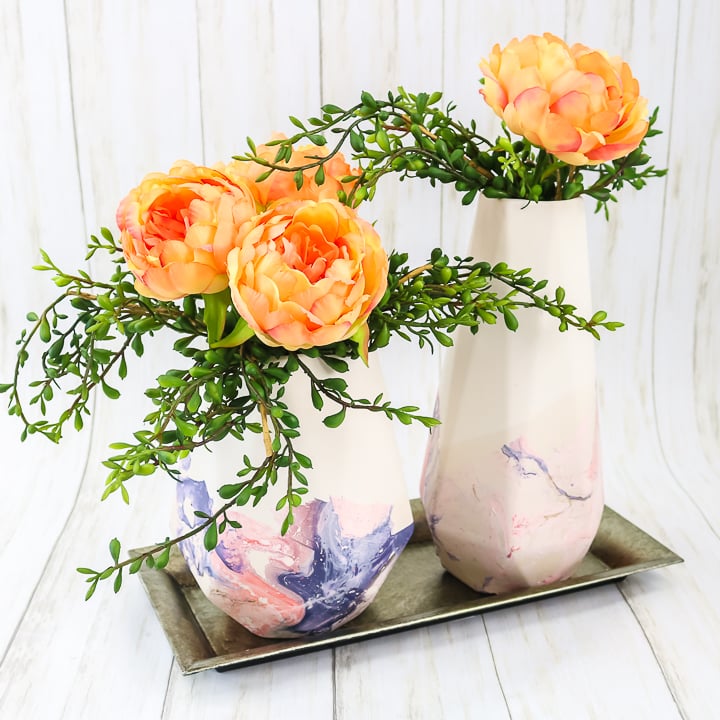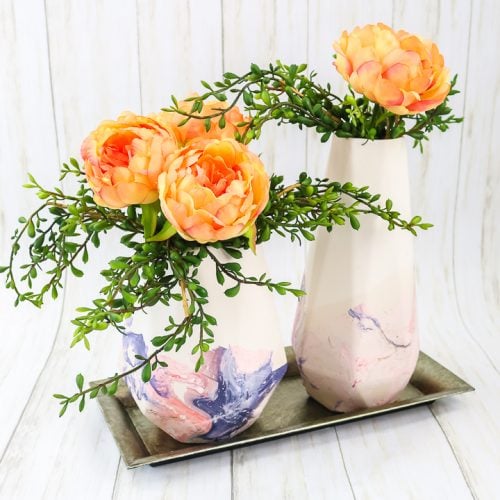 Spray Paint Marbling Instructions
Are you ready to use your spray paint in a whole new way? Use it to make these marbled vases and so much more.
Ingredients
Spray paint in a variety of colors

Surface to marble

I am using two plain vases

Old plastic container

Craft sticks or scrap wood

Water

Tray and flowers to complete this project

Gloves

optional but this project can get messy

Old cardboard or newspaper
Instructions
Add water to an old plastic container. This project will ruin your container so be sure to use an old one. You will also want to protect your surface with cardboard and/or newspaper. Put on your gloves and start spraying small amounts of spray paint directly onto the water's surface.

Repeat for as many colors as you like. You will start to see a marbled effect on the top of the water.

When you are happy with the look of your paint on the water, dip in your project. I only did the bottom of these vases but you can do as much or as little as you would like. To remove the vase from the water, you may have to push away the excess paint that is still floating. Do this with a craft stick or scrap piece of wood. Then pull the vase out of the water.

Set the pieces aside to dry. I like to dry mine upside down. Repeat for as many pieces as you will be marbling.
Tried this project?
tag us to show off your work!
Then, for these vases, I added them to a tray and started filling them with greenery.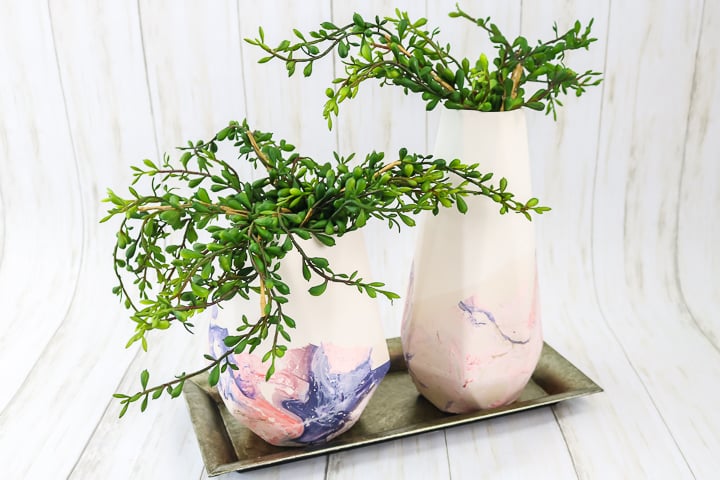 You can add as many or as few flowers as you would like if you make these vases.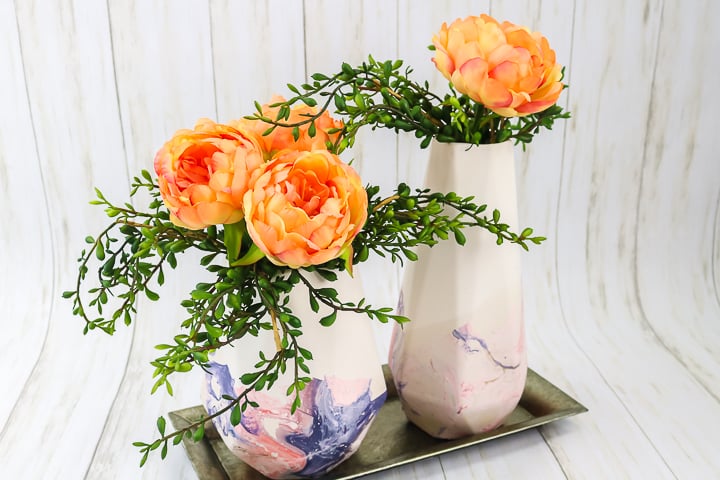 Want to watch me do this marbling technique? Here is a video of me dipping a small sign that might help you see the technique a bit better.
I love how these vases turned out! The only question really is what all can you marble with this technique.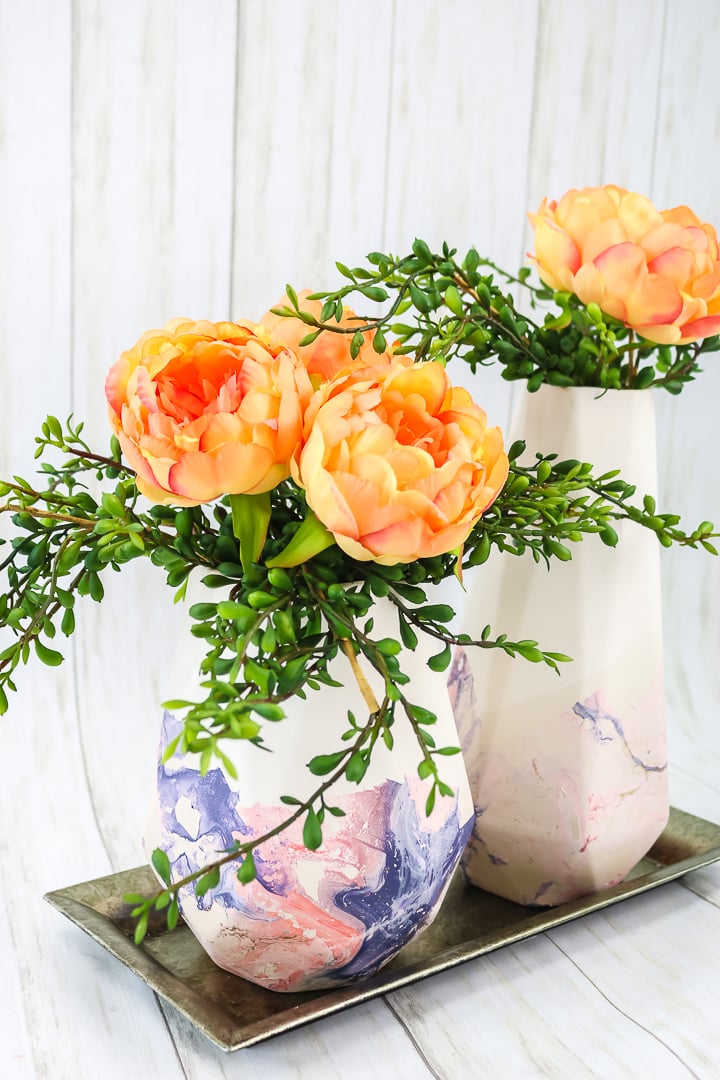 So, grab your supplies and some things that could use a face lift from around your home. You will love adding a marbled look to some of your home decor pieces.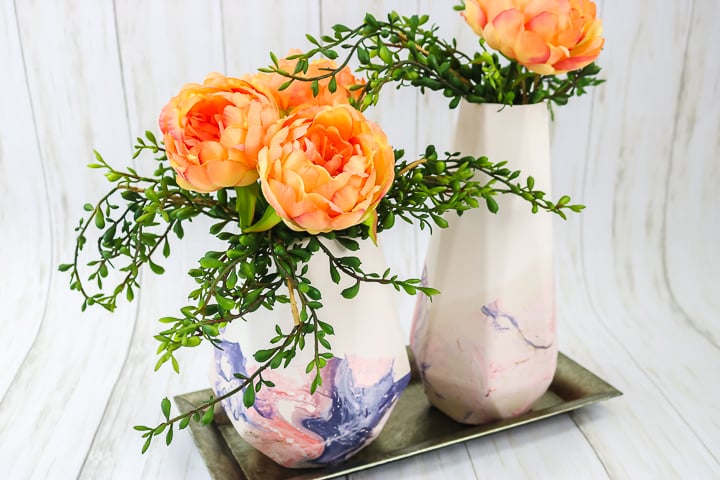 I am going to find some more things to use with this spray paint marbling technique. I absolutely love a quick craft that helps me to add some interest to my home. These are my favorite types of projects and I hope you enjoy them as well!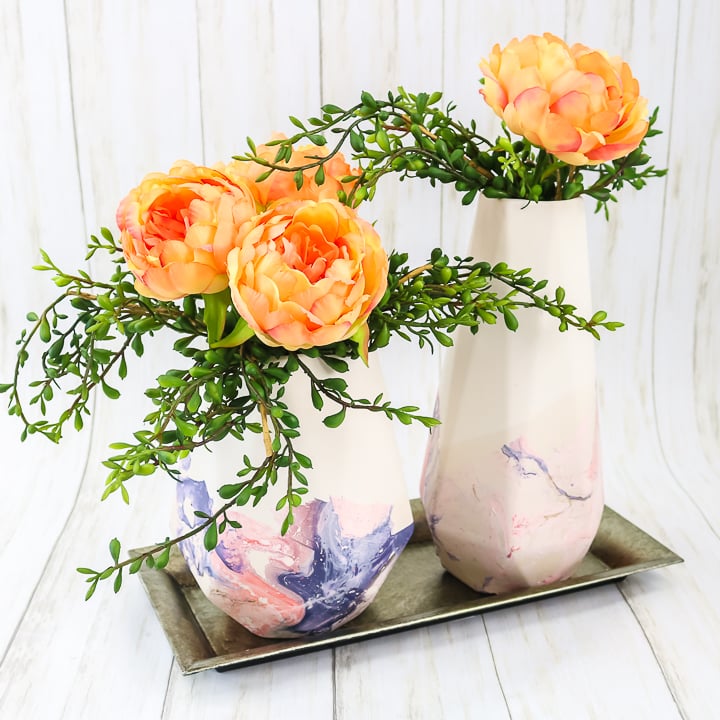 Love this paint technique and need more ideas? Try the links below as well!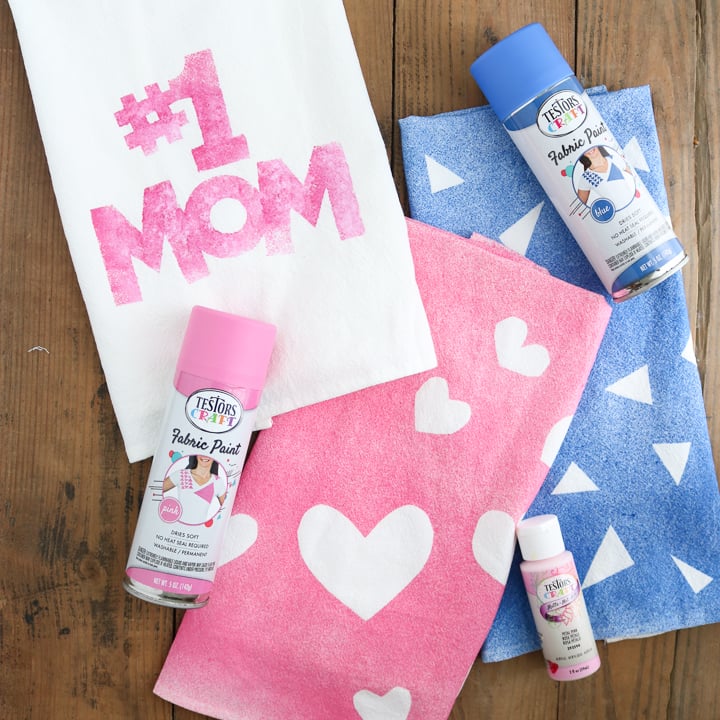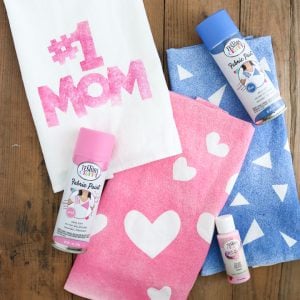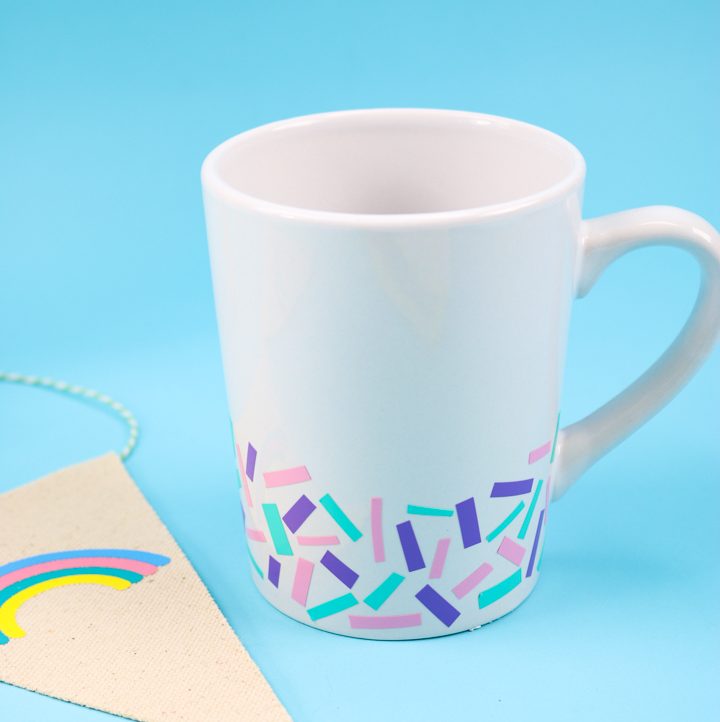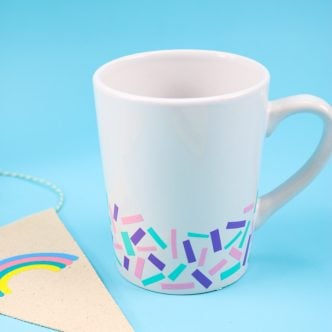 Sprinkles Coffee Mug
Add sprinkles or confetti to any surface with the scraps you have around your home.
Read More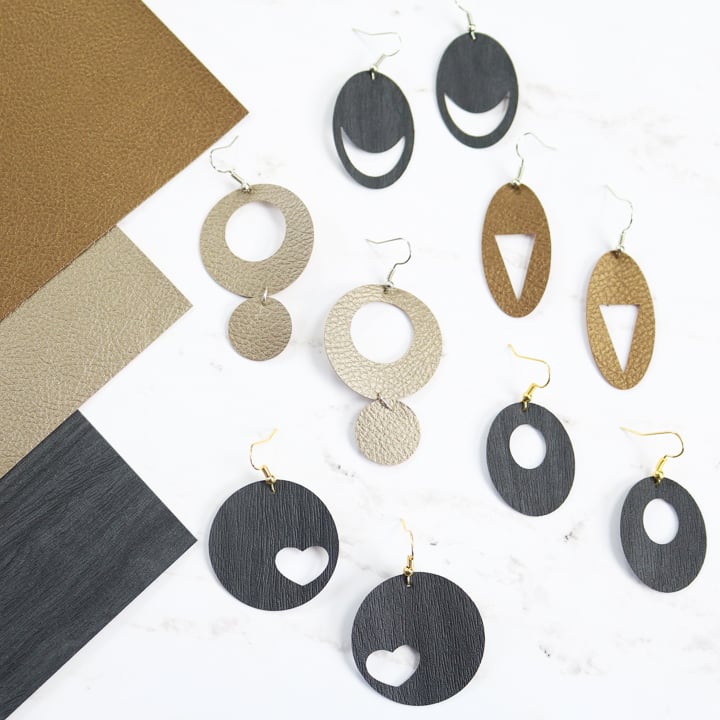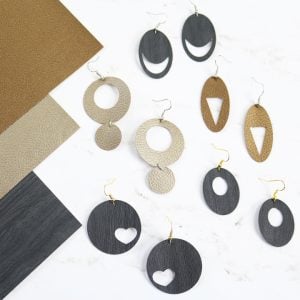 Cutting Earrings with a Cricut Machine
It is so easy to make earrings with a Cricut. You will have a pair for every occasion!
Read More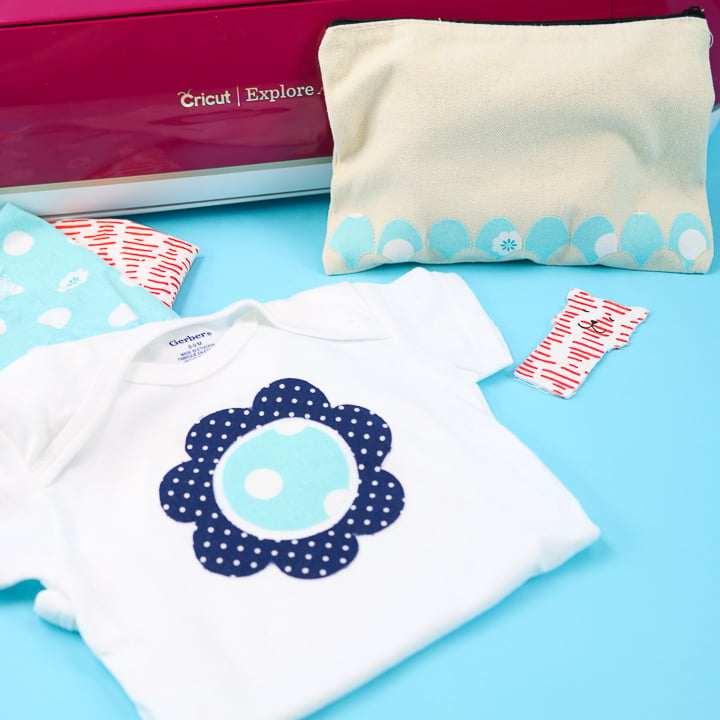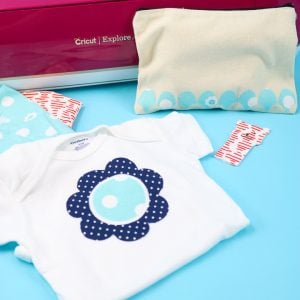 Using Scrap Fabric on a Cricut
Don't throw away those scrap pieces! Use your scrap fabric on your Cricut to create something new.
Read More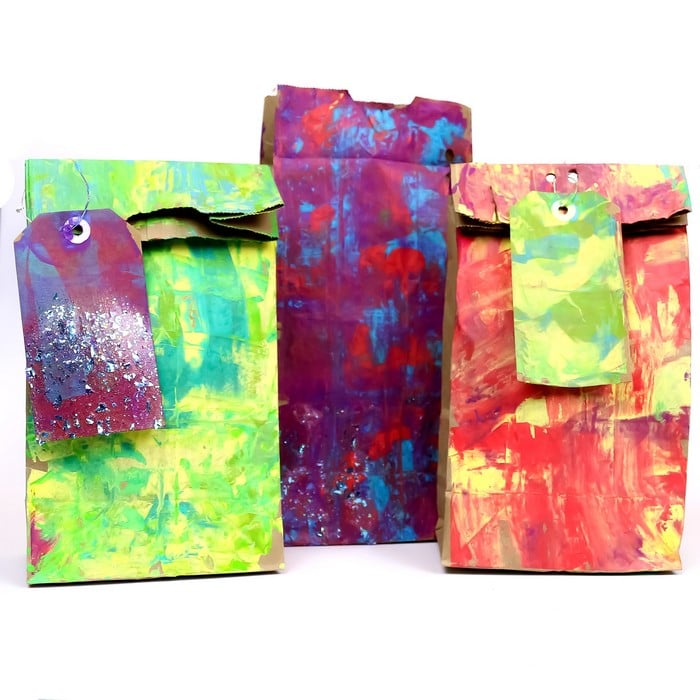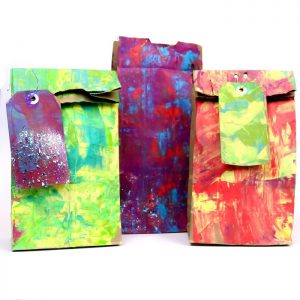 Scrape Painted Gift Bags
Try this scrape painting technique for a whole new look to your projects!
Read More