Welcome Spring with this simple and easy spring wreath idea! Whether you want to decorate your front door, living room area, kitchen, or fireplace, this burlap wreath will sure add some sparkle to your home decor.
I am feeling the need for spring y'all. I thought I would add a touch of spring to my front door with this spring burlap wreath. At least my door will be nice and warm looking!
My front door has been looking kind of unoccupied ever since Christmas ended. And since constructing a spring wreath has been on my to-do list before the season even started, I thought it was the consummate time to make one.
I was able to check some stores to see what kind of wreaths they have at hand or possibly on sale, but since nothing satisfied my longing, I undisputed to craft one myself! It's going to be easy, right?
Grab the supplies below and follow the instructions to make your burlap wreath.
This one was originally posted over at Crafts Unleashed however I am posting it here in case y'all missed it.
Spring Burlap Wreath Tutorial
A DIY burlap wreath is one of the most unchallenging ways to embrace spring in your home. The spring season is a time when homeowners work on their outermost decor to ameliorate their curb attraction and a flower wreath will do just the trick!
After a tyrannical winter, a house can look substandard for wear. If you're starting to work on your home or about to, this spring burlap wreath will illuminate your home, amplify curb appeal, and draw attention away from other unflattering structures.

Supplies needed to make your own spring burlap wreath: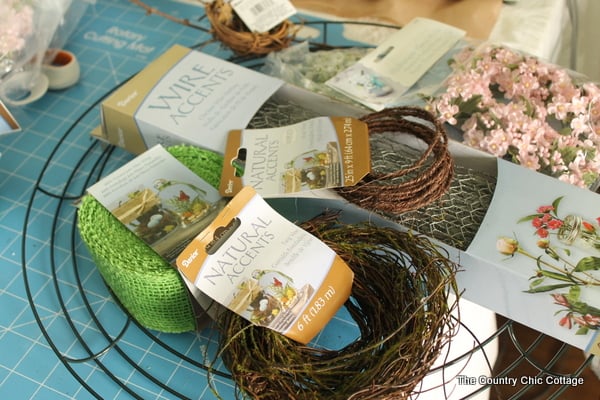 Start with the chicken wire and wire wreath form. Use metal cutters to cut the chicken wire to fit inside the wreath form. Attach the chicken wire to the wreath form with lengths of floral wire as shown. It is important to leave the long ends free as we will use them in a minute.
Snip off 6 – 8 inch lengths of floral wire and tie them to the wreath form in various locations in the middle and outside edge as shown. Make sure they are in a location where they will not slide along the form (the place where the vertical and horizontal pieces cross are perfect).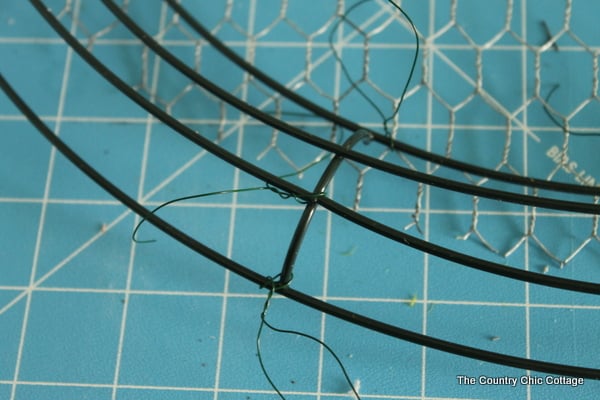 Start with the burlap ribbon in one area and tie on as shown below.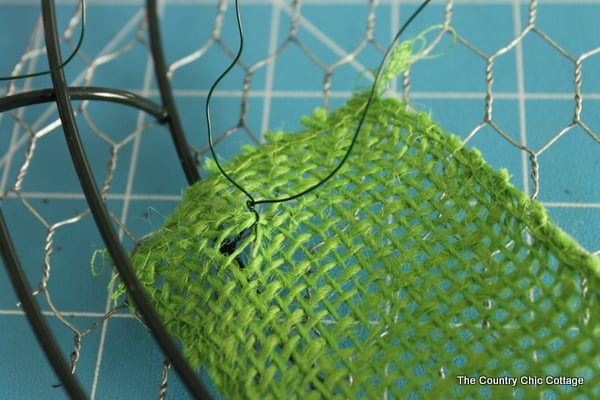 Then make a "bubble" with the ribbon and tie the wire around the ribbon as shown below.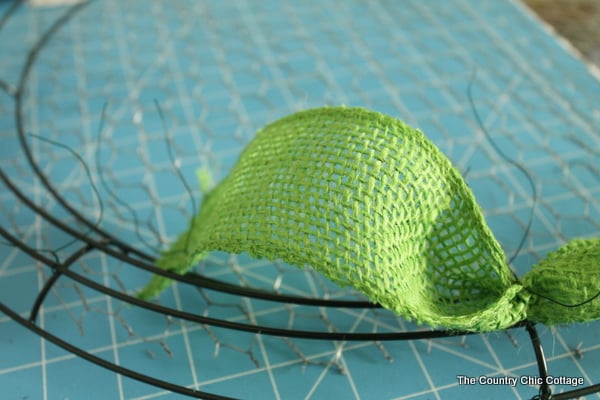 Continue in this same manner all the way around the wreath. Cross the ribbon, make large and small bubbles, or anything else that suits you. Just play with the ribbon and the wreath until you love it. You can add more floral wire if needed as well.
The image below is after one spool of ribbon. I used an additional 1/2 spool before calling this one done. Before finishing, try to cover up any places where your wire shows with ribbon bubbles as well.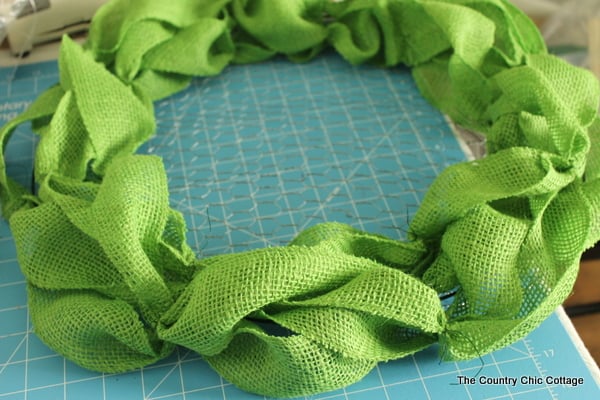 Cut little pieces of the flowers and stick them inside the wreath as shown. You can use just a dot of hot glue to secure. Use these flowers to hide anywhere you can see floral wire as well.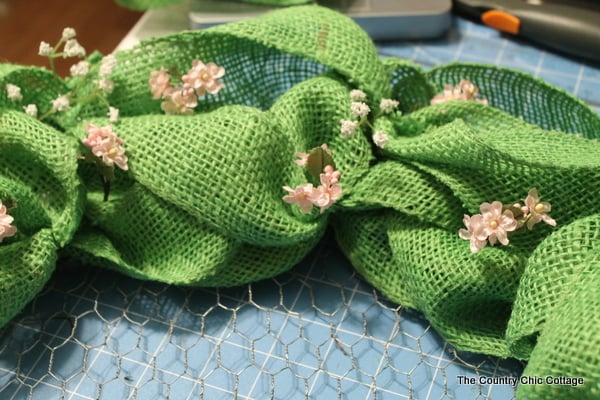 Lets make a bird's nest for the center of the wreath. Start with the mossy twig vine and hot glue. Twist it up into a nest like shape using hot glue to secure it in place as you twist. Hold it until the hot glue sets.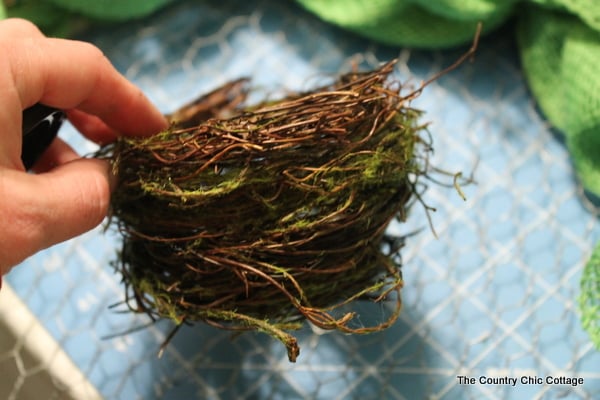 Secure to the center of your wreath with additional hot glue. Fill the nest with flowers and secure those with hot glue as well.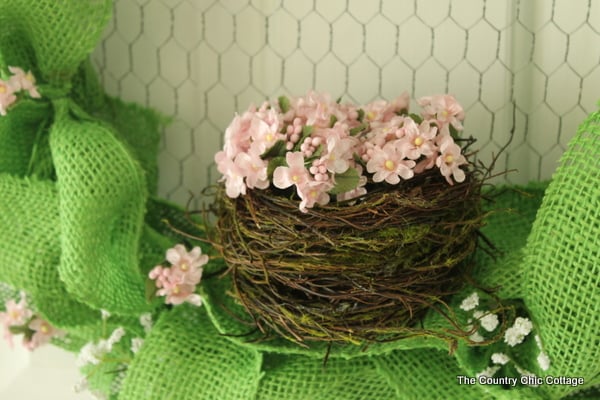 Use the wired sisal vine to hang your creation at the top. You are ready to welcome spring with a spring burlap wreath that your guests will love.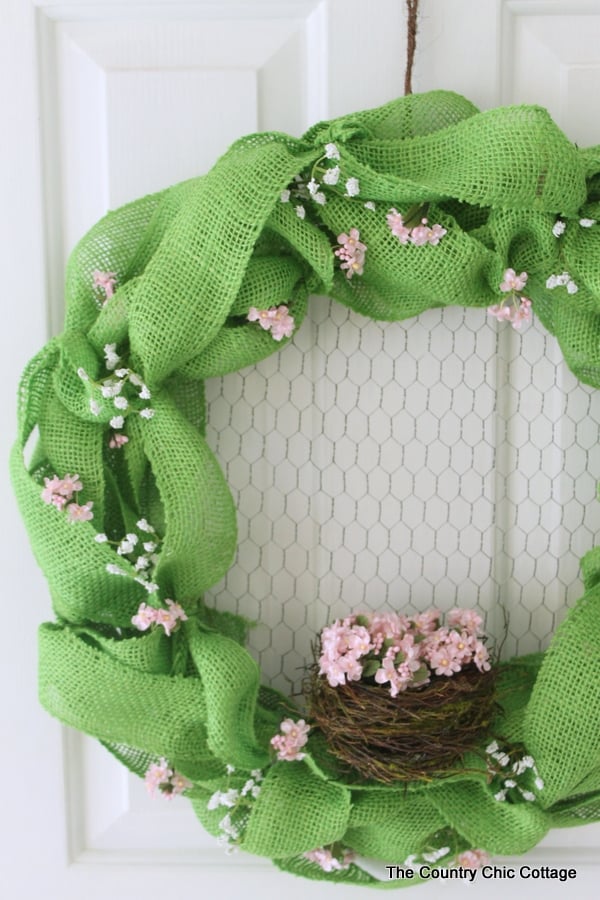 This colorful spring burlap wreath is the perfect way to welcome the season. This one would transition well into summer as well if you hate making and changing your wreath with the seasons. You can also follow the instructions above with any color burlap ribbon to make a wide variety of burlap wreaths for any season of the year.
No home is absolute without a spring burlap wreath. Let me know in the comments if you're going to make this!