One of the best things about summer is the ability to watch many different species of birds. A DIY bird feeder is a great way to encourage birds of all sizes and colors to your yard. Follow along with this tutorial to learn how to make our colorful beach-themed DIY bird feeders.
While I'm hanging around outside gardening or watching the kids play, I enjoy watching (and listening to) the birds! I've made a couple of different homemade bird feeders over the years, including my DIY Mason Jar Bird Feeder and Bird Seed Monogram Feeder.
Recently, we added a new colorful bird feeder house to the collection. I painted the cutest beach house-inspired bird feeders, and I just couldn't wait to share them with you.
Not only will you end up with some functional bird feeders that double as a fun pop of color in the yard, but the kids can help make them! They will love getting involved and creating this fun bird feeder. Then they'll thrill in watching (and learning about) the birds all summer long.
If you love added colorful decor to your yard, be sure to make these Birdhouse Campers to go with your DIY bird feeders!
Note: If you want even more outdoor crafting ideas for the warm weather months, check out my Patriotic Windsock, Sea Glass Wind Chimes, and DIY Mason Jar Garden Flag projects.


How To Make A Painted DIY Bird Feeder
You will just need a few supplies in order to create some extra special bird feeders for your yard. The best part of this paint technique is that it is easy enough for the kids to do with you.
Supplies Needed
Here are the supplies you'll need to paint your own beach house bird feeders. You can pick up all of your supplies at Ace Hardware or your local hardware store for easy one-stop shopping!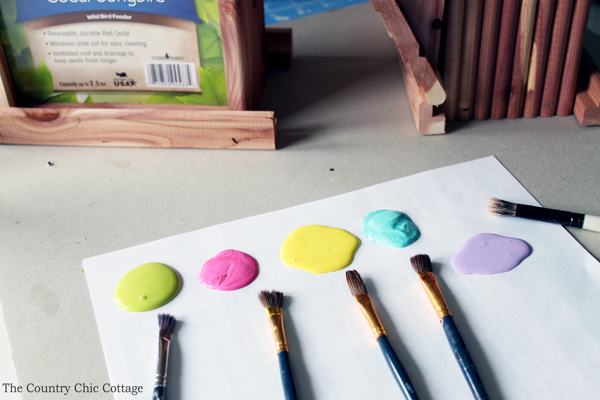 Pro Tip: When you choose your paint colors, I highly recommend going wild with adding super bright fun colors all over the cedar bird feeders. I made one feeder with all of the colors and the other with just three of my bright choices.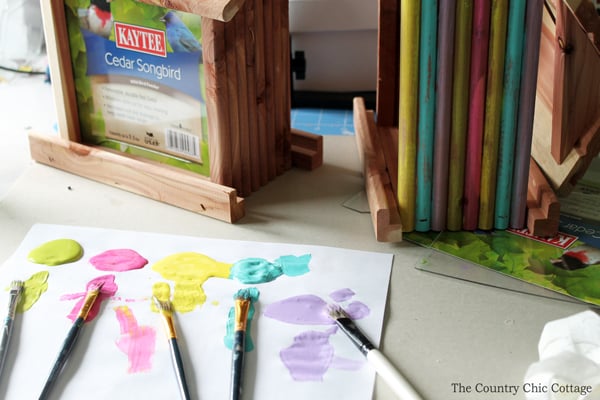 Homemade Bird Feeder Instructions
Actually, there are really only three instructions (didn't I say this DIY bird feeder project was easy?)!
Step 1
Add glue to your paper or paper plate, and grab your paintbrushes.
Step 2
Use a dry brush method to create a rustic beach house feel. Get very little paint on the brush and move across the surface rapidly. This will leave incomplete coverage that will look worn and outdoorsy right away.
Step 3
Just paint until you're done, and let the paint dry.
That's it!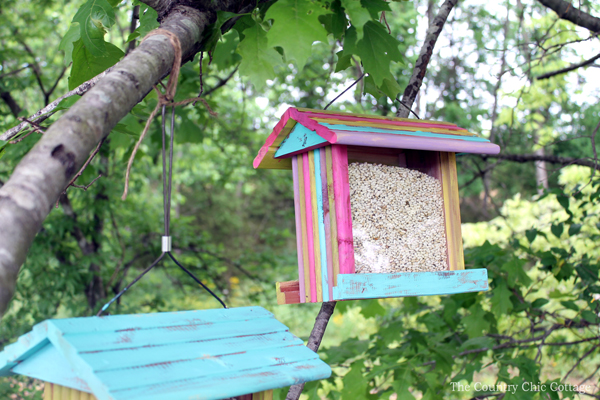 The kids will love getting involved in this painting activity then you can enjoy some family birding all summer long. We love to watch the various types of birds that fly around our farm and stop by for a snack at our DIY bird feeder.
Be sure to pick up some binoculars and a field guide to help you identify species you don't know. Then see how many feathered friends you can spy with bird watching a little each day all summer!
DIY Bird Feeder FAQs
I frequently see readers as questions about making birdhouses. If you have a question and don't see it answered down below, please leave it for me in the comments.
Do I need to seal the wood before painting it?
No, which is part of what makes this project so great!
If you're concerned about the weather damaging the wood, don't worry these are cedar bird feeders, so they can withstand the weather without sealants. This project is just adding a little colorful fun to your family's birding activities.
Do I need to add primer to the wood before painting a DIY bird feeder?
Nope. The function of the primer is to help paint adhere to a surface to create a clean, professional appearance. The dry brush painting technique that we use for this project naturally creates a weathered, rustic look because the paint doesn't spread as evenly across the surface.
Adding primer before you paint would change this entire project, which you can do if you don't want the weathered appearance.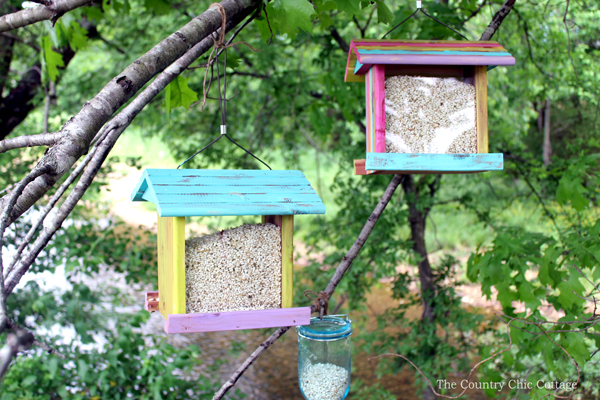 This fun DIY bird feeder activity will entertain kids of all ages. We personally love hanging our bird feeders by the creek on our property so there is food and water nearby. That way, we get to see as many pretty birds as we can attract!
We will be enjoying our new bird feeders and the colorful transformation we gave them. Be sure to pick up your supplies to paint your own fun beach house-themed DIY bird feeders. You will love the extra color add to your yard, and your kids will love watching their new feathered friends this summer!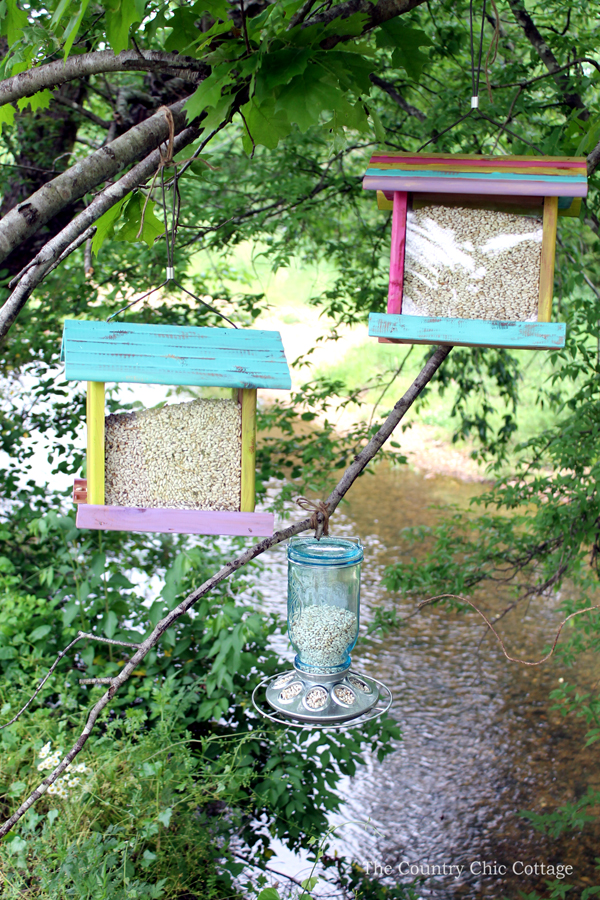 More Outdoor Crafting Inspiration
If you love these beach house-themed DIY bird feeders (what's not to love?) and want more ideas, check out these popular projects to help you enjoy the outdoors!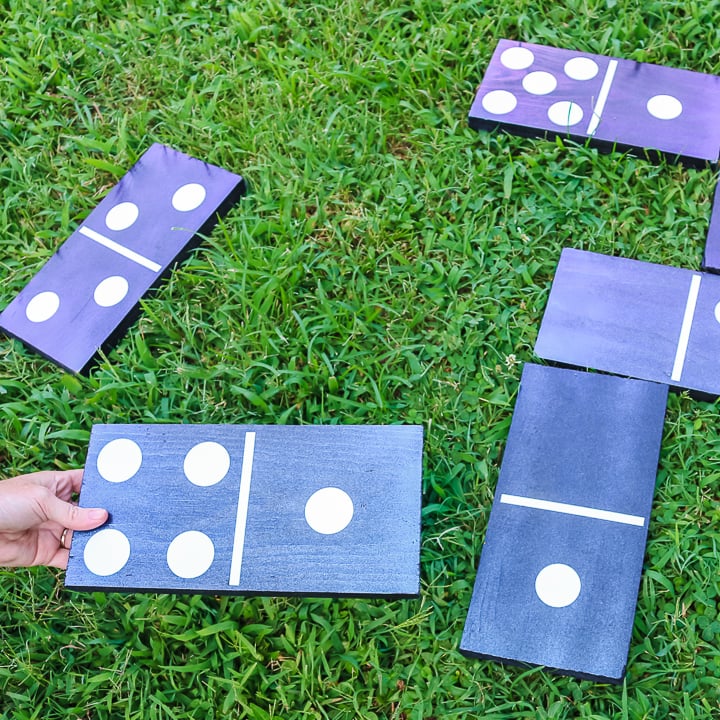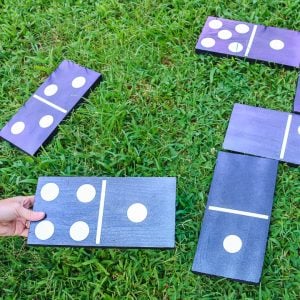 How to Make Giant Dominoes
Learn how to make a set of huge dominoes to play in your backyard.
Read More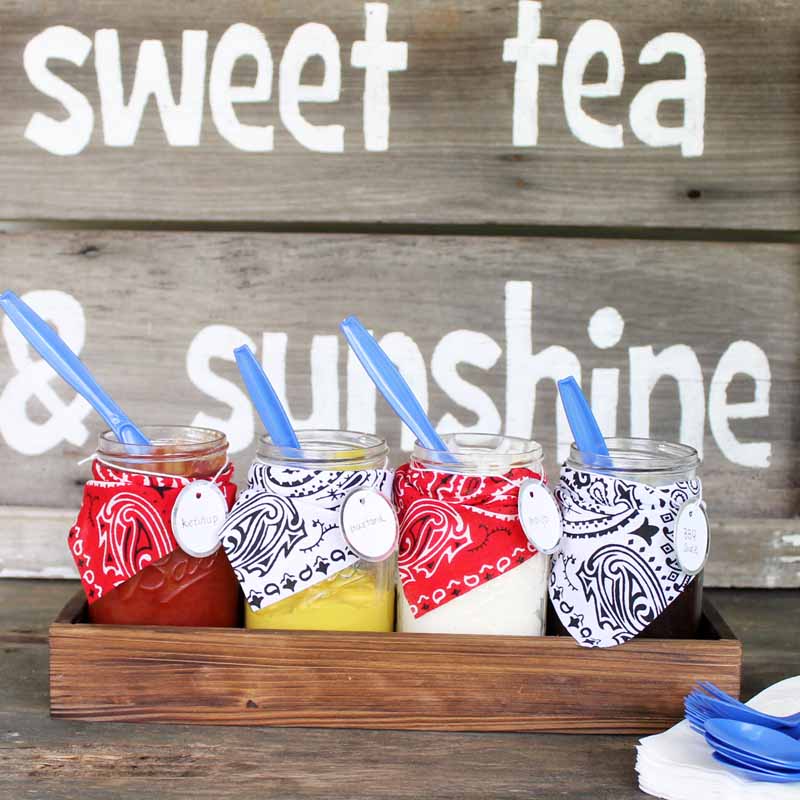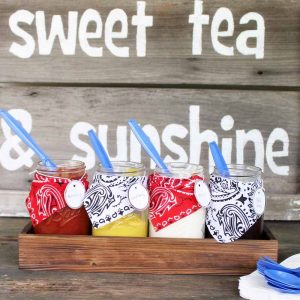 BBQ Party Ideas: Buffet Condiment Holder
Add this condiment holder to your buffet table and decorate it in minutes! All with a few supplies and the step by step instructions below. Backyard BBQ party ideas do not get much easier than this one!
Read More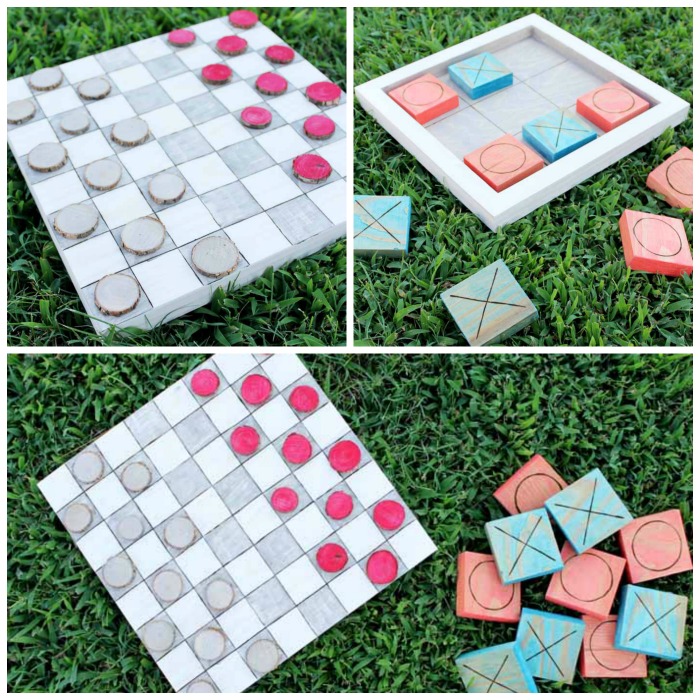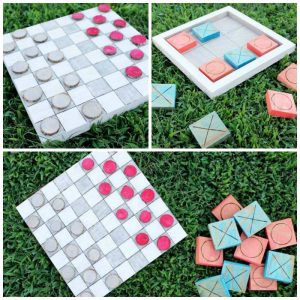 Reversible Outdoor Lawn Game: Tic Tac Toe and Checkers
Make this family-friendly outdoor yard game board! This reversible game board includes a tic tac toe board and checkers board with fun, easy-to-make game pieces.
Read More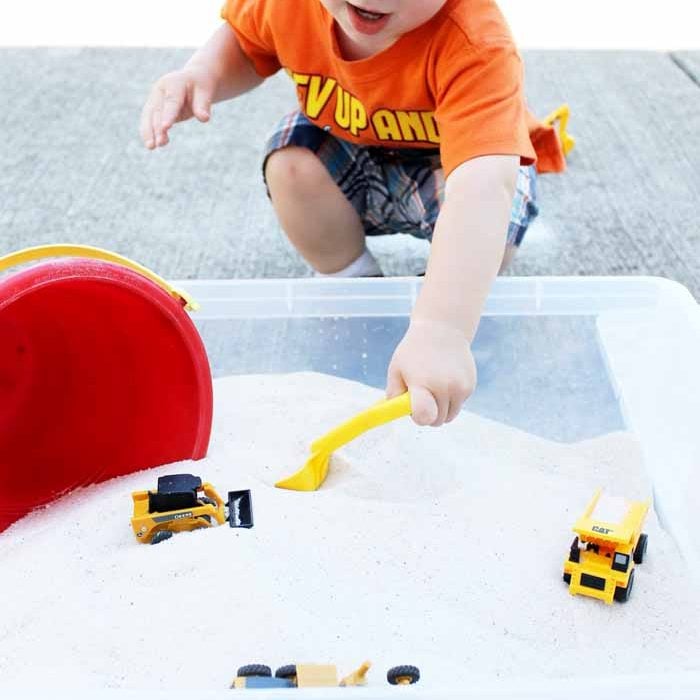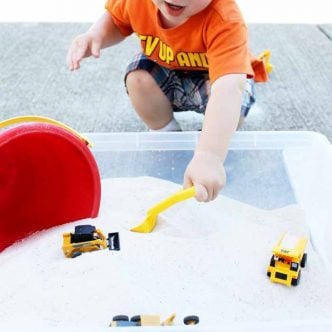 DIY Sandbox with a Lid
This DIY sandbox with a lid is so easy to make and fun for the littles! The perfect addition to your backyard, this plastic sandbox is a cheap alternative to an expensive traditional sandbox. Simple and stress-free, you will love this summer and springtime craft!
Read More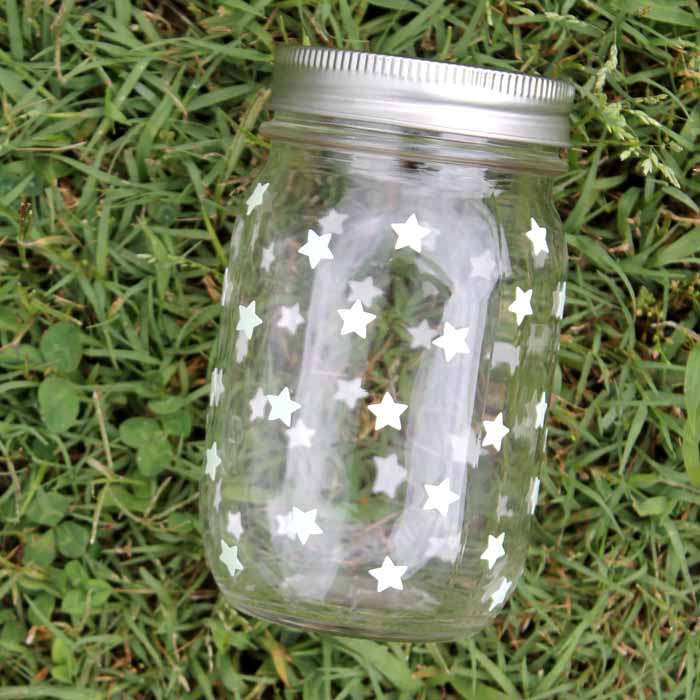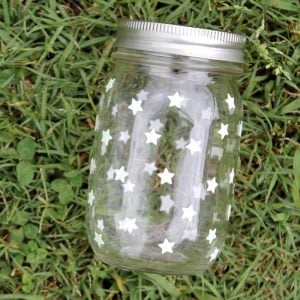 DIY Bug Catcher Jar
Make this DIY bug jar that glows in the dark for tons of summer fun! This quick and easy craft idea is perfect for those summer nights and catching lightning bugs.
Read More
How to Make Painted Rock Houses: An Easy Nature Art Activity for Kids
Gather some rocks on a walk and head home to make these fun painted rock houses! This is such a fun and easy nature activity for kids of all ages.
Read More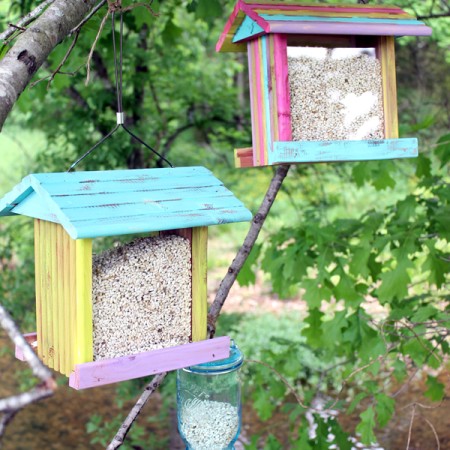 Beach House-Themed DIY Bird Feeder
A DIY bird feeder is a great way to encourage birds of all sizes and colors to your yard. Follow along with this tutorial to learn how to make our colorful beach-themed DIY bird feeders.
Supplies
Cedar Songbird Wild Bird Feeder

Outdoor-safe paint

in various colors

Safflower Wild Bird Food

Piece of paper or paper plate
Instructions
Grab your paintbrushes and add dabs of paint in various colors to your paper (or paper plate).

Keeping the paintbrush dry, get a small amount of paint on it, and quickly paint the bird feeder. You'll get incomplete coverage, which is exactly what you want for that rustic look.

Continue painting until you're done and let the paint dry.
Tried this project?
tag us to show off your work!