I have a treat for you today or rather a DIY Halloween snack jar that will hold a treat! Jen Goode is back again this month with a fun Cricut project the kids will love helping with!
Are you looking for Halloween treat ideas, or maybe a fun class party activity? This cute DIY Halloween snack jar craft is a fun and easy project you can make in minutes. It's a great activity for the whole family! The pumpkin faces are quick to cut Cricut designs using vinyl, so you can mix and match the faces to create a whole bunch of pumpkin jars. Fill your jar with non-candy treats or your favorite sweets (candy corn for me please!).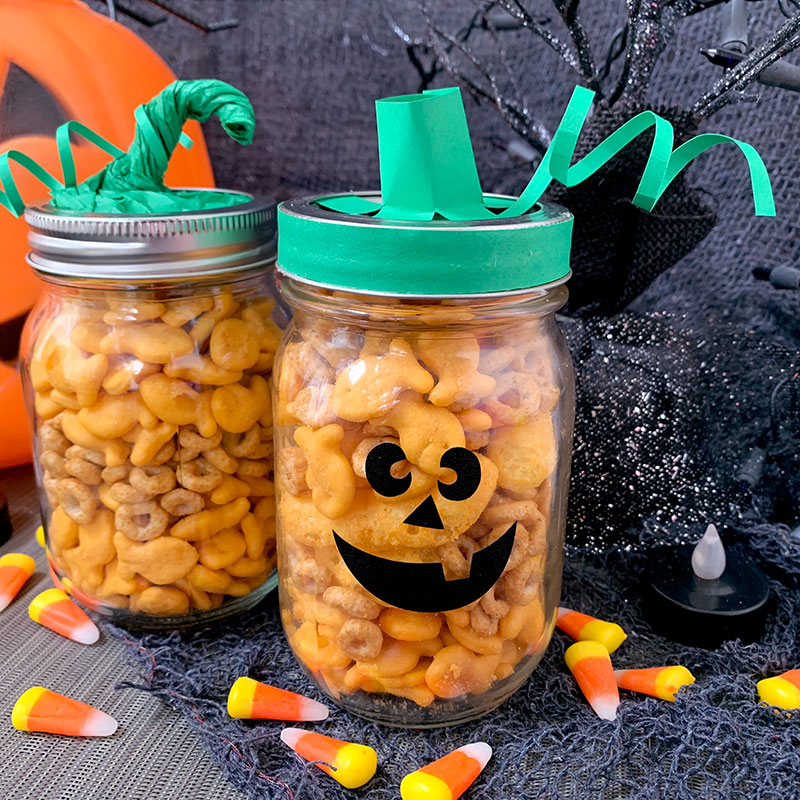 Cute DIY Halloween Snack Jar Craft
I love a kid-friendly craft. The kids can help with just about every step of this project and you can customize the pieces you use. Make all the project pieces ahead of time and you will have a fun and easy class Halloween party craft. You can change up the steps too if you'd like. Change the lid, leave off the stem or even use tissue paper to create an even more elaborate vine. Have fun making your own not-so-spooky Halloween snack jars!
If you don't have a Cricut machine, you can use the pumpkin faces as templates to either cut your own vinyl or paper to glue to the jar. This snack jar makes a great gift set with matching pumpkin face tea towels!
Materials
Note about snacks: We used a variety of orange snacks to fill our jar. Try Goldfish crackers, Cheese doodles or puffs or Pumpkin Spice Cheerios.
Instructions
Download the pumpkin face designs and upload to Cricut Design Space. Follow onscreen instructions to cut the face/s you'd like to use. You can see more about how to upload images to Cricut Design Space here.
Apply the face stickers to a clean, dry jar.
Cut green cardstock into a strip and glue around the side of the jar lid.
Optionally, add a stem to the top of the jar lid. Remove the ring of the lid and set aside. To make the stem, cut a 2″ wide strip of green cardstock. Cut 4-5 lines along the strip, cutting only halfway across. Roll to make a tube and glue in place. Fold the cardstock at each cut, creating flaps at the bottom of your "stem". Apply glue to the bottom of these flaps. Attach to the top of the jar lid. Place the ring around the lid. You can add a curled, thin strip of green paper as a vine accent if you'd like too.
Fill the jar with layers of treats.
Tighten the lid in place on the jar. That's it!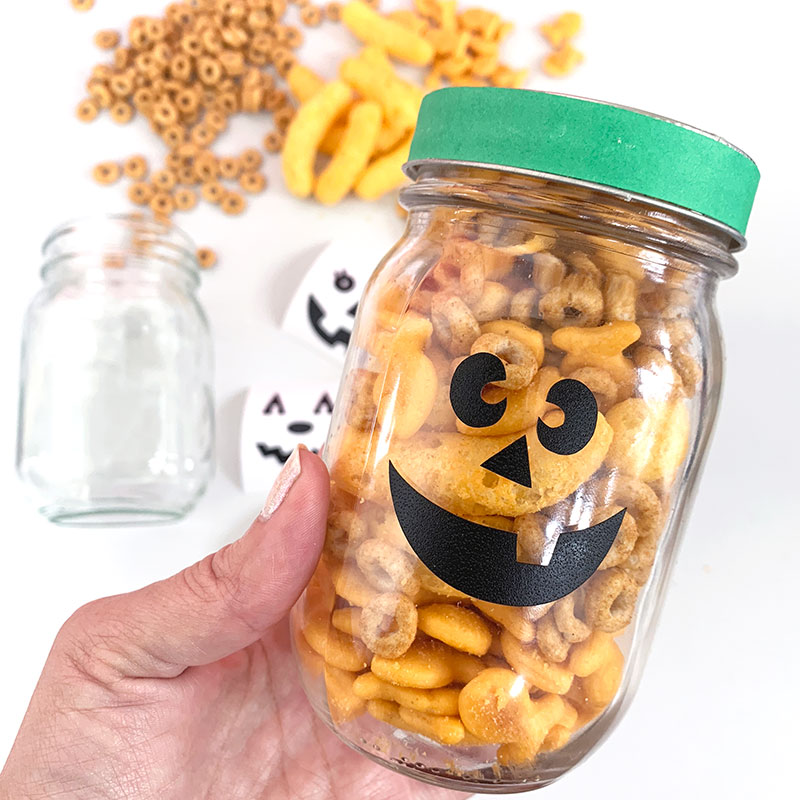 For a class party activity, cut a bunch of the pumpkin faces and then cut the paper (with scissors) into individual face squares around each face. Then you can let the kids grab their favorite as a complete sticker. Get creative, mix and match the faces or fill the jars with different colors of treats. You can also add extra embellishments or permanent marker designs. Add a gift tag to give to friends or boo a neighbor. Have fun making your own Halloween snack jars!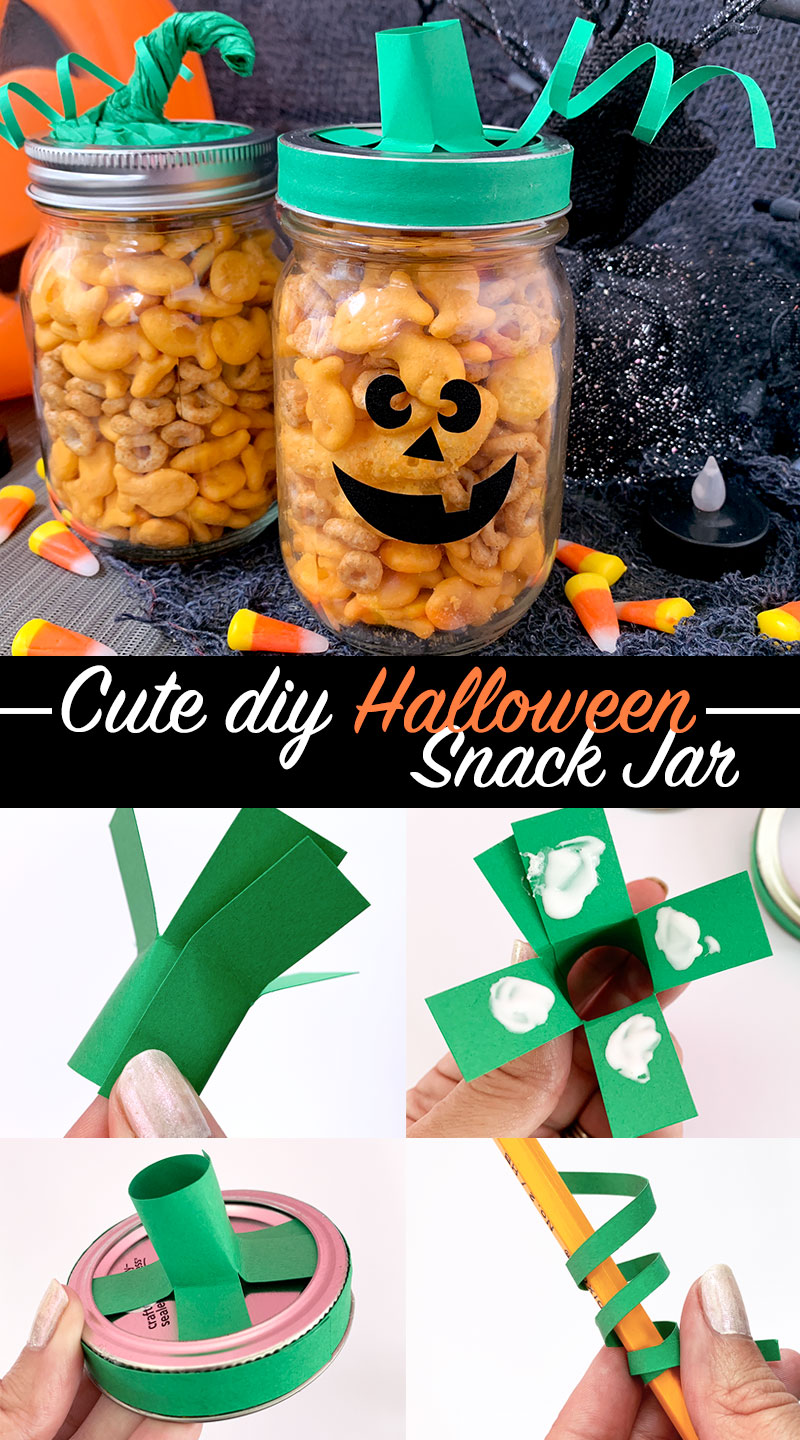 Love this DIY Halloween snack jar craft and want more ideas? Try the links below!
New to Cricut?
Sign up for our email list here to download the Beginner's Guide to Cricut Design Space for FREE today!
Sign up to get the guide emailed to you!