DIY mugs are hot right now! Use this easy method to create a quick and easy DIY Halloween mug that's perfect for your family to use or to give as gifts.
DIY mugs are super popular right now, probably because they're so easy to make – and cute to boot! Plus, Halloween mugs are versatile because they can be on display as part of your decor or be used as a festive holiday cup.
My friend Jen Goode is here to show us this quick DIY Halloween coffee mug project. Halloween is right around the corner, and this is the perfect way to boo your neighbors! You will also want to be sure to visit Jen's blog, 100 Directions, for many more creative ideas!
These Halloween coffee cups would also look cute filled with special Halloween treats like our Monster Halloween Marshmallows, Halloween Brownies Decorated Like Ghosts, or Halloween Snack Mix: Quick and Easy Recipe.
Note: Another option could be to fill up some Scarecrow DIY Halloween Treat Bags with goodies and put one into each mug as a festive gift idea.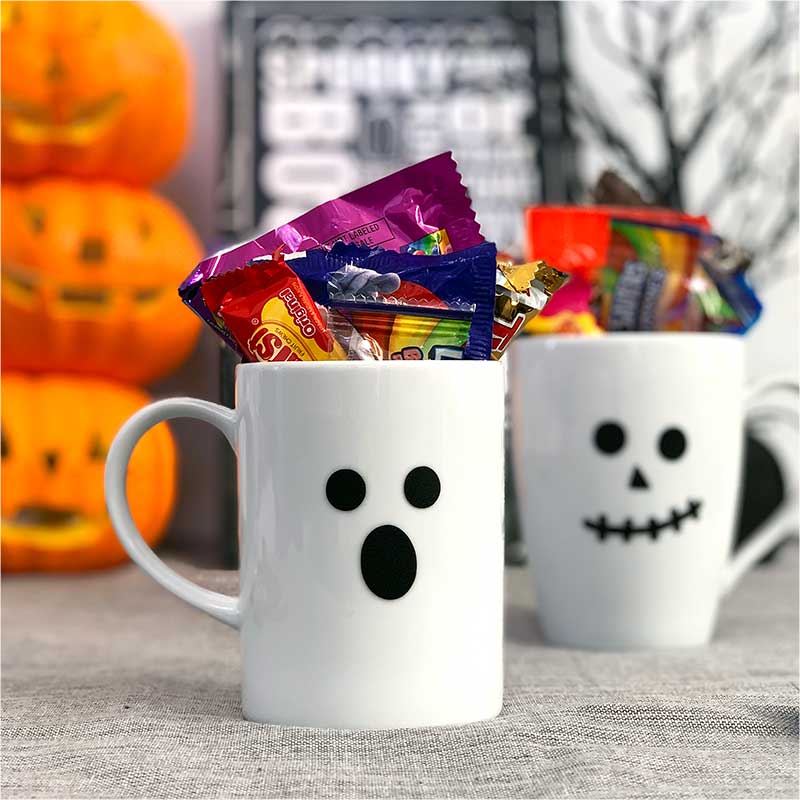 How To Make A DIY Halloween Mug
This cute boo mug takes less than 10 minutes to make. It's an easy Cricut project that you can create as a fun neighbor gift or fill it with treats for your favorite teacher.
Supplies Needed
Basically, all you need to gather are a white mug from the dollar store and a bag of candy, and you're ready to make this project! I have included the full list of supplies below, along with some convenient links to help make finding certain items easier.
DIY Coffee Mug Instructions
This project comes together quickly and easily. Just follow these step-by-step instructions.
Step 1
Download the free Halloween face SVG from my site, then upload the file to Cricut Design Space. If you need some assistance with that process, check out this tutorial.
Step 2
Choose the image you want to use and size it to fit the mug you are using.
Note: To create a ghost face, I used the skeleton face and utilized contour to hide the mouth and nose. Then make a duplicate and use one of the eyes as the ghost mouth. You can also just use a circle from the basic shapes set in Cricut Design Space.
Step 3
Follow the on-screen instructions to cut the face from the vinyl.
Step 4
Wash and dry the mug surface.
Step 5
Apply the vinyl Halloween face stickers to the mug.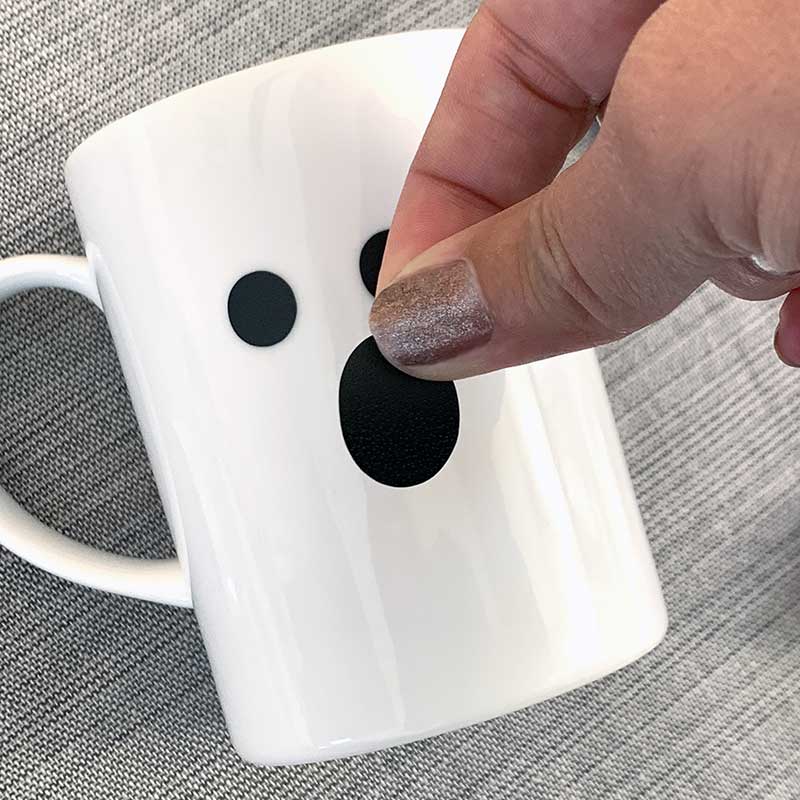 That's it! This DIY Halloween mug project is one of those "low work, high reward" crafts!
If you're hosting a Halloween party, this would make a fun group craft or party favor. Party favors that your guests can decorate and take home to enjoy later are the best kind.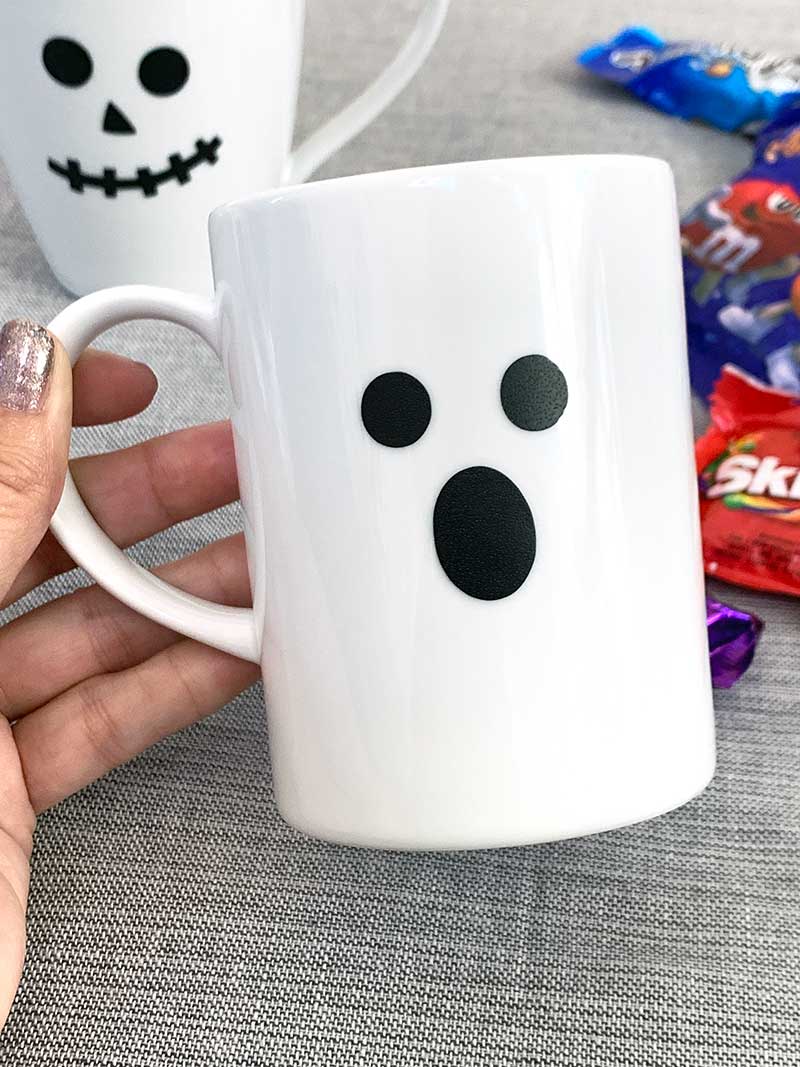 FAQs
Here are a couple of questions that I see readers ask about making this DIY hallowen mug. If you have a question, please check to see if I've already answered it below. Don't see your question? Leave it for me in the comments!
How can I make this Halloween coffee cup an affordable gift?
Well, by itself, it's a pretty great low-key gift. However, you can easily take the presentation up a notch by filling the mug with candies, tying a bow on the handle, and slipping a quick card inside.
Can I change the design for these Halloween mugs?
Yes! This DIY Halloween mug is a cinch to personalize. Mix and match the Halloween face stickers and add your own words for the perfect customized Halloween project.
If you use temporary vinyl, you can remove the stickers and create a whole new mug design later. This would be a fun way to decorate water bottles and hydro flasks for special events, too!
This same method can be used to make a DIY coffee mug (or travel mug) for any season, holiday, or event. You can't go wrong with a quick DIY mug any time of the year!
Can I put this DIY coffee mug into the dishwasher?
Typically, vinyl on mugs needs to be hand washed. Also, some travel mugs can't go into the dishwasher.
Be sure to check the care instructions for the vinyl you choose to use as well as the mug you use. If you want to know which vinyl works best on mugs, check out our comparison.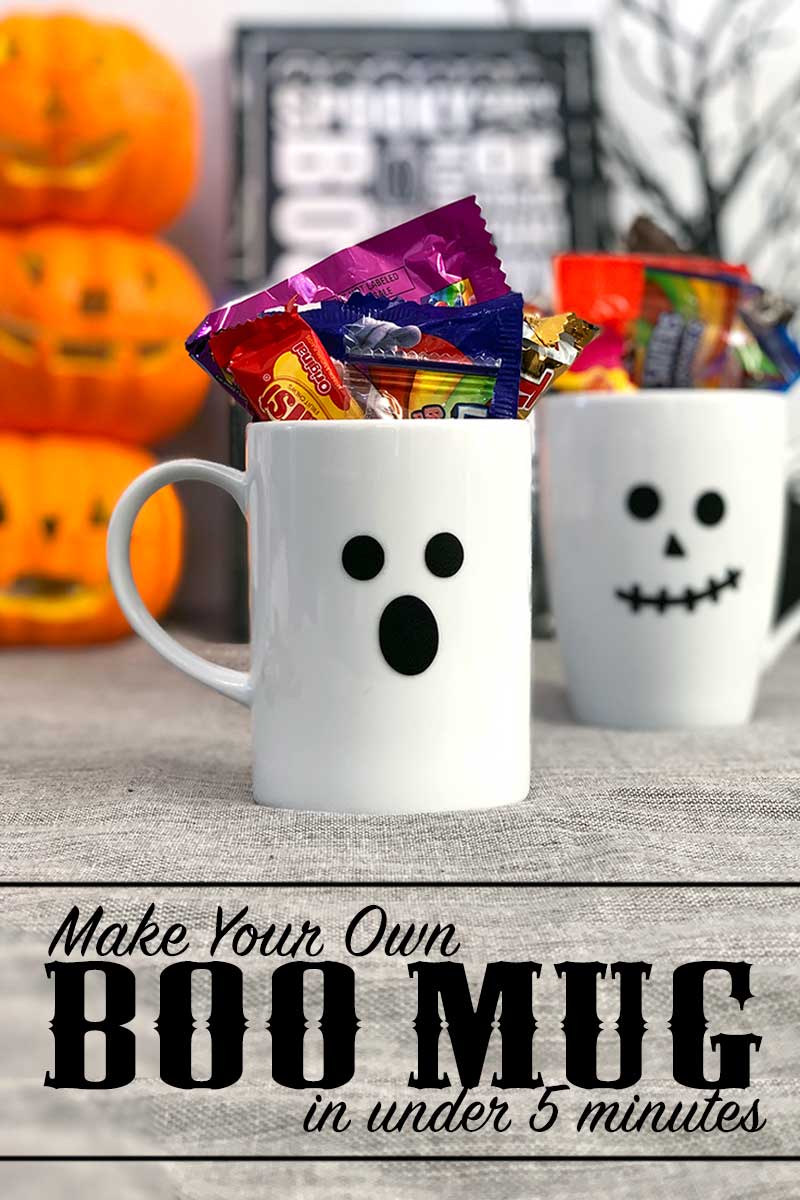 I hope you enjoy making this DIY Halloween mug craft. Then, once you make it for Halloween, you can adapt the same for Christmas, New Year's, or any other occasion!
More Halloween Crafting Inspiration
Do you love this Halloween mug idea and want more ideas? Try the links below!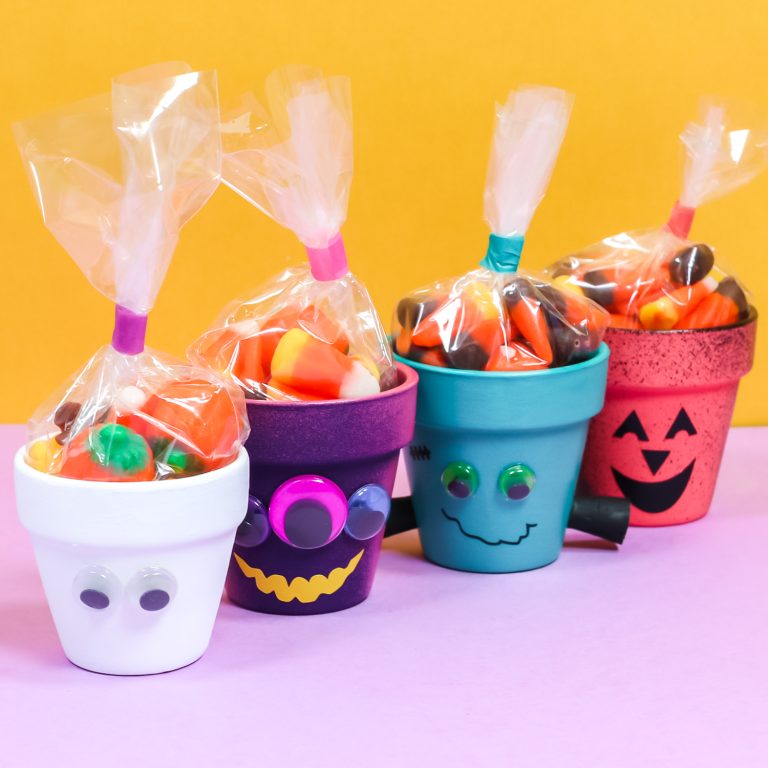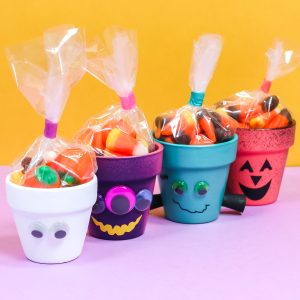 How To Make Halloween Flower Pots
Transform your ordinary mini terra cotta flower pots into festive Halloween candy holders for your home or to give as gifts.
Read More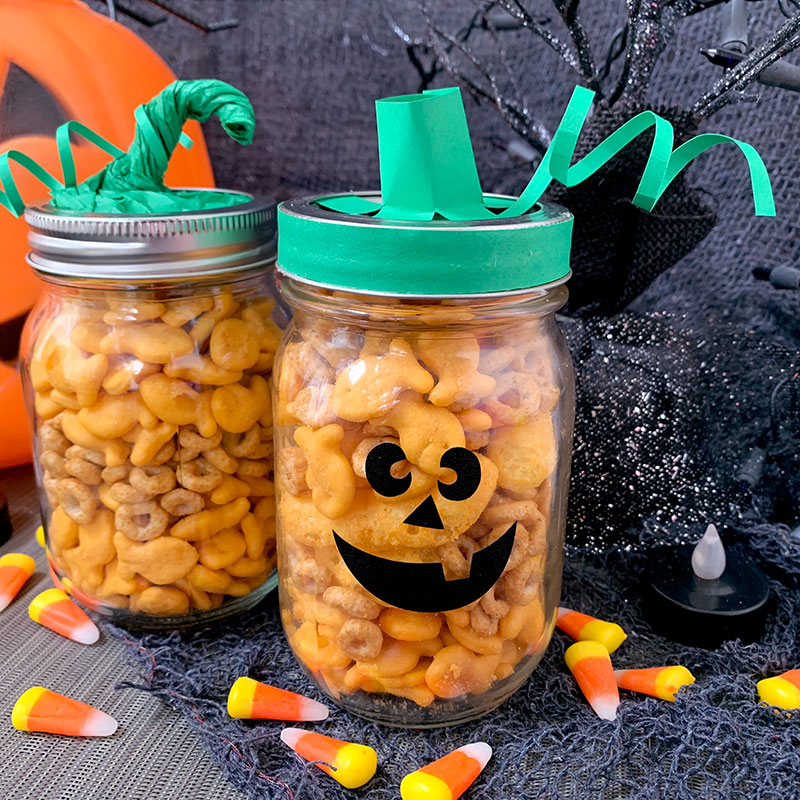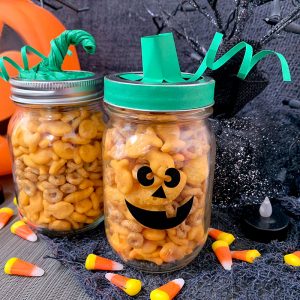 DIY Halloween Snack Jar
This cute Halloween snack jar craft is easy to make and perfect for handing out to trick or treaters or making as a classroom party activity!
Read More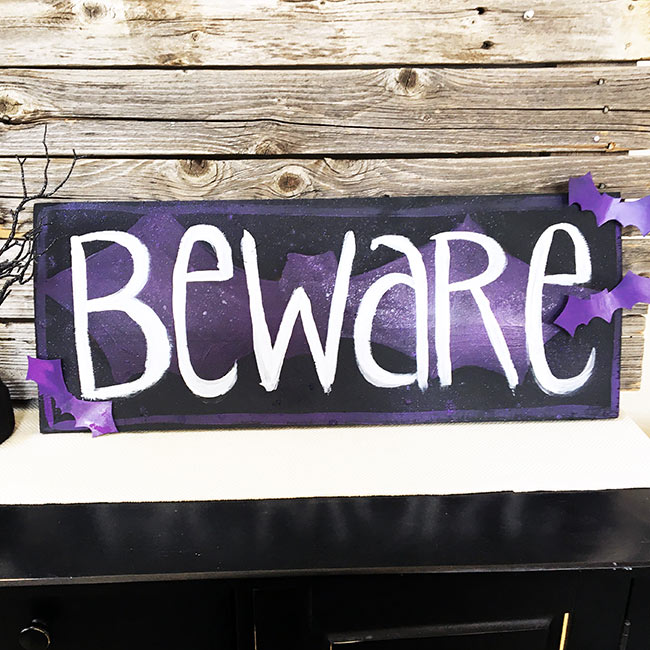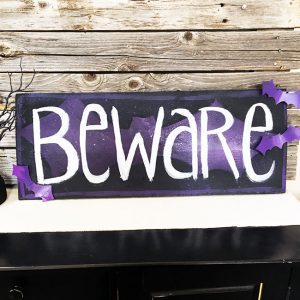 Halloween Beware Sign With Bat Cutouts
Make this quick and easy project and add it to your DIY Halloween decor!
Read More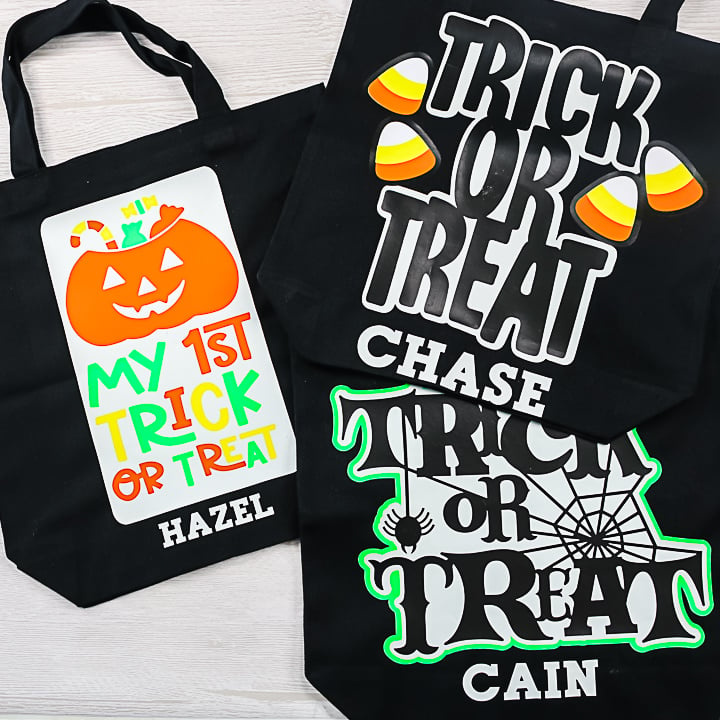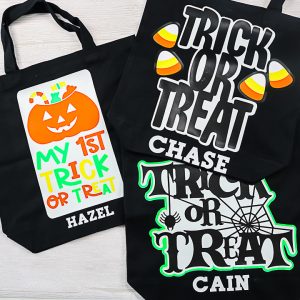 DIY Tote Bags for Halloween
Make these cute DIY Halloween bags in minutes with a few supplies and your Cricut machine.
Read More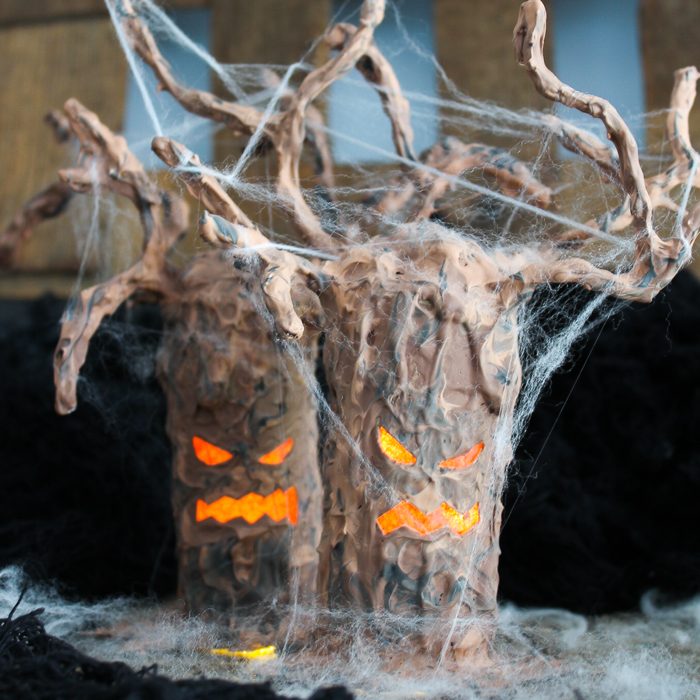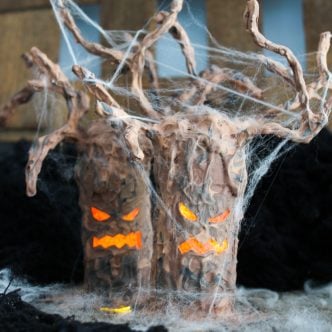 How to Make a Spooky DIY Halloween Tree
This spooky Halloween tree is easily made with some wire, a toilet paper roll, hot glue and some paint! With just a few simple supplies, you can make this fun and creepy DIY Halloween decoration!
Read More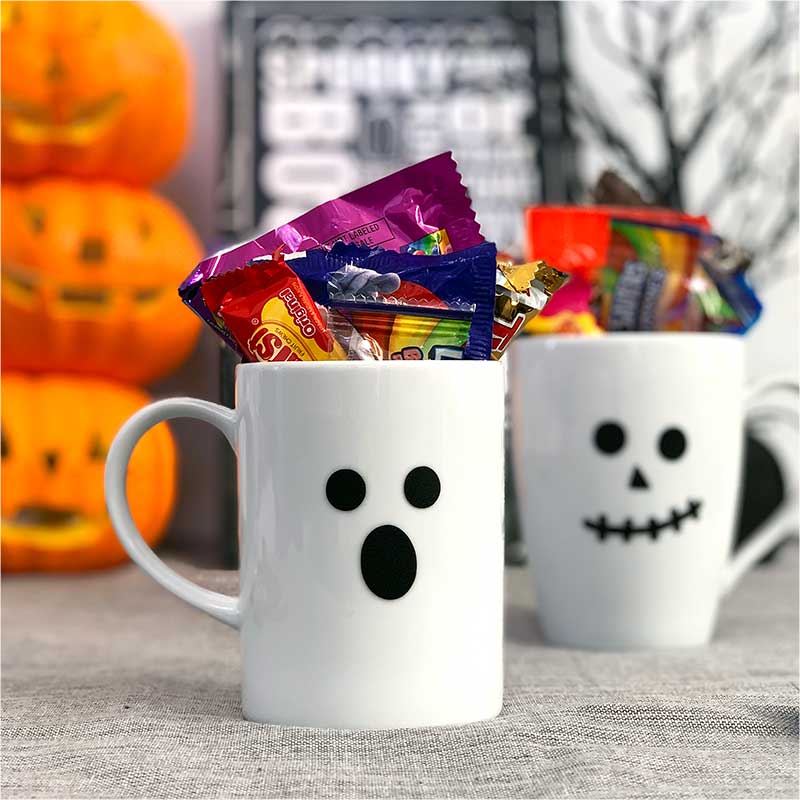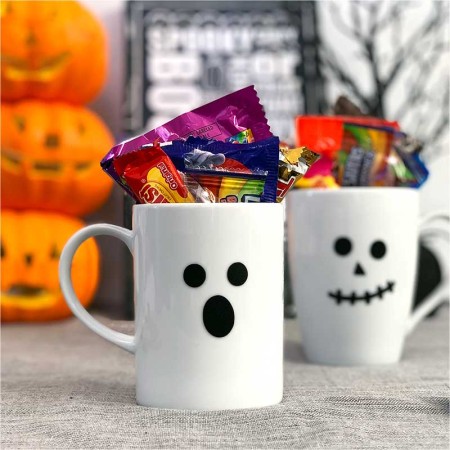 DIY Halloween Mugs
This quick and easy project transforms simple plain coffee mugs into Halloween treasures that are perfect for gifting!
Supplies
Cricut Machine and Cricut Design Space

Black vinyl
Instructions
Pick the image you want to use and size it to fit the mug you will decorate.

Cut the face from the vinyl, following the on-screen instructions.

Make sure the mug surface is clean and dry.
Tried this project?
tag us to show off your work!
New to Cricut?
Sign up for our email list to download the Beginner's Guide to Cricut Design Space for FREE today!
Sign up to get the guide emailed to you!