Do you want to add some unique farmhouse-style decor to your home this holiday season? Make this easy wooden Christmas tree. It's an eye-catching craft project that will look fantastic anywhere and receive compliments from friends and family!
If you've been around this site for any length of time, you know that I'm all about beautiful farmhouse decor. Their natural, rustic vibes just make my soul sing!
Although some people may not think of the holiday season as an ideal time for displaying rustic elements, I couldn't disagree more. If you love incorporating natural components into your everyday decor, displaying them during the holiday season is just as lovely.
Planning to use farmhouse-style decor? Embrace it in everything from your front porch Christmas decorations to your table centerpieces and settings, and even the rest of your Christmas Decor!
To go with this theme, I have a wooden Christmas tree project that you can make in just minutes. I love the way it looks in my rustic farmhouse style decor – it fits right in.
They're great for your own home, but they're also great for giving as DIY gifts and even selling. So grab your supplies and get started on making as many of these cute trees as you would like!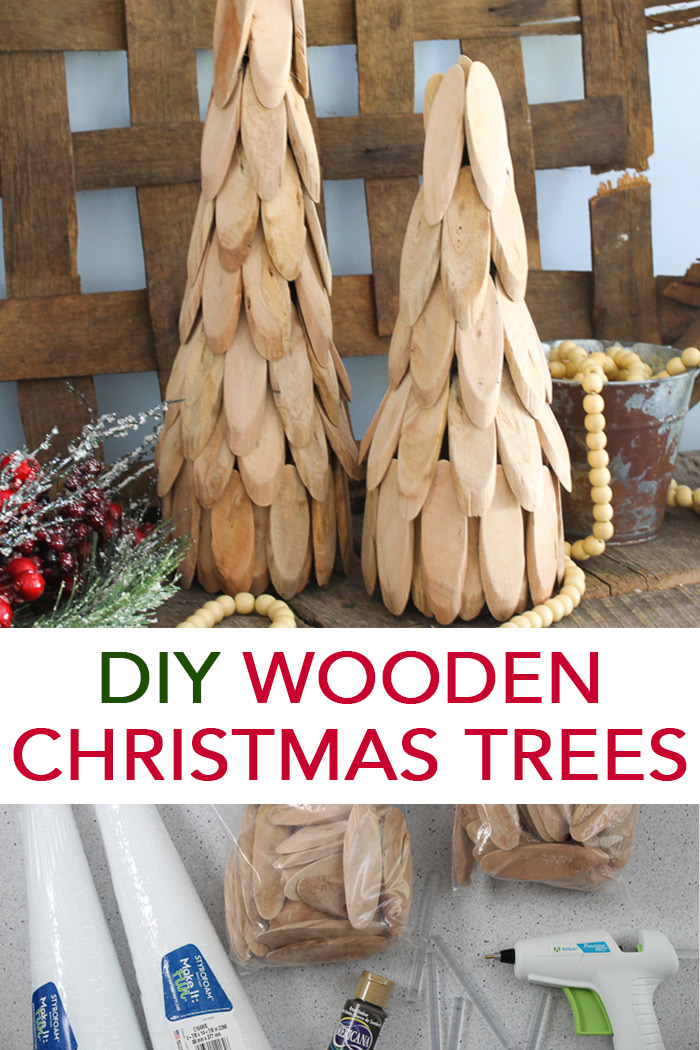 Supplies Needed
Here is a quick list of everything you will need to make this wood project: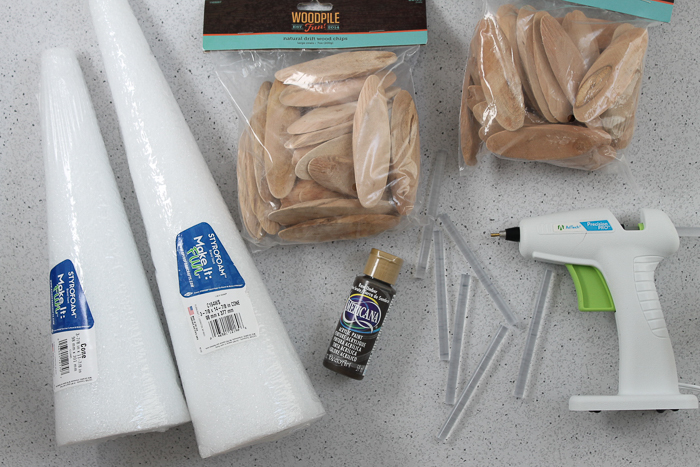 Video Tutorial
I thought a video might be the easiest way to show you how to make this one. You can even make this project as you follow along with the video. 😁
Instructions
If you can't watch the video or missed any of the steps, here are the instructions. The process is quick and simple which means you can make several of these in a short period of time!
Step 1
Paint the entire cone with the brown paint and set it aside to dry. This is just so any area that might show through your wood slices is not white.
Step 2
Then, start at the bottom and add your wood slices with hot glue. I had to do a double row at the bottom of each one to cover up all of the foam.
Step 3
Continue up the tree with single rows of wood slices hot glued into place.
Step 4
Once you get to the very top row, hot glue the wood slices to each other to cover the top of the foam cone and create the cone shape out of wood pieces.
Step 5
Once all of your glue is cool, your wooden Christmas tree is ready for display around your home.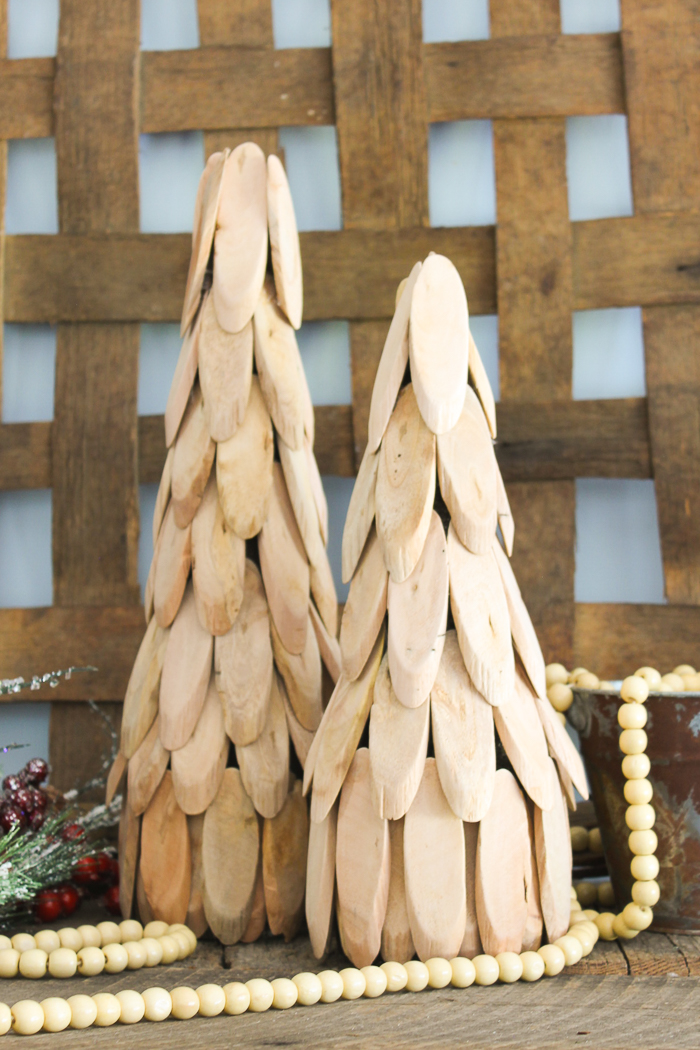 I love the rustic look of these trees and how great they look on my mantel.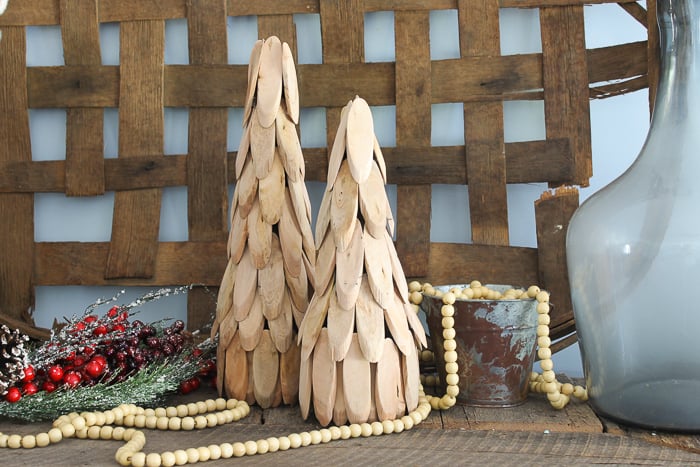 You could create a wooden Christmas tree forest if you would like! After all, these are so easy to make that you might just want to make a bunch!
FAQs
Here are questions I frequently see readers ask about this project. If you have a question but don't see it answered down below, please leave it in the comments so I can answer it for you.
Could I paint or stain the wood slices?
I didn't stain or paint the wood slices because I like the raw, natural look that the unpainted wood slices provide. However, if you wanted to stain the wood green (or another color), you could still get a great rustic look!
Can I use different kind of glue?
If you don't have hot glue, you could use craft glue or super glue for your wooden Christmas tree.
You will need to adjust your crafting time and process to allow for longer drying time. I prefer using hot glue because the dry time is much faster and the hold is secure.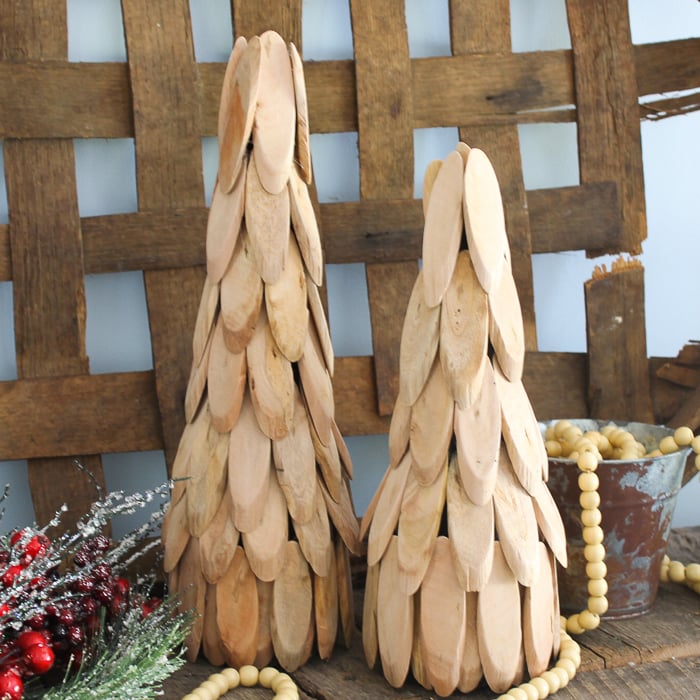 More Holiday Crafting Inspiration
Add these wooden Christmas trees to your holiday craft list this season! You'll love seeing your handcrafted trees around your home.
Love this wooden Christmas tree and want more ideas? Try the links below.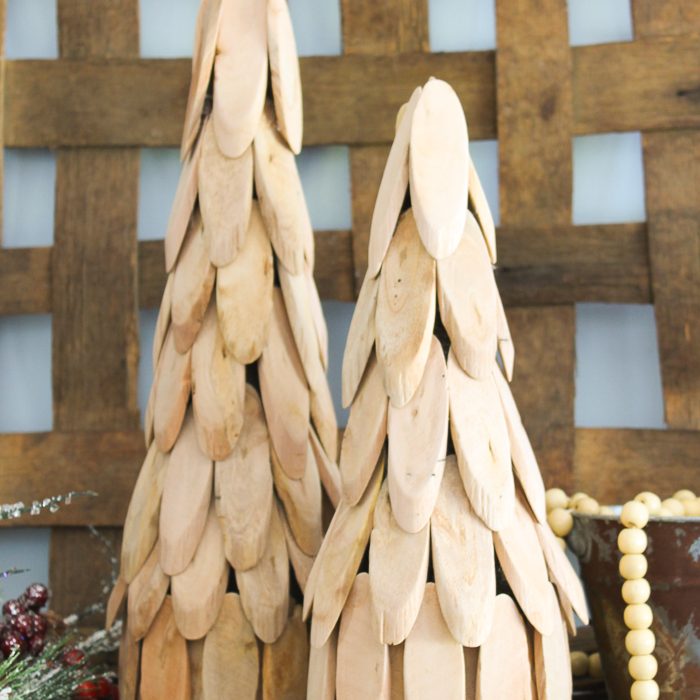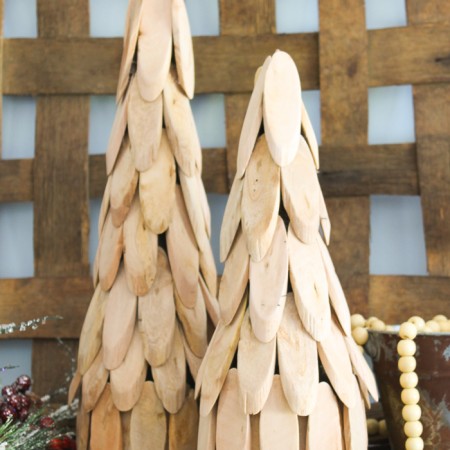 DIY Wooden Christmas Tree
This easy project will make a delightfully rustic-looking wooden Christmas tree to add to your farmhouse-style holiday decor!
Supplies
Wood slices

Foam cones

Hot glue and a glue gun

Brown paint
Instructions
Paint the entire cone with the brown paint and let it dry.

Starting at the bottom, glue on your wood slices all the way around the cone. You may need to do a double row all around the bottom to ensure the cone is fully covered.

Make your way up the tree hot gluing single rows of wood slices.

Once you get to the very top row, hot glue the wood slices to each other to cover the top of the foam cone and create the cone shape out of wood pieces.

Once the glue cools, your wooden Christmas tree is ready to display!
Tried this project?
tag us to show off your work!