My three ingredient sugar scrub recipe makes the perfect holiday gift idea. Mix it up in any combination of scents for a personalized gift that everyone will love. This mixes up in just minutes and I have included free printable jar toppers. This is one gift that you can whip up in 5 minutes or less. Get the kids involved for one gift that they will love to make and give to grandma.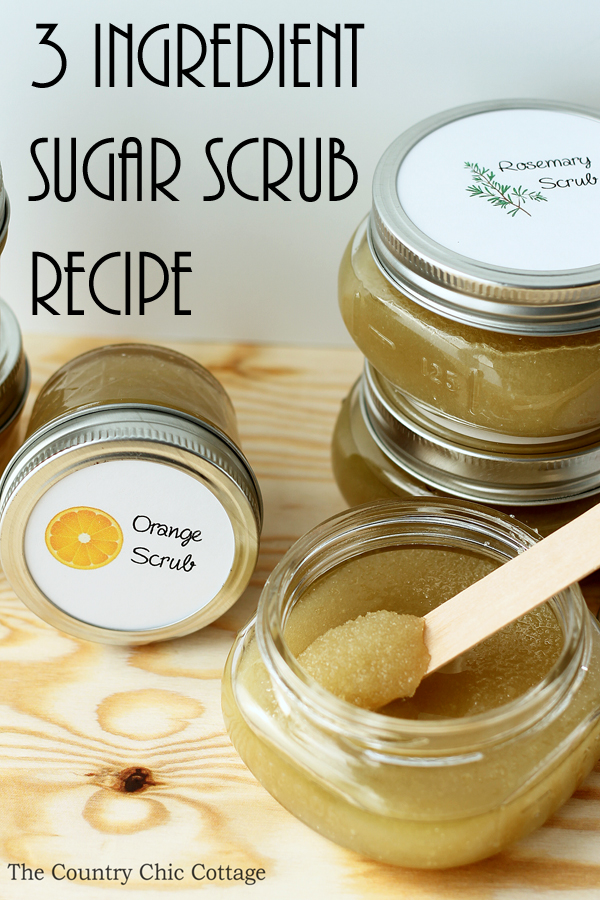 Items needed to make this sugar scrub recipe:
Some links may be affiliate links which means a portion of your purchase will go to support this site.
The sugar and oil containers pictured below made six batches of this recipe. The oils will last a very long time with the little amount required for each batch.
To make this sugar scrub recipe into a gift you will need: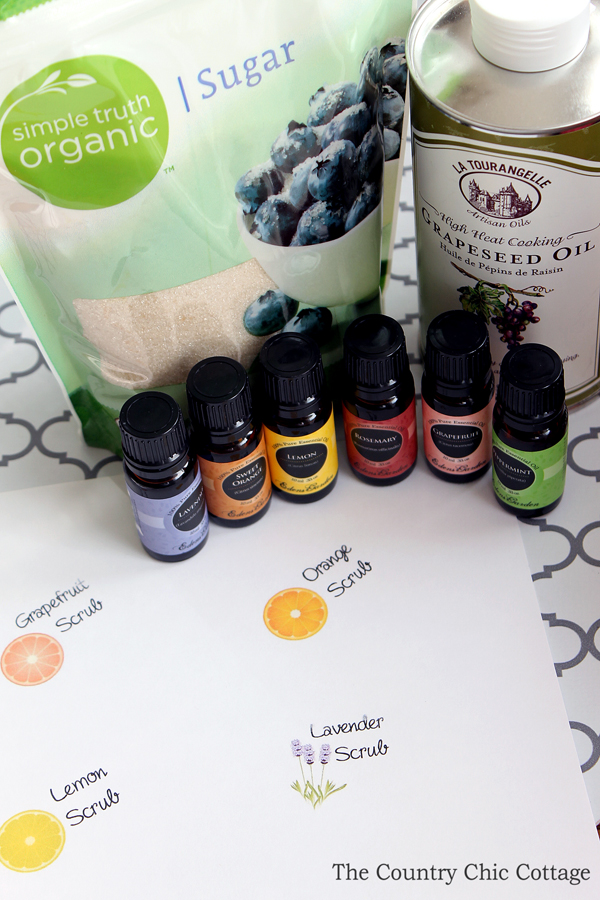 Sugar Scrub Recipe
Mix the sugar and grapeseed oil together in a glass container. Be sure to scrape the bottom and sides of your container as you mix. Add 2 to 3 drops of essential oil depending on how fragrant you like your sugar scrub. Stir to combine. Pour into a mason jar for storage or gift giving.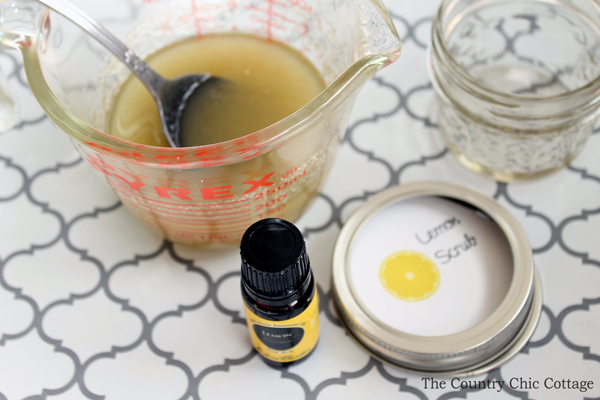 To use our free printable tags, use a circle punch the size of your mason jar lids or just trace around the lids and use scissors. Add them to the top of your lid before adding the band and screwing onto the jar full of sugar scrub. The peppermint version would be perfect for those festive holiday packages.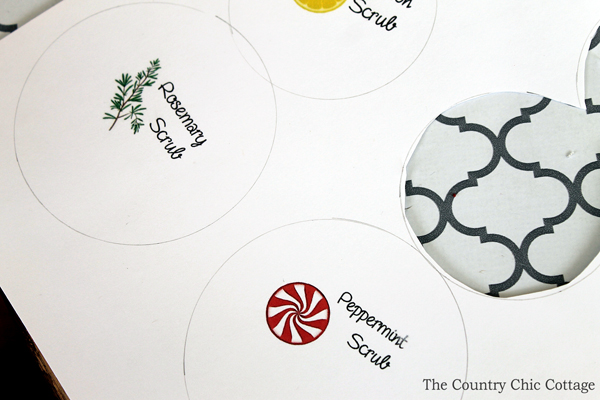 Apply this scrub on rough patches of skin, especially on your feet or hands. Use caution if you have wounds, sensitive skin or skin conditions. Scoop about a tablespoon onto wet skin when using this recipe. Scrub gently in a circular motion, then rinse off. Follow with a moisturizer if desired. Be sure to use this scrub within a month after you make the recipe, as there are no preservatives. To keep your scrub fresh, use a fresh spoon or wooden craft stick each time you get some out of the container.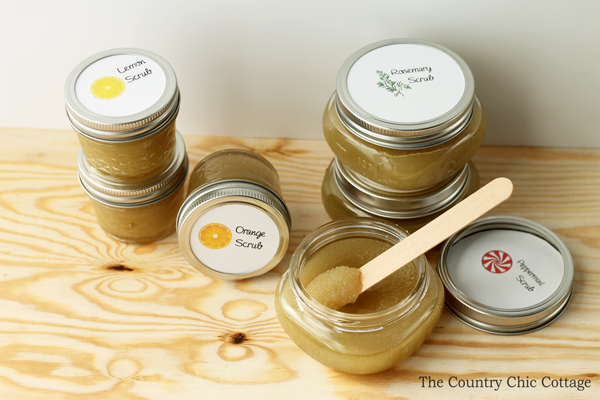 Try a variety of essential oils in this sugar scrub recipe for various aromatherapy benefits. This handmade gift is perfect for tons of people on your gift giving list. Try giving to neighbors, teachers, friends and more. You might even mix essential oils for your own unique scents. Try designing your own labels for the top for a fun twist. You might even add "handmade by" and your name. Either way this handmade gift is sure to bring a smile to every recipient's face. NOTE: If this recipe is not working for your skin, try this coconut lime sugar scrub or this coffee and brown sugar scrub.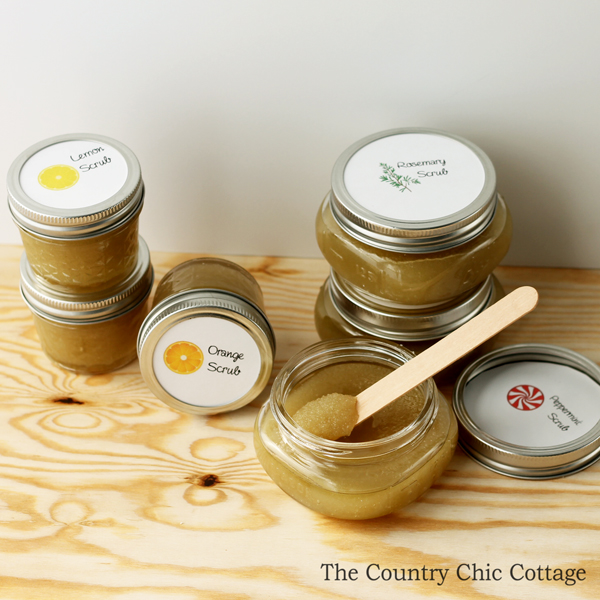 Have you missed our handmade gift ideas this week? Head over and see how to make our spicy gift basket.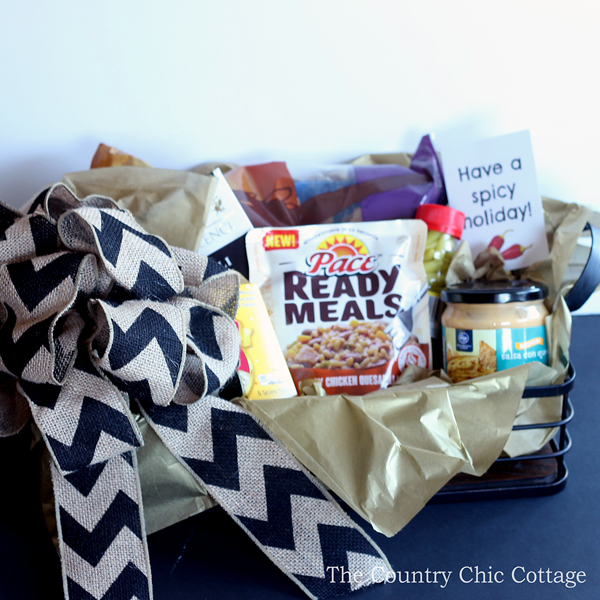 Then get the step by step instructions on how to make these stenciled trivets. Both of these are handmade gift ideas that no one will forget!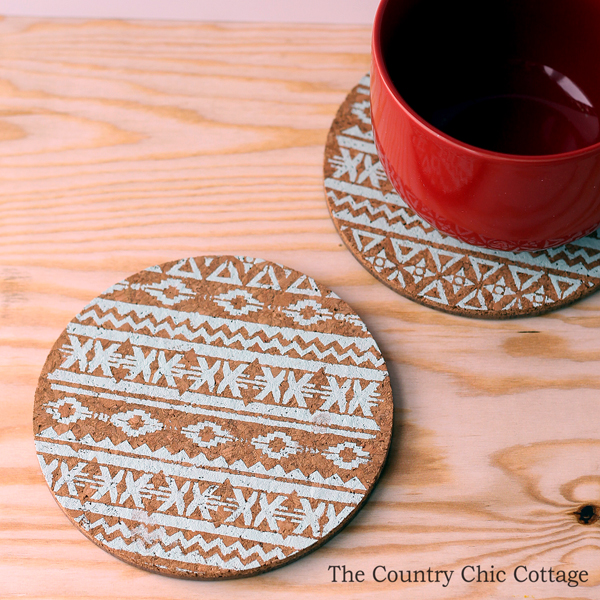 A Year of Jar Crafts
Sign up for our email list to get a FREE book with an entire year of jar crafts! 12 months, 12 crafts, tons of fun!