I have been getting several questions on the Cricut EasyPress versus EasyPress 2. Which is best? What are the differences? Which should you put on your Christmas list? I have all of those answers and so much more! Read on then put this awesome machine on your wishlist this holiday season.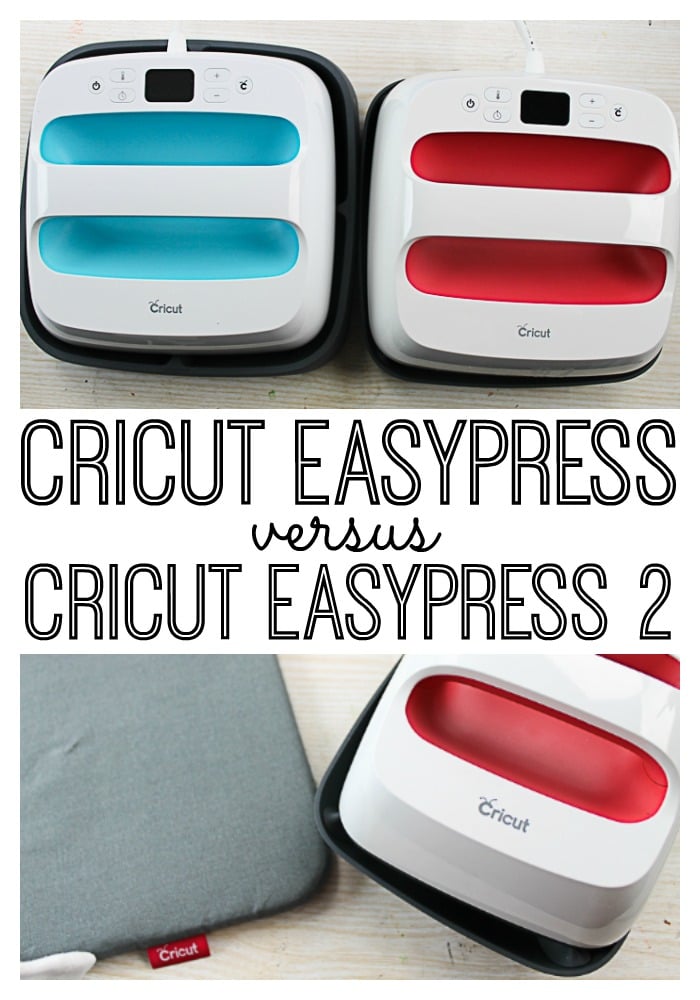 The post below may contain affiliate links which means that you do not pay anymore, however, a small commission from any purchase will go to this site.
Cricut EasyPress Versus EasyPress 2
First, what is an EasyPress? For those of you that don't know, an EasyPress is a smaller alternative to a heat press and used for projects that use iron-on. I reviewed the original version here and have been using it ever since to create so many projects. It really did change the way I viewed iron-on projects and I would never go back to just a plain old iron again. I actually did a simple Facebook live explaining the differences between these machines if you would like to watch below.
Can't watch the video or missed some of the information? No problem! I am also going through everything below!
Original EasyPress (Aqua Color)
Iron-on success in 60 seconds or less
9″ x 9″ (22.5 cm x 22.5 cm) size
Easy to learn, simple to use
Precise temperature control up to 350°F (177° C)
Lightweight, portable, easy to store
Compatible with major brands of heat-transfer material
Insulated resting base
Auto-shutoff feature
Display to set temperature and time
Beeps to indicate temperature being reached and also time complete
Consistent temperature across the entire plate
EasyPress 2 (Raspberry Color)
So you basically get EVERYTHING above and more! The additional features are as follows:
Consistency improvements on heat
Now goes up to 400°F (205°C) (for sublimation!)
Redesigned safety base
Faster heat up times (up to 25% faster)
Memory to remember previous settings
THREE sizes! 6"x7" (15 cm x 17.5 cm), 9"x9" (22.5 cm x 22.5 cm), and 12"x10" (30 cm x 25 cm)
USB port for hardware updates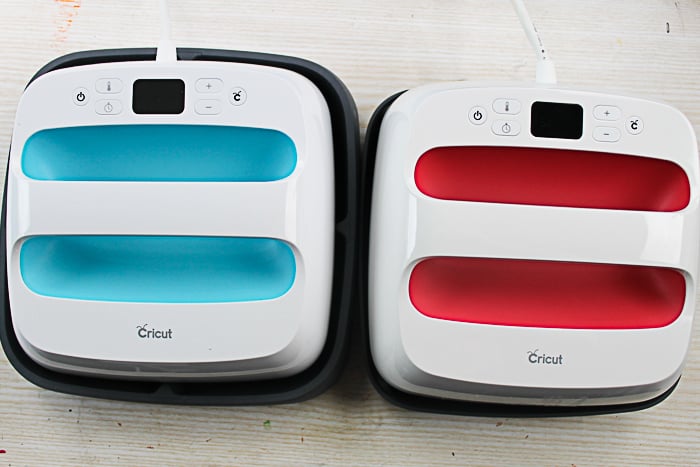 Which do you need?
You can basically think of the Cricut EasyPress versus EasyPress 2 question as a debate over versions. Are you okay with the original version or do you want an updated model? Would you rather have a 2017 model or a 2018 model? The EasyPress 2 is the latest version with some upgrades as well. Obviously, if you prefer one of the newer sizes, this isn't really a question at all. However, both are high-quality products that will work for your iron-on projects. I would also say that both will be something you will be thrilled to use! I know I love mine!
Which do I recommend?
So, that leads to the question of which do I recommend. Which would I choose if I had to buy one today? If I was doing all smaller projects or was going to take my EasyPress to events, the smaller version of the EasyPress 2 would be the one hands down. If you are working on large projects and want to cover more area, the larger version is a no-brainer. I do love the 9″x9″ version and I would probably do the EasyPress 2 if I had to buy today. Why? The main reason is that I think I would love to experiment with sublimation and I will need a higher temperature. I hope that helps you decide which you might want.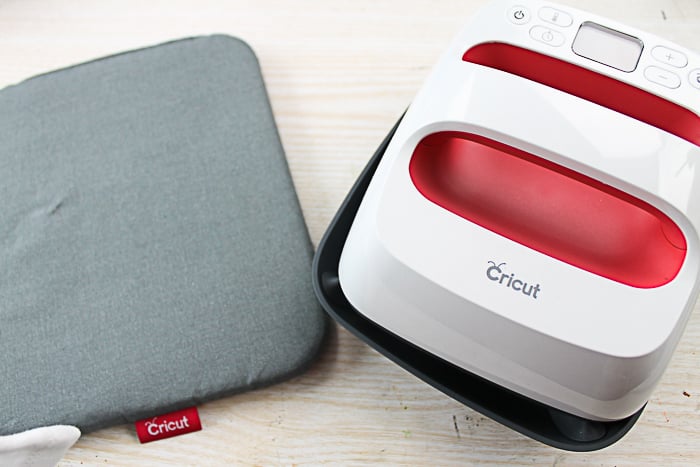 Where do you buy?
You can definitely wait for that coveted Christmas deal that you know is coming. If you can't wait, you can use my links below to check them out on the Cricut website.
Original EasyPress (no longer available)
What can you make?
Now that we have settled the Cricut EasyPress versus EasyPress 2 debate, the only question is what can you make? So many things! Yes, you can make these onesies but also a ton of other projects. I have a guide here on what iron-on product is good for what material. You can also click here for over 60 iron-on projects and those are just a fraction of what you can make! Now, do you want to make these onesies?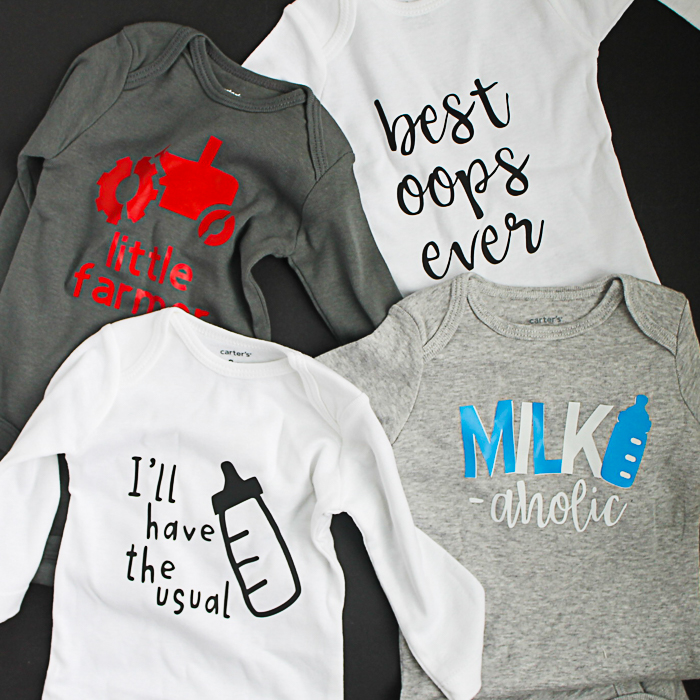 They are all in the same cut file. Just delete those you don't want to cut then resize for your shirt. Be sure to mirror before cutting and place your iron-on material shiny side down on your mat. Once cut, weed away excess then apply using your Cricut EasyPress. You can also find recommendations for settings here.
Please note that the milk-a-holic shirt uses two colors of heat treat vinyl that are layered. You can click here to see a video of me making this one and also learn a little more about layering.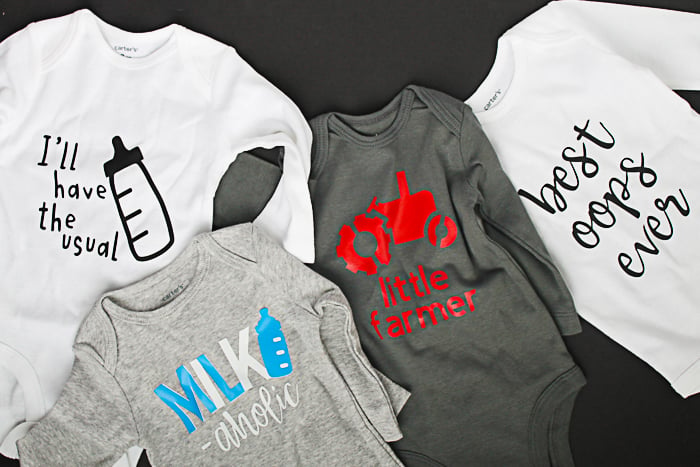 Now the only real question is, what will be your first project with the Cricut EasyPress. I am so excited to see what you create!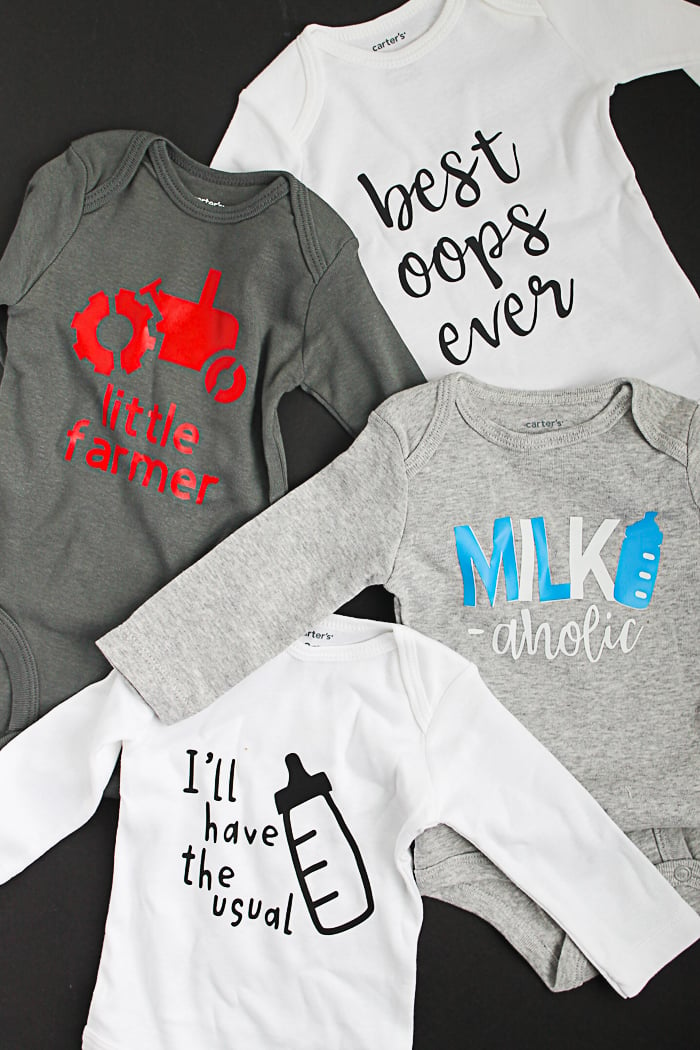 So, have you made a decision on the Cricut EasyPress versus EasyPress 2? Maybe you also want more iron-on inspiration? Then you might want to try the links below!
New to Cricut?
Sign up for our email list to download the Beginner's Guide to Cricut Design Space for FREE today!
Sign up to get the guide emailed to you!