A magnetic fishing game is one of those classics that kids of ages and generations enjoy playing. Use your Cricut machine to make your own unique DIY magnetic fish game!
I used to play the magnetic fishing game as a kid, my kids played it, and now my grandkids are starting to play it! it's a classic for a reason: it's so much fun.
Well, I'm the type of person who likes to make my own items whenever I can (have you seen all the DIY projects here?). So, when one of the littles asked to play a magnetic fishing game, that just encouraged me to make our own set!
A magnetic fish game is really pretty simple to make yourself, especially if you have a Cricut machine. I am going to show you how to use your machine along with the Cricut EasyPress 2 to make this fun activity idea.
SAFETY NOTE: This project does contain magnets. Therefore, I recommend only allowing children 3 years of age and older to play with it. And I also recommend that you supervise them when playing this game.
If you want to make more games that young children will enjoy, check out our Toddler Matching Game or DIY Farm Play Mat!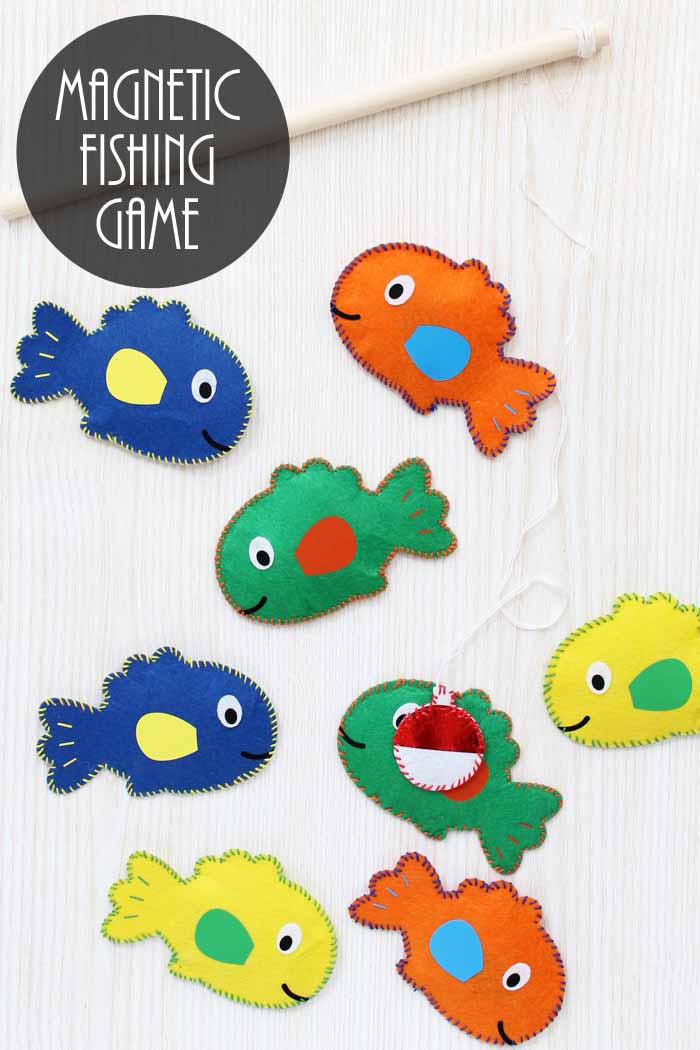 How To Make A Magnetic Fishing Game
Are you ready to get started? This project looks complex, but it's much easier to make than you might think. Plus, you can customize it with any colors that you prefer!
Supplies Needed
Here's everything you'll need to make this DIY magnetic project! I've included some handy links to make finding certain items a little easier and faster.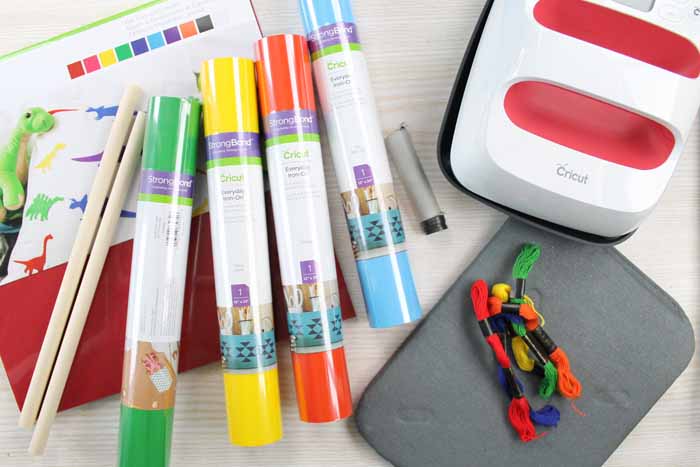 Video Tutorial
You can actually watch me make this project in the video below, as well as learn a bit more about the Cricut EasyPress 2 while you see it in action!
Instructions
Can't watch the video or missed some of the steps? Just follow along with the step-by-step instructions below to make this magnetic fishing game.
Step 1
Get the cut file, then cut all of your pieces on your Cricut machine.
You can use whatever colors you would like, and you can also cut as many or as few fish as you would like.
NOTE: Be sure to mirror the image when cutting from iron-on and cut it shiny side down.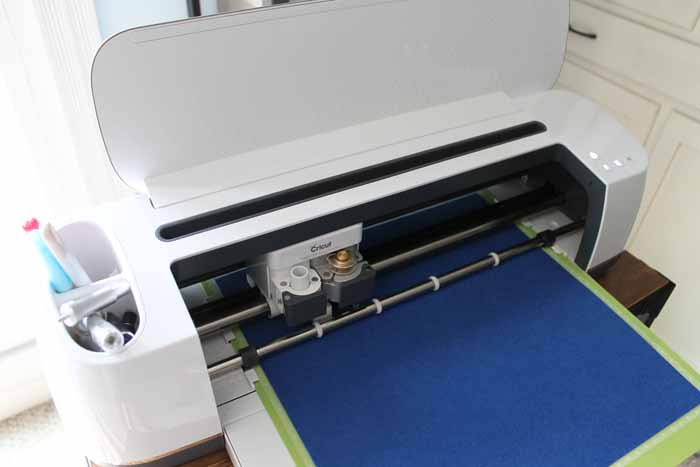 Step 2
Gather your cut pieces and weed any excess from your iron-on pieces.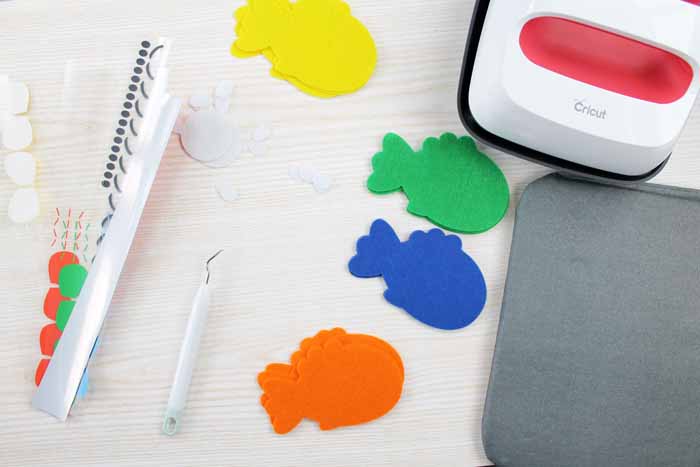 Step 3
Then, you can start to add the iron-on to your felt.
For the bobber below, I went with a red foil iron-on product. Be sure to preheat your felt, place your iron-on, then press for the recommended amount of time and at the right temperature.
You will then want to flip your pieces over and press on the back for the recommended amount of time as well.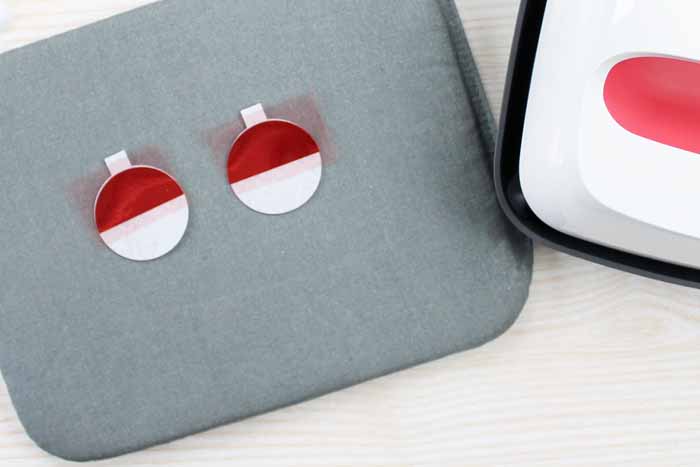 Step 4
Then either wait for the project to cool before removing the carrier or peel right away.
The "warm" or "cool" peel will be indicated on the EasyPress chart. I am actually using the smallest size of EasyPress. This version has three sizes – 6×7, 9×9, and 12×10.
The smaller size is great for little projects like this one, and it did not prevent me from doing more than one piece at a time! In fact, I did all of these eyes with one press. You'll notice that they are black iron-on applied to a felt eye.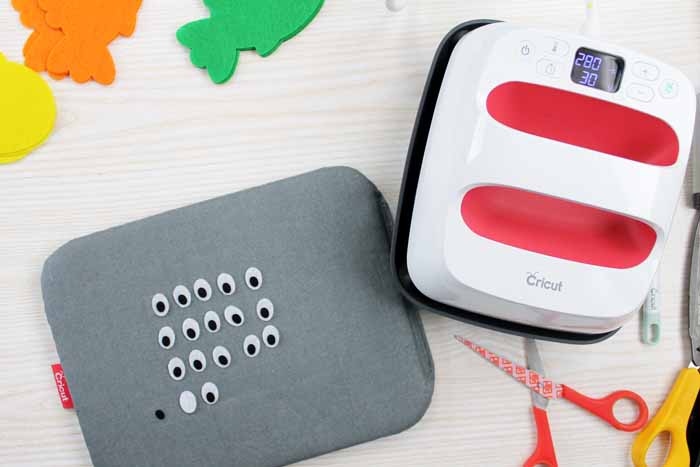 Step 5
Begin pressing the fish. You can press two of these fish at the same time.
Add the fin, tail embellishments, and smile all at the same time as they are the same type of iron-on in this case.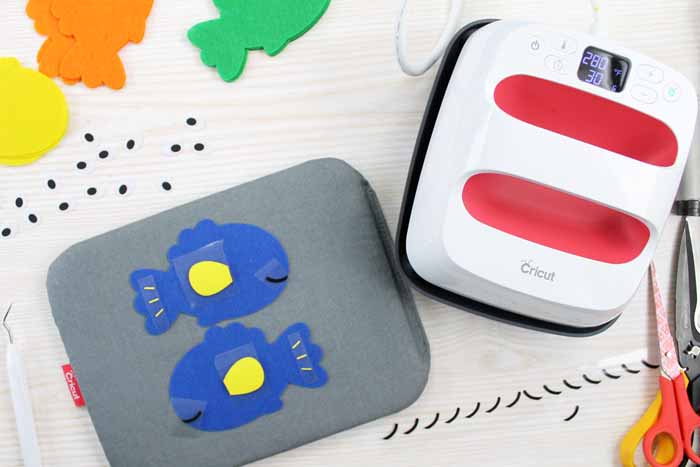 If you want to use different types here, just press the type with the highest temperature (or time) first and work your way to the least.
Step 6
It's time to start assembling your fish. Begin by adding the eye into place with either fabric or tacky glue. Set those aside to dry completely before continuing.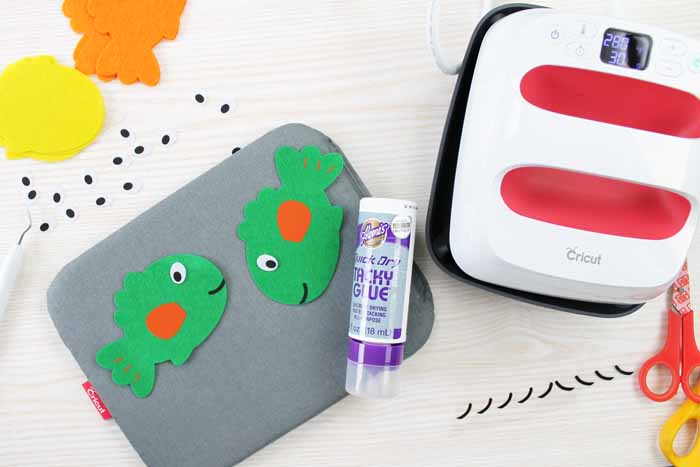 Step 7
Once dry, add a small amount of stuffing and a magnet to the inside of each fish.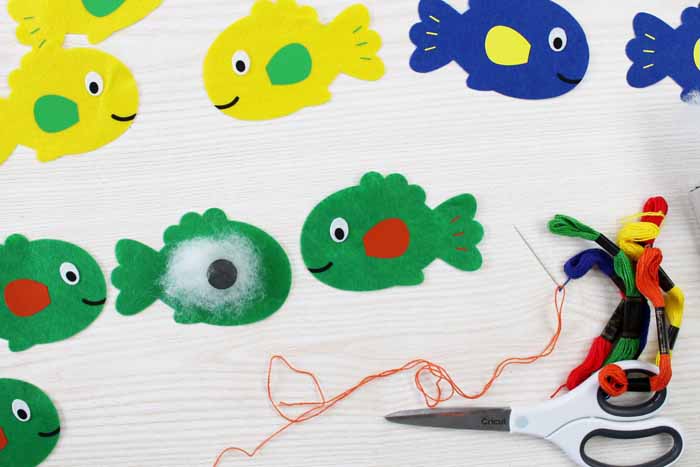 Step 8
Then hand stitch around the outer edge of each one trapping the magnet inside. I am using a contrasting thread, but you can choose whatever color you like.
Take care to make absolutely sure that the magnets cannot come out of the fish since they are dangerous for young children.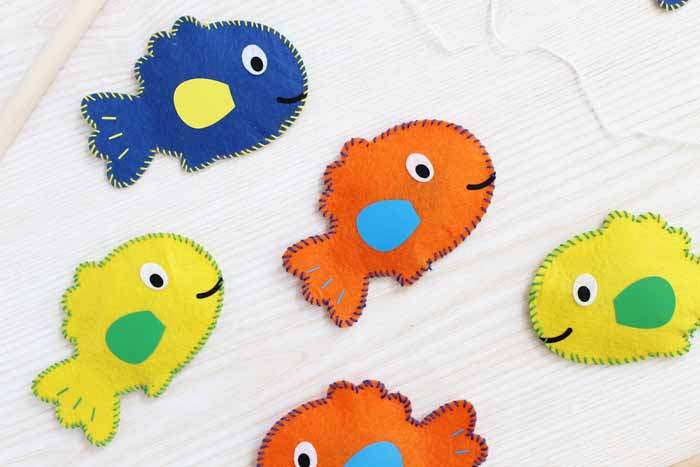 Step 9
Next, repeat the same process for the bobber. In this case, you will also add a looped piece of thread to the top of the bobber as you are sewing. This will be used to add to your dowel in the next step.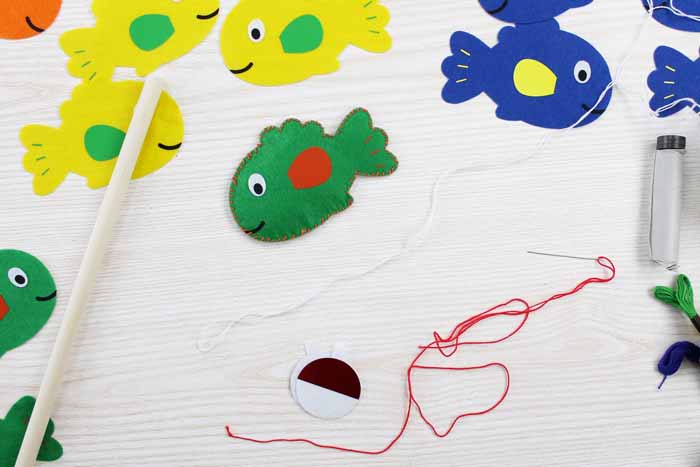 Step 10
Once you have sewn around your bobber, add it to the fishing pole with a bit of white thread.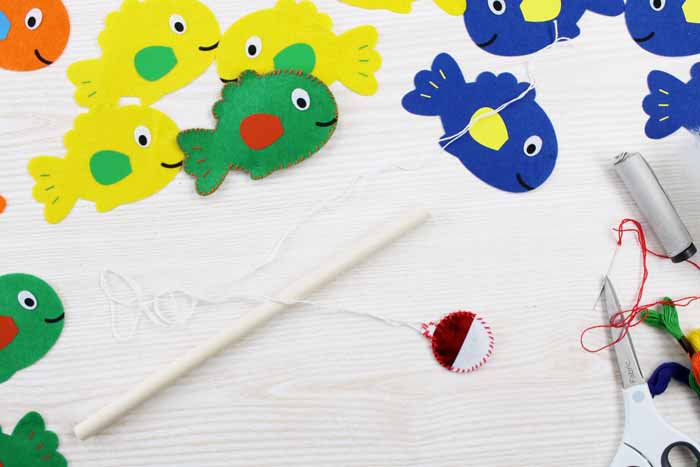 Note: I used a combination of tying it on the dowel rod and securing it with hot glue.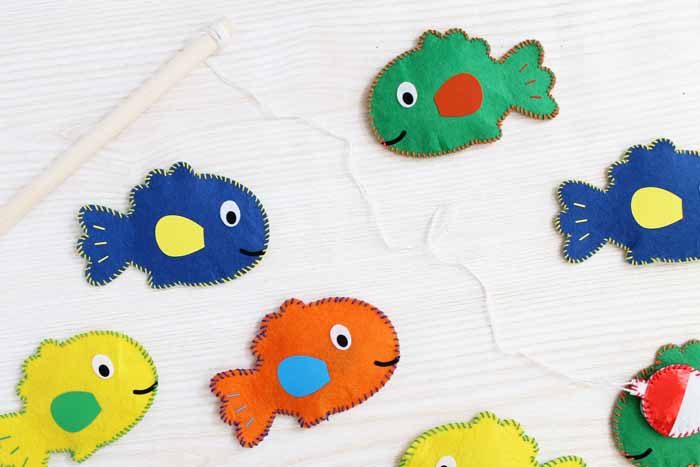 All that's left is to give your magnetic fishing game a little test. The bobber should stick to the fish and lift them up easily!
Isn't it cute?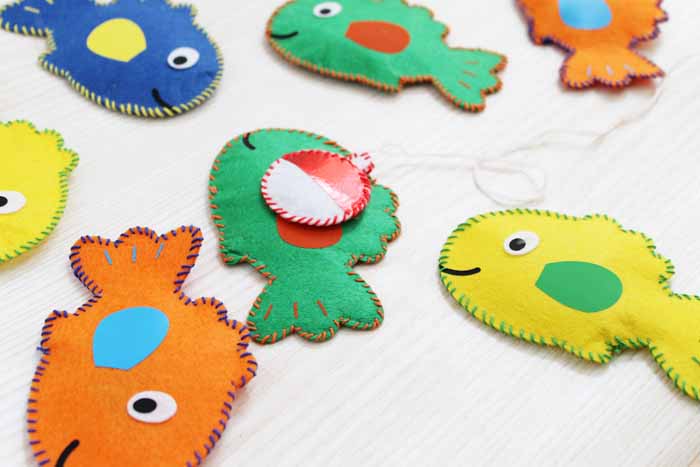 FAQs
Here are a couple of questions that I see readers ask about making this magnetic fishing game with a Cricut. If you have a question, please check to see if I've already answered it below. Don't see your question? Leave it for me in the comments!
Can I use an iron if I don't have an EasyPress?
Yes, you can. Since this project works with felt, you need to be careful about the heat setting for your iron and avoid pressing for too long.
Also, I've worked extensively with both products over time and have found that irons often stop heating evenly after some use.
The EasyPress combines the convenience of an iron with the speed of a heat press. All you have to do is set your time and temperature and allow the machine to do the countdown while you apply light pressure. It delivers professional results every time!
If you're considering buying one, it's 100% worth it. Here's a little more information:
About the Cricut EasyPress
The EasyPress is the easiest way I know to get professional iron-on results in 60 seconds or less.
The main benefit is the ceramic-coated heat plate, which offers up dry, even heat for flawless transfers. It is so much better than an iron y'all! Irons are inconsistent, and the results can be super frustrating.
The EasyPress 2 actually offers up a faster heat-up time as well as precise temperature control up to 400 F – which is an improvement over the first version.
With the EasyPress 2, you also get the insulated, streamlined Safety Base. This keeps EP2 in a protected resting position while also protecting your surface. You can see the base with the press in the image below.
The easy-to-read digital display shows you both time and temperature. And, of course, it still beeps once the time is done for super easy pressing!
On the back, you will also find a USB port for firmware updates.
And the only way to get that fabulous raspberry color is to get an EasyPress 2.
I don't want to leave the post, however, without a mention of the EasyPress mat. It also comes in three sizes to match your EasyPress. You can use a folded towel under your EP, but I find the mat is so much better! Just a little note that once you get the mat, you will never go back.
Cricut also offers the EasyPress 3, which has Bluetooth capability. That Bluetooth capability links to an app called Cricut Heat. Cricut Heat can communicate with the EasyPress 3, send temperatures, send times, and walk you through the process of different projects.
What can I use my EasyPress for?
The EasyPress is a whiz at transferring iron-on vinyl or infusible ink to fabric and other surfaces. It's designed to give convenient, professional results. And to make it even more user-friendly, it comes in multiple sizes so that you can use the right tool for the job.
Try Making This Magnetic Fishing Game Yourself!
Any child would love getting this fun game as a gift! And you will love how easy it is to make with your Cricut machine and your Cricut EasyPress 2.
In fact, it's so easy to make, you could make a set for all the kids you know!
Can't you just envision the hours of fun the little kids in your life will have with this game soon?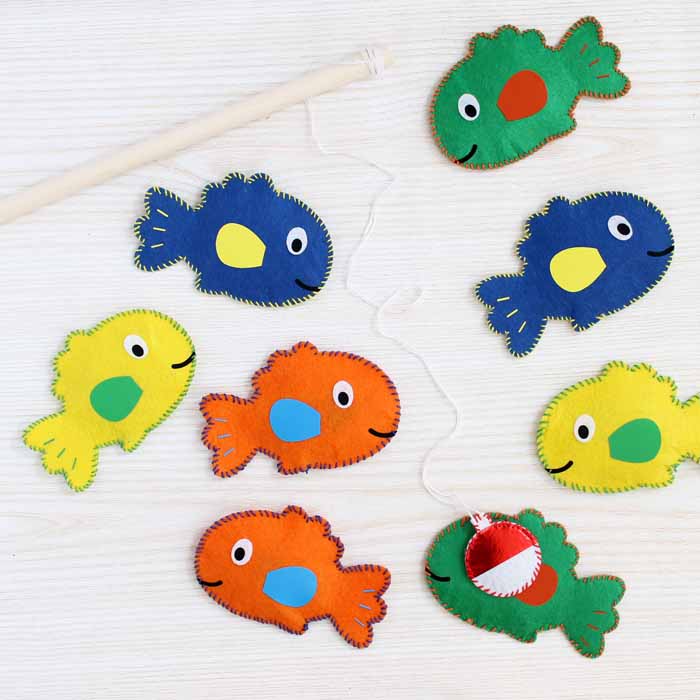 I am off to think of some more creations that are the perfect size for my new small EasyPress!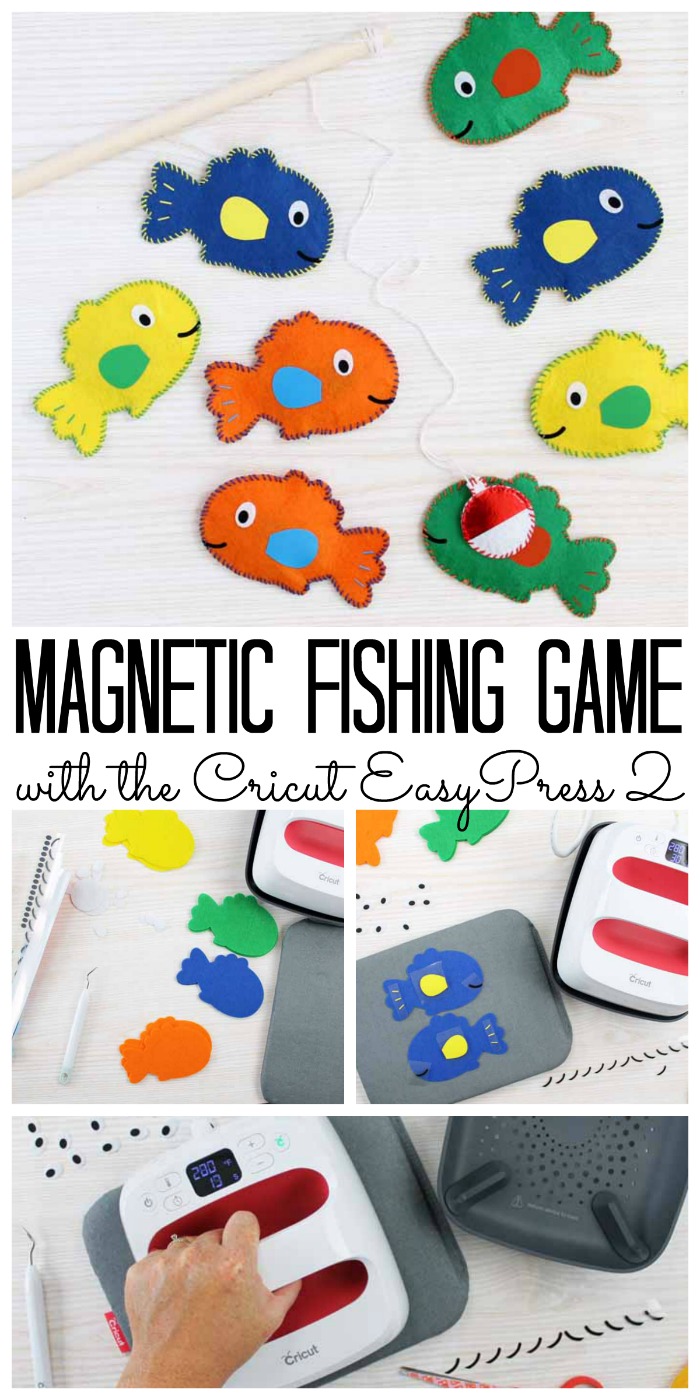 More Cricut Crafting Inspiration
If you love what your Cricut can do for making kid-themed items, check out these other favorite ideas too!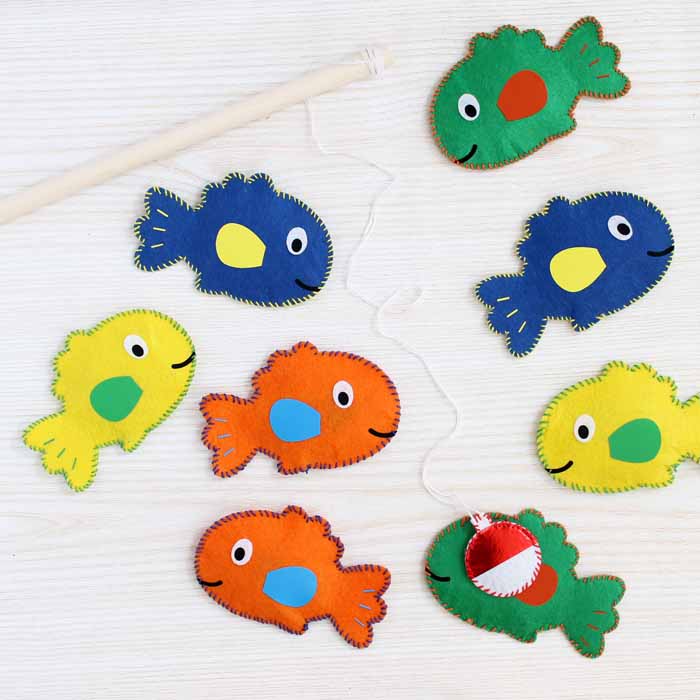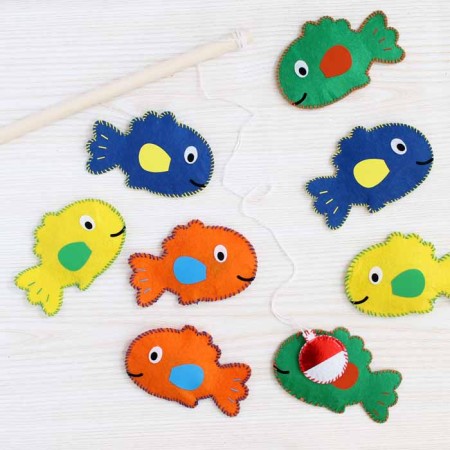 DIY Magnetic Fishing Game With Cricut
This adorable project is easy to make with the help of your Cricut machine and makes a great toy or gift idea for toddlers and preschoolers!
Supplies
Cricut Felt

multiple colors

Cricut Iron-on

multiple colors

Dowel rod

Cricut machine

Cricut EasyPress

EasyPress Mat

Magnets

Embroidery floss

Stuffing

Needle

Hot glue and a glue gun

Cricut cut file
Instructions
Get the cut file and cut out all of your pieces on your Cricut machine.

Weed any excess from your iron-on pieces.

Add the iron-on to your felt.

Wait for the project to cool before removing the carrier or peel right away.

Start pressing the fish (you can press two at the same time).

Go ahead and add the fin, tail embellishments, and smile all at the same time because they are the same iron-on type.

Assemble your fish. Add the eye into place with either fabric or tacky glue and aside to dry completely.

Once dry, add a magnet and a little bit of stuffing to the inside of each fish.

Finally, hand stitch around the outer edge of each fish, trapping the magnet inside. Make sure to securely finish the edges so that the magnet doesn't fall out.
Tried this project?
tag us to show off your work!
New to Cricut?
Sign up for our email list to download the Beginner's Guide to Cricut Design Space for FREE today!
Sign up to get the guide emailed to you!