This Ultimate Guide to Cricut Blades will walk through all of the blades and their functions for each Cricut Machine! You'll be a crafting pro in no time! Whether you have a Cricut Joy, Cricut Explore, or a Cricut Maker, you will learn what blades are available with your machine and what they do.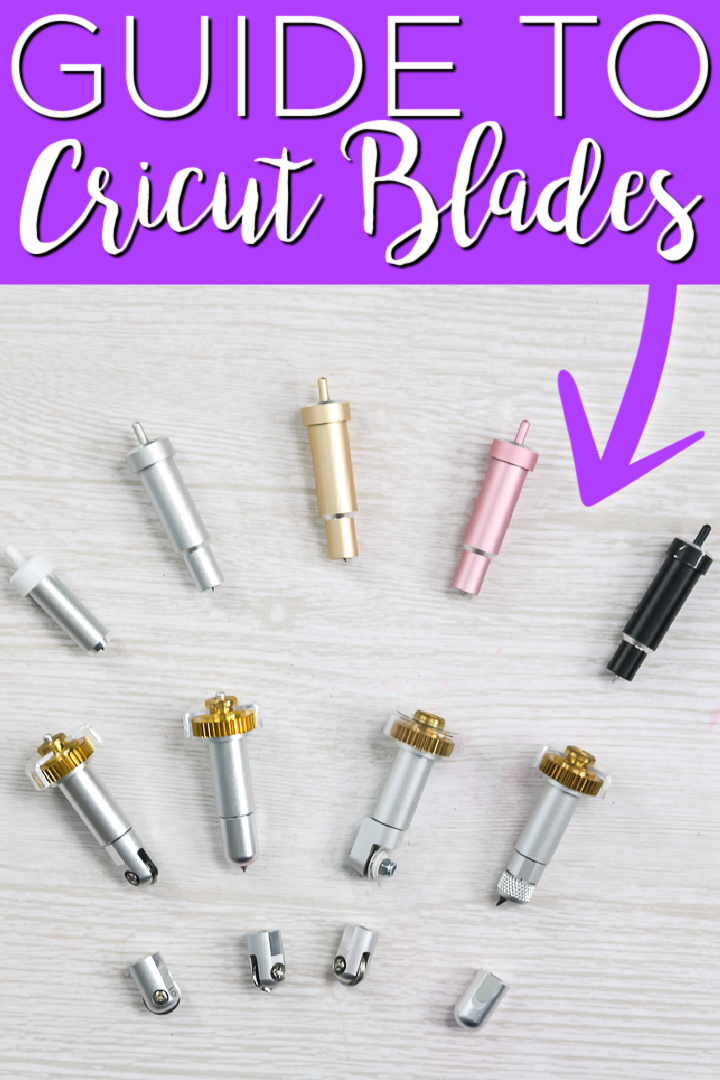 When it comes to understanding the different uses of each Cricut machine I know it can get overwhelming, which is why I decided to create this guide. The ultimate guide to Cricut blades will hopefully help you with three things.
Determine which blade to use for which project.
Help you to decide which blade you need to buy for your machine.
Let you know if you need to upgrade your machine because you really want that engraving tip for the Cricut Maker! I mean, who doesn't?
Cricut Blades Guide
Want to watch the entire summary instead of read it? You can just watch the video below for everything you ever wanted to know about Cricut blades.
Can't watch the video or want more information? You can keep reading below as well!
Blades for the Cricut Joy
The Cricut Joy is pretty simple! At this time the Joy only comes with a fine point blade. The housing and the blade itself is different than the other machines, so they are not interchangeable, though their function is the same. So, when looking for blades for the Joy, be sure to pick up packages indicated for the Joy only. You can actually see everything that I have cut with my Joy and the fine point blade here.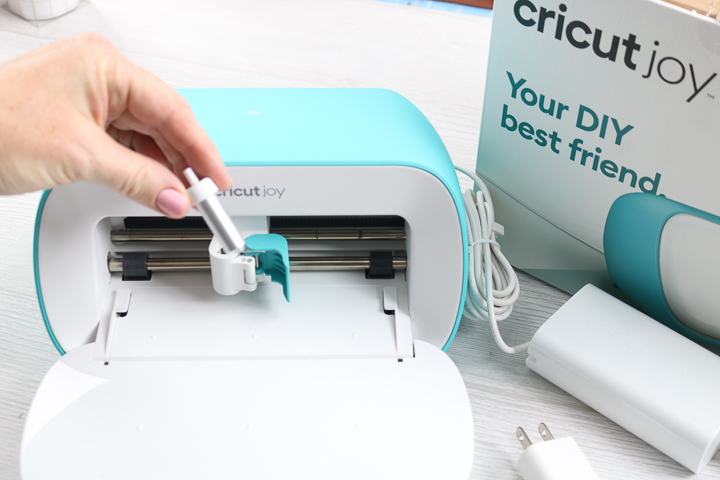 Blades for the Cricut Explore & Maker Series
Now, one thing to note, any blade that will go in the Cricut Explore series will also fit in the Cricut Maker. But not all blades from the Maker fit the Cricut Explore. Let's talk about each of the blades in detail.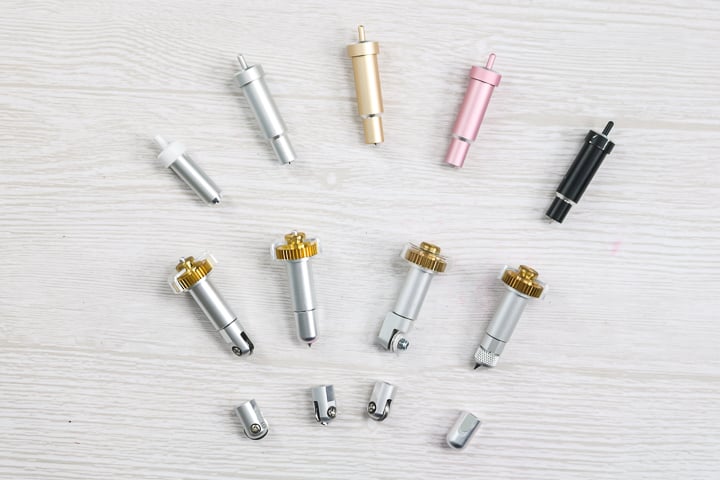 Fine Point Blade
NOTE: The fine-point blade for the Joy is different than the one that fits the Explore and the Maker. They are two different housings as well as two different blades.
The fine point blade can be in any of three different colored housings. The gold is meant to be the premium fine point and the gray was meant to be the regular fine-point blade. Note that all Cricut machines come with a fine point blade. Some of you may have gotten the gray version with your machine, but you can get the premium fine-point blades and add them to the gray housing.
The pink housing actually designates a bonded-fabric blade. So just like you want fabric scissors versus regular scissors, you want regular blade versus fabric blade. Be sure to either get a pink housing for the blade you're going to use just for the bonded fabric or get two gold housings or two silver housings and mark the one that you plan to use for fabric.
Now, you might just be asking what can you use the fine-point blade on? So any of the fine-point blades either for the Joy or the Explore and Maker series can be used for paper, card stock, poster board, bonded fabric, vinyl, iron-on, and any other thin to medium-weight materials.
Deep Point Blade
The deep point blade goes slightly deeper than the fine point and can be used on the Explore or the Maker series. The deep point blade has a steeper angle, it's a 60-degree angle versus the fine point that a 45-degree angle.
The deep point blade is used when you're wanting to cut thicker materials like magnets, chipboard, thick card stock, stiffened felt, foam sheets, cardboard, and even some fabrics. I also love it for cutting leather to make leather earrings!
Foil Transfer Tool
This tool is one housing that comes with three tips for fine, medium, and heavy foil lines. You can purchase the starter kit here that will also come with some foil for you to start creating right away. You can see more about adding foil to your projects here.
Blades for the Cricut Maker Series
There are a few blades that are exclusive to the Maker. The benefit of these blades is that you can get into a whole new world of materials. Read on for a look at the blades and decide which of these you need for your crafting needs.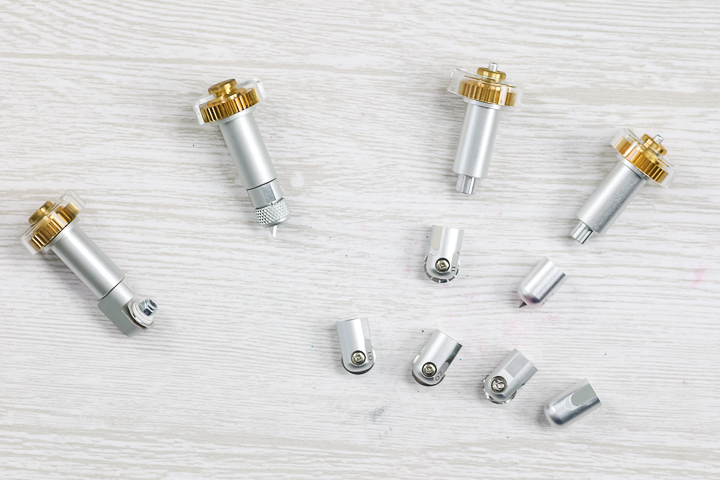 Rotary Blade
First of all, your Cricut Maker will come with a rotary blade. Please note that this tip and housing is different from any of the other tips and housings. You will need the rotary blade housing and tip that comes with your machine. You can change the blade itself, but you will need the housing that comes with your machine.
We talked about the pink fine point blade above. The pink blade is for bonded fabric only, so it's for fabric that has a bonding on the back of it. This is actually the only fabric that you can cut with the Explore series. The Maker, however, has the rotary blade which can cut any fabric!
The rotary blade is amazing for cutting fabrics of all types with no backing, so that's primarily what this blade is used for. You could also use it for things like tissue paper and cork. I've also used mine for some types of leather, though I mostly use the deep point or knife blade for this. Basically just about any material where you want to roll the cut instead of dragging it, the rotary blade is what you will want to choose.
Knife Blade
The knife blade for the Cricut Maker is for cutting extremely dense materials. It has the ability to cut up to 3/32nds of an inch, and so I like to think of it as a craft knife but for your Cricut Maker.
The knife blade can cut materials such as balsa wood, matboard, and chipboard. Again, this housing is different from any of the other housings, so you will need a knife blade housing and blade in order to use the knife blade with your Maker. However, you can replace the knife blade itself with a replacement blade and not have to replace the entire housing.
Scoring Wheel
First of all, you may be asking yourself what kind of projects you can make with the scoring wheel. The scoring wheel basically helps you to make folds on different types of materials like paper, cardstock, and poster board. So it is the perfect accessory for you if you're looking to make cards or custom boxes.
For the Cricut Maker, there are scoring wheels, both a double and a single, for scoring your material. In this case, you can use the same housing and interchange the tips. Use the double wheel in cases where the material tends to crack when you fold it. The double crease will help to alleviate that issue.
If you only have the Cricut Explore and are wanting to score you will need a scoring stylus, which is not technically a blade and goes into the pen slot of your Explore machine.
More Cricut Maker Tips
Aside from the scoring wheel tips mentioned above, there are even more tips available to be used on the Cricut Maker. You can use the same QuickSwap housing that is for the scoring wheels for all of these tips at this time:
You can click on each of the links above to learn a little more about each blade including seeing it in action on some materials.
Want to see a summary of Cricut blades? Just watch the story below!
Have questions still? Feel free to ask those in the comment section below!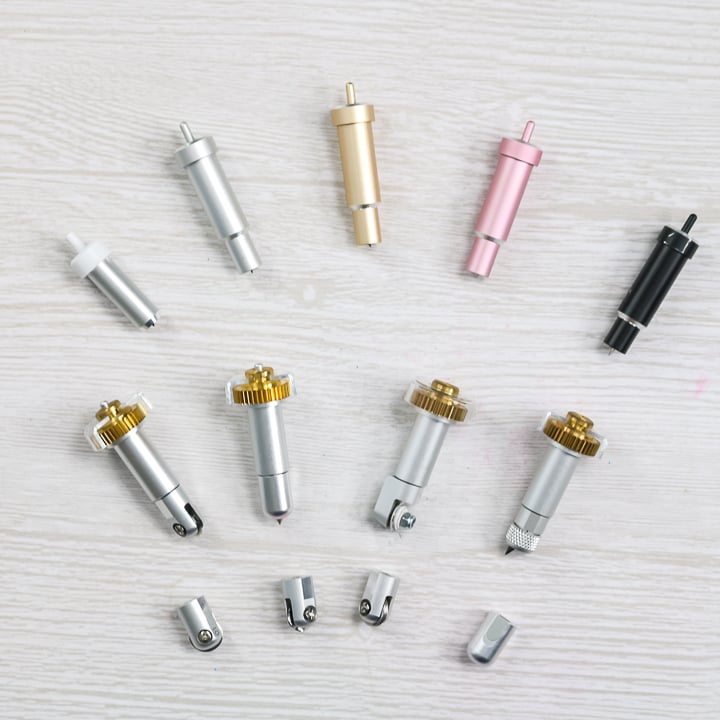 Love this and want more? Try the links below as well!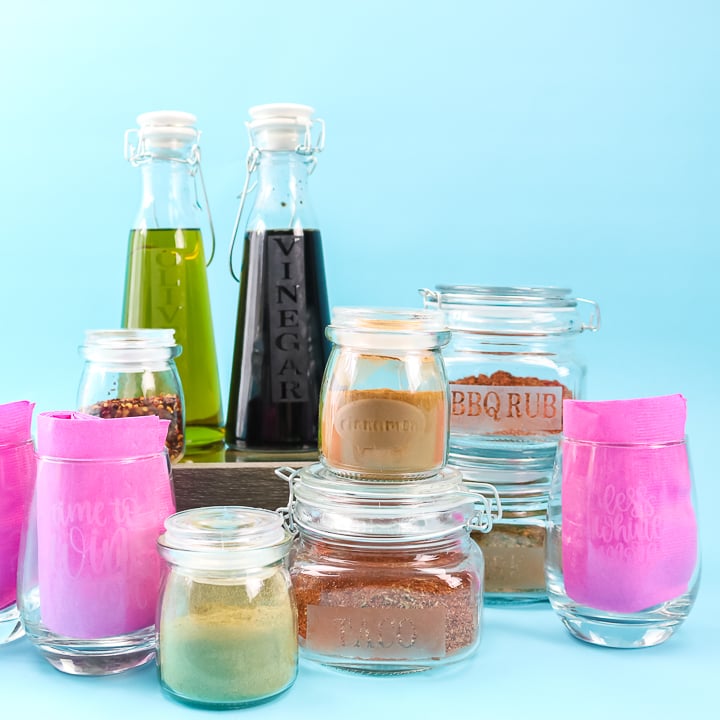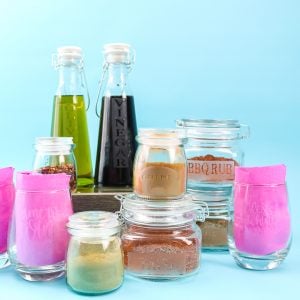 How to Etch Glass with a Cricut
Grab your Cricut machine and start etching glass with this easy to follow tutorial.
Read More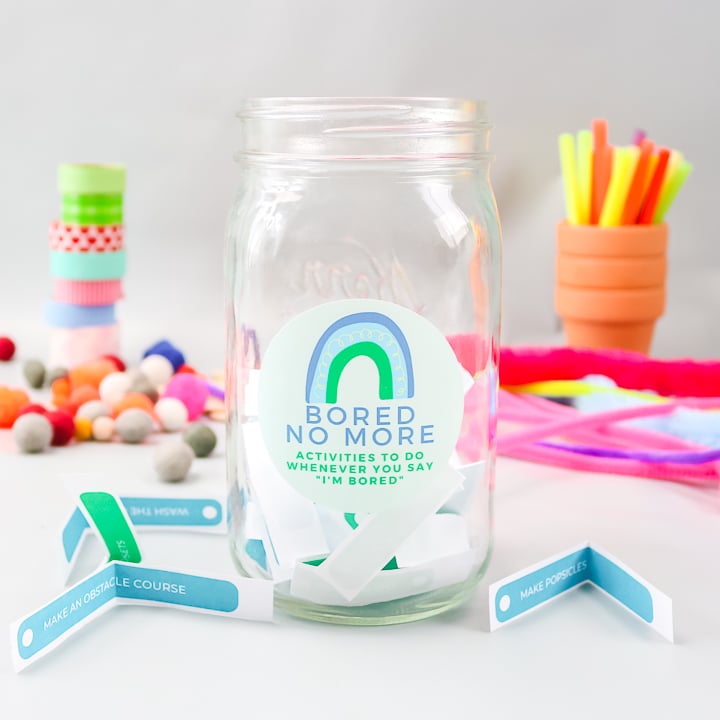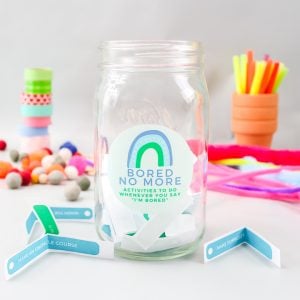 How to Use Cricut Printable Vinyl
Make stickers and more from printable vinyl on your Cricut machine.
Read More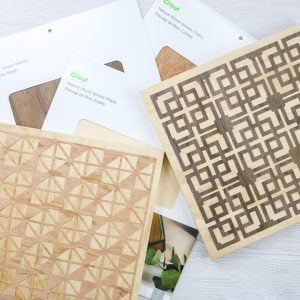 How to Cut Wood Veneer with a Cricut Explore or Maker
You can easily cut wood veneer with your Cricut machine and the deep point blade.
Read More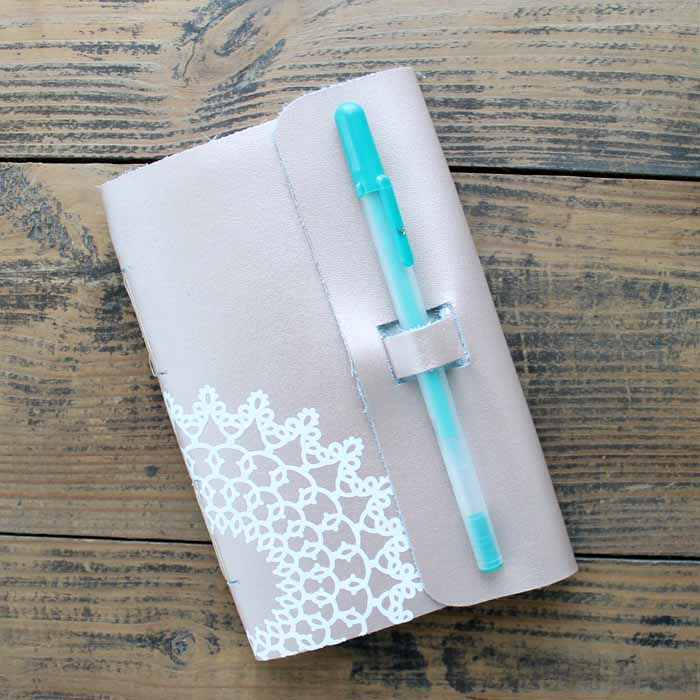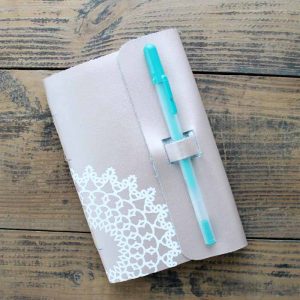 How to Make a DIY Leather Notebook with Your Cricut Maker
This homemade leather notebook is a great keepsake, or can be a wonderful, thoughtful gift for friends or family!
Read More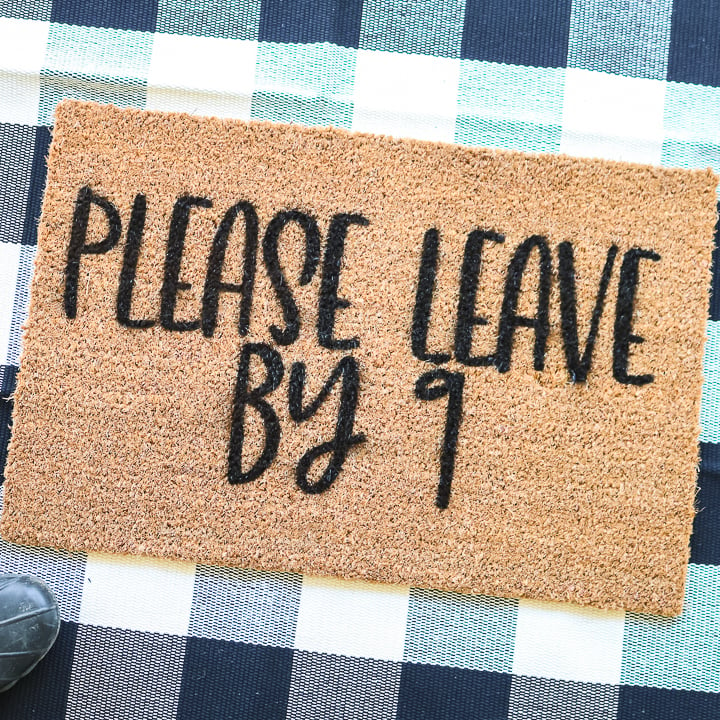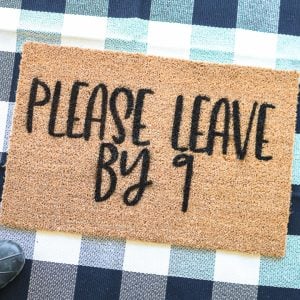 Make Your Own Doormat
A doormat is super easy to make with a Cricut machine and our instructions.
Read More