I tend to stay to safe colors for my home decor. But outside…it is anything I want!! So I painted my pots for my container herb garden last weekend…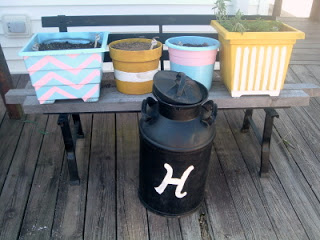 Blue and pink chevron…yellow with white stripes…a bright and cheerful place to grow some goodies!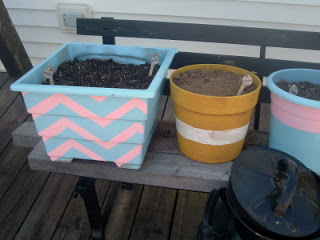 Some of my herbs volunteered from last year…gotta love that! Growing herbs from seed is super easy and very rewarding! You can actually try those recipes on the food network without spending a fortune on fresh herbs!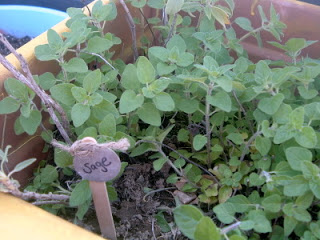 I spray painted the pots first and then used craft paints for my decoration. I am not entirely sure how well the craft paint will hold up…but heck I like things chippy anyway! 🙂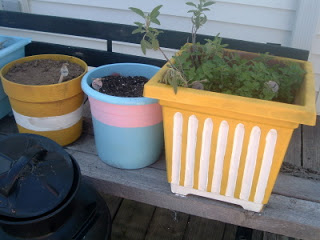 Okay the reality is that I forget what I plant. Plus I have no clue what most of these herbs are supposed to look like. It was a train wreck one year! So I also made little garden markers. It is just a popsicle stick and a metal disc. I punched holes in both with my crop-a-dile and tied em together with jute. I wrote the names on them with a Sharpie.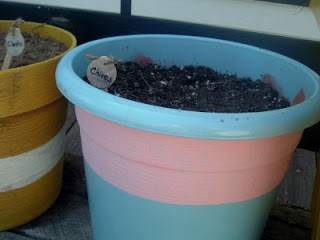 It took all of 5 minutes. Waaaay quicker than googling pictures after they grow…trust me on this…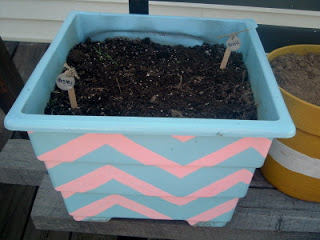 While I was out there I monogrammed this milk can. I just freehanded it. I guess I could have went with a wild color on it too…but I must draw the line somewhere…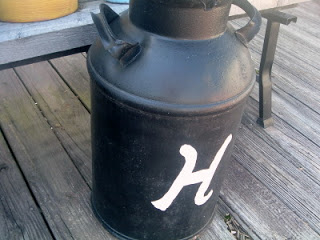 Go ahead and giggle…cause I had no clue that milk can lid was crooked until I went to post this…it is too late now… My pots are sitting on a rustic bench. Keeps nosy dogs out of them…if you have nosy dogs you know what I mean…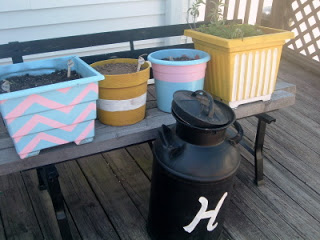 Stay tuned tomorrow….I have another addition to this little garden.
Go get your herb seeds today and start your own little garden! You will be thanking me in a few weeks!! If you already have one, what is your favorite herb to grow?? I wanna know cause it may be one I have not planted yet!!