It is time to grab your free printable college dorm checklist and pack your baby off to college. This may be a sad time for you or you may be thrilled to see your child spread their wings. Either way, you will want to be sure they have everything they need once they leave the nest. A checklist is a great way to do that so I thought I would offer up a free printable version just for you! You might also send them with this college survival kit.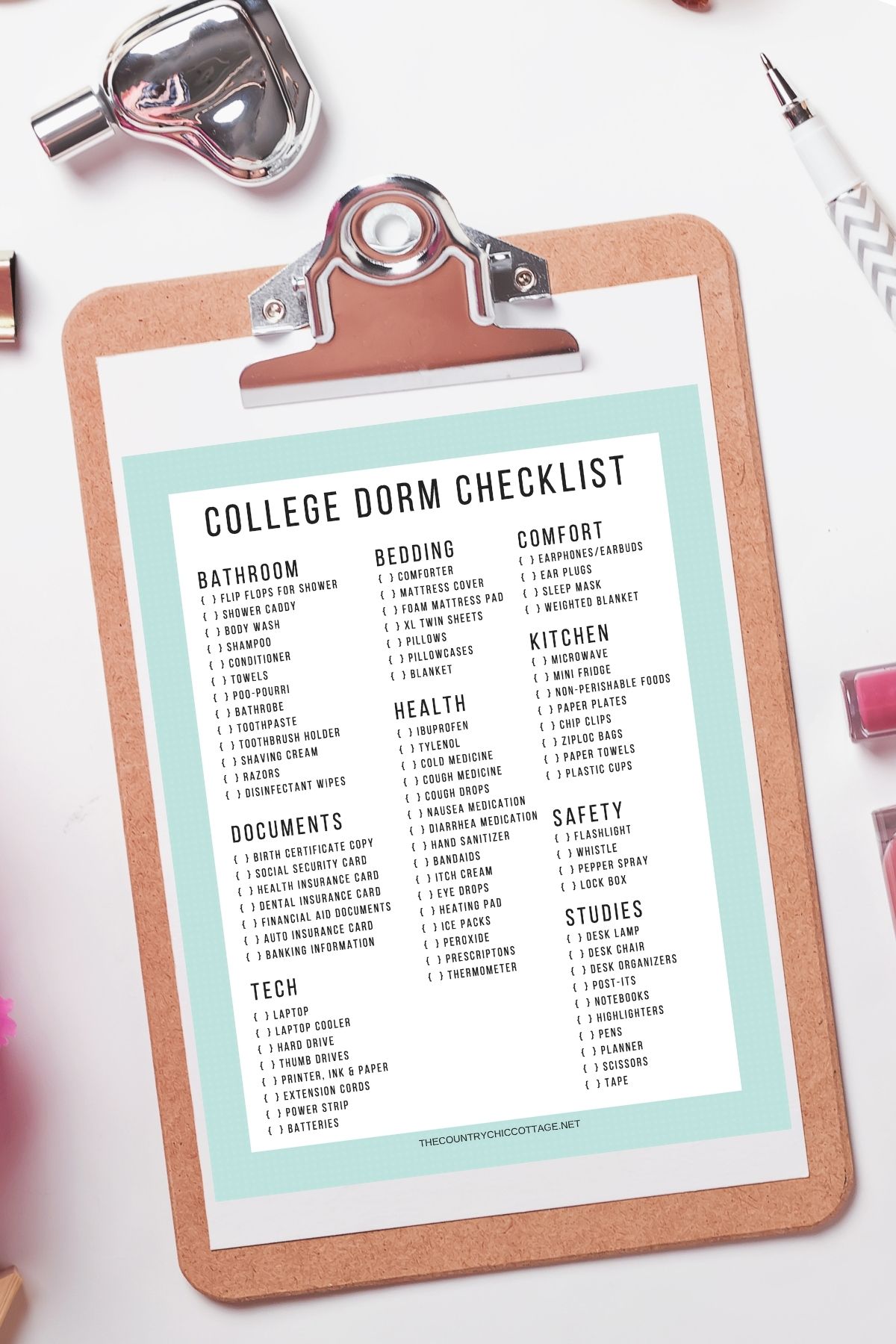 As parents, it seems like we spend our whole lives preparing our child for this moment, then it arrives! No matter if you are a little sad or glad to see them off, this is a huge step in your child's life.
When we sent our kid off to college, I couldn't believe the amount of stuff we tried to fit into a teeny little dorm room.
If you want my advice: Stick to the checklist, and then buy whatever else after you've settled them into their rooms. There might be a few things you realize you need later, but this list is an excellent starting point for any college kid.
Printable College Dorm Checklist
Sign up for the newsletter in the box below and the checklist will be sent to your email inbox. Look for a box below with a picture of the file you need. Then add in your information. Already get the newsletter, add your information again as you will not be signed up for anything further. Once you get the email, you can print this file as many times as you need to. Happy packing!
Please note that this file is for personal use only. You can also contact me if you have any issues getting the file.
Tips for Using Your College Packing List
Dorms are typically very small little matchboxes, but some universities have updated their dormitories and created larger community spaces.
Before you even begin packing, make sure you have a good understanding of how their space will be laid out, how many people to a room, if they have a private bathroom, community bathroom, kitchen, etc. This will prevent you from packing a mini fridge when there isn't any room. Or, hauling bathroom decor if they have a community bathroom. Trust me on this part!
Encourage your child to coordinate with their roommate(s) so they don't double-up with items unnecessarily
I really wish I had a checklist like this one when we were in your shoes! It's so easy to just check things off or add more to the list as you purchase them. Start now to ensure you aren't in a rush at the last minute.
This way, you can focus on spending extra time with your college freshman instead of stressing about the small stuff.
Start by marking off things you don't plan on purchasing at all. Then make a plan as to when you will get the remainder of the items. There might also be things that you need that are not on my list. Those you can add to the blank space on the checklist. Once you have completed that, you will have a plan! All that is left is to execute it!
So, if you have a child headed to the dorms at the end of the summer, you will want to go ahead and print this list now. Then start checking off things as you purchase them. Starting now will ensure that you are not in a huge rush later. The move will be more organized and you can ensure that you will have everything you need.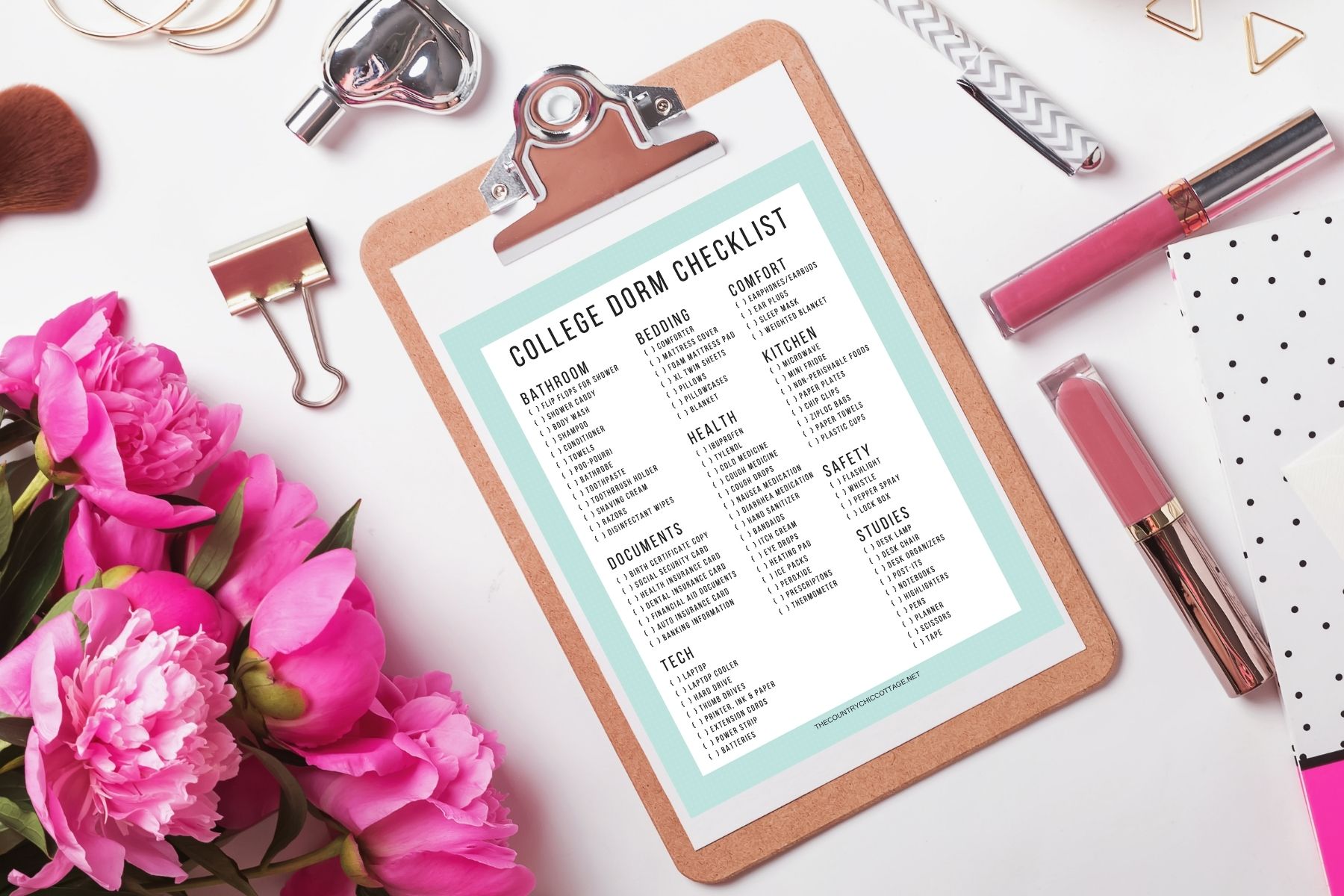 What not to bring to college
Here are some items to think about leaving behind:
Firearms and weapons. Most universities do not allow them on campus at all.
Air mattresses. There won't be any room for them to host company anyway!
Extra furniture. Unless you have an apartment-style dorm room, bean bag chairs or a couch just won't fit in these tiny spaces. Chairs, desks, beds, and dressers are usually provided at most campuses.
Other tips for dorm rooms
Get crafty with storage solutions. Storage is limited, which is why it's so important to take only what is needed. You and your student may have to get creative when it comes to storing different items.
A small area rug is great for warming up those cold linoleum floors without taking up too much space.
Bring plenty of adhesive wall hooks so you can hang up photos and wall decor.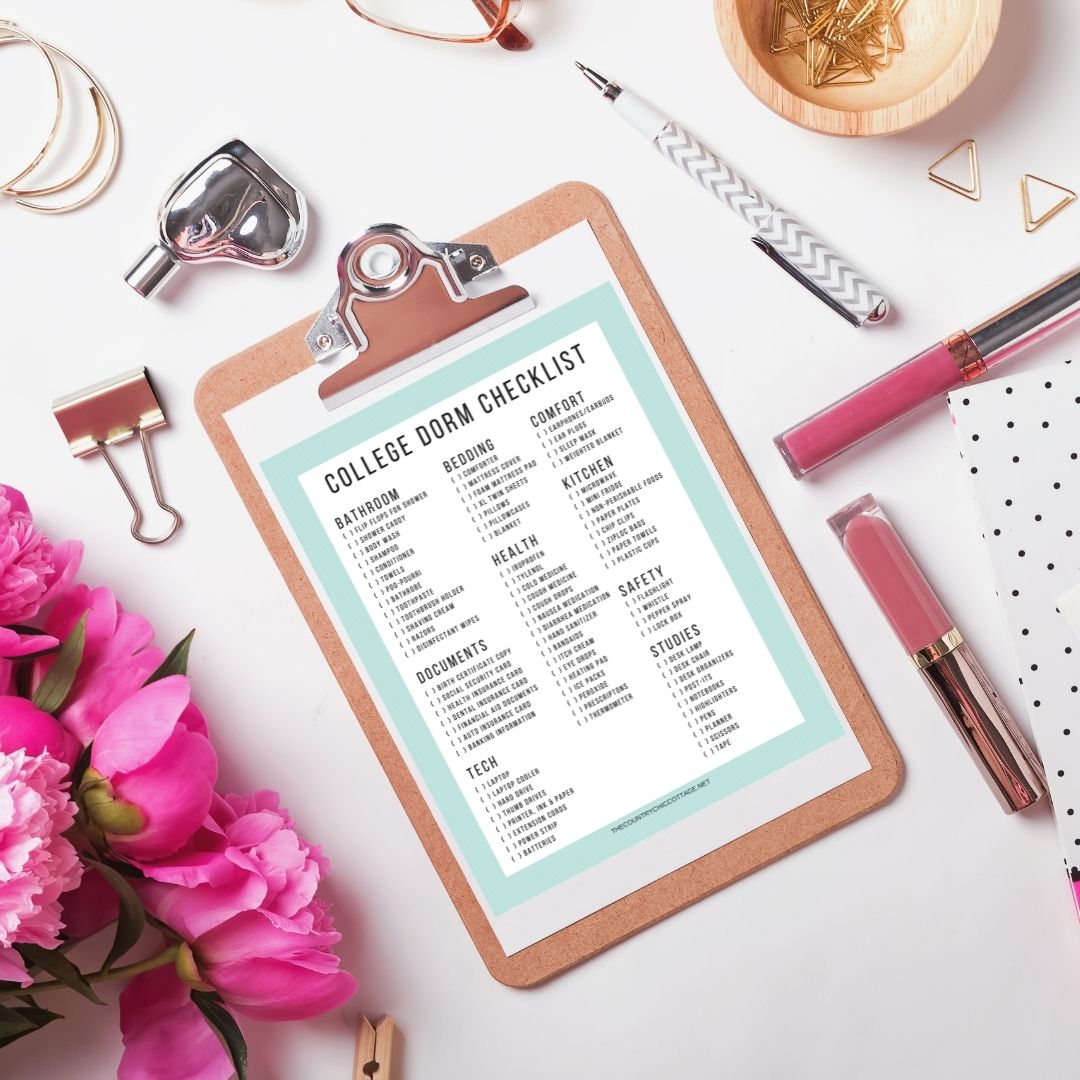 More Great Ideas for a Dorm Room
Want more great ideas for a dorm room? We have those for you as well! Just try the links below!
I hope this guide helps you determine what to pack for your dorm. A printable college dorm checklist can be a lifesaver when it comes to packing up and making sure that you haven't forgotten anything. Good luck and happy packing!