Have a kid or two off at college? Surprise your college student with a healthy college care package packed with all of their favorite goodies!
When your college student leaves to go off to college, they can feel homesick and long for the familiar comforts of home. Sending a college care package filled with some of their healthy favorites is a small but impactful way to make them feel loved and a little closer to home!
Please note that this is a different type of package than my DIY College Survival Kit which is also helpful but meant to prepare them to deal with illness and injury.
With this college care package, you can send them off on their first day with this care package in hand or mail it a few weeks after the semester has started. I personally love to mail it to them as a surprise because it always seems to show up just when it's needed most. 😉
Either way, this college care package idea will help them to develop some healthy habits even when they are away from the nest.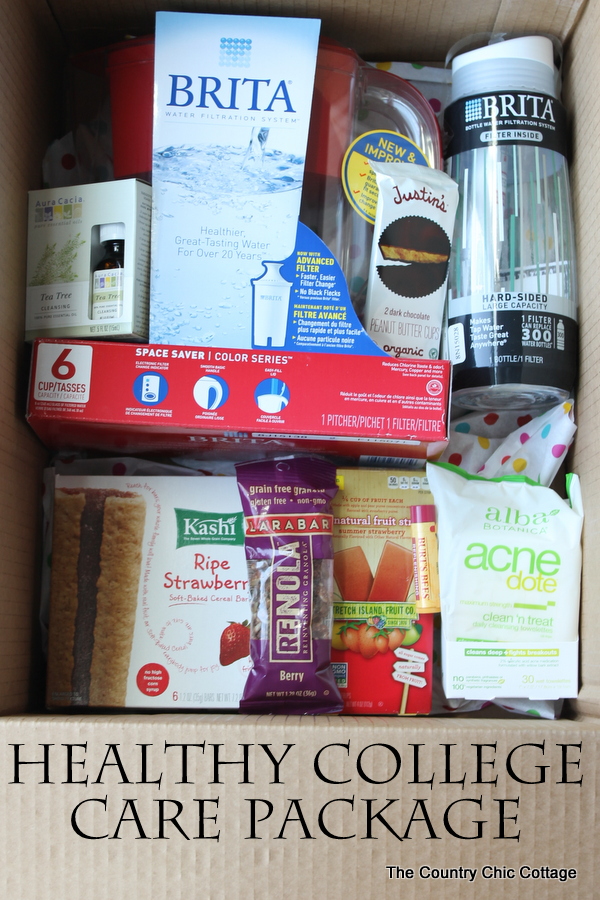 College Care Package: Things To Include
Here's what I included in the care package I sent, but feel free to adjust the specific items if you want to. The goal is to simply make your college student feel loved and send a few fun and healthy items to help them make good choices out on their own!
Brita Water Filtering Pitcher
Water does a body good! Start by making sure your college student drinks plenty of water even when away from home.
You can send the Brita Space Saver pitcher in your package (just slip it into your cart when you buy everything on their College Packing List).
Did you know that when water tastes better, we drink more of it? Students need to stay hydrated and the Brita pitcher will help them turn away from sodas and other sugary drinks to get their 8 glasses of water a day.
Why the space saver pitcher? Well, it fits perfectly in those mini-fridges! But, don't worry- it still holds 6 glasses of water.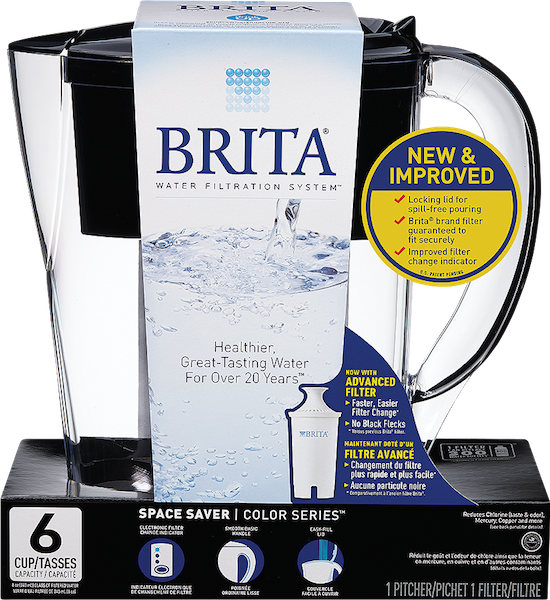 I actually ordered my pitcher online and you can as well. You can even save 5% with the Target Debit Card.
So, make sure to drop one in your DIY college care package along with other healthy essentials!
Essential Oils
I also added some of my personal favorite essential oils along with oils we use regularly for cleaning (ha!) and other items for aromatherapy. In one care package, I added a compactable diffuser along with some rollers for them to use.
Tip: Make sure when you are sending oils that you either wrap them up or place them in a storage case so that there is less of a chance of them breaking or spilling in the package.
Medicine And First Aid
College kids get sick too! I like to make sure that they have everything they need just in case they come down with the flu or get a paper cut.
In the first aid kit, I try to include the basics such as:
Bandaids (all sizes)
Antibiotic ointment
Cold compress
Aspirin
Gauze
Thermometer
When it comes to getting sick with the flu or the common cold, I personally like to make a few of my own cough and cold remedies (like vapor rub), so I'll include those ingredients in there so they can whip it up themselves.
I'll also include some cough drops, tea, and honey!
Healthy Treats And Snacks
Make sure to throw in some healthy indulgent snacks. I'll either buy some at the store like a few granola bars or some dried fruit and nuts. If I have time and know they will receive the package within 24 hours, I like to make a few healthy snacks and add them to the college care package.
You can still enjoy treats when they're made with better ingredients! Peanut butter cup, anyone?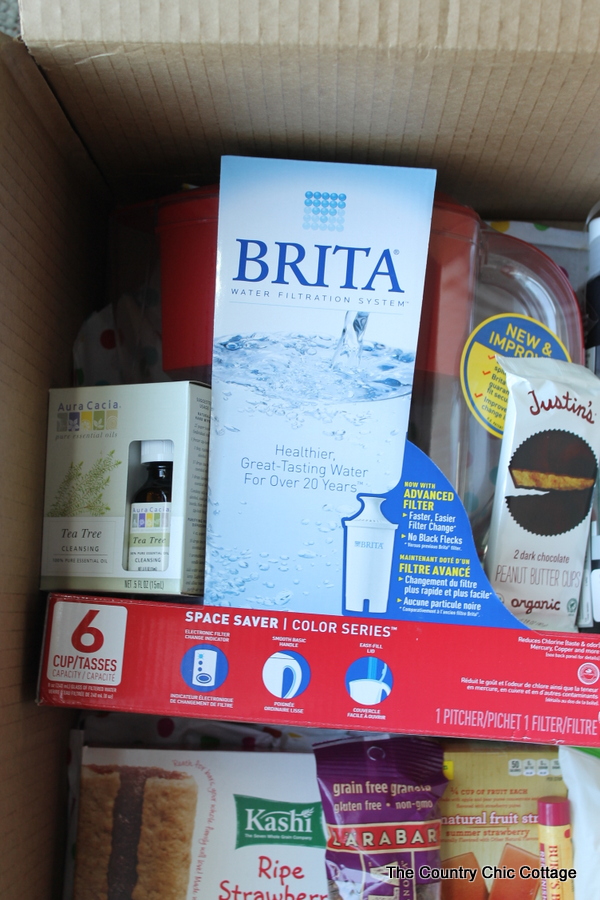 Water Bottle
If you want to make sure that your college student gets their filtered water on the go as well, grab a hard-sided Brita water bottle. These are great for filtering water wherever you are and fit into any college care package perfectly!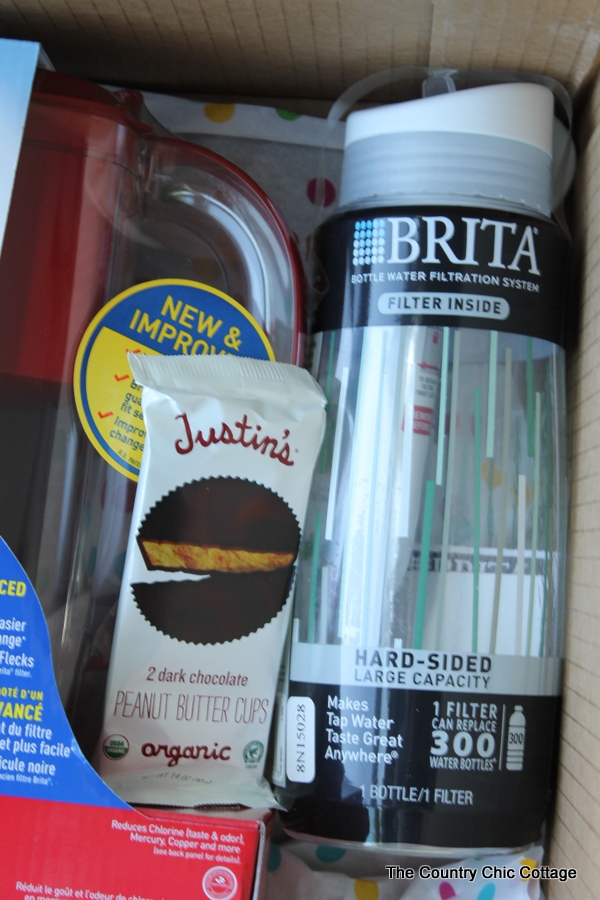 More Item Ideas To Fill Your College Care Package
Continue to fill the box with organic and healthy snacks that taste great and are good for them. I filled mine with some of my (and my college student's) favorites. Don't forget their favorite health and beauty items as well!
Here are a few ideas if you need some inspiration: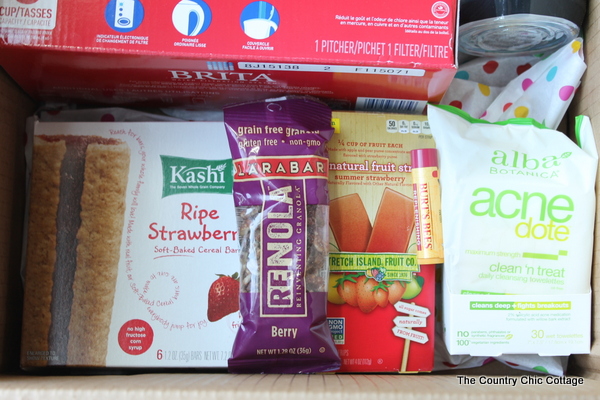 DIY College Care Package: Final Thoughts
Once you've got it loaded with goodies, package this entire box up and send it to your college student as a "welcome" to campus life during their first few weeks. They will love the little taste from home!
Be sure to pick up the items to fill your own healthy college care package today. Your college student will appreciate the time and effort you took to make them feel more comfortable.
More College Inspiration