Make a Christmas snow globe in just minutes as an easy way to give EOS lip balm to friends and family. Follow this snow globes Christmas craft tutorial to learn how to make a decoration and a gift all in one craft.
Sometimes small or simple gifts need a little dressing up to make them feel more special. In this case, I'm talking about EOS lip balm. If you've ever tried that brand of lip balm, you know just how special it is. It makes a terrific gift that people love and can use.
However, it's pretty simple and can use a little special packaging to make it really feel like a gift. I have a fun idea that's going to transform this gift from "thanks, that'll come in handy" to "wow, how awesome is this?"
Turn your EOS lip balm gift into a homemade snow globe Christmas craft! Snow globes are super versatile and SO much fun. (Check out this adorable recycled bottle snow globe from Tried and True.)
This is a really unique and creative way to gift an EOS lip balm to anyone on your Christmas list! And it becomes more than a gift. This work of art is now a lovely piece of holiday decor to display.
Note: If you want more Christmas decor inspiration, be sure to check out our Easy Last Minute Christmas Decor, Pallet Christmas Tree, and Farmhouse Front Porch Christmas Decorations ideas!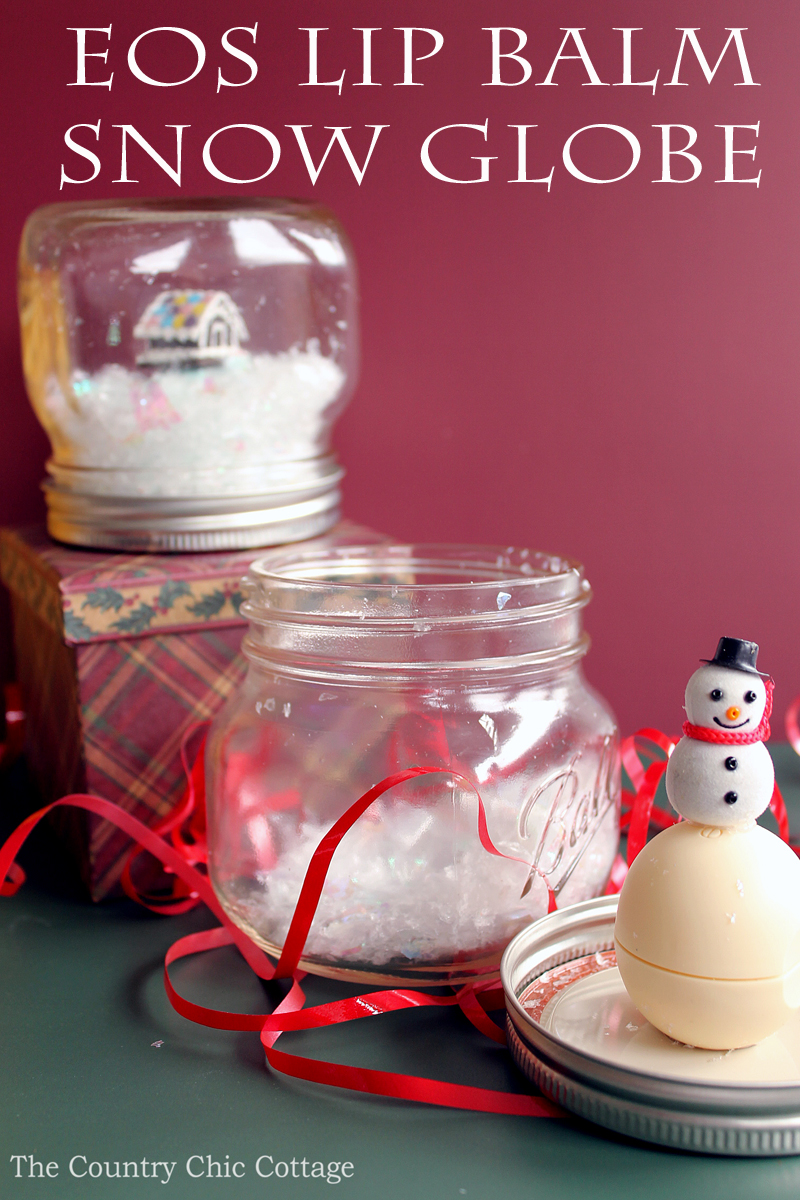 How To Make An EOS Snow Globes Christmas Craft
I'm so excited to show you this simple and fun project! Here's everything you need to know.
Supplies Needed
You will only need a few supplies to make this great gift in a jar. I've included a few handy links to help you find some items faster and more easily.
EOS Lip Balm (I used the special holiday pack with white, red, and aqua)
Assorted Holiday Miniatures
Artificial Snow
Hot Glue and Glue Gun (Low temp works best in this case, so it can be easily removed later)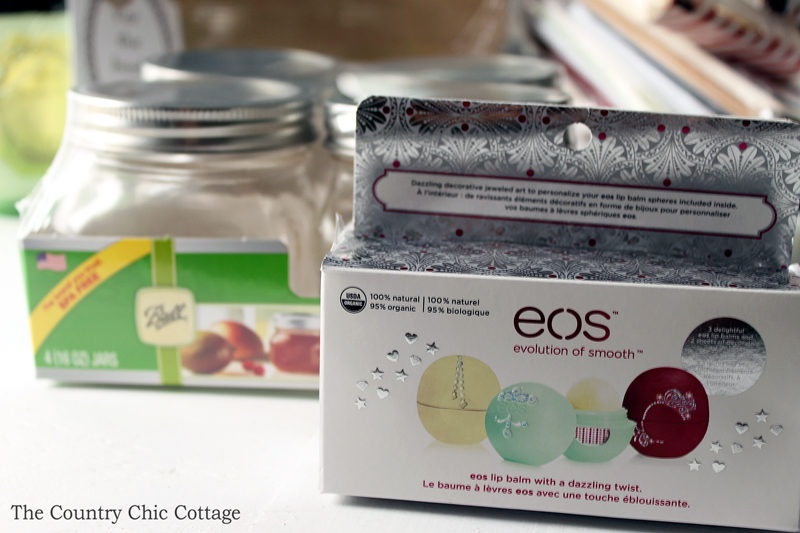 Instructions
Follow along with our step-by-step instructions for how to make a snow globe using EOS lip balm as the star below.
Step 1
Start by using a dot of hot glue to stick the lip balm to the upside-down mason jar lid.
The low-temperature glue is just enough to hold the lip balm in place and also allow it to be removed by the recipient and the hot glue chipped off.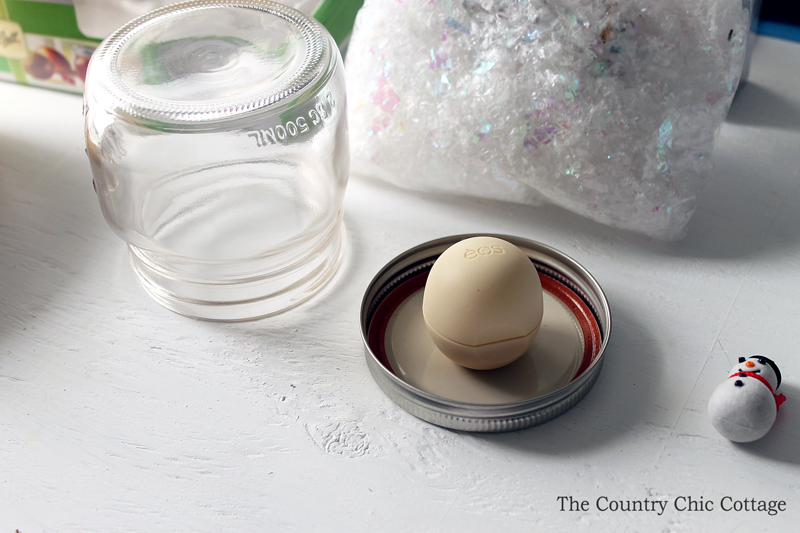 Step 2
Next, I added a miniature holiday figure to the top of the lip balm again with hot glue. On this version, I used a snowman on top of the white EOS lip balm, but any holiday-themed miniatures will work for this project.
Again I used hot glue to put everything together.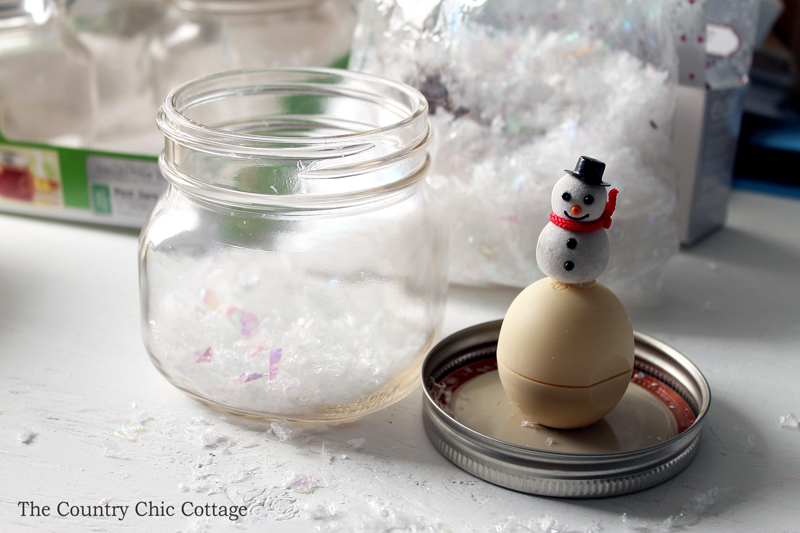 Step 3
Finally, add a bit of the snow to the mason jar while it is right side up (above), then add the lid to the top and screw on it.
Turn it over – this gift is ready for giving! Feel free to add a bit of ribbon around the lid band to dress it up a little more if you want, but that's completely optional.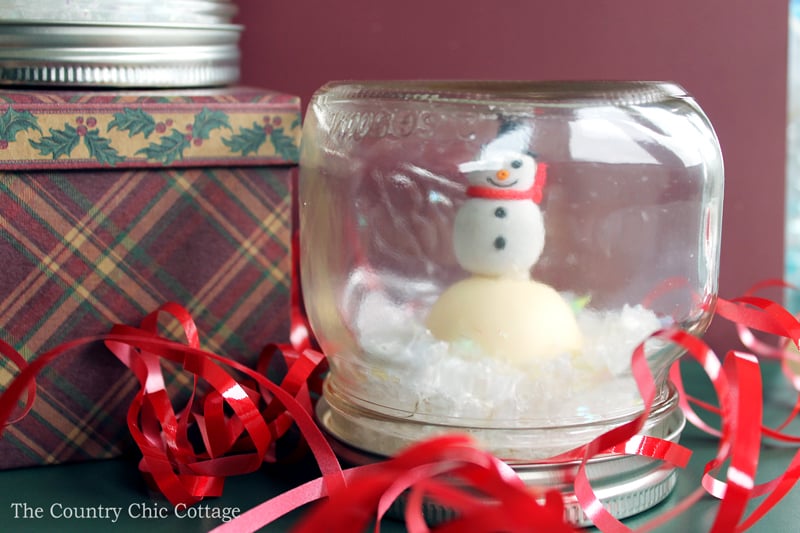 I made two versions of this snow globe Christmas gift in a jar. The first version has the snowman, while the other version shown below has a miniature gingerbread house on top of the aqua lip balm.
Just use the same method to assemble any miniature lip balm combinations that you like inside of your snow globe.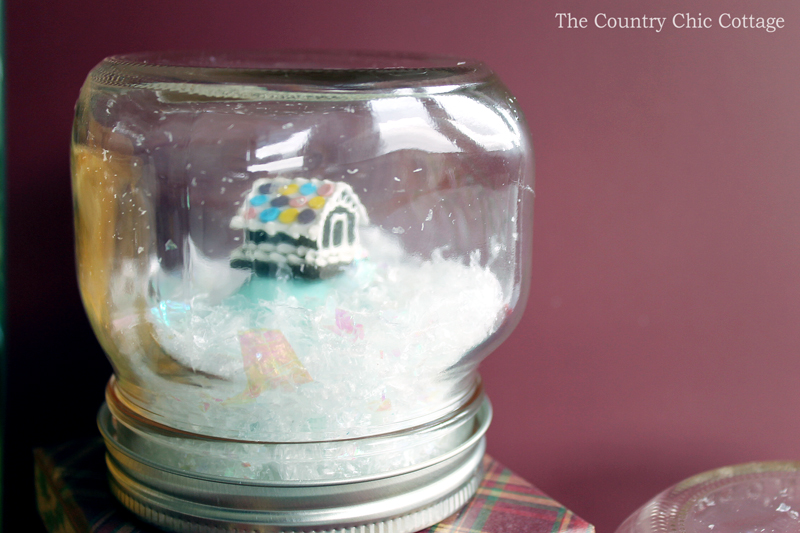 Your recipient can enjoy the snow globe as decor for a while, then screw off the lid and take apart the gift to start using the EOS lip balm. Everyone loves a mason jar snow globe!
FAQs
Here are a couple of questions that I see readers ask about making a snow globe Christmas craft with an EOS lip balm. If you have a question, please check to see if I've already answered it below. Don't see your question? Leave it for me in the comments!
Can I use a different type of glue for this project?
Low-temperature hot glue is the best type of glue for crafting projects like this one because it's affordable and provides the ideal amount of hold. However, if you don't have a hot glue gun, I would recommend using removable glue dots.
You don't want to use anything with a super strong hold, or that's permanent because then your recipients won't be able to remove the EOS lip balm from the jar lid.
Could I use glitter instead of artificial snow for snow globes?
I would highly recommend AGAINST doing this because it will create a mess that will last for weeks for your recipient. If that happens, your gift will go from being something appreciated and used to hated and thrown out!
If you can't find fake snow, you could substitute foam ball snow. It will still be messy, but not quite as bad as the glitter idea.
Trust me on this one. Stick with using the artificial snow if you can find it.
I love that these fun Christmas gifts can be made in 15 minutes or less. Pick up your supplies and make an EOS lip balm snow globe for someone on your gift giving list.
These would be great to keep on hand for unexpected guests, hostess gifts, and holiday parties. It's a fun gift that is practical too!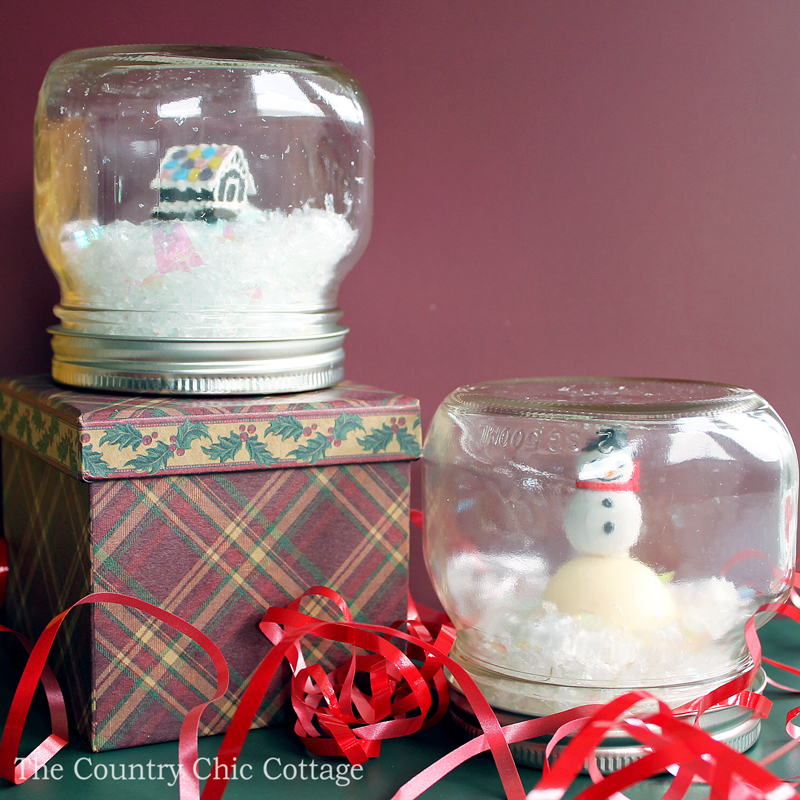 More Quick And Easy Christmas Crafts
Do you love this snow globe Christmas craft and want more quick and easy holiday craft ideas? Check out these popular crafts!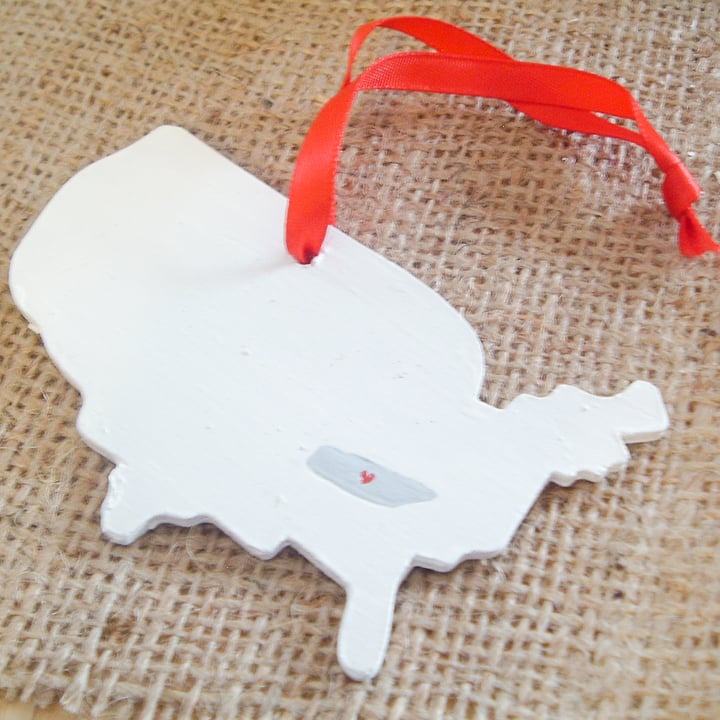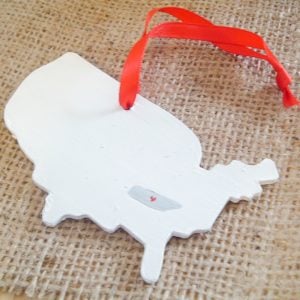 State Christmas Ornaments
Make your own custom state heart ornaments with this tutorial. They make great DIY gifts or popular crafts to sell!
Read More
Jingle Bell Mini Wreath Ornament
This Jingle Bell Mini Wreath Ornament comes together very quickly and is a fun craft to decorate a tree or a wine bottle!
Read More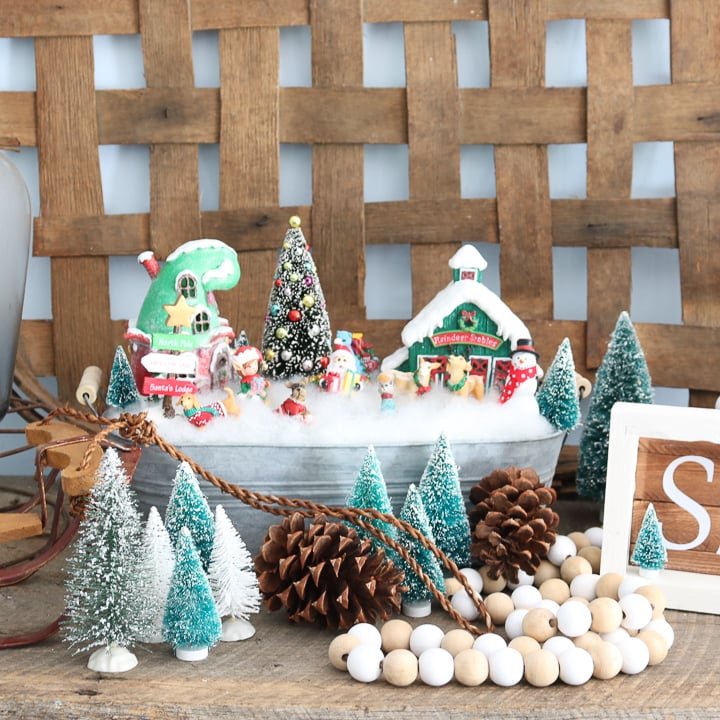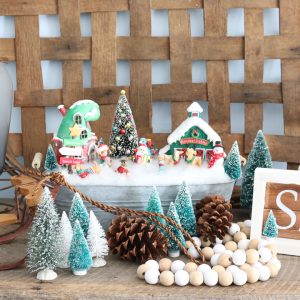 Christmas Fairy Garden
Adorn your holiday decor with this whimsical Christmas fairy garden idea.
Read More
Simple DIY Painted Mug For The Holidays
Make a cute DIY painted mug for the holidays with
paint pens
and adhesive stencils! These mugs take less than 10 minutes and make great neighbor gifts!
Read More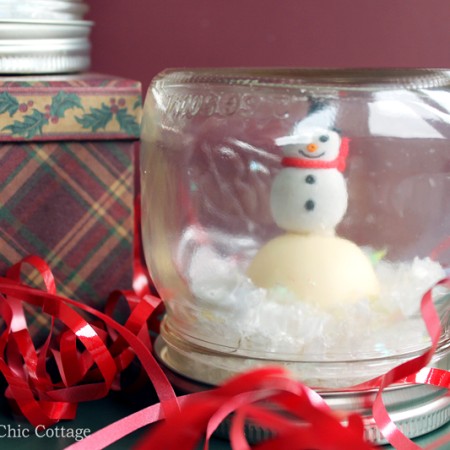 EOS Lip Balm Snow Globe Christmas Craft
Transform your EOS lip balm Christmas gift into an adorable piece of holiday decor!
Supplies
Assorted holiday miniatures

Artificial snow

Hot glue and a glue gun
Instructions
Using a single dot of hot glue to stick the lip balm to the upside-down part of the mason jar lid. It'll be enough to hold it in place until the recipient wants to pull it off and use it.

Next, add a miniature to the top of the lip balm again with hot glue. You can use any holiday-themed miniatures for this project.

Add a bit of the snow to the mason jar while it is right side up, then attach the lid to the top and screw it on. This gift is ready for gifting!
Tried this project?
tag us to show off your work!
A Year of Jar Crafts
Sign up for our email list to get a FREE book with an entire year of jar crafts! 12 months, 12 crafts, tons of fun!